6
minute read
Frida Kahlo. Dolly Parton. Ruth Bader Ginsberg. Toni Morrison. Susan La Flesche Picotte.

Of course, if given the chance, I'd add many, many more women to that list. But for now, as of this moment, these ladies have made the cut for my dream dinner. An intimate soirée that I'll only ever be able to host in my mind, which means, 1.) the venue is most definitely a Tuscan villa 2.) everything is catered and 3.) there's no curfew, so I hope my esteemed guests stay for many bottles of wine after dinner, enjoying the Italian summer air with me. Of course, we could certainly add a few notable men to this list, dead or alive, but in light of this month being Women's History Month, I'd much prefer to focus on the ladies, wouldn't you?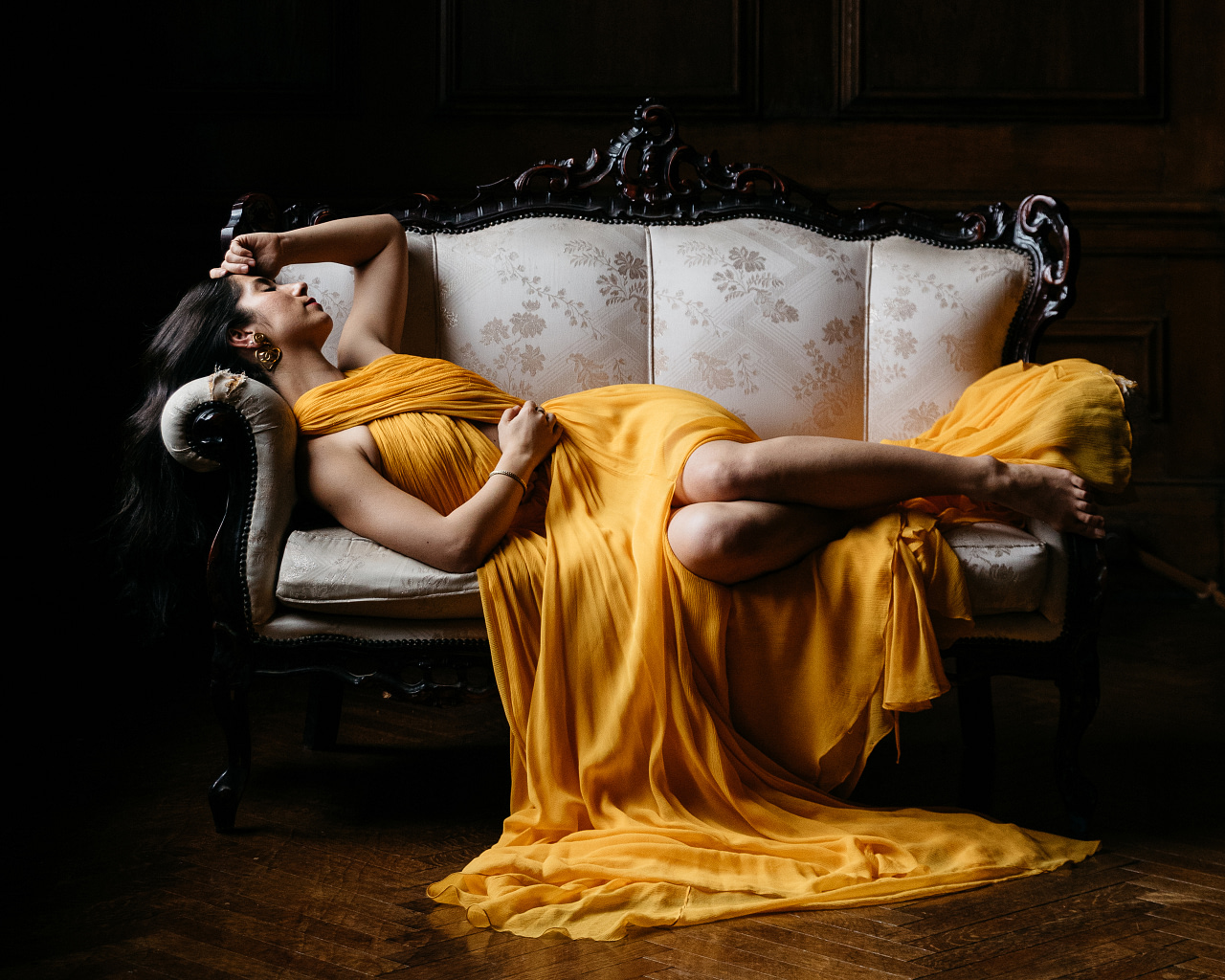 Earlier this week, I asked you all for your dream dinner invite list and I was so blown away by the responses! So many familiar faces yes, but it was the unfamiliar ones that got me the most excited! Today, I wanted to compile all your responses, with brief bios (even though you know most of these women), in case you need a little inspiration the next time you're asked to plan a very hypothetical, but no less magical, dinner with your closest role models and inspirations.
So without further delay, let's introduce our guests, shall we?
Frida Kahlo was a Mexican painter known for her many portraits, self-portraits, and works inspired by the nature and artifacts of Mexico. Inspired by the country's popular culture, she employed a naïve folk art style to explore questions of identity, postcolonialism, gender, class, and race in Mexican society.
Dolly Parton is is an American singer, songwriter, multi-instrumentalist, actress, author, businesswoman, and humanitarian, known primarily for her work in country music. She's sold over 100 million records worldwide and also donated $1 million of her own money to the development of the COVID-19 vaccine.
Ruth Bader Ginsberg was an American lawyer and jurist who served as an associate justice of the Supreme Court of the United States from 1993 until her death in September 2020.
Toni Morrison was an American novelist, essayist, book editor, and college professor who won the Pulitzer Prize for Beloved (1987); she gained worldwide recognition when she was awarded the Nobel Prize in Literature in 1993.
Susan La Flesche Picotte was a Native American doctor and reformer in the late 19th century. She is widely acknowledged as one of the first Native Americans to earn a medical degree. She campaigned for public health and for the formal, legal allotment of land to members of the Omaha tribe.
Anna May Wong was an American actress, considered to be the first Chinese American Hollywood movie star, as well as the first Chinese American actress to gain international recognition. Her varied career spanned silent film, sound film, television, stage, and radio.
Princess Diana was a member of the British royal family. She was the first wife of Charles, Prince of Wales—the heir apparent to the British throne—and was the mother of Prince William and Prince Harry. Diana's activism and glamour made her an international icon and earned her enduring popularity as well as unprecedented public scrutiny, exacerbated by her tumultuous private life.
Nina Simone was an American singer, songwriter, musician, arranger, and civil rights activist. Her music spanned a broad range of musical styles including classical, jazz, blues, folk, R&B, gospel, and pop.
Mary Magdalene was a woman who, according to the four canonical gospels, traveled with Jesus as one of his followers and was a witness to his crucifixion and its aftermath.
Marlene Dietrich was a German-born American actress and singer. Her career spanned from the 1910s to the 1980s. In 1999 the American Film Institute named Dietrich the ninth greatest female screen legend of classic Hollywood cinema.
Dijana Budisavljevic was an Austrian humanitarian who led a major relief effort in Yugoslavia during World War II.
Erykah Badu is an American singer-songwriter, record producer and actress. She has been called the Queen of Neo soul.
Meryl Streep is an American actress and singer. Often described as the "best actress of her generation" Streep is particularly known for her versatility and accents. She has received a number of accolades, including being nominated for a record 21 Academy Awards, of which she has won three and a record 32 Golden Globe nominations, winning nine.
Michelle Obama is an American attorney and author who served as the First Lady of the United States from 2009 to 2017.
Madame VP Kamala Harris is an American politician and attorney serving as the 49th vice president of the United States. She is the United States' first female vice president, the highest-ranking female official in U.S. history, and the first Black and first Asian American vice president.
Shirley Chisholm was an American politician, educator, and author. In 1968, she became the first black woman elected to the United States Congress, representing New York's 12th congressional district for seven terms from 1969 to 1983. In the 1972 United States presidential election, she became the first African-American candidate for a major party's nomination for President of the United States, and the first woman to run for the Democratic Party's presidential nomination.
AOC is an American politician serving as the U.S. Representative for New York's 14th congressional district since 2019.
Malala Yousafzai is a Pakistani activist for female education and the youngest Nobel Prize laureate.
Eartha Kitt was an American singer, actress, dancer, voice actress, comedienne, activist, author, and songwriter known for her highly distinctive singing style and her 1953 recordings of "C'est si bon" and the Christmas novelty song "Santa Baby", both of which reached the top 10 on the Billboard Hot 100. Orson Welles once called her the "most exciting woman in the world"
Jane Fonda is an American actress, political activist, environmentalist, and former fashion model. She is the recipient of various accolades including two Academy Awards, two BAFTA Awards, seven Golden Globe Awards, a Primetime Emmy Award, the AFI Life Achievement Award, the Honorary Golden Lion and the Cecil B. DeMille Award.
Bessie Coleman was an early American civil aviator. She was the first Black woman and first Native-American to hold a pilot license.
Katherine Johnson was an American mathematician whose calculations of orbital mechanics as a NASA employee were critical to the success of the first and subsequent U.S. crewed spaceflights. During her 35-year career at NASA and its predecessor, she earned a reputation for mastering complex manual calculations and helped pioneer the use of computers to perform the tasks. The space agency noted her "historical role as one of the first African-American women to work as a NASA scientist".
Anna Wintour is a British-American journalist who has served as editor-in-chief of Vogue since 1988 and global chief content officer for Condé Nast since 2020; she is also artistic director of Condé Nast and global editorial director of Vogue.
Gloria Steinem is an American feminist journalist and social political activist who became nationally recognized as a leader and a spokeswoman for the American feminist movement in the late 1960s and early 1970s.
Sinéad Burke is an Irish writer, academic and disability activist, popular for her TED talk 'Why design should include everyone.' She is the Director of consulting organization 'Tilting the Lens', working to raise the baseline standards in accessibility, to design an equitable and accessible world.
Janis Irwin is a Canadian politician who was elected to the Legislative Assembly of Alberta in the 2019 Alberta general election and is a champion of women's and LGBTQ2S+ rights.
Amanda Gorman is a poet and activist. Her work focuses on issues of oppression, feminism, race, and marginalization, as well as the African diaspora. Gorman was the first person to be named National Youth Poet Laureate and she became the youngest inaugural poet in 2021 as she delivered her poem "The Hill We Climb" at the inauguration of U.S. President Joe Biden.
Now tell me, who would you invite to dinner?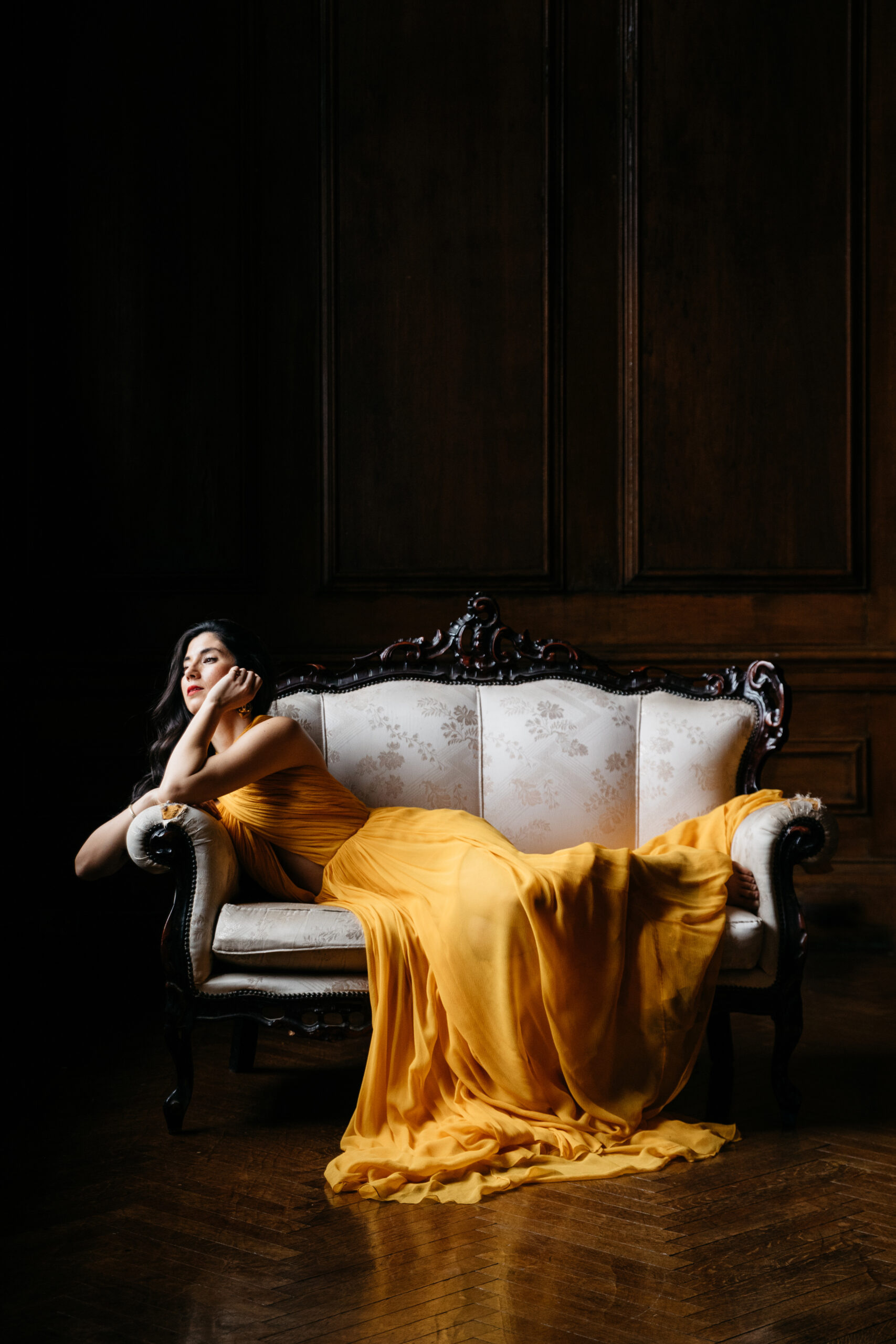 Oscar de la Renta dress borrowed via Nova Octo (similar style here) // Vintage Chanel earrings (similar style here) // Manolo Blahnik heels (gifted) // Shot on location in the Bronx at a landmark mansion, a former retirement home turned event space.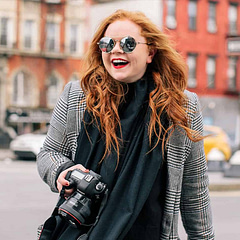 Photography
Allie Provost