4
minute read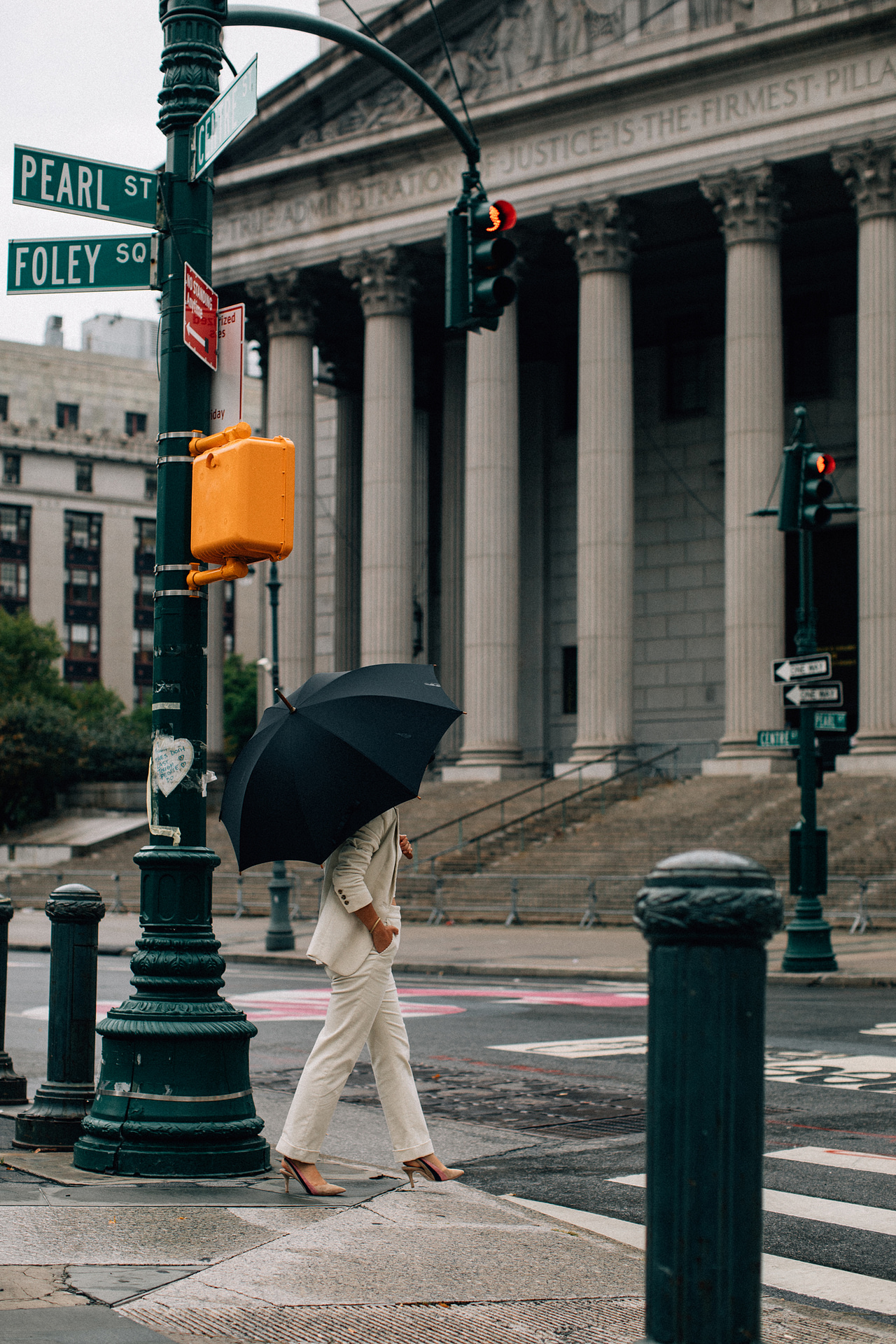 OUTFIT DETAILS: Boden corduroy suit (blazer here and trousers here, both gifted) // Boden heels (gifted)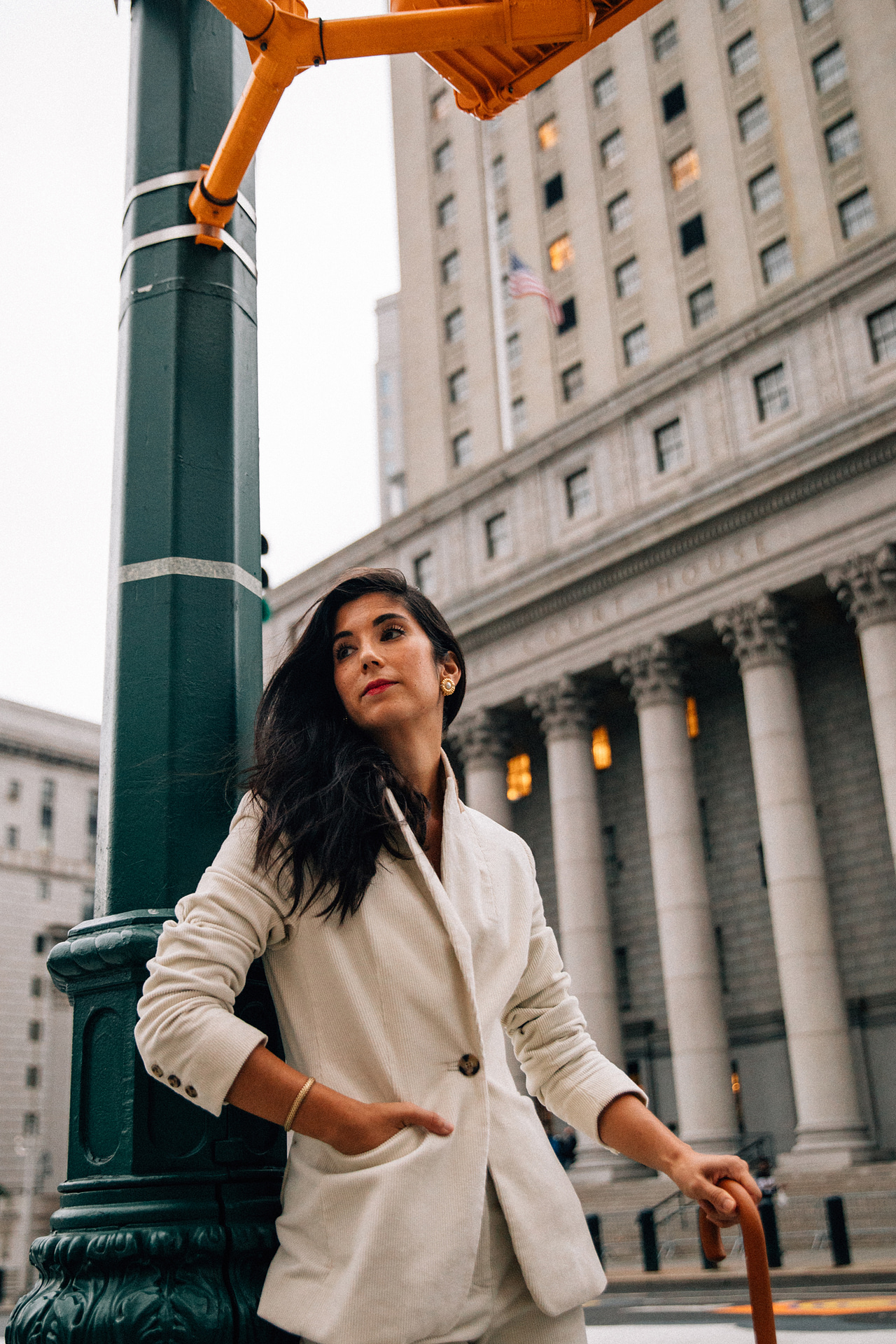 "Art is the only way we can run away without leaving home."
I spotted the above Twyla Tharp quote, painted high up on a residential building near 8th Avenue and 20th Street. I was somewhere caught between fiddling with my ear buds and skipping a track on Spotify when it caught my eye and I instantly smiled. What a comforting thought — I said to myself, especially for this strange year we all find ourselves at the mercy of. To know that your next escape can be as far off and as exotic as art will take you — whatever art looks like to you, whatever shape it takes — it's the vehicle our minds can use whenever and however we like, to run away, to escape, to discover, to liberate, to throw caution to the wind.
I also thought, as I made my way down 8th Avenue heading home -- a little Billie Holiday now playing in my ears, just how much we've all been forced in a lot of ways this year, to find the art in our every day. The beauty in the ordinary. The joy in the perhaps unremarkable. Since I figured we could all use a joy calibration these days (my meter has been all out of whack thanks to the election and a resurgence of COVID cases), I wanted to share my not so comprehensive list of current joys -- activities, moments and traditions that have made all the difference this year and especially as of late. I hope it brings a smile to your face and if you feel so inclined, I'd love to hear your own joys! Your own moments of self revery that make you stop, sometimes in your tracks, and smile for no other reason.
Rainy days at home, working on my couch as Elvis snores at my feet
Adjusting the smart lighting in our apartment to a "candle light" setting (it flickers and it's oh so lovely when reading)
Lighting candles in each room
Old photography books (just picked up a 1980 copy of Diana Vreeland's Allure)
A first edition paperback of James Baldwin's Giovanni's Room
Seeing the glow of apartment windows around the West Village at dusk
Grilled cheese sandwiches (with my favorite Cowgirl Creamery Humboldt Fog in it!) and butternut squash soup
Finding a beautiful vintage Oscar de la Renta blouse and dreaming up how to style it
The Queen's Gambit and recreating some of her outfits from the show
Spotting murals and quotes high up on buildings that I might otherwise miss -- like that Twyla Tharp quote above!
Stoop decorations slowly coming out for the holidays
Falling asleep to soft classical music
Reading Obama's new memoir -- A Promised Land -- in bed. Started last night!
Early walks through Central Park with Elvis, when dogs can be off leash before 9am
Reading park bench dedications -- like this new favorite I found in Central Park the other day that read: "Manhattan. We came, we saw, we fell in love. Amy and T.W. Lee"
Giving compliments to strangers and seeing their smile afterward
Combing through AirBnB for beautiful places to rent for the month of February (fingers crossed we can find one!)
Rewatching some of my favorite royal family documentaries
Dolly Parton's Christmas on the Square on Netflix -- because, duh, Dolly Parton
Making new playlists weekly
Researching random facts about buildings around New York -- the amount of history around us is mind boggling
Dreaming up future photoshoots and locations
Sunday museum visits
Watching people sketch at The Met
Listening to the many bands now roaming around the West Village play for diners and passerby alike
Road trips upstate
Sitting out on my fire escape in a light rainy drizzle
Encouraging my mother's new found love of texting GIFs
Encouraging my father's new found love of texting his Bitmoji
Receiving puppy videos from my sister and Rugby -- her little French bulldog
The copy of the New York Times that now sits on our coffee table -- the headline reading: "Biden beats Trump"
Surprising Ty with a cute new outfit and seeing him wear it with pride
Cuddle time at the end of the day, with me, Ty and Elvis, where Elvis sits in the middle and we make up stories as to what he's thinking