10
minute read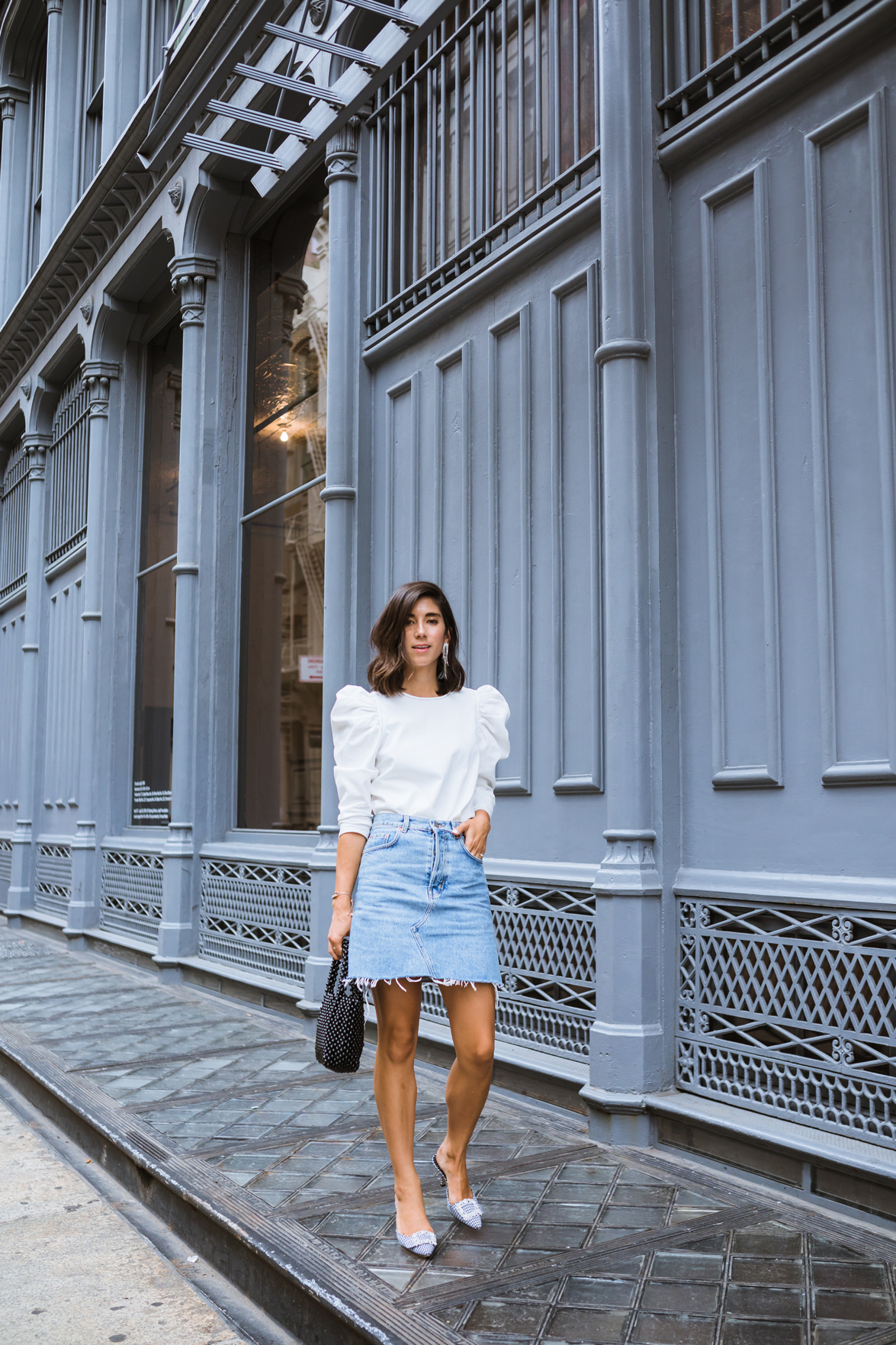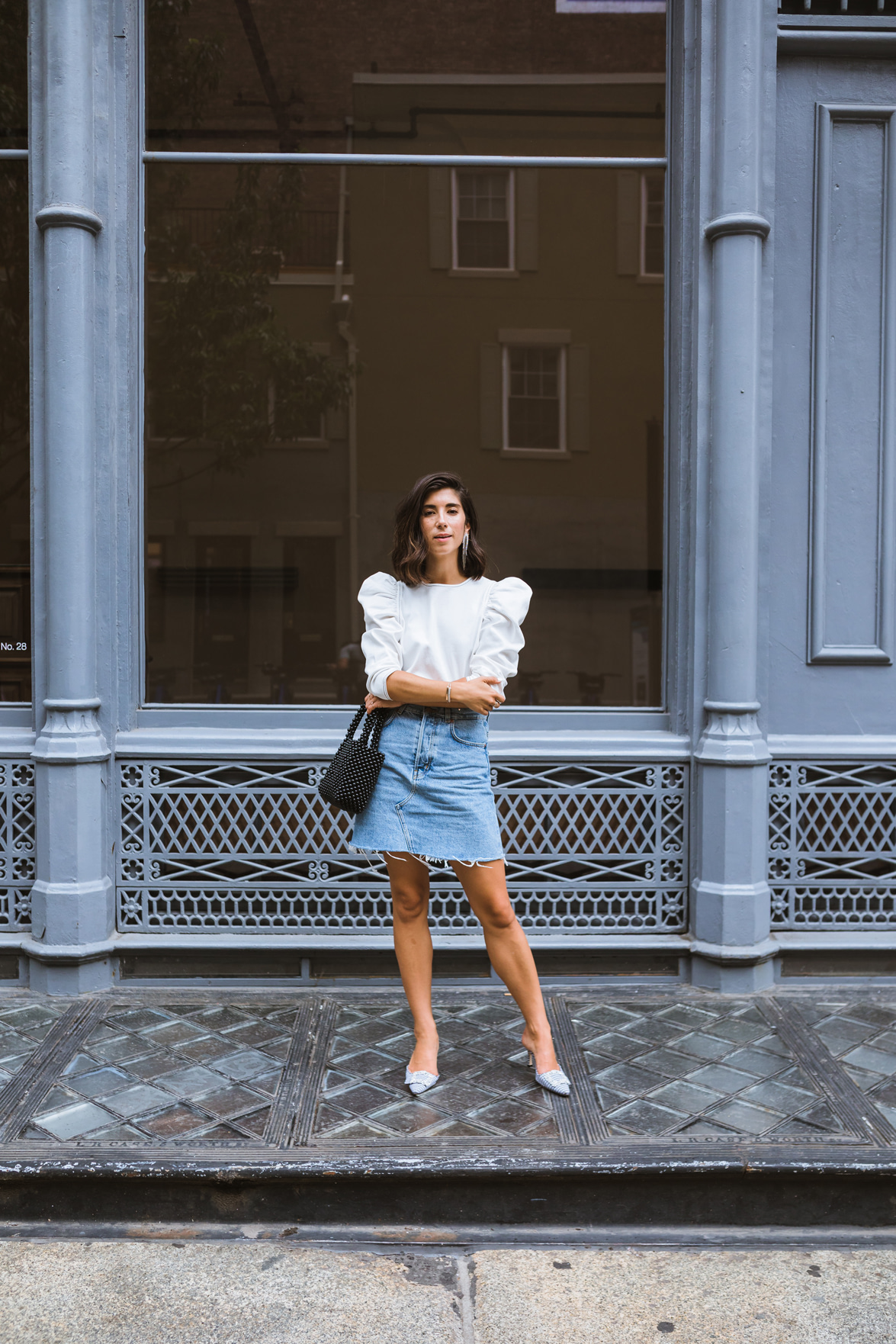 Truth be told: I didn't realize this would be such a requested topic.
Just a few weeks ago, after playing around with the newly launched Questions feature on Insta Stories, I noticed a common question popping up -- namely around how I prepared and eventually moved to New York City about three years ago from San Francisco. I suppose at the time of moving, I didn't exactly consider myself an expert on the subject by any stretch of the imagination -- heck, I was flying by the seat of my pants and praying that my stuff made it across the country seemingly in one piece, a friend who knew about Bradford real estate gave me some advice on how to move into New York because he had lived there before -- so it felt misguided of me to share my blueprints as the "be-all, end-all" plan.
But, I think after reflecting these past few years, I've realized how much that process was a long time in the making -- years really -- so I wanted to sit down and jot down my thoughts on the subject, in hopes it helps some of you, sitting wherever you're sitting in the world, make that New York dream a reality, too. I can remember how it was getting close to moving day and I was stressing out so much. I didn't know how I was going to transport all of my items in one go, especially as I only had a small car at the time. Luckily for me, a family friend offered to hire a van which they would use to help me take my possessions to my new home. This was amazing because I didn't think this would even be an option, but I'm so grateful this offer came through. He was telling me how it wasn't hard to get a van, the companies he looked into they have an online quotation system, made the process of obtaining the right insurance a lot easier. I look back on how everything was initially and I'm so happy with how everything has turned out.
First things first, though -- let's set some context.
For those of you who don't know already, I am not originally from New York or the east coast in general, and I have no family on this side of the country. I'm originally from Reno, Nevada -- 'Biggest Little City in the World' and it truly feels that way. Big enough to get lost, small enough where you know most people. And for as long as I can remember, I wanted to live in New York. I blame this on many books (Catcher in the Rye and The Great Gatsby to name a few), and several fictional TV/movie characters (Carrie, yes, I'm looking at you) and after a brief 5-year stint working in tech in San Francisco, I eventually made the cross-country leap, with the help of my company at the time. I should note, Google helped subsidize the costs of the move, covering most of the bigger expenses, like getting all my things from point A (SF) to point B (NYC), as it wouldn't be fair to not paint that full financial picture for you. But there was a lot I knew I had to be prepared to cover myself, upfront, and even more, so that I discovered perhaps the hard way.
The bottom line is: Moving to New York is expensive. Living here is even more expensive. Here's how I did it and what I learned in the process.
It's true what they say -- it's NOT for everyone: Let's start here, shall we? Lots of people want to move to New York, not everyone wants to actually LIVE here. It's fast-paced, it's expensive, it's HOT in the summer, it's COLD in the winter, it's basically a city of extremes -- which means the pros (and don't get me wrong, there are MANY!) are sometimes equally met with the cons, depending on how you look at it. Before you start getting those proverbial ducks in a row to move to NYC, I would definitely recommend visiting the city multiple times, preferably at different times of the year to see if you can actually picture your life here. After many NYFW visits during February (read: when hell actually freezes over), and realizing that I still really wanted to live here, I knew I couldn't turn back.
The cost and logistics of moving: As I mentioned before, much of the actual move cost was subsidized by Google, my employer at the time, but that doesn't mean I splurged. I was given a set amount and I had to make it stretch. Moving is never easy for anyone, but it is not an impossible task. Whether someone needs to learn more about using a vehicle transport service, for example, find boxes big enough to fit essentials, go house hunting or even get the help of friends/family to assist them on the day, there's so much that goes into the moving process. When the time came to actually figure out what was coming with me across the country, I realized how much I actually needed to downsize. A lot of furniture was donated (bye, bye Ikea) and I even sold a bunch of clothes -- all in hopes to lighten the final load. Since I was taking only a handful of pieces of furniture (a bed, dresser, bar cart, a bike, and my closet), I ultimately went with a shipping container -- one that gets dropped off at your home/apartment, you pack it yourself, it gets picked up a few days later and is driven across the country via semi-trucks. The grand total was around several thousand, but it depends on what size container you order and how heavy the actual load comes out to be. I ordered Task Rabbit movers for packing up my SF apartment and again when it came time to unload and move into my NYC apartment.
Ditch your car: Perhaps this goes without saying, but you won't need it here and in fact, it'll cost you quite a bit just to keep it in the city, depending on which neighborhood you end up in. My two cents: sell it or donate it before you leave, unless you're ready to pony up for premium parking here in the city. I donated my car to Kars 4 Kids (a great end of year tax write off!).
Research your neighborhoods: Since I had a decent amount of visits to NYC under my belt, I had a relatively solid understanding of what neighborhoods I really LOVED hanging out in and which ones I could actually see myself living in. Perhaps it's the Carrie Bradshaw aficionado in me, but my heart was always in the West Village from the start. Of course, this came with some hard realizations: every neighborhood is expensive, some more so than others (like the West Village), and you really have to consider what type of lifestyle you're looking to balance. Do you want to be near the parks? Do you want great restaurants nearby? What about nightlife? What if you want more peace and quiet? How close are major subway lines? What does your commute to work look like? And then there's the HARD question of what can you actually afford? Should you consider roommates to help alleviate the cost? And as much as possible, try to chat with people who live in those neighborhoods -- see what they love about the area and what they hate. When I was moving, I talked a lot with coworkers and friends -- but if you're starting from scratch here, try reaching out on social media -- you'd be surprised how happy people are to share what they love (and what they hate!) about their neighborhood to help you out!
The apartment hunting process is not for the faint of heart: While researching your neighborhoods, it's also a good idea to get really comfortable with the following truth: it's not easy finding an apartment in New York City. Sure, there are those urban legends that someone magically lucked out with a rent-controlled, high-ceiling, pre-war beauty for a fraction of the normal going rental price, but the reality is, it's hard work and you rarely get everything you're looking for.
When I was searching for apartments, I was doing most of it from across the country while still working and living in SF, and therefore had to rely on a broker, who was basically my eyes and ears on the ground here in NYC. Let it suffice to say: he earned his commission! I planned one long weekend in NYC to look at a BUNCH of apartments back to back and had to ultimately decide on one soon after so I could keep my relocation on schedule. As much as I'd love to say it's realistic to take your time and house up in hotels and Air BnBs before deciding on an apartment, most of us don't have that budget or that time frame to work with -- things move fast here, especially semi-decent apartments, so you have to as well, or you'll be left in the lurch. My advice: make a list of your non-negotiables (mine were pet-friendly, off the ground floor, near subway lines) and make another list of things you're willing to budge on (storage space, aesthetic qualities) and be open-minded and realistic with yourself when searching. Oh, and that upper maximum rate you set for yourself -- STICK TO IT.
Some general rules of thumb to keep in mind when searching: there are a lot of units available in the summer, mainly because students are graduating and possibly relocating for the season but rental rates are typically lower in the winter, February being the BEST time to sign a lease. Pet-friendly buildings are harder to come by and they vary by neighborhood -- West Village, generally speaking, is pretty dog-friendly. A broker is 99% of the time inevitable, whether you like it or not and they typically charge around 15% of the yearly rent. StreetEasy will be your best resource for listings -- check it daily.
Get your financials in ORDER: OK, so you've found an apartment you LOVE (or at least, tolerate enough to throw thousands of dollars at each month), now what? First of all, you have to get your belongings in there using a company similar to https://www.dscarriers.co.uk/removals-glasgow/. Then, now it's time for your marathon. I don't know how to put this nicely, so I won't: the approval process is cut-throat here. Case in point: most building management companies and/or landlords require that you make 40 to 50 times the monthly rent in a year, and if you don't, they may require you to have a guarantor on file (i.e. someone who promises to pay if you default). To make matters more complicated, sometimes they'll require that the guarantor lives in the tri-state area, to make collecting easier. As someone whose parents live on the other side of the country, if I had to go that route, I'd be screwed (thankfully, I didn't).
So what goes into an application you ask? Several recent pay stubs, recent tax returns, bank statements, all liquid asset statements, employment letter, previous landlord references, personal references, a credit check and a handwritten note, signed in blood, promising your first unborn child. (I'm only sort of kidding on that last point.) Even after all that, there's still a possibility that you may not get approved, depending on the building and the area -- sometimes management agencies will cut deals and ask that you pay several month's rent upfront to guarantee. My advice would be to polish that application package -- and identify the areas where you need to beef things up. Pad that savings account (more on that in the next bullet point), and have most paperwork already printed and ready to go (I arrived at most apartment viewings with my application already prepared in manilla folders).
Since I was working full-time at Google when applying, my employment letter carried a bit more weight than perhaps what my self-employed application might look like now, so that's something to keep in mind as well.
SAVE: This point should probably be the first and most obvious one to underline and underscore: SAVE UP. After you've gotten past the initial sticker shock of rental prices, move prices and broker fees, there's the unavoidable truth: New York is just plain expensive. Dining out is expensive. Dining in is expensive. Having a social life of some sort is expensive. Heck, washing your dog is expensive here. On top of that, NYC alone has a ridiculous amount of taxes to deal with (federal, state and city) so you'll need to sit down and really review your current financial and employment situation before moving. Since I was coordinating my move at the same time as a possible career change (that being quitting my full-time gig and pursuing blogging full-time) I knew I wanted that savings account to be even fatter than usual. Full disclosure: it took me several years to get my savings to account to a place where I felt comfortable moving and eventually quitting -- the very last thing I wanted was to get there and realize I had nothing to fall back on if I needed it.
Of course, while everything above sounds like an incredible PAIN IN THE ASS, the morning I woke up after spending the first night in my West Village apartment, with nothing but an inflatable mattress on the ground and lots of boxes, I couldn't wipe the stupid grin off my face. And, despite my ups and downs with the city over the years, that smile has stayed ever since.
What about you guys? Do any of you live in NYC? What was your experience moving here like?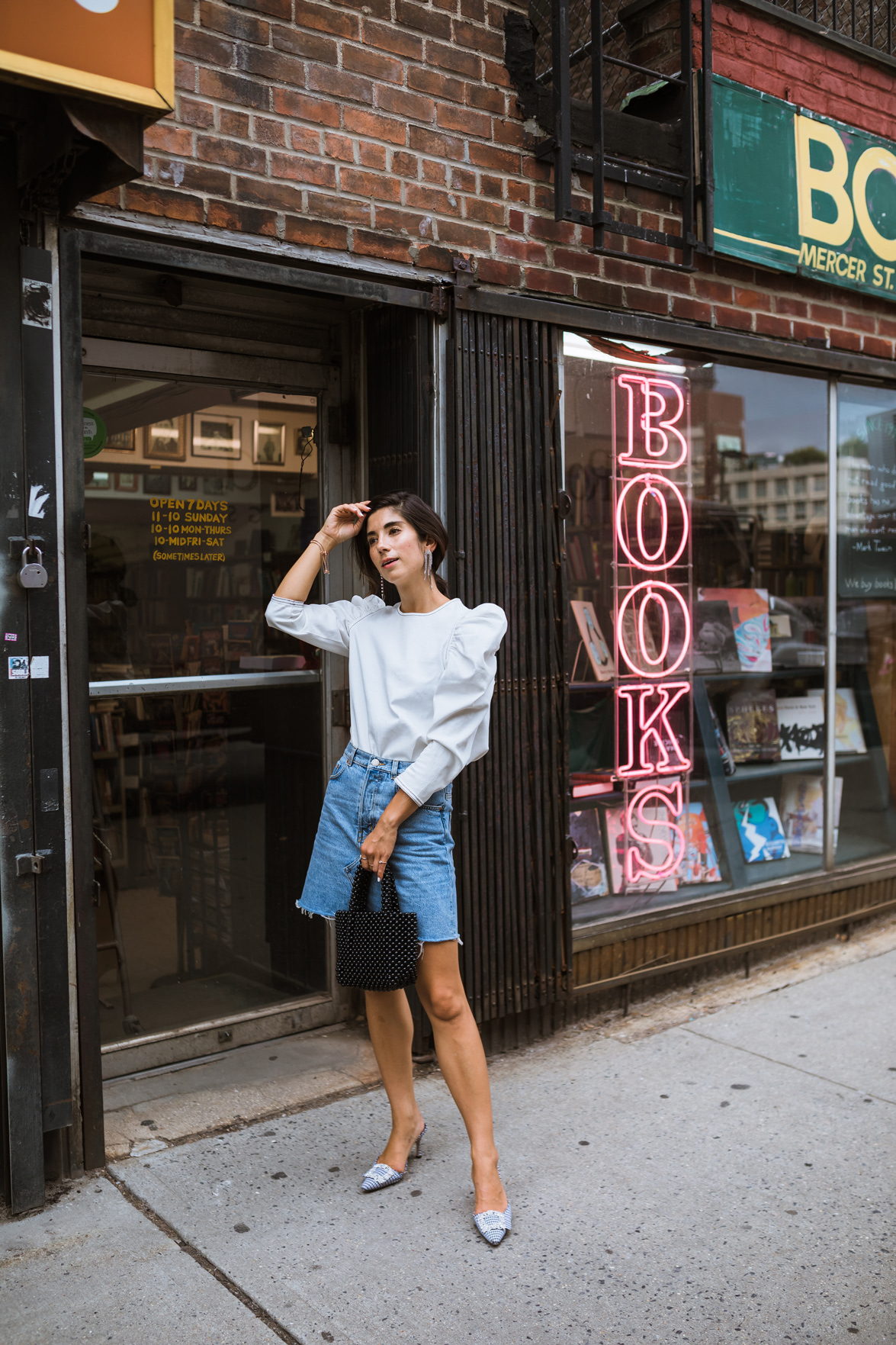 OUTFIT DETAILS: Ulla Johnson top (from the sample sale, available in green here) // & Other Stories skirt // Manolo Blahnik kitten heels (borrowed) // Zara beaded bag (similar style here) // No label mismatched rhinestone earrings (Super cheap, pick up a few pairs here and here and mix and match them!)