7
minute read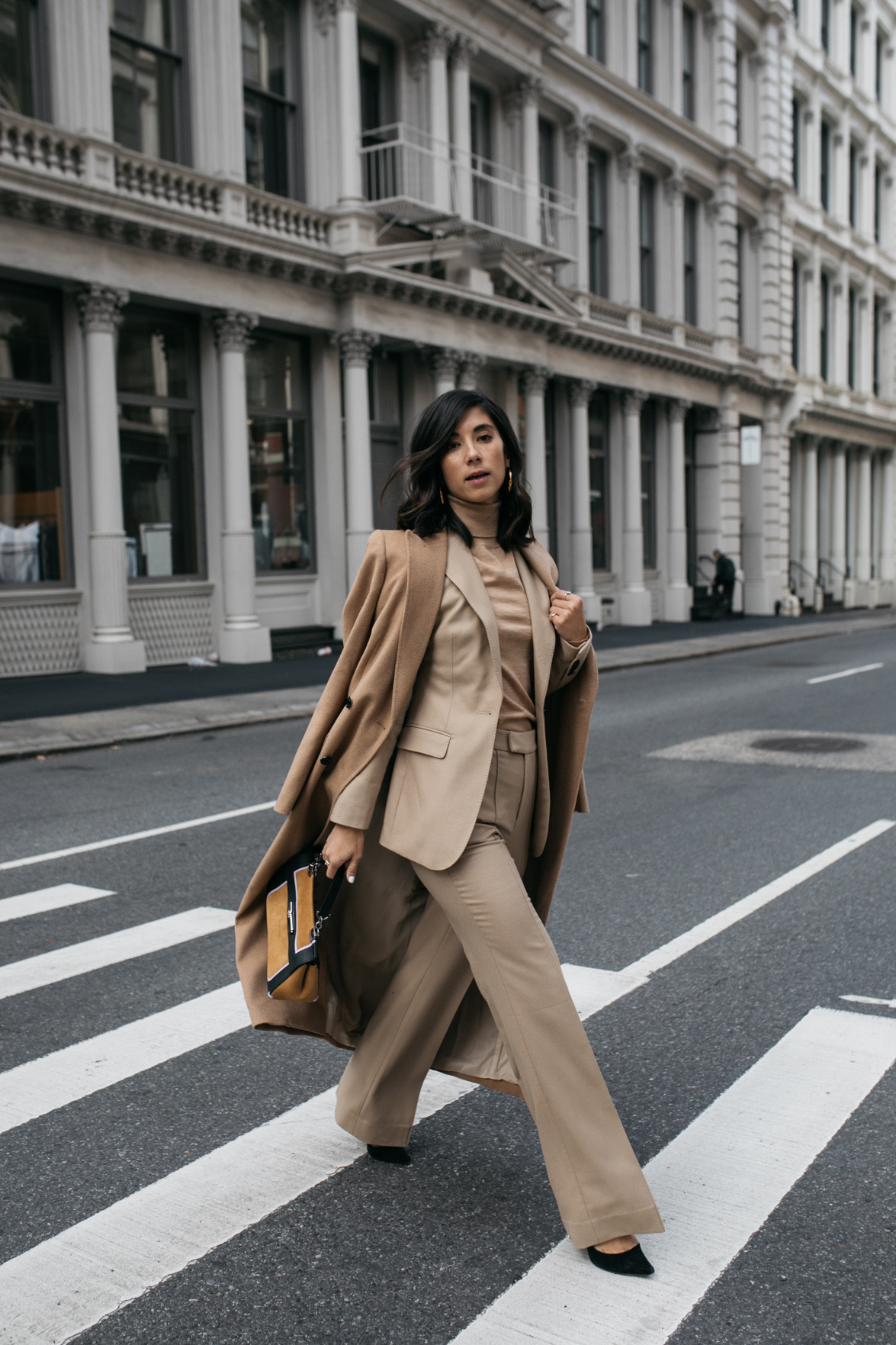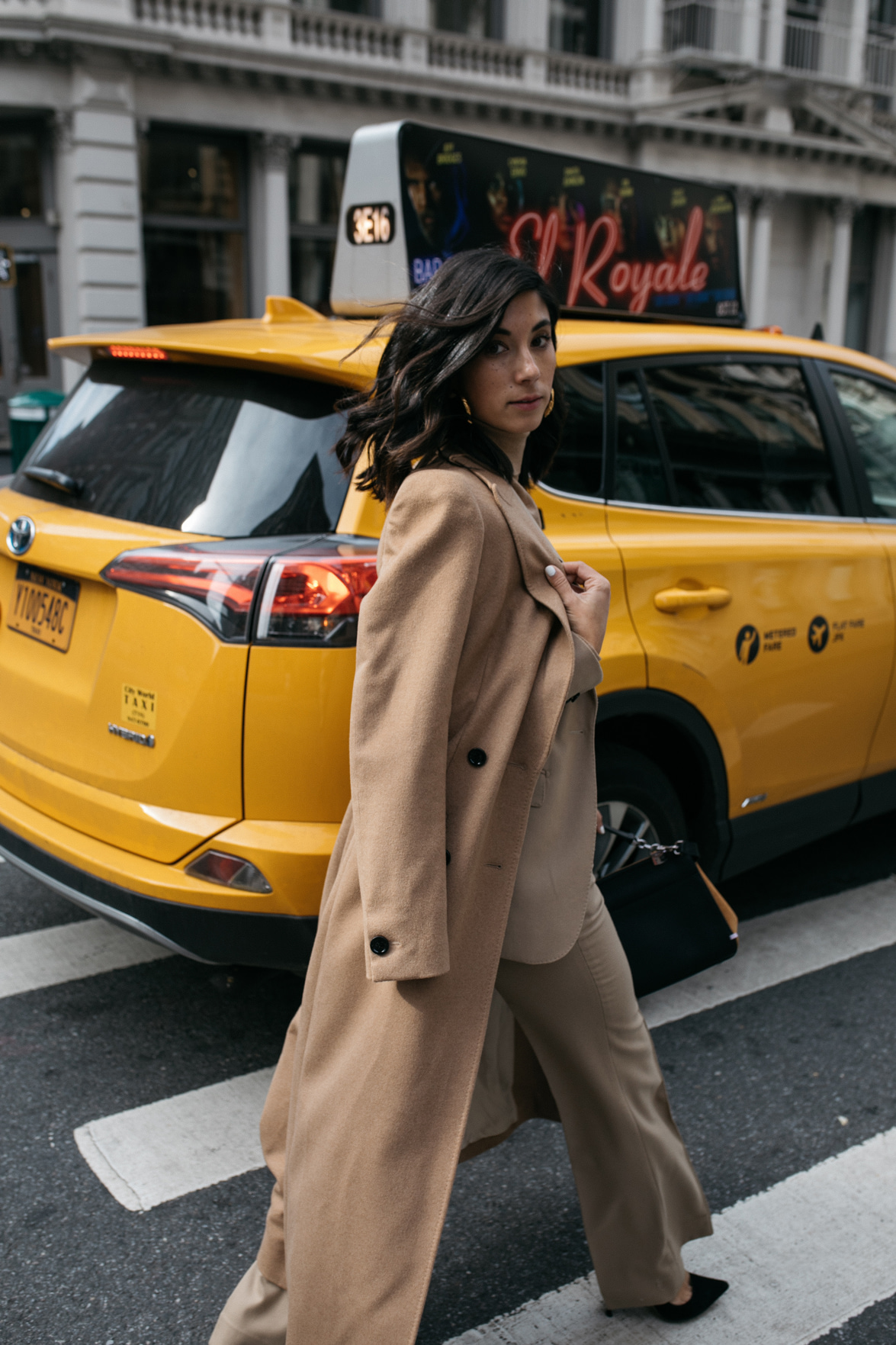 [row][half]
[/half][half]
Career ruts. We've all been in them. We're always dying to get out of them.
Some of the most common messages I get via DM (when it's not laughing at a Meghan Markle meme I've just shared), usually revolves around career ruts and more specifically how to navigate them and get MILES away from them. While every career junction is extremely personal, I like to think I've gained some decent distance from my mine and can share some hopefully helpful insight on how I started asking myself the dreaded, "Where do I go from here?" question.
First, some context. For those of you who have followed me for a minute, you may recall another life I had living in San Francisco, working at Google on the marketing team for about 5 years. It was an incredible time of my life -- I learned a lot, I pushed myself out of my comfort zone on an almost daily basis and I woke up every day humbled by something or someone to learn from. But to be completely fair, it wasn't a job I had sought out for myself, and after about three years working long hours in a pretty corporate (albeit fun), but still very corporate environment, I realized I was craving something more. Something more of my own. I wasn't necessarily unhappy -- far from it actually. I just had something that made me happier -- a passion project, this blog in fact, that inspired and fed me creatively in ways that weren't being truly satisfied at my 9 to 5.
Of course, the decision to quit didn't happen overnight. Noooo, of course, not. It happened over the course of 2 more years, countless tears during what I assume was my quarter life crisis and far more bottles of wine than I would ever like to admit to anyone out loud or in writing. And even after ALL that, I still wasn't entirely sure I was doing the right thing leaving one path behind to pursue another.
What I learned perhaps the hard way, (so alas, you don't have to!), is that I needed some groundwork for myself -- two specific rules to keep in mind when tackling my career rut. The first? Nothing needs or should change tomorrow. By that I mean, stay open minded about the possibility of changing jobs/career paths, but don't let the prospect send you into a tailspin of anxiety because you think it all needs to be figured out in a week. Like I said, it took me almost 2 years to follow the 5 steps I've listed out below. It's a marathon. Not a sprint, people. No matter what path you're on, there will always be obstacles in your way, one of which will be your own mindset. You may even have to book an appointment with a therapist to find a way past that. As long as you have the wherewithal to tolerate a job that perhaps isn't satisfying you in all the ways it ideally should, try to stick it out for the sake of coming up with that game plan so when you do fly the nest, you're not flapping your wings back to it.
[/half][/row]
And the second rule? Don't ignore the voice that's telling you you're unhappy. I probably lost a lot of time in my pursuit of something new and different because I kept telling myself to "shut up," or "things aren't that bad," or "you'll learn to like it," or my personal favorite, "why bother?" It's dangerous business telling yourself to shut up. Just don't do it.
Now, with that housekeeping out the way, here are the steps I took in addressing my own career rut.
Identify the tangible things that make you unhappy about your job: You guessed it. Let's make some lists. The first list should focus on pin pointing exactly what it is you don't like about your current situation and try to be specific with yourself. The more specific you can be, the better you can distinguish if it's the subject matter of what you do or the nature of the environment itself.

Some possible questions to ask yourself: How do you feel about the size and structure of your company and the reporting ladder? How do you feel about the end product of what you produce (or don't produce) each day? How do you like your team? Do you feel proud of the work you're creating? Why or why not? What aspect of your career makes you feel excited about going to work each day? What aspect of your career makes you dread going to work each day? Do you actually see yourself in this line of work 5 years from now? How about 10 years from now? Why or why not?

Next, throw all reason and sensibility out the window, what would you rather be doing? This is where you should make a dream list. If there were no limitations holding you back (forget money, forget what your parents would say), picture what you would rather be doing with your time. And again, be specific with yourself.

Some possible questions to ask yourself: Do I like working with my hands? Do I prefer coming up with ideas? Do I love working in big groups of people? Do I prefer working solo? What was I always drawn to as a child? Do I prefer working in an office? Do I need to be more mobile? What career would I be proud to say out loud to myself? Are you already working on passion projects on the side? What are they? Could any of them be considered career paths if you monetize it just right? Do you have contacts in your social circle whose career you envy or wish you had? What is it about their job you admire?

Research like CRAZY: Steps 3 through 5 take some time, so go easy on yourself. After you've finished your lists and have a more definitive idea of what it is you don't enjoy about your current situation and what it is you'd rather be doing with your time, start looking into the career paths available in this new area you've identified. To be clear, sometimes a career rut doesn't mean you need to change careers entirely, but rather you'd prefer to be on a different side of the same path. For instance, I handled social media marketing strategy for the Shopping team at Google, even managing influencer marketing toward the end of my run. I loved what I did, I just wanted to be on the other side of the conversation, that being the influencer side. Wherever you land, try to read as much as possible about the options available in the space. Research career paths on Linkedin. Listen to podcasts featuring experts in this industry. Go to conferences where industry leaders are sharing their perspective, which leads me to my next step...
Network like CRAZY: The best way to understand if you're really going to enjoy a career shift, is to chat with those already in that particular space. Conferences are a great centralized place to find these folks and be poignant with your questions for them. Understand what it is that they love and enjoy about their industry. What are their complaints? How do they see it changing over the years? Are they excited for their years ahead? How did they get their start? What was their experience/background like? Of course, you could seek out a mentor in the industry as well if you feel comfortable and close enough to ask someone, but I do think there's value in crowd sourcing as well.
Come up with a game plan: Easier said than done, am I right? But remember, rule #1 above? Nothing needs to happen overnight. Be patient with yourself. Perhaps your new path requires new training? Perhaps your new path requires going back to school entirely? Perhaps your new path requires a complete overhaul of your current life (physical relocation, etc.). Whatever the obstacles are -- order them out. Make a chronological list of the things that would need to happen to make that new path a reality. Can any of these obstacles be tackled while you're working full time still? If so, try to start them, while you have a steady income. Research the costs involved, whether it's for school or for new equipment, and come up with a new budget that allows you to start saving for it. And most importantly, work on that nest egg. As someone who is on other side of leaving a very secure salary situation, I cannot stress the importance of having a padded savings account. Since so much of what might lay ahead will be uncertain and new to you, having something saved away for a rainy day will never hurt. I once read that anyone considering quitting their job to pursue a freelance lifestyle should have at least $30,000 saved up and that number has stuck with me ever since. Once you have a plan of attack, ask yourself "how would I feel if I never gave this new plan a try?" If the answer is devastated -- then I think you know what to do...LEAP!
Would love to hear from you guys! Have you ever been in a career rut? What did you do to get out of it?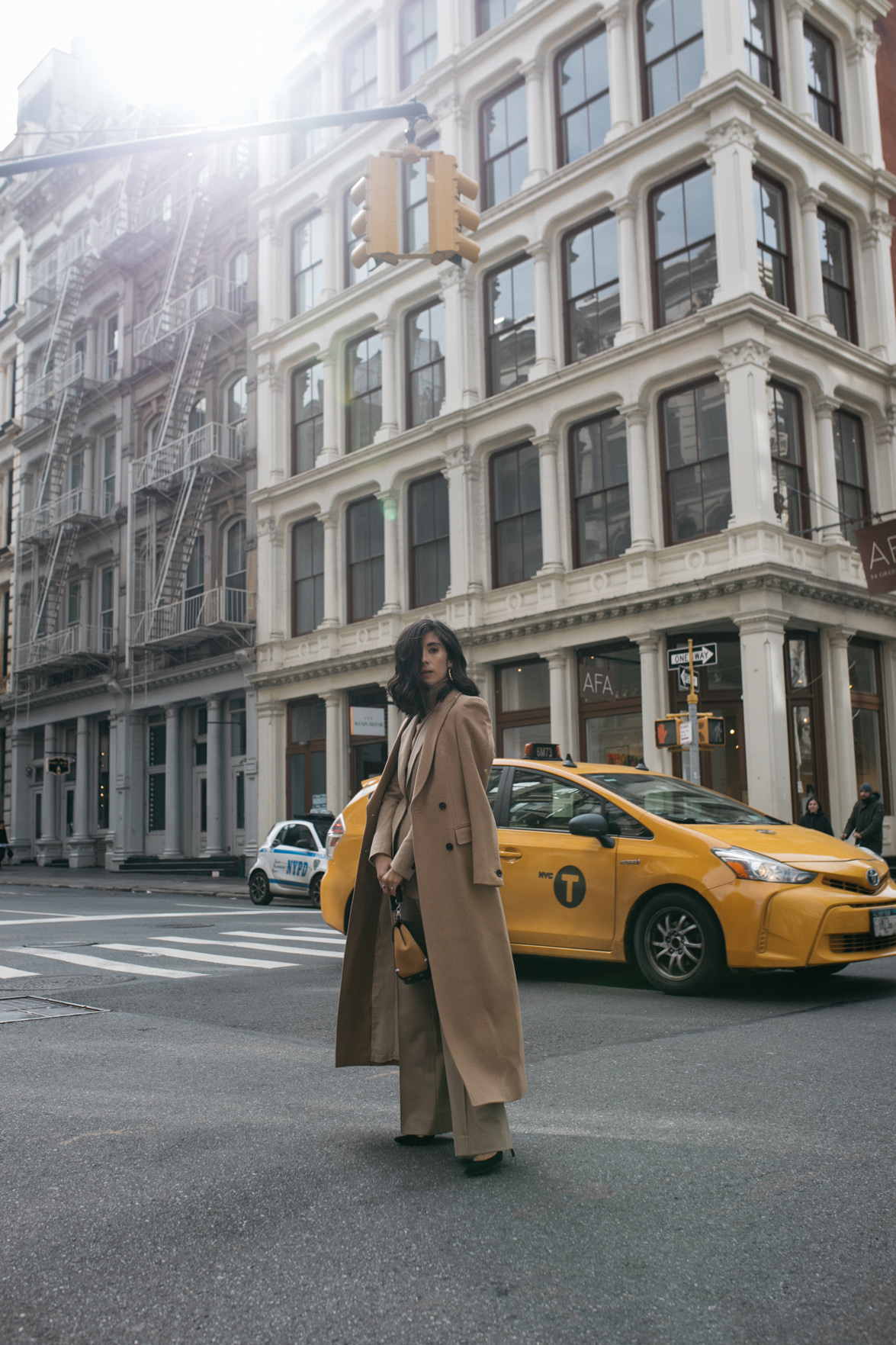 OUTFIT DETAILS: Suistudio coat (gifted) // Suistudio suit and turtleneck (borrowed) // Sergio Rossi heels // Longchamp bag (gifted) // Gas Bijoux earrings (gifted)
[row][half]
[/half][half]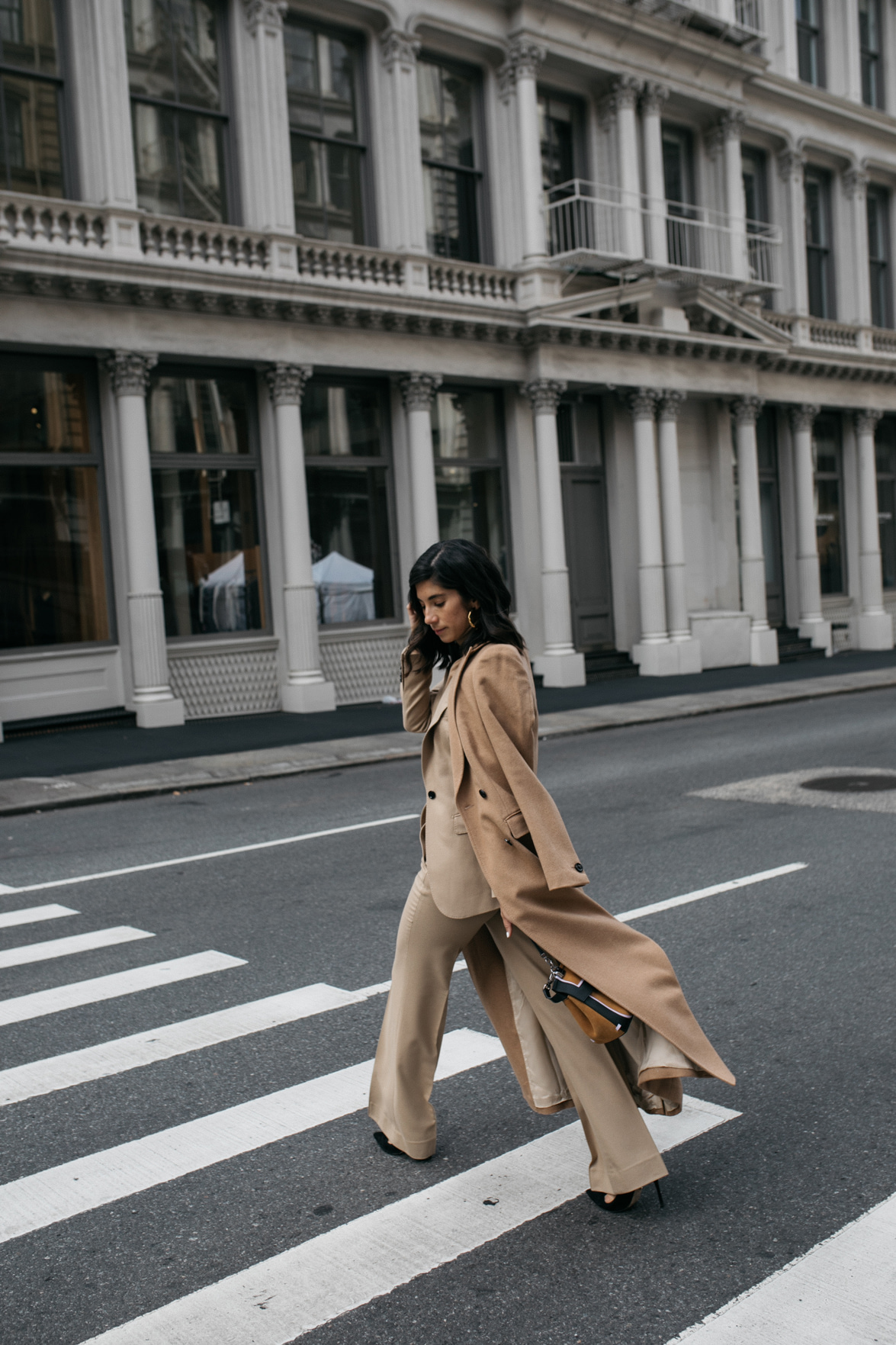 [/half][/row]