7
minute read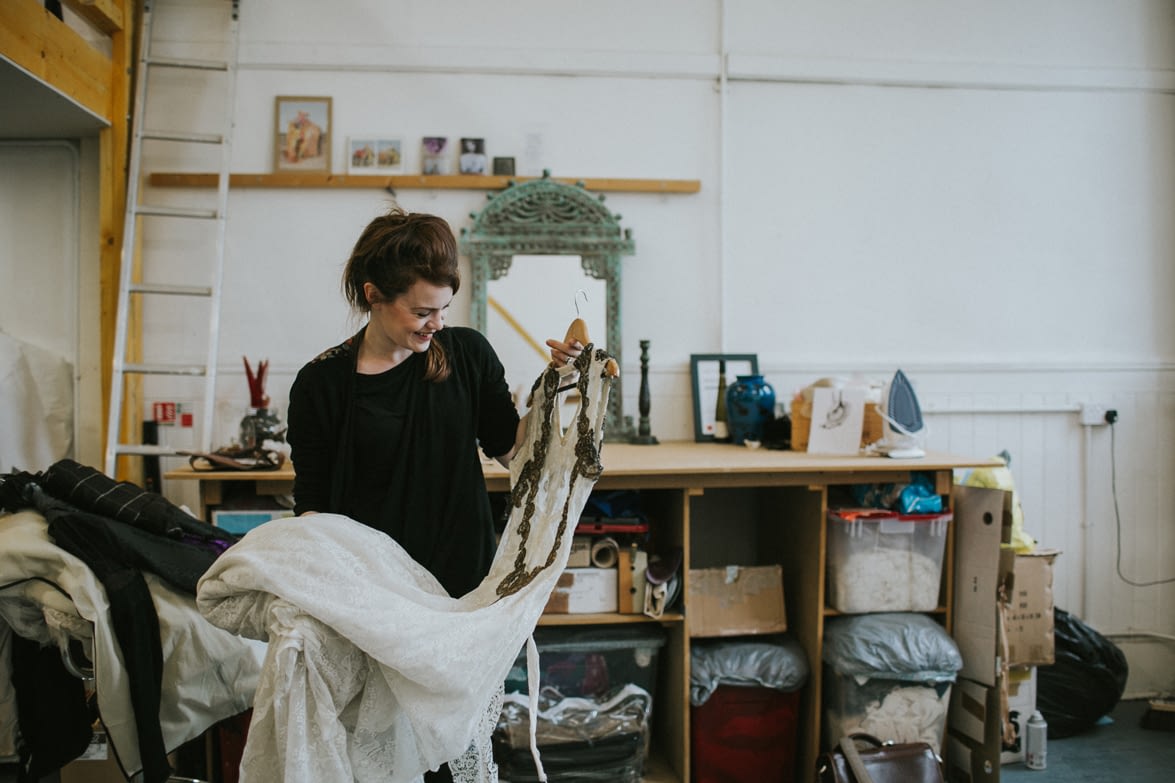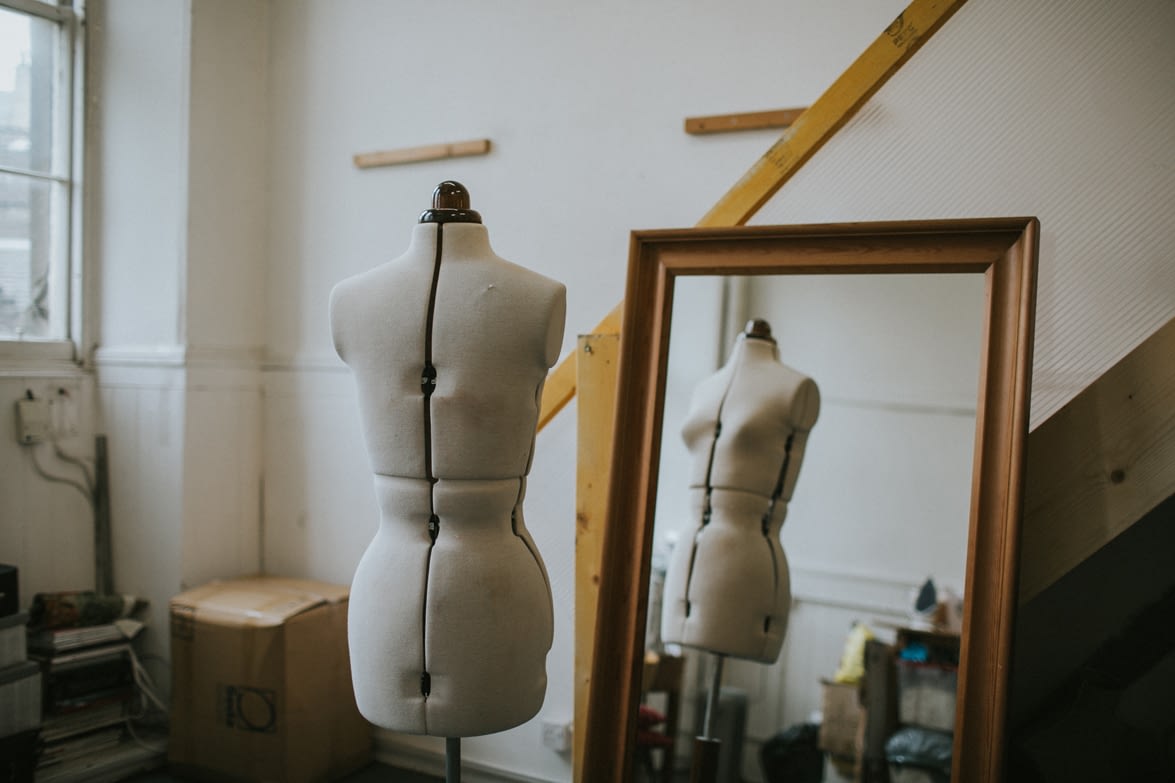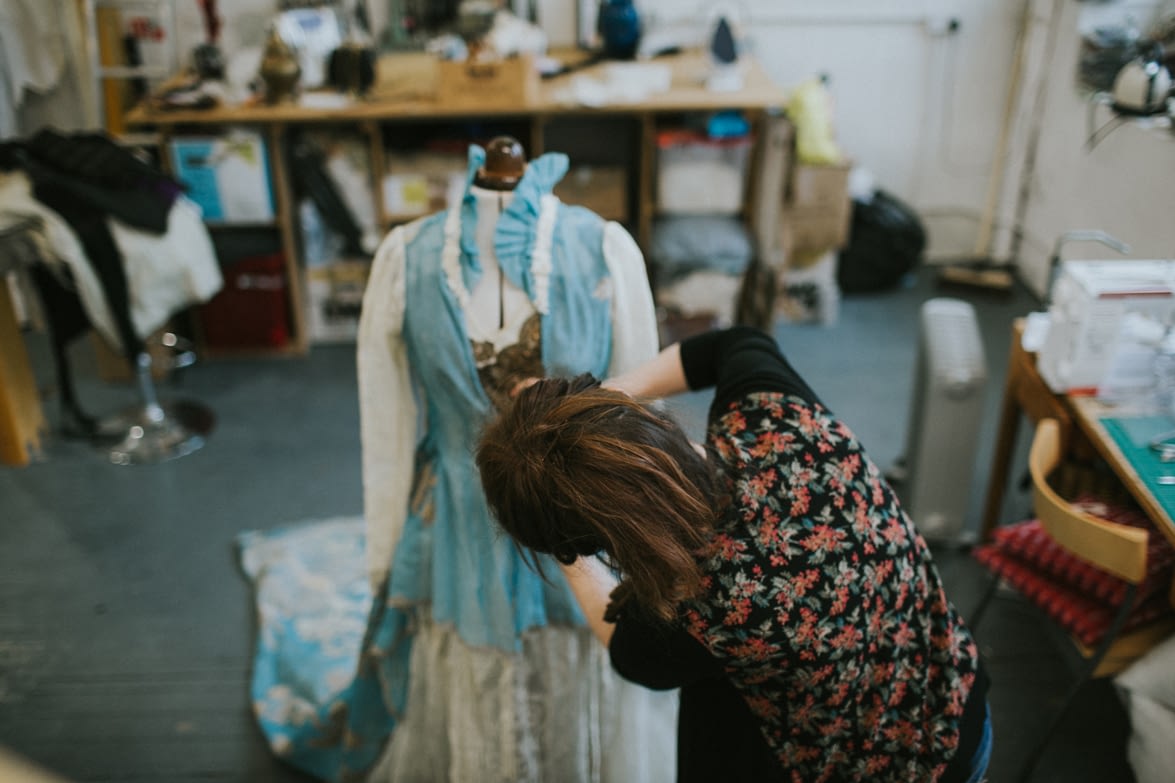 I think one of the biggest reasons I love travel so much, isn't necessarily how different each location can feel and look from the last (although it certainly doesn't hurt!), but rather it's the people that I meet along the way. Vendors. Locals. Shop keepers. The man who sold me my bus ticket and proceeded to tell me about his family and why he loves his home country so much. Most of my favorite trips are purely made by the people I meet while on them. They allow me to see their home through a lens that is indescribable and, quite frankly, irreplaceable when it comes to truly experiencing a place.
So when I had the opportunity to meet with local womenswear designer, Judy Clark, while hopping through Edinburgh, Scotland, I couldn't agree fast enough. Granted, I've never been to Scotland before, but after last summer's trip to Ireland (not to mention the fact I'm part Scottish), I was eager to explore more of this part of the world, for all the reasons you can probably imagine. Cue rolling green hills. Moody skies that threaten to crack open and pour on you at any moment. Lone farm houses tucked away from the world, with nothing but their sheep as witnesses. Dignified architecture harkening back to the age of kings and queens (and yes, even a certain Harry Potter).
And Judy Clark's designs harmonize quite well with this world I had imagined, for a woman blending modern and heritage together, for a look completely her own. It's as if you can see the woman she designs for, sporting a men's tweed swing coat but with lace and intricate beaded details, playing out a role in a great adventure novel, roaming the beautifully melancholy Highland hills -- a heroine of her own destiny, answering to no one.
To say I fell in love with this world Judy had created would be an understatement -- and it was just the right note for Alisha and I to kick off our trip through Scotland. I hope you adore her work as much as I do.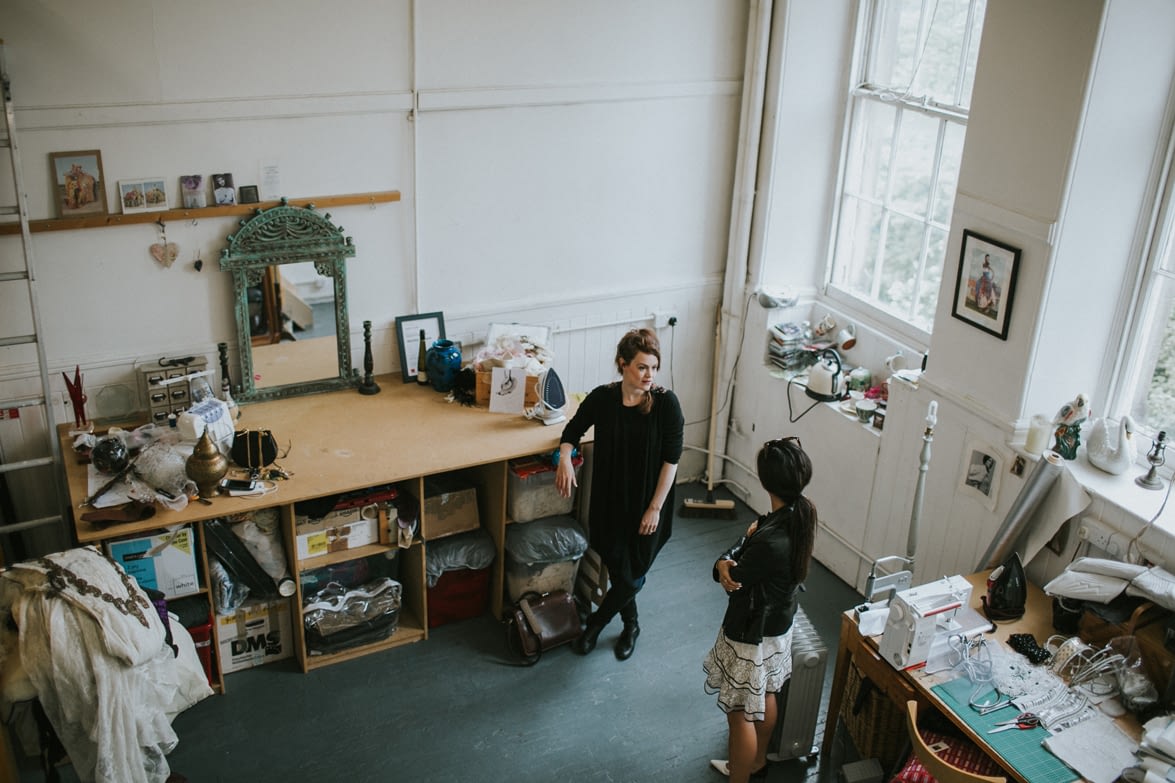 As a literature and history buff myself, I love how your designs incorporate a modern, edgy nod to eras gone by. Where do your design inspirations come from?
I love old things and places. Vintage shops, thrift stores, historical architecture. I love looking back at period clothing; they had such intricate undergarments and structure to the clothing. I am very inspired by these historical shapes and translate these beautiful silhouettes into more wearable but statement pieces. I am always inspired by the places I travel to and sometimes there is a such varied heritage in the world and I love to investigate who was wearing what at different times.
What does your design process look like from start to finish?
Research, mood boards sketching ideas in pen or ink in my design journals, pulling fabrics together from my fabric boxes, creating new patters, toile's and then creating the final pieces.
Who is the Judy Clark woman?
Individual style atheistic who's not afraid to be a little eccentric.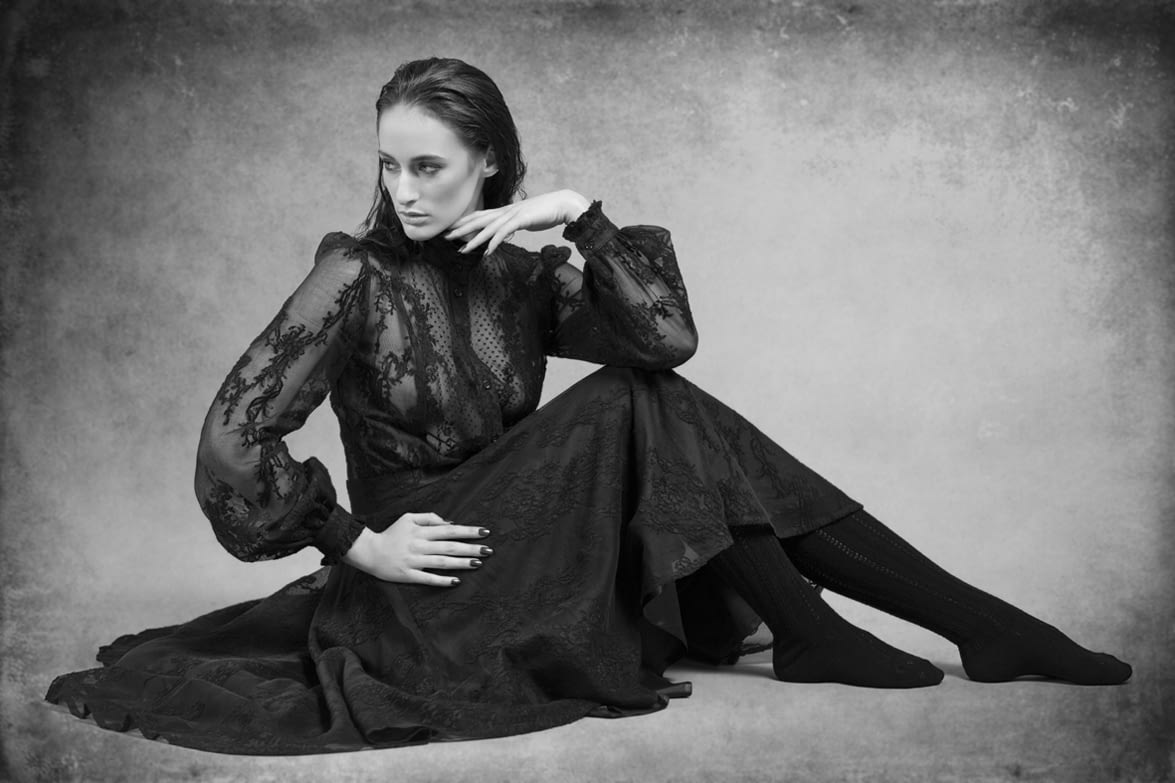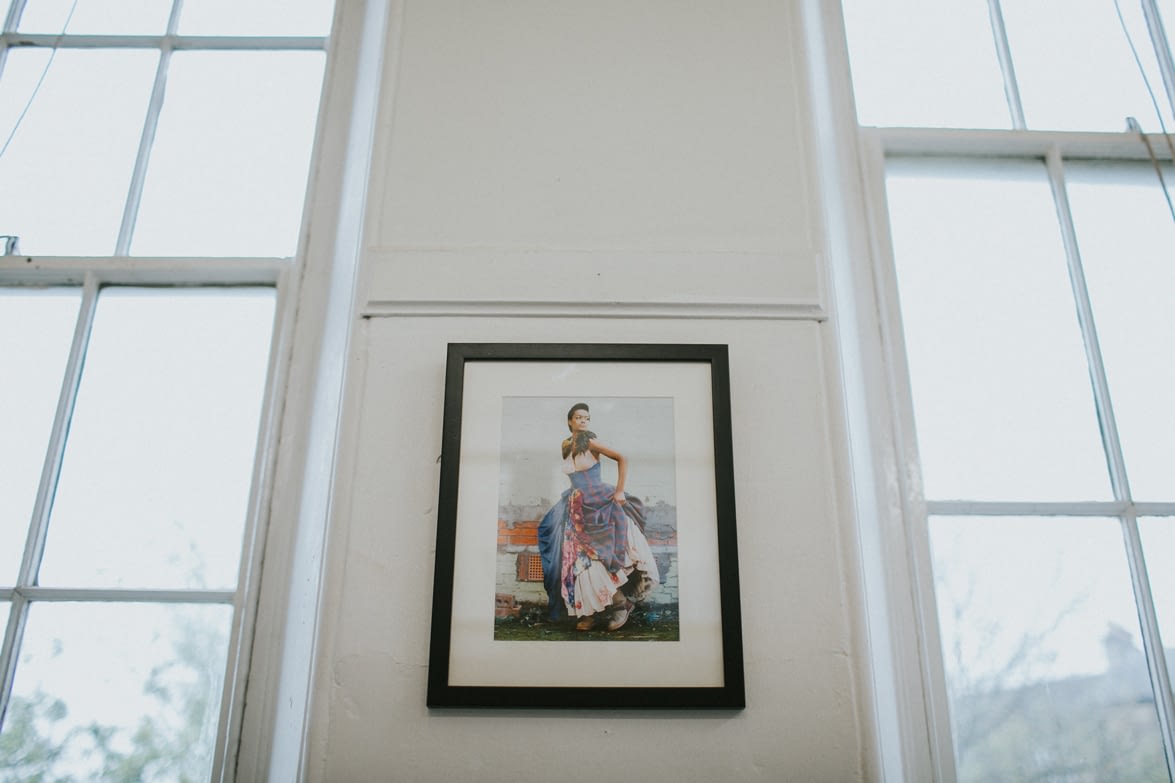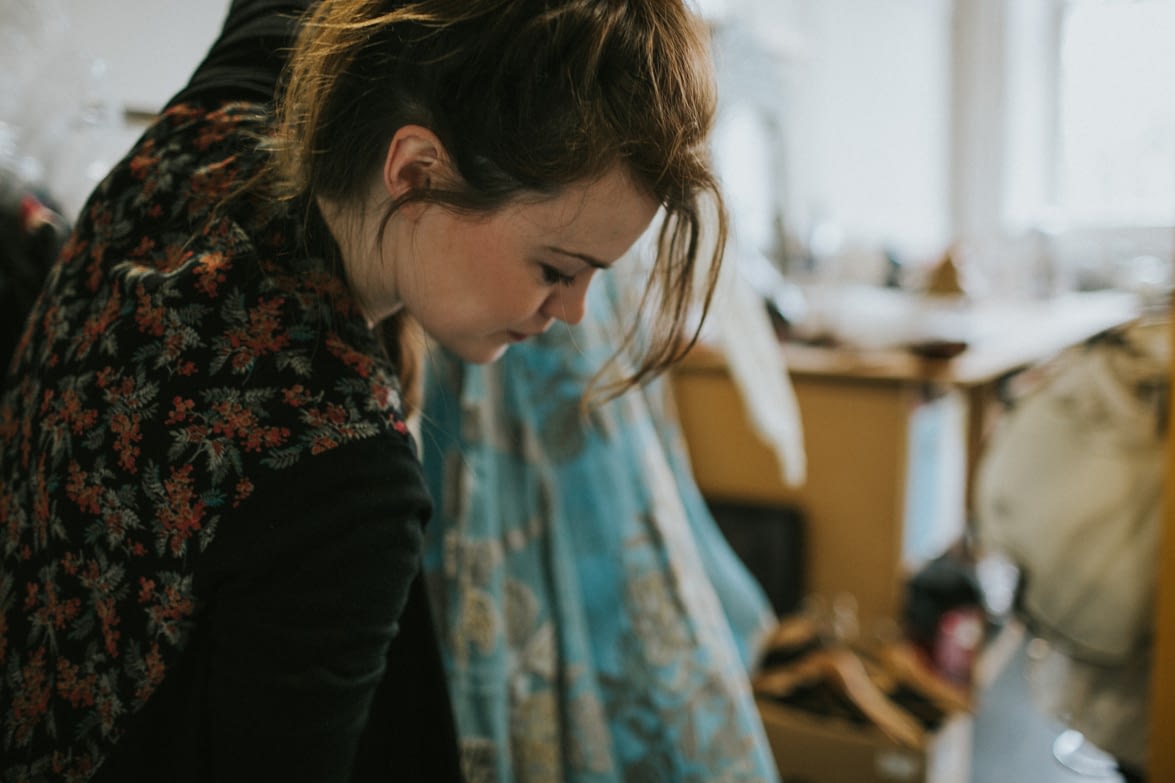 I love that you incorporate some very uniquely Scottish elements in your work -- tartan, lace and  tweed for an effect that is both dramatic and romantic. Does Scotland play a role (as muse or otherwise) in your work? If so, how?
The fabrics are probably the biggest inspiration from Scotland; i usually pull together different textures and colours in the studio and drape them over the mannequin to see what works.
You've garnered quite the list of accolades and awards (and rightfully so!), including Womenswear Designer of the Year by the Scottish Style Awards. How did you ultimately land on designing as your calling? Was it an early discovery or something that came about later in life?
I have always had an interest in art – I spent many an afternoon in the art department in school pottering around with new ideas. If I could I would have spent my entire secondary education there. Our school didn't have a specialized textiles or fashion department but we were encouraged to follow our interest and mine was fashion.  It really came from an illustrative journeys drawing from life then pushing that into a new area of fashion illustration. I always loved to draw and still do.
I began really learning to sew at university -- I have to admit I was perhaps the last in the class in completing our first projects as most had learnt to sew through school or college. I think in some way it made me more determined and now I am probably one of a handful of people that have continued creating in the fashion line.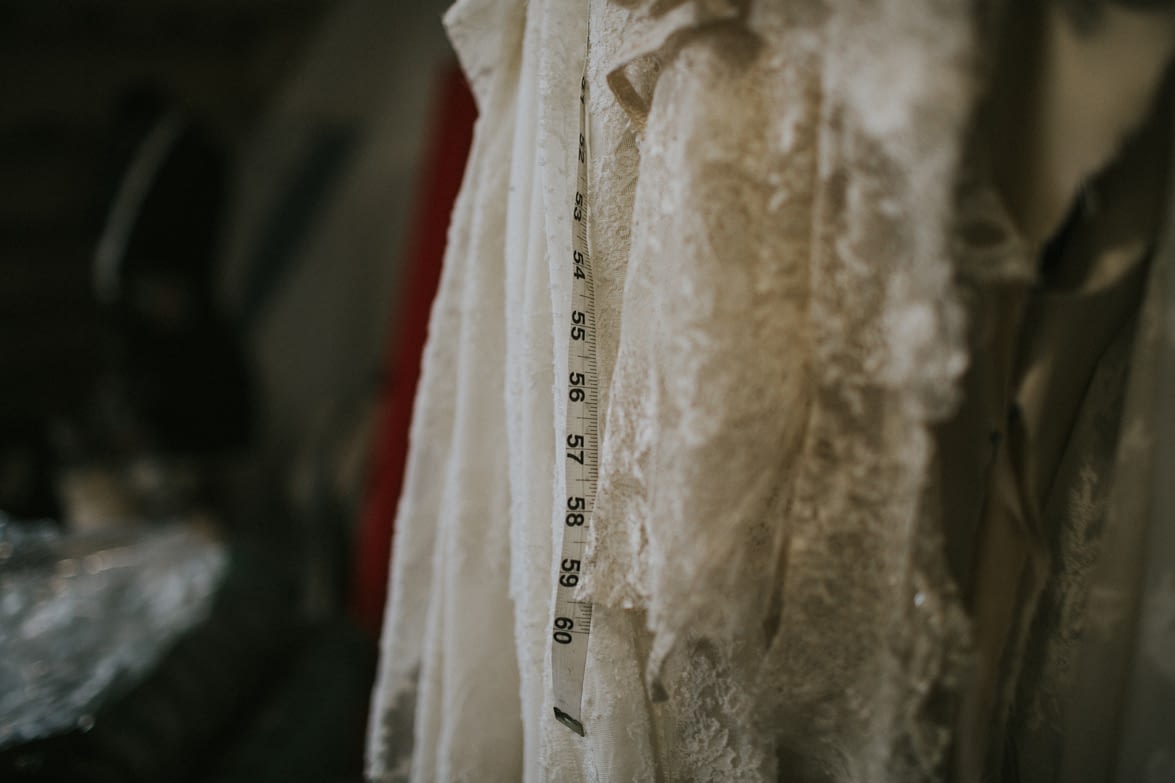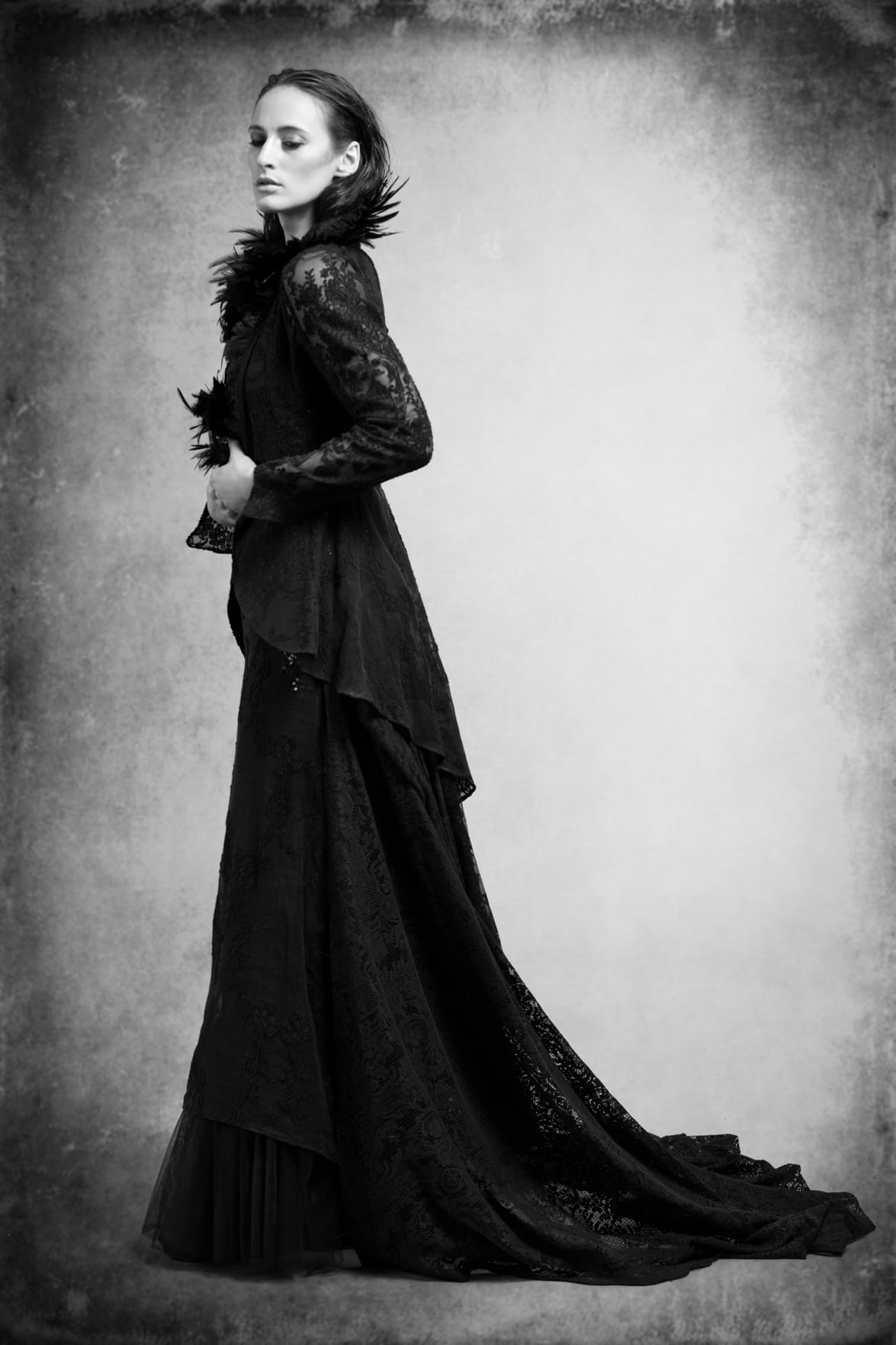 What are some of your favorite pieces to design? Do you have a particular favorite piece to date and why is it your favorite?
The Pheasant feather tartan Frock coat is one of my favourites; the image by David Stanton is one of our most iconic pieces. I love the drama of it. The coat combines tartan from the Scottish borders, silk velvet collar and leather sleeves with a pheasant feathers bustle.
Your studio space is stunning (such great light!). Can you describe a typical day to me, from the moment you walk in to the moment you leave?
Tunes on, kettle on, cup of tea, patten cutting, draping,  stitching, creating, emails, social medial, back to the sewing table to create .
Speaking on tunes, what do you listen to while in the studio? 
Annie Lennox, Florence and the Machine, Goldfrap, Beyonce,  I love power ballads and divas!
We love a good diva, too! Which is why we're personally huge fans of the Lace Noir collection. It has a wonderful empowered femininity to it -- this begs the question: what does style mean to you?
Style has to be comfortable, feminine, bold and strong.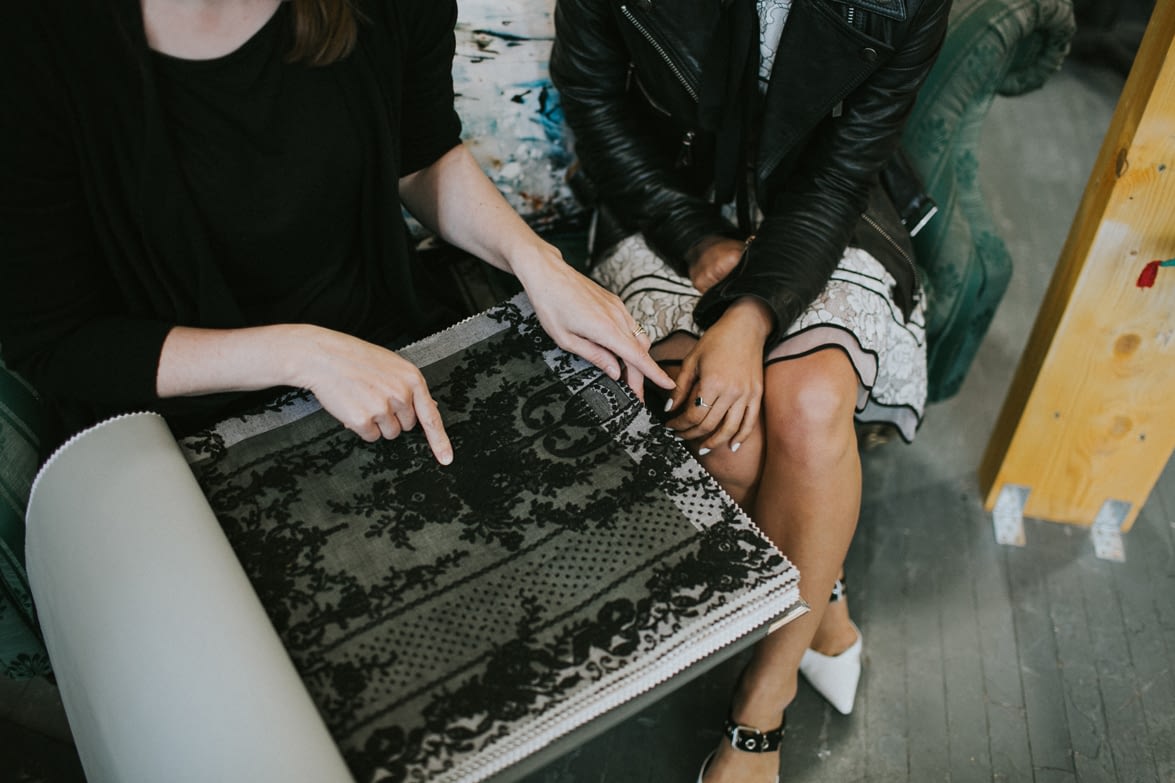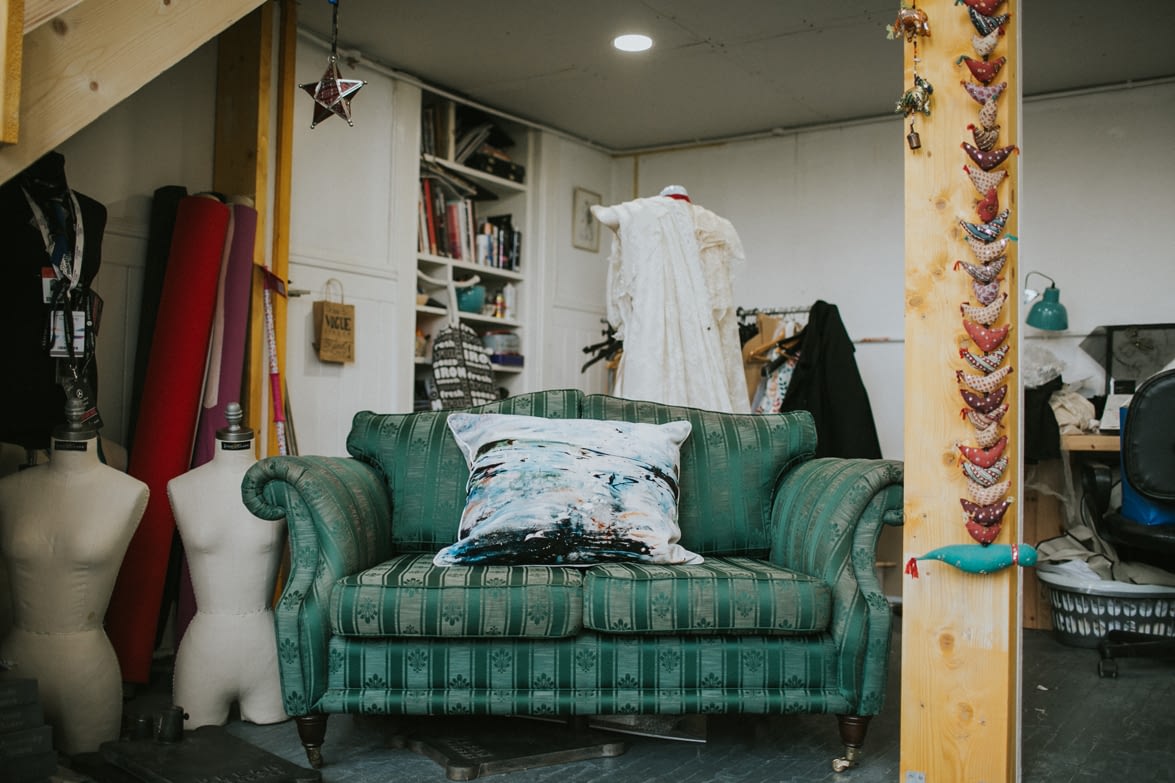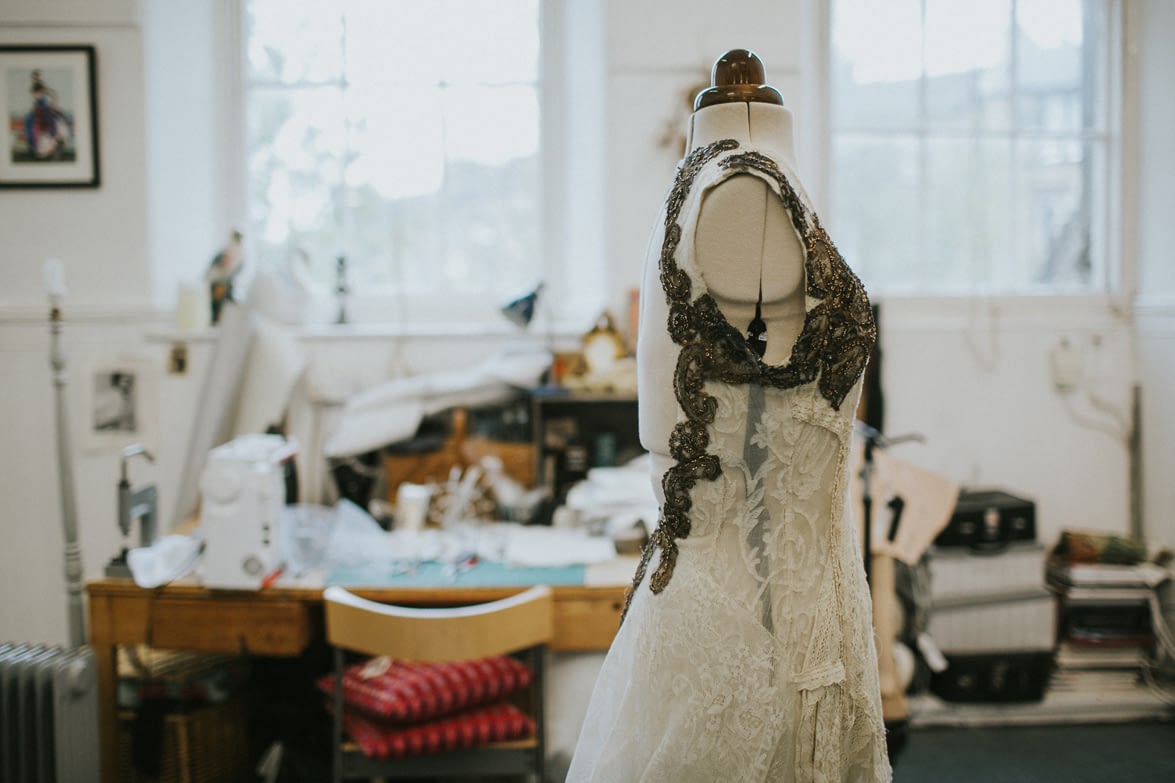 Who are some designers you admire? Artists?
McQueen , Galliano, John Byrne, Joan Eardley
What has been your career highlight thus far?
Scotttish Style Awards designer of the Year – it came as a complete surprise and I was delighted!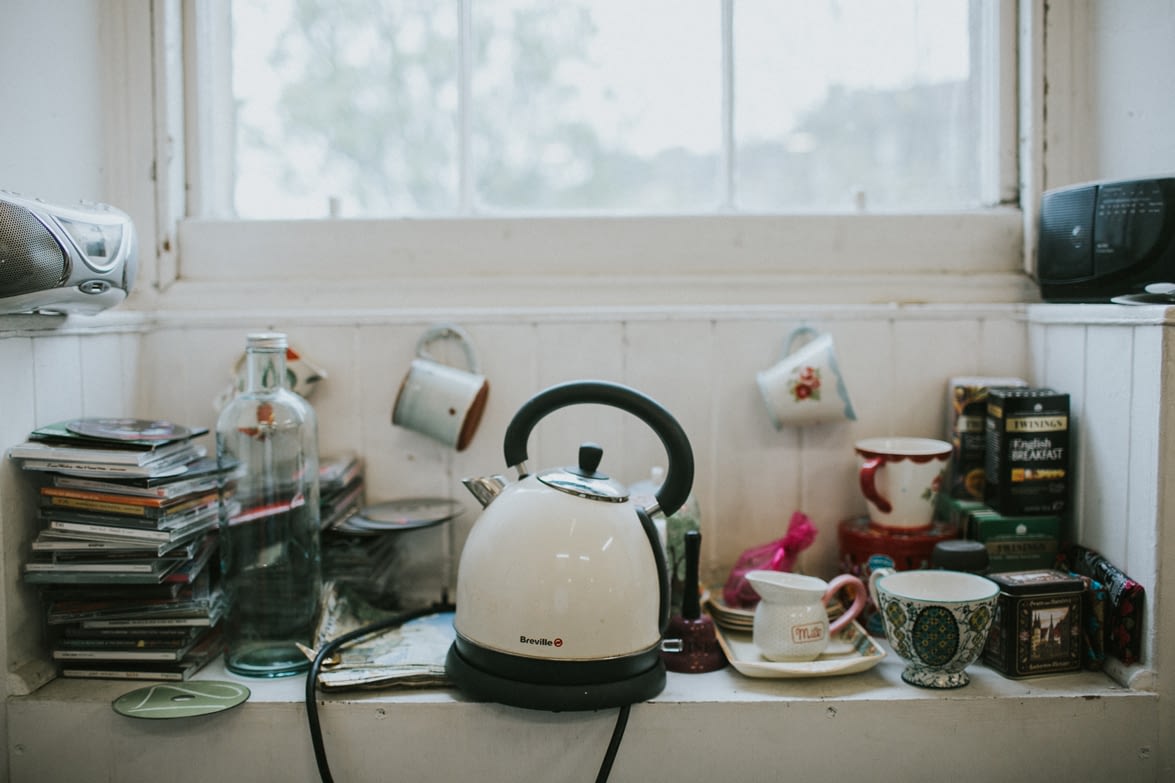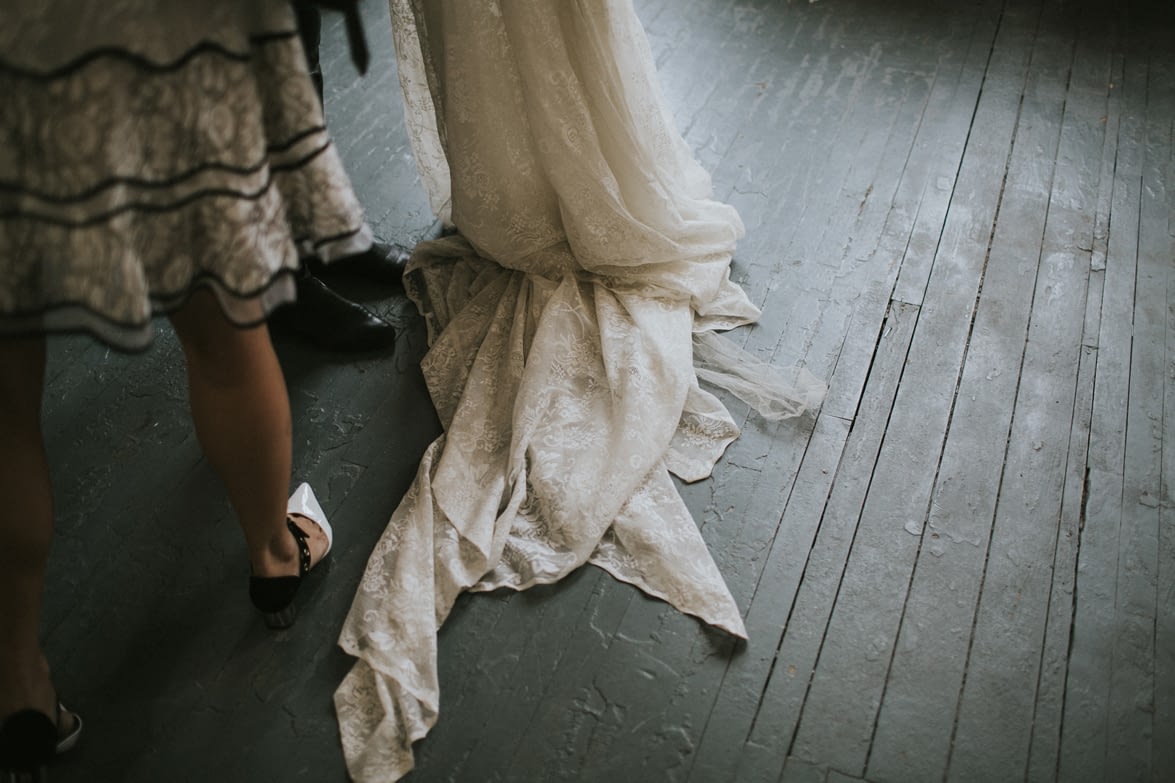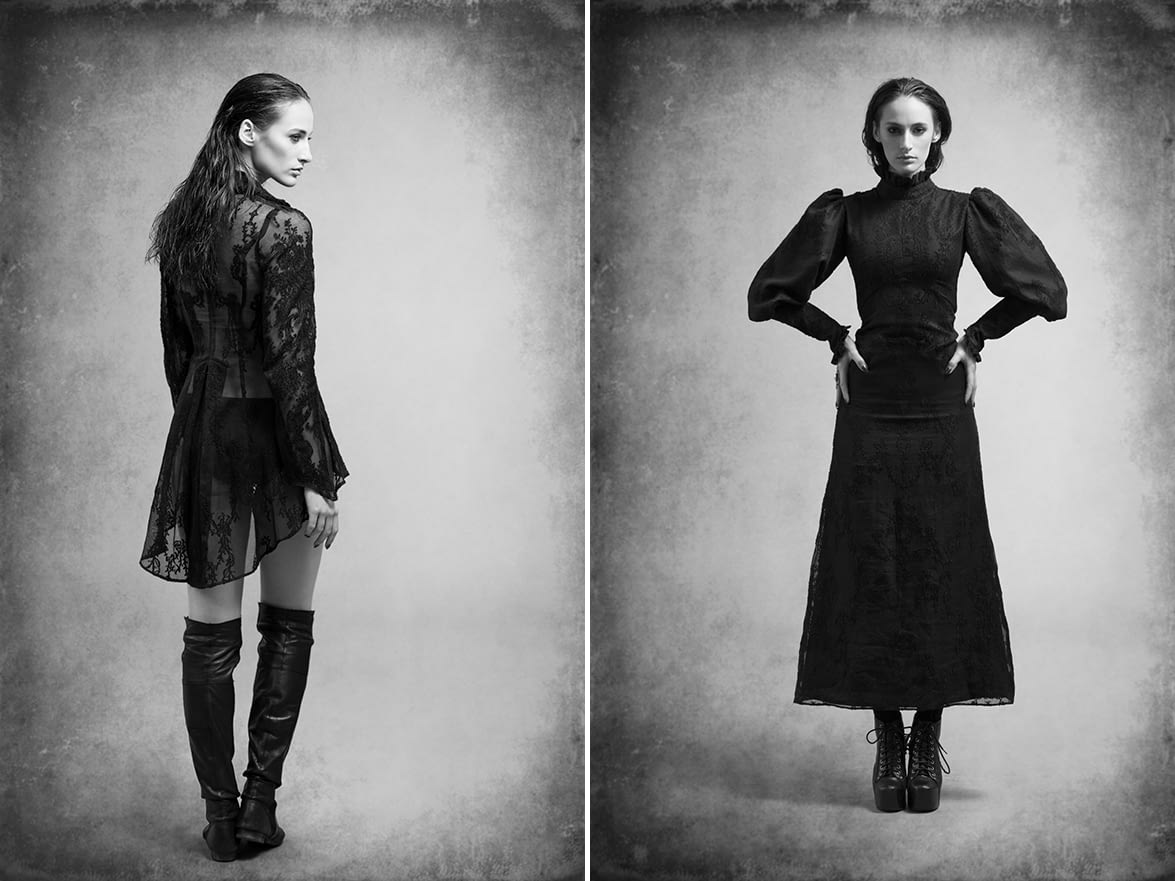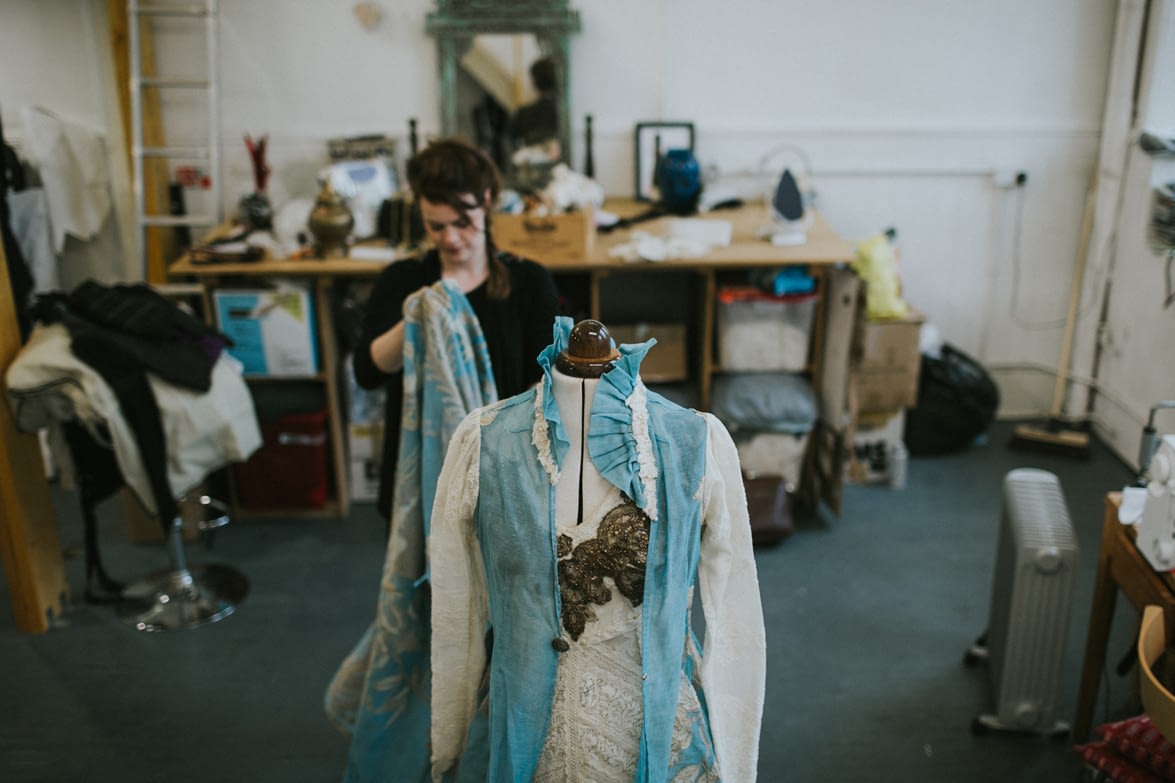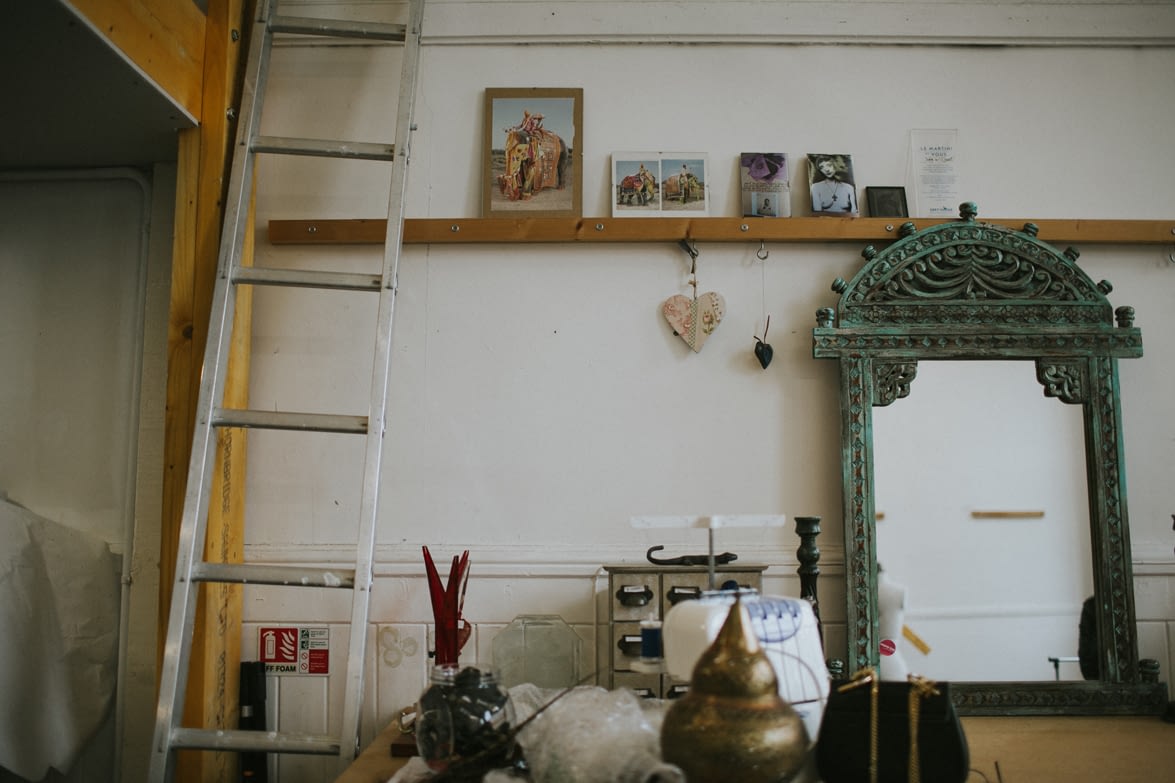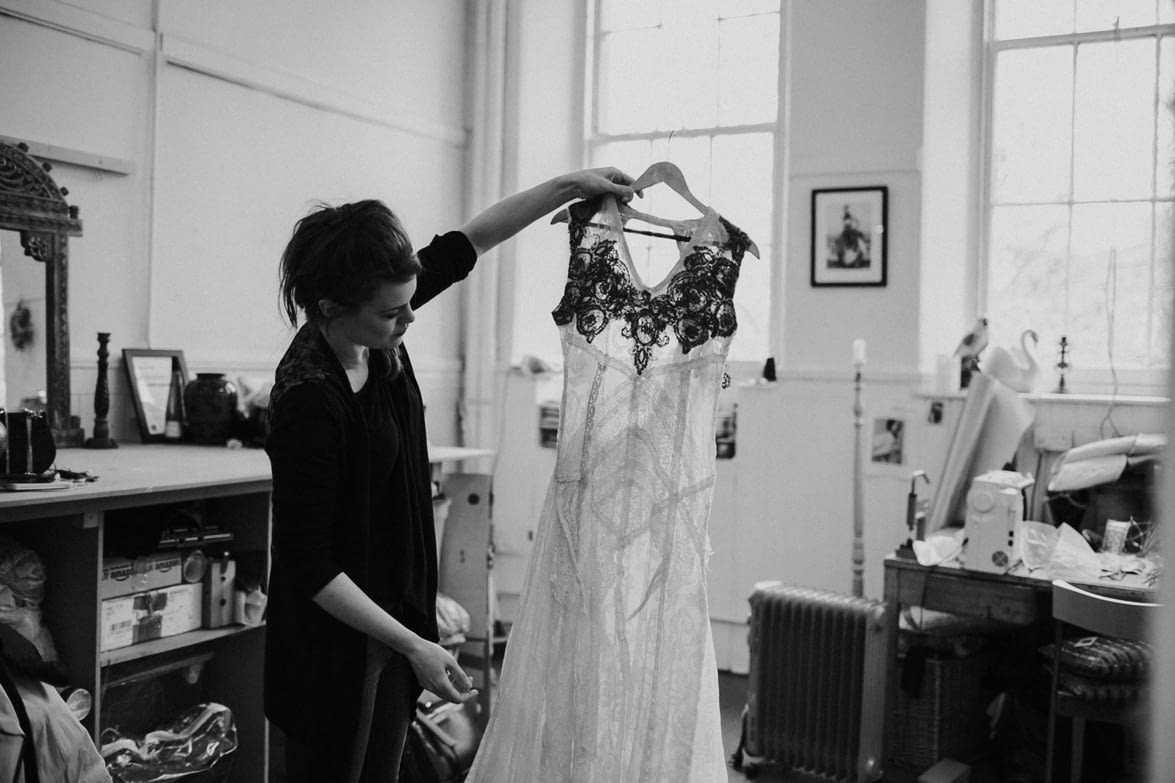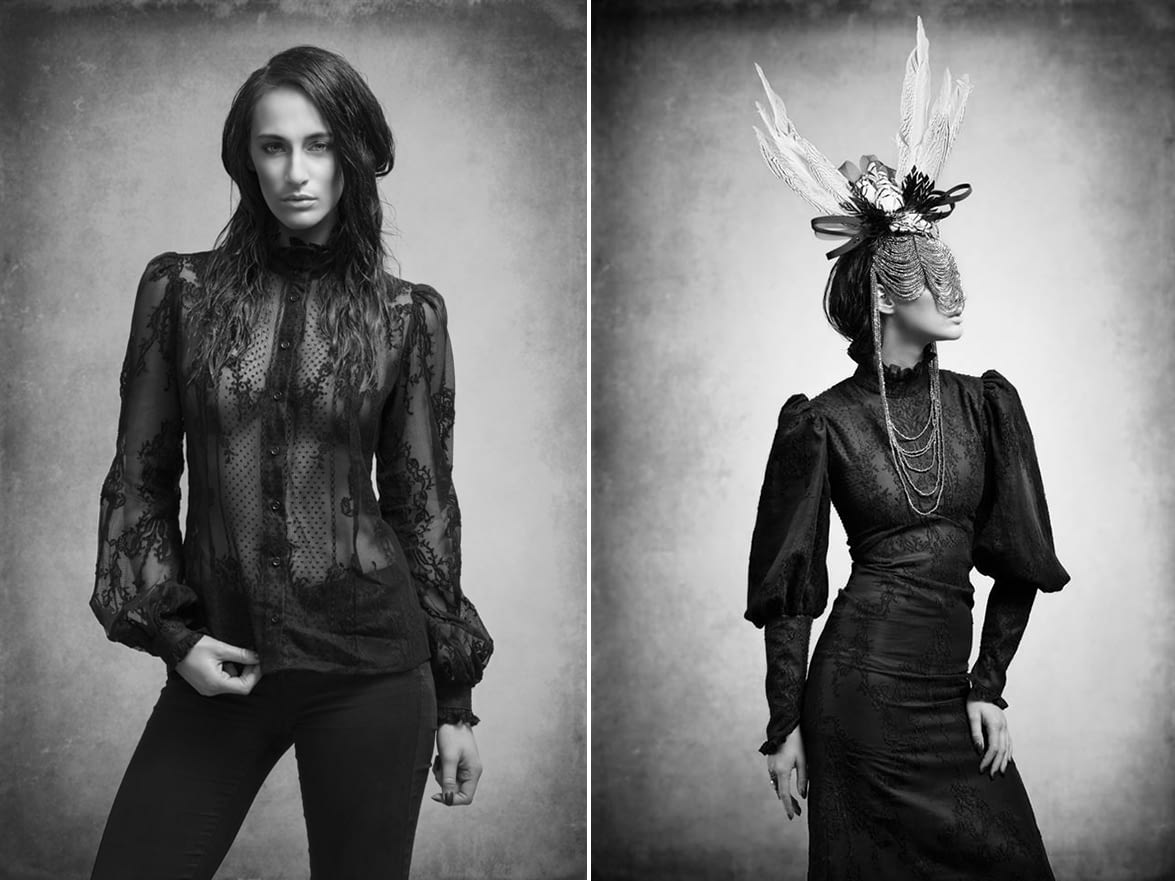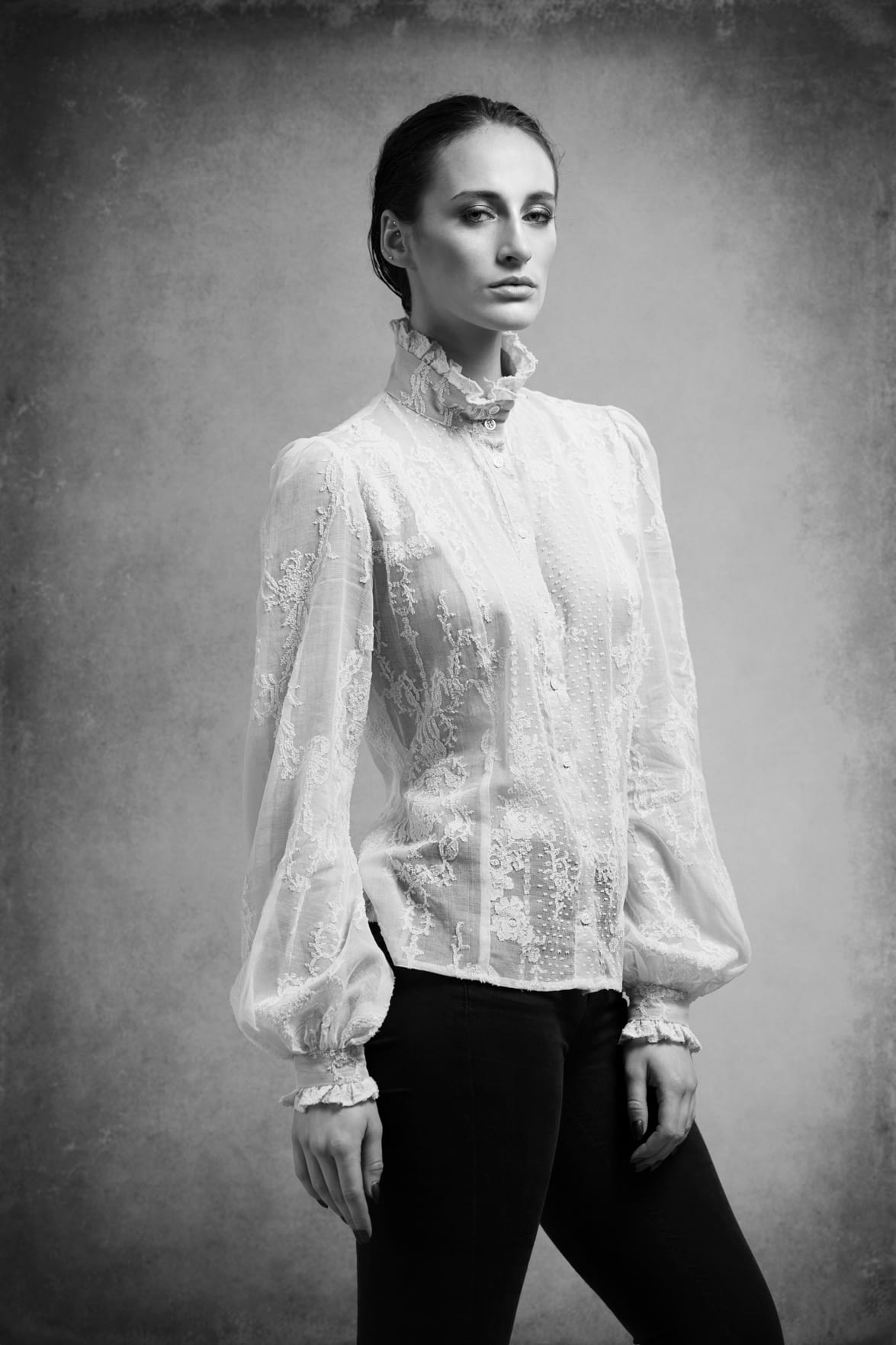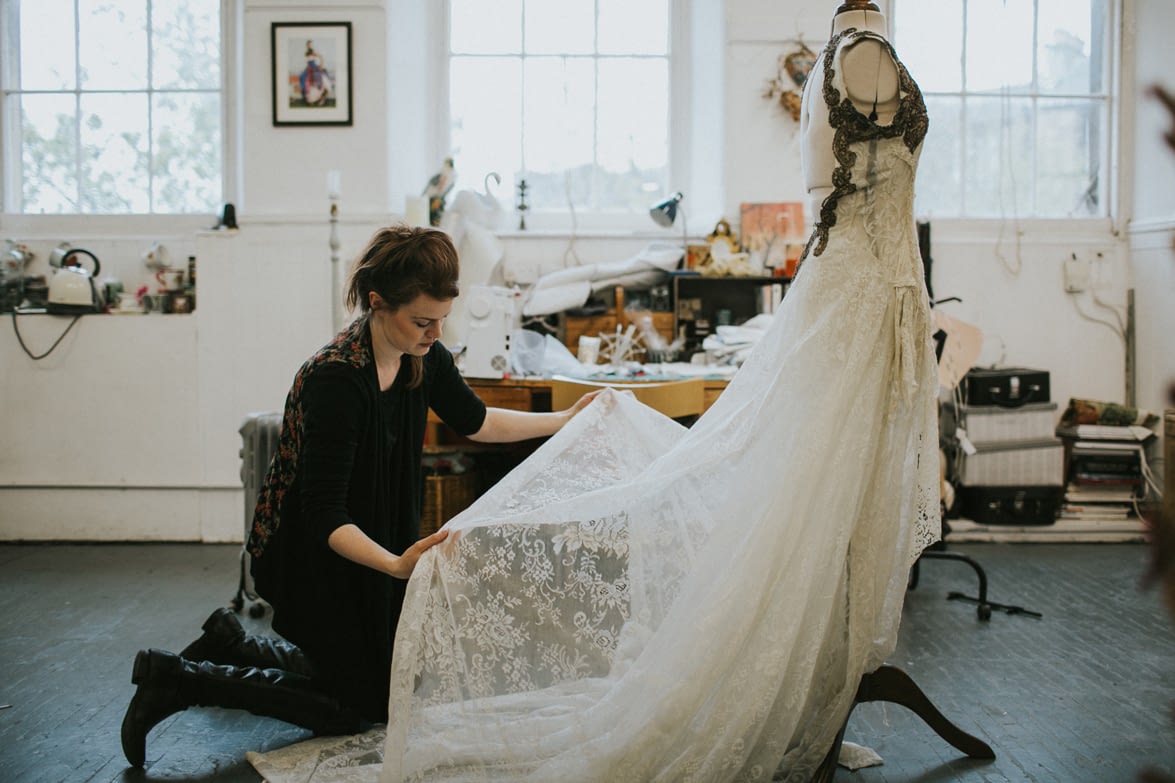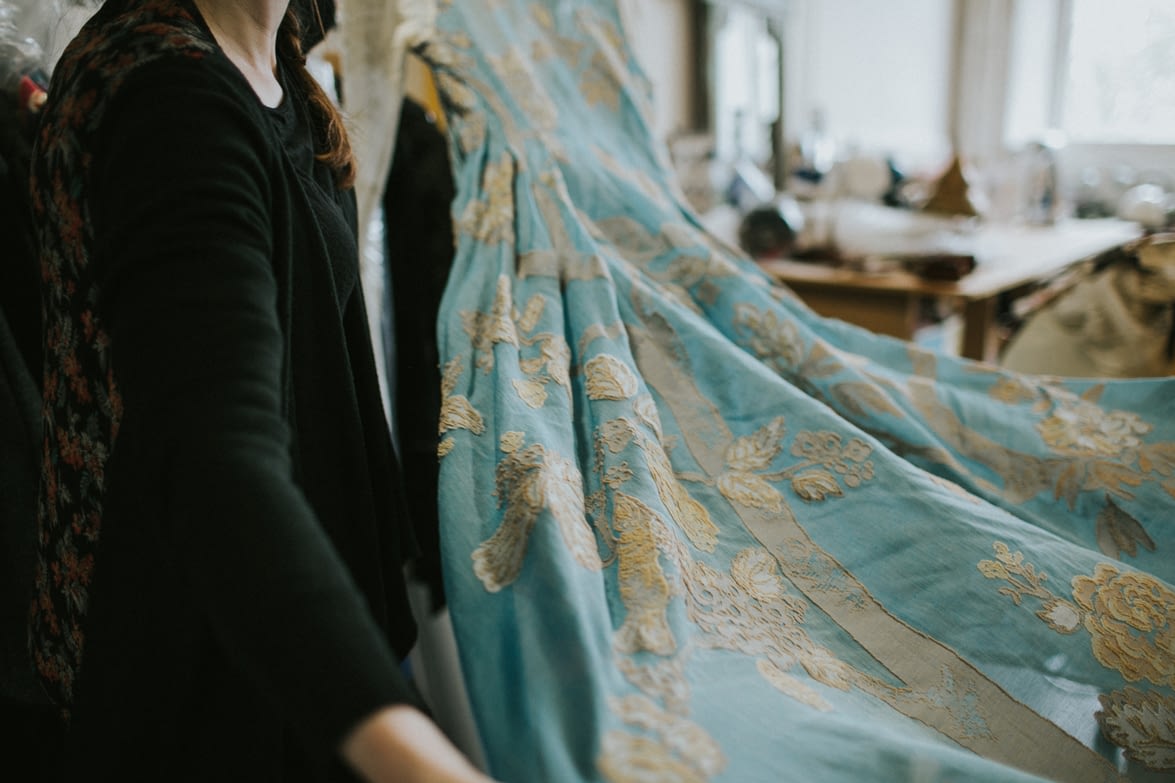 Alright, lightening round! Can you finish these sentences for us?
The first thing I did this morning was … kiss my little boy good morning
Right now, I'm obsessed with … red wine
Every woman should own … a great pair of boots!
The three things you can always find in my bag are … lipstick, perfume, phone
I've been listening to ... Annie Lennox on repeat lately.
I'd kill to design something for …. Beyonce – she rocks!
My style icon is …. Daphne Guiness
My guilty pleasure is … I do like a good music contest such as X-Factor or The Voice.
To be a good designer, you must ... have ambition, determination and raw talent.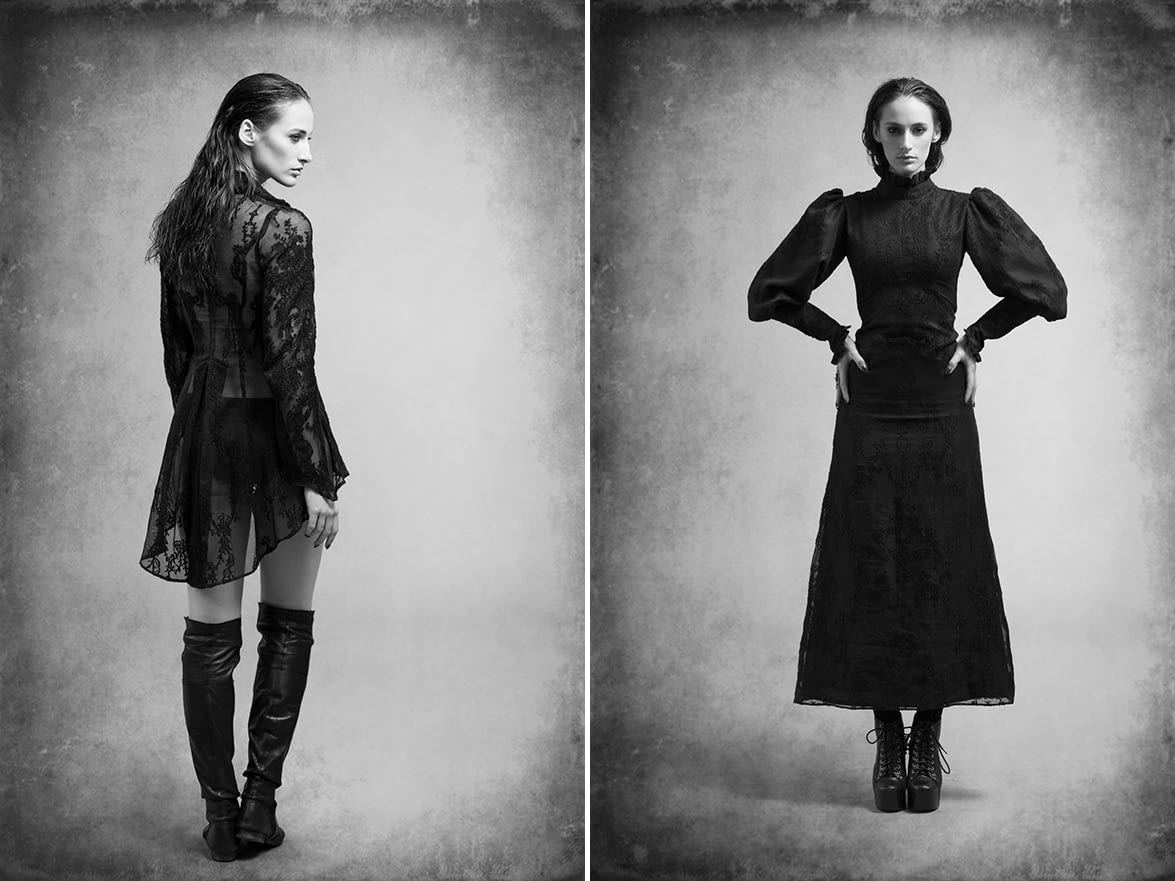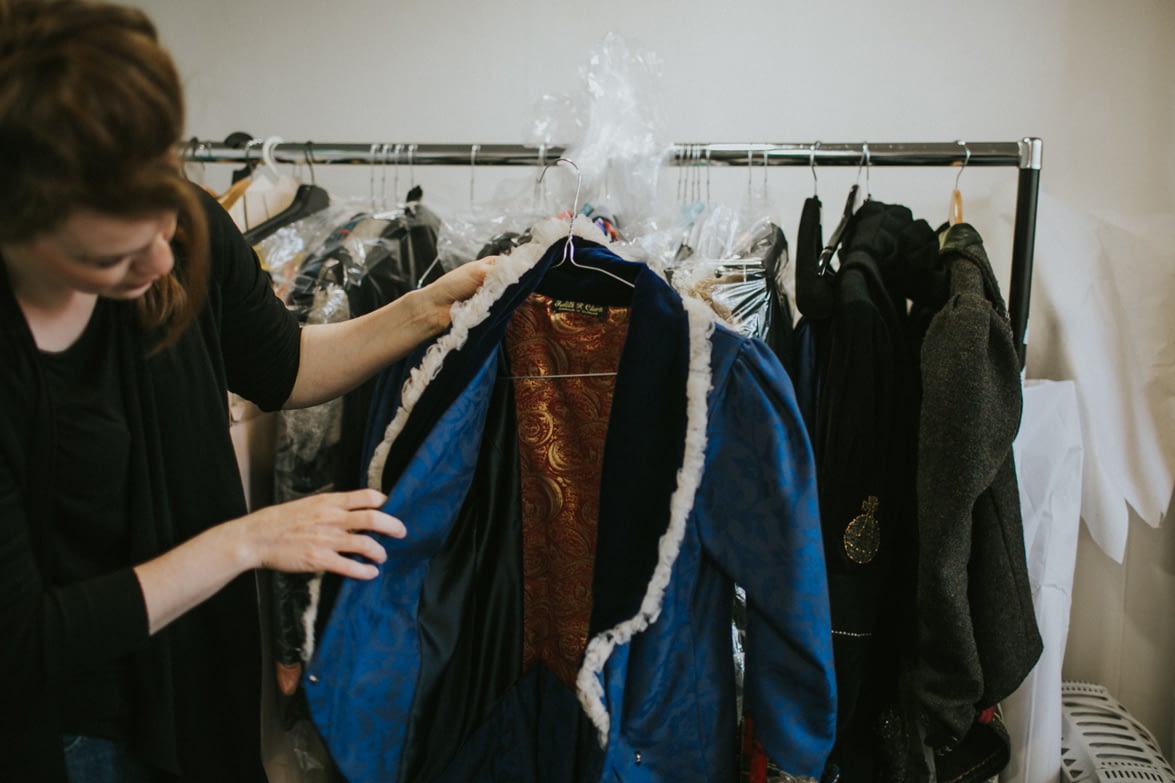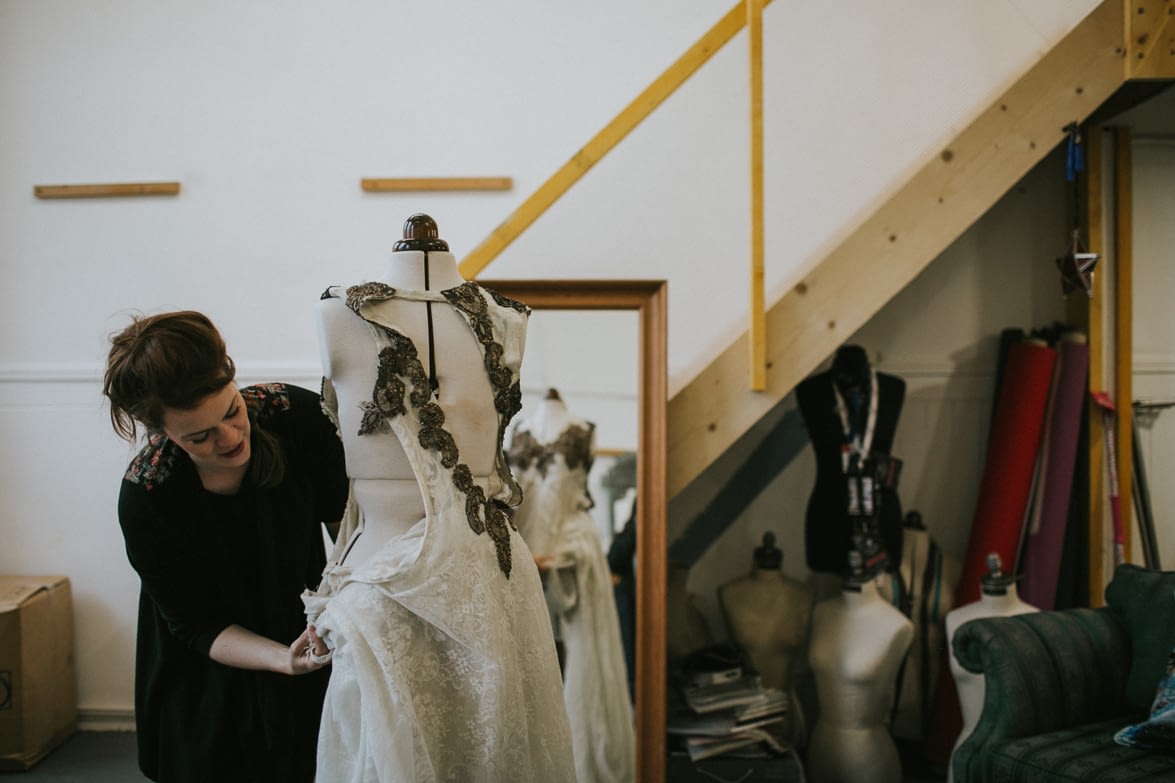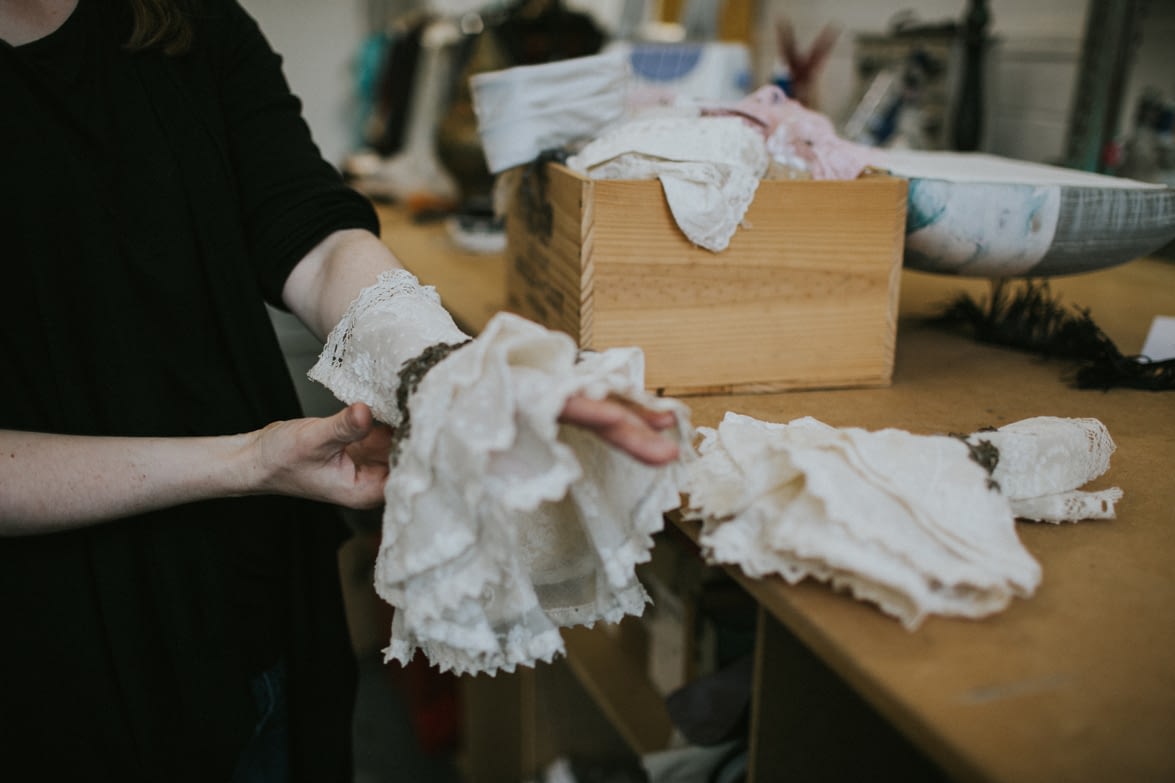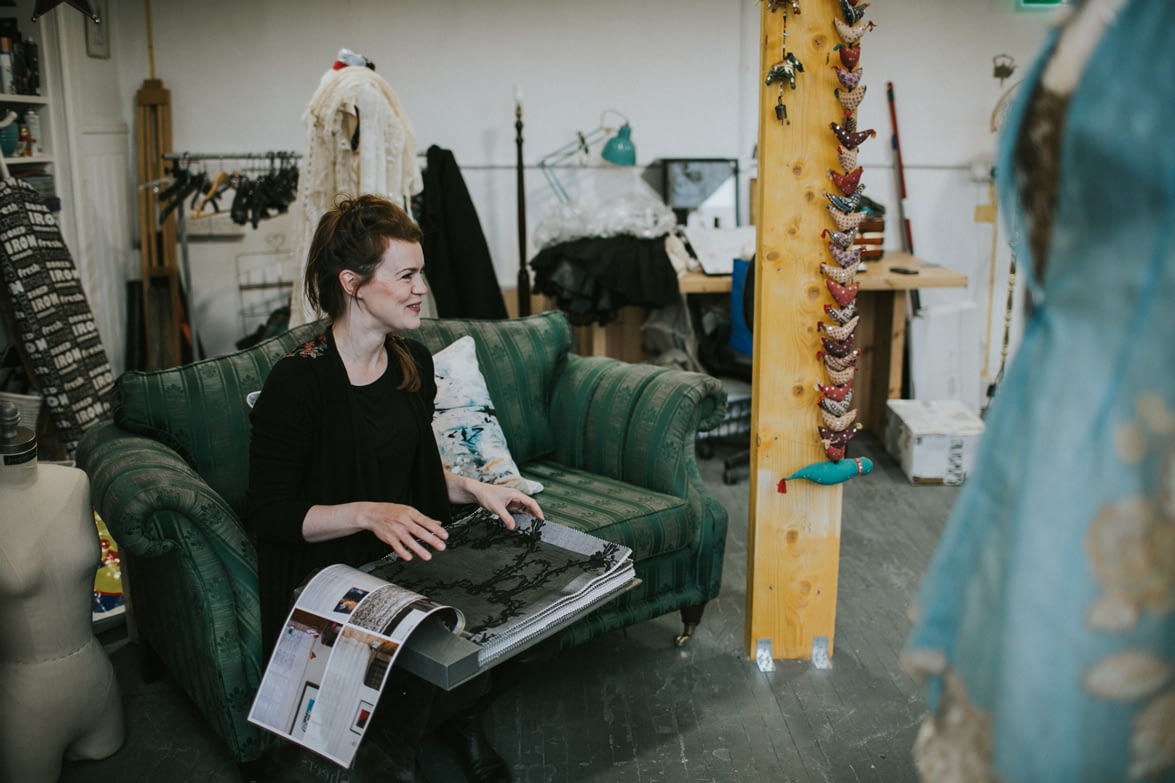 Photos in Judy Clark's studio by Alisha Siegel // Lookbook images provided by Judy Clark and shot by David Stanton, modeled by Victoria Middleton. Hair and makeup by Molly Sheridan