13
minute read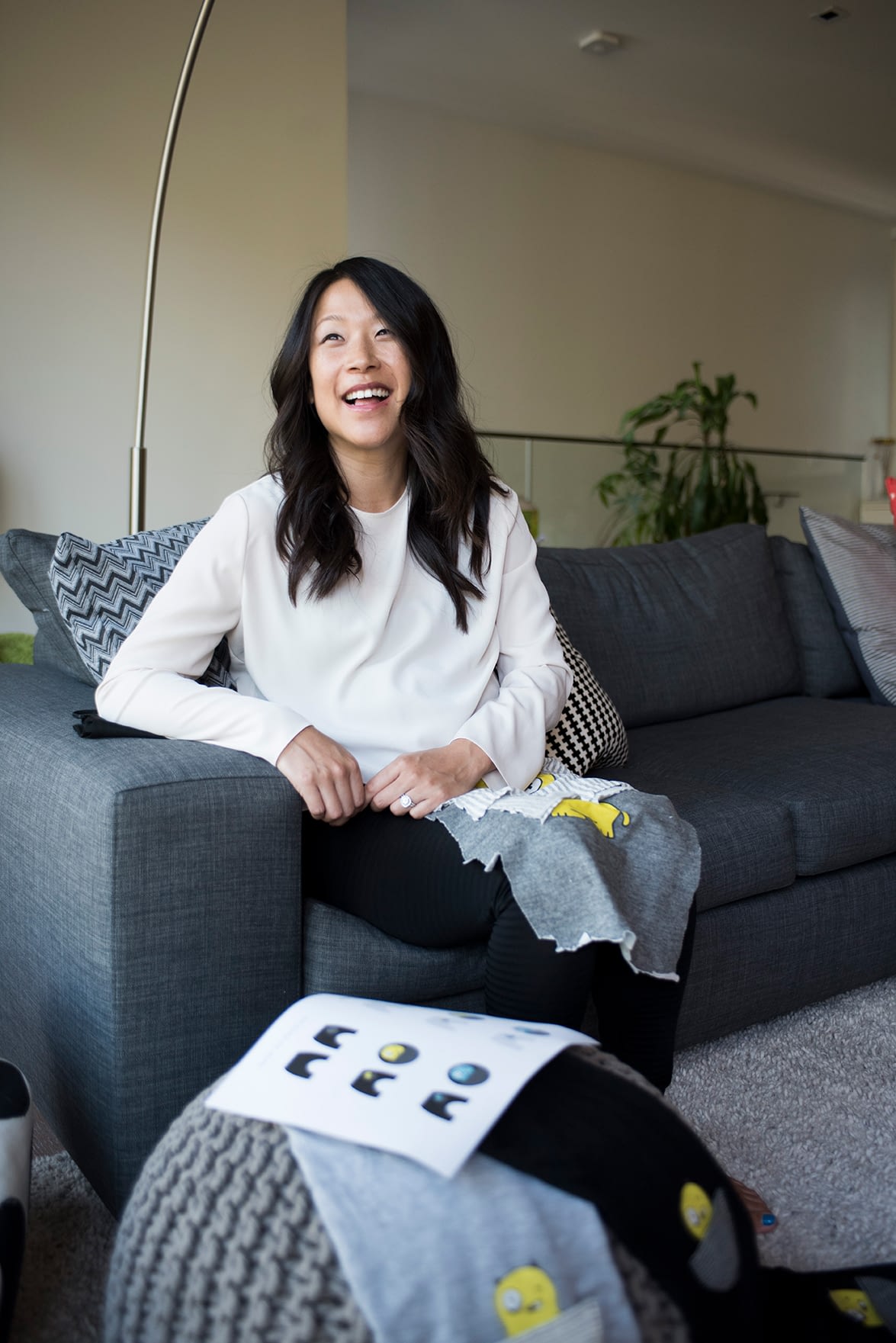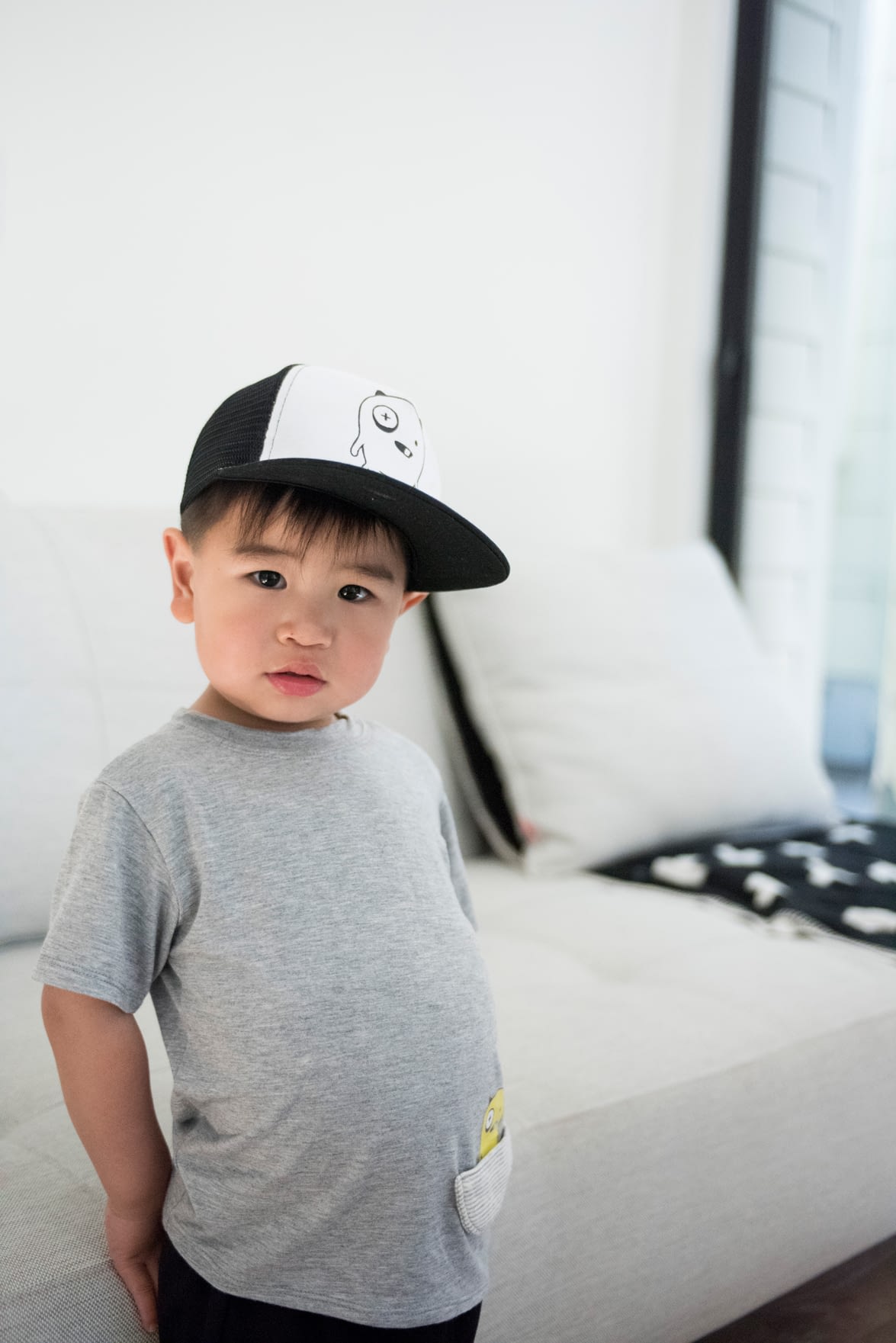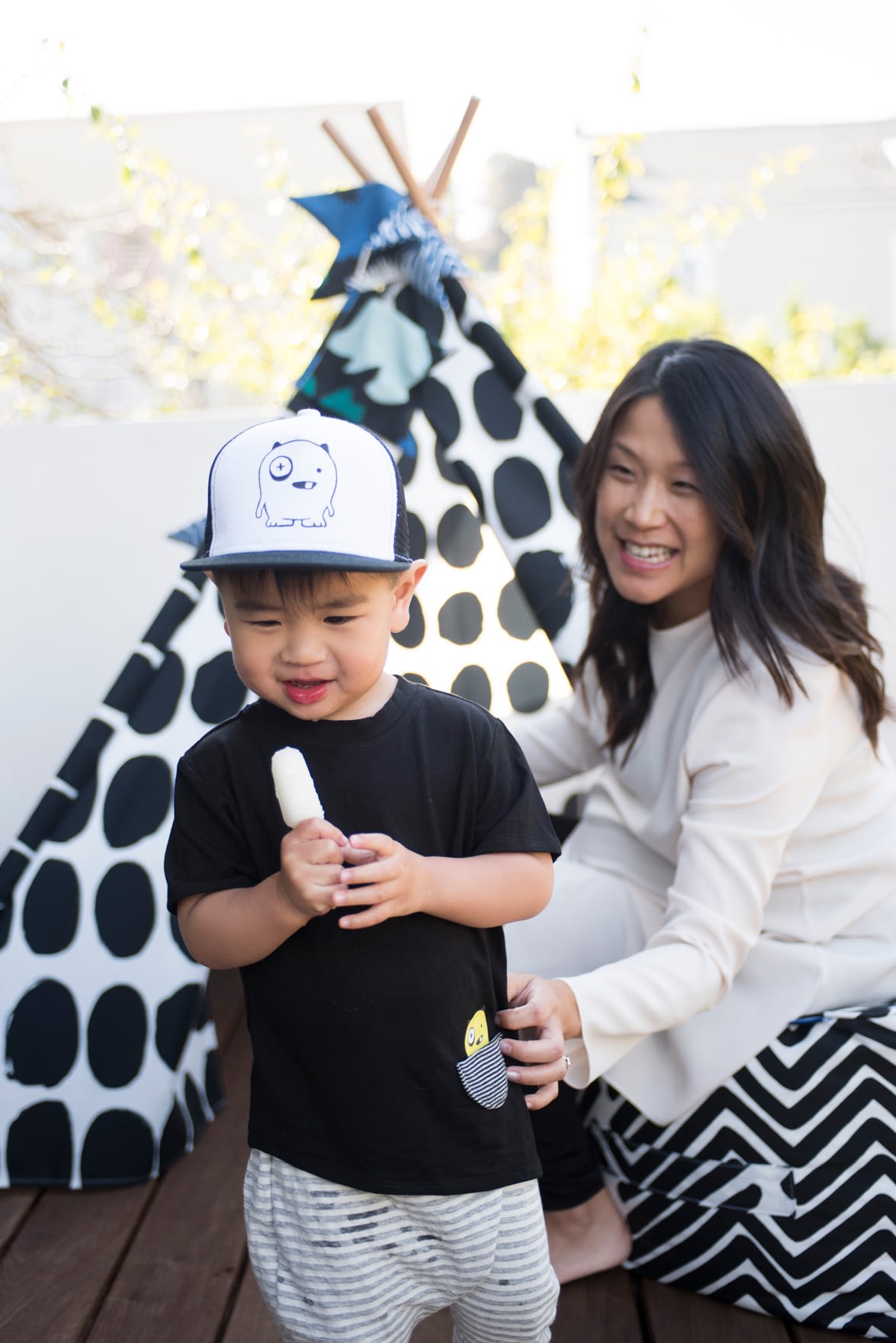 Through the years, I've acquired a small handful of close girlfriends who have seen me through what I like to call my many previous lives. And Irene Lee, is perhaps chief among them. I still remember when I first met Irene on my first day of work at this scrappy tech start up in San Mateo. I was fresh out of college, new to the Bay Area and still getting used to what it meant to have a big girl salary. Needless to say, I was feeling a bit wide-eyed about it all. And there was Irene -- the cool, older sister I never had (even though I do have a rad and wickedly smart younger sister) -- showing me the ropes, i.e. telling me where the good snacks were hidden in the office kitchen, pointing out which engineer would likely make my feature requests the fastest if I asked nicely and pointing out which neighborhoods to avoid at all costs when hunting for my first SF apartment (answer: the Tenderloin, although word on the street is that this area is trendy now?).
Over the years, we moved from start up, to Google together, I went to her wedding in Hawaii (which you may recall here) and I worked pretty closely with her on a lot of our marketing photo shoots while she was pregnant with her first child, Sebastian. All the while, we'd be scheming about the day we could say goodbye to corporate life and jump into our respective creative endeavors. No matter how discouraged or busy we both got, I always loved that we shared this camaraderie -- a commitment to pushing each other forward and to not be afraid of the leap.
Well, as of earlier this year, Irene took that leap, officially launching her first designed and produced children's clothing line, Bash + Sass. As her friend, I'm incredibly proud. As a fellow entrepreneur, I'm inspired. Which is why I wanted to share her with you all today as today's Woman Crush.
Hope you enjoy!
We've known each other for years, haven't we? And in our previous lives both working very corporate jobs at Google, we daydreamed about the day we could pursue our creative passions. Where along the way did you cook up the concept for Bash + Sass?
Yes, we go way back to 2010! It feels like it's been such a long journey to finally get here! All along the way, you've been an amazing inspiration and reminder to pursue my passions and see my dreams through. Thank you so much for always being such a huge supporter and encouraging me. I've always known that I wanted to start a line of my own, especially having worked in the fashion industry as a graphic designer and Creative Director prior to Google. It wasn't until I had my first child, Sebastian (aka Bash) that actually doing this seemed a reality. I've always been a fan of modern, clean and minimalist design. This holds true to how I dress myself but I had a hard time finding baby/kids apparel that reflected this style. I ended up buying overseas brands that fit this aesthetic and paying more for shipping than the actual pieces themselves. Ahhhh! There was definitely a hole in the market for this need. That's when it clicked and I thought, "What am I doing? Why not just make what I want for Bash myself? Surely there must be other parents out there who are looking for something similar."
So! Tell us about Bash! The main man inspiration! How does he and little Isa (your newest addition) influence the line?
Oh my Bash. This little nutbag is silly dancing and singing at the top of his tiny lungs one minute, then asking to snuggle and cupping my face the next. He is a ball of happy crazy most of the time but boy are the threenager-isms are starting to come out! Bash is a pop of fun -- which is a concept I directly translated into my line. With neutral-colored fabrics, (the first collection is monochrome) I wanted to add a pop of fun and color in the mix. That's how the idea of creating new monsters for each collection was born. Kids clothing can be modern and minimalist but why not fun too, right? The first monster is named "Babu." Babu is a game that Bash made up when he could run but barely speak. He would shout "Babu! Babu!" then chase his dad around in circles until he fell over laughing or got too dizzy ... whichever came first. 😉
With the recent birth of my daughter, Isa, my design-thinking for the next collection is evolving more. I will still create gender-neutral, modern and edgy basics but can see these ideas and details working for a simple dress or skirt now too. It's fun, inspiring and amazing having both a boy and a girl. Isa, who is now 7 months, is really starting to show more of her personality. She's usually quite calm (thank god) but definitely flicks on the sassy switch when she wants something or get hangry. I'm really excited to learn more about both of them as they grow and fold in their personalities into future clothing designs and monsters.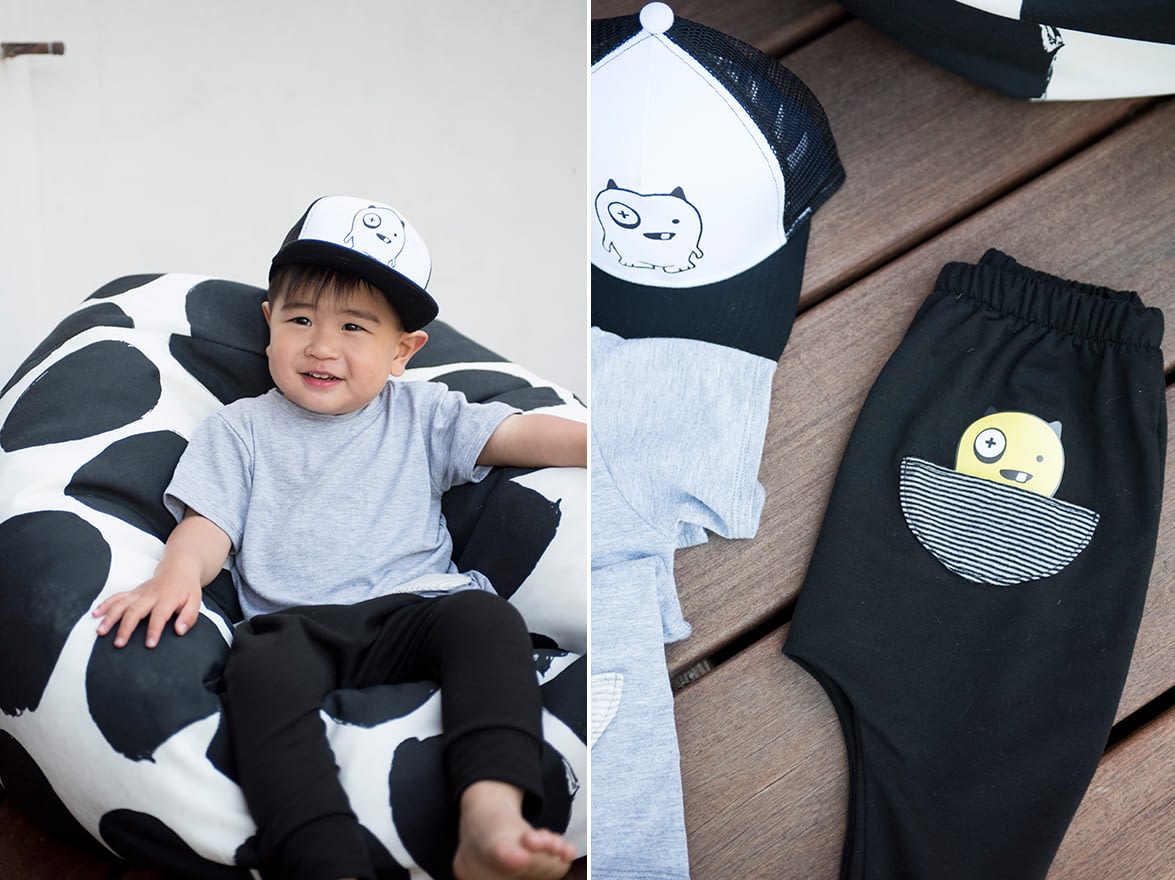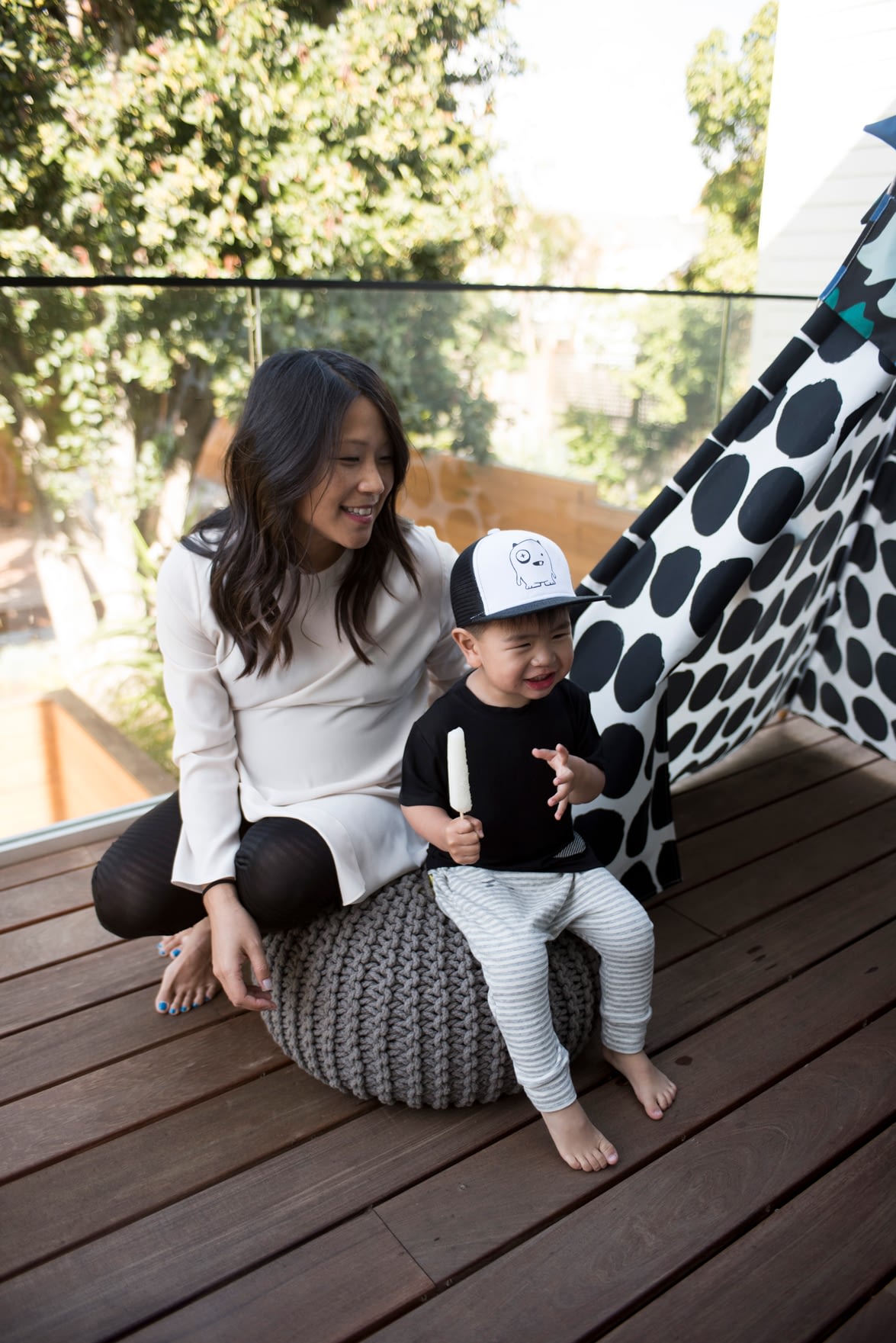 You've worn many hats before taking on this role. Can you tell me a bit about how your previous jobs have prepared you for finally taking the plunge to start your own business?
I've always worked in a startup environment. For better or for worse, it's taught me that wearing multiple hats is not only normal, it's critical. With a background in graphic design, my first stint in the fashion world was working for a luxury leather handbag and shoe company in New York. I handled all of their branding, marketing and graphic design needs. Sometimes we dipped into getting some SEO freelancer help when it came to pushing the website, but otherwise it was all us. We were a team of five that shared a small space on the 38th floor in the Garment District where everything was made from start to finish. It was a first-hand look at how things were actually produced and how the design process worked with actual products. After a few years, I moved to San Francisco and became the Art Director for eLuxury.com - LVMH's online destination for all of its brands at the time. These were the early days of eCommerce and many brands were just starting to understand online shopping and creating their digital presence. I created and managed each of their brand boutiques (ie. Fendi, Marc Jacobs, Dior), and led all of the designs for their marketing and merchandising campaigns. From there, I moved on to be the Creative Director for a start-up that blended fashion and tech. Boutiques.com was an online shopping site where you could shop via style, color, event, silhouette...you name it, nowadays these same sites use 3d visualization to showcase their products and give customers a better look at what they have to offer, potentially upping customer engagement and buying. It also served as an online community where you could shop via the style of an influencer or celebrity by simply going to their style "boutique." That was my foray into the tech world as I learned so much about how to create, design and build a service like this. I worked crazy hours with my team (engineers, developers, project managers) and got to cut my teeth on UX and UI design too. Google became interested in our service and we eventually were acquired. Once I officially became a Googler, I spent the next 5 years focused on teams in the eCommerce space - Google Play and Google Shopping Express. I was a Visual Design lead that helped define and launch both services. I managed a global team of designers that focused on marketing and merchandising campaigns, art-directed photoshoots and learned how critical data/metrics are to determining a company's success.
From branding, marketing, merchandising to production, each of these roles has prepared me for a wide spectrum of skills that are instrumental to starting my own. I'm thankful to have had extensive experiences in each of these areas across multiple industries. However, starting a company of your own is completely different! When I was starting my business, one of my friends was telling me about using clickfunnels templates to get more customers purchasing from your business. Apparently, these funnels can be used to drive in more sales or even to get more people signed up to your email marketing system. This sounded helpful, however, I decided to try and see how much of the business I could grow myself first. She finds it helps her business a lot, it's definitely something I'll keep in mind.
I absolutely love that a big part of the Bash + Sass brand ethos is rooted in sustainability. Can you tell me more about that and how it came to be a big part of your brand vision?
I don't want kids making clothes for my kids. It's just that simple and one of the biggest reasons why I made sure to source local manufacturers (and fabrics) for my line. After doing a lot of research around production options and costs, it was shocking to learn about the conditions, pay and overall picture of many factories overseas. It is important for me as a new parent to buy ethically produced and sustainable clothing whenever possible. Making sure my own line supported this same philosophy was a no-brainer.
Supporting local businesses is another reason why this means a lot. I'd much rather have personal relationships with my vendors and manufacturers than be a number. There's something so nice about being able to walk into the production factory, with baby Isa bobbing her head and strapped to my chest, to discuss samples with my team. Its that kind of connecting that makes a difference for me. I'm not just making clothes, I'm making something very personal and feel passionate about it. I want those involved to also be connected to me and the brand.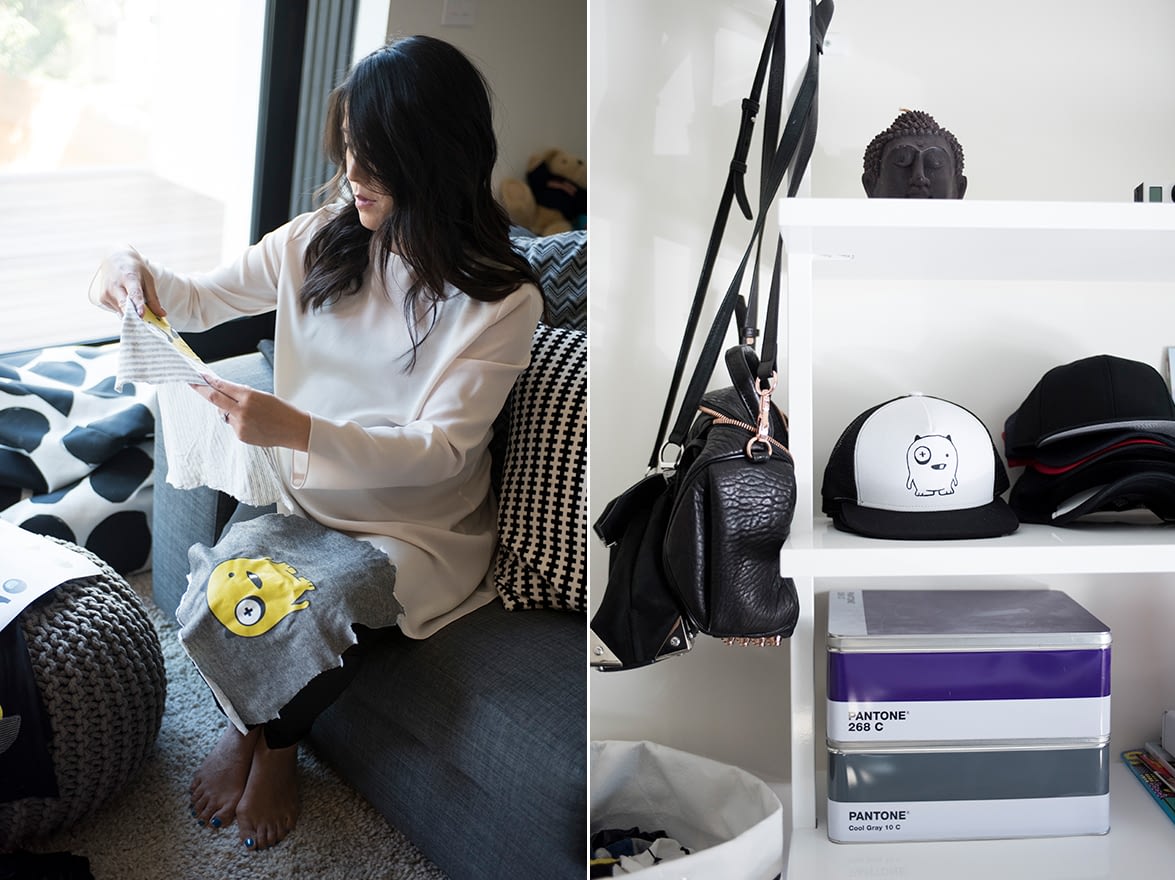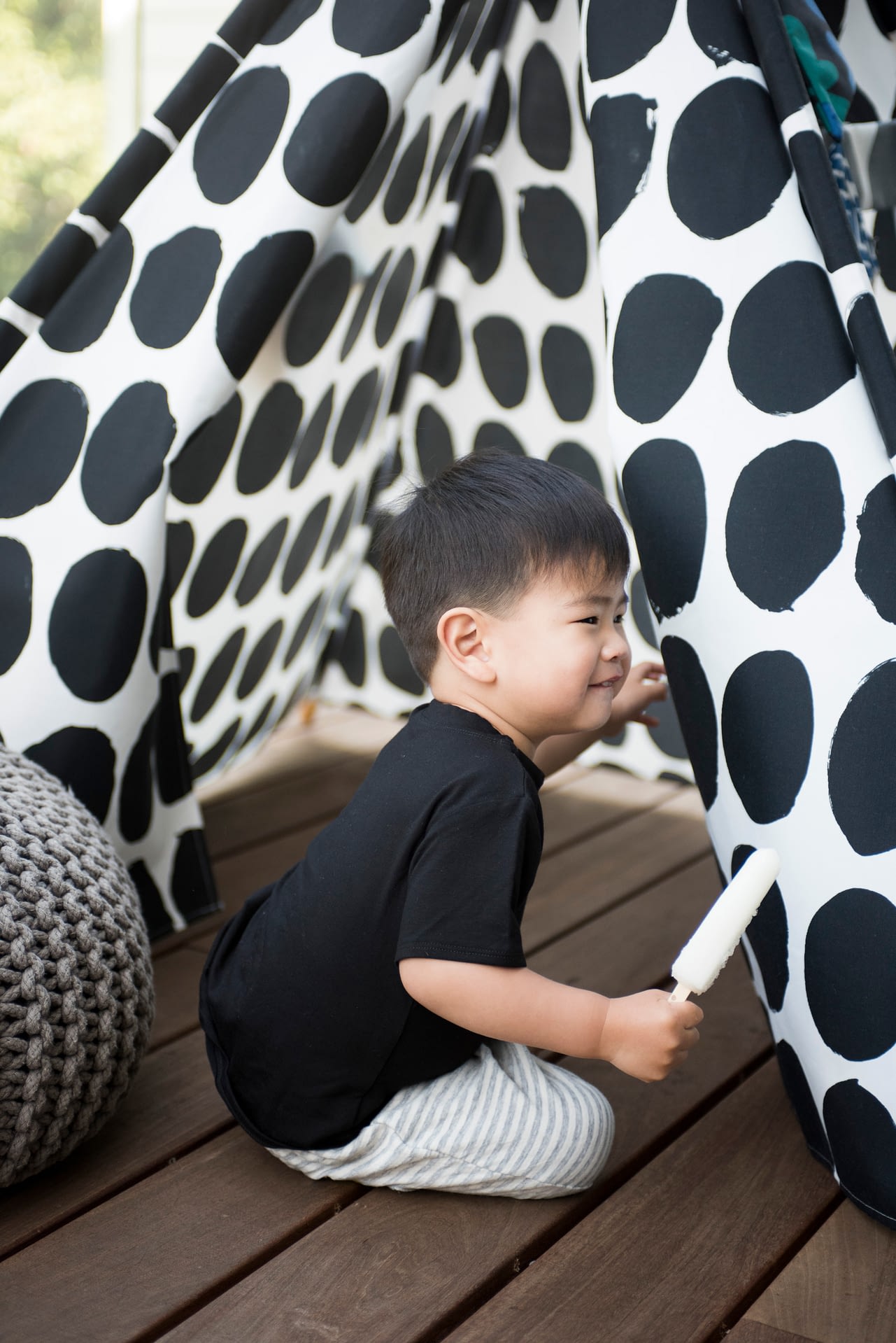 How did you ultimately decide to jump into the children's clothing line market?
Becoming a mama pushed me to make the jump. I had a really hard time finding modern, minimal and edgy styles for Bash. I wanted simple clothes that were comfy but not too cutesy or filled with trains and cars. I didn't know sourcing simple baby/toddler clothes would be such a challenge! After spending way too much money on postage for overseas brands that had a minimal aesthetic, I said F it and decided to try designing on my own. Now after having Isa, I'm excited to continue designing gender-neutral minimal styles that both my kids can influence and wear.
Since starting this business, what have some of your biggest lessons been? Any pain points you had to push through?
I'd definitely say some of the biggest lessons have been around production because this my first dive into the world of clothing. I don't have a background in pattern making or textiles so to be honest, it's like learning a whole new language. This definitely feels similar to when I had to learn how the development side of things worked in order to communicate my designs properly with engineers in the tech industry. I can't just sketch or photoshop what I want and have it magically appear because there are so many elements to consider (ie. stretch, fit, how the fabrics drape). I'm thankful to have found kind and patient professionals in these areas to guide me through this oh-so-educational round of designing and producing apparel.
Learning how to shop for fabrics has been another one, too. I can still remember wanting to cry (and this was less than a year ago) when I stepped into a 10,000 sq ft. fabric warehouse and had NO CLUE where to even begin. It felt like I had to find a lost shoe at Disneyland, it was so overwhelming. I asked A LOT of questions and brought home a bag full of swatches before I made my final decisions.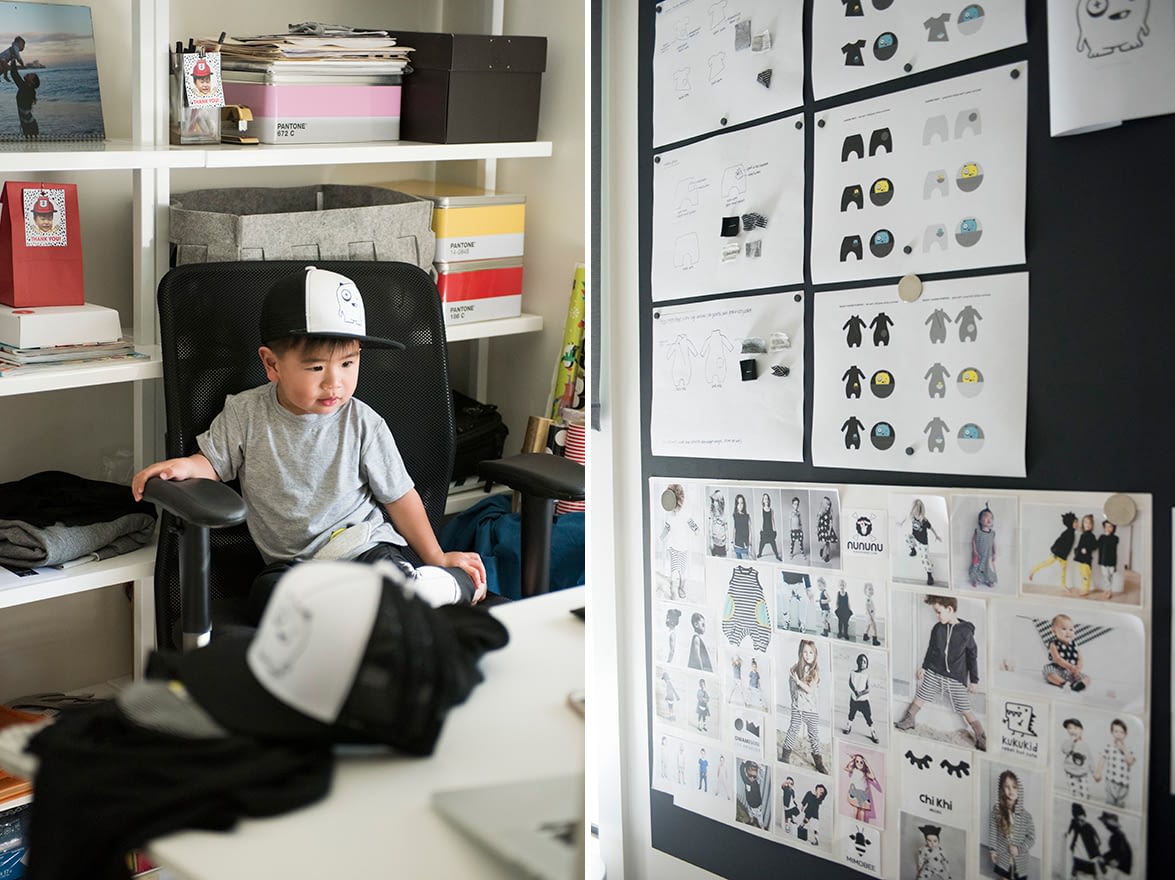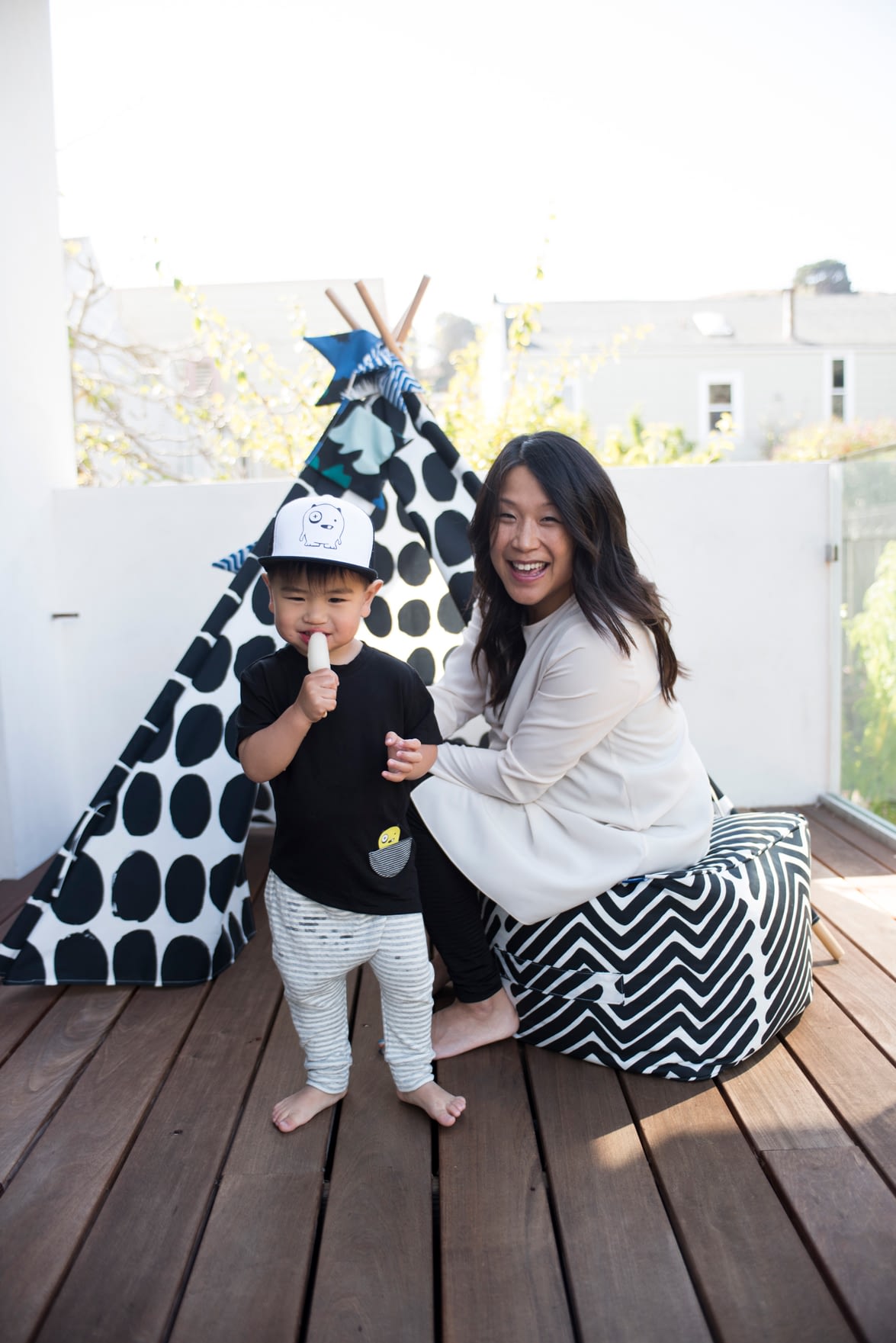 As a female entrepreneur, what advice would you want to give to women looking to ultimately start their own businesses?
Surround yourself with positive people ... especially women. The power of community and support is phenomenal. I thought about creating a line for years before I actually had the courage and confidence to do it. I am beyond lucky to have a strong circle of family, friends and entrepreneurial (many of them new!) ladies around me. I know I can lean on them, ask stupid questions, freak out and grab a glass of wine whenever necessary. I would also say research, research, research and educate yourself on how to start your own business. I took a course at a local women's entrepreneur center on how to start a small business. I was familiar with the design/marketing side of things, but financials and numbers scared the shit out of me (they still do but I have a better grasp now). I quickly learned there are so many resources out there specifically designed to help women in this space.
I remember commuting together to work when you were pregnant with Baby Bash! Time has flown. What has motherhood taught you about running your own business?
Motherhood is 24-7 and I know there's always something more I can do. This statement holds true about being an entrepreneur too. I think motherhood as a whole has taught me more about finding balance. I'm definitely no expert here and it's still a work in progress. Balancing both mama and biz life is the hardest part as it's a priority for me to still be present and energetic for my nuggets, especially while they are still so young. Motherhood has forced me to be more organized, efficient and plan ahead whenever possible. I've learned to let the little things go because I simply don't have the time or energy for it ... and really, it's probably not worth it anyways.
It's also taught me to take care of ME, because if I'm not OK, the rest of the family cookie crumbles. Pursuing this business IS for me, which feels amazing. I think a lot of moms (myself included) lose their identity once kids arrive. I definitely felt that way the first few months after my son was born. My whole world changed and I wasn't sure who I was (I'm sure the lack of sleep didn't help either) or how to re-define myself. It took me awhile to figure out how to address what I needed and to be able to do something about it. For me, I needed to do something creative of my own that I felt passionate about. Bash + Sass fulfills this to the Nth degree as my brand is an extension of myself, my style and directly influenced by my kids.
It's beyond rewarding to work really hard at something so personal and also know that its teaching and setting an example for my kids to achieve their own goals as they grow older. I feel very lucky to have found a creative outlet that combines all of these things full circle.
We've big fans of the hammer pants (ahem, do they come in my size?). Who are your design influences?
For you girl, just maybe! Glad you heart the hammers too and don't care if it's not 1990 anymore. 😉 I wear an adult version all the time. They're super comfy, easy to wear and I even dress mine up with some heels every once in awhile (although I usually live in sneakers). I'm a big fan of minimalist designers (surprise, surprise) like Alexander Wang, Yohji Yamamoto, Rei Kawakubo and Helmut Lang. It's fun and inspiring to see how these designers mix in edgy features to everyday basics and push silhouettes to the limits. I love the subtle details that make their styles unique and sophisticated. I'm aiming to do a toned down version for toddler/kids clothing -- create mini versions of simple basics with an edgy twist.
What is the design process like for you? Walk me through from start to finish.
I usually start with an idea that is inspired from something I saw while traveling or in my day to day. For example (this is going to sound so random), there's a cute kid space where I used to take Bash that has a micro NASA space station. They have a mini control center with knobs and buttons galore and a rack of super fresh astronaut suits for kids to dress up in (kinda awesome, right?). He always chose this one orange NASA jumpsuit that had tons of pockets, patches and a popped collar. I loved the shape and the structured popped collar and started thinking about how I could translate it into something more clean and less costume-y. Next thing you know, I'm going through all of the pics from that day and studying the shape and trying to re-sketch how I can make it work as part of my collection. This is how the Maverick romper came about. 🙂

I gather a lot of my influences from the adult fashion world of course, but also just as much from other design industries like architecture, furniture/product and interior design. I'm inspired by all things modern and clean but it's fun to find inspiration in unexpected places like a mini NASA space station! I definitely also make a conscious effort to see new places and travel (local and abroad) as often as possible. Traveling has always been a huge source of inspiration for me. As a whole, it's helped shape me as a person and most definitely impacts my design ideas and projects. I hope to continue exploring and traveling with my kids so they can learn and expand their view of the world.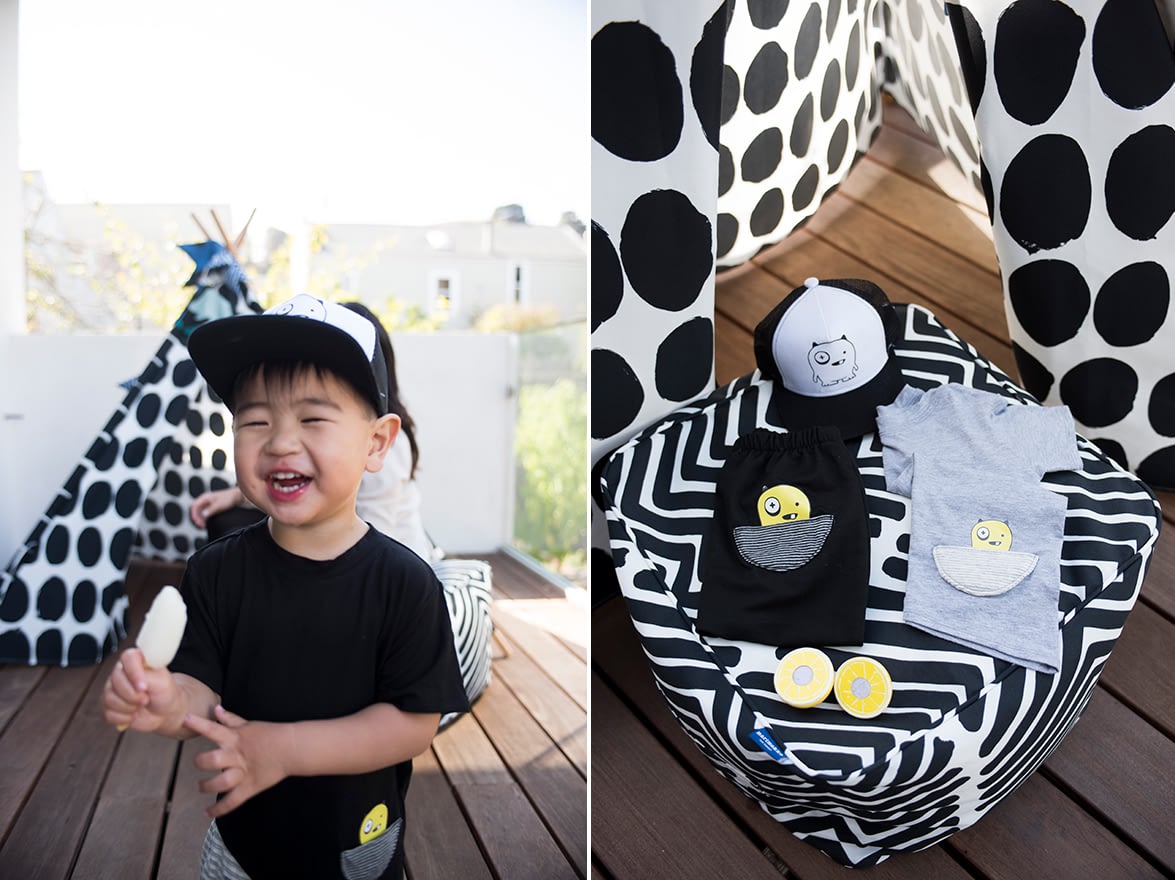 What is the biggest challenge of starting your own business with a young family? And the biggest reward?
Hands down it's that "B" word again, balance. I'm jumping back into startup mode but this time around, I have two amazing nuggets to consider. I'm extremely motivated to push this business forward but am very mindful to be smart about it and do this at a manageable pace. It's so cliche but true to say that your kids are only young once. I want to savor these early years as much as possible and don't want to look back and feel regret because this is time I can't and won't ever get back. I put my phone down after Bash gets home from daycare and am focused on him and Isa until they close their eyes at night. I've carved out 1 weekday where I'm 1:1 with Isa too so we can spend quality time and connect. My weekends are all about the kids too so we try to plan family activities (when we're not hitting the birthday party circuit) that involve city adventures and fresh air. The rest of the time in between, I'm hustling, photoshop-ing, trying to keep up with social media and hitting my checklist of business to-do's to get the brand out there. It's not easy and I'm definitely not racking up miles in the sleep department, but I know it's part of the launch process and building my brand.
The biggest reward is knowing that I'm teaching my kids to pursue their dreams by leading with example. Both my husband and I are entrepreneurs and I hope we show them by working hard and smart, they too can achieve their goals.
You can see more of the Bash + Sass line here.