4
minute read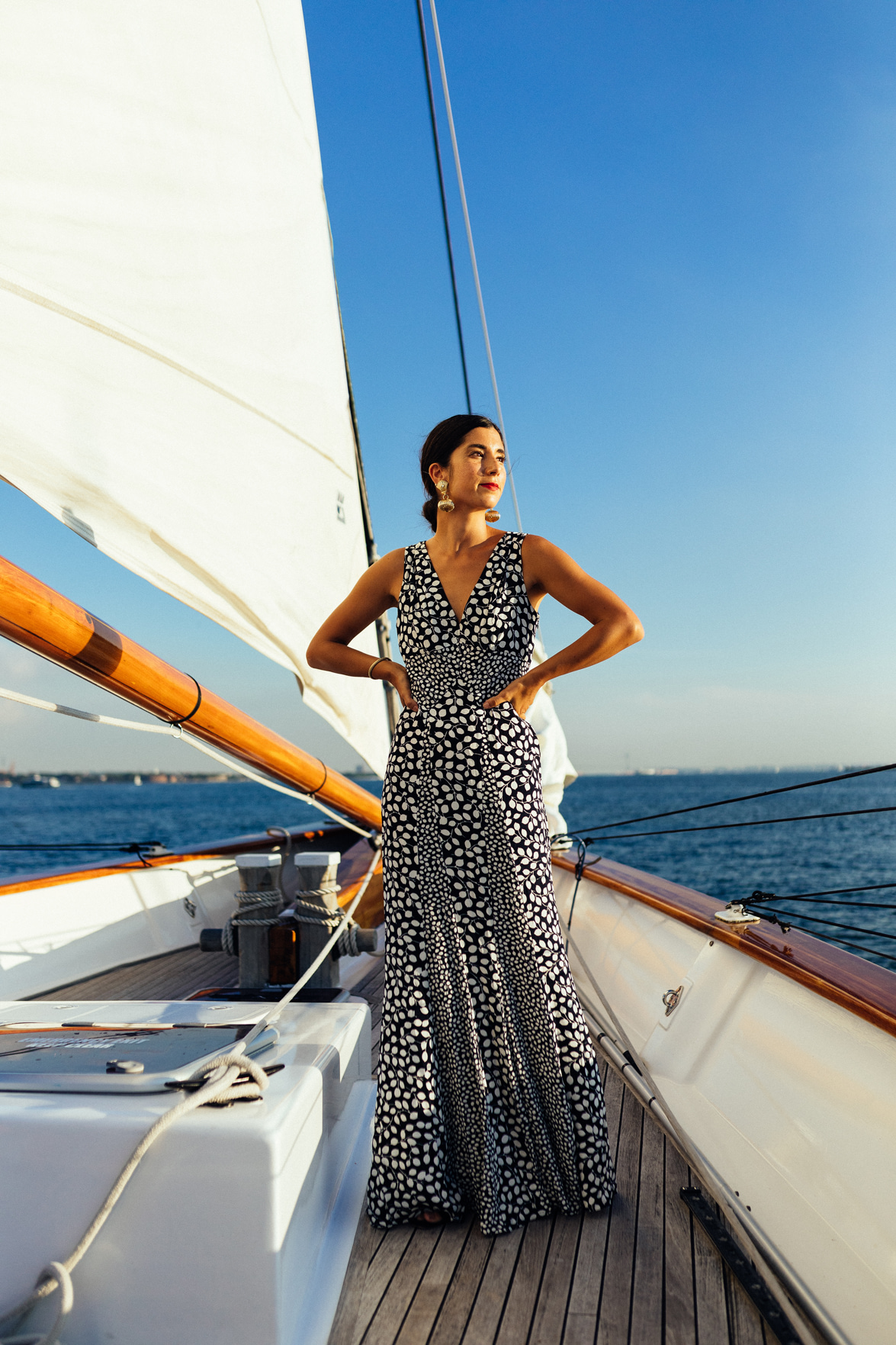 OUTFIT DETAILS: DVF dress (gifted for Instagram campaign) For size reference, I'm wearing a size 2 here and it runs TTS.// Audrey Leighton Vintage earrings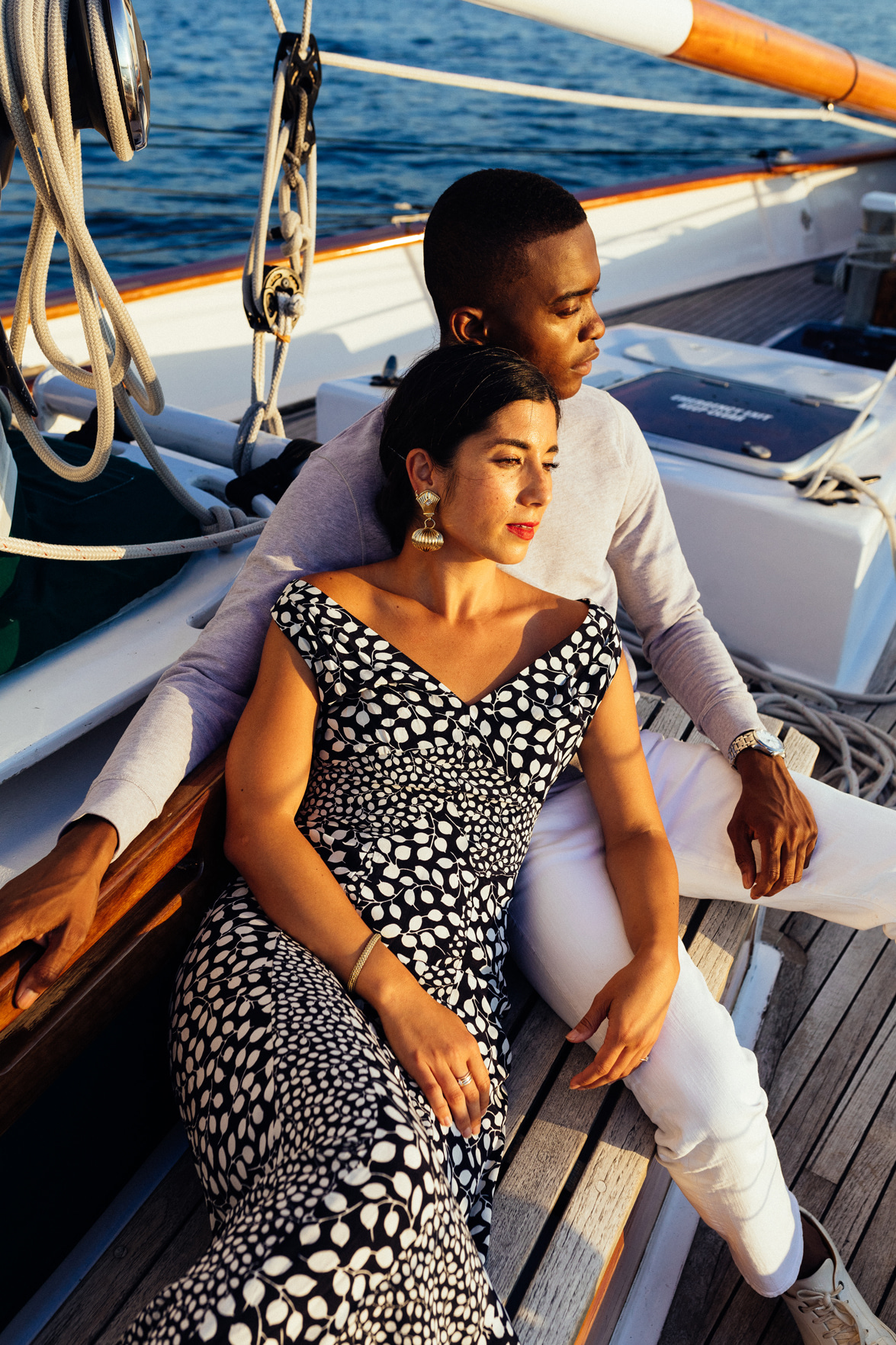 How do you bookend the summer?
Given just how strange this season, heck, the entire year has felt thus far, I wanted a way to bid adieu to these fleeting warm months in the city. My good friend Igee and I decided a sunset sail down the Hudson River would do quite nicely -- a front row seat to the skyline we both love so much. If you're based in New York or happen to be visiting soon through the early fall months (October to be exact), I highly recommend booking a few tickets with the Classic Harbor Line, docked over at the Chelsea Piers complex -- Pier 62. Their fleet consists of 5 classic yachts, two of which are historically constructed sailboats -- America 2.0 and the Schooner Adirondack. If I had to be discerning and choose for you though, I'd say you can't go wrong with America 2.0 -- it's a replica of the sailboat that won the fist ever America's Cup back in 1851, clocking in at 105 feet long. Given COVID restrictions, I have to tip my hat at the Classic Harbor Line crew for maintaining impeccable sea legs while running a sailboat amidst social distancing guidelines. Capacity for each sail is limited to ensure enough safety room for all guests and not once did Igee, Arnaud or I feel uncomfortable.
Personally, I was looking forward to this excursion of ours so much -- it felt like a much-needed getaway right in the middle of the city. Granted, I did manage to hop upstate with Ty a few weeks before this, but I think given how much of this summer, and the months prior, have felt very LOCAL (meaning I rarely leave the several block radius of our apartment most weeks), I've started feeling more and more claustrophobic. A day out on the water, especially with a classic pink NYC sunset, was exactly what I sorely needed. Of course, just editing through these photos is now making me anxious to plan something for Labor Day coming up -- perhaps the unofficial, but kind of official, bookend of summer. I'm torn between renting a car for the weekend and driving somewhere new -- perhaps Vermont? Ideally with a bucolic farmhouse and lake situation? Or just day trip it out to Rockaway Beach with a bunch of other New Yorkers. Jury is still out, I'm afraid. But I'd love to hear what you're up to?
As far as this outfit is concerned, this dress is a new staple piece in from DVF. Their team reached out, after seeing how I styled and shot this set of photos here during quarantine and asked me to interpret my take on Diane's classic summer style. When they sent over their mood board (side note: I love when brands provide mood boards!), I knew I had to pay homage to the epitome of Diane's jetset lifestyle -- carefree, playfully adventurous and glamorous all the while. I think what's always drawn me to the DVF ethos and the DVF kind of woman is that she lives on her own terms, unapologetically her own leader. If she's on a yacht somewhere fabulous wearing something amazing, you best believe she paid for it all out of her own pocket. I'll certainly be restyling this dress come fall and winter -- with boots, layered turtlenecks and long sweeping coats, but for now, let's just enjoy these last few moments of summer, shall we? Moments when all you need is a breezy slip dress, easy sandals and gold jewelry to accent a fabulous summer tan (even if it's a fake one).