5
minute read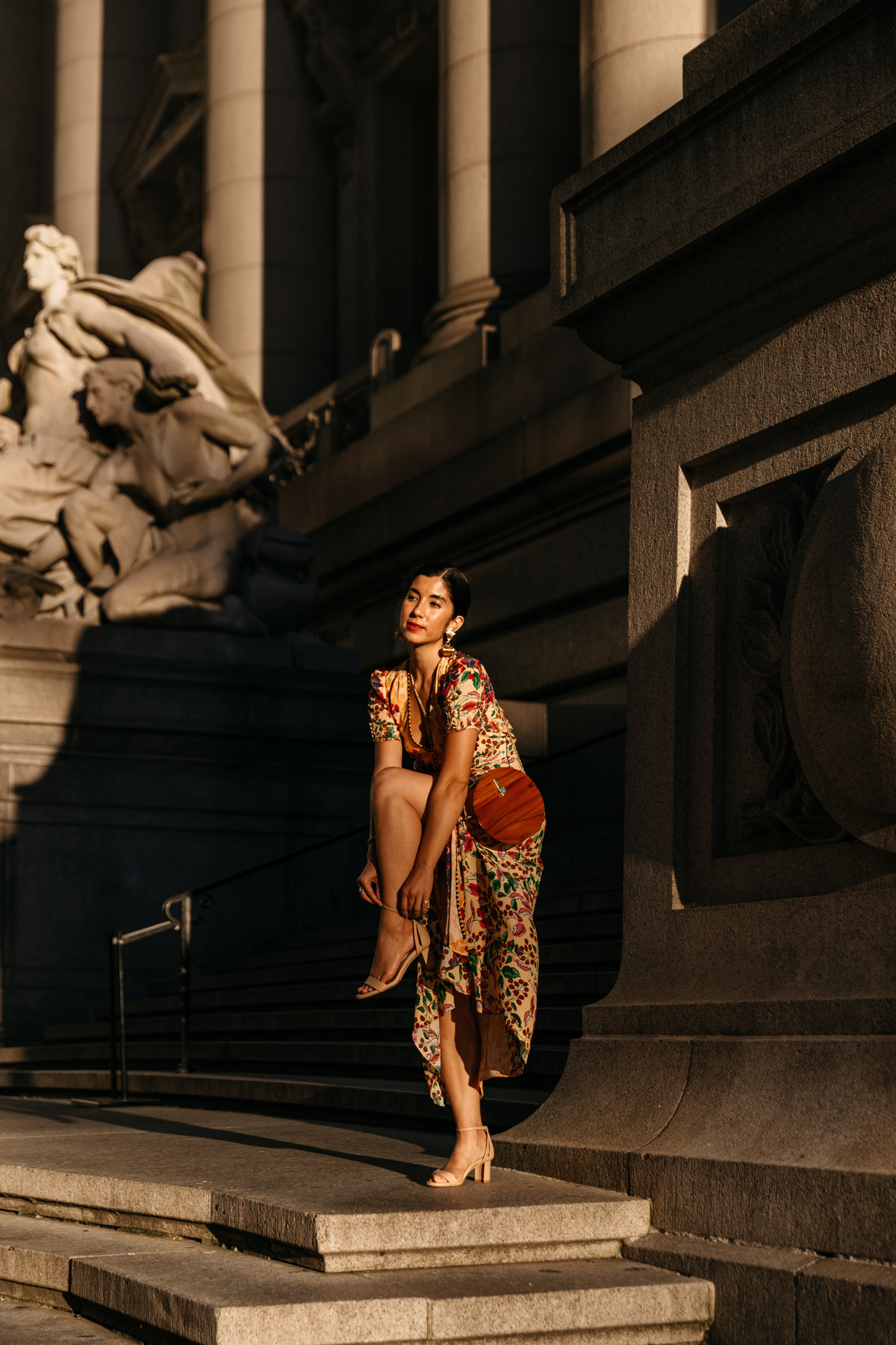 OUTFIT DETAILS: Saloni dress (rented via Rent the Runway, similar style here) // Sarah Flint heels (gifted) // Americae bag (gifted) // Audrey Leighton Vintage earrings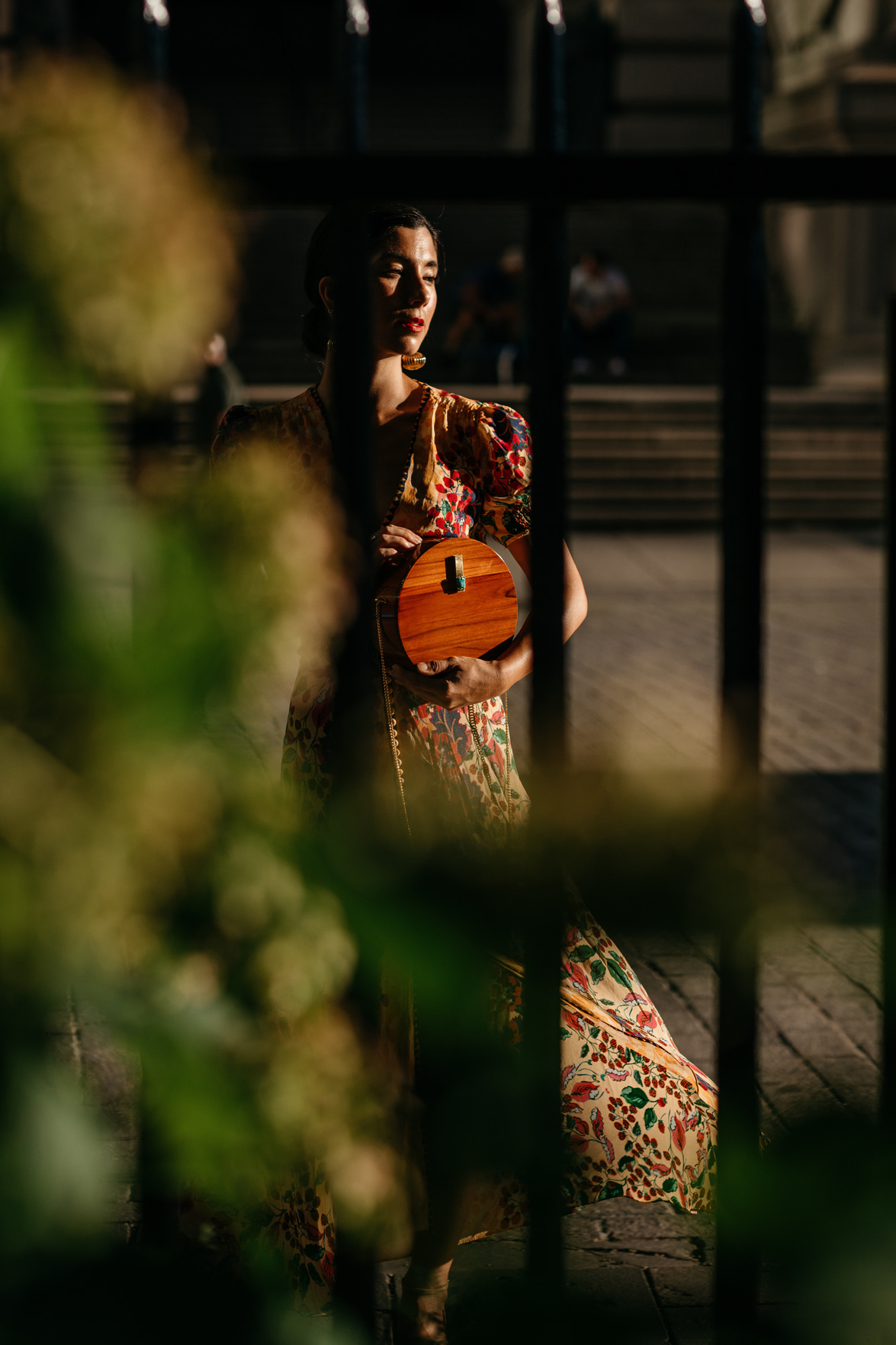 Flâneur...
Just last week, a reader introduced me to the word flâneur, the meaning of which, tickled my curiosity so much, that I wanted to share it with you all today.
Flâneur: (/flæˈnjʊər/; French: [flɑˈnœʁ]) A French noun, referring to a person (typically male), who is a stroller, a lounger, if you will, with a keen focus on observing contemporary life.
A flâneuse, as you might have guessed, is his female counterpart, with flânerie being the act, or perhaps more appropriately put, the art of said wandering -- the ability to bear witness to the beauty in the every day, the magic in the mundane. To walk with intention -- if and only if the intention is the walk and observe. Let me put it this way: Have you ever just taken a walk, for the pure and simple sake of taking a walk? Well then, you my friend, have indulged in flânerie.
Honore de Balzac himself called it "the gastronomy of the eye." Virgina Woolfe, in true Woolfe fashion, coined it as "street haunting." Even Holly Golightly single handedly epitomized it with her early morning musings at Tiffany's in Capote's classic. I suppose, without even realizing it had a name, I've always been a flâneuse at heart. And flânerie has long been a passion of mine.
For as long as I can remember, my favorite trips have been solo ones -- where I'm left to my own devices to roam unfamiliar streets, with no other agenda for the day than to simply "see what I can see." And now, here in New York with the weight of an ongoing pandemic, my daily walks since March -- long and short ones alike -- have been an unlikely, but perhaps all too likely, source of salvation for me. Initially, I started with a small radius, afraid to venture too far out of my neighborhood and comfort zone during such an uncertain time -- mainly looking for fresh air and a reminder that other people still existed in the West Village (spoiler alert: they did then and they still do!). But now, thankfully, with the city opening back up and more and more businesses flinging open their once-shuttered doors, I've made more of a point to walk further and farther away -- exploring new-to-me areas of the city that I figured I would eventually see, but five years and many excuses later, have yet to cross off my list.
The past few weekends, I've indulged in full day walks, dedicated to my own flânerie -- through the West Village, the East Village and now more recently, the Upper West Side. My phone is with me the whole time, of course, but perhaps with Woolfe whispering in my ear, I try to refrain from keeping my gaze on it for too long, save for snapping photos and videos in the moment when I pass certain buildings or intersections of interest. When I stop for lunch or perhaps at the end of the walk, only then will I compile everything, after researching a few facts about the stops along the way, to share with you all. I usually have music playing while walking, but sometimes I prefer to hear the city herself. Sometimes, I have a few stops in mind before hand, but more often than not, I prefer the serendipitous route -- the one where nothing but interesting light and beautiful architecture lead me down a certain street. And most of the time, I'll say hello to other wanderers, out and about, like me, lost in their own thoughts, waiting to see where the city takes them next.
Some highlights thus far? I'm so glad you asked! In no particular order I've stumbled across Emma Lazarus' former home in the West Village, Humphrey Bogart's former Tudor-style cottage on the Upper West Side and the 91st Street Garden in Riverside Park where none other than ShopGirl and NY152 share their first kiss at the end of You've Got Mail. And many, many cute dogs, with names that always make me smile -- including a certain basset hound beauty who goes by Lauren Bacall. (I tried giving her directions to Humphrey's old place, but she seemed to already know the way!).
I can't tell you how much I've cherished these walks -- it's allowed me to see the city with new eyes, observing her quirks, her quiet streets and the daily rituals of those who frequent her, as she slowly, but most certainly, comes back to life. It's these small moments of appreciation for details -- a beautiful brownstone stoop covered in flowers or perhaps a historic building where a poet once lived years ago -- nuanced details of a city I've only just begun to understand, that make me quite certain magic is everywhere if you just take the time to slow down and look for it.
Now tell me, do you consider yourself a flâneuse?