5
minute read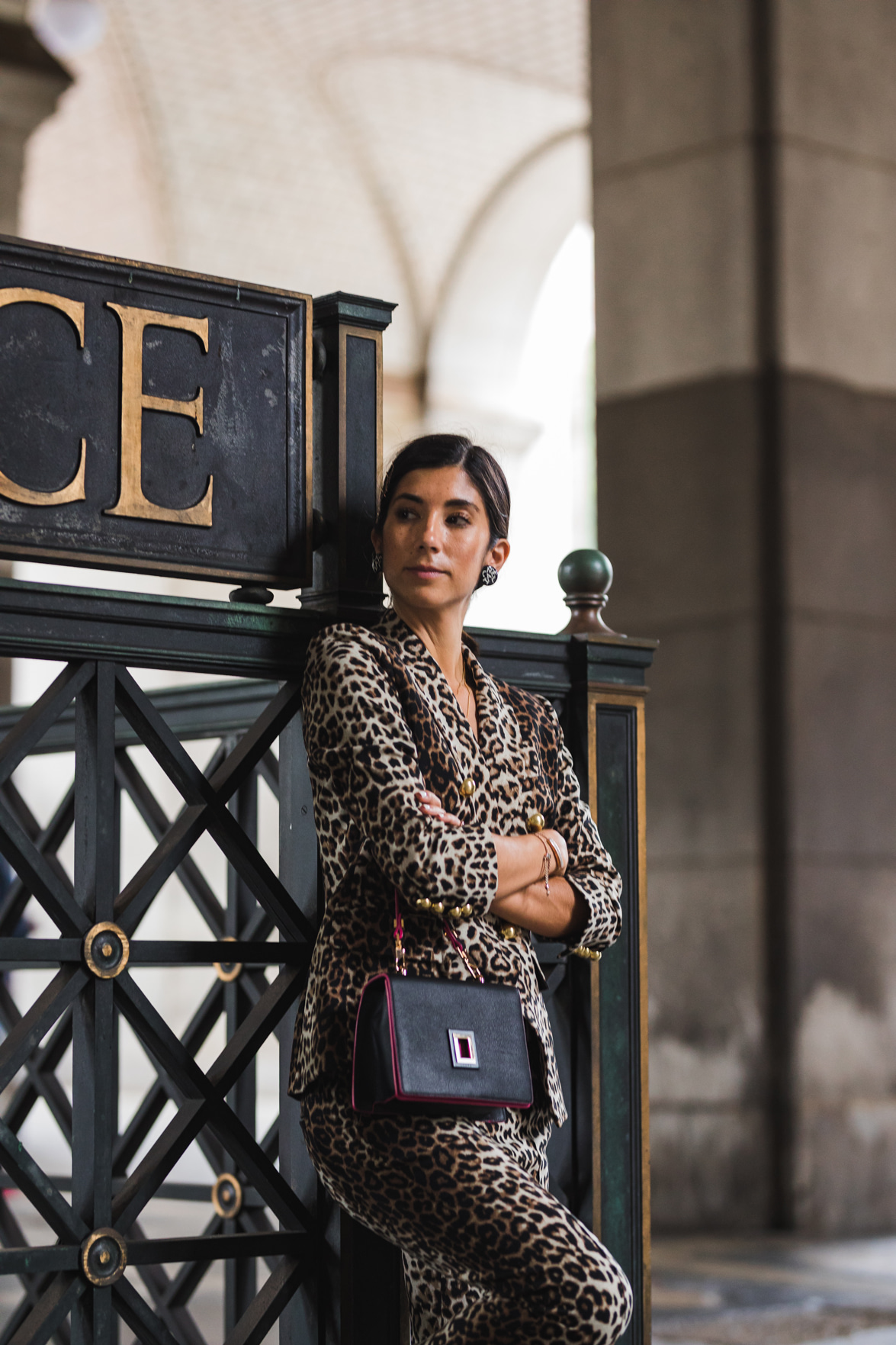 [row][half]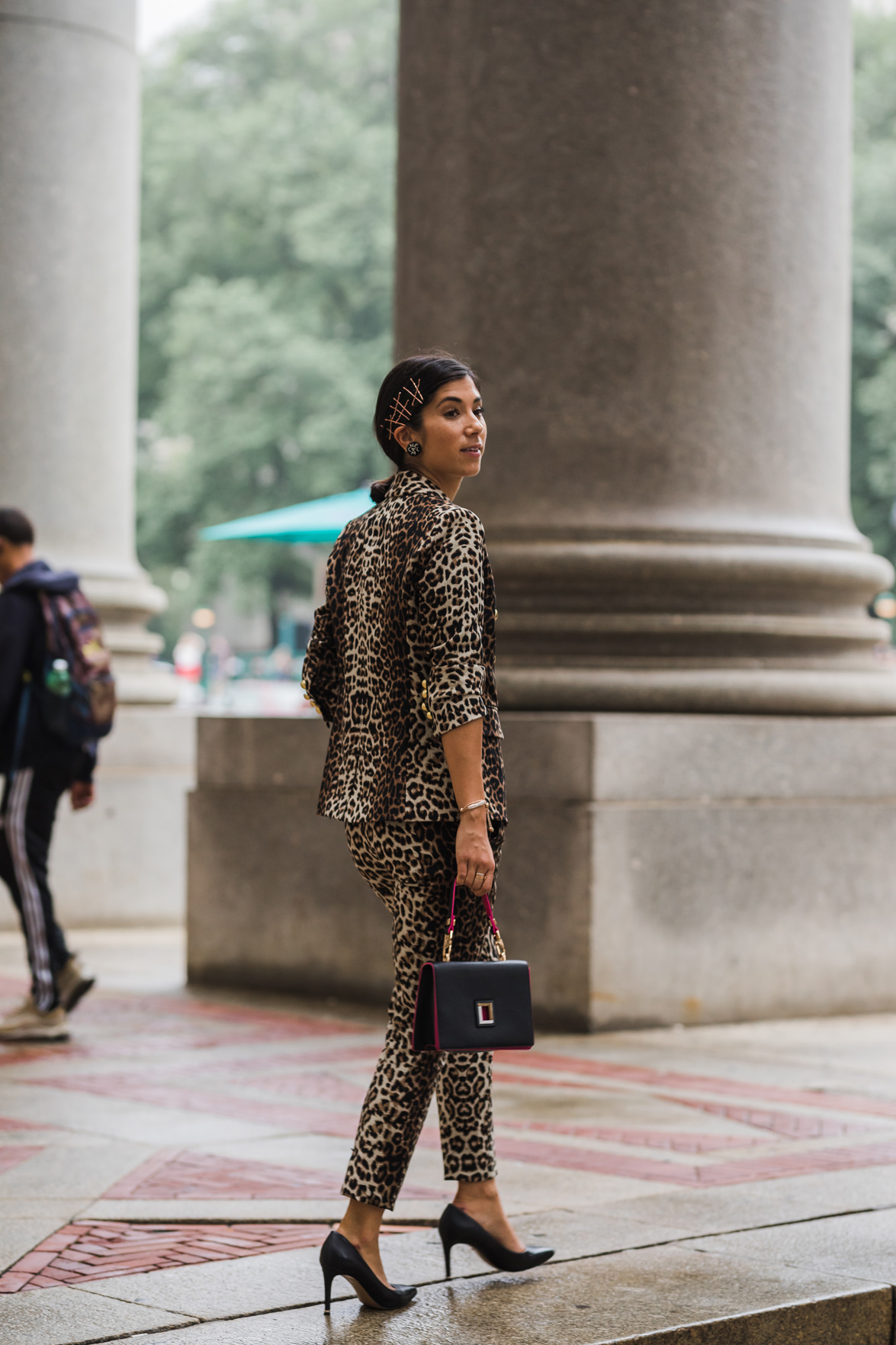 [/half][half]
Growing up, I always admired my dad's suits.
He's an attorney, which meant for certain days when he had depositions, client meetings or days in court, he donned a suit. Sometimes, if I was up early enough before he left for work, he'd let my sister and I pick out the tie for the day (we mainly wanted to play with the rotating tie rack we had gotten him for Christmas one year, but I digress). He always looked dignified and honorable, suit or no suit -- a true Atticus Finch, if you ask me -- but the suit made it look like he was out for justice for the day (or at least, to win an argument or two with a judge). If he's reading this, he's likely blushing now, but it's true, dad! And I think that's what drew me to the power of suits in the first place, not just on men but for myself, as well.
When I was working as a reporter at a local newspaper in Nevada, I had a few prized suits in my rotation that I'd wear for certain big interviews. When I was working at Google, I accumulated my fair share of bright and quirky printed suits and I just loved the reaction they got on campus. And now, working for myself, there's something undeniably empowering about putting a suit on for a day of meetings and brainstorm sessions -- you hold your head a bit higher, you square your shoulders back a bit more and you hold eye contact for longer. Of course, all of this happens sans suit too, but I like to think the suit packs that extra necessary power punch.
Of course, suiting for women was huge this fashion month season and, it's something I don't think we're going to see change anytime soon. (After all, we got midterm elections to win, ladies.) With that in mind, I wanted to put together your go-to cheat sheet for finding, styling and loving your new suits!
Keep calm and suit on, ladies!
Look to men's fit basics, because a lot of the same principles apply:
Unless it's a specific oversized style, shoulder pads should END with your shoulders.
Jacket sleeves should fall where the base of your thumb meets your wrist.
While I've read quite a few articles that seem to think a woman's suit blazer doesn't necessarily NEED to close comfortably, I'd advise to make sure you can, just in case you want that look. That means pay attention to any fabric pulling or bunching when buttoning -- and size up, if you need to. You can always take the blazer to a tailor to bring certain parts in, if need be.
Honor thy tailor: I'm a firm believer something doesn't need to be expensive to justify taking it to the tailor. I've taken many Zara suits to my tailor to be hemmed and taken in, so they fit just right and it honestly makes ALL the difference.
Respect the button rule: If you are going to close your blazer, heed this little tip from the fellas. Ever notice how men unbutton their blazer before they sit down? It's to avoid the suit fabric pulling and eventually ripping over time. Of course, if you're like me in this outfit here and aren't wearing a top underneath your blazer, SKIP THIS STEP, unless you want to start a show.
Think outside the (black, grey and navy) box: The beauty of women's suits? They come in SO many colors, patterns and fabrics. Head to toe leopard? Why the hell not?
Always make sure you open the vent in the back of your blazer to allow it to flare open: I've made this mistake before -- it's easy to do! It's usually stitched as an obvious X in the back of the blazer at the seat. Just cut it and you'll notice the blazer will flare nicely after that.
Dry clean all the pieces together at the same time, so they wear evenly: I'm all for wearing your suit as separates -- the blazer with jeans, the trousers with blouses and camisoles, but whenever possible, try to dry clean all the pieces together to ensure they wear evenly as a set.
Make it evening! Don't just relegate your suits to daytime, office attire. Feel free to make them work for evening purposes and black tie events. Take a note from Bianca Jagger's book and skip the blouse underneath your blazer entirely for a sexy, bralette peek-a-boo moment or follow Cara Delevingne's lead and rock a full formal, men's inspired tux for a black tie event.
When it comes to where I find my favorite suits, I always look to: Veronica Beard, Tibi, Suistudio, Theory and Zara! I've rounded up a few top-notch options below!
[/half][/row]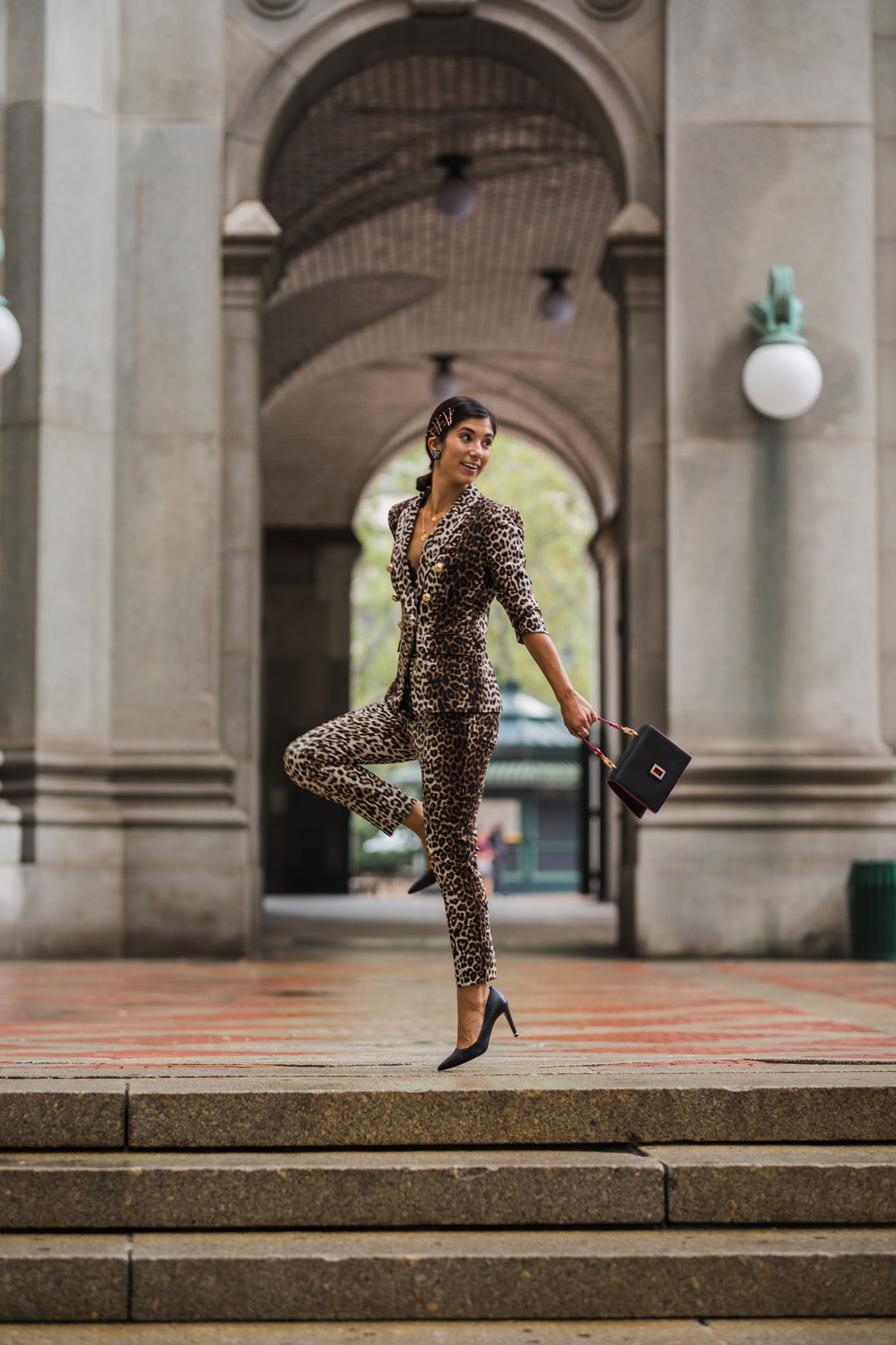 OUTFIT POST: Veronica Beard blazer and trousers gifted from Intermix // Kenneth Cole Riley heels // Luana bag // Chanel earrings // Bobby pins from Rite Aide
[row][half]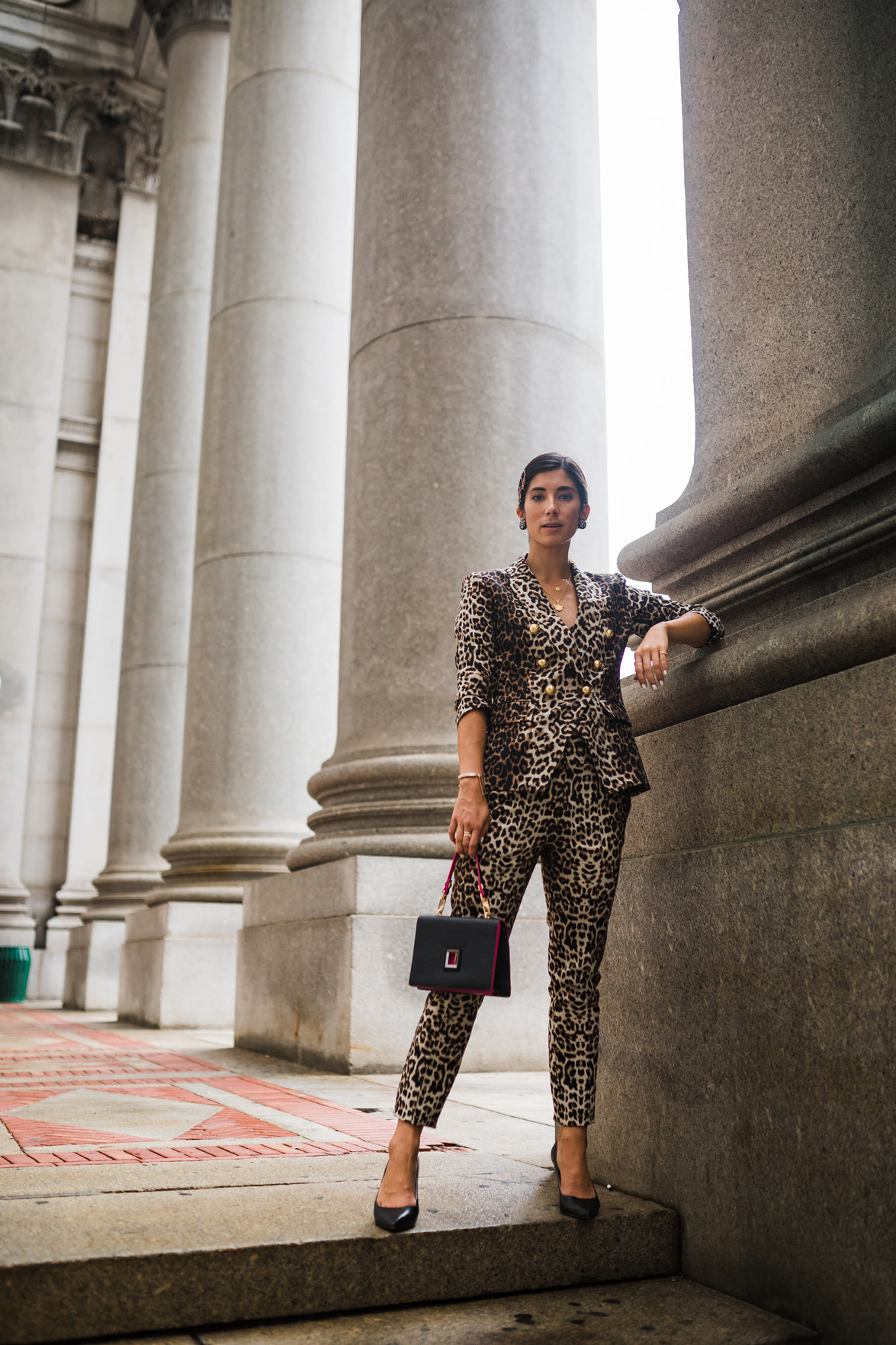 [/half][half]
[/half][/row]
[row][half]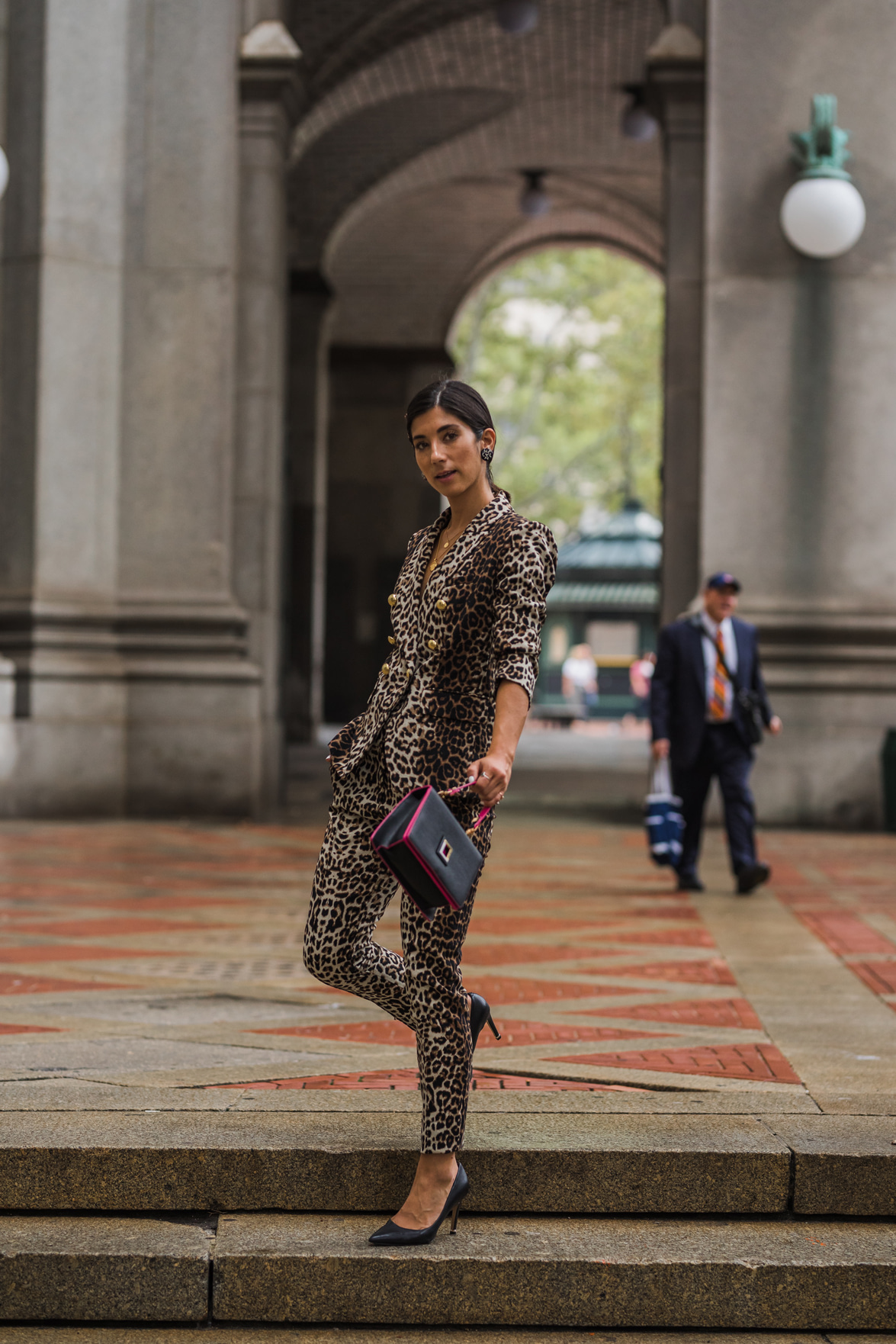 [/half][half]
[/half][/row]