7
minute read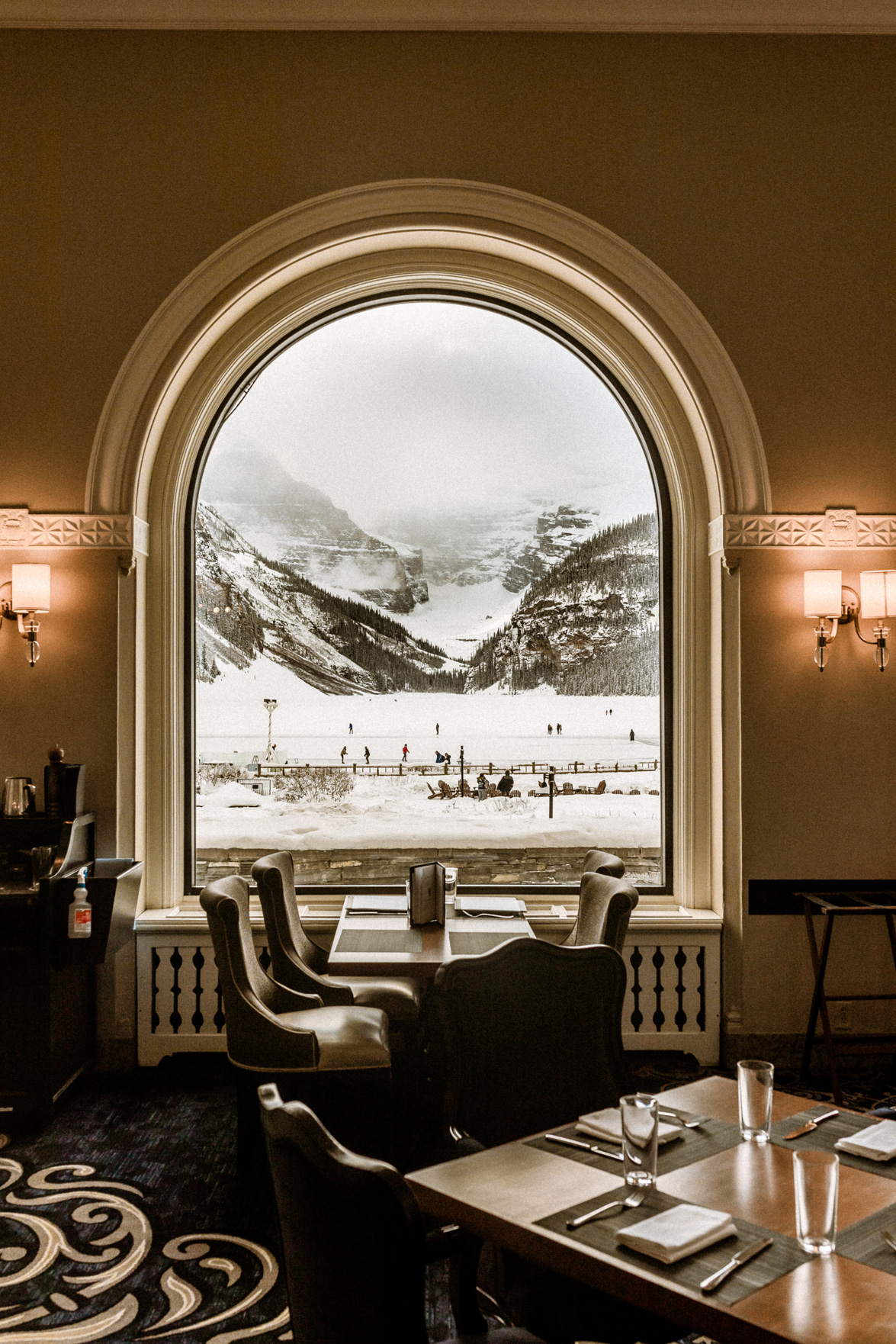 "If ever they remembered their life in this world it was as one remembers a dream." ~ C.S. Lewis, The Lion, the Witch and the Wardrobe
Have you ever felt like you've visited somewhere before without ever having stepped foot there? The minute we arrived at the Fairmont Chateau Lake Louise, it felt familiar to me, like from a distance dream, almost. The familiarity lingered everywhere we went around the property -- from the view from my room overlooking Lake Louise to the many blazing fireplaces -- but it wasn't until our lakeside sleigh ride, as the bells strapped to our two horses jingled through the still, cold air, it struck me — this has to be Narnia! The beloved, pristine winter wonderland I had read about -- and dreamed about -- as a child. Where animals talk to you like a neighbor, where evergreen trees practically reach the sky, where the world is quietly slumbering under the trance of a heavy winter spell. And while we didn't meet Mr. Tumnus or Aslan along the way, I couldn't help but imagine them waiting, just beyond the forest line, perhaps guarding a certain magical wardrobe door.
As a child, I adored The Lion, the Witch and the Wardrobe series -- for many reasons really -- but chief among them being how winter itself was almost a character all its own. Quiet and serene one moment. And violent and unrelenting the next. Friend and foe, really. I suppose you could say I've always loved winter -- a controversial confession I'm sure, as summer tends to be the seasonal darling -- but as a February baby, I relish the winter months. They're the perfect time to sit, reflect and face inward. To read books. To watch the earth sleep. To be alone with your thoughts. If summer is a delighted, hurried laugh, winter is the satisfying sigh that follows.
Of course, summer trips tends to dominate my travel schedule most of the year, which is why I was so excited to join the Fairmont team for my first visit to Alberta last month, in the thick of the holiday season, no less! We explored two different properties during our stay -- the Chateau Lake Louise and Banff Springs (a short 45 minute drive between) -- both equally stunning in their own unique ways. Today's post is all about Lake Louise and I do hope you enjoy this photo diary of sorts. Nick and I had a lot of fun shooting it for you. And, as always, all stay details are noted below, with outfit details at the very end of the post.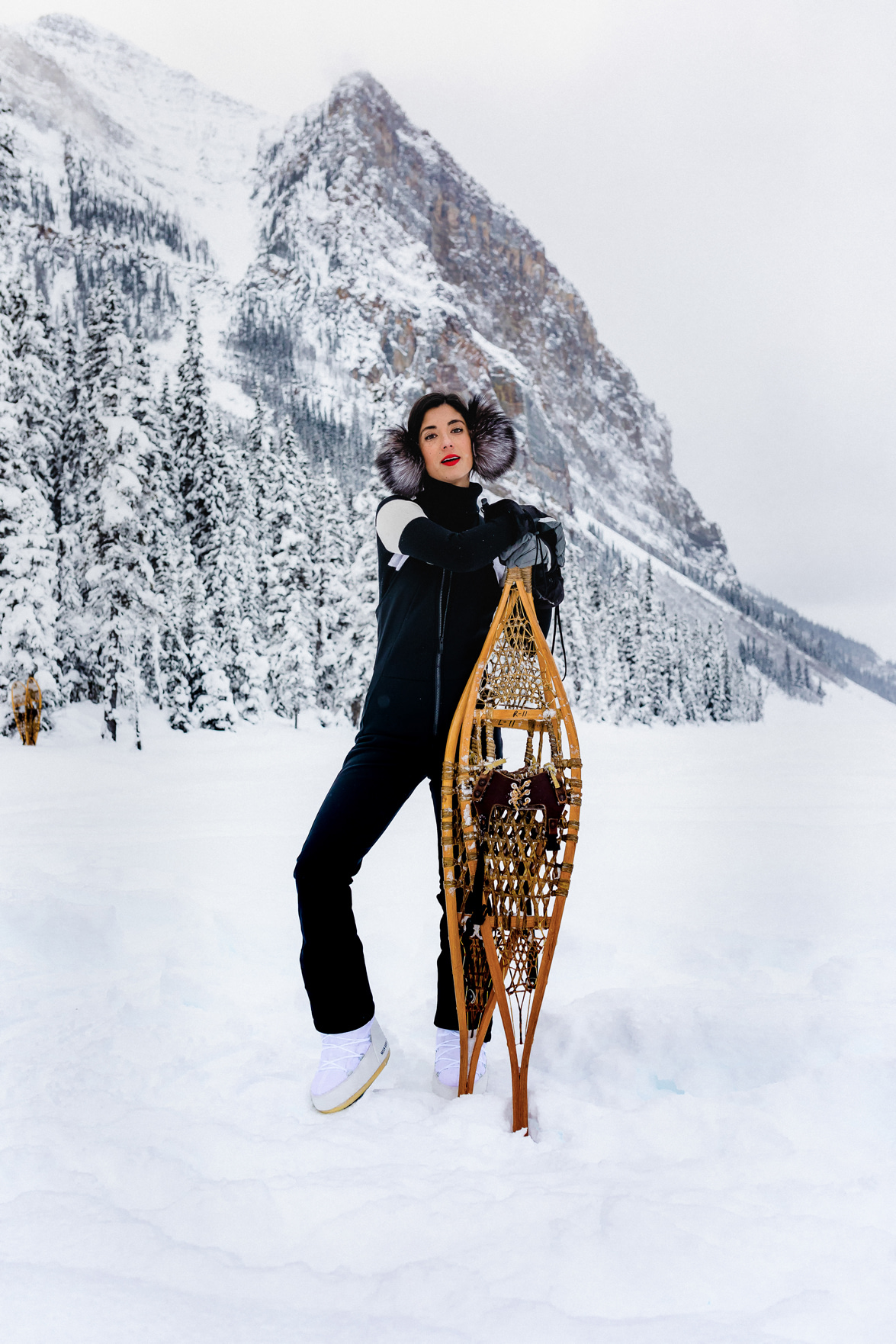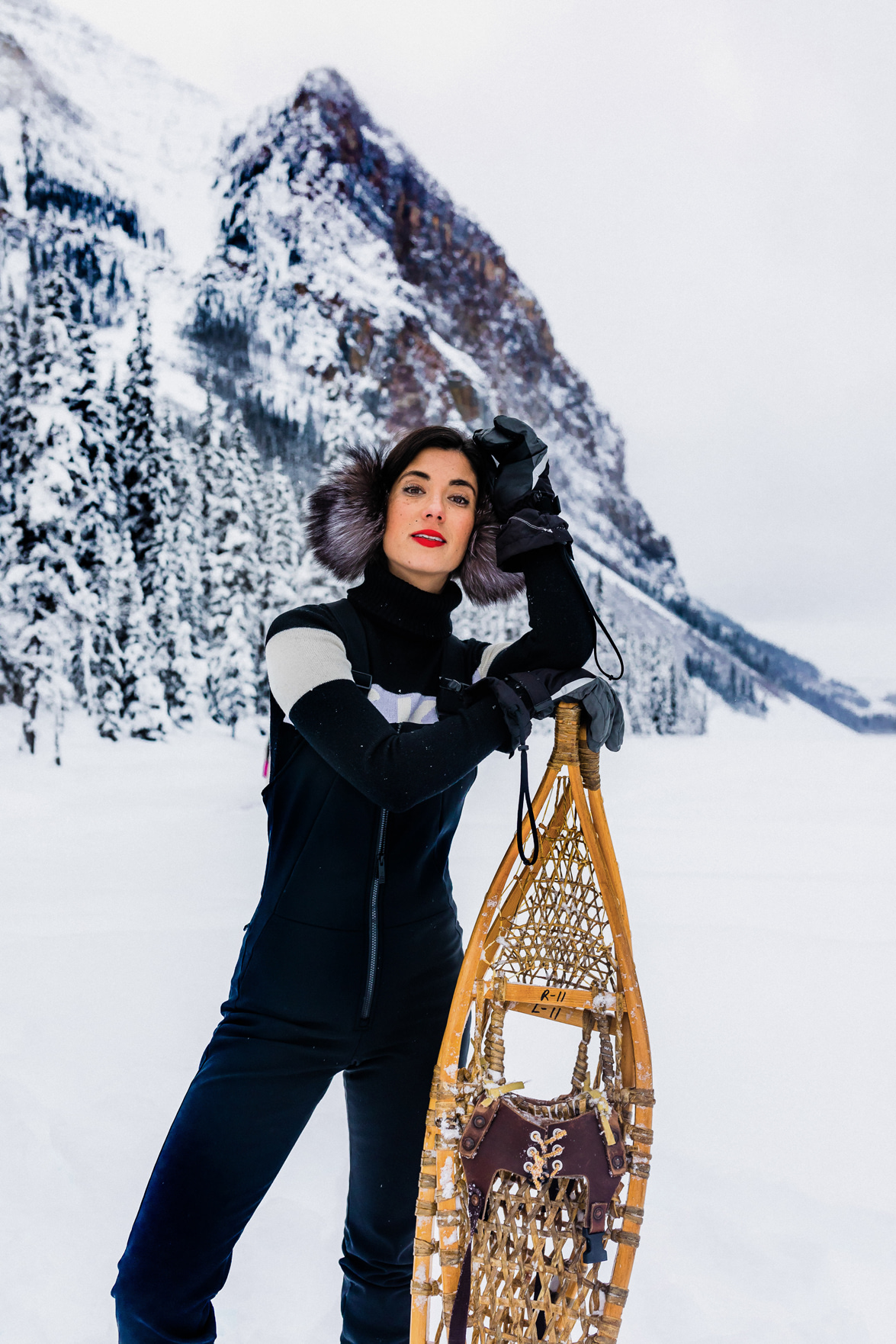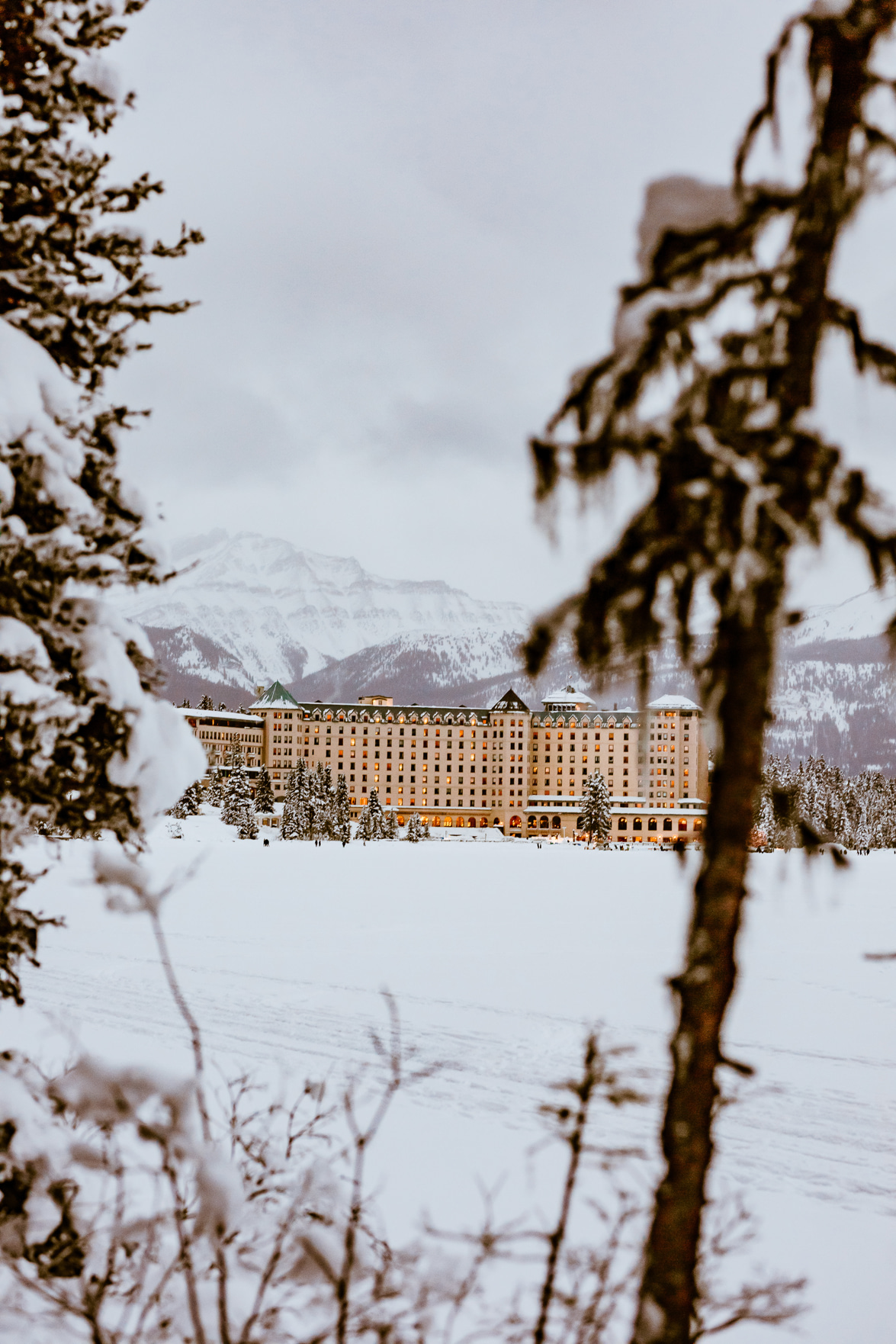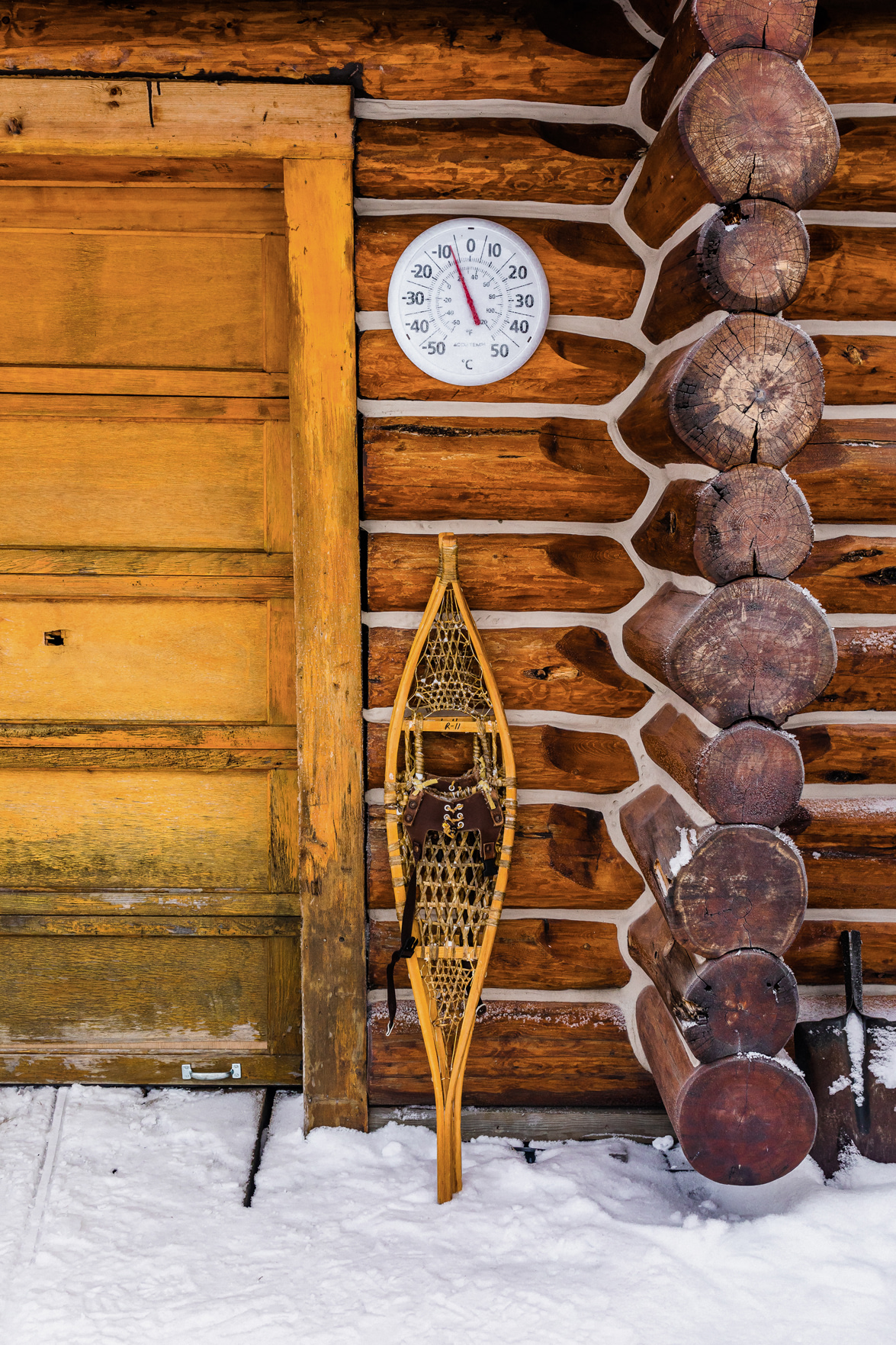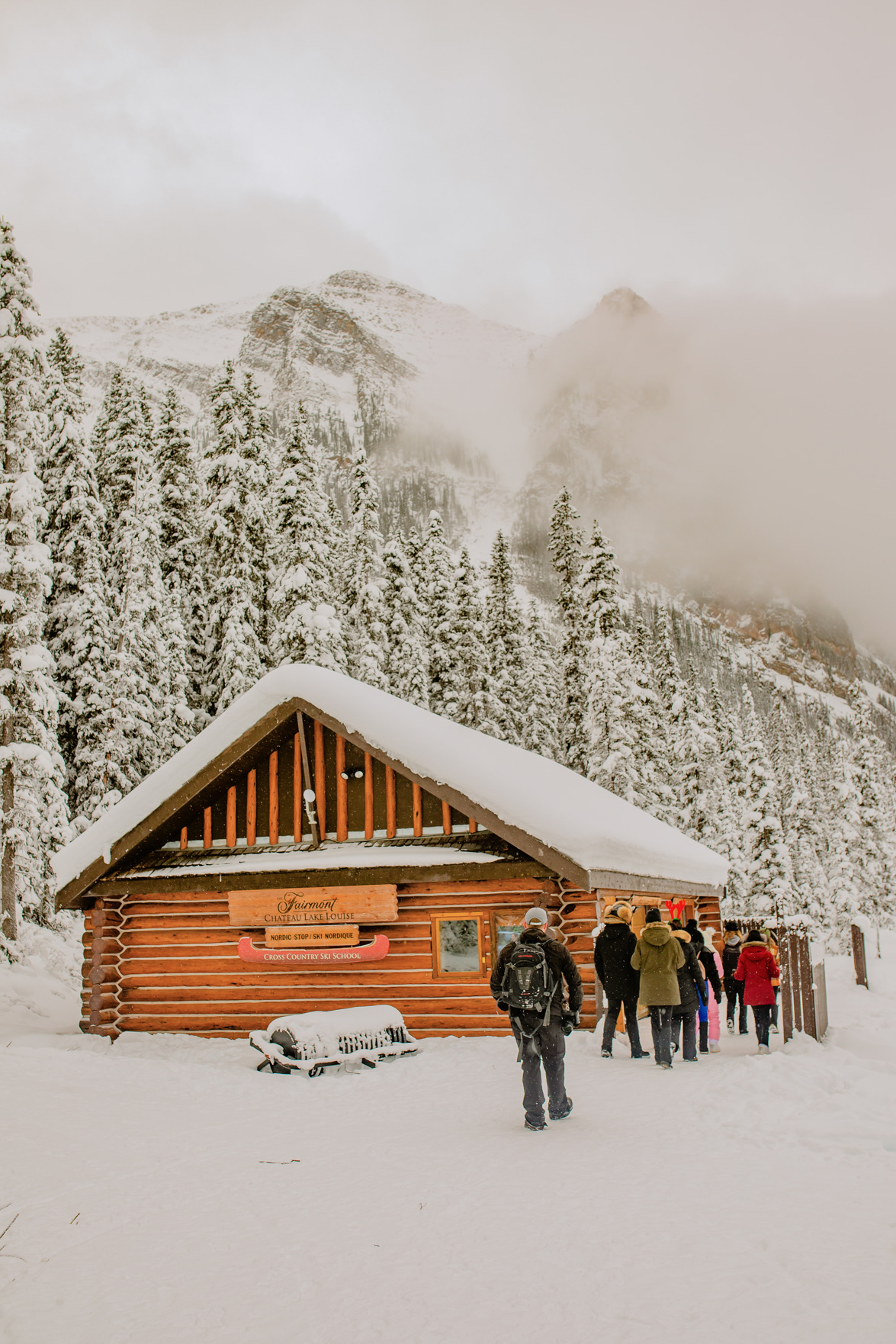 Hopping over to Narnia, er I mean Alberta
Unfortunately, it's not quite as easy as walking through a wardrobe door, but with a little advance planning and booking, it's completely doable and affordable! We flew into Calgary from New York, connecting through Minneapolis along the way. Depending on the time of year, I'm told, there are plenty of nonstop flights, but given our timing and group trip logistics, the stop along the way was unavoidable for us. A direct flight should only take you a little over 5 hours from the greater New York area and if booked early enough, average around $400 to $500 roundtrip, depending on the airline.
Once you land in Calgary, of course, you have another leg ahead of you -- that being a roughly 2 hour drive to the Chateau Lake Louise down one of the prettiest highways I've ever seen. The Canadian Rockies don't disappoint and they come out to greet you first hand on the drive. Thank god I wasn't driving -- I could just gaze out the window instead. Wouldn't be a bad idea to book a rental car for a trip like this -- would make it easy to go explore the surrounding areas if you wanted to venture off property.
Of course, if winter isn't really your thing, a summer visit to the Banff area would be phenomenal, but be warned, it's considered peak season in the area. Rates will be higher and availability will be harder to come by so book early.
About the property
You all know me -- I love a property with history and the Fairmont Chateau Lake Louise is steeped in it. What originated in 1890 as a simple mountaineering and outdoor enthusiast hotel, later turned into the elegant winter chateau retreat it is today, this Fairmont property is a true gem in their collection. Nestled at the foot of the beautiful Lake Louise which literally parts the towering Canadian Rockies at both of her sides, the Chateau is equal parts castle as it is mountain lodge --- attracting adventure seekers and celebrities alike. Numerous movies have been filmed on location here (garnering it the nickname of 'Hollywood of the North') with notable past guests having included the likes of Alfred Hitchcock, Marilyn Monroe and even Queen Elizabeth II herself (not for a movie, mind you).
Here guests can enjoy a little bit of everything the Canadian Rockies have to offer, no matter where their interests lie. Every type of winter activity is at your fingertips here, with trained Swiss mountain guides on property literally at your service and a slew of tools and equipment at the ready. You name it, they can probably get you going -- snowshoeing, skiing, snowboarding, cross country skiing, ice skating, ice climbing, dog sledding, sleigh ride. You get the picture (but you can always read their full winter activity offering here).
If relaxing is more your speed, you'll more than appreciate the abundance of cozy nooks, huge picture windows overlooking the lake, five amazing restaurants and the general splendor of enjoying a bygone era of yesteryear. They just don't make 'em like they used to, am I right?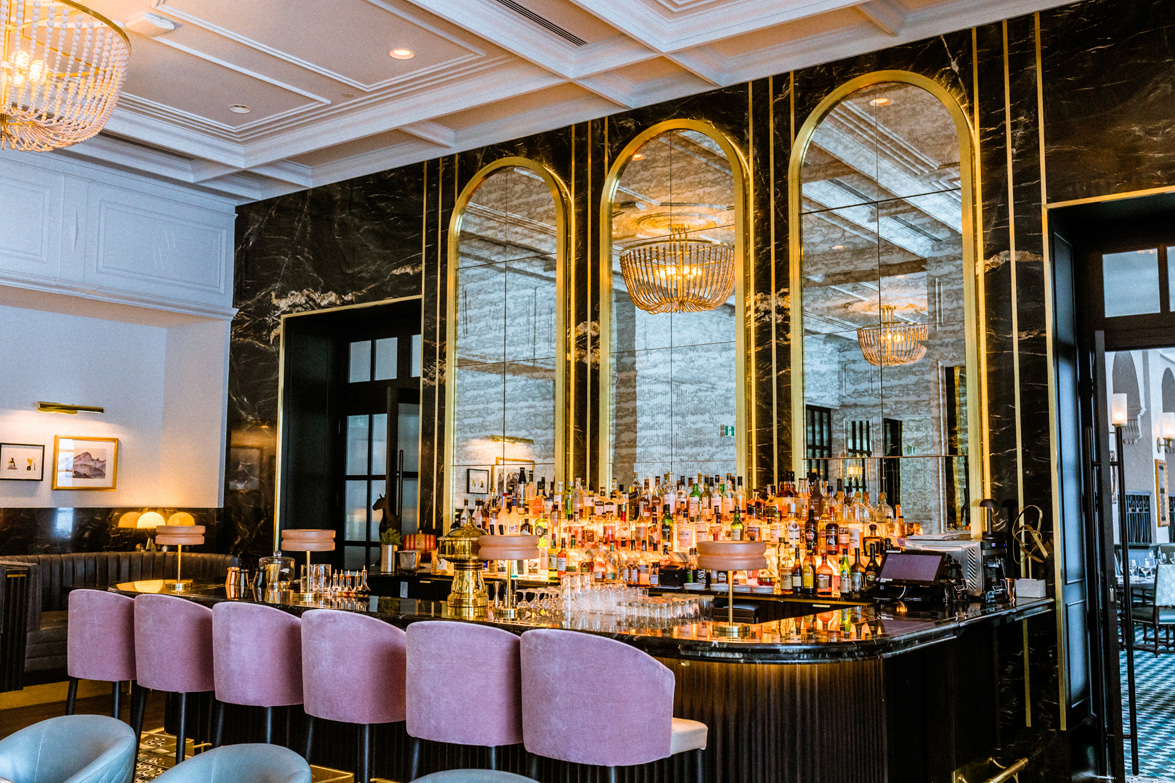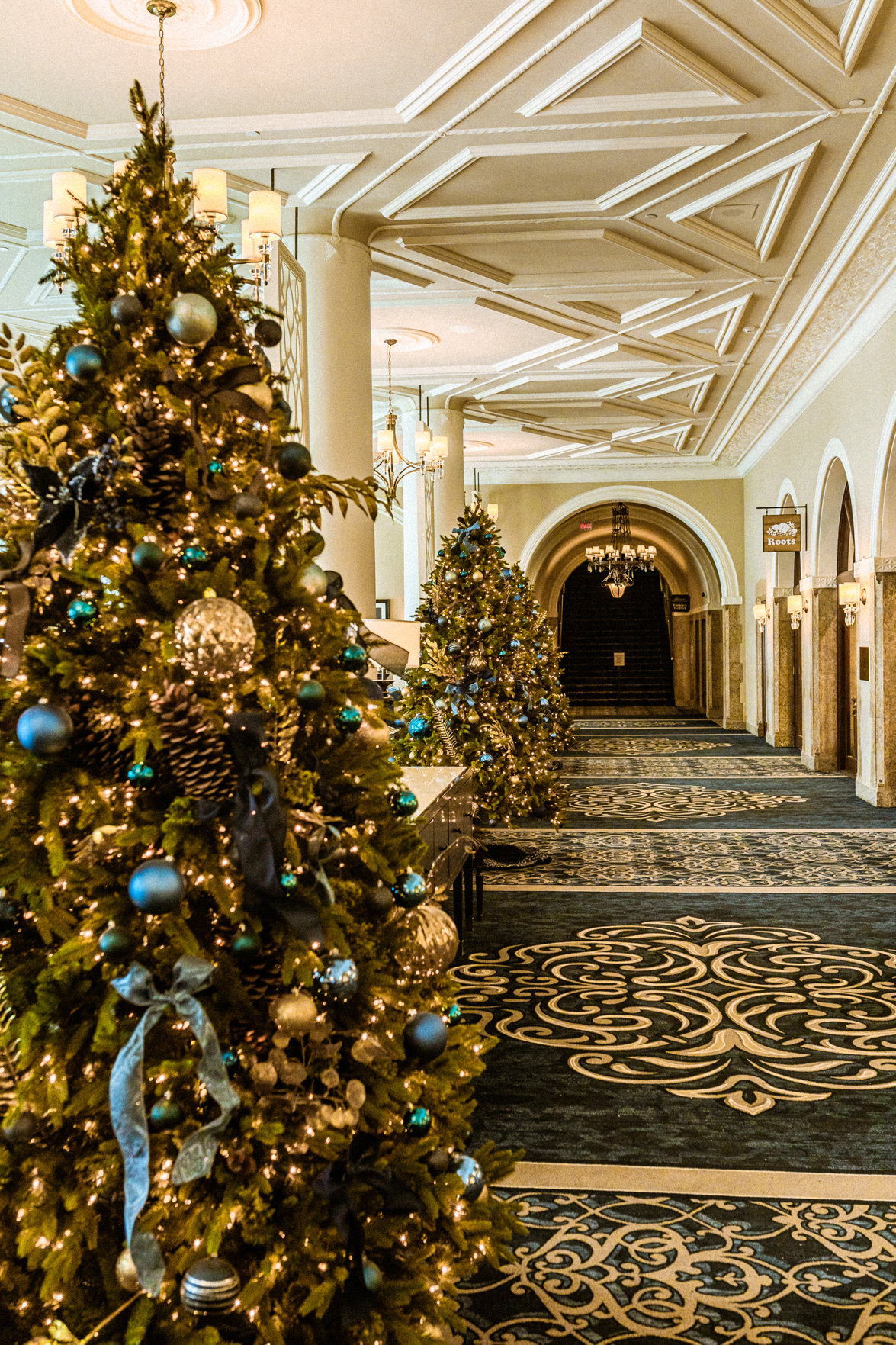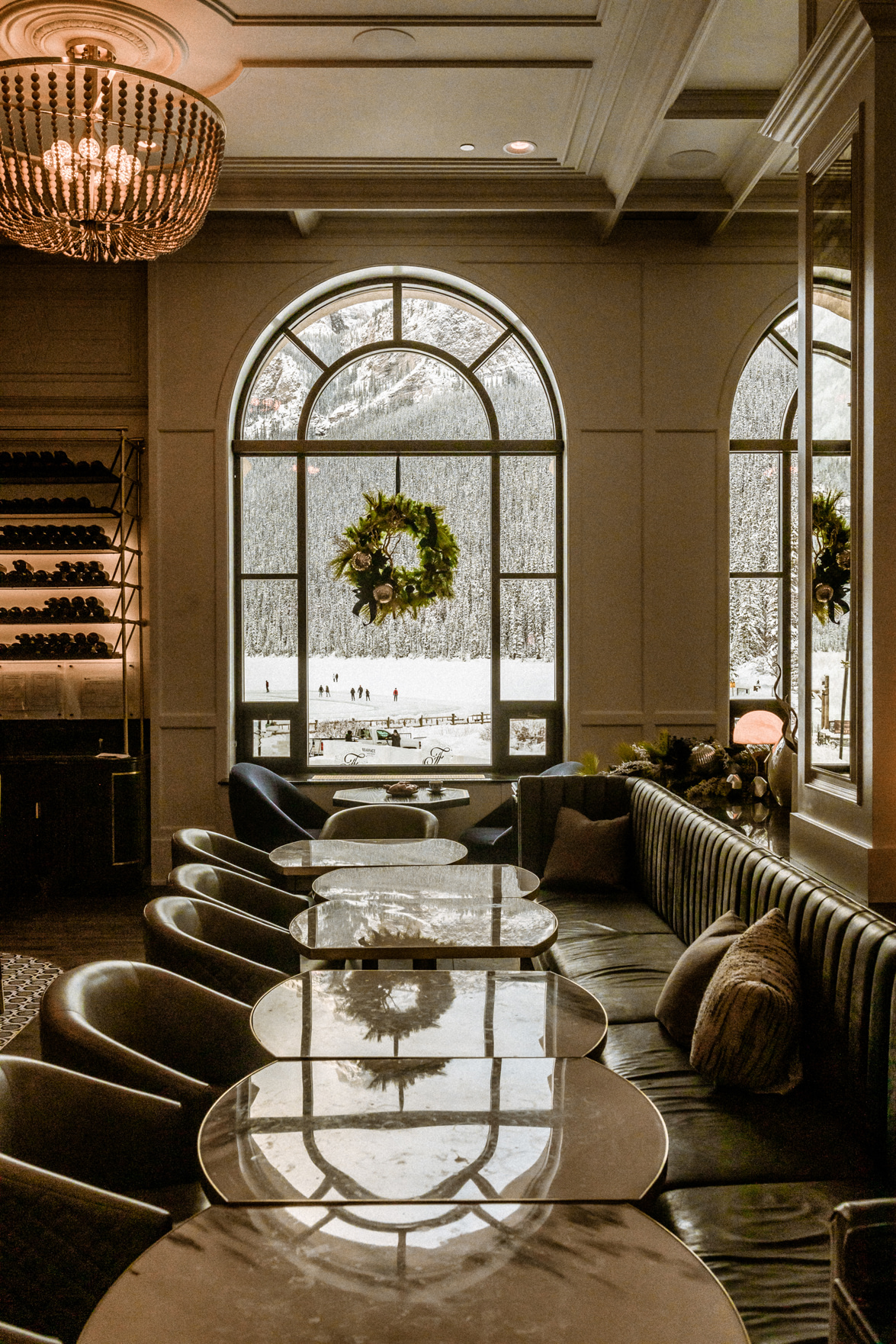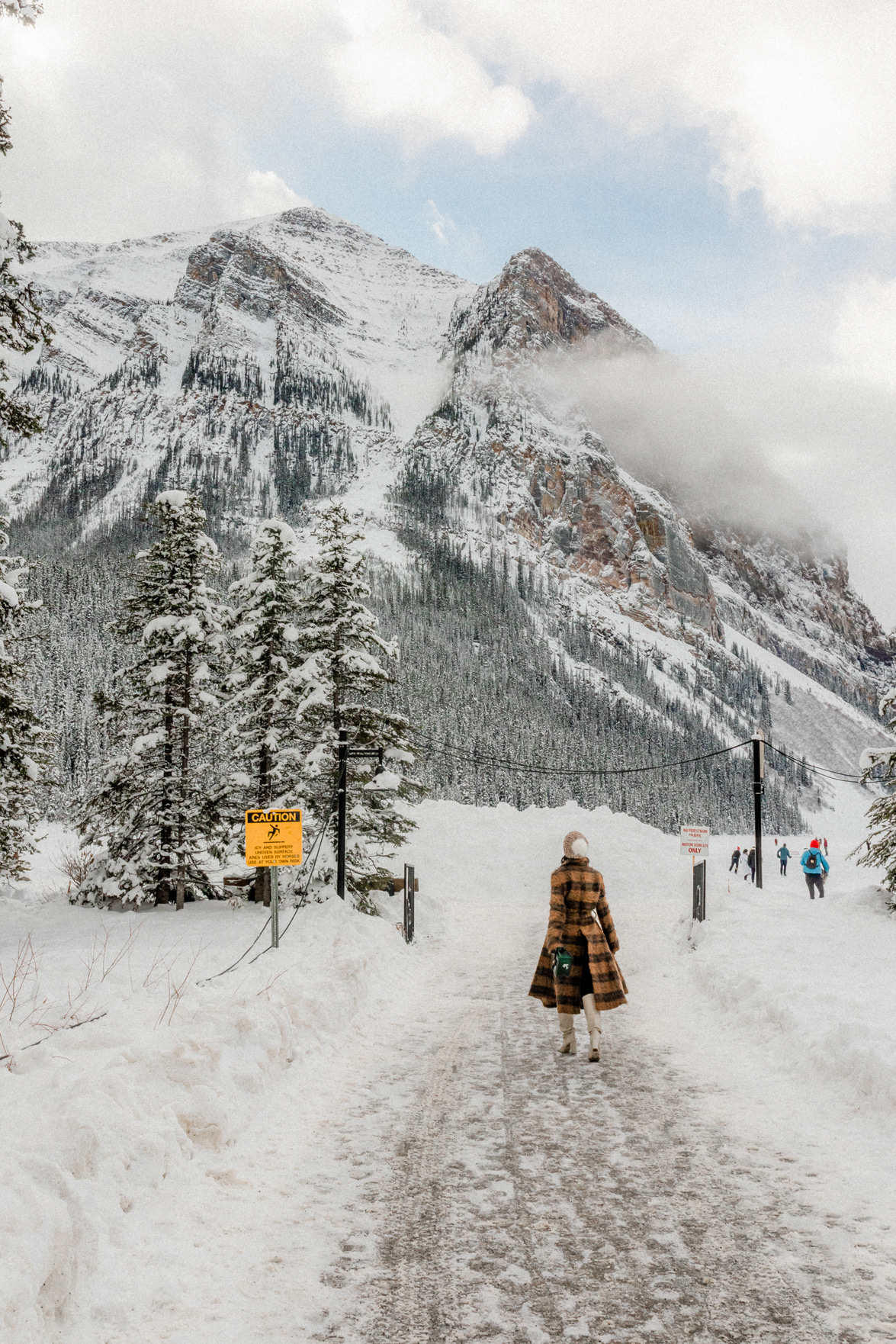 Be sure not to miss...
Here's a quick rundown of my personal favorite highlights of our stay, in no particular order:
Brewster sleigh ride: Two words -- pure magic. The property cares for 16 beautiful Percheron horses, who rotate pretty often in the winter for sleigh rides around the lake. If you can, try to go in the evening when the hotel is all lit up -- your return view will take your breath away.
Apple roast: I suppose this is the Canadian version of a s'more and man, is it good! We roasted apples on our first night -- under a blanket of stars to boot! -- and sprinkled them with cinnamon and brown sugar as the final touch. Delicious!
Fondue dinner at Walliser Stube Restaurant: Hands down, my favorite meal of the trip. And the rustic German-inspired lodge decor is the icing on the cake!
Breakfast at Fairview: Fairview is the newest restaurant on property and the decor is certainly enviable (think modern art deco). I absolutely loved our breakfast here -- the perfect blend of savory and sweet -- with an incredible view overlooking Lake Louise.
Snowshoeing: We ventured out with one of the Swiss-trained mountain guides for a little winter morning snowshoe trek and I still can't get over how fluffy the snow was! Like walking on powdered sugar, amongst the tallest trees that felt more like gentle giants than evergreens.
Ice skating near the ice castle: Unfortunately, I ran out of time to ice skate, but personally, if I head back someday, it'll be the first activity I do! I've never ice skated on an actual lake before. Plus, each winter, their team builds a full ice castle out on the lake -- it's a wonder to see!
Grabbing hot chocolates at their completely frozen ice bar: It was exactly how you'd expect it to be: SURREAL.
And there you have it! Two heavenly days in what I'll forever remember as Narnia. Stay tuned for tomorrow's post all about the Fairmont Banff Springs!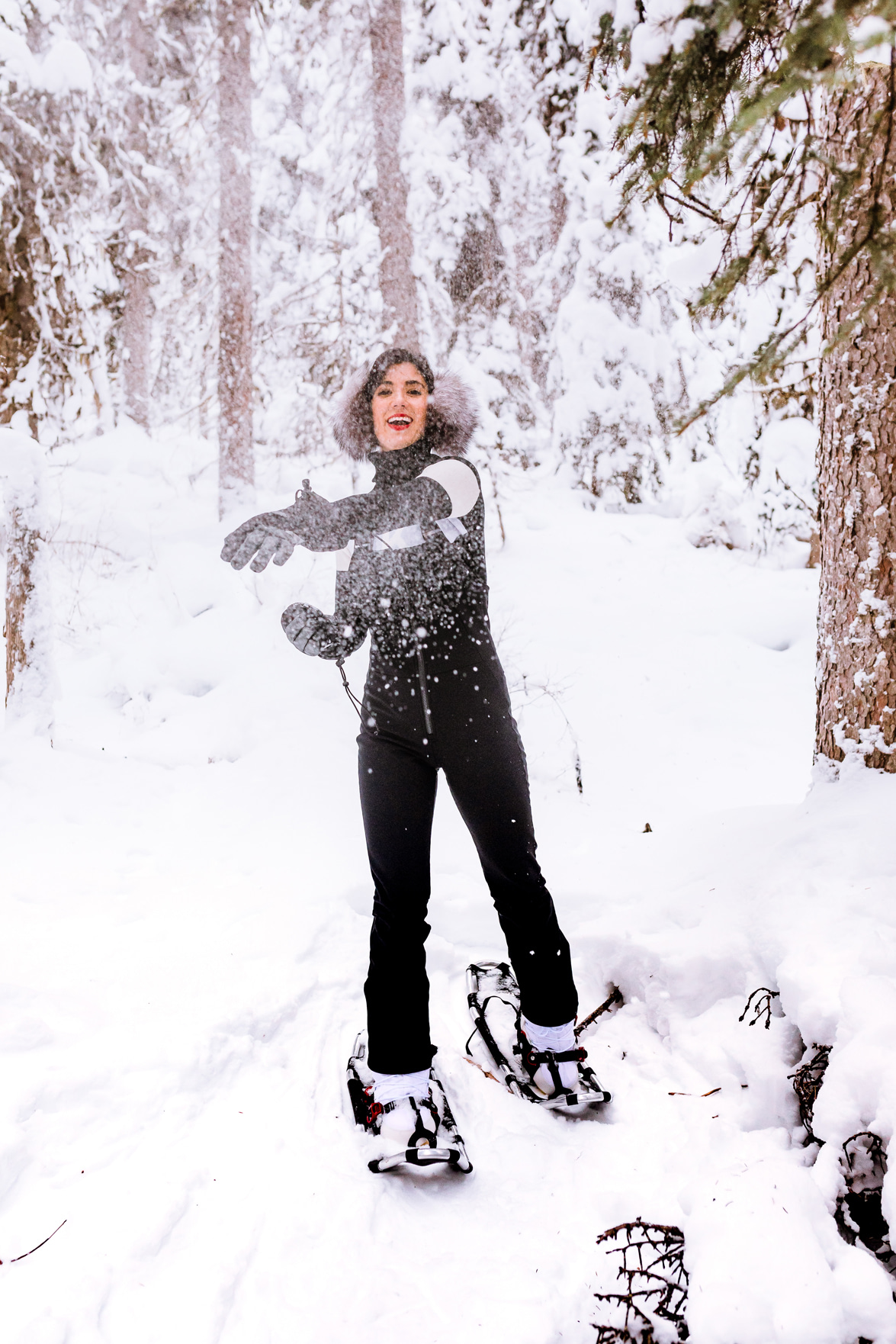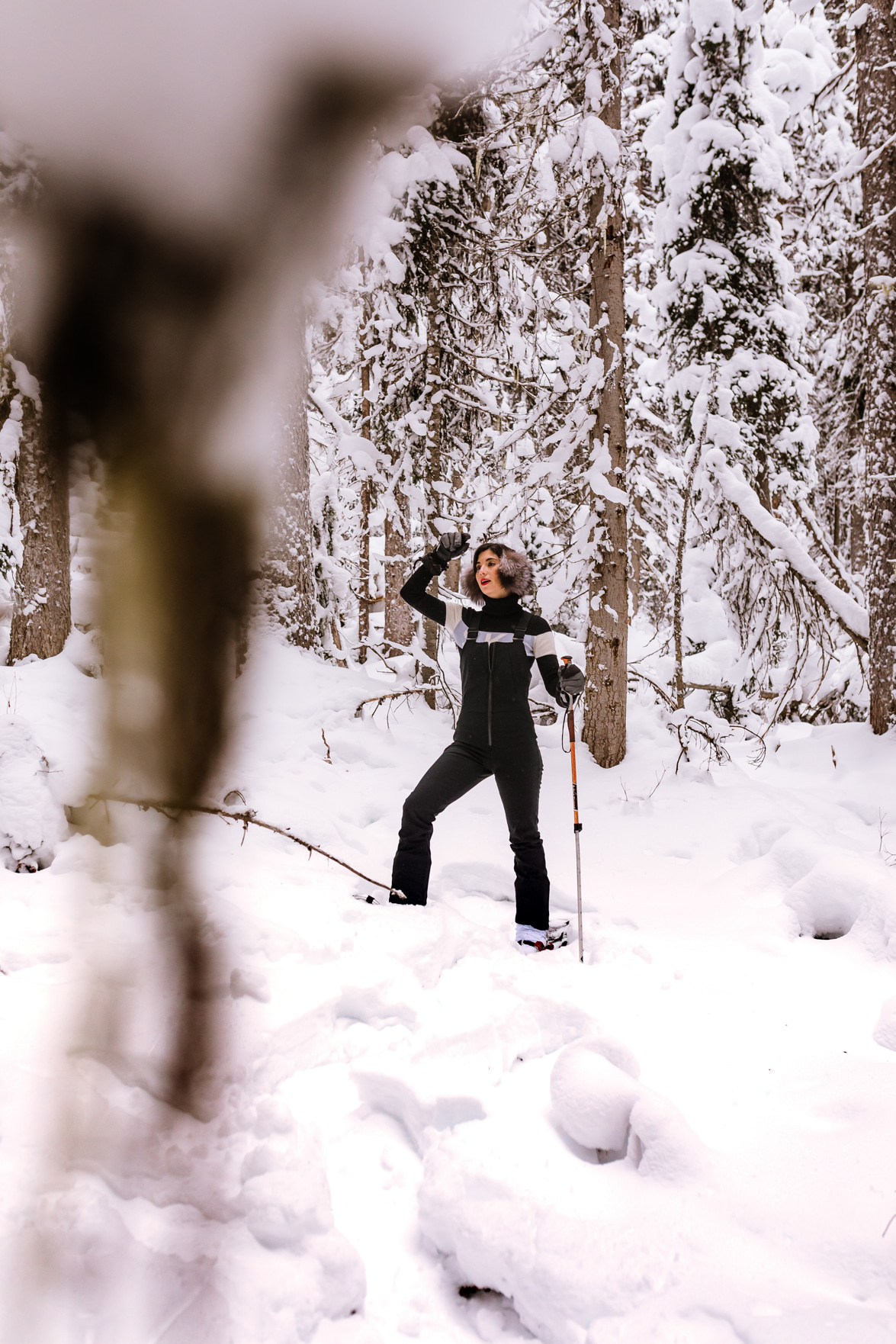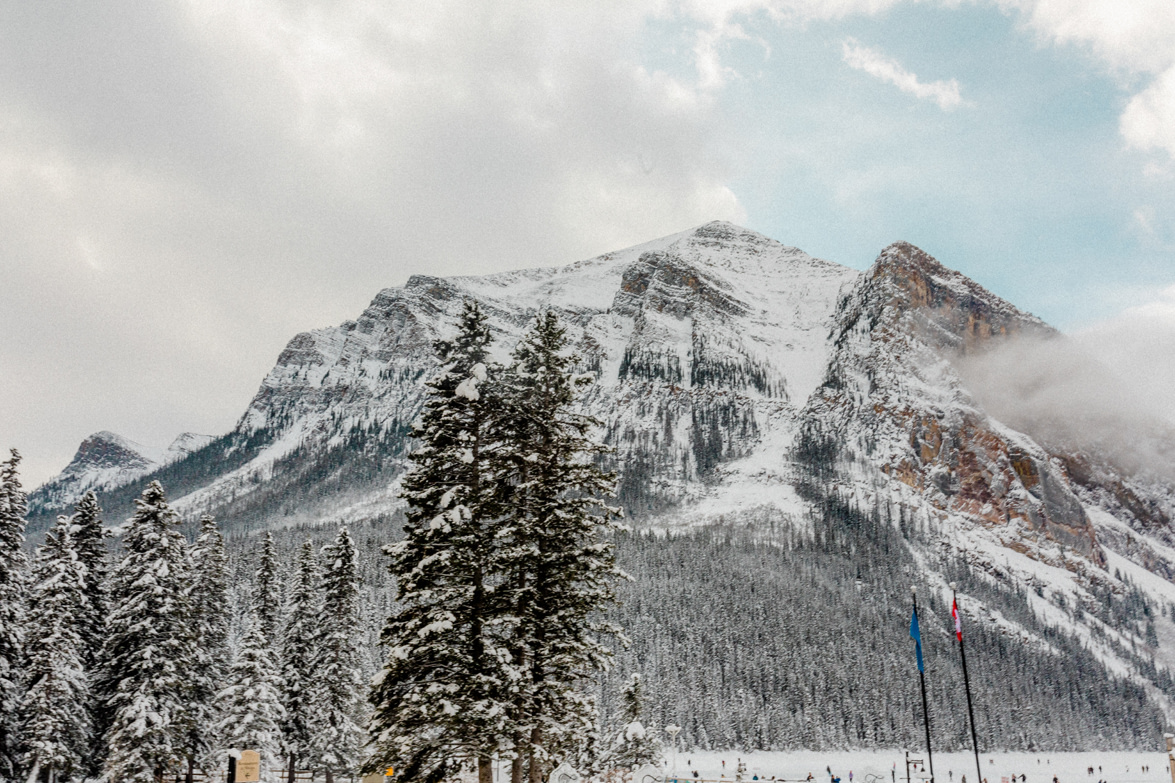 OUTFIT DETAILS (in order of appearance): Philosophy di Lorenzo faux fur sweater (rented, on sale here!) // Anthropologie beret (similar style here) // Lafayette 148 skirt (gifted) // Vintage gloves // Zara boots (old) // Fusalp ski suit // Perfect Moment sweater (rented) // Moon Boots // Faux fur ear muffs bought in Montreal (similar style here) // Acne plaid coat (gifted) // Express beanie (gifted) // Zara boots // Kohls jeans (gifted) // Krenoir bag (gifted)
Huge thanks to the Fairmont Hotels team for graciously hosting and planning such an incredible trip for us! As always, all opinions and thoughts are my own.