9
minute read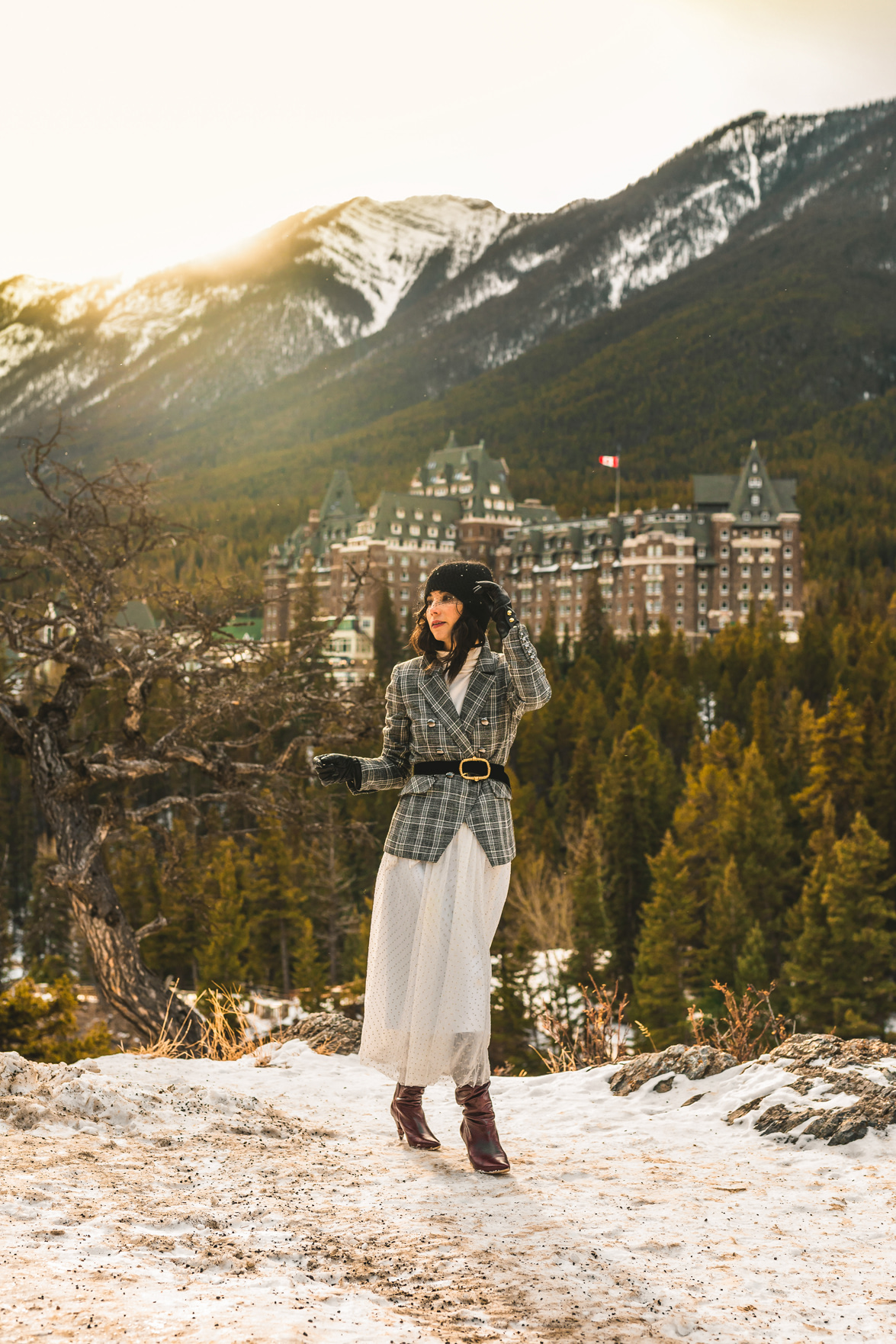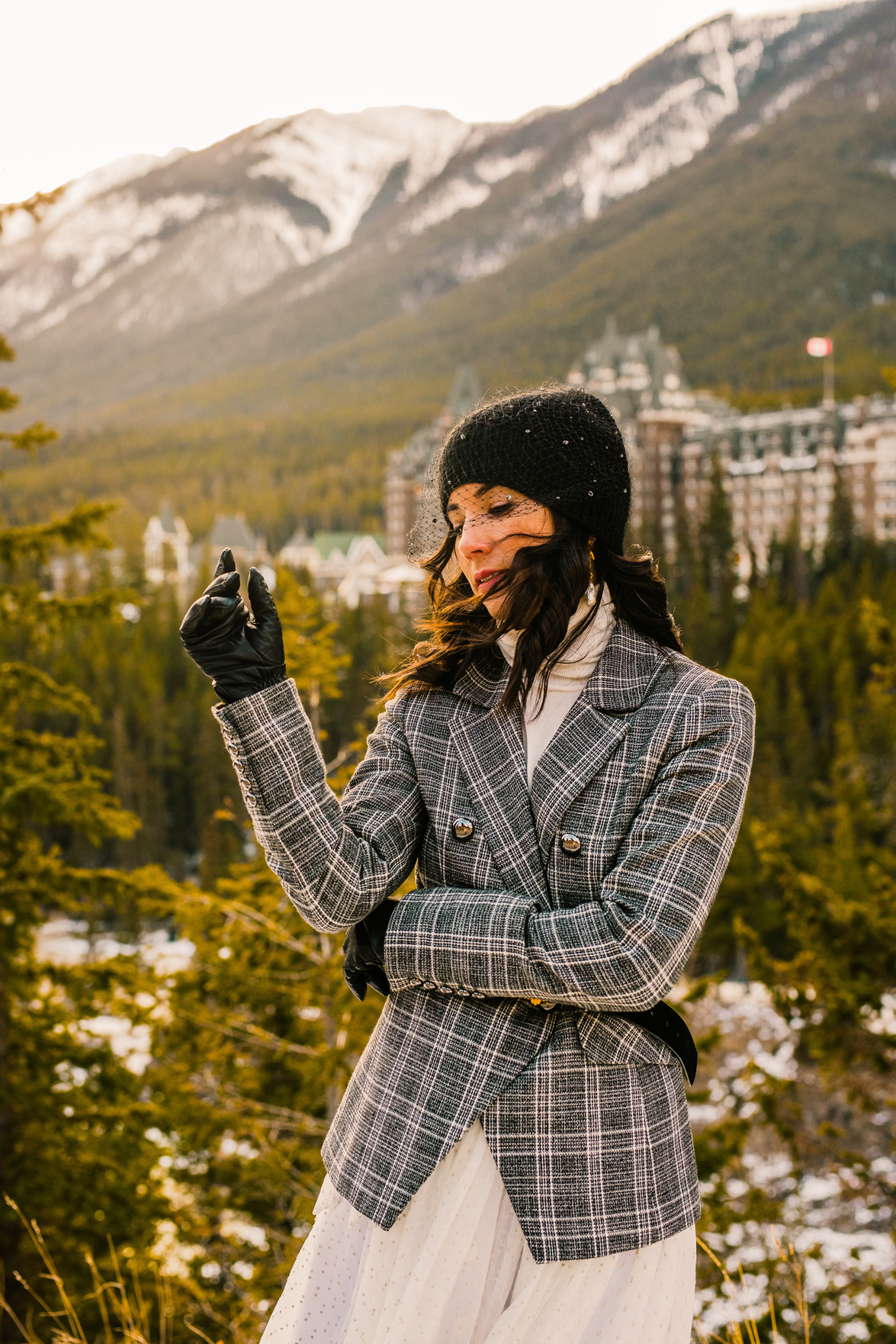 "Is it Hogwarts? Or perhaps it's Downton Abbey?"
As our bus pulled up the winding driveway leading us to the historic Fairmont Banff Springs Hotel, our group kept peering out the driver-side windows, trying to steal a glance of the grand Victorian-era châteauesque building peeking out amongst the thick evergreen trees. What we saw made most of us gasp, quite loudly at that. Standing like a mountain fortress, the Banff Springs is a sight to see -- turreted towers pepper the perimeter corners, ornate dormer windows peer out in every direction, surely to appreciate the Canadian Rockies that surround the property and regal stone masonry envelope the entire structure, making it feel as if we were visiting royalty, as opposed to checking in at a hotel. I suppose at this point, I completely understood why the Banff Springs Hotel is often dubbed the "Castle of the Rockies" -- although I'll fully admit, I was often tempted to go searching for the Quidditch field that I desperately hoped was nearby. All the more reason to visit again, right?
If you're just joining our Alberta series now, I recapped the first part of our stay at the Fairmont Chateau Lake Louise here -- and today we're continuing right along with the Fairmont Banff Springs Hotel, located just a short 45-minute drive away from Lake Louise. The property is the gem of the ski town of Banff, nestled higher in the valley overlooking Mount Rundle and, like any good historic building, has lots of amazing stories within its walls. Celebrity clientele, royal visits and yes, even a good ghost story or two. So let's dive right in!
Getting here and logistics
I shared pertinent flight information in my first post here, but do note, if you're planning on only going to the Banff Springs Hotel, it is actually a tiny bit closer to the Calgary Airport (a 1.5 hour drive as opposed to a 2 hour drive). Again, I would recommend renting a car for this trip, as it'll help you explore the area a bit easier. The hotel, however, does offer shuttle service into town and to other local attractions (like ski resorts, hiking trailheads etc.).
As far as recommended length of stay, I'd say at least 3 nights at the Castle to really do the property justice and definitely a few more, if you can help it. If you're a big winter fan like I am, there's plenty of activities in the immediate area to keep you busy during the day and lots of cozy fireplaces to curl up next to in the evenings. If summer is much more your jam, I've been told the property is also teeming with activity -- but be warned, it's considered peak season so availability and rates will reflect accordingly. That said, perhaps I can persuade you to consider a winter visit in my next section...
Why I love winter destination trips
The other day on Instagram, when I confessed that I adore winter, I left some of you scratching your heads. Surely, if you're planning a big destination vacation, why go when the weather is cold, or dare I say it -- snowing? Don't get me wrong, I love a good beach resort trip just as much as the next Vitamin D-obsessed girl, but the chance to breathe in crisp, mountain air on a chilled February morning? Well that just gets my heart beating a bit faster. Here's why I love going on a few winter trips every year:
I feel much more active in cooler weather: While I may be biased since I grew up skiing and snowboarding, I always feel there's a bit more reason to really get outside and stretch your legs in the winter (cabin fever anyone?), regardless of your skill ability. Most people assume they need to hit the slopes on a winter trip, but that's just the tip of the iceberg (ah, see what I did there?). Try snowshoeing, cross country skiing, hiking, dog sledding or ice skating -- anything to get your heart rate going! Fun fact: when you're exercising in colder weather, your body has to work a bit harder to stay warm, thereby producing more endorphins as a result. So yes, your nose may be turning a bit red, but you'll actually feel happier because of it!
I relax differently on a winter trip vs. a summer trip: When it comes to my summer trips, especially of the beach variety, I tend to nap more, likely because of sun exposure -- I feel zapped of energy throughout the day, so I give in to the urge to rest my eyes more often. But a winter trip? I tend to sleep pretty deeply at night and punctuate my day with reading breaks as down time. Perhaps I just feel more awake in colder temps but I'm able to read and reflect on my thoughts more clearly.
The outfit possibilities are more fun! It's true, I love good accessories and well, there's just more layers to winter outfits!
My two favorite indulgences: BATHS and FIRES. Give me a long bubble bath soak with a blazing fireplace and I'll basically never leave. I mean, is there anything truly better than warming up your bones this way after a long day of hiking? I think not!
Allows me to reconnect with nature: This isn't to say you can't enjoy nature in the summer, but I think there's a unique stillness to appreciate in the winter that you just can't capture in busy summertime months. Hiking trails are usually less crowded in the winter, the air is less humid and easier to breathe and you end up noticing smaller things you wouldn't have before like how good it feels when the sun warms your face or a certain bird that flies overhead because it breaks the quiet of the morning. Little things. But they make a huge difference in how you absorb the world around you.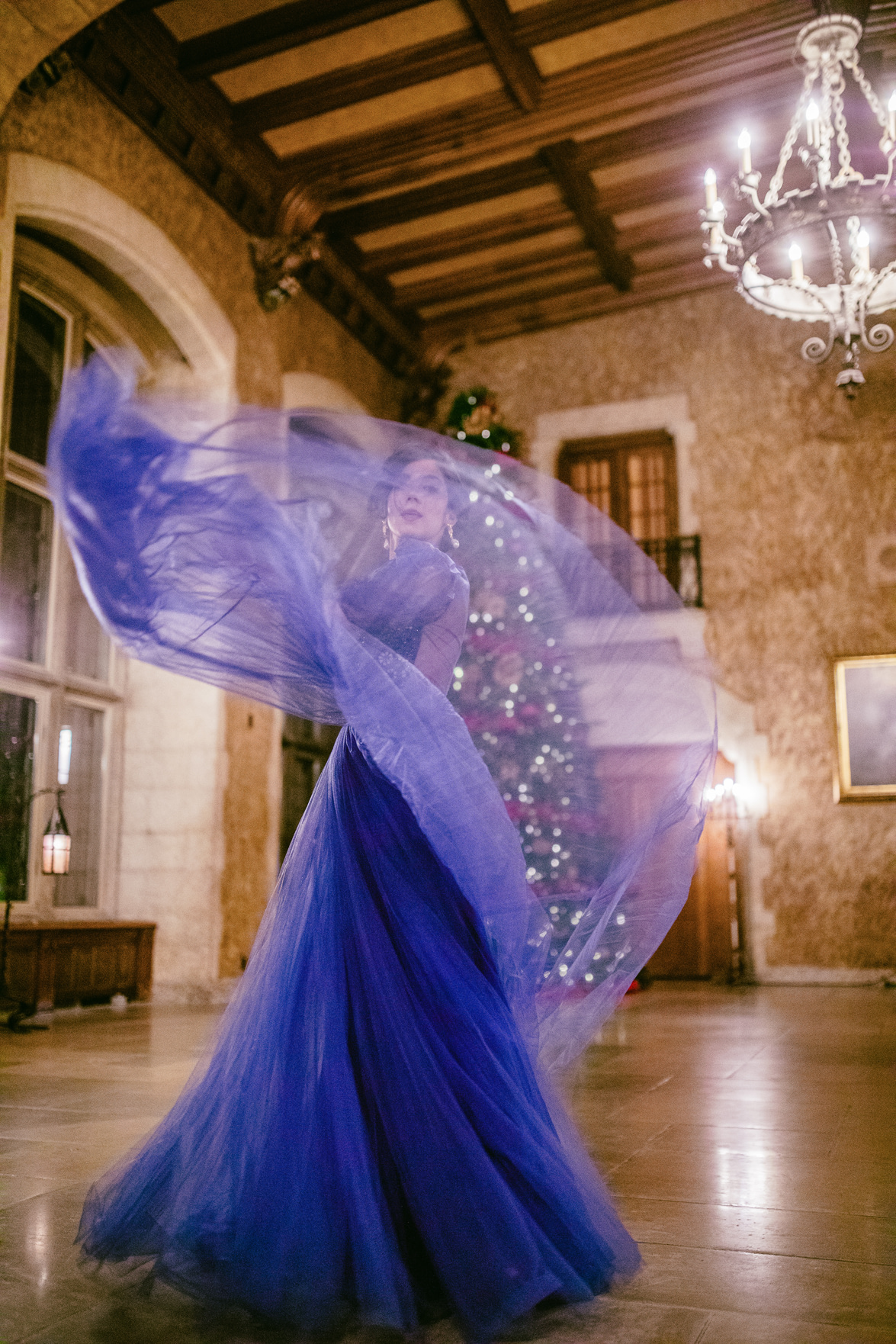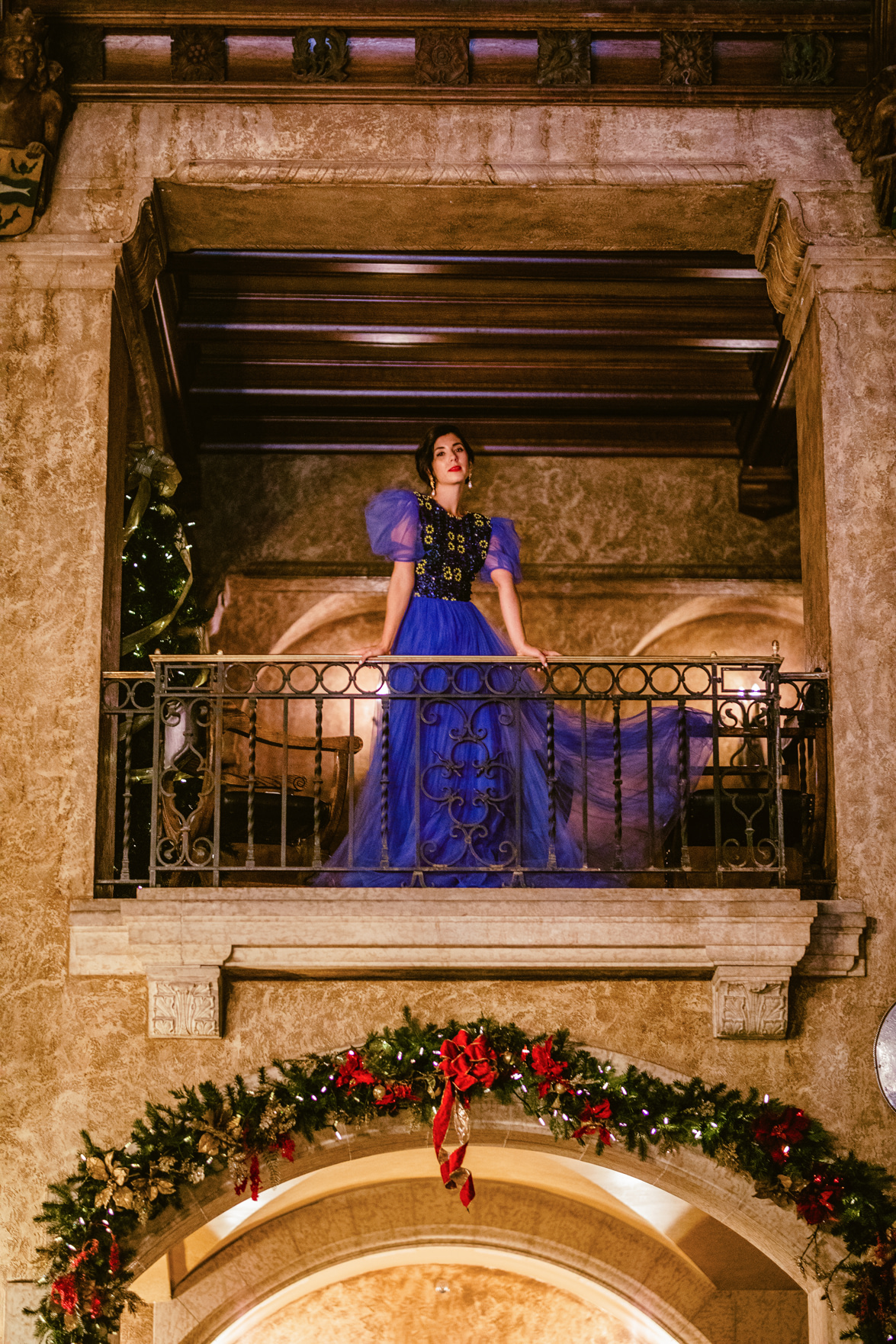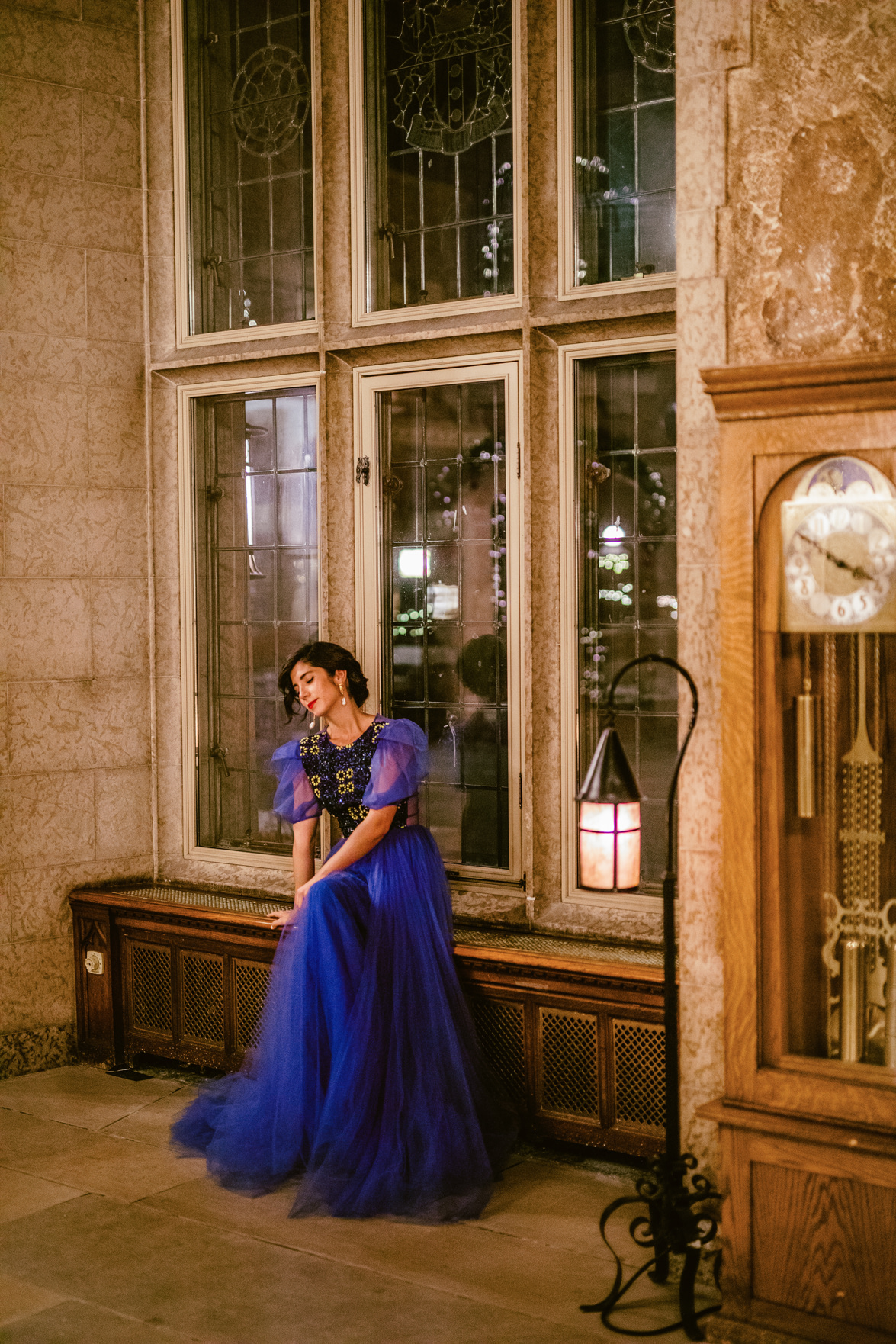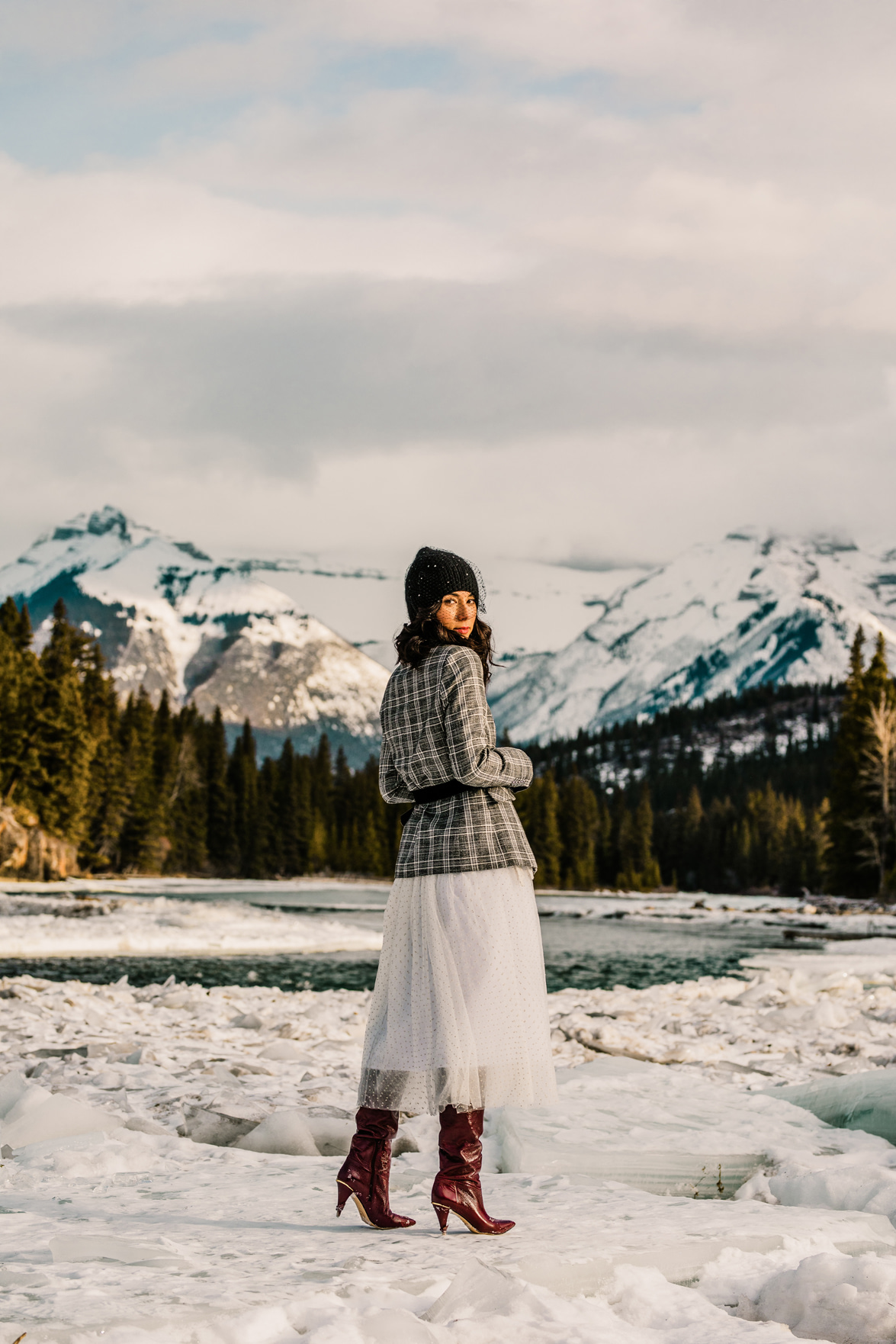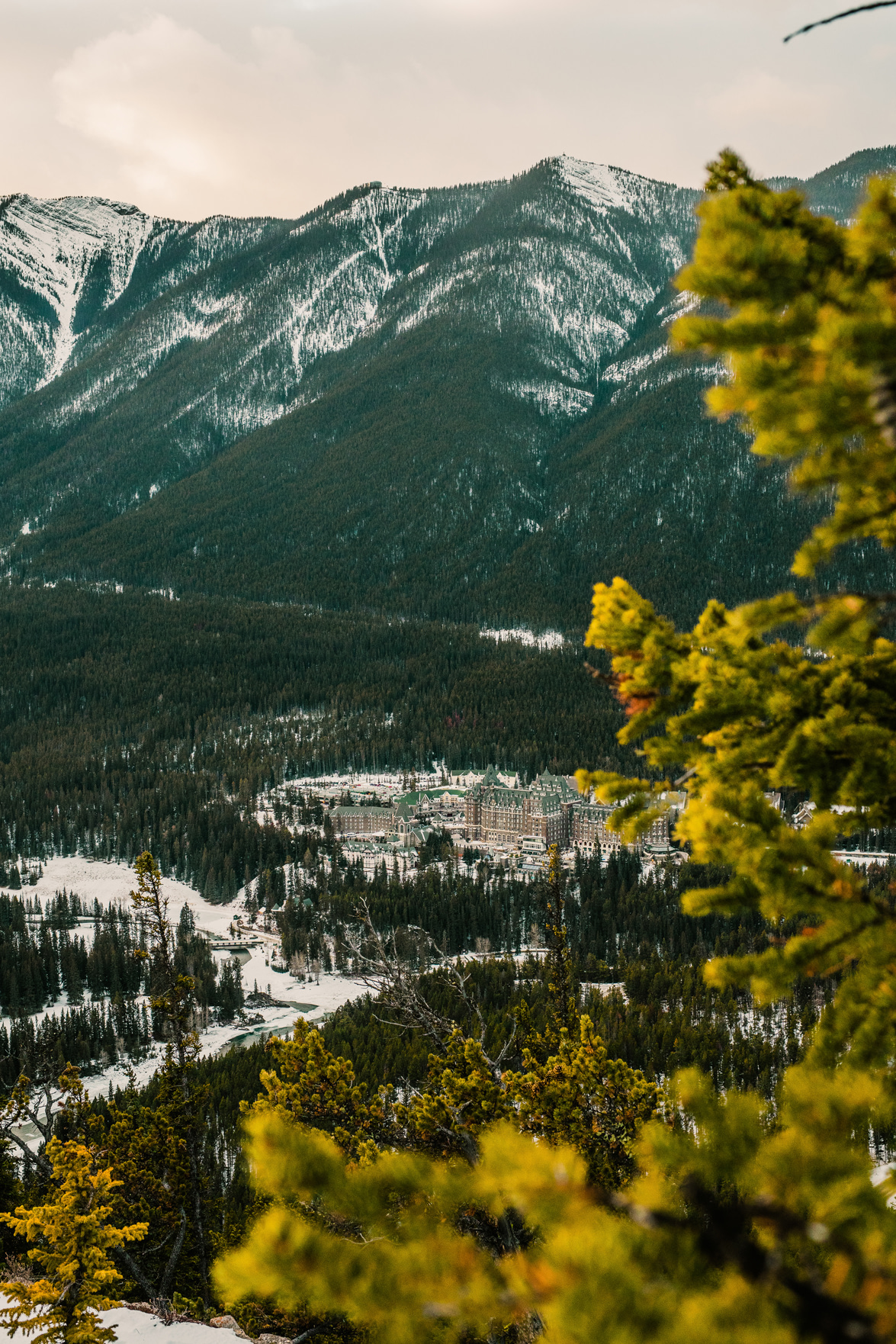 About the property
You all know I love a place with history and the Fairmont Banff Springs Hotel? Well it has it in spades. Upon checking in, we were whisked away by one of their longtime employees, Tony, who gave us an intimate tour of the property and the stories at every turn. We started our tour in one of the main wings of the lobby, the walls of which were lined with countless old black and white photographs, many showcasing the heyday of the Victorian-era European traveler who would often stay for months at a time (hey, that transatlantic trip ain't easy!). My inner history nerd was rejoicing at this point, as I slowly moved down the line of what looked like regal ball room parties of yesteryear, women in grand hoop skirts and men enjoying a cigar in the great hall over a glass of whiskey. I often think I was born in the wrong era and it always feels strongest when I'm in a place like the Banff Springs. Oh, to see what those walls have seen!
The Banff Springs Hotel opened in 1888 after years of tireless construction, to almost overnight fanfare -- travelers came from all over to retreat here to the Canadian Rockies, particularly since hot springs had been recently discovered in the area and mineral bathing was gaining momentum. And while the structure has endured numerous fires, reconstruction periods and eventual massive expansion growth, the focus has always been the same: a luxurious mountain escape for the discerning traveler.
As you might imagine, there's no shortage of things to crane your neck around to admire in the hotel -- think high-pitched, exposed beamed ceilings, ornate ballrooms, winding staircases and the most beautiful collection of oil paintings, many having hung since their opening in 1888. The layout is a bit maze-like, which I personally prefer, because it's the perfect excuse to explore! On property, they have 5 restaurants, numerous event spaces for conferences and weddings alike, a renown spa, 5 tennis courts, a swimming pool, a golf course and yes, even a bowling alley. Moreover, they're located a stone's throw away from world class ski resorts and a slew of hiking trails so there's very little excuse to be bored when you're a guest here. I know I wasn't.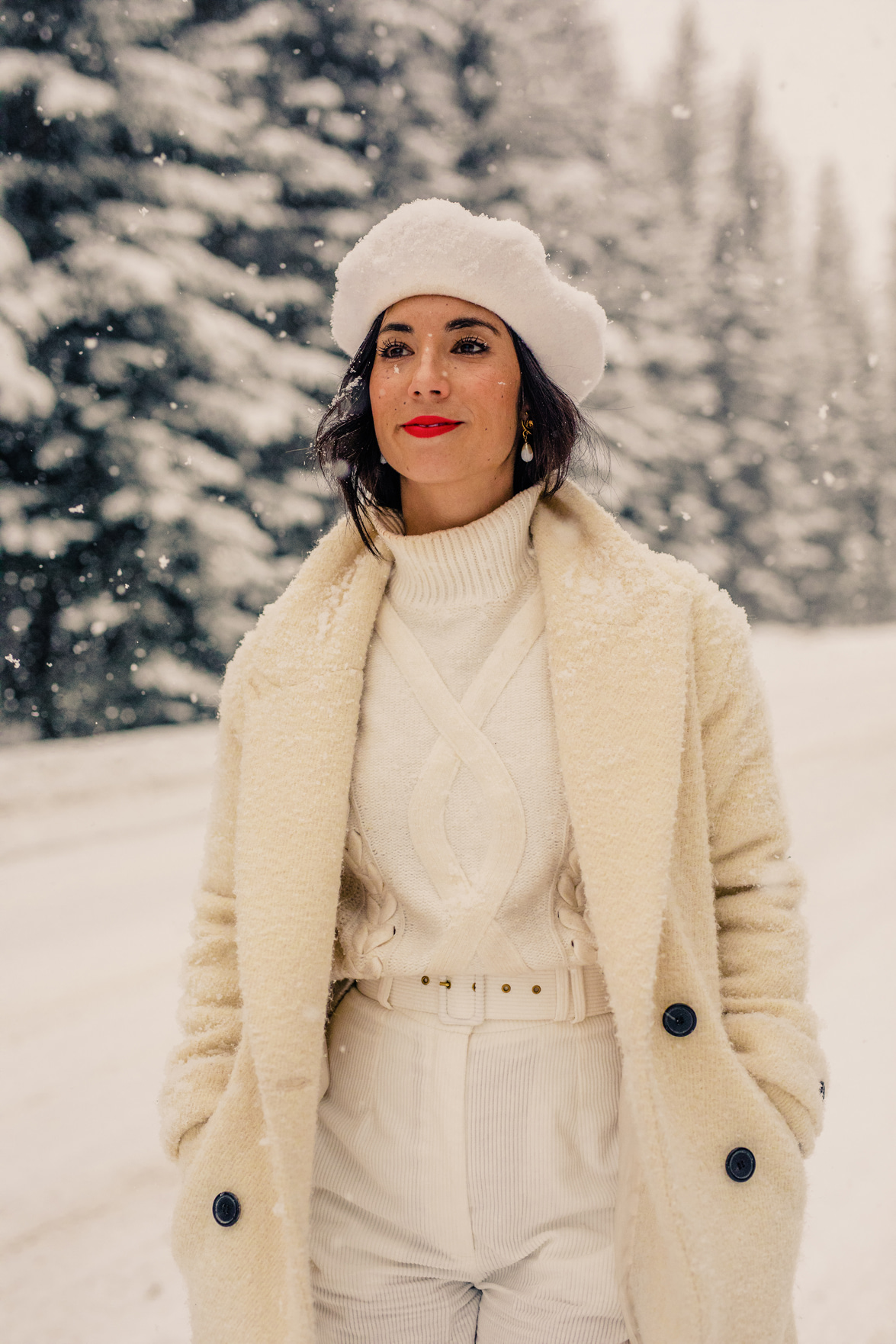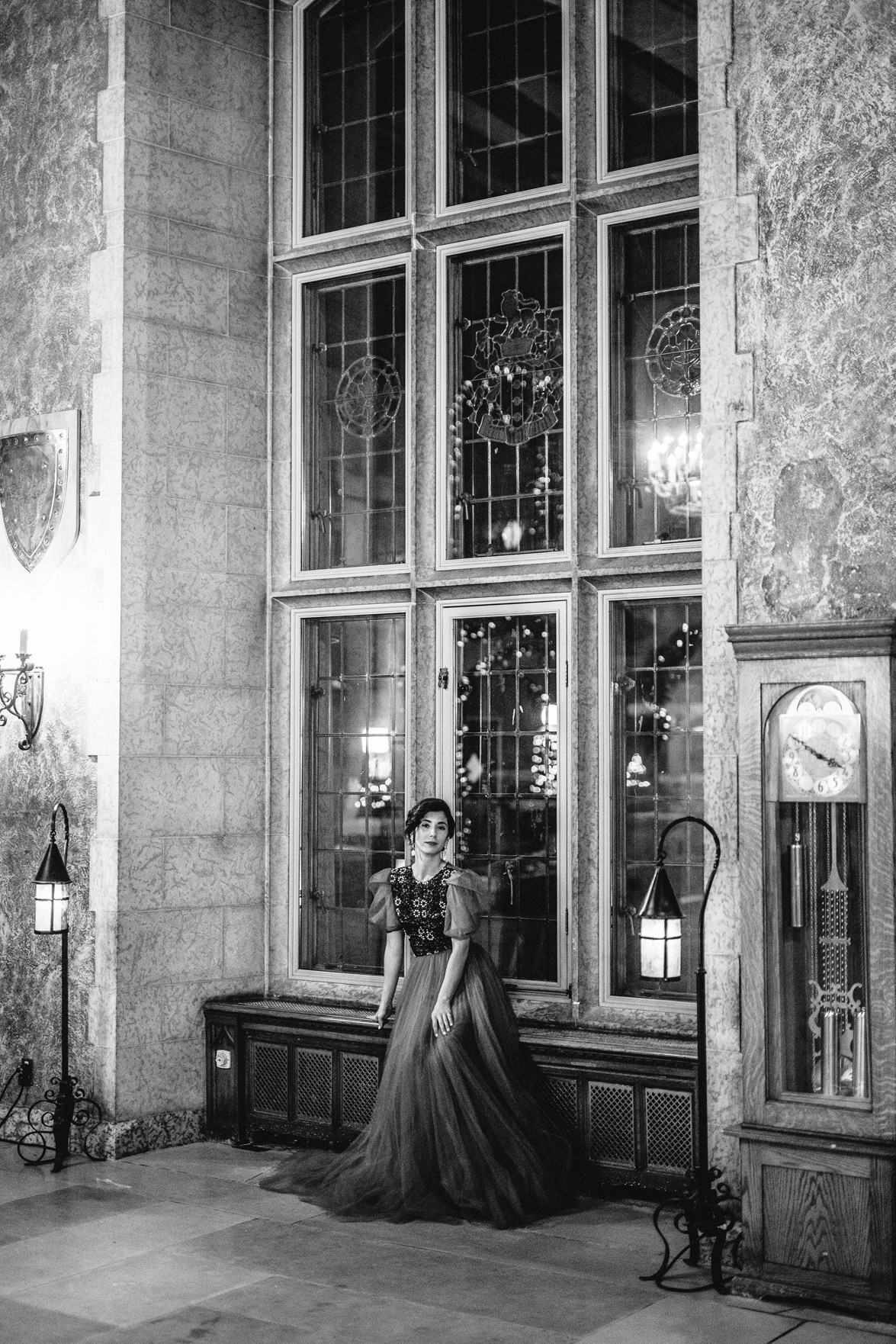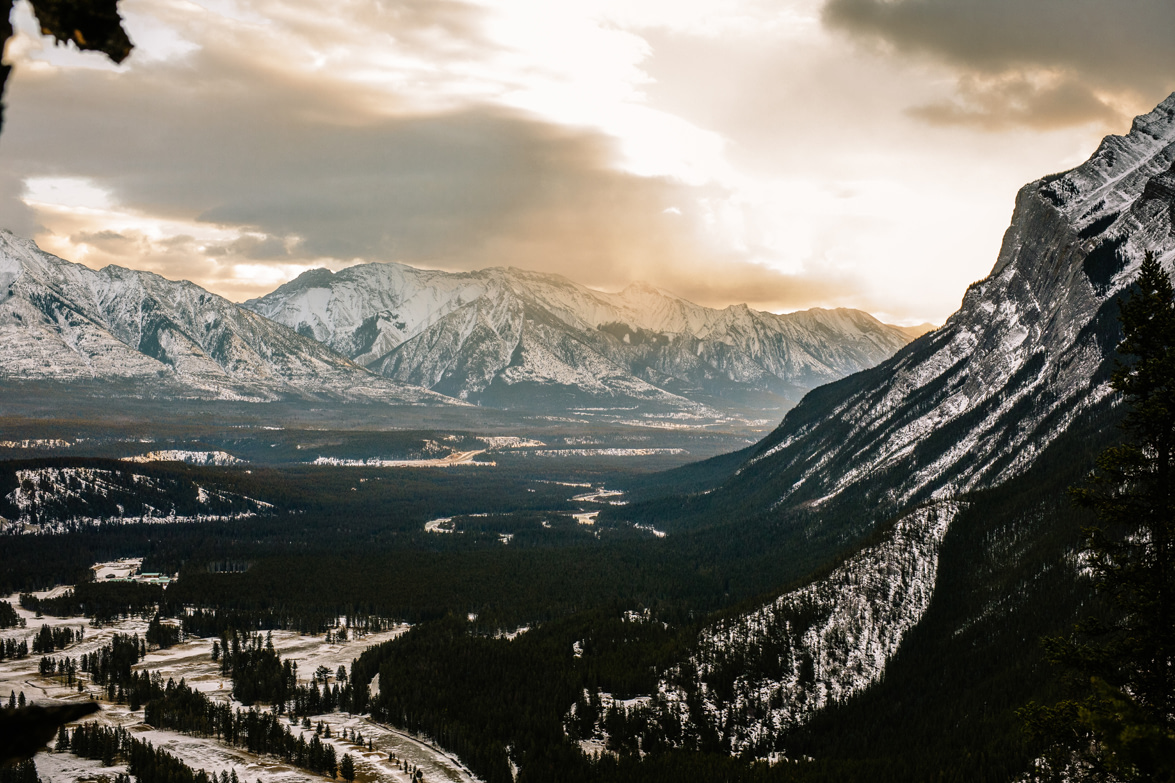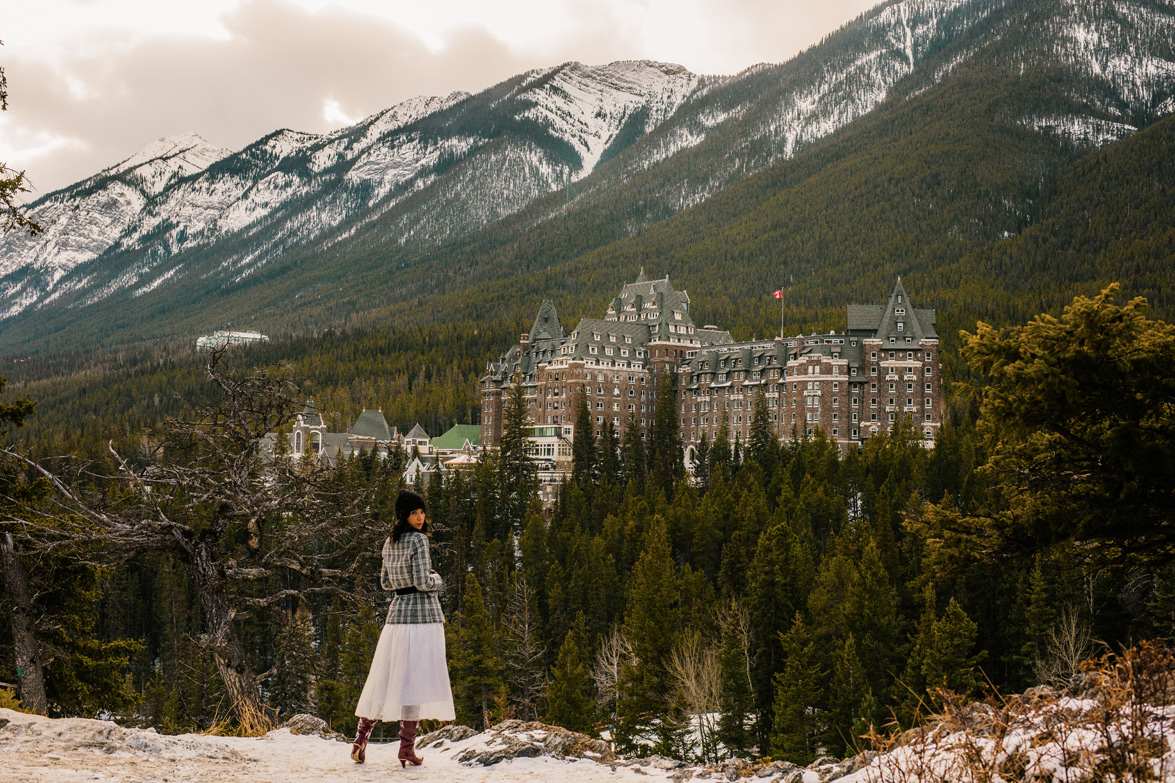 Be sure not to miss...
And here's a rundown of my personal highlights of this portion of our trip, in no particular order.
Sunrise hike at Tunnel Mountain: Hands down, some of the best views (nearly 360!) of the entire valley. The trailhead itself isn't far from the property but do expect it to take around 2 hours roundtrip, depending on your hiking pace. It's a relatively steep climb at a few points, but nothing too crazy. If you can manage a sunrise hike (in the winter, sun comes up around 8am, so don't worry, you won't be up at 5!), it's absolutely stunning. I'm a huge Ansel Adams fan and there were many vantage points during this hike that felt like they needed to live on in one of his iconic photographs. Of course, you can read about the rest of their outdoor activities here.
Bow Falls: Also located near the hotel, Bow Falls is a must-see major waterfall, just before the junction of the Bow River and the Spray River. We happened to stop by right before golden hour and lucked out with some incredible light on the partially frozen river. Absolutely breathtaking. The hotel shuttle offers rides here.
Surprise Corner: Just a short drive away, head here for the best postcard-worthy views of the hotel. Ask anyone on staff and they can direct you here.
Willow Stream Spa: After a day of hiking, we indulged in spa treatments at the renown Willow Stream Spa on property, which I cannot recommend enough. I had an hour-long deep tissue massage (so needed after that hike!) and then dipped in the many mineral pools, most ranging in temperatures.
The Santa Suite: If you happen to be heading here during the holidays, you're in for a treat, especially if you have kids! The Banff Springs goes all out for Christmas, decorating a handful of their signature suites in different thematic holiday decor as well as an actual Santa Suite, where the Big Man himself might even pay you a visit!
Grapes Wine Bar: This was one quite easily of my favorite meals on property -- a true multi-course experience with excellent wine pairings.
Vermillion: We had breakfast here each morning and I adored the French flair of it all!
Rocky Mountain Afternoon Tea: For our final morning, as the most beautiful snow fell outside, we enjoyed a traditional afternoon tea, with all the delectable scones, mini sandwiches and cakes we could muster. I ordered their Madame Butterfly tea, a rare green tea blend as its leaves are only grown 3 weeks out of the whole year!
And there you have it! My first visit to Alberta has only cemented one thing: I will most definitely be back. Hopefully many times over the years to come. Have any of you visited Alberta or the Banff area? Or perhaps I've convinced you to go? Let me know in the comments below!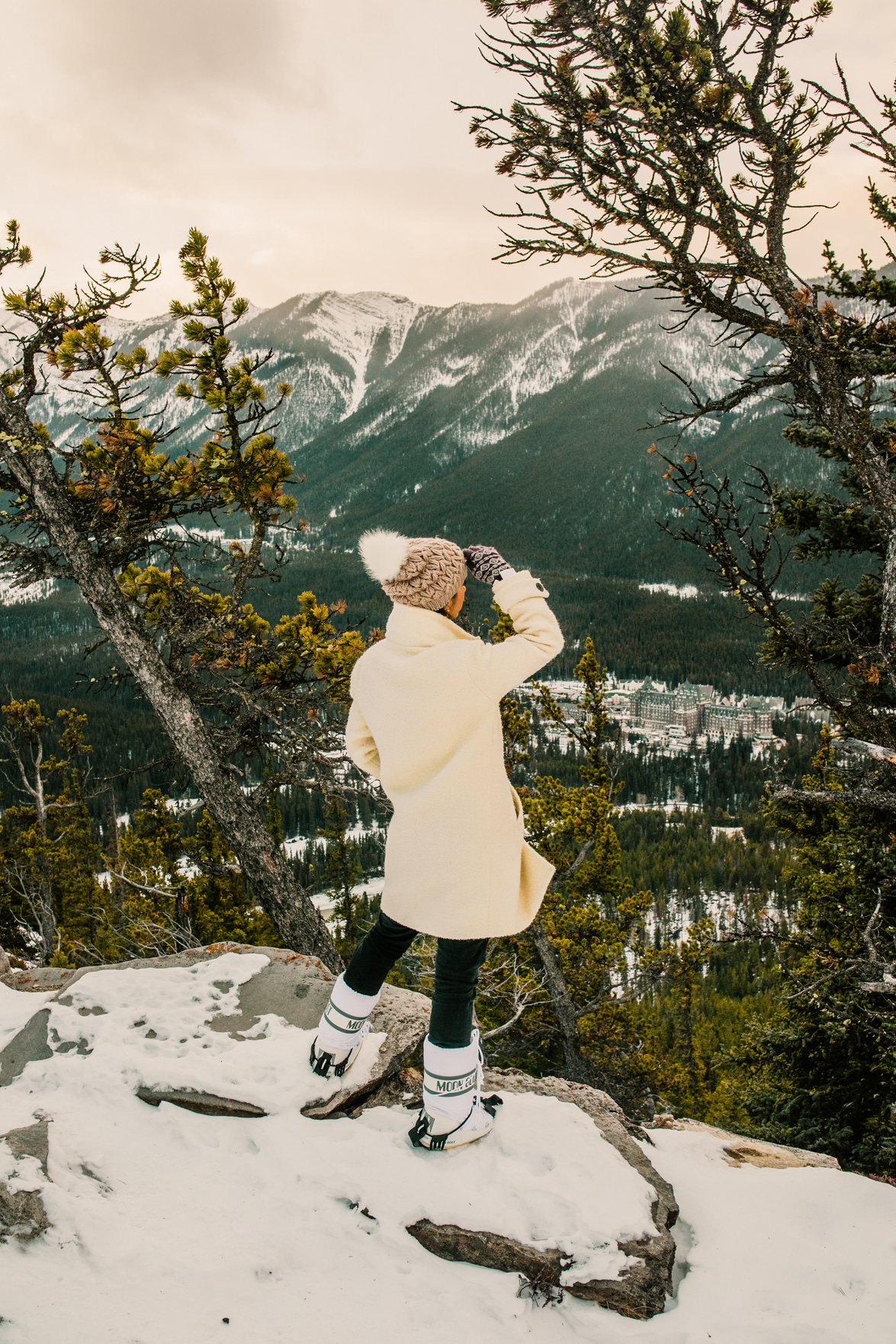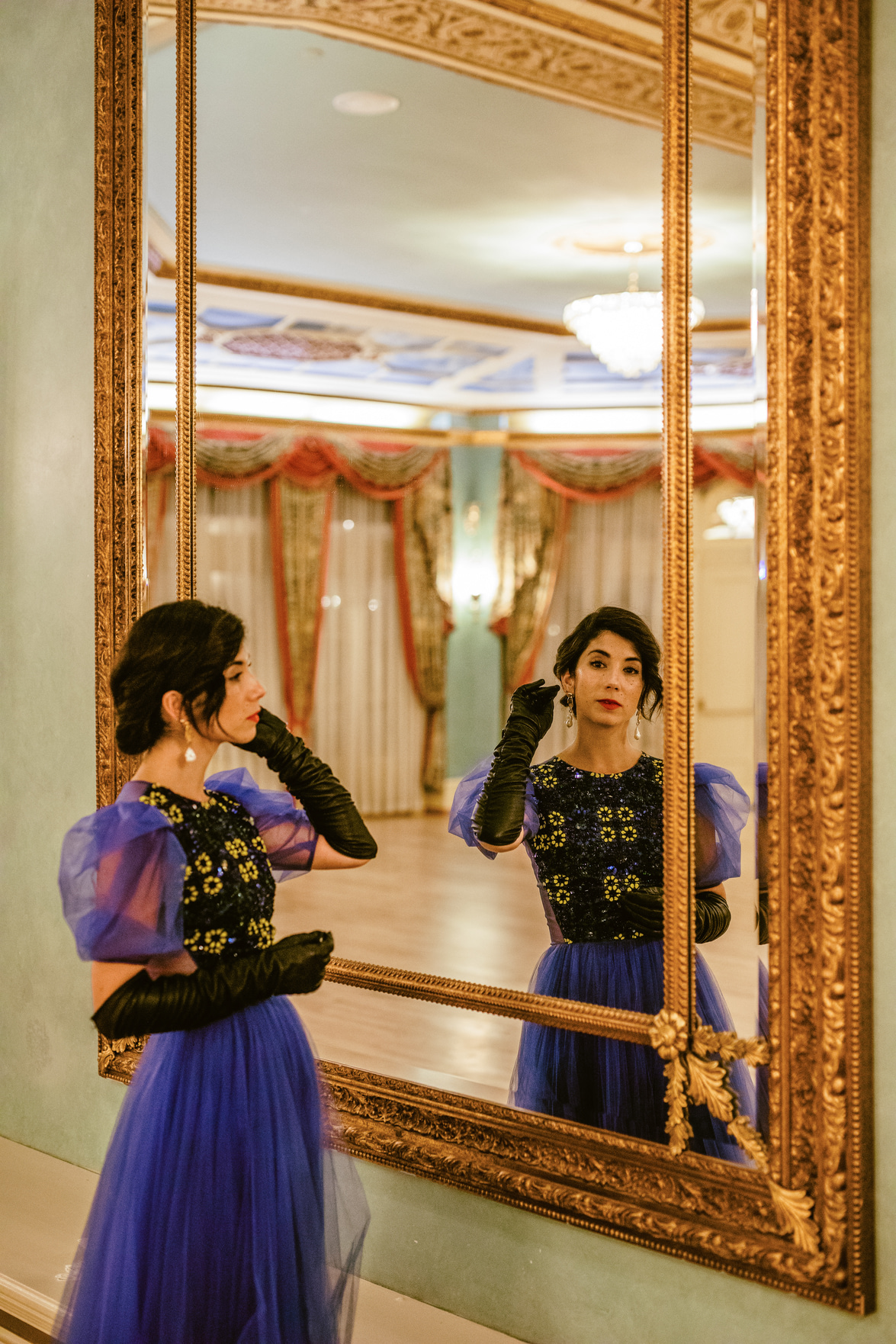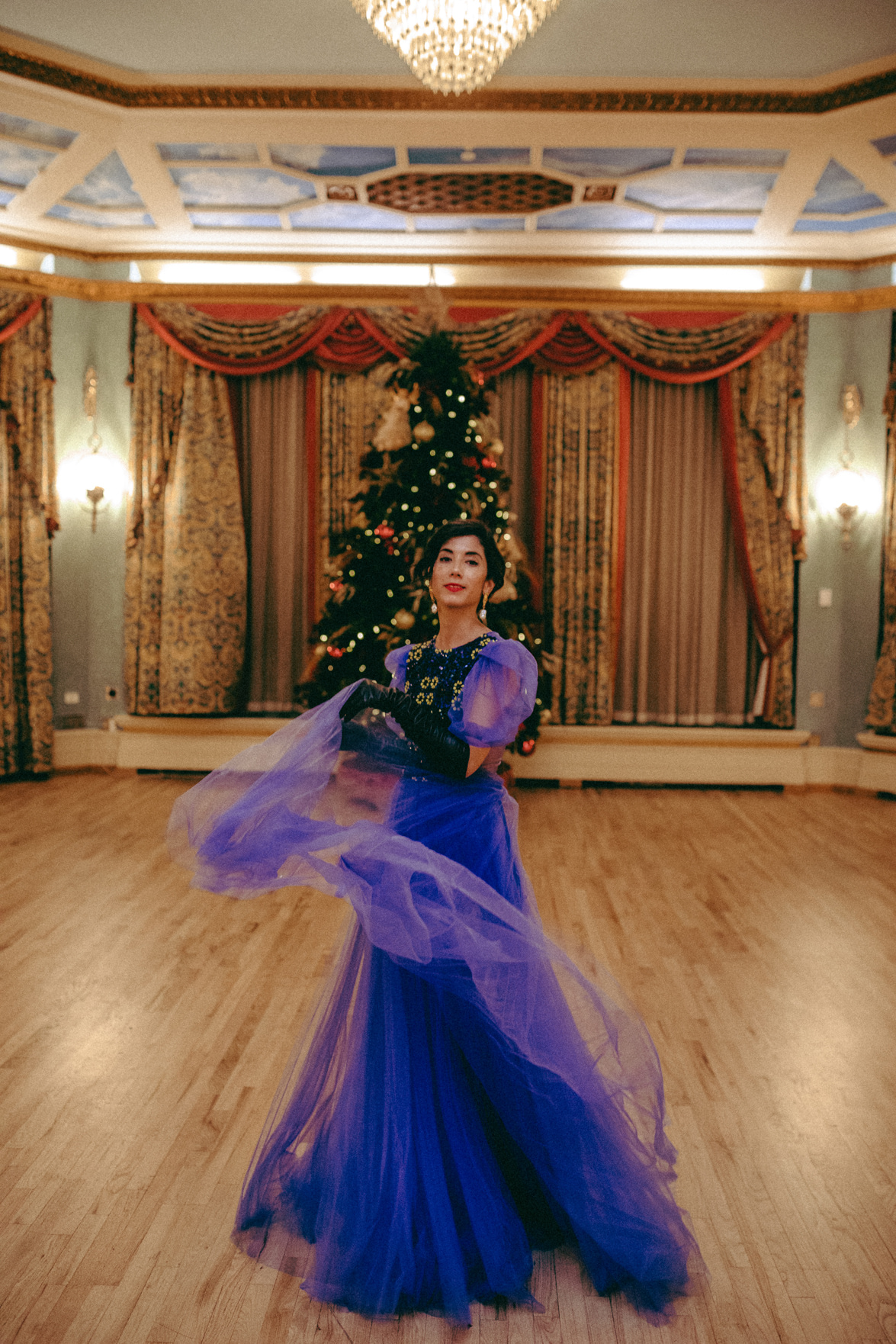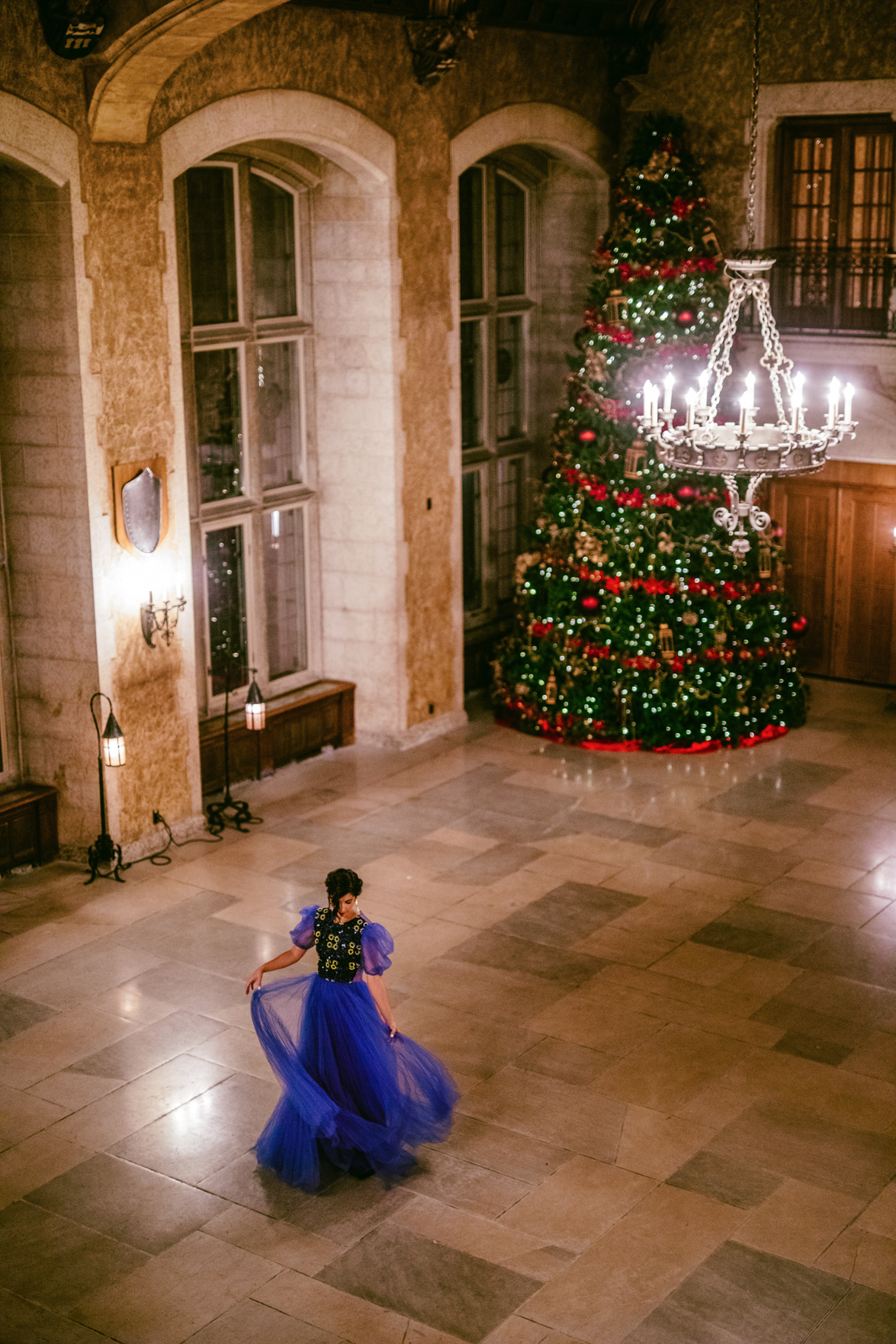 OUTFIT DETAILS (in order of appearance): LINI blazer (gifted) // Amaio skirt (gifted) // Zara turtleneck // Michael Kors boots // Jennifer Behr beanie (gifted) // Zara belt // BCBG gloves (similar style here) // Carolina Herrera gown (borrowed, sold out but similar color dress here) // Cinq a Sept dress (borrowed) // Vintage gloves (similar style here) // Sergio Rossi heels // Ba&sh white coat (gifted, old but similar style here) // Kohls sweater (gifted) // Emilia Wickstead pants (gifted, and on major sale!) // Zara boots // Anthropologie beret // Moon Boots
Huge thanks to the Fairmont Hotels team for graciously hosting and planning such an incredible trip for us! As always, all opinions and thoughts are my own.