4
minute read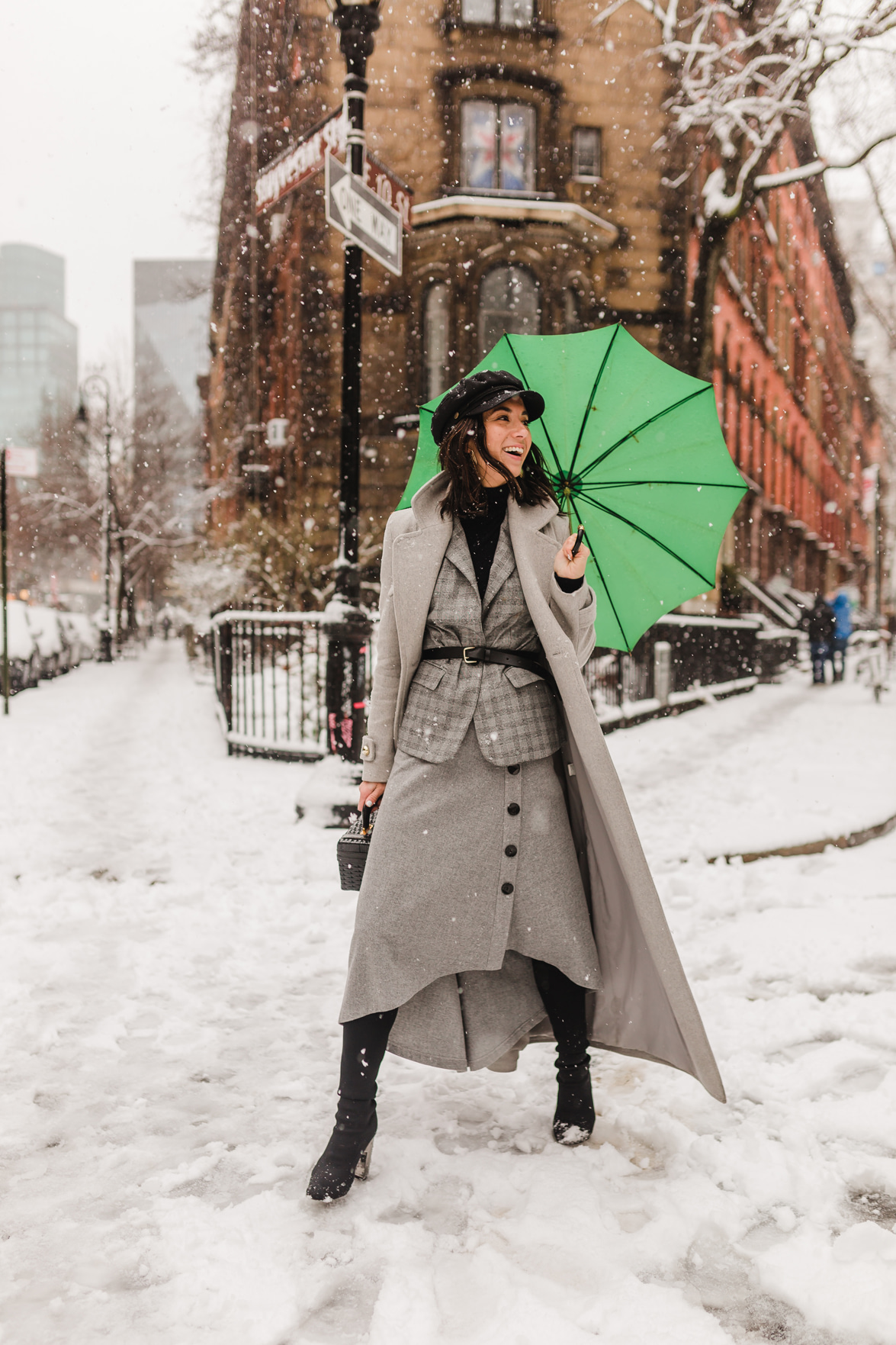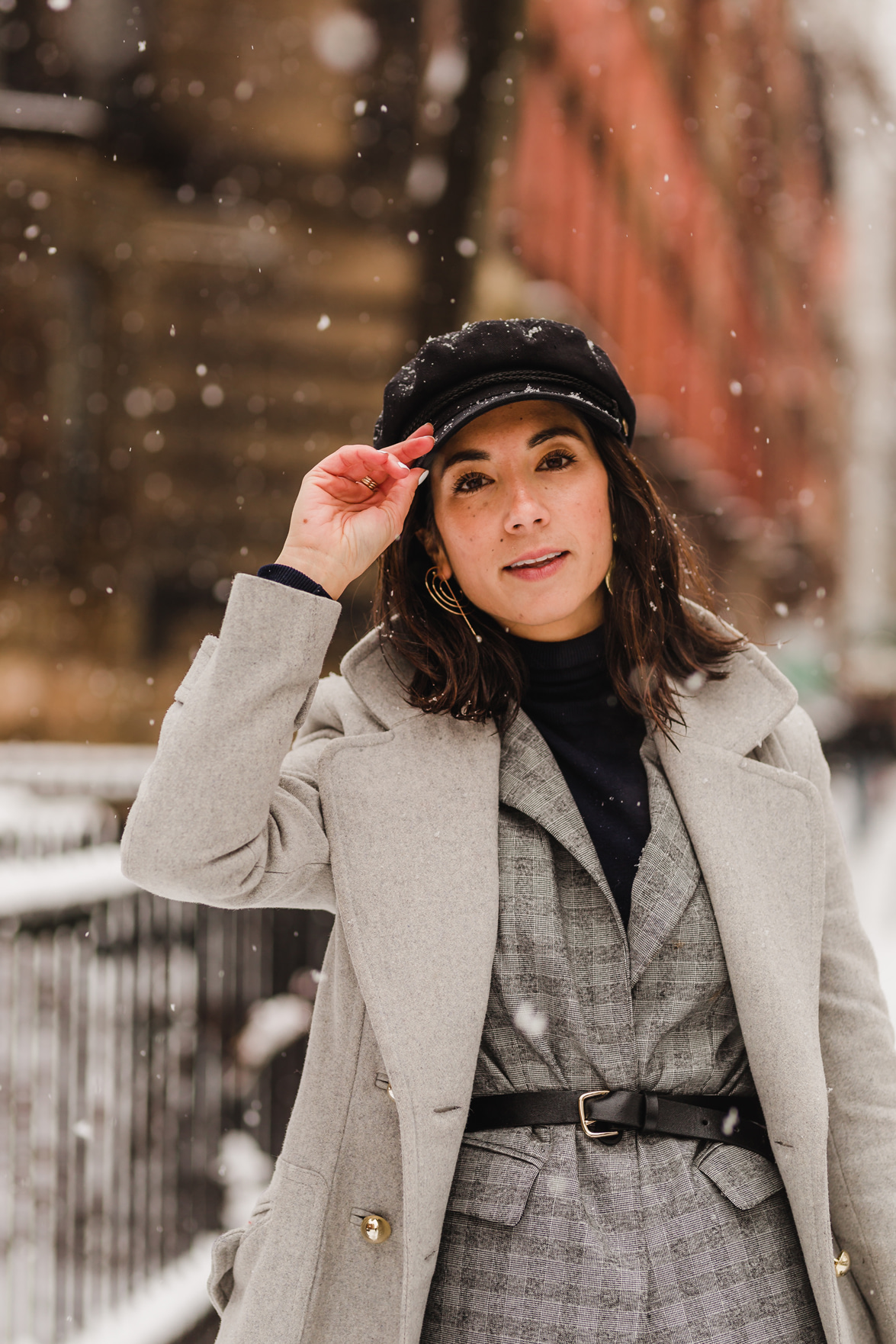 "Lemme guess, you are annoyingly happy today."
As the snow was coming down yesterday, I got the above text from an ex, (who is still a good friend!), that made me smile.
The context here? Well, I guess I'm just one of those odd ducks who loves it when it snows. Even if that snow storm happens on the second official day of spring. Even if that snow storm means most of my meetings have been postponed and/or canceled. Even if that means most of my new spring acquisitions need to sit by the wayside, while I dig through the remaining of my winter wardrobe that hasn't bored me yet. Snowfall, especially here in New York, just feels magical. And yeah, I guess that means I'm annoyingly happy when it happens.
So in the spirit of making the most of these last few chilly weeks ahead, I've put together a few styling tips that can help you keep the true winter style blues at bay.
Monochromatic dressing: We've talked about sporting all one color before -- and trust me, you'll probably be seeing a lot of it come spring time. That said, this is the perfect time of year to inject some all over color that's sure to make all your fellow subway riders feel a bit more awake because of it. Granted, I'm wearing all gray here, mainly because I REALLY wanted to wear my Zimmermann coat, but you can never go wrong with a good RED moment or even deep green. I typically start with my outwear first, when it comes to dressing in all one color, but even if your coats are more neutral, look for a great sweater or blazer that you want to ground everything around. Textures will make all the difference here -- think silk pieces with heavy tweeds and wool.
Incorporate spring prints and colors: Just because it's not truly warm yet, doesn't mean you can't wear your spring floral dresses and pastel pieces yet. Pair them with over the knee boots, extra tights for good measure and a long sleeve turtleneck underneath.
Add a silk scarf, instead of a knit one: Granted, this won't be your warmest move here, but I do love the idea of swapping some of your knit winter scarves for a silk scarf moment -- and if you're feeling extra daring, perhaps try wrapping it over your head, tying it under your chin, a la Audrey here. It actually keeps your ears quite warm!
Double up your coats, with a blazer underneath: Mix and match here! Grab different prints and materials and see what works well together. Admittedly, it takes me a few different rounds of mixing that coat with this blazer, before I throw both off, and try a few different combinations on, but that's most of the fun right there, so don't get discouraged! Belt your blazer underneath to keep your shape cinched (and to keep body warmth in!) and try opting for a midi skirt on bottom instead of jeans for a Katharine Hepburn moment.
When in doubt, grab your happiest color umbrella: Nothing makes me smile during a New York winter like seeing one bright red umbrella in a sea of black umbrellas. I picked up this emerald green hook handle umbrella at one of my favorite vintage shops here in the village, and I love how it adds just the right amount of cinematic, Mary Poppins drama to my outfit, without me even really trying. Plus, knock on wood, it hasn't inverted itself yet because of the wind.
What are some of your end of winter styling tricks? Do share!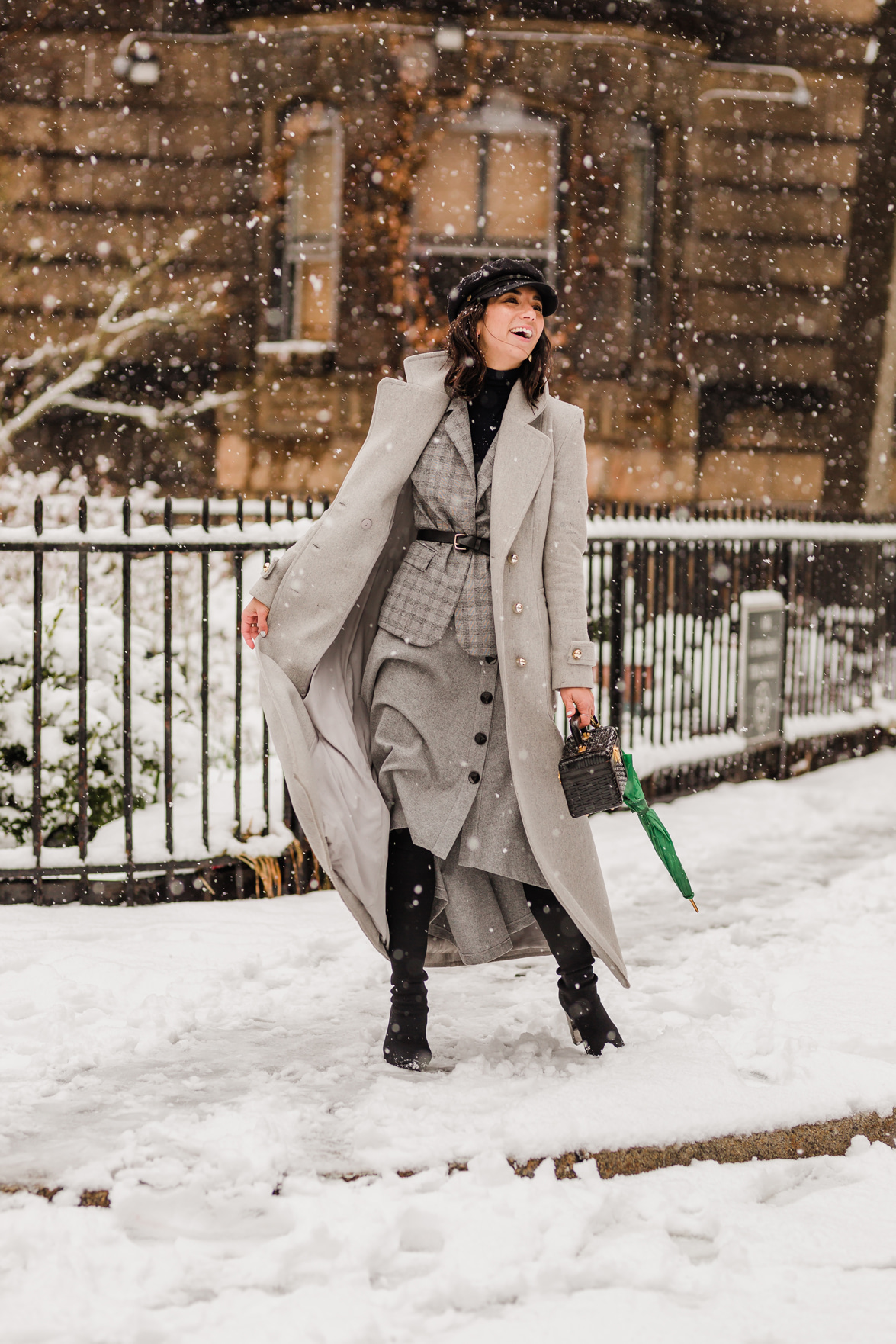 OUTFIT DETAILS: Zimmermann coat (from a few years ago, but similar style here) // Kenneth Cole blazer (gifted, similar style here) // Zara skirt (from last year, but DYING for this Stella skirt on sale here) // Zara turtleneck (similar style here) // Vintage Lewis box bag (from my favorite vintage shop in the village, but here's a similar style as well) // Zara boots (similar style here) // Brixton hat // Vintage umbrella