3
minute read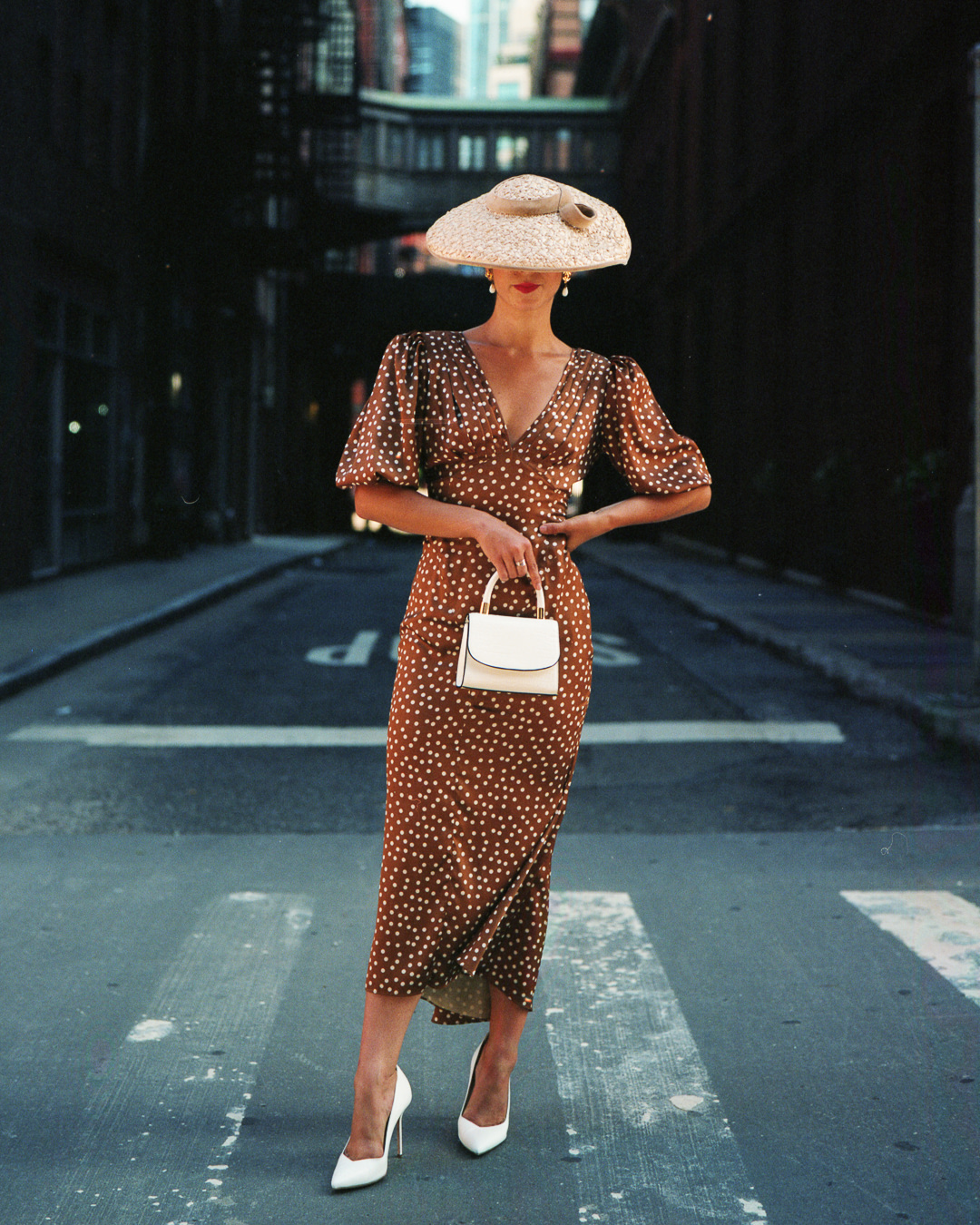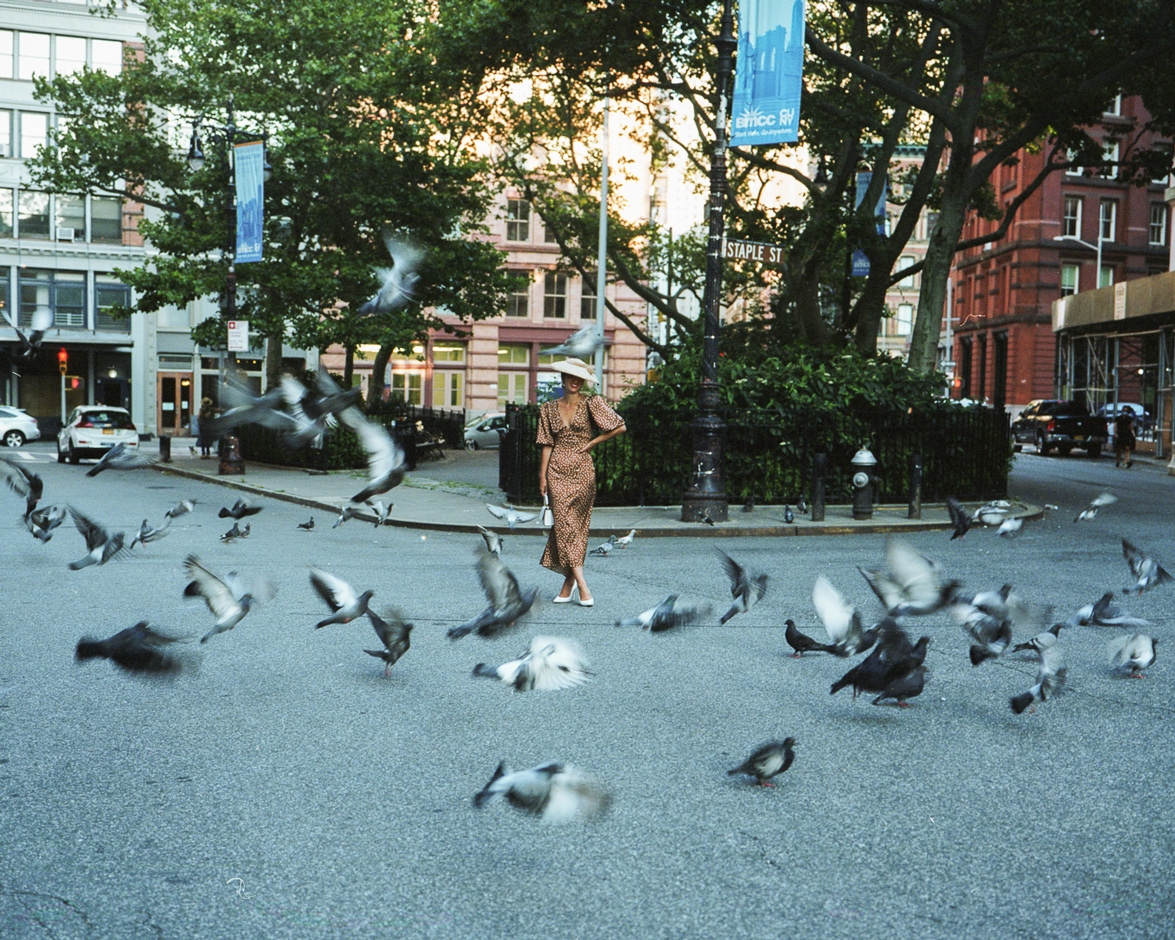 OUTFIT DETAILS: Ronny Kobo dress (rented via Rent the Runway) // Vintage hat from Etsy // Sarah Flint heels (gifted) // Aldo bag (gifted)
[row][half]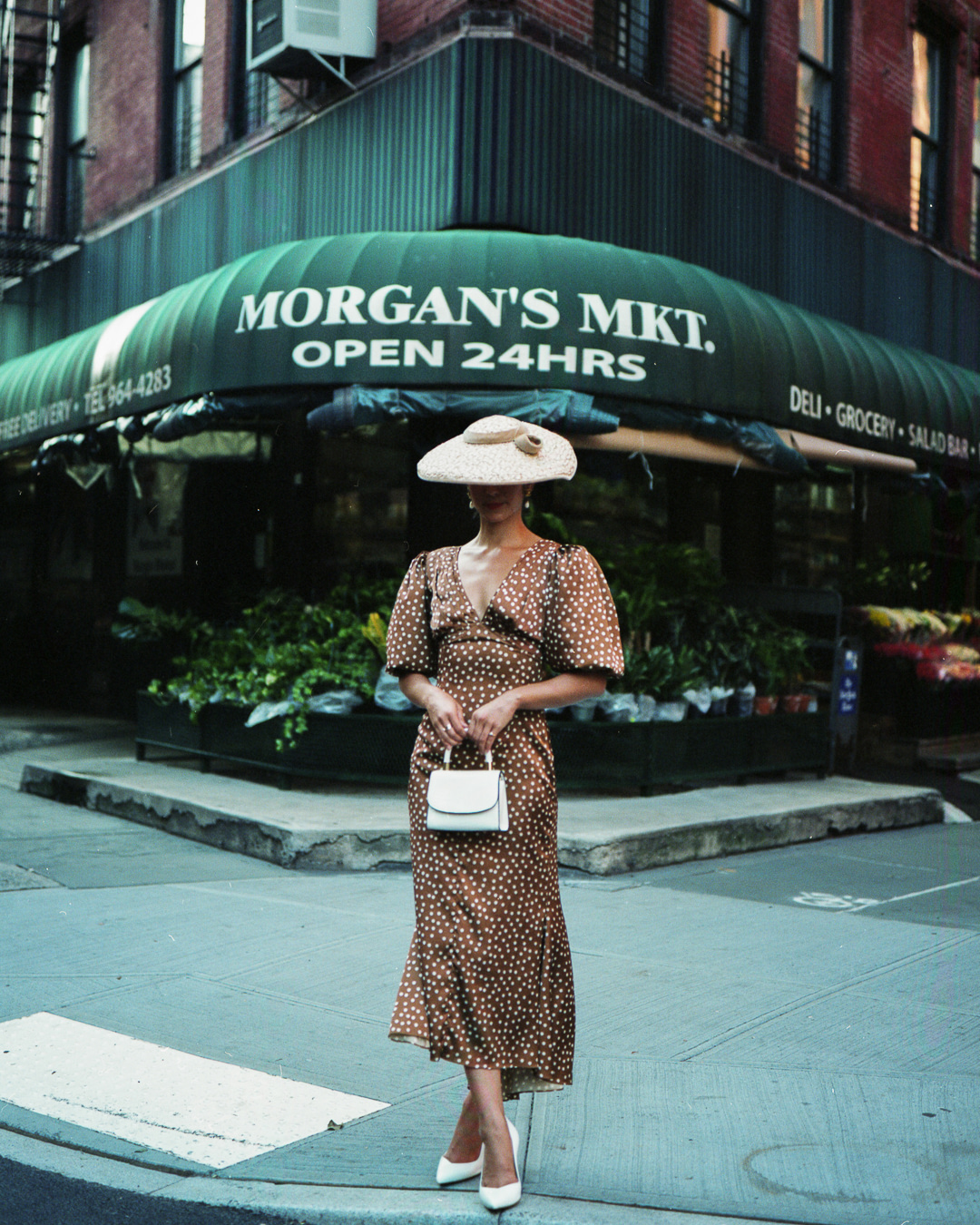 [/half][half]
Old soul, New York.
I'm not sure what it is, but there's something about the mood in New York right now that feels peacefully resolved. Things look and feel very different still, of course, but there's a palpable optimism in the air. Like the pause right before a much-needed relieved sigh. I felt it specifically while Naeem and I were shooting these photos down in TriBeCa. Let me explain.
While walking down Hudson Street from the West Village to the TriBeCa area to meet Naeem, I was reminded of a few of my walks down the same path back in March. Our shared office is on Broadway at Franklin Street, not far from where I would be meeting Naeem this particular day. When the pandemic first hit in earlier this year, I made a few direct trips to the office, mainly to shoot in our studio space with Ty. I distinctly remember how I felt for that first walk outside, after countless headlines and updates warning against a faceless enemy -- those March streets were cold, empty and painfully deserted -- a side of New York that you rarely ever see. In fact, I didn't think this side of New York existed. Other than in an apocalyptic "end of the world" movie where CGI artists create a forest in Times Square. Simply put: It felt...eerie. Oddly enough, I wasn't scared, so much as I was simply fascinated. A completely upside world -- where the usual bustlings streets of New York are left barren. Where the few people who are out and about with you, are too scared to make eye contact or come near you. Where you don't hear a single car horn and the lurching sounds of the subway have come to a halt.
[/half][/row]
A lot of this flashed in my mind the other day, as I was sweating and breezing past people, mask on of course, down Hudson. Wine orders were being yelled out at wait staff. Plates of pasta floated past me just as swiftly as a rollerblader beating the red light to cross. A dog walker navigated a pack of golden doodles around a socially distanced line outside my favorite deli -- leaving a trail of "ohhhs" and "let's get one!" in their wake. New York may be a few beats off her normal tune, but she's certainly making a comeback. While shooting with Naeem, I felt it even more so. While I think both of our hats had something to do with it (Naeem is a fellow millinery connoisseur), we garnered lots of "hellos" and friendly "how are yous?" from curious onlookers. One woman followed us for a bit because she wanted to take our photo together. A shop owner offered his prettiest flowers for the shot. And another gentleman, after seeing we were struggling to get the pigeons corralled, offered to help wrangle the flock for us, to perfect the photo. It may seem small and insignificant in the grand scheme of things, but it's a warmth that I don't take for granted.
It's nice to really see you again, New York. We've missed you.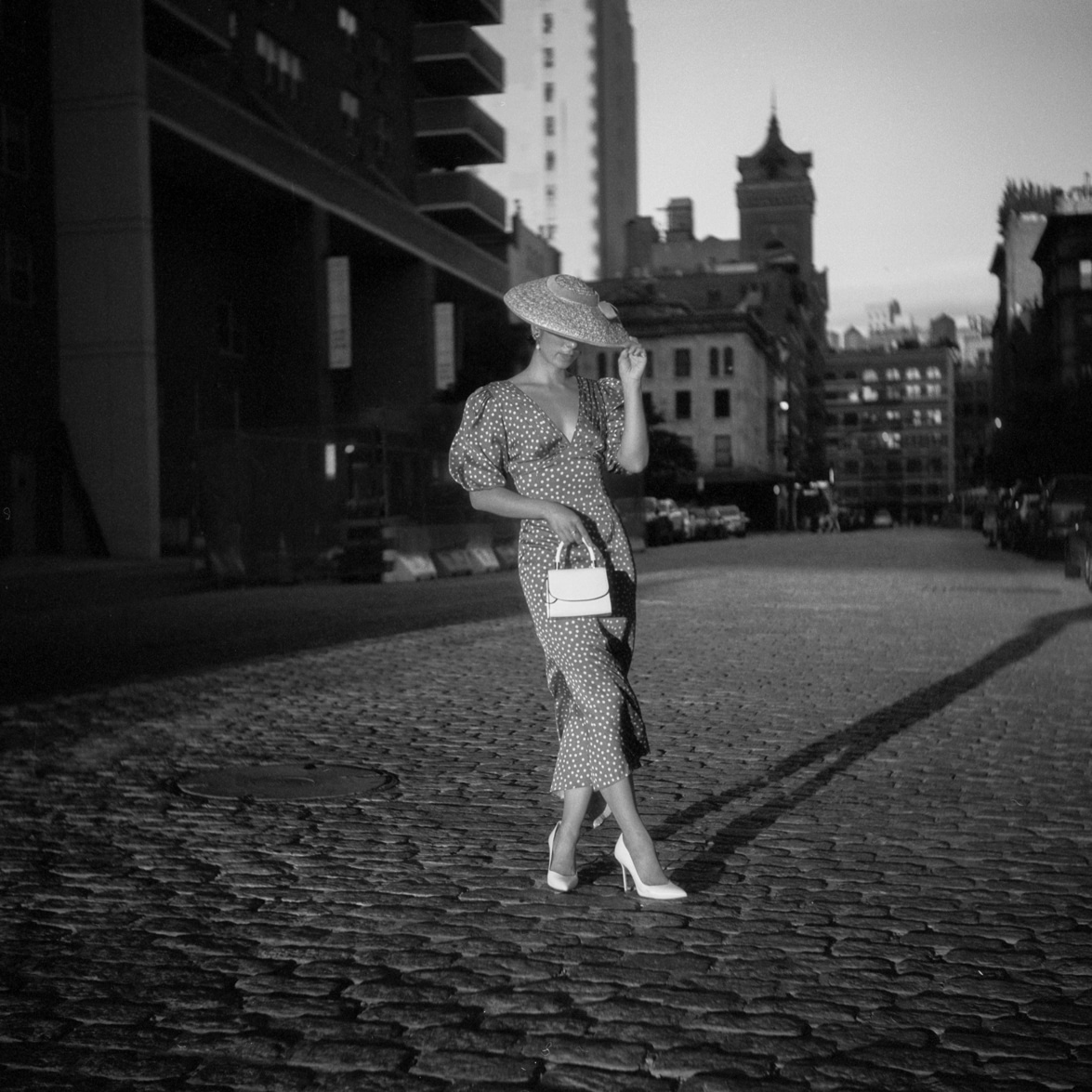 [row][half]
[/half][half]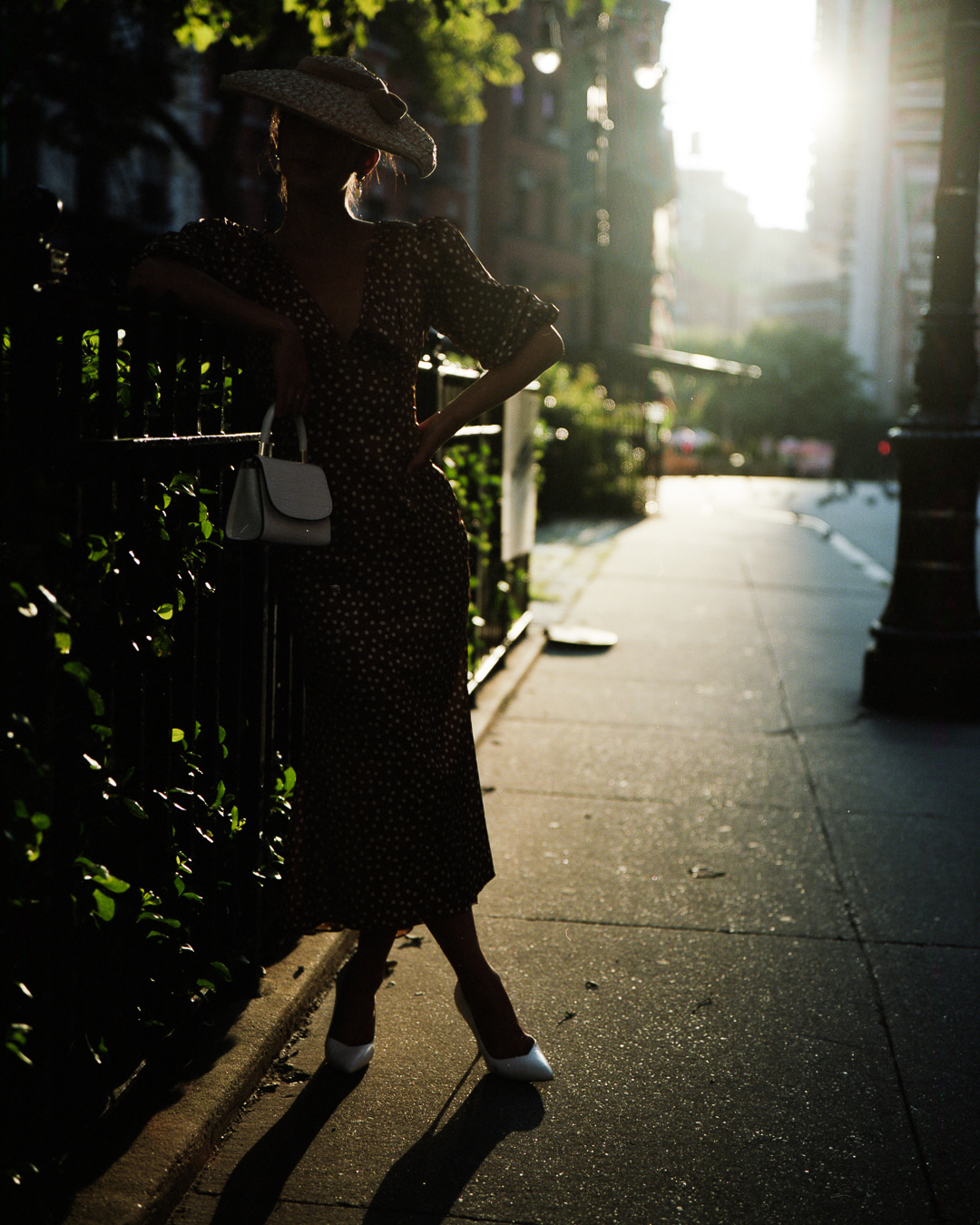 [/half][/row]