5
minute read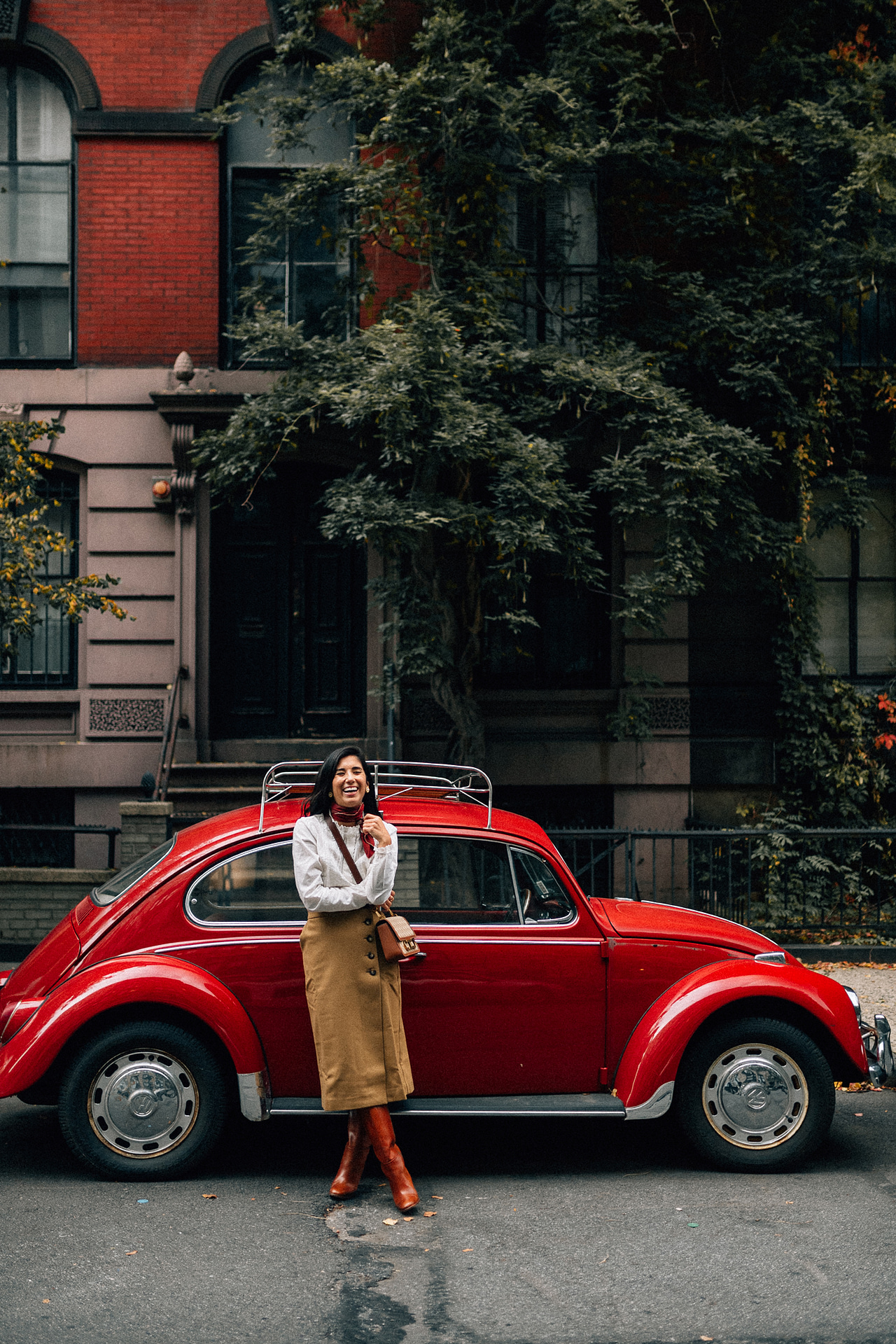 OUTFIT DETAILS: Boden blouse (borrowed) // Boden skirt (gifted) // Boden boots (gifted) // Longchamp scarf (gifted, similar style here) // Carolina Herrera bag (gifted)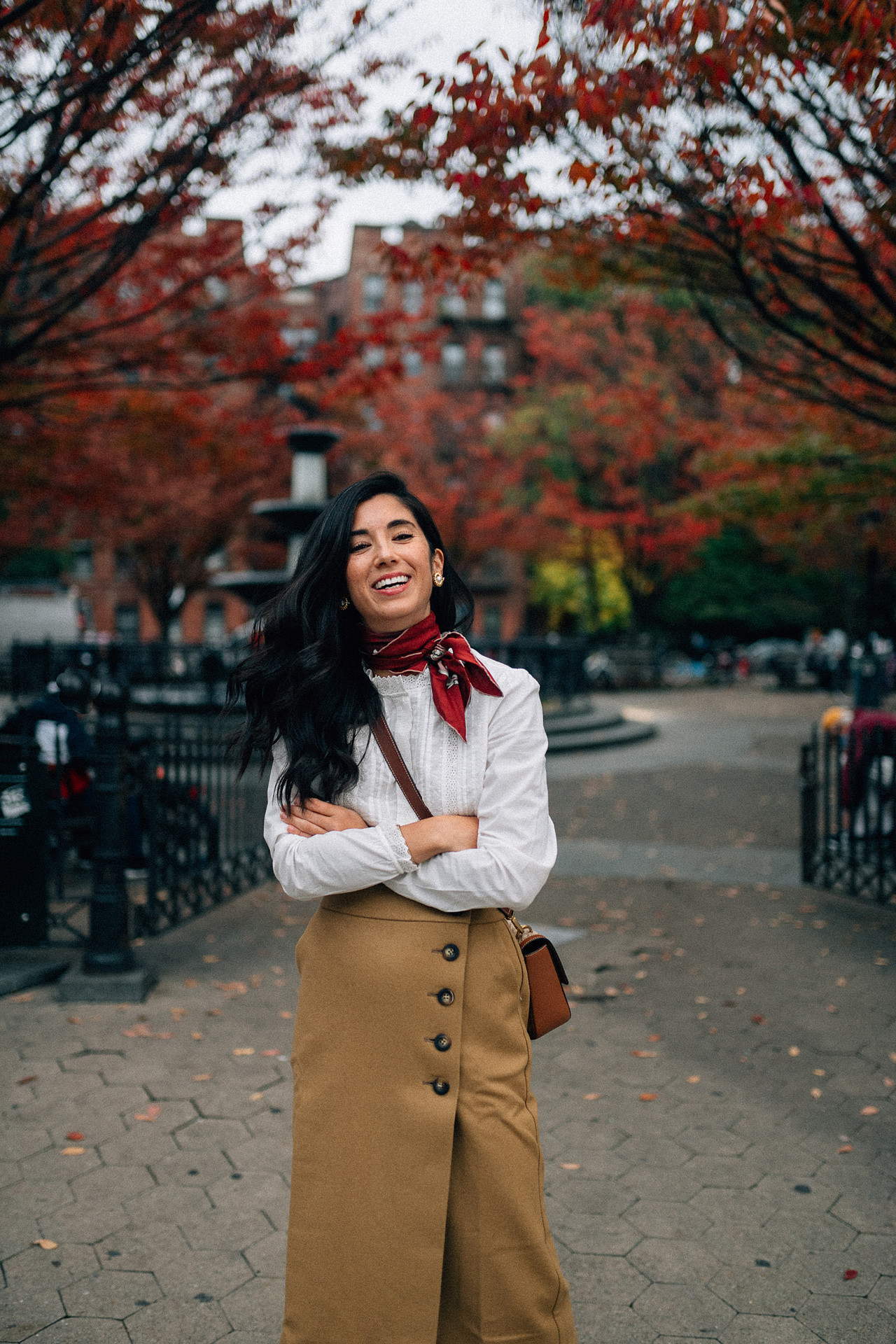 EXHALE.
Do you hear that? That collective, heavy and relieved sigh? An exhale heard around the country -- perhaps the world? Ever since Saturday's news about our new President Elect Joe Biden and Vice President Elect Kamala Harris, it's been all I can do to really pinch myself to make sure this is reality. The heaviness of my breath leaving my lungs serves as the reminder of all the anxiety, worry and fear my body is starting to release. Inhale. Hold. Exhale. Hold. Smile. Repeat.
Where was I when I heard the news on Saturday? Well, in a perhaps fitting poetic turn of events, I was quite literally taking the trash out. Living in a four floor walk up, taking the trash out is an Olympic event at times and given my sedentary state for most of the week since Tuesday's week long Election Day coverage began, I figured it was a good a time as any to "clean house." When I walked back into our apartment, mask still on, CNN on loop, I heard Wolf Blitzer's (BTW, best anchor name ever) voice come on, with a slightly more definitive tone this time. Was it Pennsylvania? Perhaps Nevada? Or Georgia?!
"At this point, CNN can now call the election... CNN projects Joe Biden will become the 46th President of the United States."
Since it was an already warm day, our windows were cracked open and almost instantly, we could hear the cheers drifting in off the streets. Low and quiet at first. In waves. Clapping here. A bit of shouting there. Eventually, pots and pans were called upon, giving way to car horns, so many car horns blaring down 7th Avenue along with the steady hum of stereos blasting music. Whitney Houston was singing the national anthem somewhere on W. 10th Street. Followed by Kool & the Gang's "Celebration" on Christopher Street. After months and months of silence during quarantine, followed by the moving sounds of protest chants and calls, we now had this -- a literal party in the streets of New York -- and I couldn't stop crying as we rushed downstairs, masks on, to see where the crowds were leading.
After dancing along 7th Avenue, amidst tears of joy, laughter and a lot of hugs, we followed the spurts of people making their way over to Washington Square Park -- a park I've seen a lot of this quarantine for many a BLM protest. This time though -- the collective purpose felt lighter. Like laughter and a smile was waiting on everyone's lips. Quartet bands were playing "America the Beautiful" and "Ding-Dong! The Witch is Dead!" and even the birds above us seemed to be joyously flying in formation above the park. A call for celebration on a slightly unusually warm Saturday in November. And DAMN. It felt GOOD. Or as one woman who I overheard as we were walking out of the park put it "I haven't felt joy like this in a LONG time."
Ain't that the truth?
Because, honestly, I've been waiting to see how this day might play out, ever since November 8, 2016. Four years of pain, four years of lies, four years of corruption, four years of deceit, four years of feeling ashamed of what America was becoming. That takes a toll. And while today by no means erases all of that hurt or the division we very clearly have in this country, I feel assured in this first step. The first step of many to face our demons, our shortcomings and flaws as a country, to hopefully establish a more equitable and equal realm for everyone. This weekend wasn't the finish line. It was merely a set of starting blocks.
Next stop? Flipping that Senate and keeping Georgia BLUE. You can make a joint donation to Osoff and Warnock, the Democratic candidates heading to the runoff this January. And for more information about digital volunteering, head to FairFight.com, which works to ensure free and fair elections for all.
And since I was so blown away by your responses on Insta Stories the other day when the news broke, I wanted to capture a few of my favorites here, so years from now, I can reflect on this historic moment, with you all:
Crying tears of joy. // Balling, dancing, cheering and hugging my kids and drinking all at once. // Grateful. So grateful for the POC voters (Atlanta, Philly, Detroit, Milwaukee) who put us here! // I just wanna drink a whole bottle of champagne! // Relieved and faith restored, but also aware there's still a lot of work to do. // The curse in the Disney movie has been broken (still lots of work to do, but still happy). // Sweet fucking relief! // Elated to see a woman who looks like me as a VP! Most importantly, love wins! (Alisa of @_happygocurly_!) // Relieved but 70 million Americans were OK with Trump? This is scary. // I feel like a proud American again! Like I've regained a part of my identity that I had lost. // Like someone just broke open the piñata! Party now, work again tomorrow! // Feels like a giant weight is off my shoulders. // I cried when I heard the cheering in NYC. My heart is so full. // Crying from Australia! // It's a great day, it's beautiful out and I'm celebrating with my daughters. // Hopeful. // Maybe he will shut up soon? // Have a 7-week old daughter. Proud, tearful, relieved on another level for her. // Sobbing and drinking champagne in honor of Madame Vice President. // One less thing to worry about. // Relieved! No more waking up to hate-filled Tweets. // Celebrating but also prepared for more work to be done.