14
minute read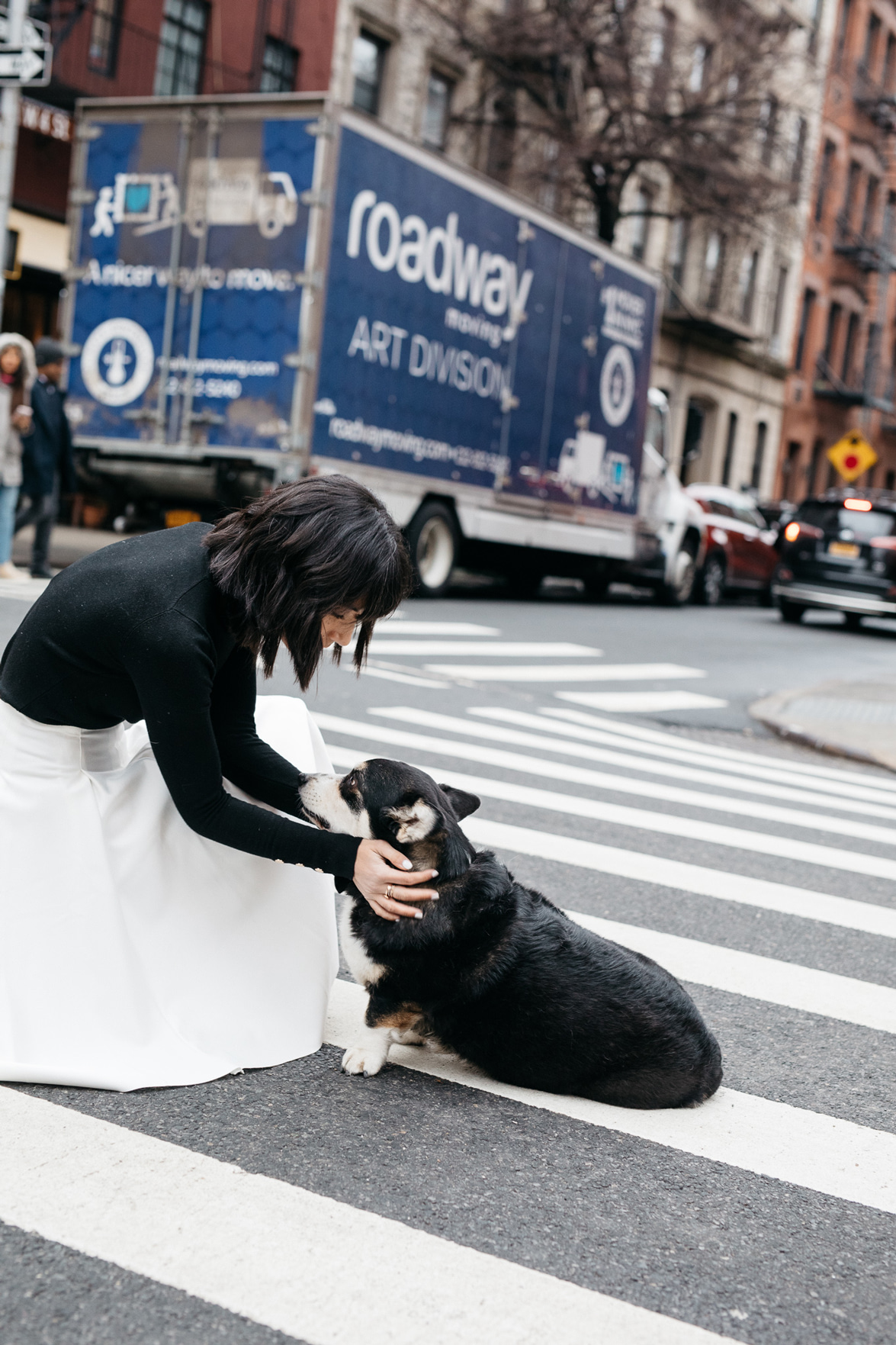 Welcome to New York.
For all the songs that talk about making it in New York to follow your dreams and passions, no one ever seems to acknowledge how that job description might go over in a rental application process for an apartment in the city. For instance, the following entry for let's say Violet Sanford, the reason for my early NYC dreams:
Employment status: Dream chaser + Coyote Ugly bartender
Definitely doesn't get you far with a building management team, a broker and don't get me started on a co-op board.
Bottom line is this: I've moved many times in my life, with San Francisco being among the most recent and most expensive endeavors. Of course, once I headed east, I realized I had been playing a completely different league of real estate up until that point. Moving to and around New York is perhaps one of the most stressful and expensive processes I've ever gone through, with a lot of unknowns, confusing fees and what ifs. Having gone through it twice now, I wanted to share some insight and answers to your most frequently asked questions, essentially making the guide I wish I had years ago when I first moved to the city, including a detailed paperwork checklist that I highly recommend you get together if you're serious about moving and applying. Let's dive in!
The Basics
Before this all seems like a doom and gloom picture, I want to reiterate how amazing of a city New York is -- and despite the hurdles that get thrown at you when you're moving here, it's well worth it! The key is to have a sense of humor about it as much as possible. Here are some starter basics:
Most applications will require you (or you and your roommates) make a combined annual income that is 40X the monthly rent. So if you're considering an apartment that costs $2500, you need to make at least $100,000 annually. And while 40 seems to be the normal request, I've seen it fluctuate depending on the property and the neighborhood, ranging to 45X or as high as 60X.
Given the above, my first recommendation for anyone considering moving to or around New York would be to make a detailed budget for yourself, listing out your monthly income after taxes and your monthly expenses (student loans, credit card payments, etc.). I've read numerous times that it's common for most folks living in major metropolitan cities to allocate half their monthly income to rent, but that only makes sense if you understand how much you need leftover to cover your other costs, making sure to leave padding for the unexpected and enjoying yourself.
Make sure your credit score is in good working order -- ideally in the very good range (740 and above). I've read that 700 seems to be the cut off for most building management teams, so if you're concerned yours might be below that, I would look into ways you can bump that number up.
List out everything you want from an apartment, ranking it in priority order. My next statement will hurt a bit, so prepare yourself: you will have to be OK with compromising a lot of this list. There isn't a single apartment that meets ALL your needs within your given budget. The sooner you can accept this, the sooner we can get you moved in somewhere that's nearly as great! Make sure you're top two needs are realistic and really meet your main requirements/pain points and refer back to it often when you're searching.
Prepare for the initial cost: Most buildings require first month's rent, deposit (equal to one month's rent) and if there's a broker fee, that will also be required at signing. We'll dive into brokers and whether they're worth it or not down below, but for the purposes of this section, prepare for a 15% of the annual rent fee. Let's assume you're still looking at the $2500 studio I mentioned above. At signing, you're looking at $2500 (first rent) + $2500 (deposit) + $4500 (15% fee) = $9,500 just to get the keys. Other buildings may have additional fees involved or depending on your paperwork, they may ask for additional months in rent paid up front or additional security.
Moving to New York from Another City 
Understandably, a lot of you guys have questions about what it's like moving to New York when you don't already live in the area. The short answer is: it's tough. The somewhat longer answer is this: it's worth the legwork! When I moved to New York over 4 years ago, I had packed up my life in San Francisco with my current job waiting for me in New York, making it a far less stressful experience than the average move. Here's my best advice about that process, if you're considering the move yourself:
Employment: As you might imagine, it's much easier to manage this process if you already have a job lined up for you when you arrive. Of course, if you're like me, and you're self-employed, as long as you can produce all the necessary paperwork to verify your income (all listed below), you're also golden. This may go without saying, but if you're unemployed at the moment, it will be very hard to get your rental application approved (as it would be in probably any city, but especially New York). If that's the case, be prepared to show statements detailing everything in your savings accounts, as they'll want to verify you have more than enough to afford a good chunk of the annual rent.
Familiarize yourself with the city: Chances are, if you're already considering the move to New York, then you've already visited many times -- if you haven't, then I would book a few flights ASAP. Given that I already traveled to NYC pretty often for Fashion Week during some of the most extreme points of the year (September and February) and STILL wanted to live here, I figured I was up for the challenge. Picking a neighborhood can be daunting, especially if you're new to the area. My best piece of advice is to spend a long weekend hopping around to as many different neighborhoods as you can to scope out the vibe and try to chat with friends/peers who live in the area to see what they love and what they dislike about their neighborhood. At the end of the day, a lot of folks hop around New York for the years they live here, so just because you pick a certain neighborhood initially, doesn't mean you need to stick with it for the rest of your stay.
The hunt: I did a lot of my apartment search remotely, checking Streeteasy pretty much every day, working with a broker based here in New York to help speed the process along. I'll dive into brokers down below, but I have to say, I really loved working with my broker, Carlos Santos. He made the process so much easier to manage from across the country so when it came time to pay the 15%, I felt like he had more than earned his share. You can, of course, filter properties on most apps to only show units that have no broker fee, but just be prepared for it to narrow the pool down significantly. Once my broker and I lined up a list of properties to check out, I booked one long weekend trip to see them all and ultimately decide on one.
The move: Granted, much of the costs of my cross-country move were covered by my employer at the time, but I still wanted to keep the price tag low. I went with PODS, a moving and storage company that essentially drops off a container to be packed and picked up a week later to be relocated to your new desired location. My total was around $3800 for a cross country move of a 7' container. I went with Task Rabbit movers for both the packing up and unpacking process, all without a hitch. My only complaint would be to be really mindful of how you pack your POD, as things get jostled and moved around if you're not careful. My dresser came out on the other side with a few dings and scratches.
Moving to a Different Part of New York
This time around, our move was much different given that we were already here in the city and could manage a lot of the hunt ourselves. That said, it certainly wasn't a breeze either. Here are my tips if you're considering the move to a different part of the city:
Familiarize yourself with your current lease: Obviously, timing is everything when it comes to moving in NYC. Ideally, you find the perfect spot that's available for immediate move in during your last or second to last month living in your current apartment so you can move in at your own pace. Of course, it never works out that nicely does it? When you're gearing up to move, make sure you understand when your current lease is up and by what time you need to give notice to your current landlord -- some ask for 30 day notice, others ask for 60 days. It also never hurts to understand what it might cost to break a lease, if it comes down to it. Also, while you're emailing your landlord/building management, don't forget to ask for a referral letter!
When to start looking: It never hurts to start looking a few months ahead of your desired move in date, even though most listed units won't be available until the start of the following month. That said, you can still luck out and find units listed a few months ahead of time, which gives you ample time to get paperwork and the approval process started. Generally speaking, the best units are available toward the beginning of each month, with the pool dwindling significantly the further you get into the month. Things move fast, so you have to move fast, too.
Explore new neighborhoods and different types of buildings: If you're like me and super stubborn about what neighborhood you want to live in (West Village), do yourself a favor and explore a few different areas, at least for comparison sake. It always helps to understand what's available in comparable price ranges and who knows, you might actually realize you like it more than you anticipated. At the end of the day, most areas are accessible by train, so you're never really far from any other other part of the city.
Movers: Once you find your new apartment, the moving process can be really hectic, depending on what window of time you have to deal with. This time around, I wanted to work with professional movers since we were dealing with two walkup situations (common in New York). Roadway Movers were INCREDIBLE for the job. Everything about the process, from planning to the actual moving day, was seamless. They arrived exactly on time and in about 2 hours, had my entire apartment packed up and loaded in the vehicle (we had packed all the boxes ourselves before hand), making sure to wrap all furniture carefully, even breaking down and setting my bed back up upon arrival. They had the entire vehicle unloaded and brought up stairs in another two hours, leaving my boyfriend and I dizzy by how fast the whole process went! If you're looking to move soon, I cannot recommend them enough -- use the code KRYSTAL10 for 10% off your order right this way. While the move itself was covered as part of an exchange partnership, my quote estimate was around $1200 to pack up a studio apartment (it was a bit extra considering it was a walk up in both buildings), moving it about a block down the street. Gratuity is not included and they recommend around 15% for your crew.
Reusable crates: My first move across the country, I used a lot of cardboard boxes and felt really wasteful afterward when I was breaking them down, hoping they'd be recycled somehow. A lot of you recommended a reusable crate service and I ultimately decided on BoxUp after my friend Jera sent over glowing reviews. They handle drop off and pick up at your convenience and if you need to extend your rental period, it's a pretty reasonable fee. For a one bedroom package (which includes 35 boxes and a dolly) for a week, it was a little under $200.
Questions and Important Tips:
What are the best apps to use? 
Granted, there are MANY apps you can use, but at the end of the day, I try to stick to groups of three. Anymore than that, I just get overwhelmed and you end up seeing a lot of the same repeat listings. My favorites were:
You can set up alerts and notifications for saved searches, so when new properties get listed or if prices are updated, be ready to pounce!
What are the best times to move? 
Generally speaking, no one likes moving during the winter (ha, I wonder why?), so that's why you'll notice rental prices are lower in the winter months and higher in the summer months. Of course, there are less units available during the winter, but if you can time it right, the price difference is amazing!
What are your best tips when going to Open Houses?
I cannot stress this one enough: have your paperwork ready to go. For ease sake, I created a Google Doc with all our financial documents linked and accessible to anyone I shared it with, making it easy to express our interest right on the spot. A lot of the time, units move right on the spot at Open Houses, so if you find something you really like, make sure you're ready to apply right then and there if need be. A lot of the time, there are ways you can "reserve" or take a unit off the market -- it all depends on the building management and broker -- sometimes the fee is the application fee (around $100) or the full deposit (via bank certified check). Generally speaking, the application fee isn't refundable but the deposit is, in the event you're not approved for the unit.
Also, bring a tape measurer with you and ask for floor plans with measurements. And if you can, try to view the apartment at different times of the day -- morning and early afternoon to see what the light is like.
To Broker or Not To Broker? 
This question was #1 among you guys and I don't blame you! That 15% fee is hefty, when you start factoring in how much it costs for movers, for a truck, for supplies, for the alcohol you inevitably need after it's all over and done with. It's a lot. Trust me, I get it. I'm a fan of both approaches and it all depends on your situation and budget. As I mentioned above, when I was moving from San Francisco, having a broker working for me made all the difference in getting a spot I really LOVED in a timely manner. He was able to see units well before they ever made it onto Streeteasy, making me among the first to see the unit and he was able to easily parse through the bogus listings (and there are a lot of these), so we didn't waste time looking at them.
This time around, my boyfriend and I had more dedicated time that we could spend looking at listings and meeting agents for different apartments. Of course, a lot of units come with a broker attached and there's no way to avoid that. If a no fee unit is what you're really looking for, make sure to filter it on all the apps you're using so you're only considering units that don't have a broker associated with it. One thing to be mindful of, is when you are working with different brokers for different properties, a lot of them will ask you to sign paperwork to verify that they are the broker associated with that specific building and property. This can get messy (and somewhat awkward) when multiple brokers get pulled in on the same unit, as no body wants to split their fee. My best piece of advice would be to honest and straightforward with whoever you're working with and keep track of what buildings you sign paperwork for.
What do you look for in a neighborhood?
The answer to this question will vary depending on who you ask in New York, but generally, a good checklist involves:
How close is this apartment to major subway lines? What will my commute to work look like?
What amenities are nearby? Grocery store? Laundromat if necessary? Dry cleaners? Coffee shops?
Do I enjoy the general vibe of the area? Try walking around the area at different times of day to get a feel for it -- morning, afternoon and evening.
When will I know I have enough money? 
This one is tricky to answer, as it all really depends on your current financial situation and what your other expenses look like. Since New York is infamous for curveballs, I'd say in addition to the move in costs (which can range anywhere from the $9K and above), I definitely didn't feel prepared until I had a solid $20k in savings set aside for this move if I needed to dip into it.
What does it mean in terms of approval for a freelancer? 
I suppose I was really afraid of the approval process this time around, half expecting someone to ask for a guarantor to sign on my behalf (like a parent who agrees to pay your rent if you default), since my employment status is freelance these days, as opposed to a recognized employer. The process wasn't really all that different paperwork wise, I just shared a letter from my CPA and my management agency to verify my income and my projected income for the coming year. It's possible they may want to dig into your tax returns from previous years, to discuss what you've written off as expenses, but thankfully, I didn't have to cross that bridge.
What if you find a building you really like? 
Ah, this has happened to me many times. I fall in love with a particular building and cross my fingers that a unit becomes available soon. Of course, this all comes down to timing and luck, but it never hurts to check in with the management or rental agency associated with the building (sometimes it's listed in front or if there's a doorman, you can sometimes ask him), so you can stay on their radar if something ever becomes available. Also, if you happen to love your friends' buildings, have them do a bit of digging for you directly with their building management -- you never know who might be moving out soon and a tenant recommendation usually goes far!
What are some realities of New York apartments? 
A lot of you were curious about this -- what should you really expect from a New York apartment. I suppose this goes without saying, but Carrie's beautiful West Village brownstone was farfetched. Here's what you can expect to vary across New York apartments:
A dishwasher is an amenity -- it's not guaranteed in all units.
Same thing with laundry -- newer buildings may offer a washer and dryer in the apartment, some will have it in the basement of the building and others (like our new one) don't offer it all.
Doormen are nice, but definitely make a building more expensive.
True bedrooms need to be verified in person -- a lot of the time they count something as a bedroom if you can reasonably add a temporary wall. So proceed with caution -- I've seen some great temporary walls and some awful ones.
Elevators are hard to come by. Most units above the 4th floor go down in price, because most folks don't want to climb that many flights.
Most dog friendly apartments limit you at "medium size or 30 pound dog."
Most New Yorkers get really excited about natural light. It's the first thing I take note of when I walk into a new place.
Co-ops are a tricky beast -- we actually fell in love with one apartment that was part of a co-op and the process was estimated to take about 6 weeks for the review itself, at which time, they could still say no, leaving us at square 1. If you have time and patience on your side, co-ops can be amazing but just be prepared for a lengthy approval.
Size is in the eye of the beholder. Yes, New York apartments are small (I prefer the term cozy) but you eventually learn to see the potential in certain units.
What are average prices like? Negotiating rent costs? 
This varies greatly based on the neighborhood. For our general search, we were pretty focused on the West Village area (because I'm stubborn), which happens to be a relatively expensive neighborhood overall. Most 2 bedroom apartments were in the range of $3900 - $4600. Just for comparison sake, it seems the average price for a 2 bedroom in Pacific Heights (my old neighborhood in SF), ranges from $4,000 - $5,500.
Negotiating rent isn't necessarily something I have a lot of experience with but I think it's a possibility the longer a particular unit has been on the market (if it's been available for more than a month for instance). Never hurts to try, right, especially if you're professional about it.
Paperwork Checklist
Run your own credit score report from a trusted source (your bank is a great place to start for this)
2 most recent bank statements for all your accounts (checking and savings)
Statements documenting any liquid or real estate assets you may have
2 most recent tax returns
Employment letter or if self-employed, a letter from your CPA verifying your income and projected income for the current year
Current landlord reference letter
2 professional reference letters (optional, but always helpful!)
2 personal reference letters (optional, but always helpful!)
Whew! That about does it -- but of course, if you guys have more questions, please feel free to leave them below in the comments and I'll try to address in a follow up post or perhaps on Insta Stories!