5
minute read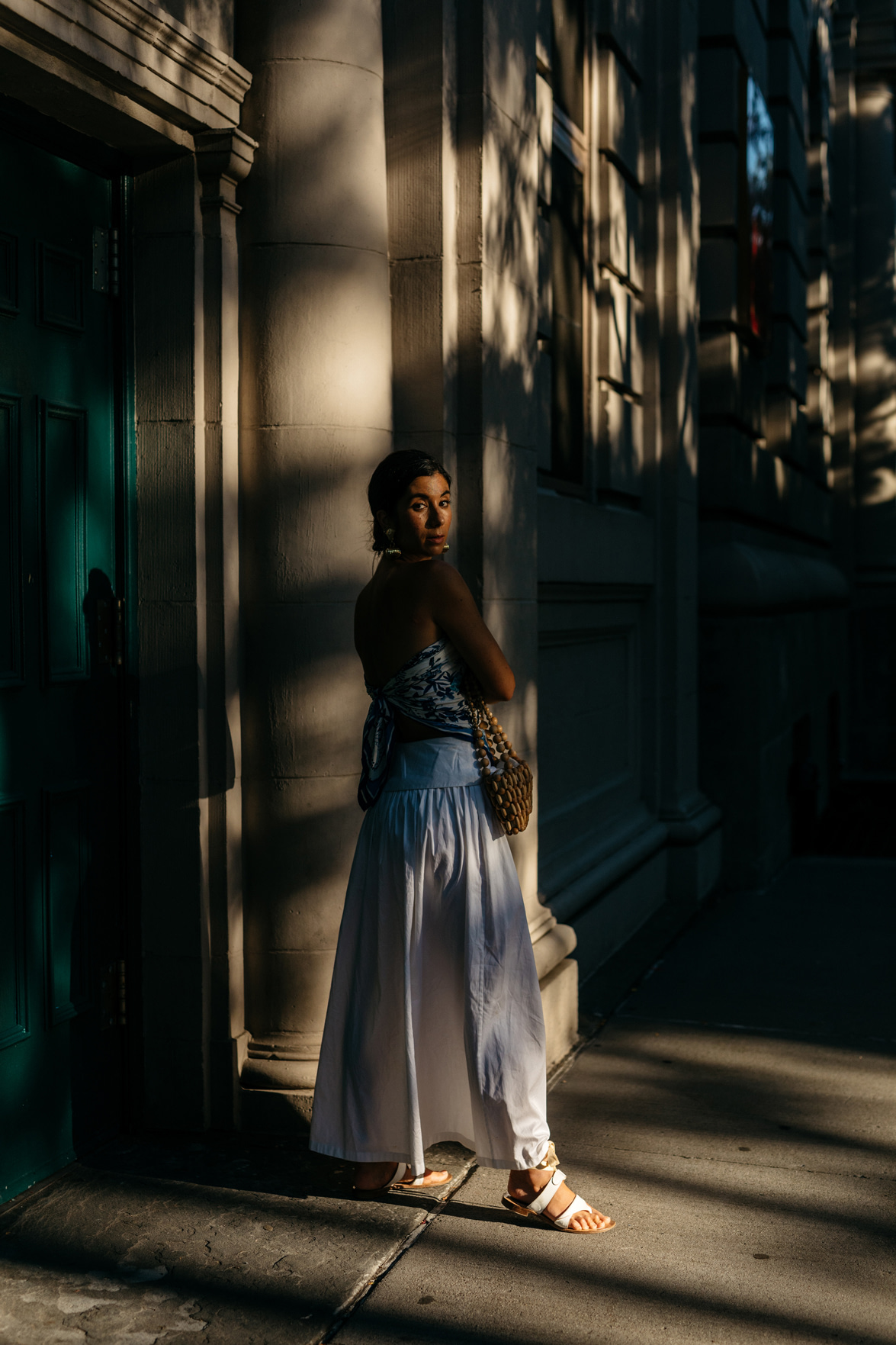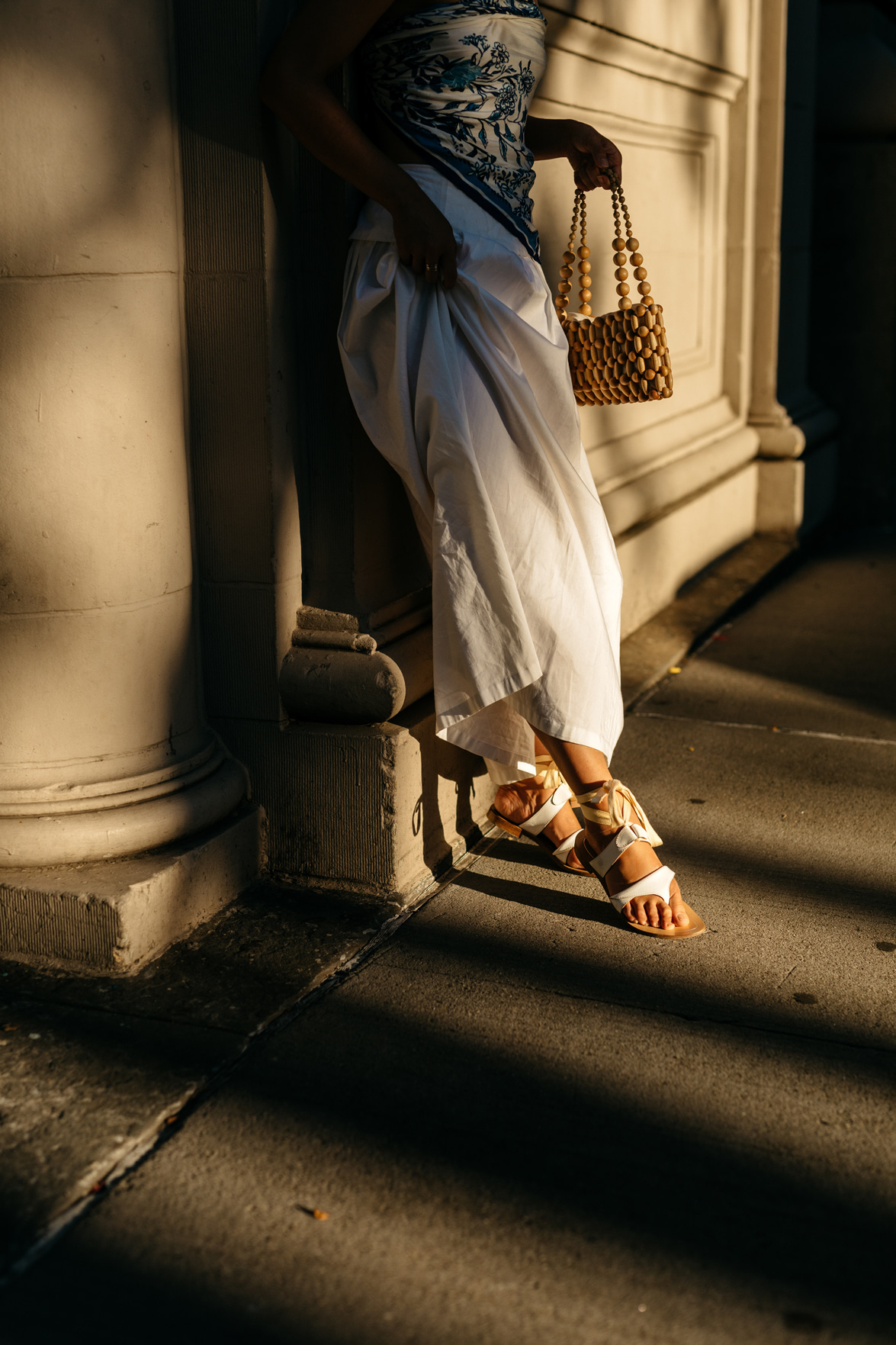 Ah, here we are in the thick of summer!
It's around this time -- in the heaviest of heat and humidity in New York -- that I rely on a handful of reliable, never-let-me-down pieces. They usually pull together, elevate and sometimes just plain save an outfit, when I simply can't muster the patience (or brain power) to put together anything else for a day of intense of heat and subsequent sweat. Today, I wanted to share a few of those pieces that I reach for, time and time again, in case it helps spark some ideas for your own summer MVPs, as we're all slowly and safely spending time outdoors. Let me know your favorites and go-tos in the comments below!
ONE // Sarah Flint Grear Sandal: The elusive summer sandal. We demand a lot out of our summer sandals, don't we? They need to be comfortable, easy to throw on and off with only a moment's notice, durable to spend long afternoons walking or perhaps biking and, without pushing our luck too much, chic enough to go with all our linen summer dresses. If you're not new to these parts of my corner of the internet, you know I'm a longtime Sarah Flint fan. And while I adore all of her perfect pumps, block sandal heels and flats -- it was her Grear sandal design you see here that initially sold me.
My first pair -- in black leather -- has been packed for pretty much every summer trip and vacation going on several years now, leading me to eventually scoop them up in saddle brown and now, my newest addition you see here, in crisp white. Featuring a full leather outsole that holds up extremely well over time (no holes or signs of wearing thin), constructed in the traditional Capri style and cotton ties that can be easily cleaned, the Grear has quite honestly taken over my summer sandal lineup. Plus, Meghan Markle has been a longtime fan, so there's that. Like the rest of her designs, these run very true to size. If you're in the market to invest in a sturdy summer sandal, make sure to use my code SARAHFLINT-KRYSTAL for $50 off your first purchase, excluding the scarves.
TWO // Silk scarves: Scarves really are the unsung hero of my summer wardrobe at the moment, mainly because it's hard to get bored with them! I just love collecting vintage ones and finding new ways to incorporate them into my look. I wrote this post a few summers ago about how to style a silk head scarf, but after trying my hand at a silk scarf top (as seen here in these photos) I think I need to add it to the list! I'm currently wearing a scarf by Sarah Flint -- part of her latest accessory launch -- in the Hidden Garden print, 90cm size. Simply fold in half diagonally so you have a triangle, place the longest side across your chest, allowing the triangle to fall flat against your stomach and tie in a secure double knot in the back. I won't lie -- once you start sweating, the top starts to slide down, resulting in additional fidgeting, but with a little fashion tape to hold everything in place, you might be able to fix it.
THREE // Supergoop Glowscreen: I received a tube of this magic sunscreen from Grace along with her Amazon drop collection piece a few weeks ago and instantly slathered it on. As with most Supergoop items, their sunscreen doesn't leave that white, ghost residue behind with this particular Glowscreen creating a shimmery, pearlescent effect for your skin. It's almost tinted, but not really, which I love -- and for all these days I'm not really opting for full-face makeup, I use this as my dewy summer base, layer concealer where necessary, highlighter, blush, brows, mascara and I go!
FOUR // Saie Dew Balm: Speaking of makeup routines, Saie has quickly become my go-to for everything natural and easy these days. Their highlighter -- otherwise know as a "dew balm" is everything I didn't realize I wanted out of a highlighter. Bouncy, light and glossy -- I apply quite liberally, throughout the day, usually keeping a few tubes in my bag next to my lipgloss and lipstick. I personally love the "Rosy Gold" shade, but their "Bronze Nectar" is a close favorite. The "Lilac" is great for my more fair skin girls, but I also use it along my collarbone for extra sheen.
FIVE // White circle midi skirts: The easiest piece for pretty much everything summer has to throw at you. Perfect paired with button down shirts tied and knotted in the front, barely there camis and, my favorite at the moment, the aforementioned silk summer scarf tied as a top! I own an embarrassing amount of white midi skirts at this point, each one slightly nuanced and different from the others. Don't ask me to pick my favorite. That's like picking a favorite child.
SIX // Black linen sundresses: On a similar note, I also own an embarrassing amount of black linen sundresses. I find them perhaps the easiest summer piece to be in ALL day, from walking the dog to running errands, from picnics to dinner plans, chances are a black summer dress will never let you down for any of the above. My go-to is always a midi length because it means you can hop on a bike or a scooter at any time.
SEVEN // Vintage gold earrings: I suppose it's no secret at this point, I LOVE gold earrings with pretty much all my outfits and I'm well on my way to collecting a small treasure trove of vintage Chanel, Dior and Lacroix...the list goes on. I'm a firm believer that the right accessories can make even the most simple outfits pop and my secret weapon will always be a pair of conversation-starting bijoux dangling from my ears. If you're in the market for some, I highly recommend checking out The RealReal's selection -- their price point is typically amazing and they almost always have a 20% sale going on.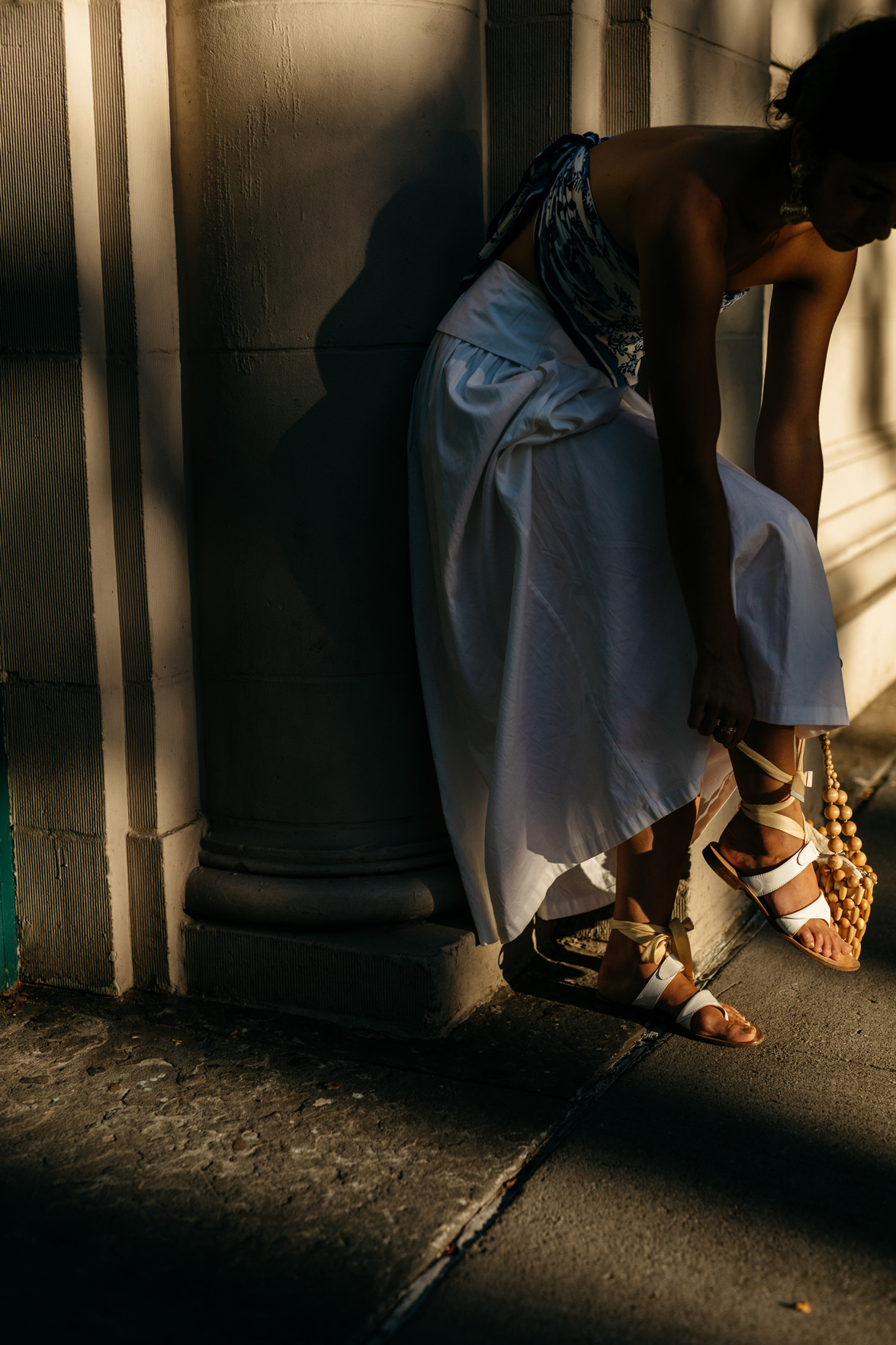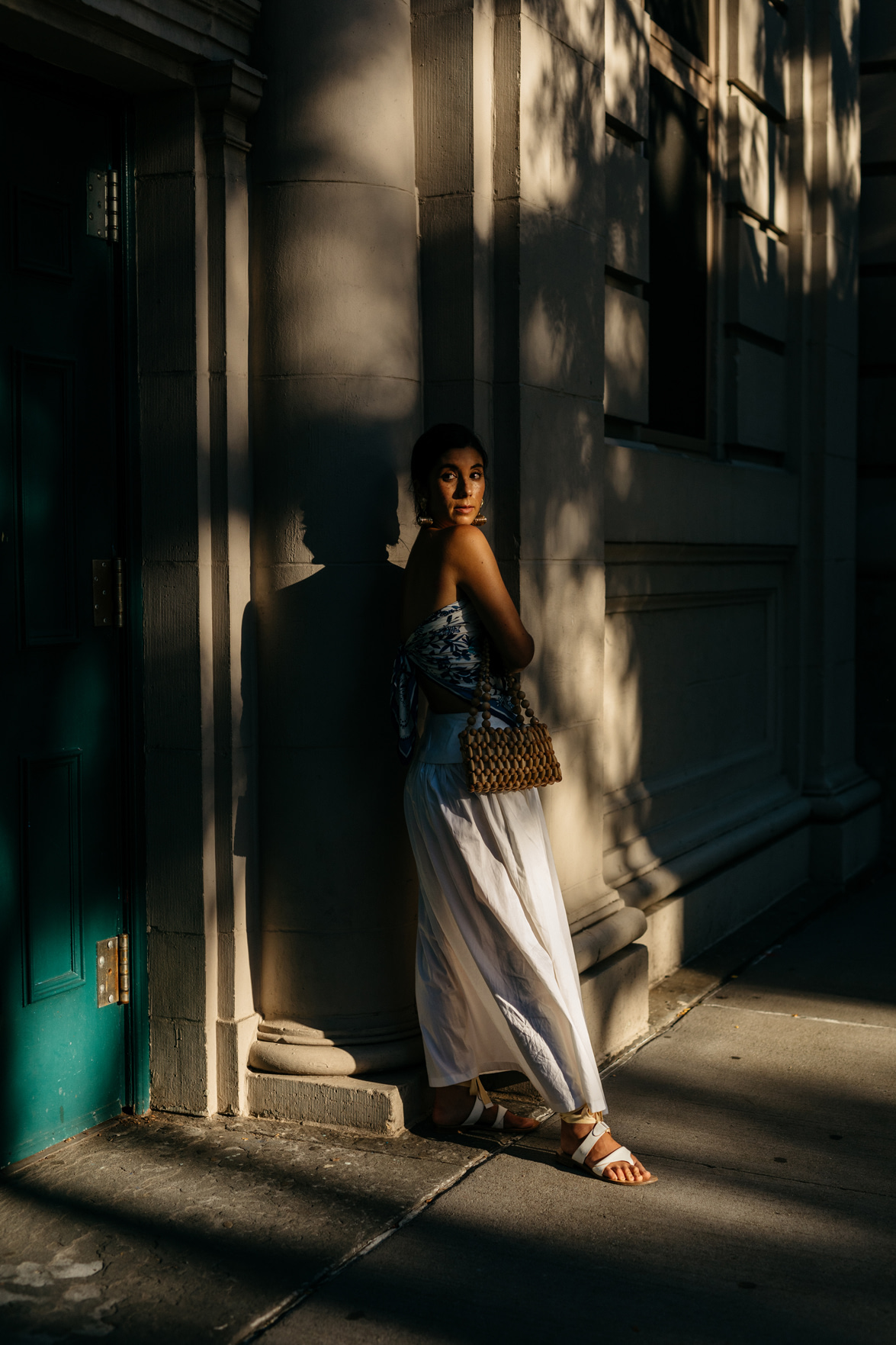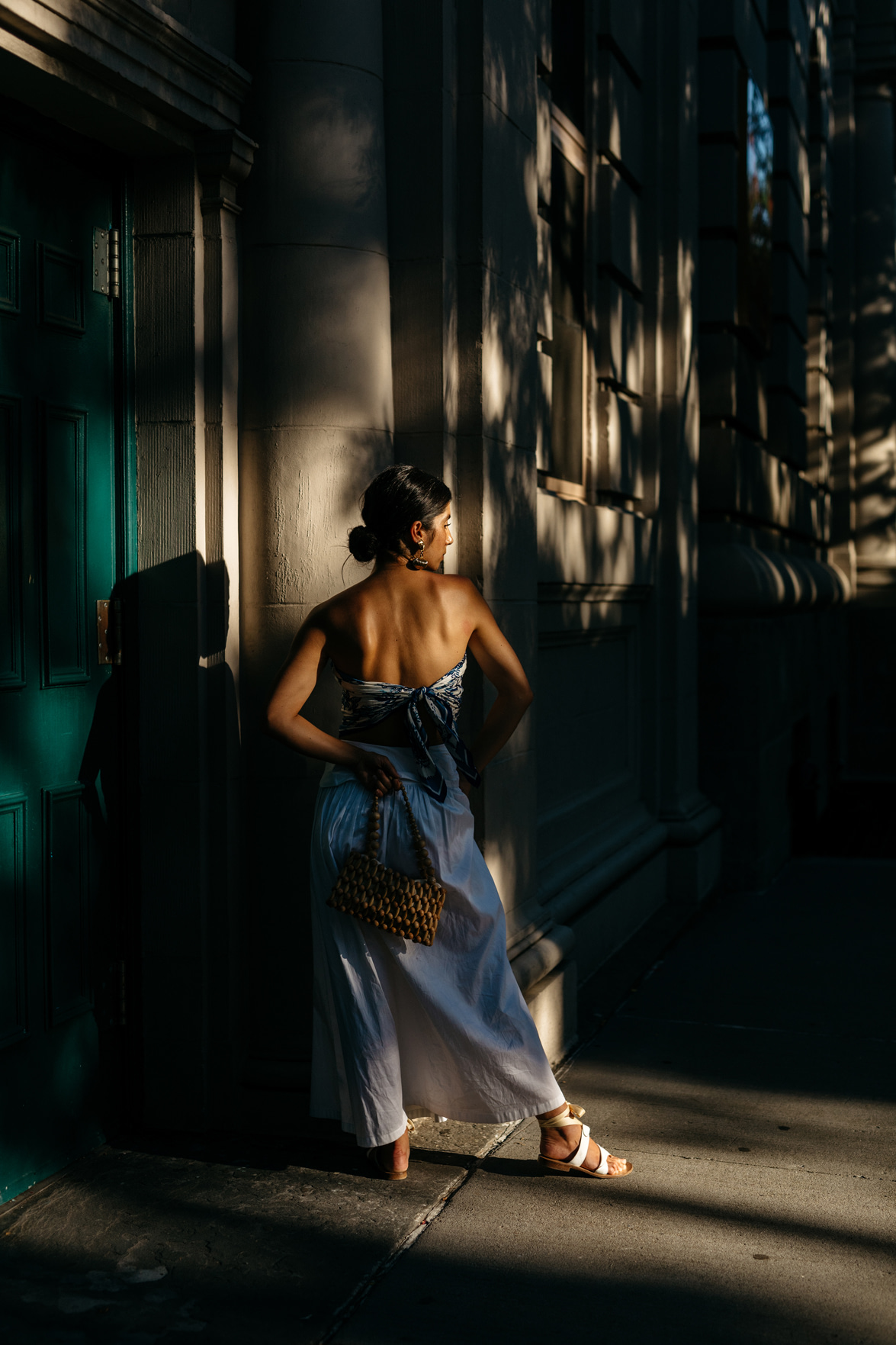 Photos by me