4
minute read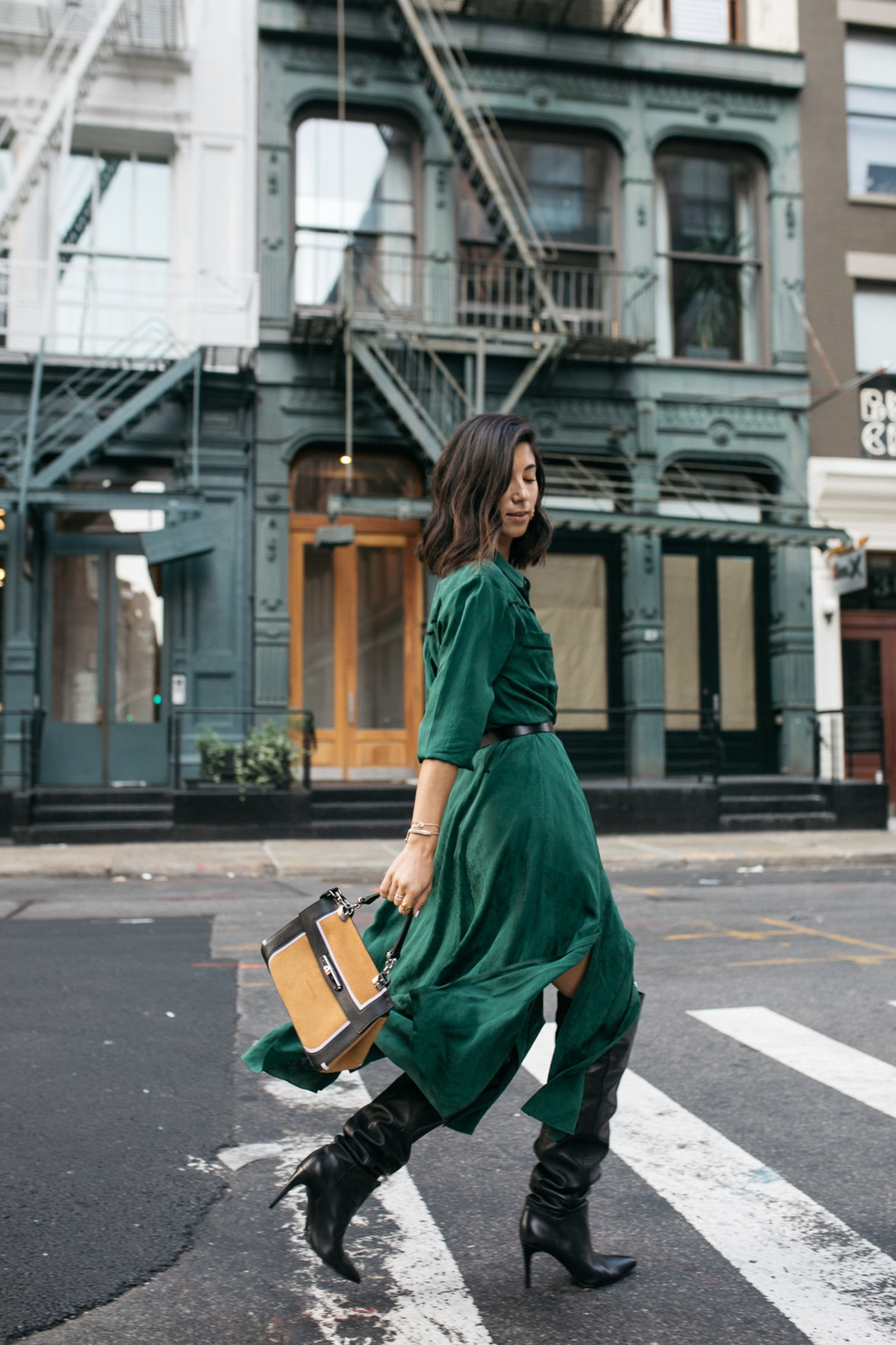 Giddy up!
So, by now, you've probably heard that we're all channeling our inner Annie Oakleys this fall and busting out all things western inspired. Cowboy boots. Big buckle belts. Fringe for days. Prairie style blouses with midi denim skirts. And while my love of Dolly Parton's larger than the ranch style knows no bounds, I can totally understand the hesitation around this trend. After all, there's a fine line between wild, wild west chic and just plain, wild, wild west costume. If you're on the fence for this trend, here are a few of my tips for incorporating it into your fall lineup -- and make sure to keep scrolling, I've rounded up my favorite western pieces below.
How the West was Won: With accessories! Sometimes the easiest ways to jump on board with a trend are to look for the smallest nods -- accessories. They're subtle, easy investments that keep you from feeling that too overindexed on a certain style. For all those heading west this season, look for silver belt buckles, silver hoops, a chic saddle bag, a fringe scarf and if you're feeling a bit daring, perhaps a slick, flat top, wide brim hat like this guy. The key to styling these bad boys will be to keep the rest of your outfit pretty neutral and don't feel the need to pile them all on at once.
There's a snake in my boot! Woody had reason to panic -- boots will be the showstopper this season for the western trend. Personally, I'm a big fan of a little fringe moment (so chic in all black) and a good silver detail toe. Perfect with cropped jeans and some of your fancier, evening dresses alike.
What would Dr. Quinn do? Raise your hand if happened to watch reruns of Dr. Quinn Medicine Woman when you were younger? Yep, me too. And while we could spend ages dissecting the whirlwind romance of Byron Sully and the good doctor herself, it's her sartorial proportions I'd like to dig into today. Her go-to uniform was pretty simple: a maxi, floor length skirt with a prairie style, feminine blouse. Try something similar with a maxi length shirt dress (like the Veronica Beard number I have on here) with an edgy boot. Make sure, whenever possible, that you're cinching at the waist, which is where your silver, horseshoe buckle belts come in handy.
Little House on the Prairie with your Little Skirt in the Closet: Of course, if you're looking for something a bit more flirty that might make Dr. Quinn blush, take your prettiest prairie inspired top (think white long sleeve, high neck ruffled blouses) and pair it with a leather mini skirt.
How are you guys incorporating the western trend into your wardrobes this fall? Any tips to share?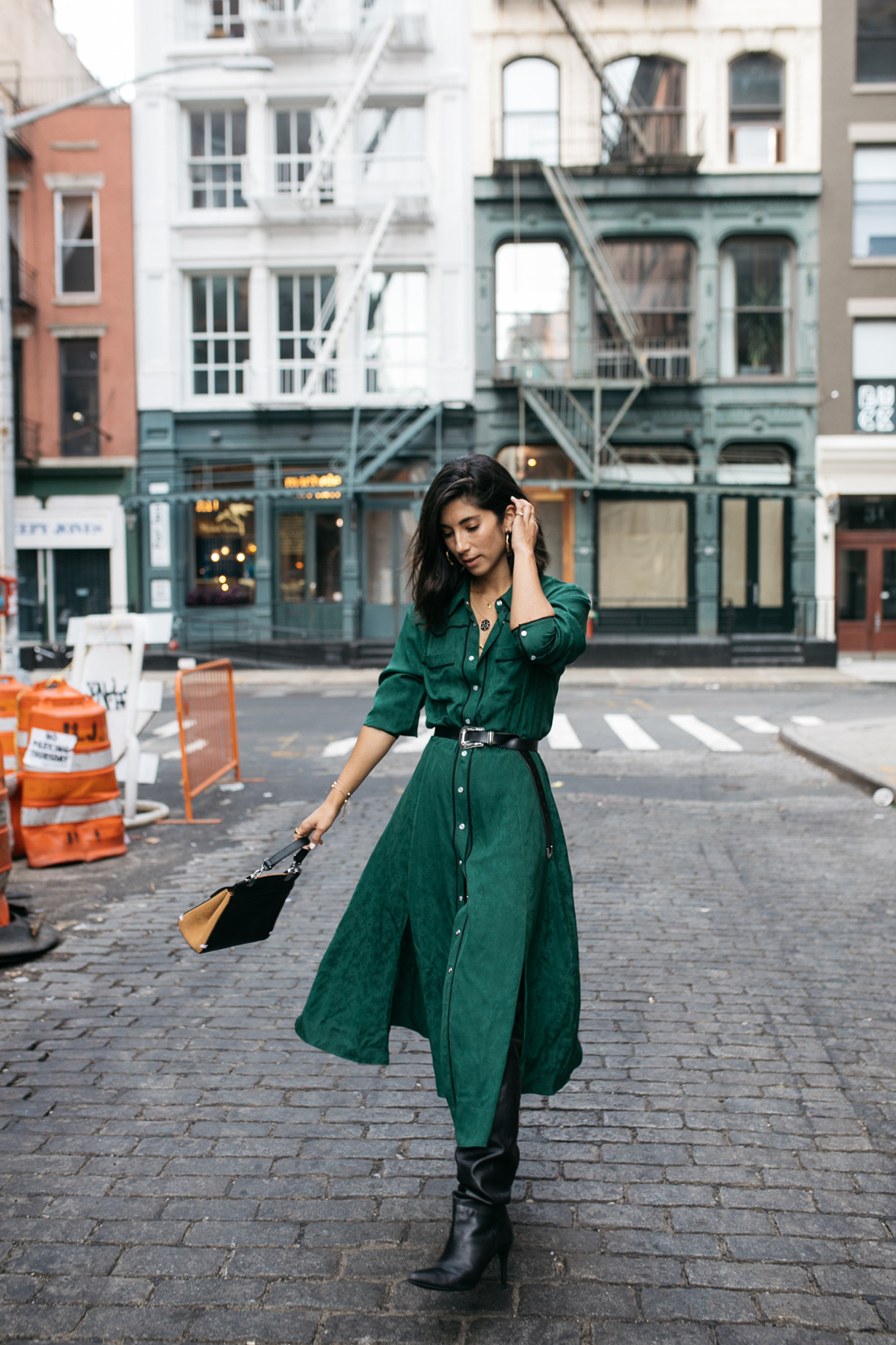 OUTFIT DETAILS: Veronica Beard dress (borrowed) // & Other Stories boots (from last year, but love this pair here) // Longchamp bag (gifted) // Nordstrom belt // Gas Bijoux hoops // Missoma London necklaces // Showroad necklace