6
minute read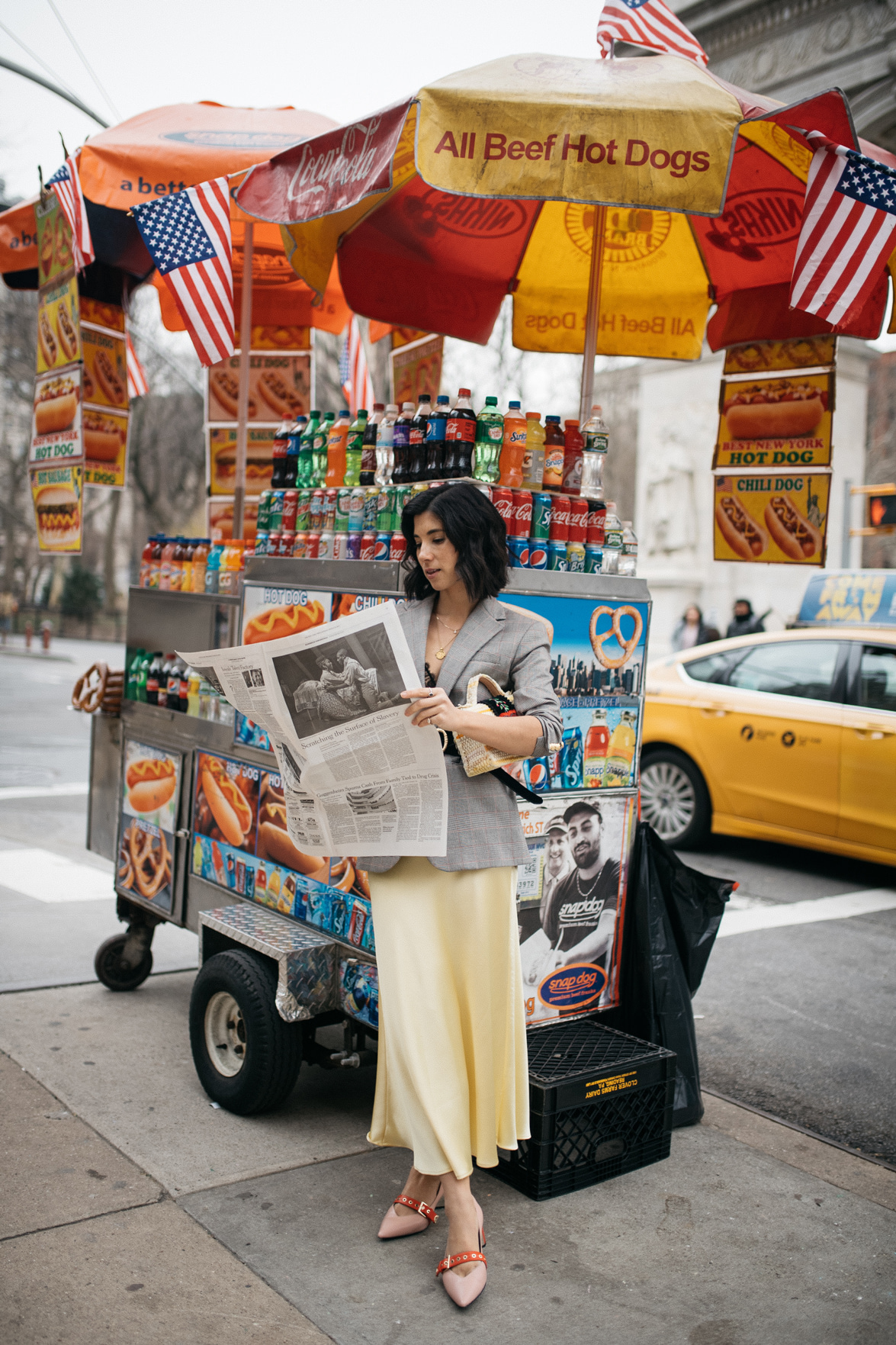 [row][half]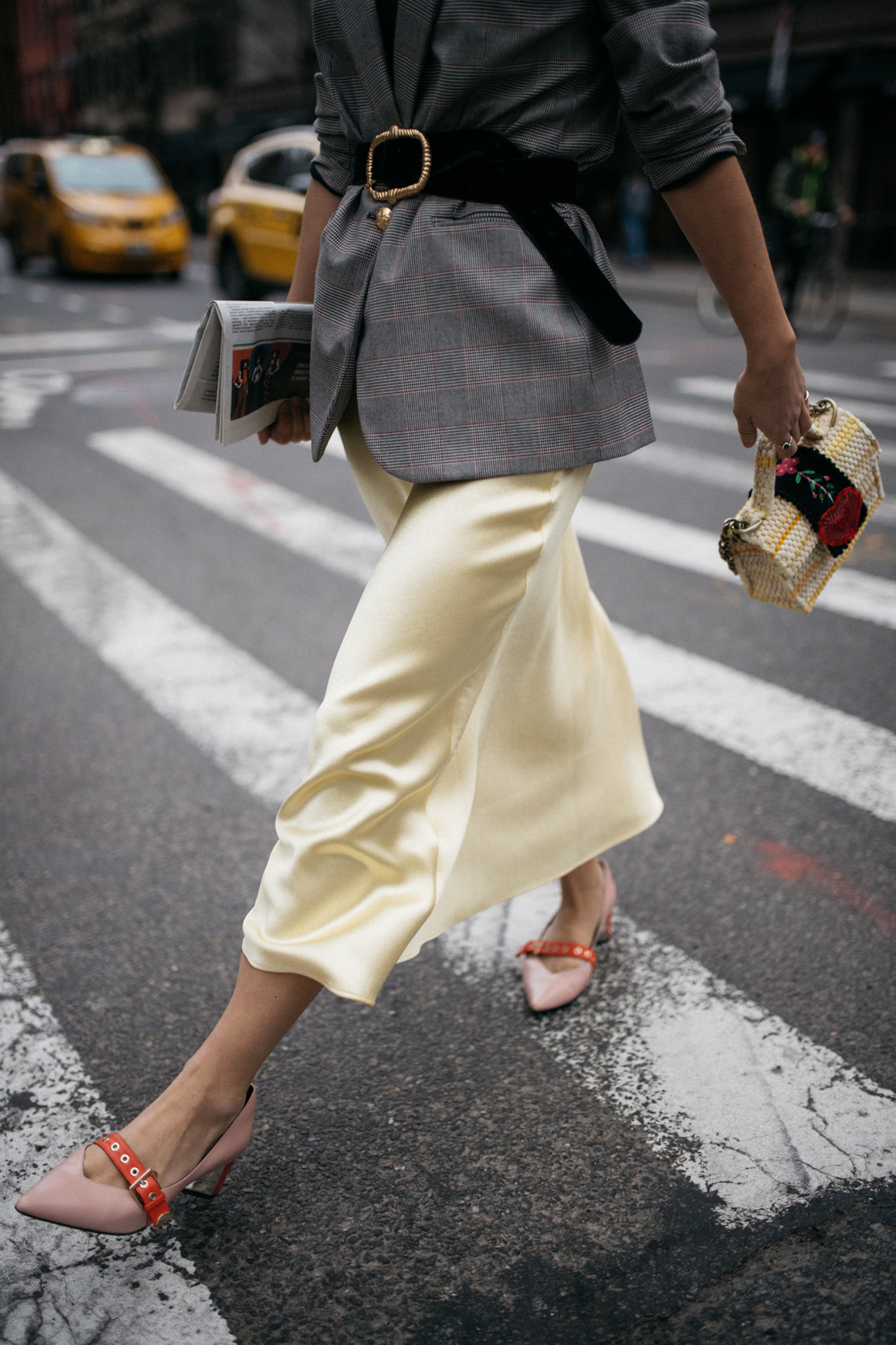 [/half][half]
A funk. Burnout. Just plain stuck.
Whatever you want to call it, whenever we're not quite feeling like ourselves, it usually strikes the same anxious fear in us all. And I think the older I get, the harder they become to shake -- this year has already been a great example of that. I mentioned a few weeks ago on Insta Stories how I had been feeling like I was in a funk lately, not quite my usual myself and was generally pretty uncertain how to best tackle it.
To be fair, I started the year strong -- I was invigorated and excited about a lot of new styling projects and creative endeavors. Then a series of setbacks (health namely and some professional) coupled with a few stressful weeks frantically sorting out our apartment move, left me reeling and grappling with this feeling that I just couldn't get back on top of things. No amount of rational reasoning with myself would do -- I was (and likely still am) feeling like I'm barely keeping my head above water at moments. Some days are better than others, of course -- and that's truly life isn't it? Not everything will go our way and it's all a matter of choice how we respond to it, each and every day.
Since the blessing of this is that you never really are alone in your struggles (because, hello, we're all going through something) I wanted to share a few ways I've been intentionally approaching my burnout -- some big, some small -- all mainly ways I've been reminding myself I need grace and patience, two things I have in abundance for others, but very little for me.
Allow yourself time to feel sad and reflective: I'll start with this one because I think it's so healthy to allow yourself to feel things, especially when you're stagnant. Too often when I'm feeling this way, my knee-jerk reaction is to immediately try to mask things and "just get on with it" -- thinking that the productivity will be the slap in the face I needed. Sometimes that's true. But sometimes, I come up gasping for even more air than before, exhausted by the mental game of pretending nothing is wrong. Cry if you need a good cry. Vent if you need a good vent. Take a solo day (or a solo weekend!) to process your emotions around it all. Write it out, if that helps.
[/half][/row]
Detox where you can: Of course, maintaining a very public life online when you're not feeling your best, is draining, if not nearly impossible. At least for me it is. Given that, I made a very conscious decision a few weeks ago to just not share all day long if I felt compelled to share for just sharing sake. That meant I also was consuming content at a very different cadence as well and even went as far to simply mute accounts that were no longer bringing something positive to my table. If something made me feel bad about myself or inadequate, I let it go.
Stop the negative talk: Oh man, I struggle with this one. I'm generally a very supportive, positive and empathetic person to other people. But I can be a downright bitch to myself when I feel the occasion calls for it. I'm getting better at nipping these negative thoughts when they trickle in, but it's a work in progress. What's made a difference is asking myself if I would talk that way with a good friend -- the answer is always no -- and I force myself to reframe the conversation.
Don't give into the pressure to say yes: Whenever I'm feeling this way, I get selfish with my time. That means declining events and social situations that may just not be serving me or my mental state at that moment. I know this sounds a bit antisocial -- and it's quite unlike me when I'm feeling my best -- so I try to allow myself the headspace with close friends who know and understand me, and pass on the situations that only add to my anxiety. The idea is not to dwell in this space -- but let it heal your heart and mind.
Write out a plan: Executing and crossing things off my to-do list, whether they're big things or small things, really make a difference in my day when I'm feeling stuck. And while I always write out a to-do list every day, I think it's worthwhile writing out your "funk to-do list" -- all the things that might help you shake/solve/fix/cure/address the problem/situation/issue at hand. Sometimes, just listing it out is therapy enough and you'll be surprised how much lighter you feel because of it.
Move: I think daily movement is SUCH A BIG part of my mental state. Simply put, when I'm consistently moving around (whether that's regular exercise or just a lot of walking around the city), I feel more whole and my brain is far less jumbled. Of course, when you're not feeling your best or overwhelmed, it's easy for exercise to be among the first cut. I'll admit. I have to drag myself out when I'm feeling this way but honestly, feel 10X better once I've gotten out.
Diet: A big goal this year for my boyfriend and I was to Seamless our weekly dinners FAR LESS -- and I'm happy to report, our consistent Fresh Direct grocery orders and Hello Fresh meals have been such a good move for us, especially while I'm feeling this way. I'm a firm believer that eating cleanly has such a strong correlation to my mental clarity (particularly because I think I may have a few food intolerances, but more on that later), so it's felt really nice lately eating out less and knowing exactly what I'm putting into my body each day. This is by no means a recommendation to put yourself on a diet, but more so to refocus on foods that make you feel good and mentally clear.
Re-inspire yourself: I recently ventured out to the Brooklyn Museum to see the new Frida Kahlo exhibit and it was just the kick start of inspiration I was needing. If you can find little ways to inject some creative fuel into your tank -- a new book, a new art exhibit, a documentary you've been meaning to see -- it'll help clear your slate in the best way possible and fill it with something meaningful to dive into.
Remind yourself that fear will pass, if you let it: Fear always feels like it's moving in permanently -- the good news, it's a temporary roommate that you can easily evict, if you choose to. Whenever I'm feeling a bit paralyzed by fear or doubt, I remind myself that I always figure a path out and it's never as daunting as I originally thought.
Confide and talk it through: Never underestimate the power of a good wine night with a close friend/your boyfriend/mom or dad to really talk through things. Or better yet, a trusted therapist.
And that's it! Would love to hear though -- what do you guys do to get out of a funk?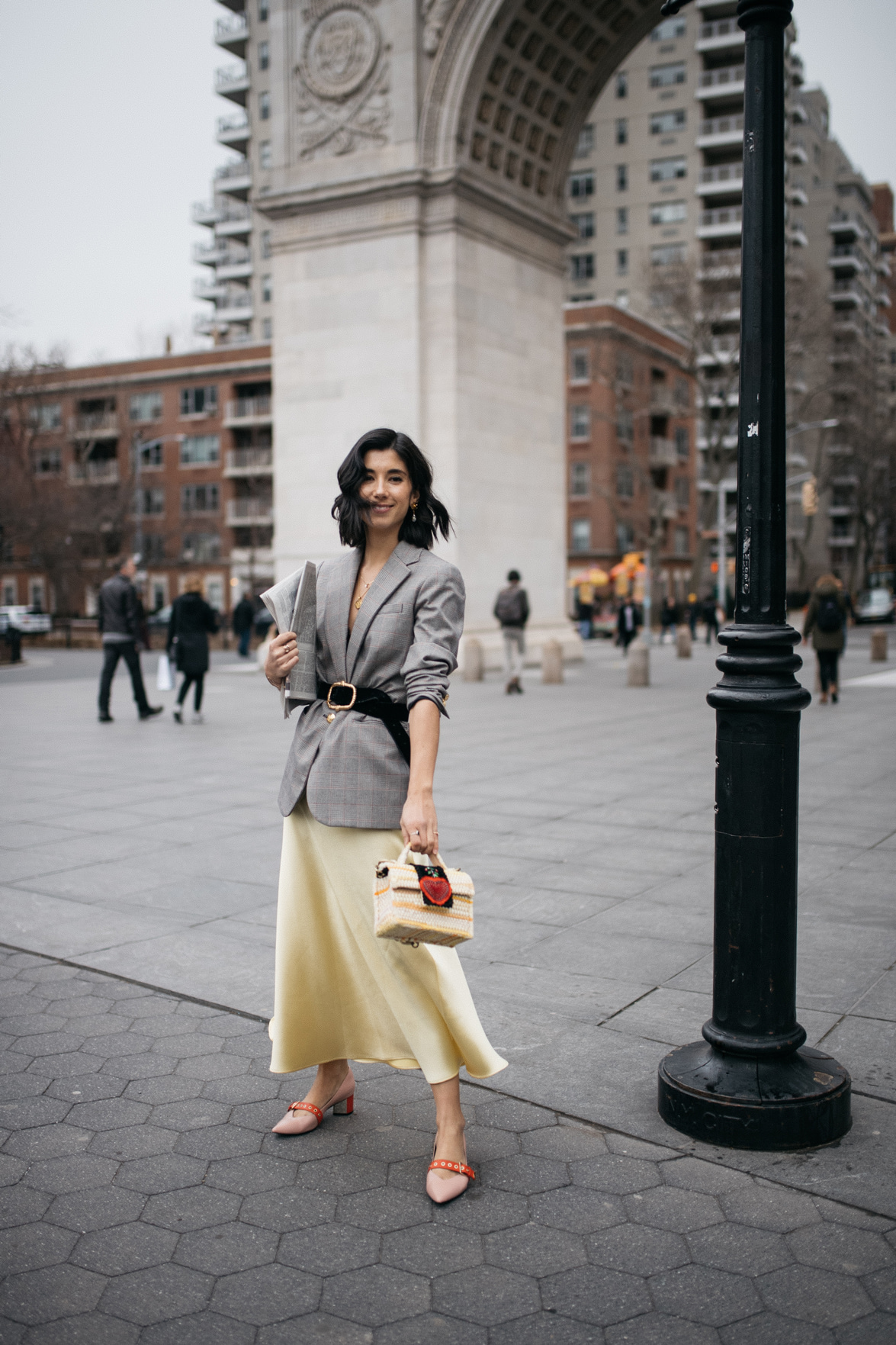 OUTFIT DETAILS: Lauren Ralph Lauren blazer (gifted, sold out but similar style here) // Zara satin skirt (similar style here) // Luxury Rebel (gifted) // Zara belt // Kooreloo bag (gifted) // Vintage Chanel earrings
[row][half]
[/half][half]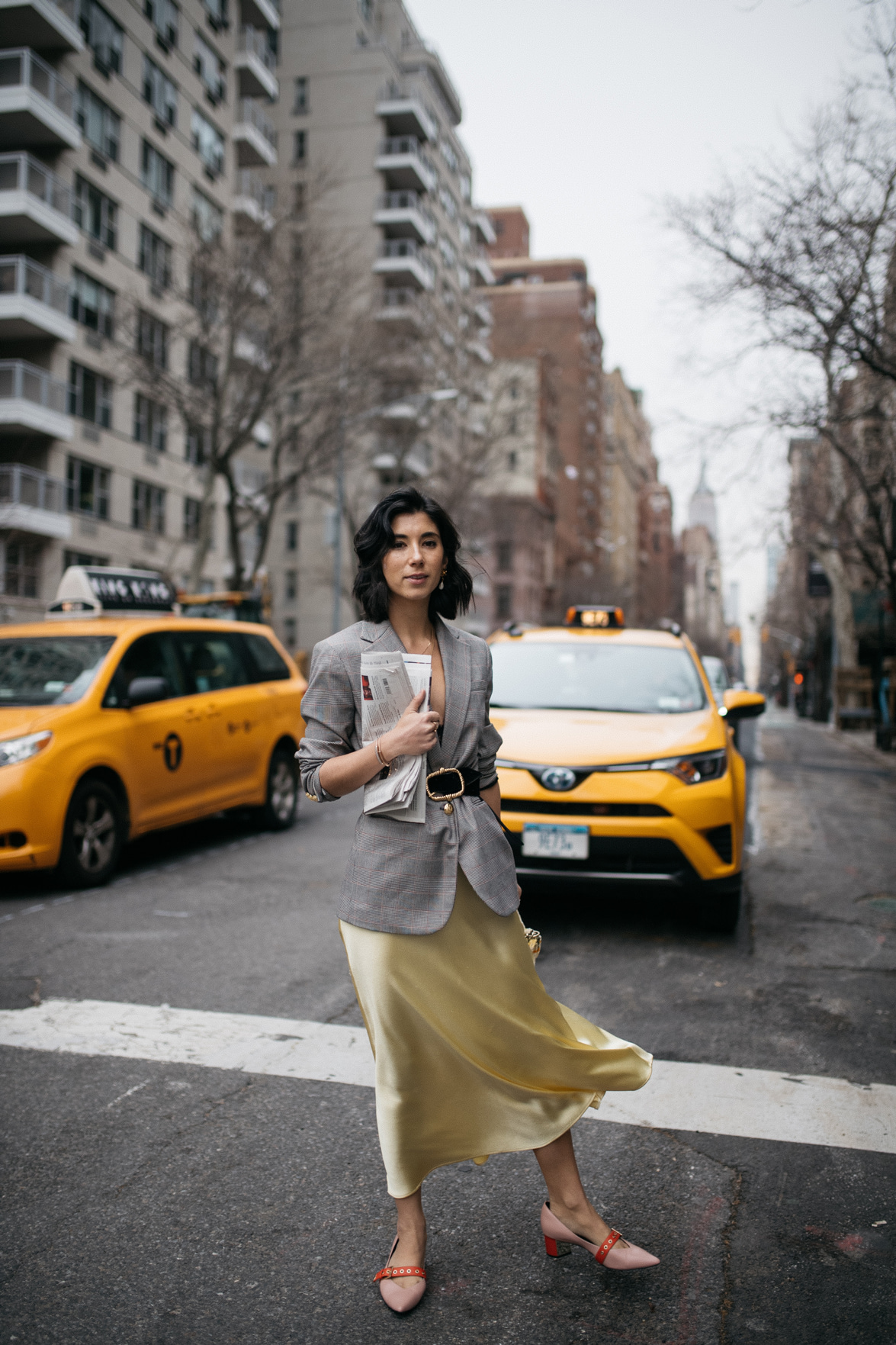 [/half][/row]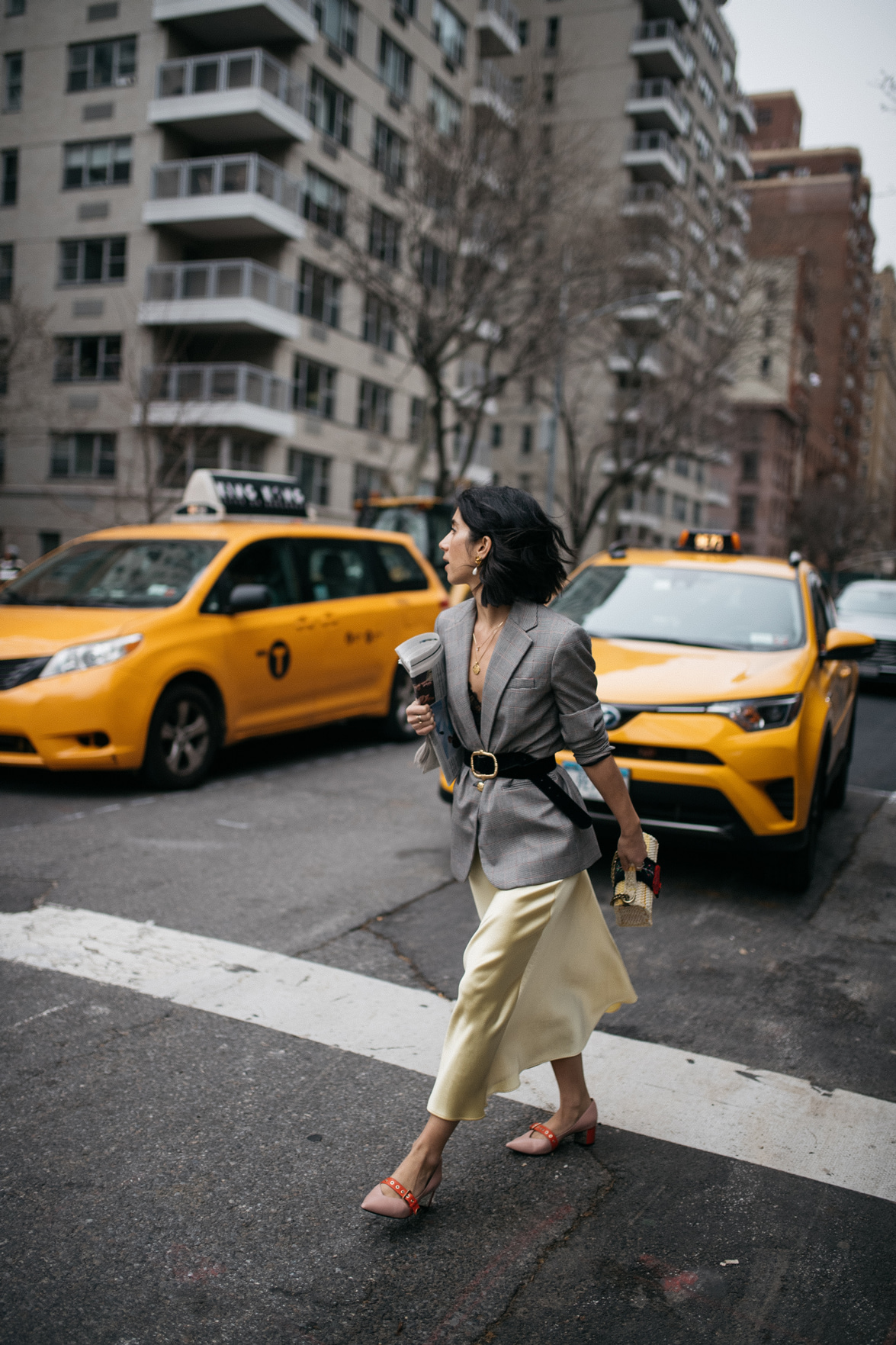 [row][half]
[/half][half]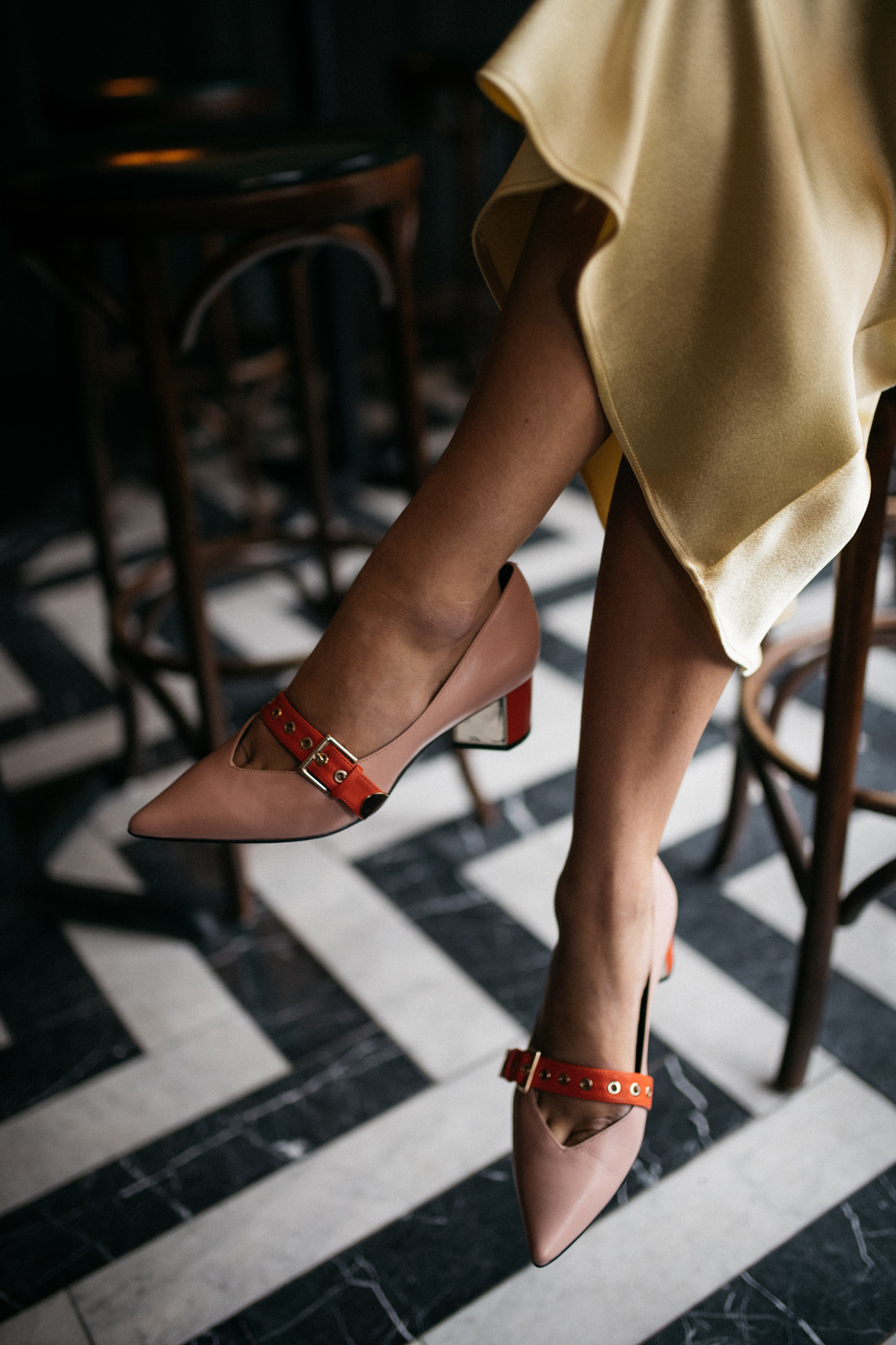 [/half][/row]