4
minute read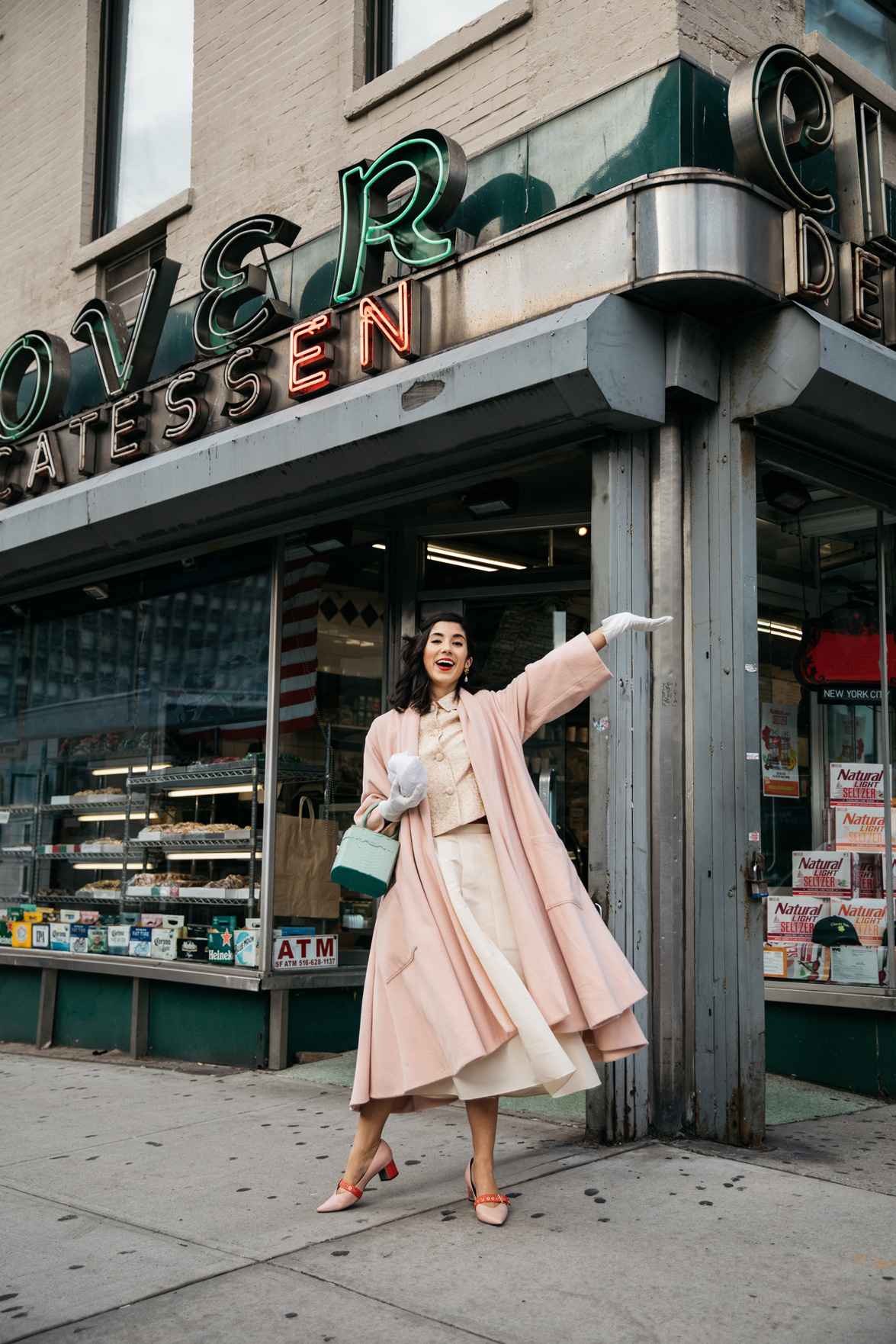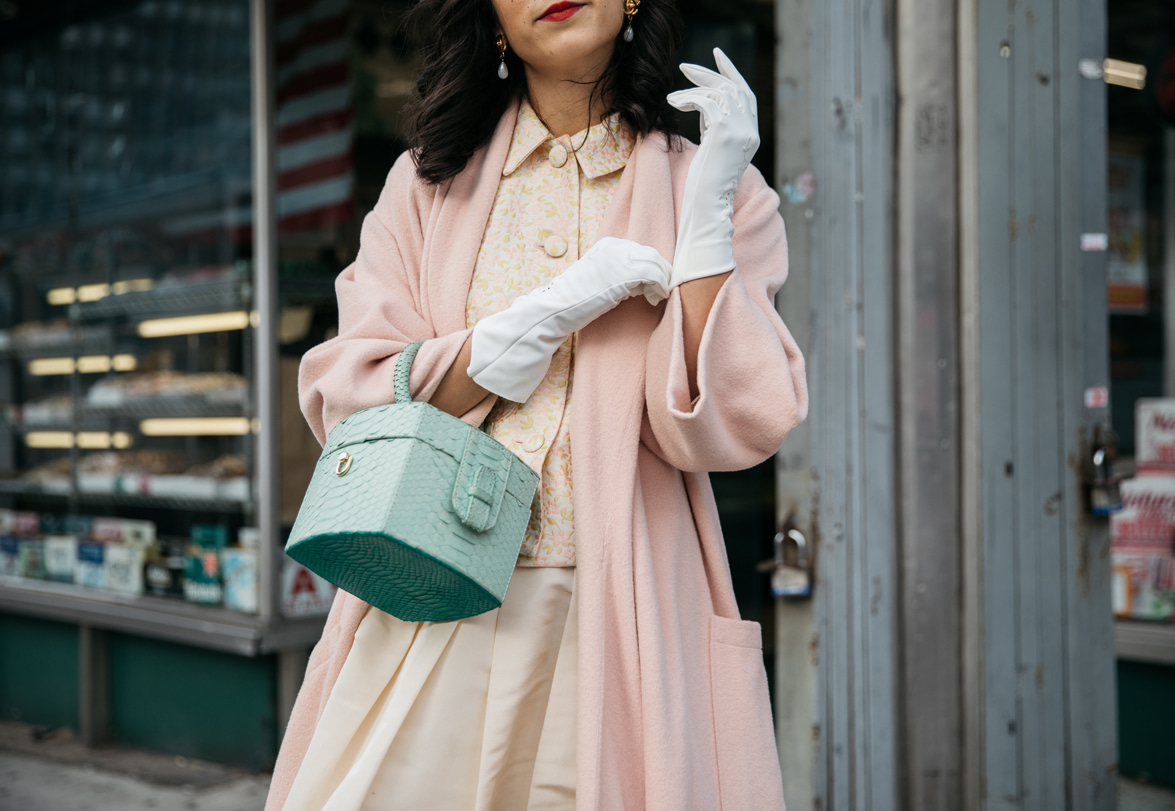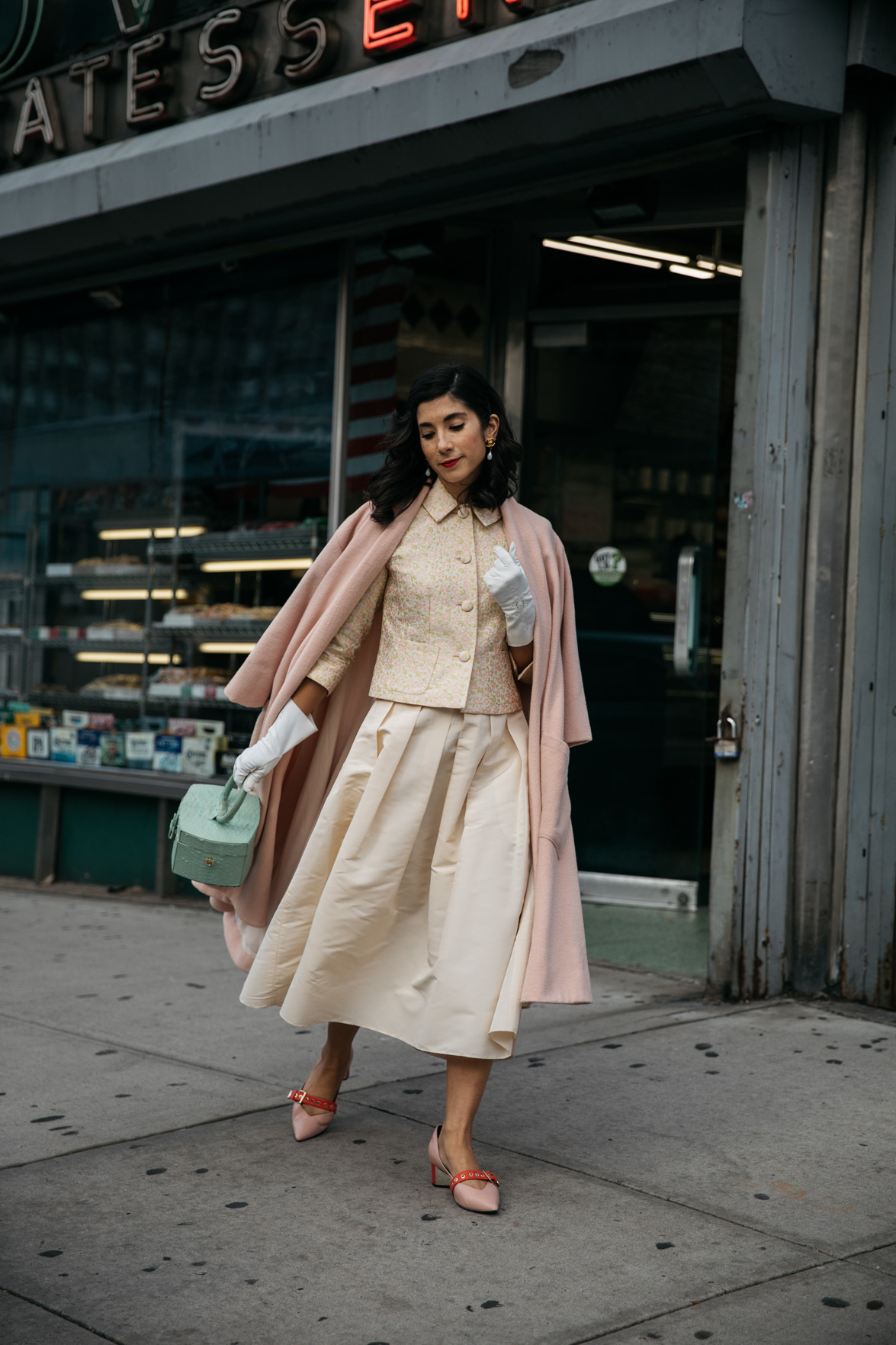 "We got the rabbi!"
When it comes to my favorite Halloween costumes, I selfishly love to pick characters that allow me to shop my own closet and wear something a bit fancier than your usual "kitten." (Definitely not knocking the kitten costume though -- to each their own!) And this year, I couldn't resist the urge to indulge my inner Midge Maisel of my favorite comedy show, The Marvelous Mrs. Maisel.
I've perhaps admitted this before, but I'm a huge fan of the show -- and often while watching, my boyfriend will remark on most of her outfits saying, "I could see you wearing something like that." More often than not, before he can finish that sentence, I've already pulled a similar dress or coat from my closet, well on my way in putting together a Midge-approved outfit.
Even if you're not a huge vintage aficionado like I am, this is a pretty easy costume to put together with items in your own closet and a few relatively cheap finds at a vintage store. Here's your Midge cheat sheet (which coincidentally works for most classic 50s/60s dames -- Jackie O, Audrey Hepburn and Elizabeth Taylor to name a few):
1. Swing coat: What I love about Midge, and perhaps the 5os in general, was how much her outerwear is part of the outfit, usually coordinating in a perfectly complimentary color to her dress. The trick here is to look for the right amount of swing in a coat, which may take a bit of digging at a vintage/thrift store to find if you don't already own one. You'll want the length to hit like a true midi -- not too long, not too short -- so we can show off just the right amount of dress underneath. If you're shopping for a new coat, here are a few adorable options here, here and here.
2. Gloves + tiny day bag + low block heels: As with any outfit, the accessories bring everything together. Of course, there's no need to fret if you don't happen to own any of these items -- a quick trip to a vintage/thrift store should have you sorted in no time. Midge usually coordinated the color of her gloves to her outfit, but if you don't have time to dye them, black or white works perfectly fine too. When it comes to bags, look for the dainty ladylike variety, which just so happens to be on trend at the moment, so I wouldn't be surprised if you already have a few bags that might fit the bill. And lastly, shoes! Stick to kitten or court heels -- no stilettos needed here.
3. A pillbox hat: Another easy find at a vintage store and depending on where you go, they don't cost much either! Pillbox hats are usually the easiest to pull off, but feel free to get adventurous here. Midge wears all kinds of hats, see exhibit A, B and C for proof.
4. A flared midi dress/skirt: It's no secret -- Midge loves her midi dresses and, as you all know, I do too! If you don't have too many midi length items, I wouldn't sweat the details here -- you're mainly looking for the right silhouette. Flared here is key, the fuller the better. A solid color would work best, in Midge's go-to color palette of berry pinks, kelly greens and dusty blues. If you happen to have a midi skirt, try pairing it with a cardigan buttoned all the way up and tucked into the skirt.
5. Red lips + doll-like lashes + a curled coif: Ah, the finishing touches. Think red lips. Think full, fluffy eyelashes. Think her signature curled hairdo, which if you're like me and totally inept when it comes to styling your hair, watch this tutorial.
And there you have it! An easy and hopefully relatively inexpensive Midge Maisel-inspired outfit is right at your fingertips! But of course, don't forget the most important tip: Tits up!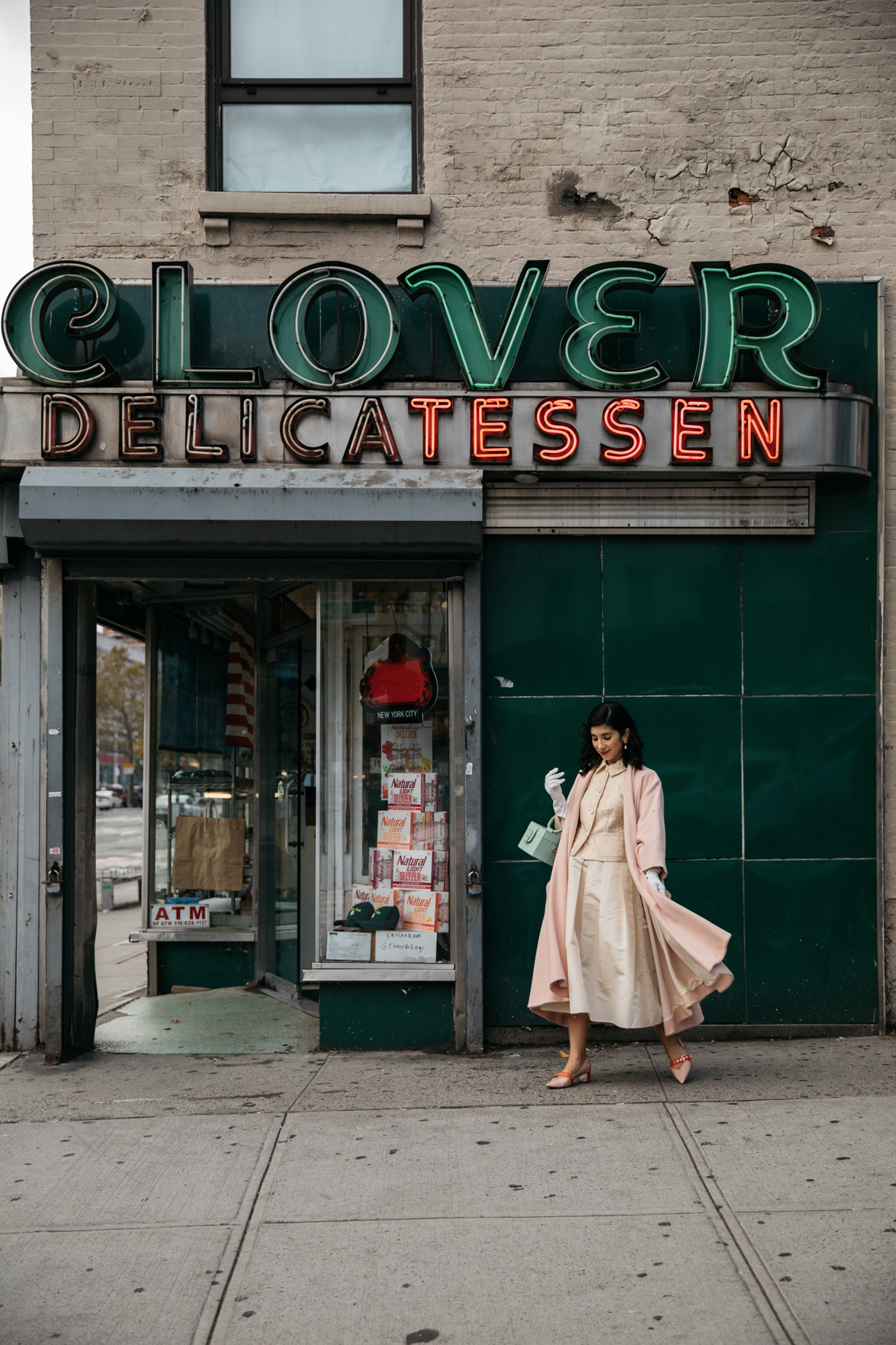 OUTFIT DETAILS: Sarah Seven coat (gifted, but Boden has some great vintage inspired options right now like this one and this one) // Brooks Brothers cropped jacket (gifted, on sale now!) // Tibi skirt (old, similar style here) // Rebel court heels (sold out, similar style here) // Ximena Kavalekas (gifted) // Vintage gloves (similar style here) // Vintage Chanel earrings