4
minute read

OUTFIT DETAILS: Mary Katrantzou dress (from last year, similar style here) // Sarah Flint heels (gifted)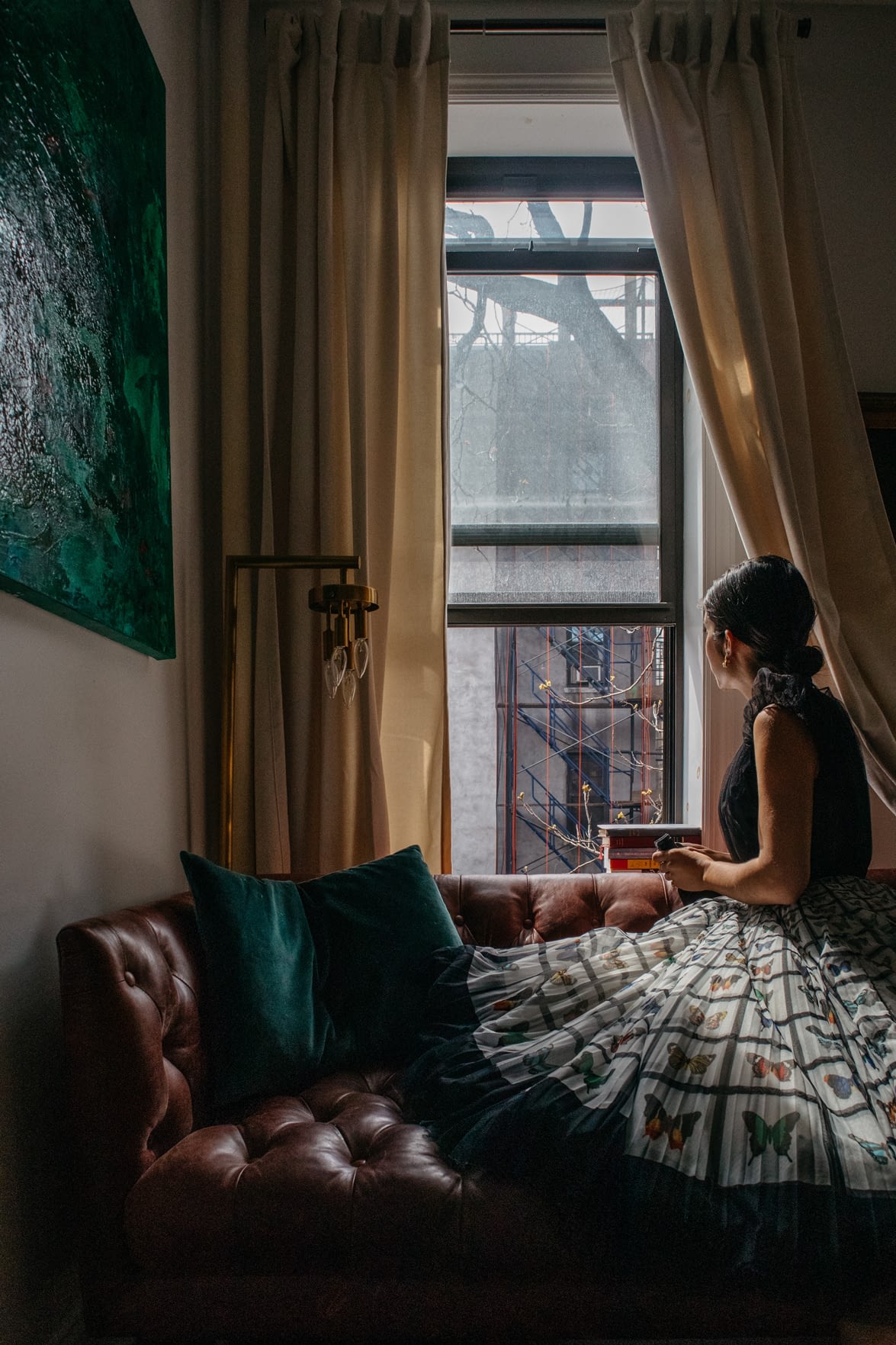 This week, I watched a lot of old movies. 
To be clear, I put them on while I'm editing photos. Most of them, I've watched so many times (Sabrina, Funny Face, 7 Year Itch) that I merely enjoy them as background noise now -- like a familiar cast of friends stopping by for a lunch break. One classic favorite I revisited was Rear Window -- my go-t0 Hitchcock recommendation for anyone uninitiated with the "Master of Suspense." I originally shared the following over in a caption on Instagram, but I wanted to share here as well, because it sums up perfectly why I felt compelled to explore this movie as a self portrait -- the image you see above here -- given the times we find ourselves in.
"As a creature of habit, I watch a lot of my favorite movies over and over again. There's something about the familiarity of the plot line and the predictability of the characters that makes me smile. Just this past week, I rewatched a Hitchcock classic — Rear Window — starring James Stewart and the one and only Grace Kelly. For the uninitiated, I always feel like this particular movie is a great Hitchcock gateway film — a suspenseful story of a famed photographer, now apartment-ridden due to a broken leg. Out of boredom, he starts to follow the lives of his neighbors, whose windows are in direct eyeshot of his. Needless to say, he witnesses something he shouldn't have, thus beginning the start of this voyeuristic thriller.
On a much less nefarious note, I, for one, know I've always been curious about the many lives I cross paths with here in New York — on the subway, on the street, in line for coffee — each person more complicated and intricate than the last, and in an instant, they're gone with the next departing A train. Sometimes I walk down certain streets at dusk here in the West Village, half peering out of the corner of my eye into the warm glow of the apartment windows above, stealing glances along the way. A peek of a book shelf here. A piano there. A long hug in the doorway down the street. The fleeting snapshots of other peoples lives. Now apartment-ridden ourselves, I imagine a lot of us might be feeling what James' and Grace's characters were experiencing — that being an innocent curiosity for the other lives around them, longing to connect and understand them in some small way."
ONE // Annie Leibovitz's Masterclass
One of my big goals for this slower time at home is to learn and practice my photography, which is why I'm so excited to dive into this Masterclass this weekend. Are there any Masterclasses you're signing up for?
TWO // Vogue's Fiction Fridays
Loving this new series from Vogue, where they share excerpts from new book releases. I much prefer to read a poignant passage from a book than reading a review of it to see if I'll actually enjoy reading it.
THREE // Friends reunion charity fundraiser 
Calling all my Friends fans (which let's be honest, that's 99% of the population), there are 6 tickets up for grabs to the Friends reunion filming (date TBD at the moment due to the pandemic) and all entrants are encouraged to donate to the lineup for charities participating -- No Kid Hungry, Meals on Wheels, Feeding America and WC Kitchen.
FOUR // Dana's honest thoughts on WFH
I really appreciated Dana's honesty in this post about how she's adjusting to her new WFH schedule -- I think there's a lot of strength in being able to talk about our struggles right now throughout this time and she did so beautifully.
FIVE // CNN's Townhall with Sesame Street characters
I've been thinking about a lot of my friends and readers who are parents right now, especially to young children, and I can only imagine what it must take to explain the unexplainable side effects of a pandemic to kids. I noticed CNN will be hosting this town hall special this weekend -- with Big Bird as the moderator, and notable guests like Elmo and Oscar the Grouch stepping in to help explain to kids what exactly is going on -- and I wanted to share in case it's helpful to any of you and your families!
SIX // New York or Nowhere postcards
My friend Liz of @newyorkcity in partnership with New York or Nowhere has launched a capsule collection of New York city themed postcards, aptly titled Penn Pals (named after Penn Station). All come pre-stamped -- and most of the proceeds will go back toward Food Bank for NYC. Bravo guys!
SEVEN // HBO's new Natalie Wood documentary
As a huge West Side Story fan, and of course a Natalie Wood fan, I'm really looking forward to this new documentary about her life, narrated by her daughter.
EIGHT // Three things making me smile
Tom Hanks sends a typewriter to his new 8-year old pen pal. //  Rooftop culture in NYC during quarantine. // Hitha's daily gratitudes are a refreshing reminder we all should take stock of the things we're grateful for -- big and small.