3
minute read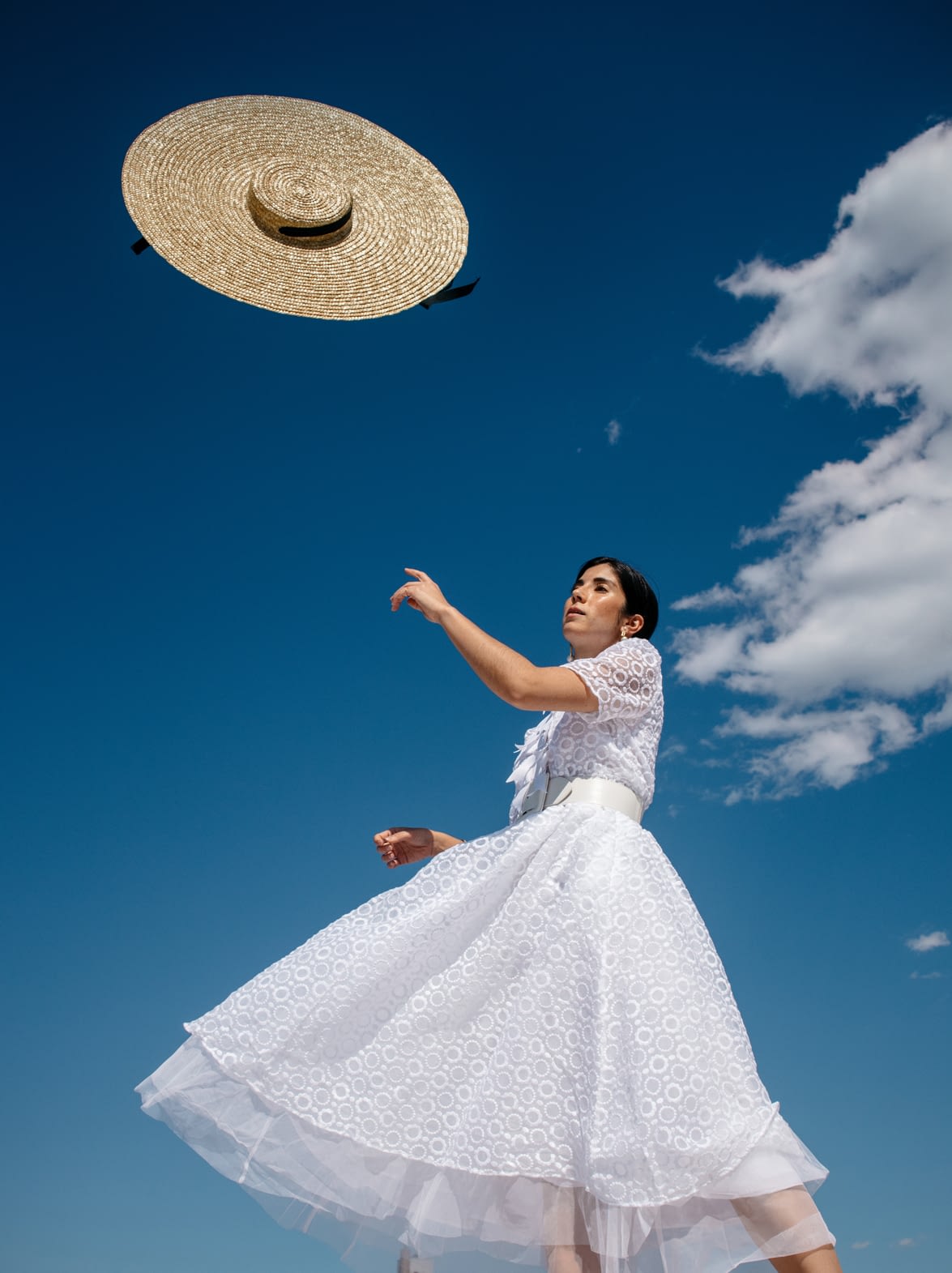 OUTFIT DETAILS: Atlantic Pacific X Halogen dress (30% off!) // Atlantic Pacific X Halogen belt (30% off!) // Jacquemus hat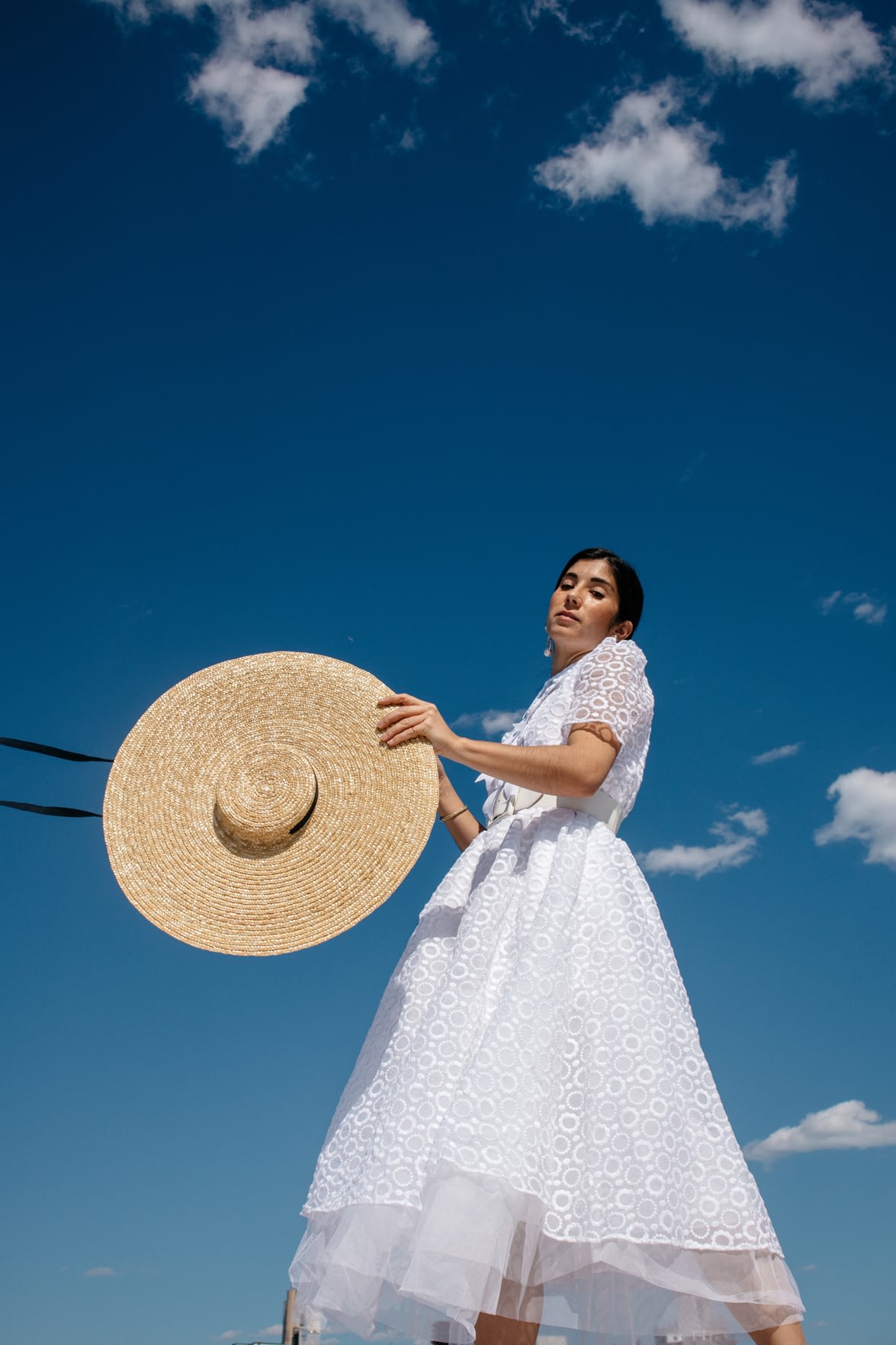 The other day, I watched clouds go by.
I honestly cannot remember the last time I allowed myself to do that. As a child, I might have sprawled myself out in our backyard, grass tickling my bare arms and legs, to look up at the big, wide blue above me, naming all the animals, real and imaginary, that appeared. Yet, as a New Yorker with no backyard, the hot, uneven tar of our rooftop was my blanket — the blue above, peppered with the occasional helicopter passing.
The clouds moved quickly, as if they all had an urgent invitation to be somewhere else. It took me a minute to ease my imagination into it but once I did, they came flooding in. I saw ships and planes, one lonely crocodile (who seemed rather lost in New York) a centaur, and something that resembled a young Jerry Seinfeld in the infamous puffy pirate shirt (I blame his comedy sketch we watched last night on Netflix). It made me smile. What a simple activity — that requires nothing but time and a roaming imagination, two things we all likely have in spades at the moment. Admittedly, there are many things I can't wait to resume once life returns to some semblance of normal — the dinner dates, the Broadway shows, the rooftop happy hours — but there's also a good amount of things I hope I don't lose from this isolation period. Chief among them? A rekindled appreciation for squinting at clouds and thinking out loud ... "Now what are you supposed to be?"
ONE // The class of 2020's guide to all the virtual celebrity commencement speeches
The gang's all here! Barack Obama, Oprah, LeBron, Malala. I'm certainly not graduating right now, but I'm more than tempted to join in for one of the three (yes, three!) Obama speeches happening soon.
TWO // Vanity Fair interview with New York Governor Andrew Cuomo
A fascinating read about how leadership is tested, especially under unprecedented (are we sick of that word yet?) times.
THREE // Meghan's virtual visit to Paris guide
I think this Sunday, I'll take a little stroll through Paris, thanks to Meghan's fabulous guide of virtual tours and treats/meals you could make yourself at home.
FOUR // 5 ways to get in touch with your inner child from Kelly
Loved this honest post from Kelly -- and an important reminder for us all. Let's try to speak to that inner child of ours, especially right now when we have the time to do so.
FIVE // What a city of 8 million people during a pandemic looks like from above
Warning: this video will make you cry. It's quite haunting.
SIX // Here's what to do if you've been laid off or furloughed
My good friend Shelcy wrote this for Forbes earlier last month and it's a fabulous round up of tips and advice on how to navigate this time if you've been recently laid off or furloughed because of COVID-19.
SEVEN // Princess Ann opens up about her lifetime as a royal
I have to say, Princess Ann is quickly becoming one of my latest royal obsessions. I love her sharp wit.
EIGHT // Three things making me smile...
Your quarantine etiquette questions, answered. // Pretty much anything on Heather McMahman's Instagram channel was gold before all of this, but she's gone platinum now. // 6 quarantine trends ranked from "no, never again" to "life changing."
Photos by me