3
minute read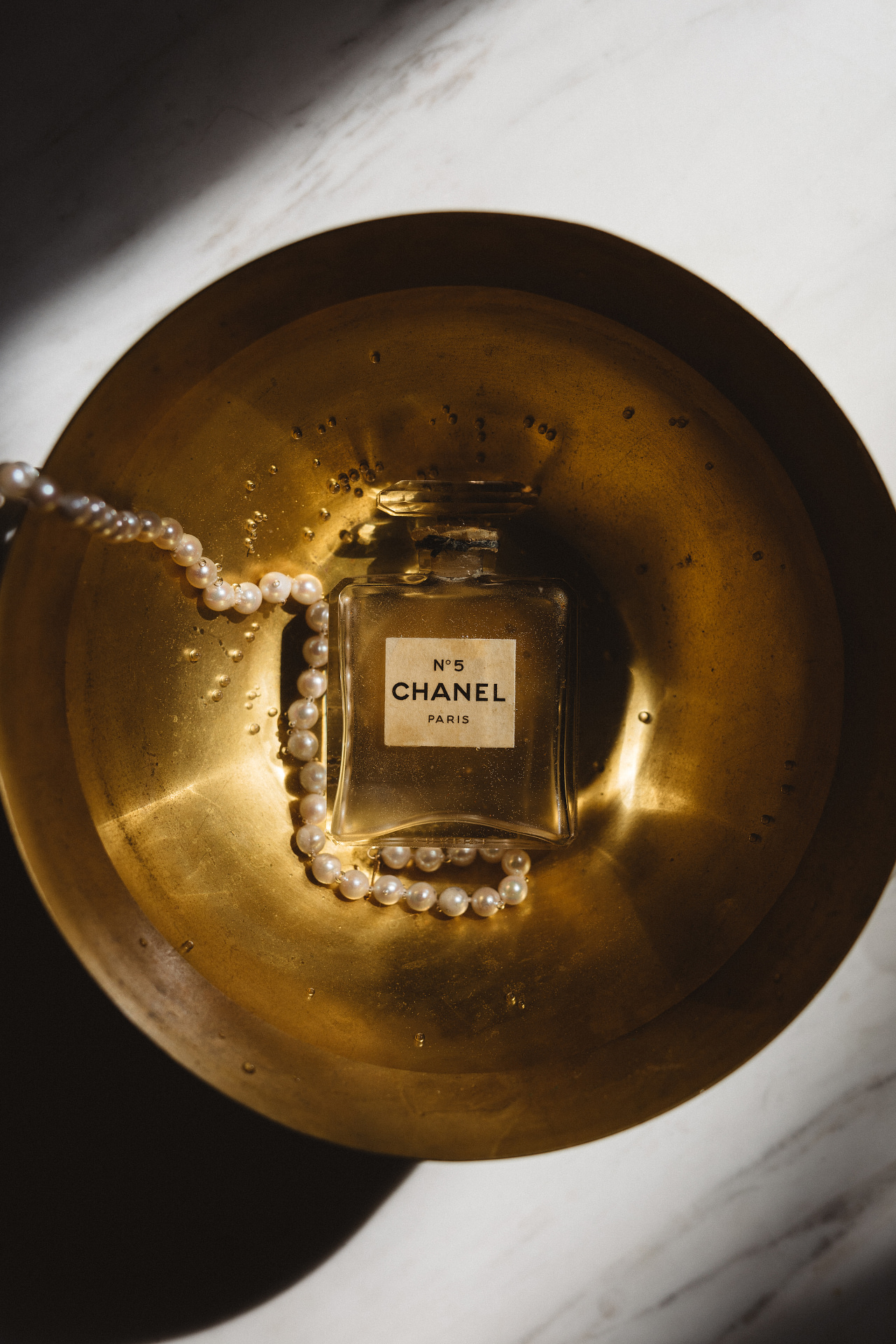 Sometimes, the smallest details distract me in the biggest way. Yesterday for instance, the afternoon sunshine poured in through our living room windows, creating the most beautiful shadows across our coffee table. I immediately stopped writing the email I was mid-typing and grabbed my camera. Ten minutes later, I was dipping this vintage Chanel bottle into its own mini private pool, pearls and all, thinking almost out loud to myself how divine a bath of Chanel No. 5 would feel.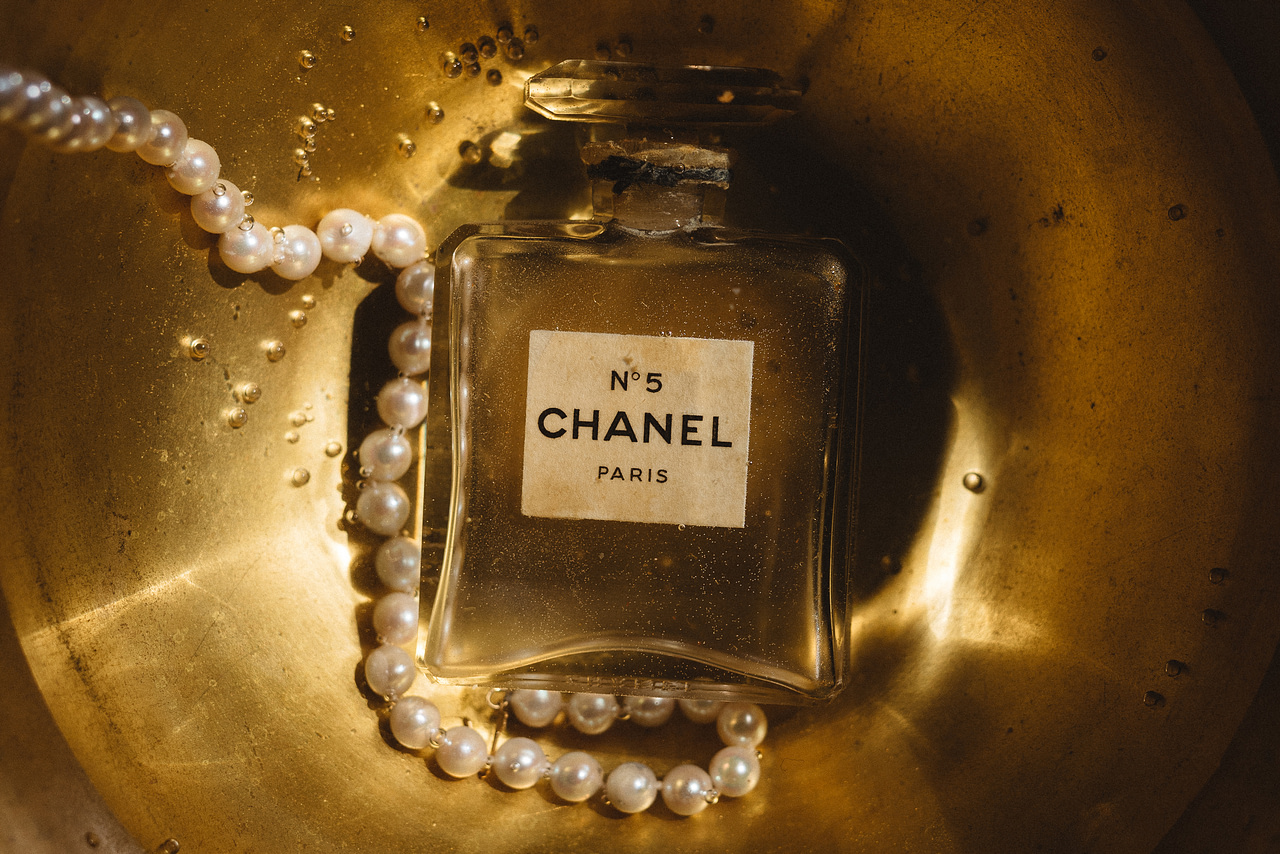 Then, I started to notice all the imperfections on the bottle itself. Little scratches here and there, fading in the ink on the label, small patches of age discoloration — and it made me love it even more. So much charm and character packed into one small bottle that I was just now getting to fully appreciate, magnified underwater.
Where am I going with all this? No where really, other than to remind you to celebrate and honor the small details. No matter how fleeting, whenever and however you can. Even if it's just the afternoon sun, reminding you to look up from your laptop every once and a while. 
As we find ourselves at the one year anniversary of a chapter that has changed all our lives in big and small ways, I hope you can remember to take joy in details — at least for me, they've made all the difference these past 365 days.
ONE // Celebrating female icons with Farfetch
My friends at Farfetch asked me to join a tribute they were putting together for International Women's Day earlier this week and I'm so honored to be featured alongside so many amazing women, whose platforms I truly admire in this space. We were asked to emulate a favorite female icon and I made a younger Krystal proud by selecting Amelia Earhart, an aviation pioneer who I dressed up as when I was younger for a school project. Love when things come full circle like that.
TWO // The empty religions of Instagram
A fascinating op-ed piece on the rise of nonreligious, religious Instagram accounts like Glennon Doyle — begging the question: how did influencers become our moral authorities?
THREE // How the pandemic has changed your taxes
I know this isn't the sexiest thing in our list today but trust me, you should be getting a jump start on your taxes now — there are a lot of changes this year that could cut your bill or even generate extra refunds.
FOUR // Colorisms lessons from the Meghan Markle interview
If you're still thinking about last Sunday's Oprah interview — I'm in the same boat. This essay on colorism is a great, succinct read — here's an excerpt that stood out to me:
"Is "light-skin privilege" a thing? Yes. It is, and I say this as a Black woman with lighter skin. I do not take pleasure in recognizing that I have experienced a certain level of privilege due to my skin tone at some point in my life. But just as heterosexuals must acknowledge their privilege and as Whites must acknowledge theirs, I have to recognize that in the U.S., Black folks who have lighter skin often experience preferential treatment. If this weren't the case, colorism would not exist."
After you read this essay, this collection of reactions from Black women across the US, Ireland and the UK is a very worthwhile read as well.
FIVE // Late-stage pandemic is messing with your brain
We have been doing this so long, we're forgetting how to be normal.
SIX // Only your boss can cure your burnout
People refer to various forms of malaise as "burnout," but it's technically a work problem. And only your employer can solve it.
SEVEN // The Stacey Abrams Effect
Now that the country's most famous political organizer has secured three election victories, what will she do next?
EIGHT // 3 things making me smile
A bronze statue of the late Supreme Court Justice Ruth Bader Ginsburg will be unveiled in its permanent home at City Point in Brooklyn on March 15, 2021—to commemorate Ginsburg's posthumous 88th birthday.
Lady Gaga and Adam Driver tease a first look at their new film House of Gucci and I think we're all officially in love.
A new-to-me loungewear brand that reimagines the long-forgotten elegance of a woman's trousseau and modernizes it for today's wearer? Sign me up! Une Femme New York is positively dreamy
Photography by yours truly