3
minute read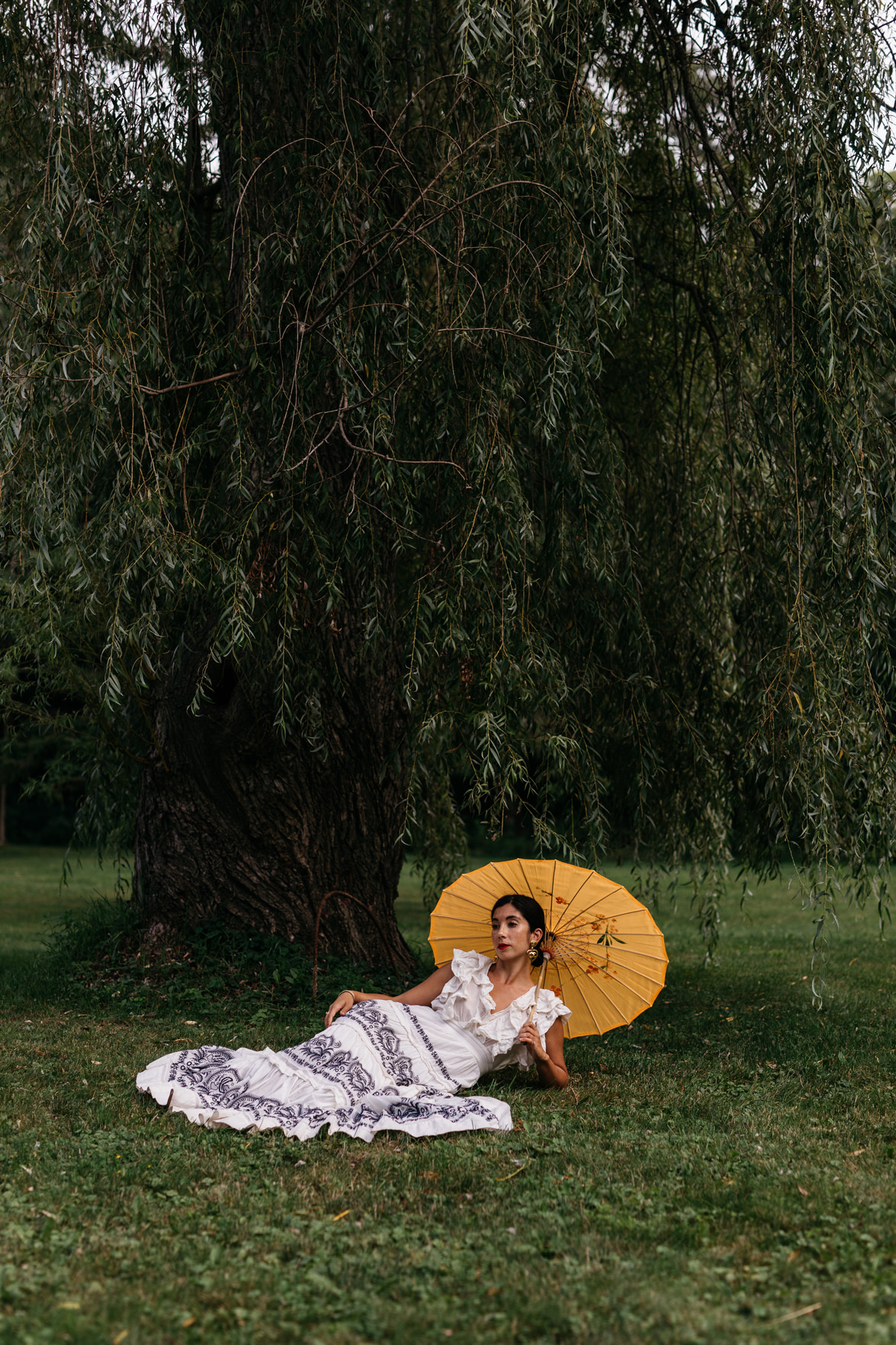 OUTFIT DETAILS: Ulla Johnson dress (rented via Rent the Runway) // Parasol bought in Rome (similar style here)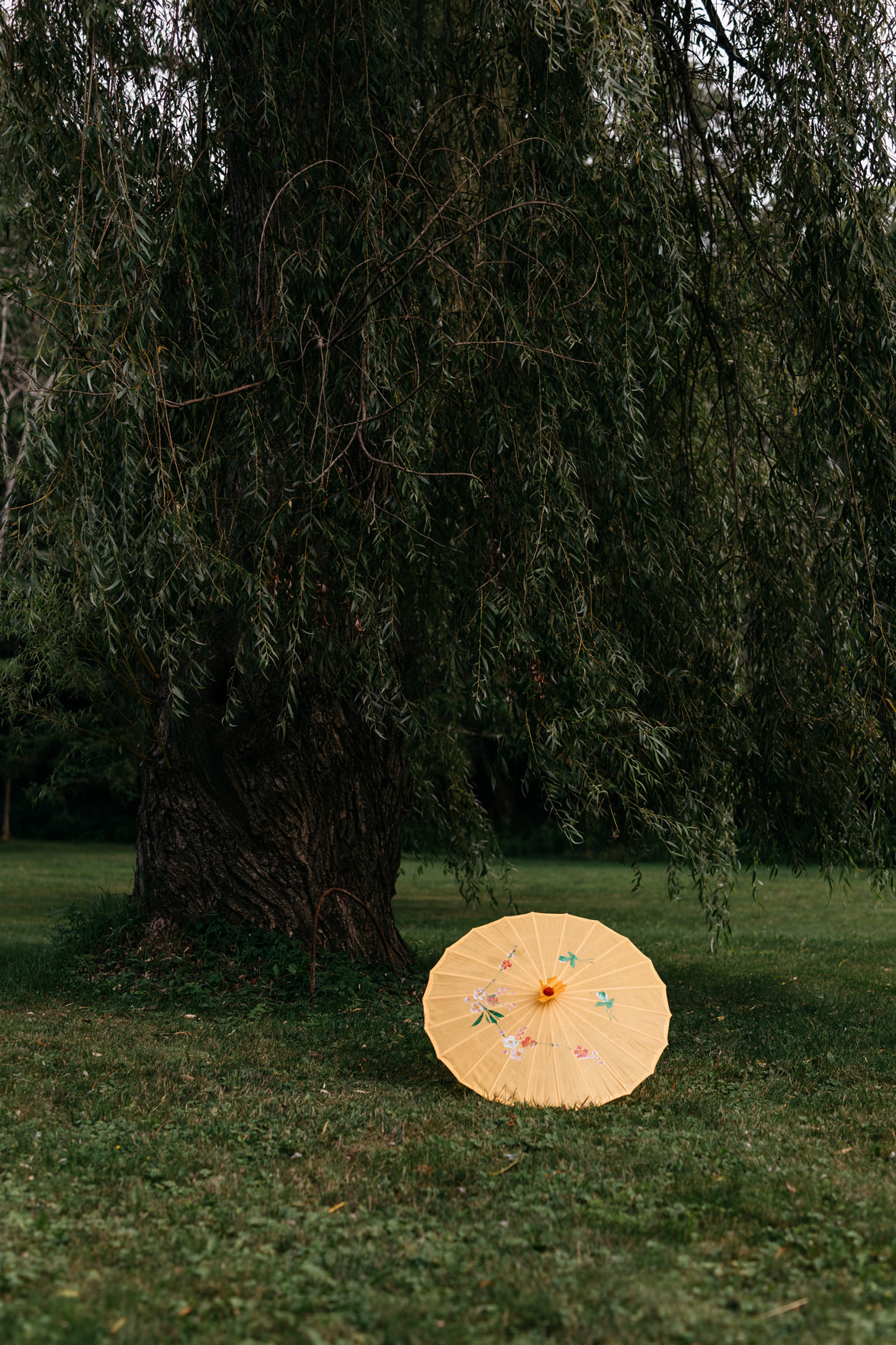 Over the years...
...I've developed somewhat of a road trip tradition of stopping at used book stores in the small towns we pass along the way. And truly, I don't know what I love more — the smell of the old books or the people you meet in the shop itself. Either way, it's always a good excuse to stretch the legs, get a feel for the town and pick up a momento that in some way or another, will be indelibly tied to the memories of the trip.
Generally, I don't have a particular title in mind when I browse through the stacks — it's more a feeling I'm waiting for — a tangible tug toward something. When we stopped by the town of Catskill last weekend, mainly for some ice cream (for us) and water (for Elvis), I spotted the adorable blue and white striped awning of Magpie Bookshop, right down the way. Left to my own devices, I could have easily spent the afternoon there, but immediately was drawn to their collector's edition shelves, where I found a beautiful, first edition printing of Hemingway's Garden of Eden.
We then spent the rest of the late afternoon back at our lodge, reading in a hammock, as the setting sun cast a warm glow through draping willow tree branches, almost like a veil surrounding us. In a way, I can still smell the air of that evening, thick with the scent of smoke from a nearby fire pit, freshly cut grass and the faint aroma of fading ink on paper — that dusty, beautiful attic smell of a dear, dear old book. And that's exactly why I love this little tradition of mine — because you see, years from now, when I'm browsing my bookshelves for something to reread, I can only hope another random summer evening will lead me to flip through the pages of Hemingway's Garden of Eden — and I'll feel the sway of that hammock all over again, with my love by my side.
ONE // Let's stop saying New York is over
Anyone else remember this SATC episode?
TWO // Your guide to NYC museums reopening 
BRB marking my calendar -- the Met reopens on August 29th!
THREE // Stephanie's favorite coffee table books
You all know I love a good coffee table book (shared my favorites here) -- so I always appreciate seeing what's on rotation in other folks' homes.
FOUR // A non-whitewashed history of the 19th Amendment 
As we celebrate the 100th anniversary of the passing of the 19th Amendment this week, this is an extremely timely article to read on the FULL history of the women's suffrage movement.
FIVE // Monroe Steele's Bustle feature
Huge congrats to Monroe on her Bustle feature on fall trends!
SIX // 10 movies and documentaries to reignite your activism 
We have Stanley Nelson's The Black Panthers: Vanguard of the Revolution on our queue this weekend.
SEVEN // What if fertility didn't have a shelf life?
Women are among the few species that actually lose the ability to reproduce at mid-life (menopause) but what if we did away with menopause? These researchers are delving into just that.
EIGHT // 3 things making me smile
The season 4 trailer for The Crown has dropped -- and I can't stop squealing with excitement! // We recently started watching Lovecraft Country and I'm absolutely hooked. Are you guys watching it? // Loved this Vogue interview with AOC on self-love, fighting the power and her signature red lip.
Photos by me