5
minute read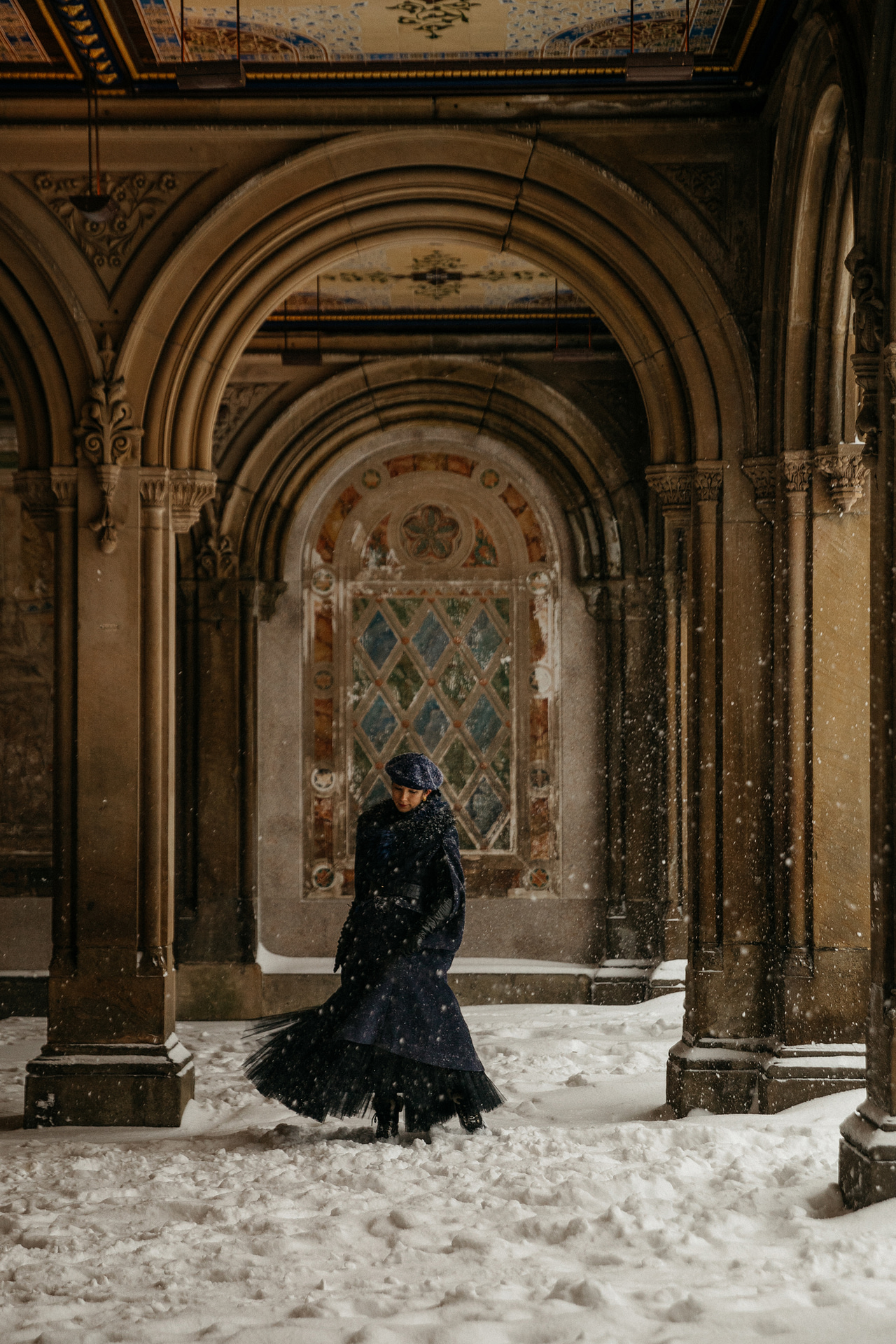 OUTFIT DETAILS: Cinq a Sept cape (gifted) // The Kemist skirt // Boden belt (gifted, similar style here) // Brothers & Sisters beret (gifted) // BCBG gloves (similar style here) // goop X Sperry boots (gifted) // Vintage Chanel earrings (love this pair here!)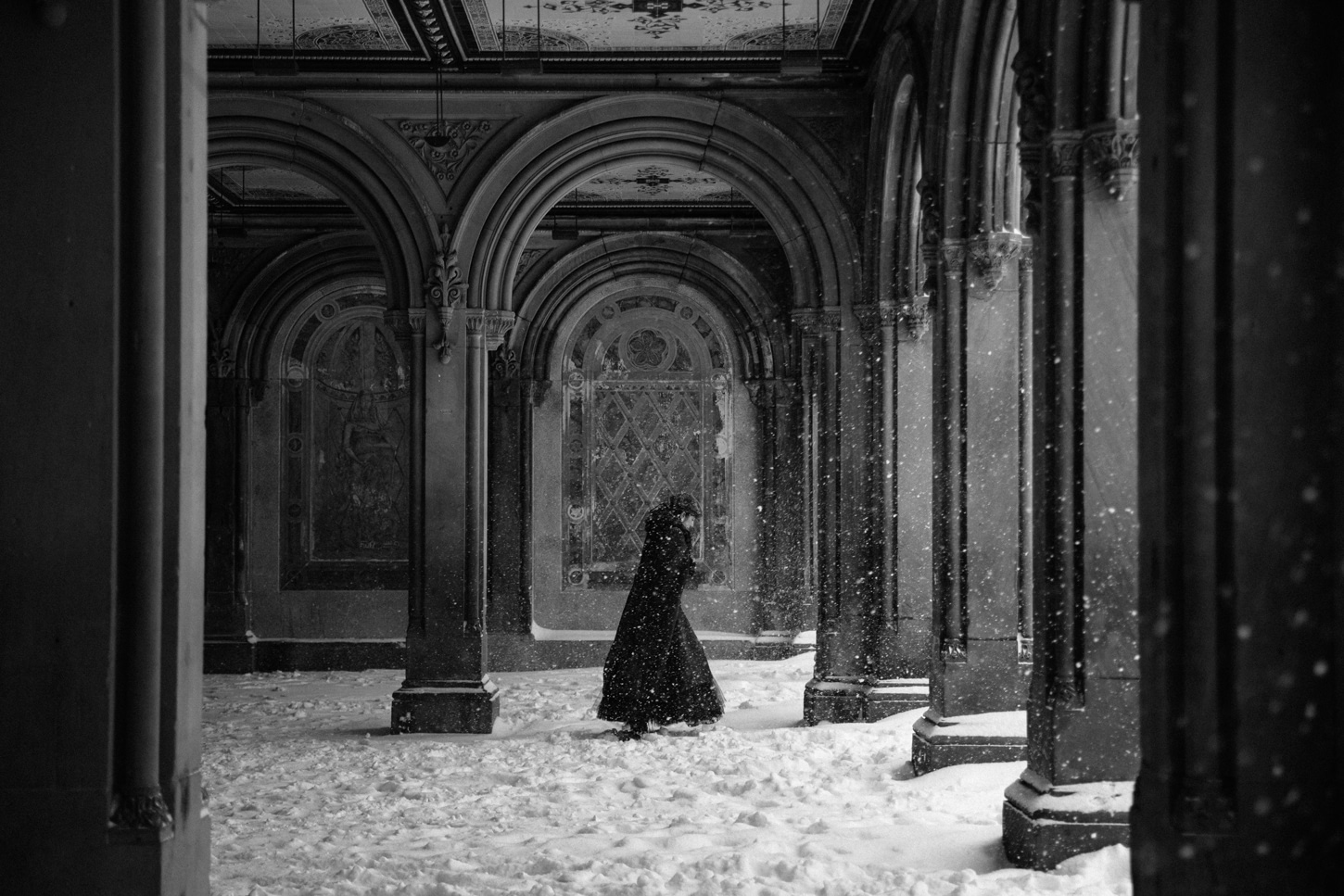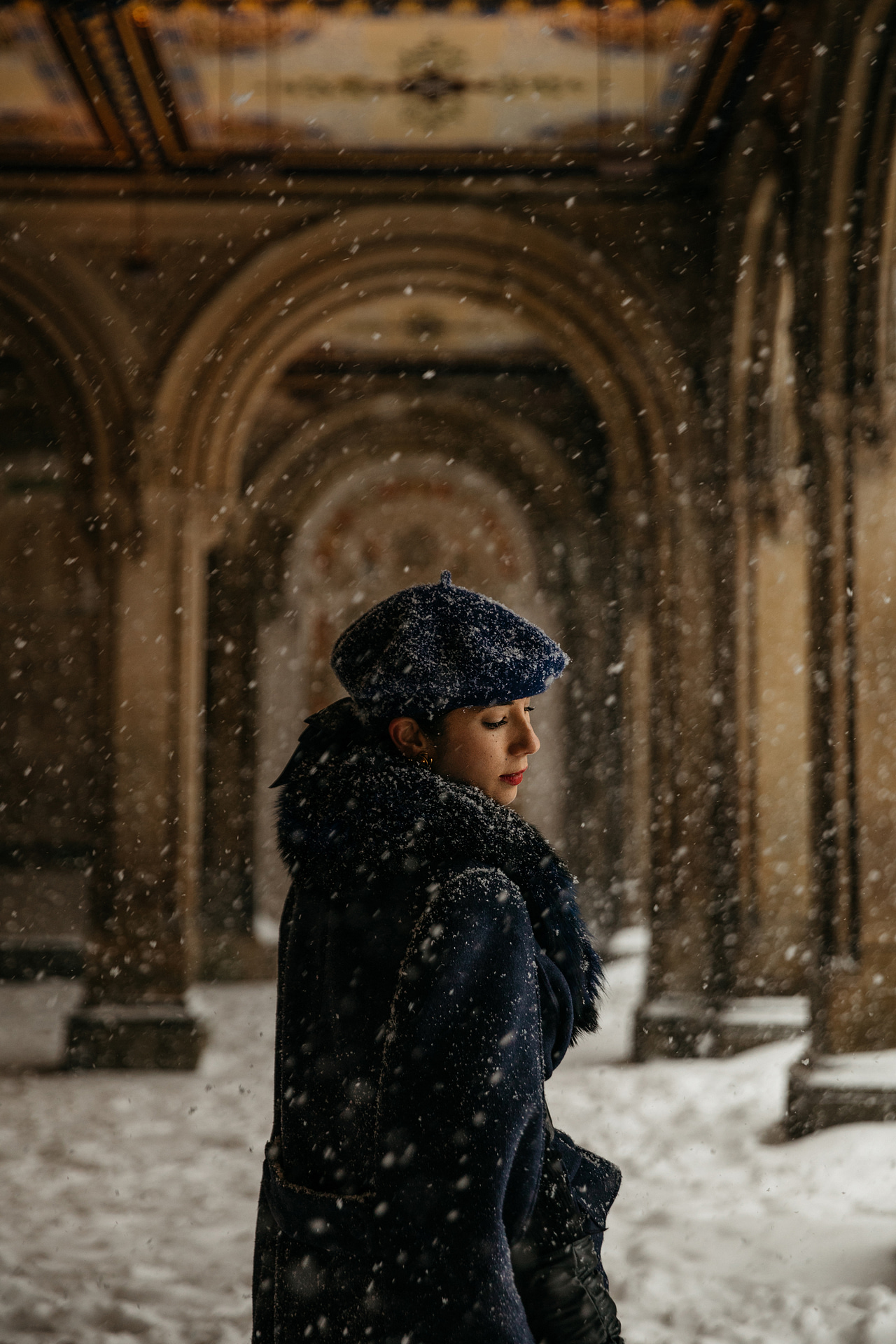 It doesn't matter how many times I walk around Central Park to explore, Bethesda Terrace always pulls at me somehow.
It draws me in. Especially on snow days — when the park is lulled to a quiet standstill, nestled underneath a woolen blanket of snow. If the sky is clouded just enough, it doesn't take much for your imagination to transport you far, far away from the thick of the city to a lonely, remote forest. Narnia on the other side of the C train doors. And there the terrace sits — almost like a relic of a civilization long since gone. The beauty and grandeur of a bygone era.
Frederick Law Olmsted and Calvert Vaux, Central Park's landscape architects, dubbed Bethesda Terrace "the heart of the park" and even "the center of the center," intending for the terrace itself to act as an open air reception hall for people to gather, to see and be seen, with nature as the driving force. "Nature first, second, and third — architecture after a while."
And on days like today, when the world's spin seems to slow just enough for us to see our breath suspended in the cold morning air, I can see exactly what they hoped for. The center of the center, the heart of the park proudly beating on as she always does, but for a brief shining moment, she seems to be beating just for me.
ONE // I'm a writer on Emily in Paris. I May Destroy You deserved a Golden Globe nomination.
Like many of you, I binge watched Emily in Paris in a single sitting. It was fluff. It was a mental escape. It was Paris porn for many of us missing the City of Light and traveling in general. I didn't find anything about it particularly moving or insightful, in fact, it was a rather surface level attempt at showing the life of an influencer butchering French along the way, but my ultimate point is, once I finished it, I didn't think about it again. The show I May Destroy You, on the other hand, was a heavy, achingly nuanced look at the aftermath of sexual trauma. Beautifully written and acted, I had to take it slow with that show. I wanted to understand the storytelling. Because it was that good. And unlike Emily, it stays with you. So to see Michaela Coel completely snubbed of a Golden Globe nomination felt, well, like a joke. A joke we've heard before perhaps --  Living Single vs. Friends, anyone?
TWO // AOC'S Live video recapping January 6
If you haven't already watched clips of AOC's Live video, this article does a great job at recapping the pivotal highlights. I've long admired AOC's candor and her ability to drop the veil of "politics as usual" and just be human. This video is a powerful example of that.
THREE // Ghosted by Allies: Why BIPOC people still can't trust white people with social justice
Something to think about -- a temperature check is sometimes necessary to  make sure we feel the same momentum and earnestness we did from the summer. Otherwise, what was it all for? And how can we actually assure BIPOC people they can trust us to help?
FOUR // They told me if I don't come in, they won't pay me
Often unseen, underpaid, and undervalued, domestic workers — who are usually women of color — rely on ethical bosses and the vestiges of the American welfare state to insulate them from utter catastrophe. Nearly a year into the pandemic, that insulation is wearing thin.
FIVE // Body positivity isn't happening for me. I'm aiming for body neutrality instead.
Honestly, I relate to this writer a lot. I think there's something freeing about not needing to have an opinion on my body and my looks every minute of every day. It de-weaponizes self-image as something to tear and bring women down.
SIX // Cottagecore was just the beginning 
Aesthetics Wiki is the internet's one-stop shop for figuring out whether your vibe is more "cactuscore" or "synthwave" or "pastel goth."
SEVEN // 28 ways to honor and celebrate Black History Month
This month, in addition to donating to various organizations, I'm watching a documentary every day Monday through Friday about a different historical Black figure (past and present), focusing on Black joy as much as possible. While the trauma is necessary to learn and relearn what history books omitted, this month I want to lift up joy wherever possible.
EIGHT // 3 things making me smile
Malcom & Marie is out today! Looking forward to watching tonight. // How to do Nothing -- by Jenny Odell is my latest book order and I'm excited to dig in, especially after some serious burn out lately. Here's a teaser: "Odell sees our attention as the most precious—and overdrawn—resource we have. And we must actively and continuously choose how we use it. We might not spend it on things that capitalism has deemed important … but once we can start paying a new kind of attention, she writes, we can undertake bolder forms of political action, reimagine humankind's role in the environment, and arrive at more meaningful understandings of happiness and progress." // 40 rare photos of Grace Kelly -- swoon!