3
minute read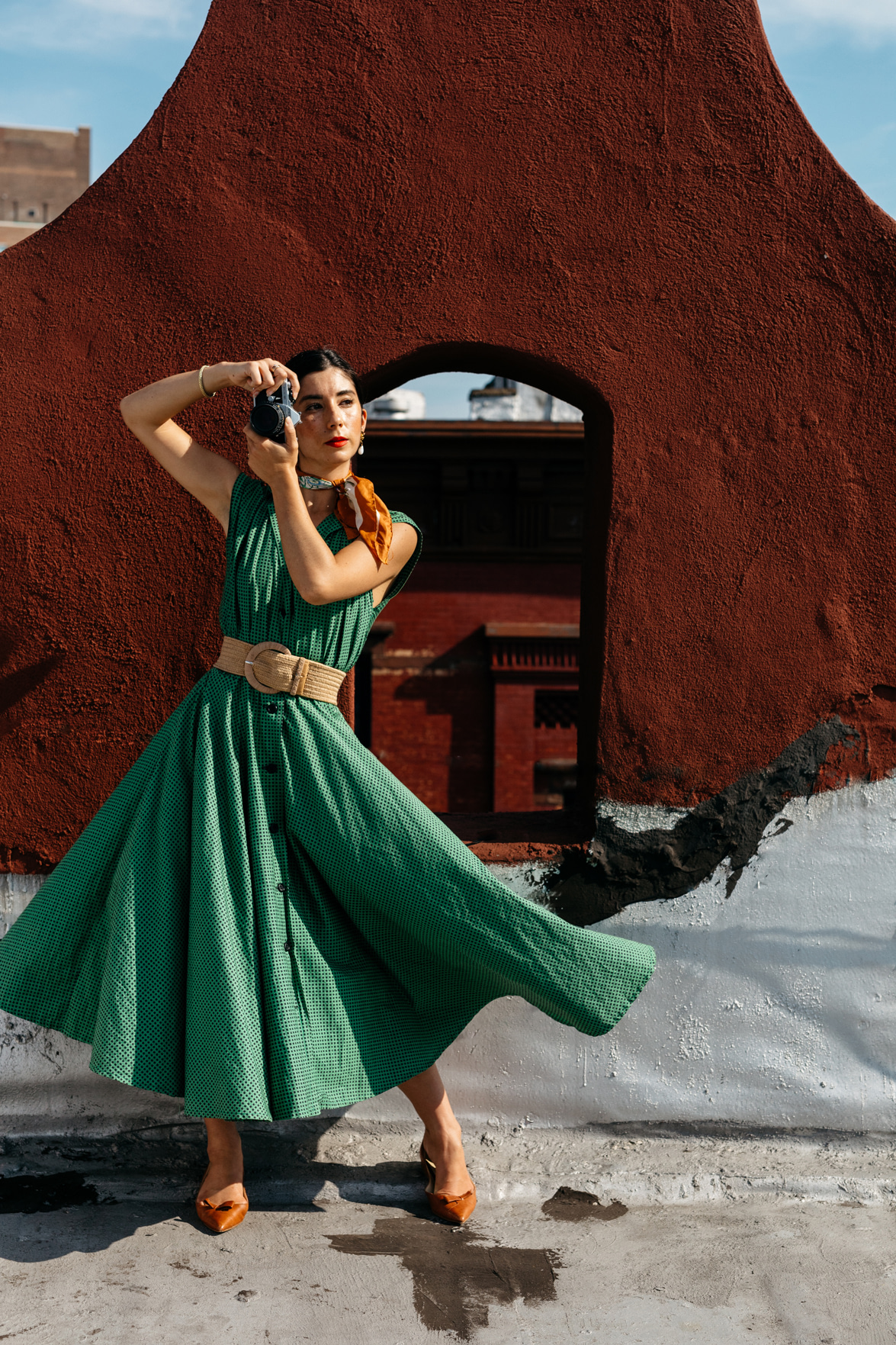 OUTFIT DETAILS: Vintage France Andrevie dress from Madame Matovu // Sarah Flint flats // Vintage silk scarf from Lake Como (similar style here) // Atlantic-Pacific X Halogen belt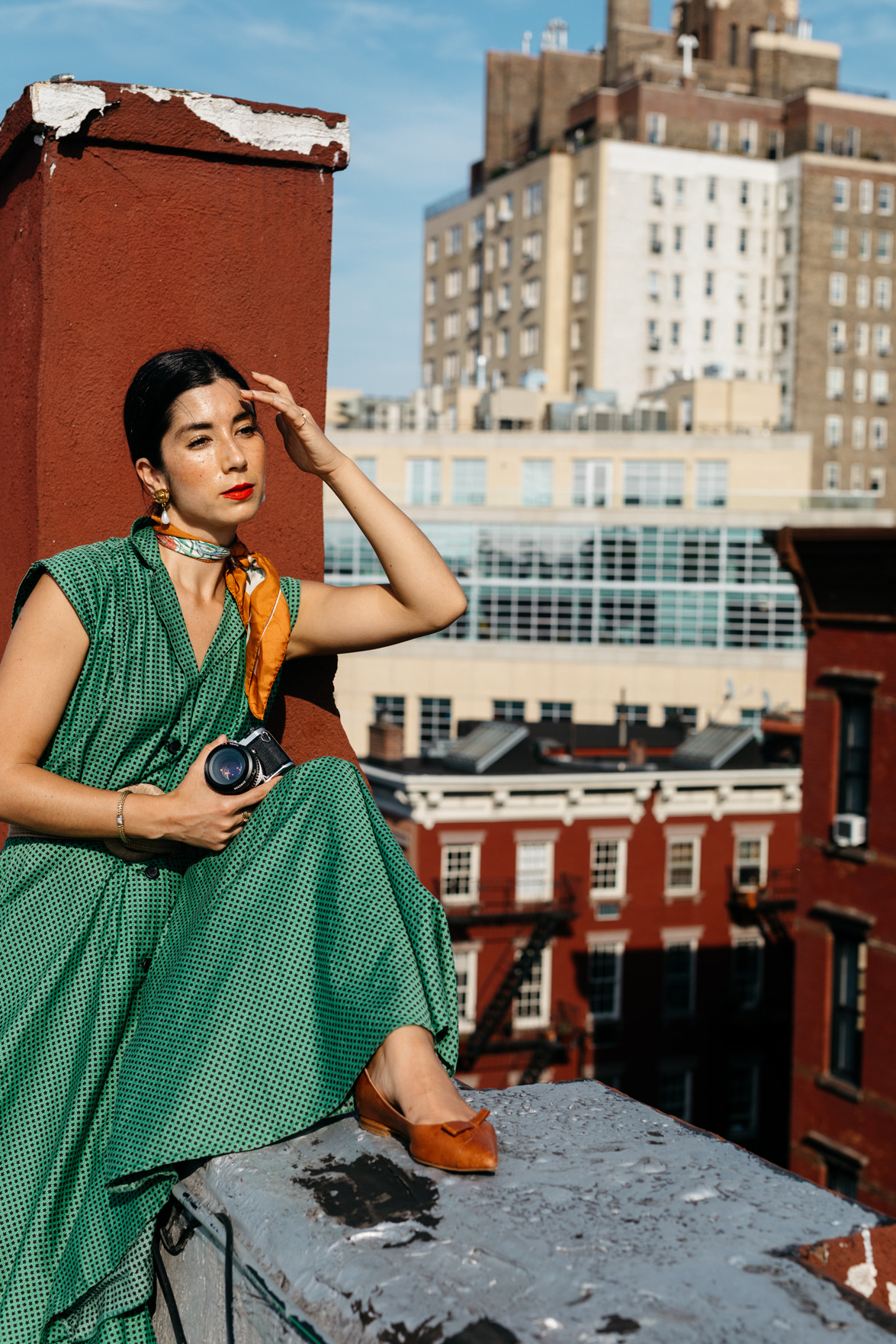 "Oh wait, I have the perfect dress for you in my back room! Don't move!"
I glanced up from an array of 1950s earrings and brooches, meticulously placed across mirrored vanity trays, between vintage Chanel perfume bottles and a black and white photo of Josephine Baker. I love when Rosemary, the owner and creative force behind the vintage store Madame Matovu, greets me this way. It usually means I'm in for a true treat.
She disappeared momentarily, behind a 1930s changing screen with silk kimonos and slips dreamily draped across it, her voice sounding almost distant from the other room as I could tell she was rummaging through what I imagine are her "special" items she reserves for just the right customer. Simply put, if she has a piece for you, it's akin to waiting for your fortune to be told — you have to lean in to hear every bit of it. Details and all.
This particular day, Rosemary emerged with the green midi dress you see here in her hands and a playful knowing smile on her face. She could tell I already loved it — the color and silhouette had me at first glance — but she went on to tell me about the designer France Andrevie, once popular among the avant-garde fashion set of the 70s and 80s. And this is what makes Rosemary so special — she's a shop owner, yes — but at her core? She's a storyteller. Every piece in her shop has a story, a history all its own, and much like a museum curator, she's the meticulous caretaker of these stories.
And when she wants to share one of these pieces with you? Well, it's like taking a bit of magic home. To this day, every time I wear this green dress, I think of a languid summer afternoon spent in her shop sipping champagne (that she has on hand for special purchases), happily chatting the day away. A memory that never fails to make me smile.
Quick update: Rosemary might even be re-opening as soon as next week! I'll keep you all updated, but if you happen to be in New York, be sure to stop by and say hello! 240 W. 10th Street in the West Village!
ONE // Vogue Cover Challenge
Thanks to my dear friend Kaysen for introducing me to the following Black photographers, models and creatives, whose work I'd love to see on a Vogue cover soon: Yusuf Sanni, Areola Daniel, Kabutha Kago, Alex Biaya, Wango Alfred, Zarita Zevallos, Peter Braxton, Mr. Story, Abihail Myrie and Jonta'.
TWO // Monroe Steele's favorite black-owned businesses and brands
Be sure to pay special attention to her beauty brands listed here!
I tuned in for a few of these #ShareTheMicNow talks the other day (shout out to GQ Deputy Fashion Director Nikki Ogunnaike and her sister, New York Times journalist Lola Ogunnaike who took over Arianna Huffington's IG!). Did you guys catch any of them? I just loved the concept of this series.
FOUR // We need to rethink our 'pics or it didn't happen' approach to activism
I've been sharing this link with a few close friends lately -- definitely an interesting look at how well-intention activism can quickly turn performative.
FIVE // Samira Nasr, the new Editor in Chief of Harper's Bazaar
Slow. Clap. Some bright news this week.
SIX // Karen's reader submission video all about racism 
I shared this last Saturday on Stories, but damn, this video from Karen is powerful.
Introducing my newest IG obsession -- Paula of Hill House Vintage. The dress twirls! The English countryside house! The antiques! Swoon.
EIGHT // Three things making me smile...
These kids protesting made me smile and tear up a bit. // Color Me Courtney's Rent the Runway collection is now live! // Lizzo calls out body-shamers and it's fucking amazing.
Photos by me