4
minute read
OUTFIT DETAILS: Cinq a Sept dress (borrowed, on sale here) // Roger Vivier heels (gifted) // Vintage Chanel earrings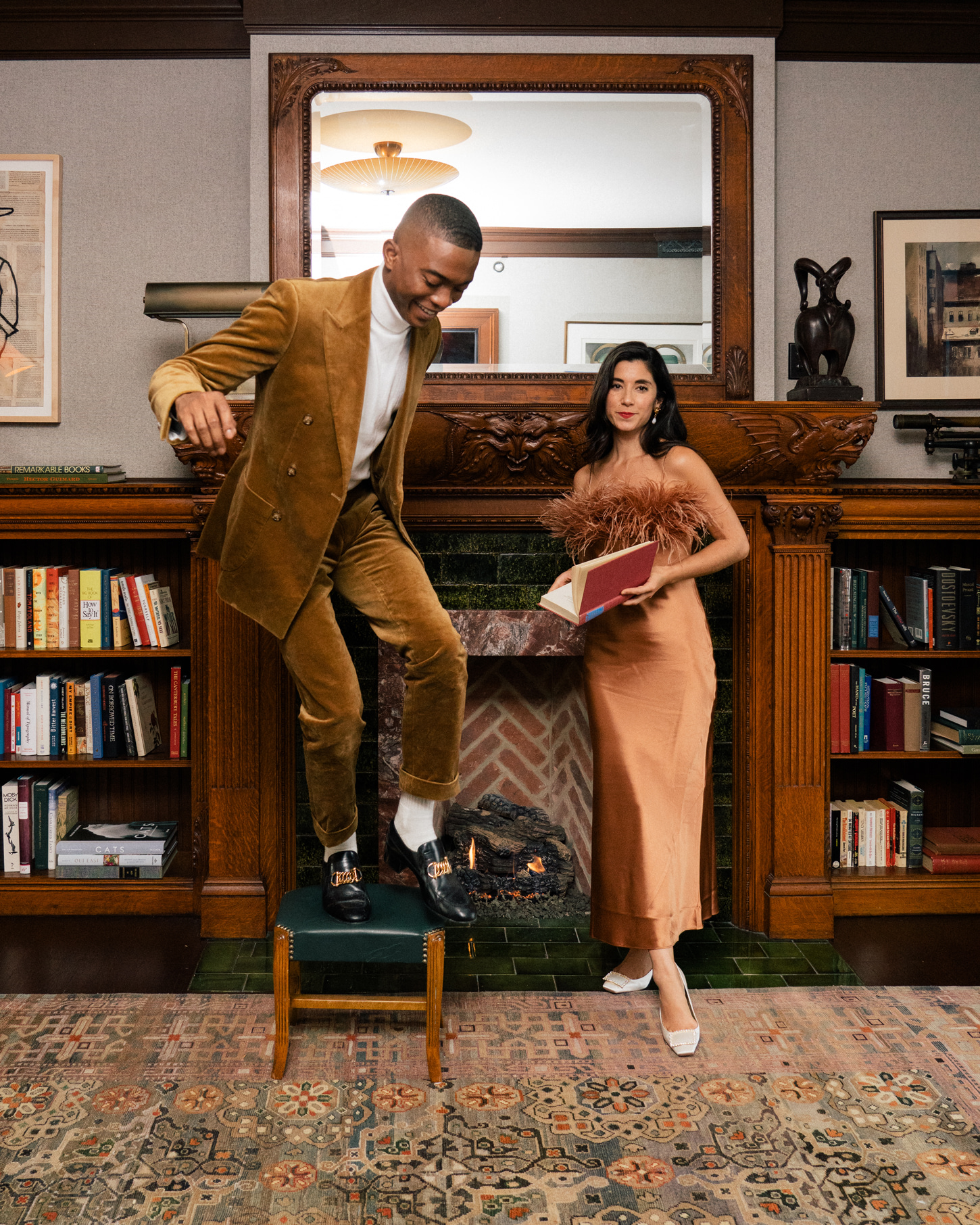 Yesterday morning, while drinking coffee, I opened The New York Times daily briefing email as I do most days.
In this edition, they shared a sampling of reader responses answering what they are most thankful for this year, in honor of today's holiday. The catch? Their response needed to be six words — a writing format popularized by author Larry Smith, known as the six word memoir. As you might guess, the responses are both heartwarming and heartbreaking — a fitting testament to exactly how this year has felt I'm sure for so many of us.
"The crinkling eye above a mask."
"The women who came before me."
"Paris Climate Agreement returns in January."
"Toddler sees Audrey Hepburn, says 'Mama!'"
"Healthcare workers. Healthcare workers. Healthcare workers."
"I held my dying husband's hand."
"Toscanini's recording of Beethoven's Ninth Symphony."
"Will you marry me, Taylor Hollenkamp?"
I've thought about writing mine all morning since reading the list, but I think one reader already took the words out of my mouth and my heart so here it is: "I am thankful to be thankful."
What would your six word response be? I'd love to hear it. And, in case I haven't said it enough, I'm so thankful for you all — your warmth, encouragement and support is something I'll never take for granted. Happy Thanksgiving to you and yours — may you stay safe and may we all honor the Native tribes whose land we live on and call home.
ONE // Thanksgiving Day Parade's first native land acknowledgement 
Did you catch yesterday's Macy's Thanksgiving Day Parade? We happened to tune in just as the first native land acknowledgement was read, honoring the tribes of Wampanoag and Lenape -- the original inhabitants of Manhattan, or as they called it, Manhatta -- meaning "island of many hills." The blessing was read in Wampanoag and translated to: "Creator and Ancestors, we honor you for all things. We honor the Lenape people of Manahatta. We honor all our relations because, long ago, we were here. Now we are here and we will always be here. And so it is."
TWO // The true native New Yorkers can never truly reclaim their homeland
After dinner last night, Ty and I decided to start researching more about the Lenape people -- I found this article to be quite informative -- and a sad testament to how history has largely been written by white men. If you're curious about what tribes lived where your home now sits, you can look it up by your address, using this tool.
I know this op-ed from The Duchess of Sussex has been shared a lot, but it's for good reason. Hopefully, it'll help more and more women feel less alone about their own fertility and miscarriage journeys, and ultimately to talk and share about it.
FOUR // The coat edit from Kelly Augustine
Loved this coat editorial from Kelly -- makes me want to shoot more at night with a good flash! She looks incredible!
FIVE // 50+ Black owned businesses to shop for the holidays compiled by Monroe 
Such a great comprehensive list of Black-owned businesses to support this holiday season.
SIX // The Atlantic's Photos of the Week
I always look forward to this weekly photo round-up -- equal parts beautifully heartwarming and sobering.
SEVEN // Indigenous Fashion Week in Toronto 
These designers are breaking the stereotype mold for indigenous fashion.
EIGHT // Why I'm counting my blessings offline this year
I related a lot to this essay -- this excerpt in particular:
"Indoor months led to indoor thinking. As each of us grew intimately close with our couches, we had to survive our own brains, the eerie quiet between content binges filled with tremulous mind chatter. It is impossible to be caged without reflecting on yourself (and yes, yes, of course you can still care for other people, and wear a mask, and stop publicly socializing while the fire of a personal crisis rages within). All the things that made us feel fabulous were suddenly fallible, everything felt shallow and expendable. Social media didn't exactly help with the gloomy worldview. The convenience of all online connection that once only supplemented a full life became the main meal."
My Black Friday sale picks are down below -- keep scrolling!