5
minute read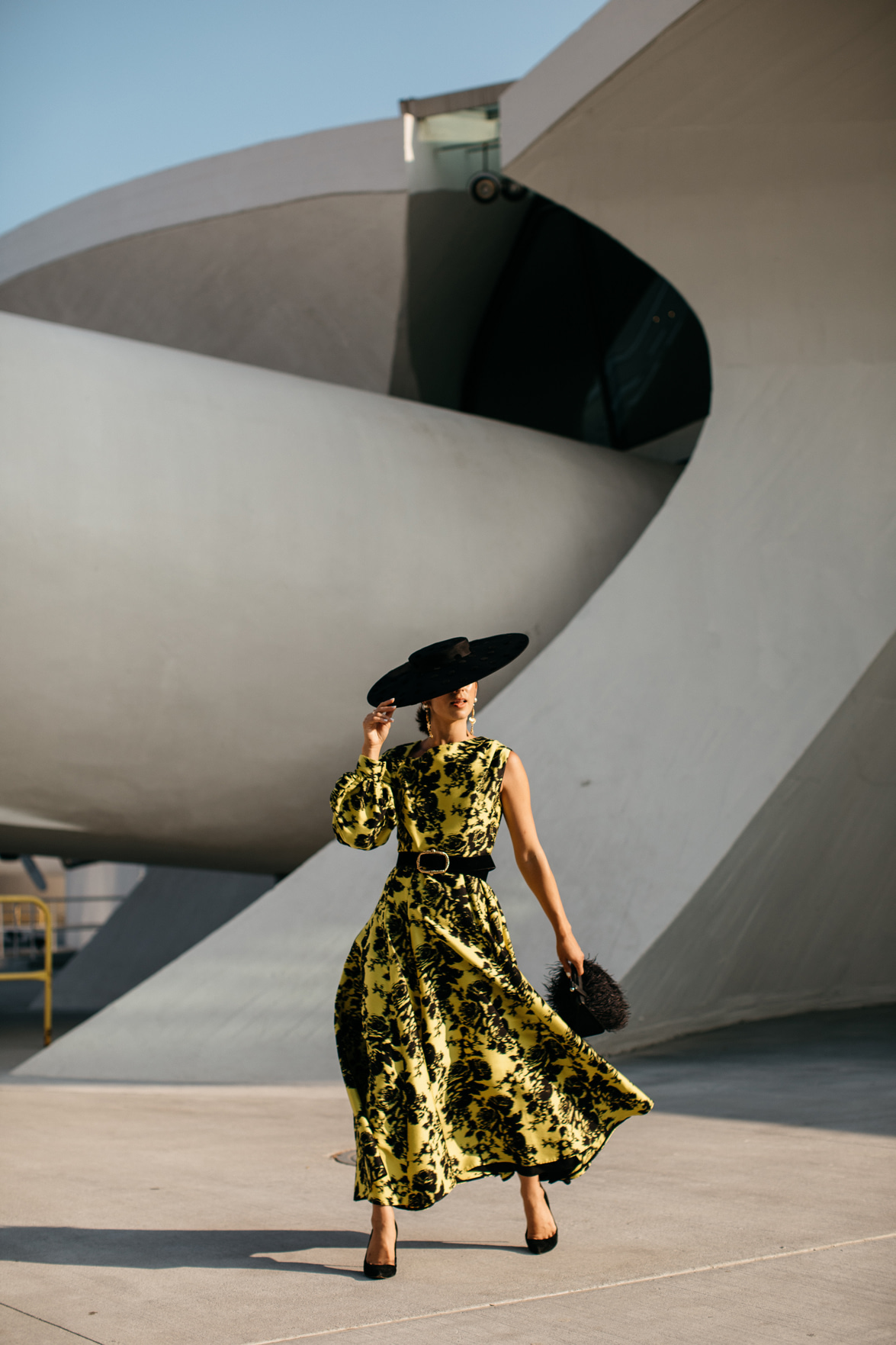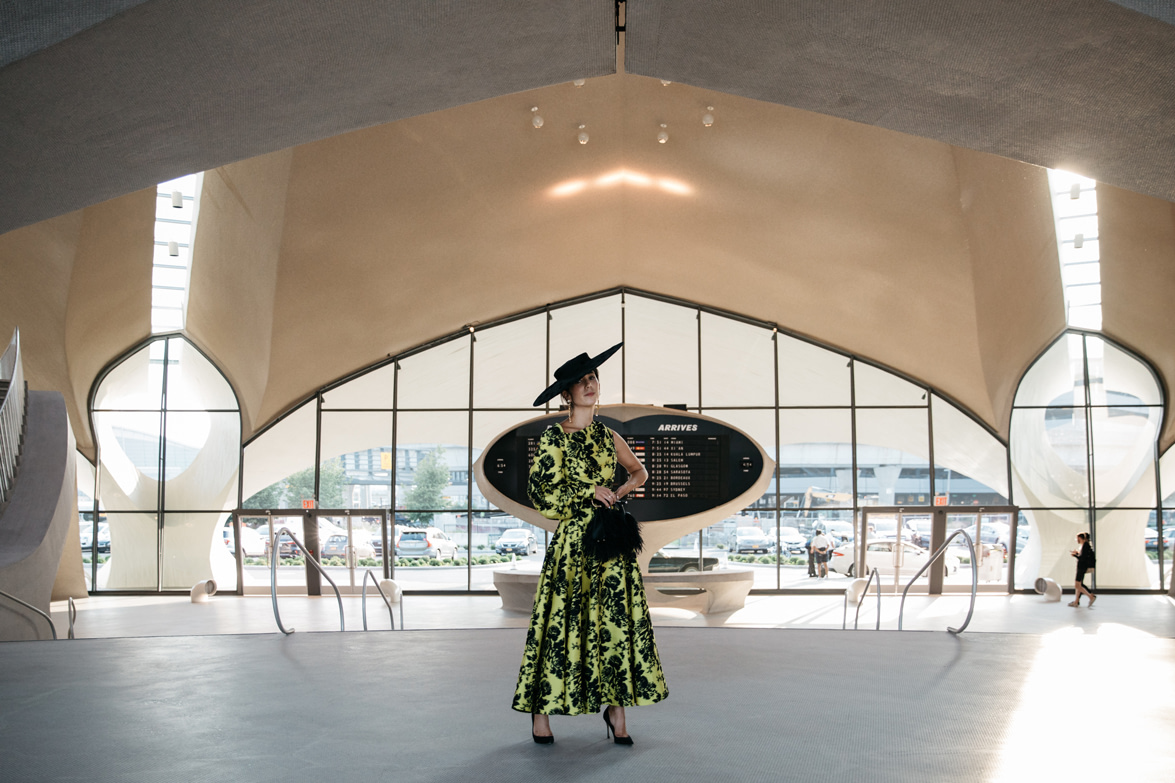 [row][half]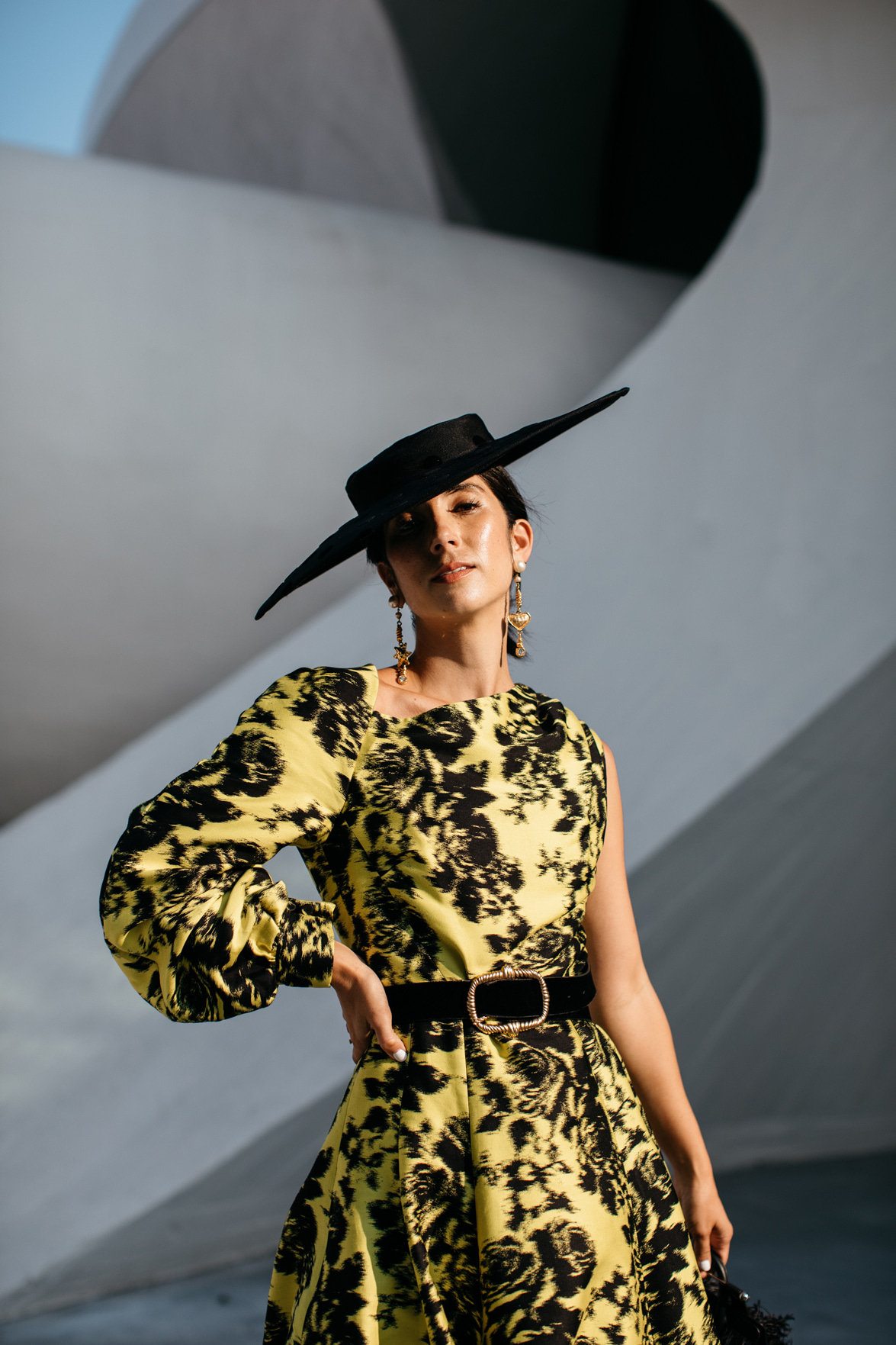 [/half][half]
In another life, what would your dream job be?
I always joke mine is a three way tie between several career paths: the first being a criminal prosecutor (because I love a good court room scene where justice prevails), the second being a history professor (it was always my favorite subject in school!) and lastly, an architect (because it's the ultimate form of large scale art in my opinion).
As you might have guessed due to today's editorial location, we'll be focusing on the latter two professions -- as I'm what some might call rather affectionately (or perhaps unaffectionately depending on how you feel about the topic), a history nerd, especially when it comes to buildings of historical prominence. And the newly reopened TWA Flight Center now operating hotel? Well, it's nothing short of a time capsule -- a tribute to an era of travel and aviation style that we'll likely never witness again. And like any good old soul, I flocked out to JFK for the chance to shoot an editorial I had been envisioning for a while now, with the quiet glamour of 1960s architecture as my backdrop.
Of course, if you're looking for an in depth review of the TWA Hotel itself as a guest, you'll come up short here. I didn't stay over night -- but my good friend Jennifer did when they first opened back in May and you can read her full thoughts on the matter here.
If you're looking for a brief history lesson on the TWA Flight Center, it's architect Eero Saarinen and how I envision a modern day Jackie O might travel today, well then keep reading!
First things first, let's brush up the basics here: at the time of the initial designs for the TWA Flight Center, the airport operated under the name of the New York International Airport at Idlewild (it would only later in December of 1963, a month after the assassination of President John F. Kennedy, be changed to JFK Airport). Each major airline was charged with designing and constructing a dedicated terminal to help accommodate their international flight routes, and in 1955, Eero Saarinen and his Detroit-based firm were commissioned by TWA for the job.
[/half][/row]
You may know Saarinen from his other work, most notably the Washington Dulles International Airport in D.C. (another favorite airport of mine!) and the Gateway Arch in St. Louis, Missouri. His work on TWA would eventually lead him to garner the American Institute of Architects Gold Medal -- which was unfortunately, awarded posthumously, as Saarinen would die in 1961 of brain tumor complications before the opening of the Flight Center in May 1962.
The design is said to be a pioneer for its time, combining elements of several schools of architectural thought including Futurist (typically characterized by long lines suggesting speed and urgency), Neo-futurist (where art meets technology), Googie (influenced by car culture, the Space Age and the Atomic Age) and lastly, Fantastic (attention-grabbing, think Gaudí). Saarinen employed a thin-shell construction, likely to mimic TWA's bird emblem, and it's an absolute marvel to see in person. After a few short minutes of walking around the terminal the other day, I realized I had been holding my breath for long periods of time while gazing up -- a side effect of amazing architecture.  In short, it's no wonder the TWA Flight Center had been dubbed as the "Grand Central of the Jet Age."
As you might have guessed, the Flight Center represented a lot of firsts, including: It was the first terminal to feature enclosed passenger jetways, a central public address system, baggage carousels, electromechanical split-flap display schedule board and the satellite clustering of gates away from the main terminal. And between the years of 1962 and it's eventual closing in 2001, it bore witness to countless travelers walking around it's hallowed halls -- an international hub for the jetsetting crowd. During that time, it's been recognized as an official New York City Landmark, listed on the National Register of Historic Places and even been the location for numerous films (Catch Me If You Can anyone?). After it closed its doors in 2001, it largely sat empty and lonely for almost 20 years, giving way to the new expansion of Terminal 5 -- aka, JetBlue Airways new home.
Until now that is. Nearly $300 million worth of renovations later, the TWA Flight Center (featuring two new hotel towers), is open to the public again, bearing as a beautiful testament to the glory days of glamorous globetrotters, and yes, practically a playground for old souls like me.
While I don't necessarily recommend going out of your way to visit this JFK airport monument (traffic does make it difficult to get to as a tourist), I do think it's certainly worth showing up extra early before your next flight out (or perhaps wandering around after you've landed) to really soak it all in. While you're there, try closing your eyes and imagining the hustle and bustle of 1960s travelers -- a time when flying was still considered an adventure you dressed up for -- the start of the journey that deserved your best hat, your finest bags and the swing of The Beatles, The Stones and Frank Sinatra putting a skip in your step before those wheels go up.
I hope you enjoyed today's history (brief) history lesson -- stay tuned for the second TWA installment coming on Wednesday!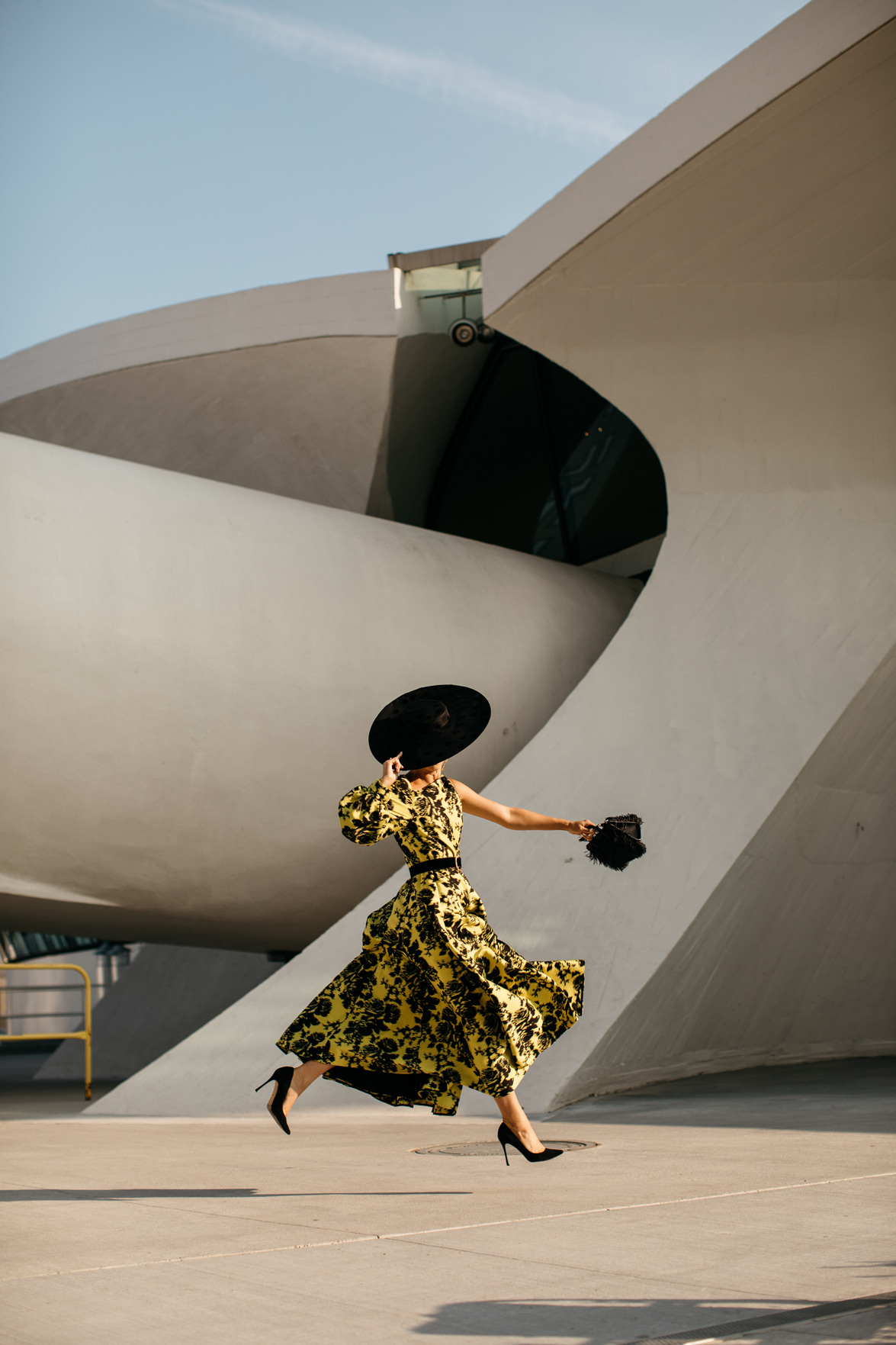 OUTFIT DETAILS: Erdem dress (sold out but similar style here, borrowed via Armarium) // Sergio Rossi heels // Strathberry bag (gifted) // Erdem hat (borrowed via Armarium) // Christian Lacroix earrings
[row][half]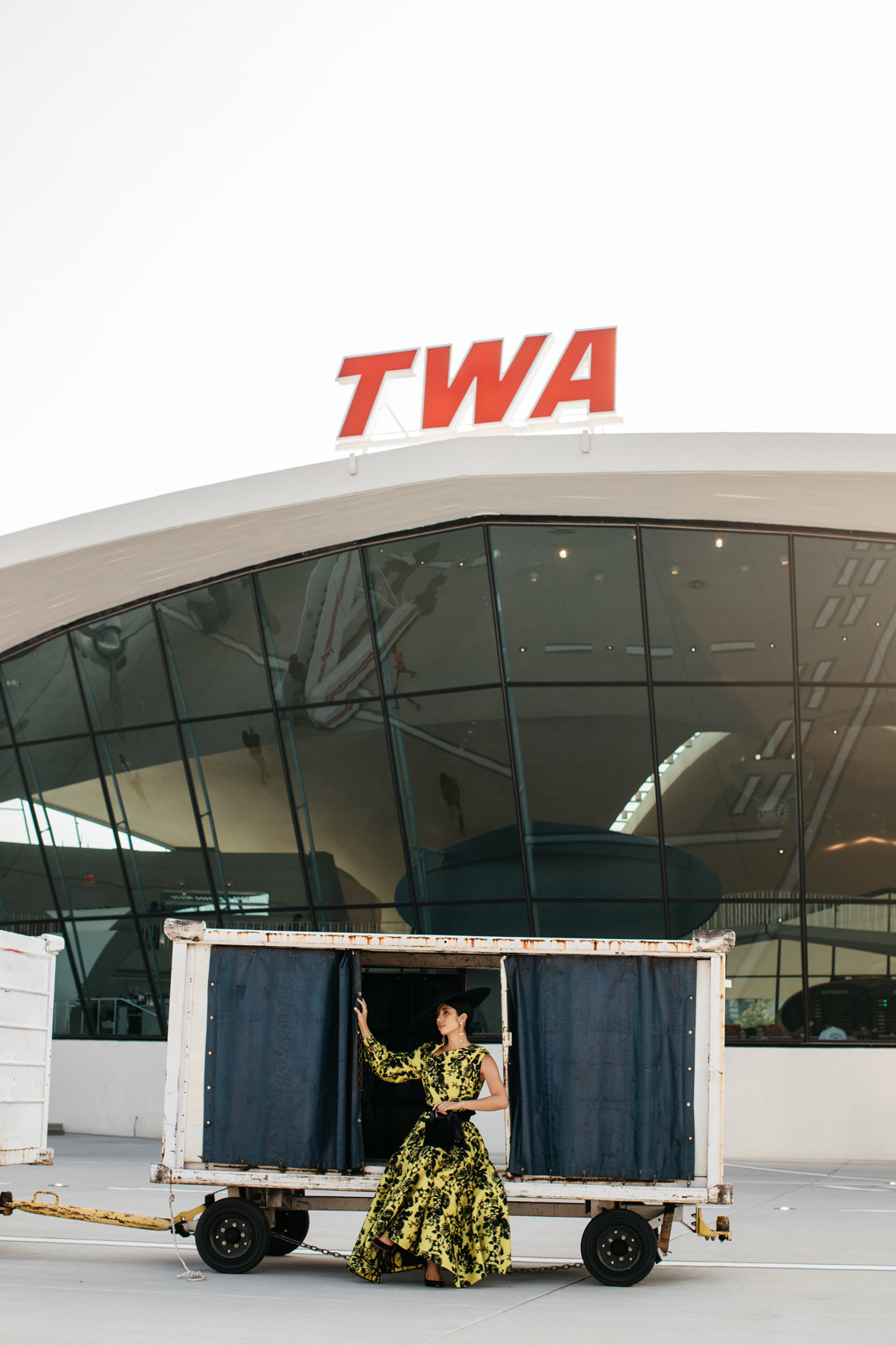 [/half][half]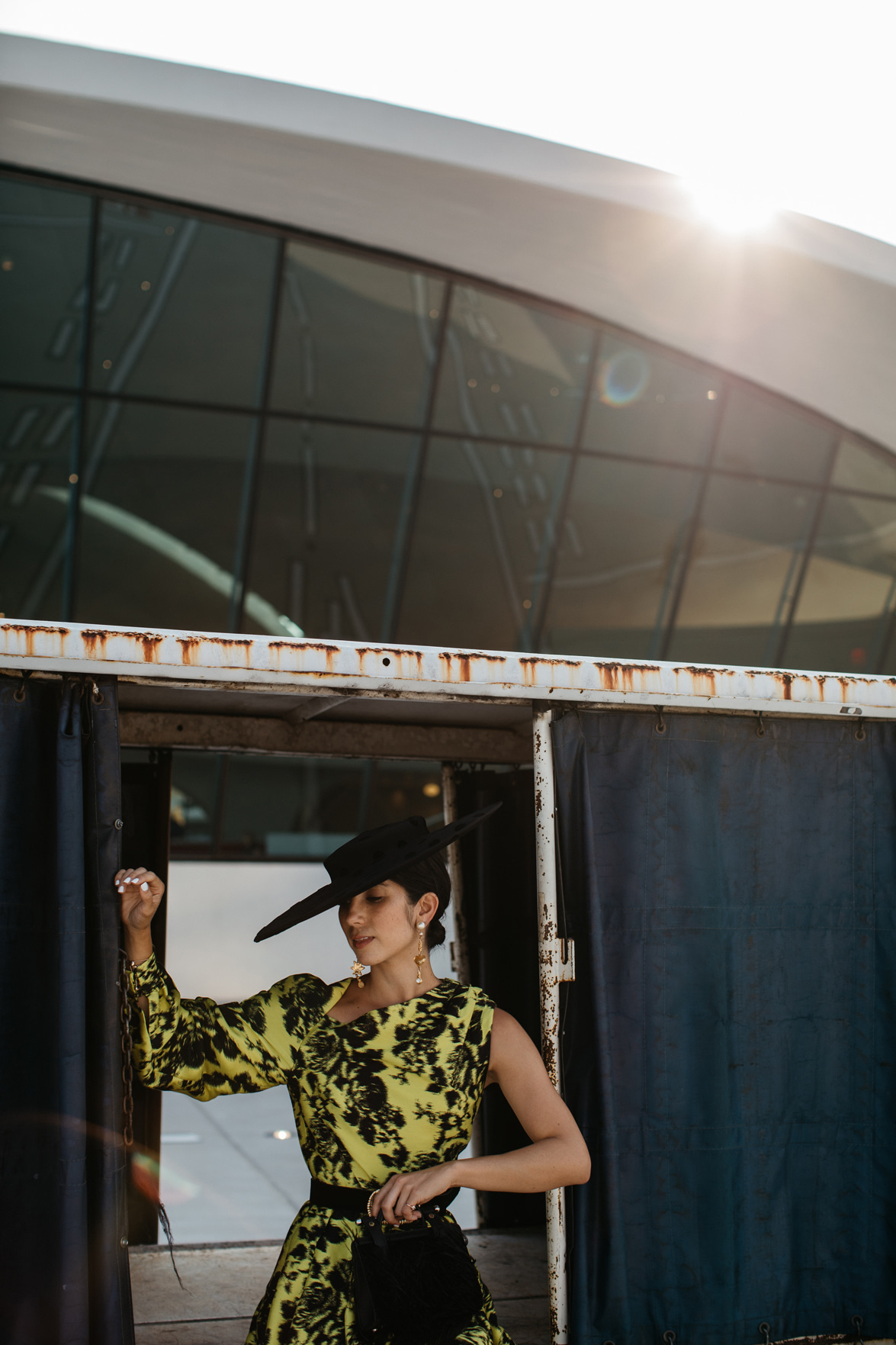 [/half][/row]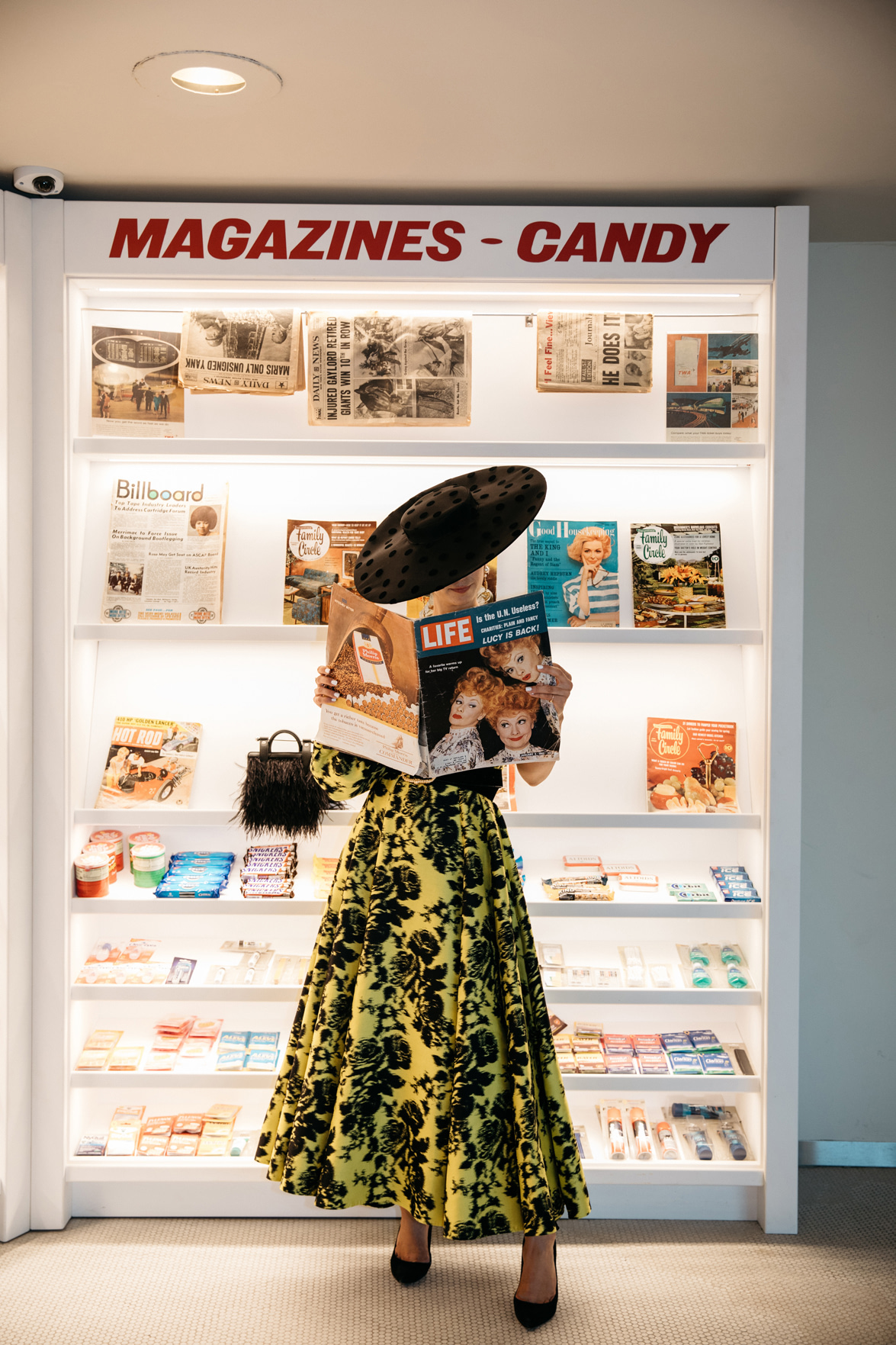 [row][half]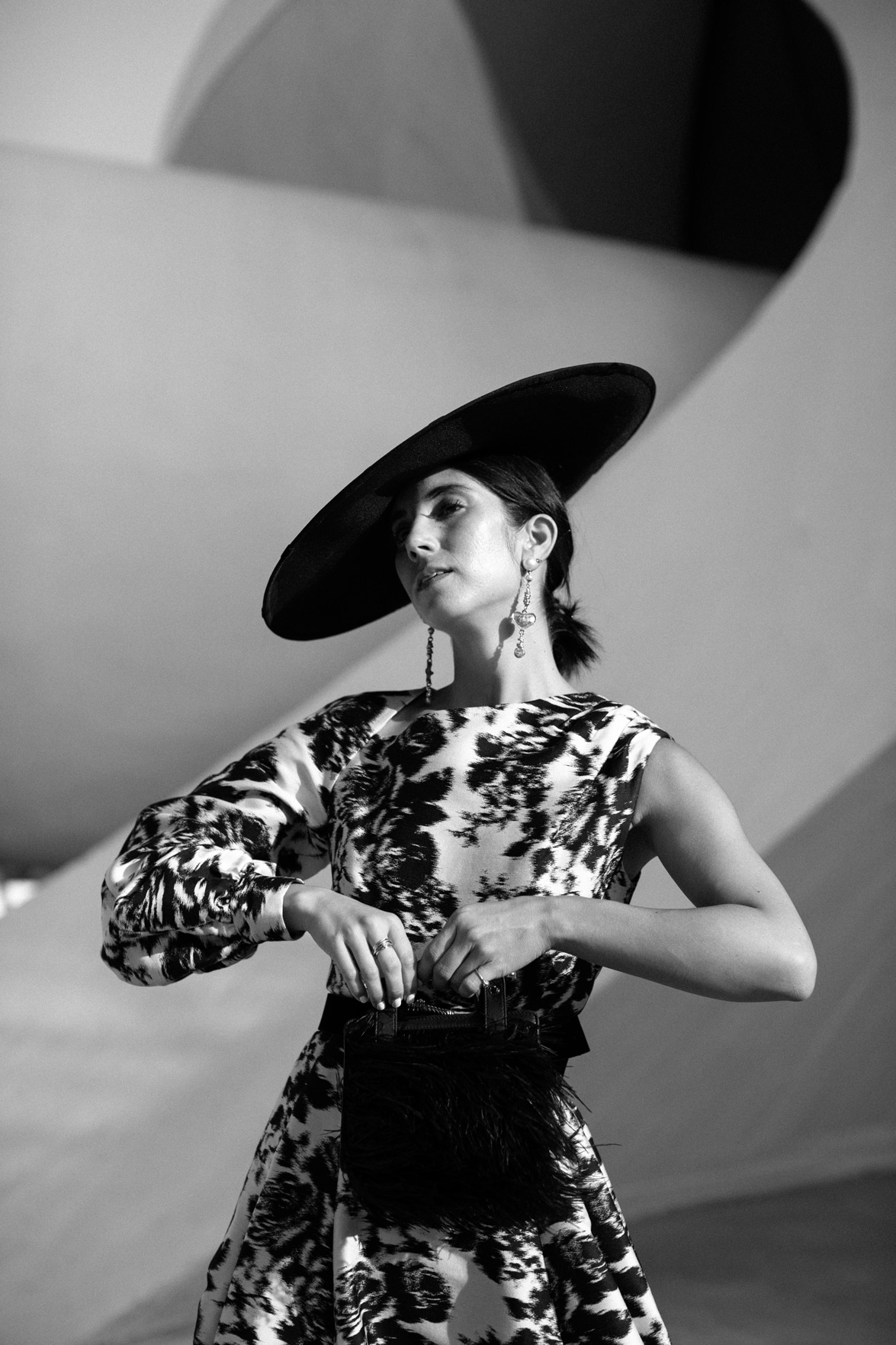 [/half][half]
[/half][/row]