6
minute read
OUTFIT DETAILS: Ronny Kobo dress (rented via Rent the Runway, similar style here) // Vintage earrings (similar style here) // Roger Vivier heels (gifted) // Featuring my mega arm candy -- Igee Okafor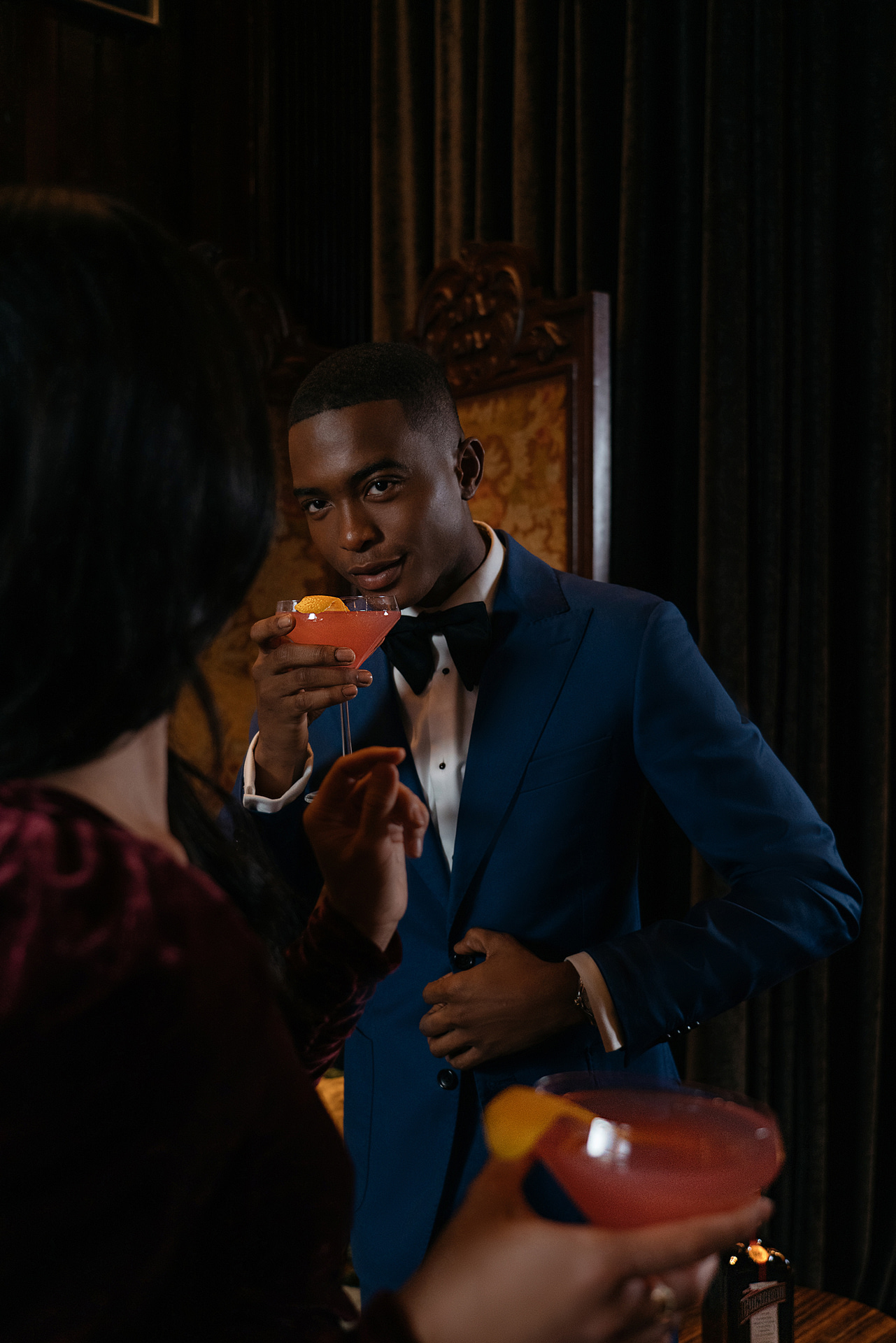 You all know me.
I love any and every excuse to dress up. It instantly cheers me up, regardless of the occasion, regardless of the venue. And if ever there was a year we could all use a little extra cheering up, especially in the sartorial sense, 2020 would have to be it.
In a lot of ways, it feels quite strange to be sitting here, writing a Thanksgiving and general holiday-themed post at the tail end of a year that felt like it never really started. When life halted back in March, so much halted with it -- our jobs, our goals, our sense of security and of course, our holiday plans to see our families -- and I'm sure a lot of you find yourselves in similar situations. Today's post isn't meant to make light of where we find ourselves now -- that is still in the midst of an ongoing pandemic without a finalized vaccine in the picture yet -- but I certainly hope it can remind us all how much we can put special touches on the parts that are within our control. Holiday magic -- a little elevated holiday magic that is -- is completely achievable and may be just the right antidote for the end of the year blues we may find ourselves in. Personally, whenever I put on a little velvet, my mood turns around instantly. So bring on the velvet!
In case you're staying home this year to spend Thanksgiving either solo or safely with a few close friends/family, today's post is for you.
ONE // Plan a mini staycation in your own town or city
Now, I know what you're thinking. "If we're staying home this year, why would I bother with booking a room somewhere?" Of course, I won't sit here and say it's the most practical option -- but it might be the "escape" you've been craving for months now! And with so many amazing options on AirBnB, a lot of them right in your own backyard or even a short drive away, it's the perfect way to stay local and get a change of scenery at the same time. Of course, it should be said, everyone's comfort levels are quite different when it comes to staying in house share/apartment share listings, but I've found most hosts are going through extra hoops to not only clean but disinfect thoroughly, so you can rest easier.
Igee and I happened to snap these photos at The Maker Hotel up in Hudson, New York (about a 2 hour drive upstate from the city), which is also another great option to consider, since so many hotels, especially boutique ones, are suffering at the moment. I would just recommend reading up on the safety and travel restrictions in your state and across states, as well as the safety protocols of the hotel you're looking into. The Maker Hotel for instance, takes COVID precautions very seriously, with mandatory masks in all common areas at all times, enforced social distancing, hand sanitation stations throughout the property etc.
As much as possible, I would also recommend looking into booking a rental car as opposed to traveling via public transportation. And securing a negative COVID test before hand, as well for additional peace of mind.
TWO // Support your local restaurants and dine outdoors
This year, Ty and I were lucky to snag my friend Janelle's extra dinner reservation at The Dutch here in town. We're so used to cooking and baking with my family, but since it's just us this year, we decided it made more sense to dine out and support a local NYC restaurant instead. Naturally, I'm enforcing a little dress code for us. 🙂
THREE // Host a mini get-together for a chic game night
Everyone loves the game of Clue, right? Perhaps encourage your guests (IRL and Zoom attendees) to dress as a certain character! I suppose that would make me Ms. Scarlett here, right?
FOUR // Stock your bar car with the makings for a signature cocktail
This year, I've teamed up with my friends at Cointreau for another holiday-inspired classic drink -- The Cosmopolitan! Style your bar cart so it feels inviting to make cocktails at -- have your specialty glasses out, shaker ready to go, and come up with your own name for the drink, akin to what a favorite local bar might call it. Since Igee and I love everything Gatsby-inspired, we decided to call this Cosmo the "Old Sport" as a nod to Jay himself.
FIVE // Tune in for streaming performances from local venues
Another industry hurting this year -- the performing arts. Live music. Theater. Ballet. I can't tell you how much it hurts my heart to know we can't watch The Nutcracker this year at Lincoln Center, a favorite holiday tradition of mine. That said, fret not! There's plenty of virtual programming going on, you just have to dig for it. For instance, one of our favorite local jazz spots -- the Village Vanguard -- has nightly performances live streamed from the venue with the artists themselves. Ticket admission for the live streaming link is $10 and it was such a lovely evening at home! We lit candles, we dimmed our lights, we opened a bottle of wine and pretended we were right there with them, next to the stage.
It's a great way to support local venues and arts and it doesn't even necessarily need to be in your backyard either. Like the aforementioned Nutcracker performance -- a favorite of mine. At the moment, I can't find a NYC-based dance company virtually streaming performances this year, but the San Francisco ballet is! Sign me up!
SIX // Dress up -- for the hell of it!
Go into that closet of yours, pull the first special item out that you haven't worn in a while, and find a reason to don it at home! Bonus points for jewelry. Even more bonus points for a swipe of lipstick. I'm willing to bet it lifts your spirits a little bit, in the process.
SEVEN // Snap some holiday photos
Whether you're solo this year or planning a small group shoot with close friends or loved ones, there's no reason not to take advantage of a little photo opp, in your holiday finest. Grab a tripod and plan a shoot, perhaps at an off-time (sunrise and soon after sunrise is usually deserted most places) to send a bit of holiday cheer to your friends and family. I promise, sometimes just dressing up and documenting it in a photo, makes a world of a difference for your mood. And undoubtedly, your family would love to see your smiling face, even if it's via an email attachment!
EIGHT // Go for an adventure
Book that rental car and hop of out town, even if it's just for the day. Go drive around and look at holiday decorations and lights in different neighborhoods. Drive to a trailhead for a long hike. Spend the whole day out walking around town, coffee in hand. Whatever the destination and regardless of your company, try to make a special itinerary for yourself -- followed by a yummy meal at home when you get back. It'll give you structure to the day, while also making it feel like a "trip" to look forward to.
And whenever possible, try to have it playing, even just quietly, in the background at all times. It's amazing what a difference consistent music can make in our moods.
TEN // Volunteer
Nothing elevates my mood more than helping someone else out. I know volunteering outside our homes might feel risky this year as far as COVID-exposure is concerned, but there are plenty of ways to still help out, that don't involve coming into close contact with people, like dropping meals off on the doorsteps of seniors' homes, donating old coats and jackets that others could use, etc. Here's a pretty comprehensive starting point for those in the NYC area.
Are you guys staying home or local this year for the holidays? If so, how are you making them extra special this year?