6
minute read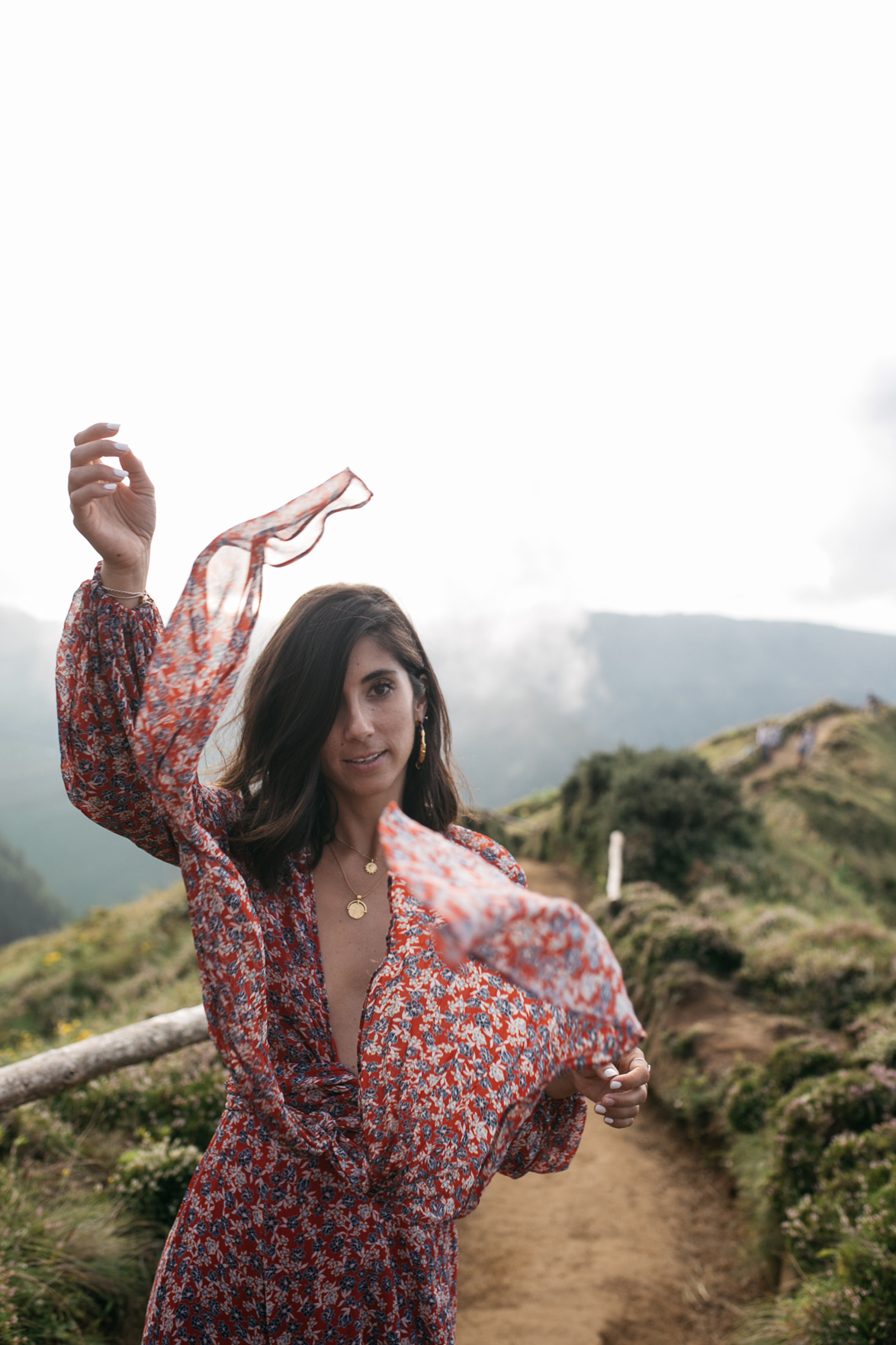 As promised, here's part two of my Azores travel guide.
If you're just joining now, you can get caught up to speed right this way for part 1, where I cover a lot of the logistics and housekeeping items to keep in mind when booking your own trip to the Azores. Plus, you can catch our itinerary and my full packing list for Terceira island, our first stop of the trip.
Up today, we have São Miguel, my favorite island of the two, for some of the most incredible and vastly different landscapes I've seen on an island. As I mentioned in my previous post, I would definitely recommend renting a car for the best way to really experience the island on your own timeline and terms, but a guided bus tour is also a great option as well.
My personal highlight of the island? Hands down, it would have to be the vast amount of hydrangeas growing all over. We drove down so many narrow winding roads between our destinations that were just flanked by hydrangeas in full bloom -- it was completely surreal. Like driving through a wild, secret garden.
Where to stay:
Grand Hotel Açores Atlântico in Ponta Delgada: Lydia and I loved this hotel -- their decor was chic and modern, the rooms were quite spacious and we had one of our favorite meals of the trip at their restaurant. And I have to give a major shout out to their concierge team who was so helpful in not only helping us book a rental car at the last minute but they also arranged for a surprise gift to be sent to our room for Lydia's birthday! For me, it always comes down to special details like that when it comes to highly recommending a hotel, and the Grand Hotel Açores Atlântico is one of those places. I cannot thank them enough for making us feel welcome and extremely taken care of.
Where to eat/drink:
As I mentioned, our favorite meal of the trip was at the Grand Hotel Açores Atlântico restaurant. It was perhaps our most expensive meal but definitely worth it, with a great wine selection. Other than that though, I have to report we only had one full day of driving around the island, so we popped into the first mom and pop looking restaurant we saw in Mosteiros -- Gazcidla Restaurante. We popped in right at the lunch rush, so the place was packed with a lot of families and kids (so be prepared), but it was perfect for a fried fish meal right before heading to the beach.
What to see and do:
Whale watching: Ideal season for whale watching is between May and September for calmer seas. Unfortunately, we didn't make it out ourselves for the tour, but apparently the waters surrounding Sao Miguel are especially optimal for dolphins (up to 7 kinds!), which can be seen swimming alongside sperm and orca whales.
Miradouro da Boca do Inferno: This was another big highlight of the trip for me -- the Boca do Inferno, which literally translates to "Hell's Mouth," an ironic naming given that if you time your visit just right with sunset, the view is pretty heavenly. It's a short hike to the vista point, but once you're there, the view up top is stunning -- overlooking three different lakes and rolling valley hills below.
Mosteiros beach: Black sand beaches are pretty common throughout the Azores, but a few members from Azores Getaways highly recommended we check out the town of Mosteiros and it's nearby beaches. I've never personally visited a black sand beach before so this was a treat for me -- it's certainly surreal and we had fun shooting a bit more editorial-like photos there. It's definitely a family beach, but easy enough to find secluded spots if you want a bit more peace and quiet.
Our trip was so short this time around, but I'd love to head back to check out some of the waterfalls and surf! For more activity ideas, check out Azores Getaways. Have you guys been to the Azores? Would love to hear about your visit!
And of course, HUGE thank you to the Azores Getaways team for having me. Lydia and I had an incredible time visiting your islands and we hope to be back very soon!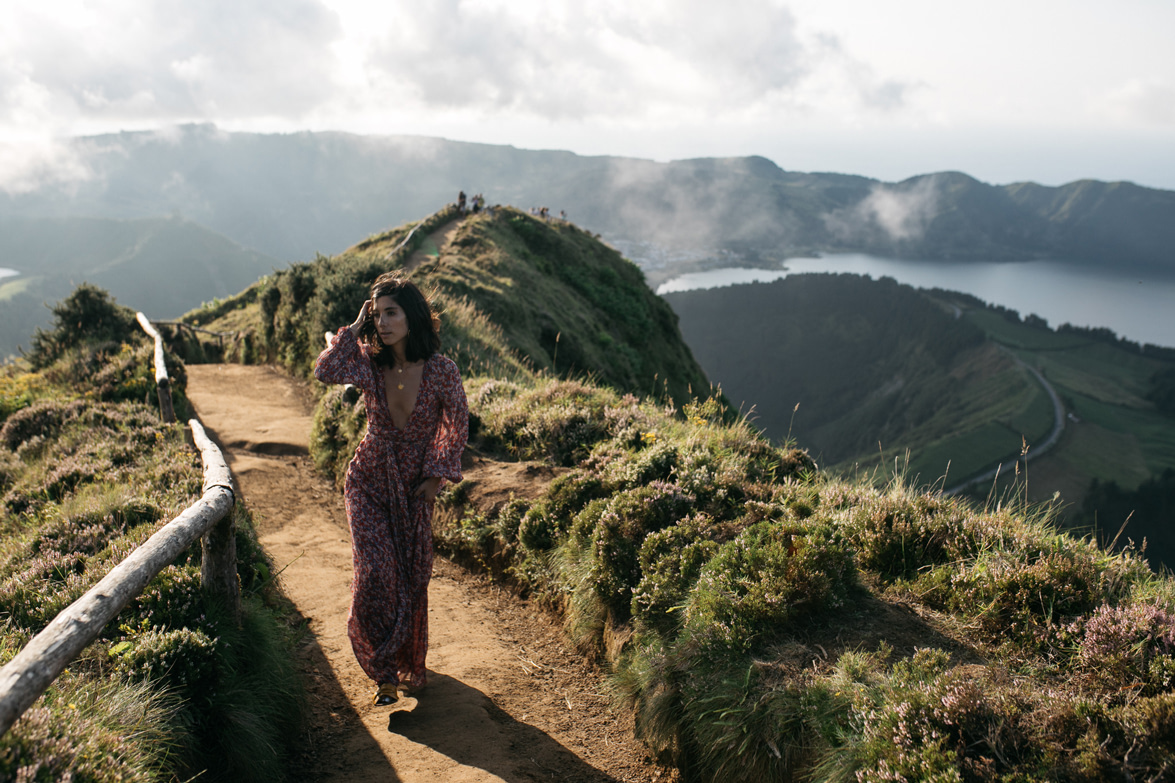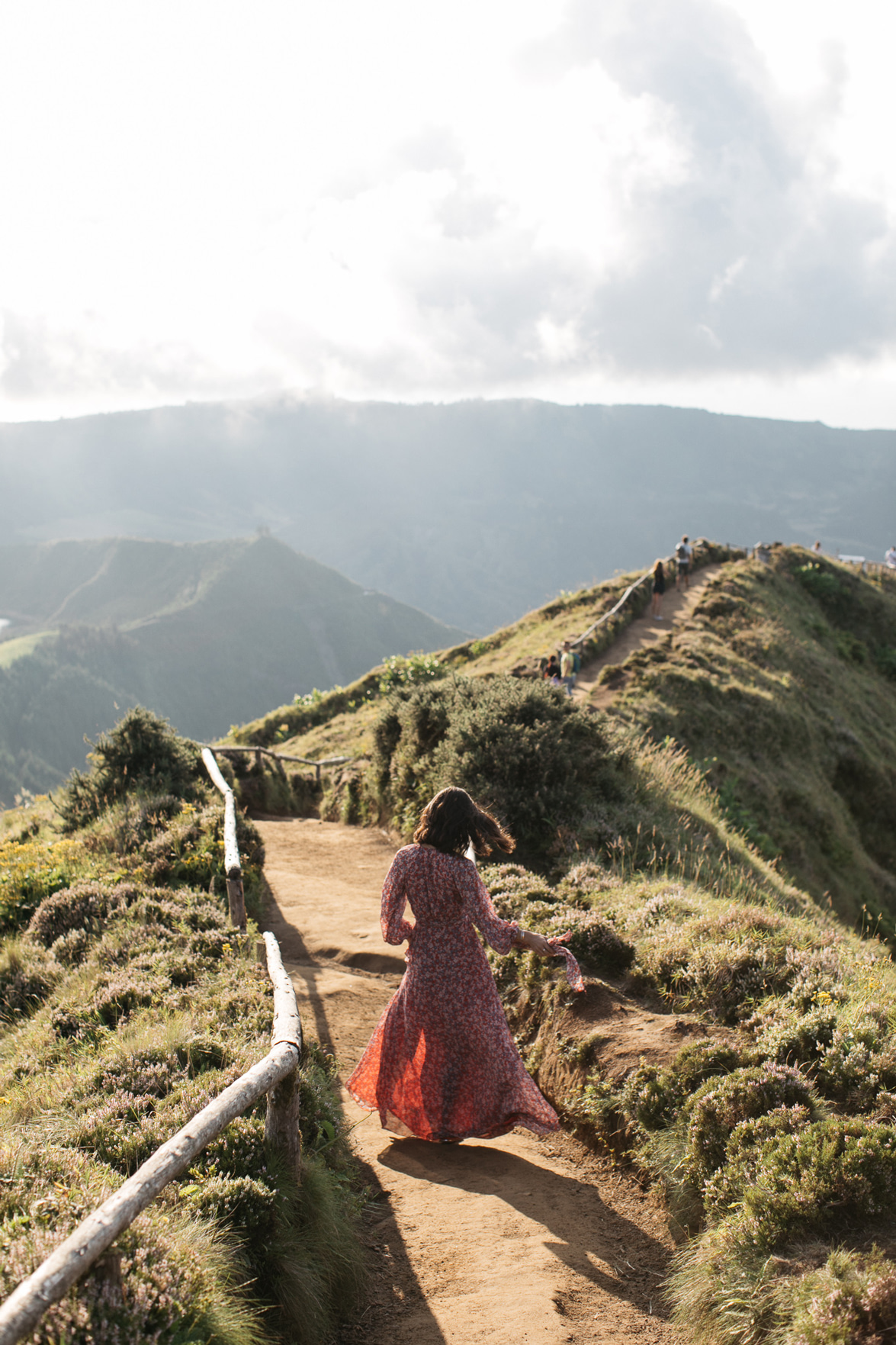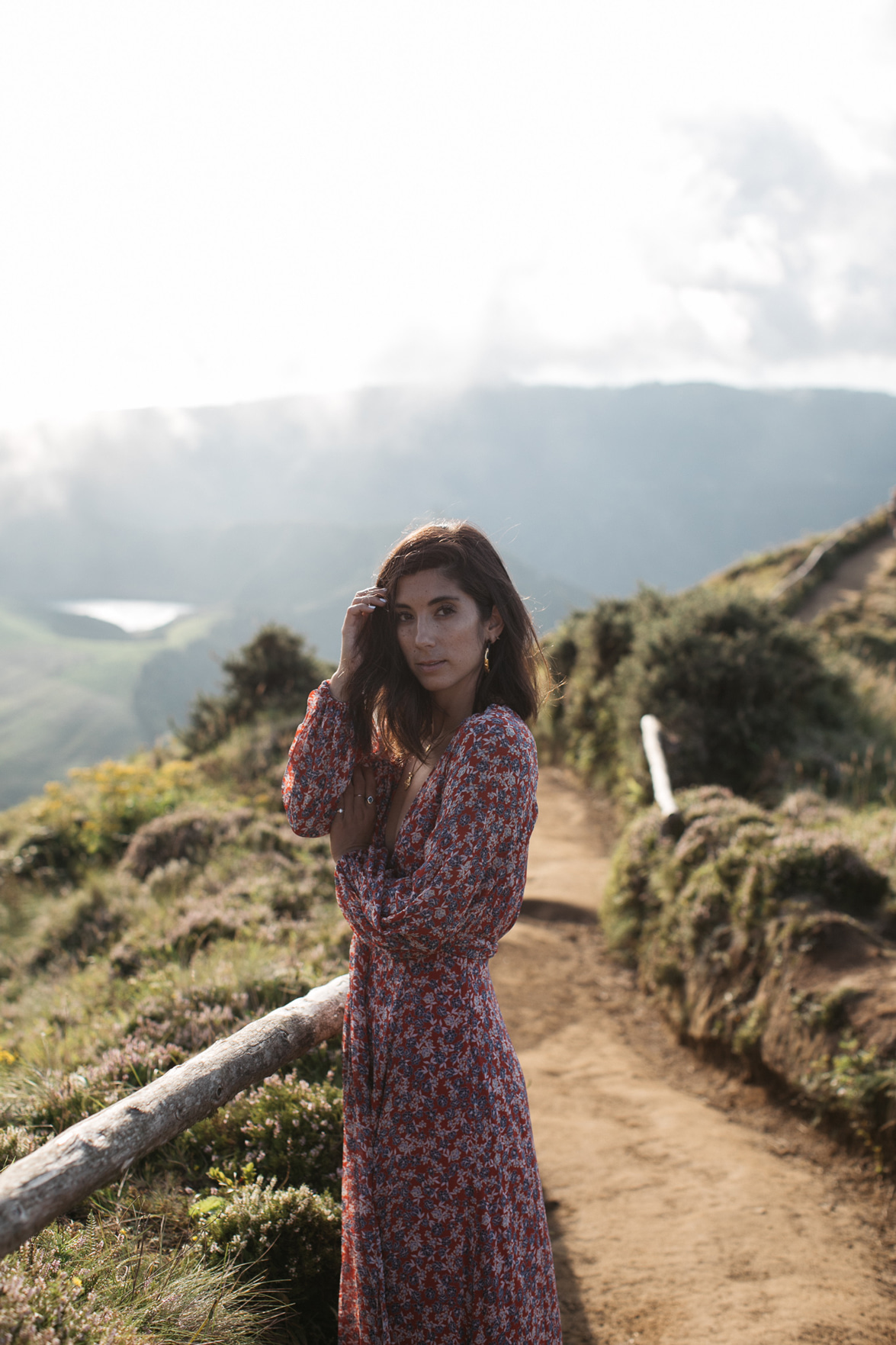 [prodl brand="Nicholas" product="Long sleeve wrap dress" description="While I wouldn't necessarily recommend hiking in this dress normally, the hike to Boca do Inferno isn't really a true hike -- more like several sets of stairs leading to the vista point. The flow of this dress was too good to pass up for a photo opp at this incredible spot." link="http://shopstyle.it/l/S9Se"]

[/prodl]
[prodr brand="Ganni" product="Kocchar floral wrap dress" description="I know this dress may look like summer, but with the right pair of cogna boots, it's very much fall-ready. Throw on a camel coat, and I think you may have my new October uniform." link="http://shopstyle.it/l/S9R7"]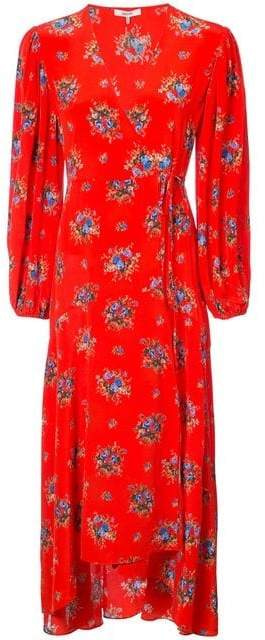 [/prodr]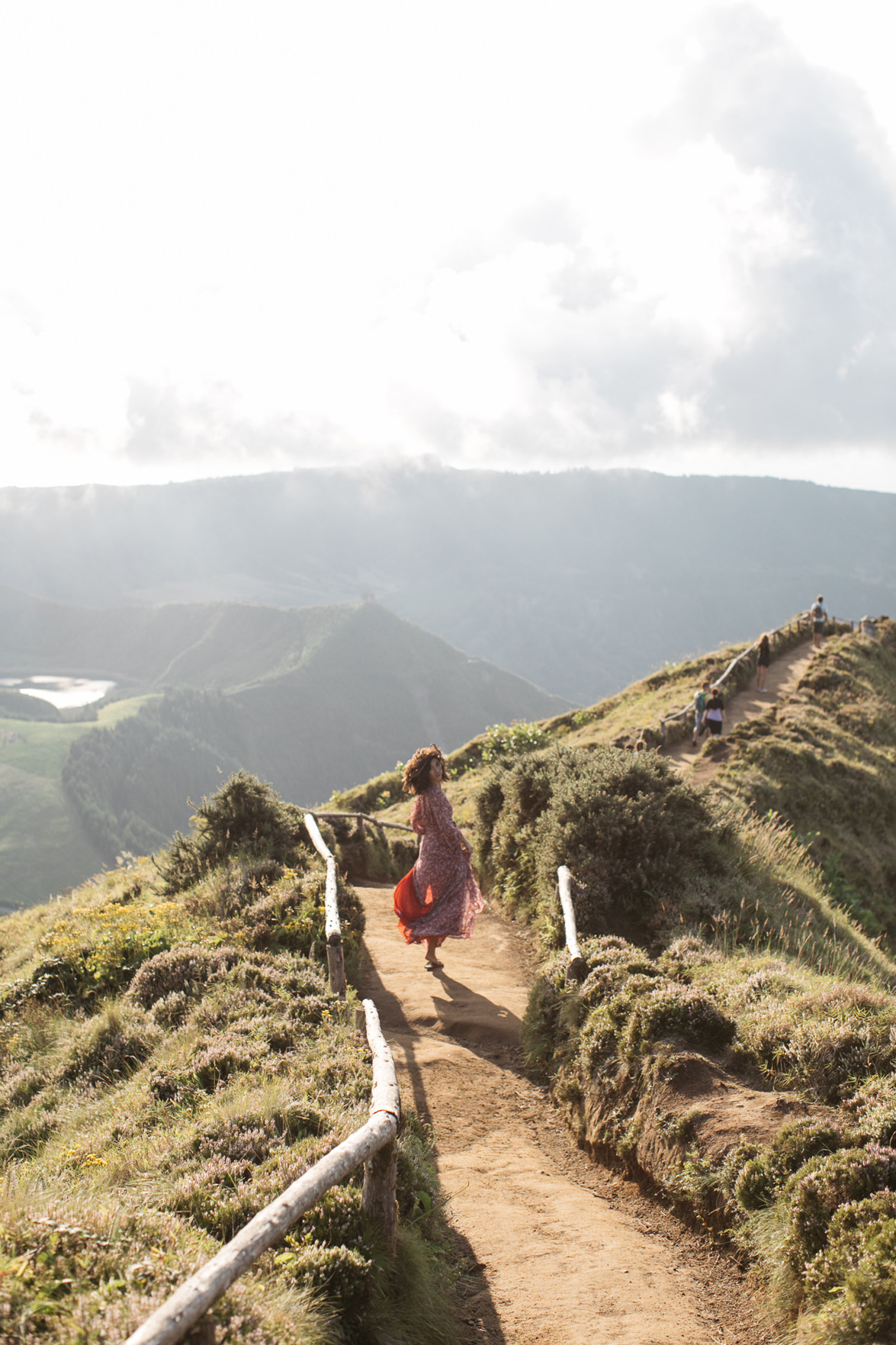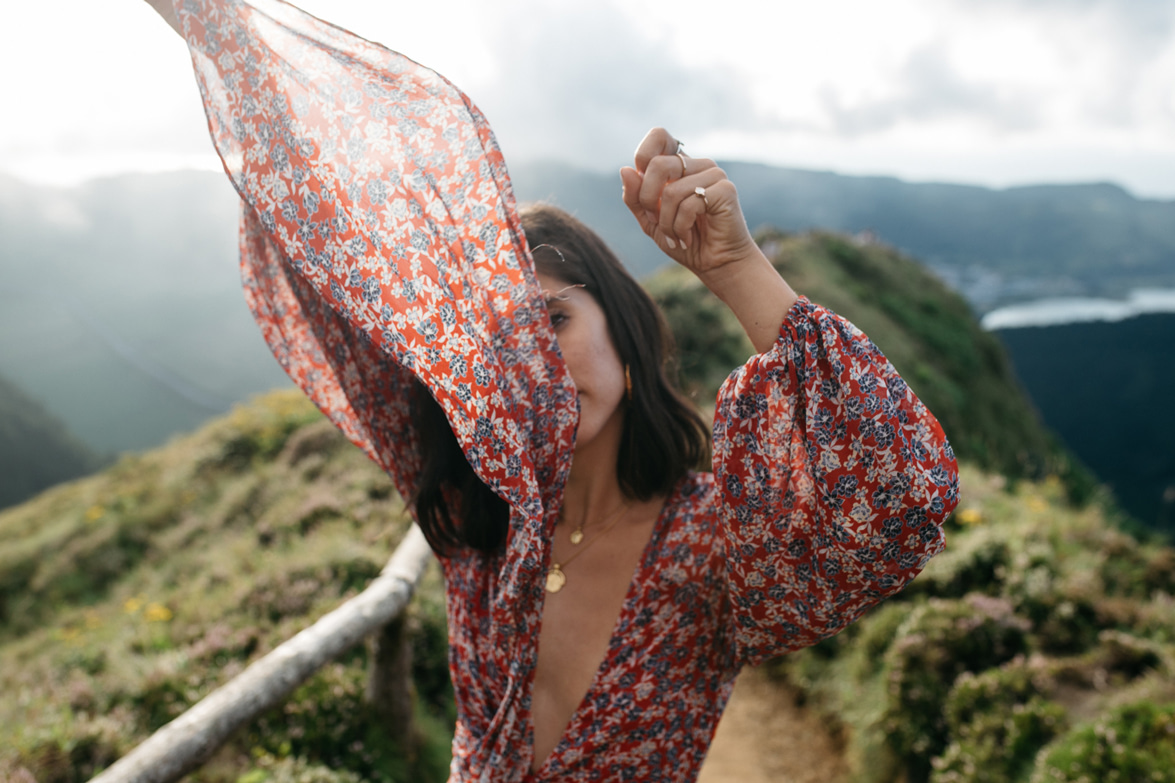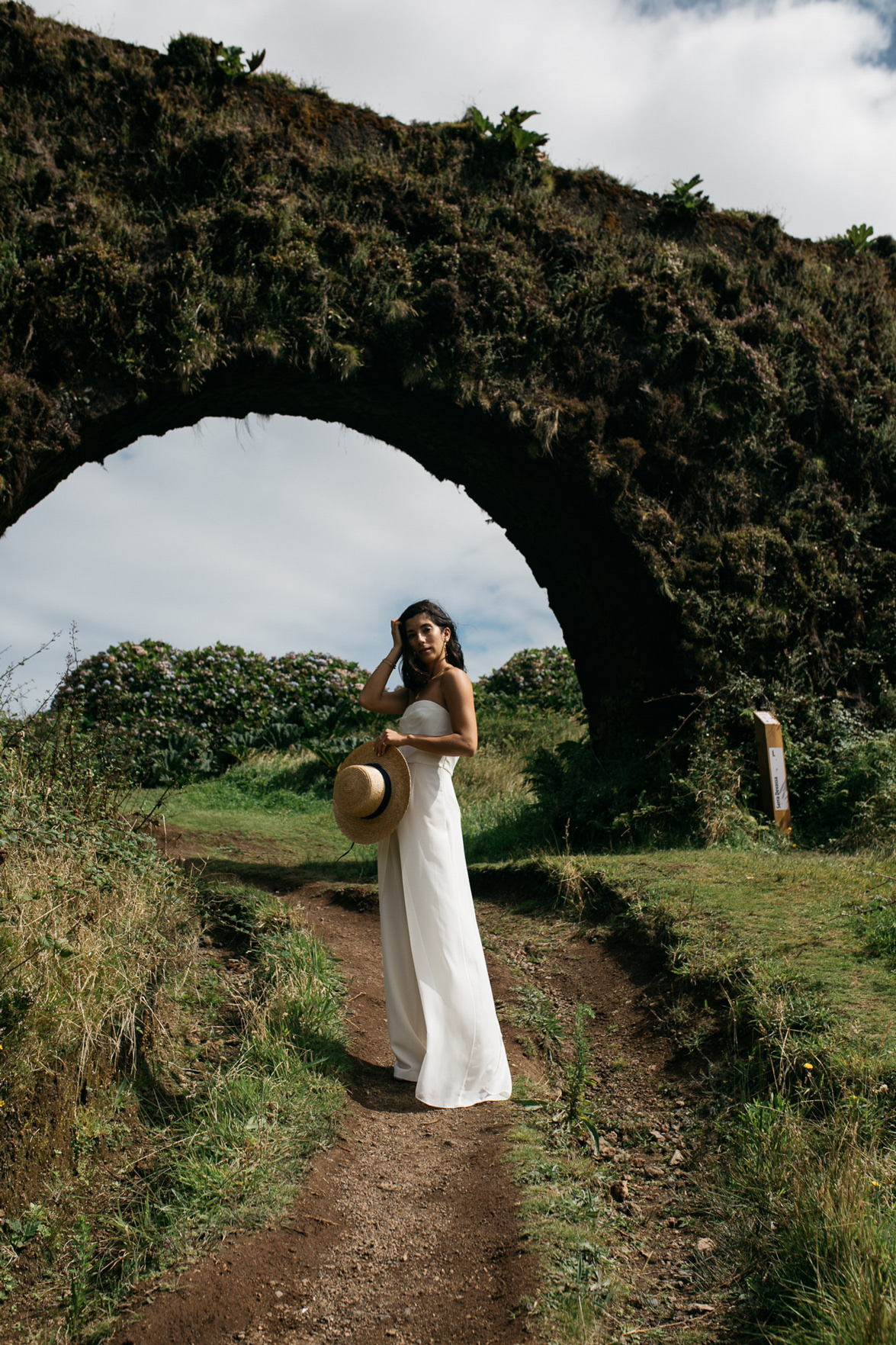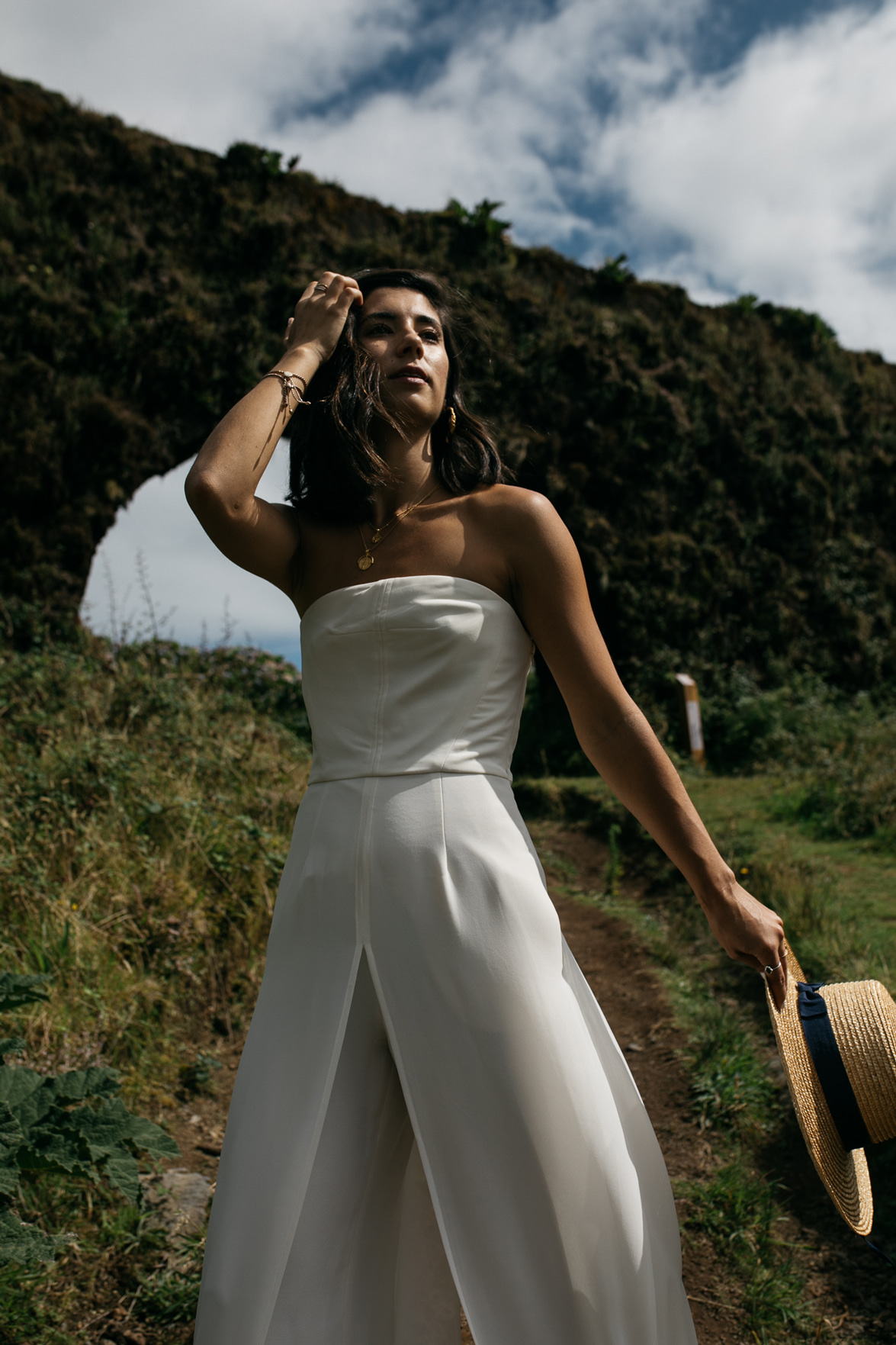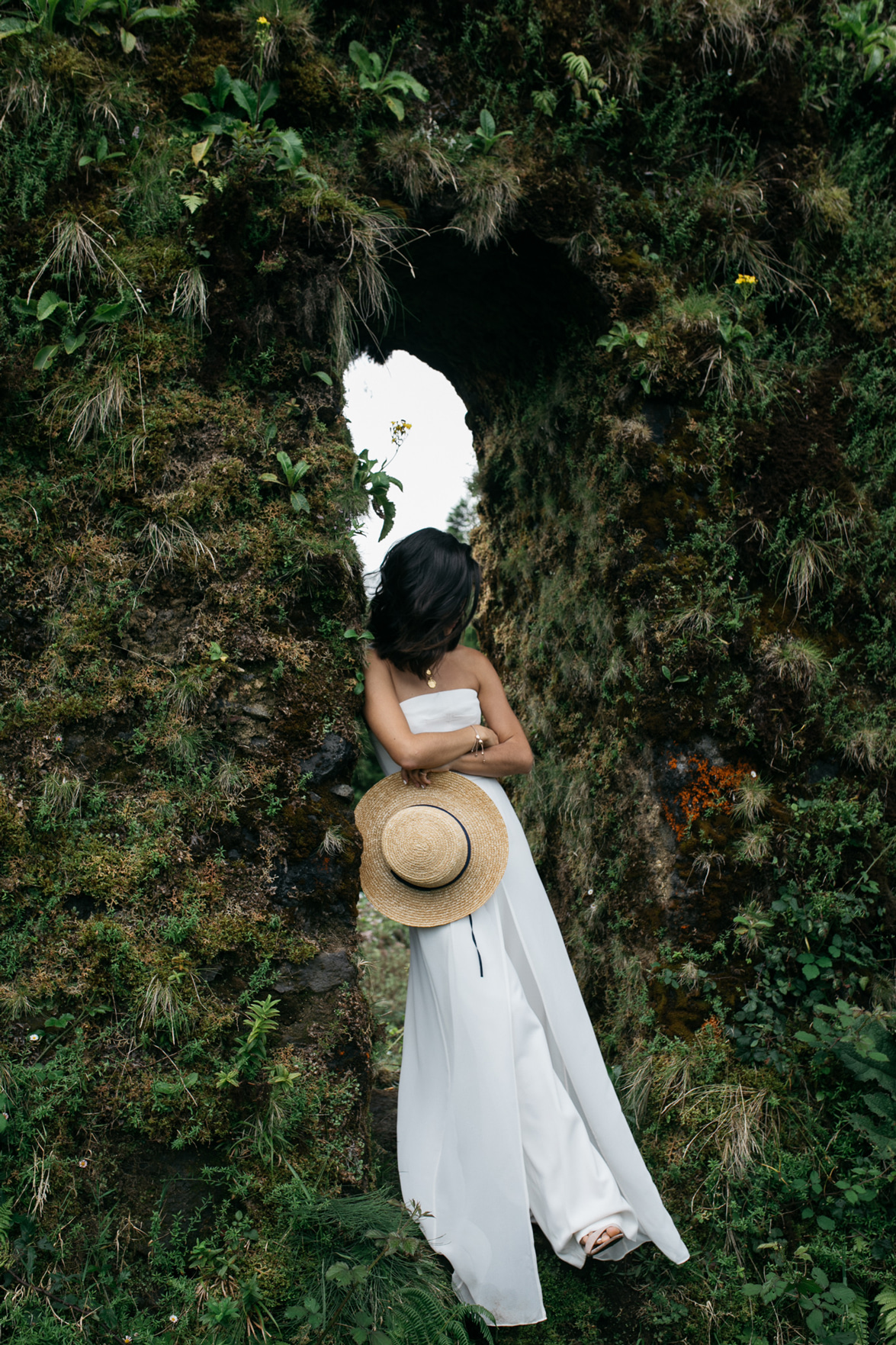 [prodl brand="Halston Heritage" product="Chiffon overlay jumpsuit" description="OK, so perhaps this isn't the ideal hiking outfit either, but I loved the idea of shooting this jumpsuit at this old aqueduct, covered in flowers and all sorts of greenery. If ever there was a moment to live our my Secret Garden dreams, this was it." link="http://shopstyle.it/l/S9Vv"]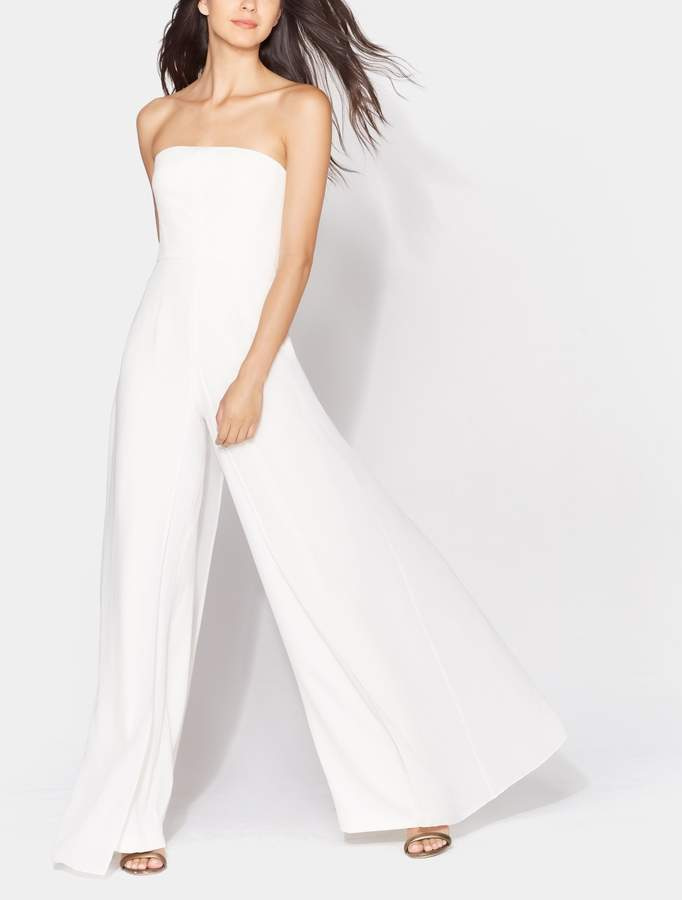 [/prodl]
[prodr brand="Halston Heritage" product="Chiffon overlay jumpsuit" description="And as if it didn't already look amazing in white, it's stunning im black. Perfect for a black tie, fall wedding, perhaps?" link="http://shopstyle.it/l/S9VF"]
[/prodr]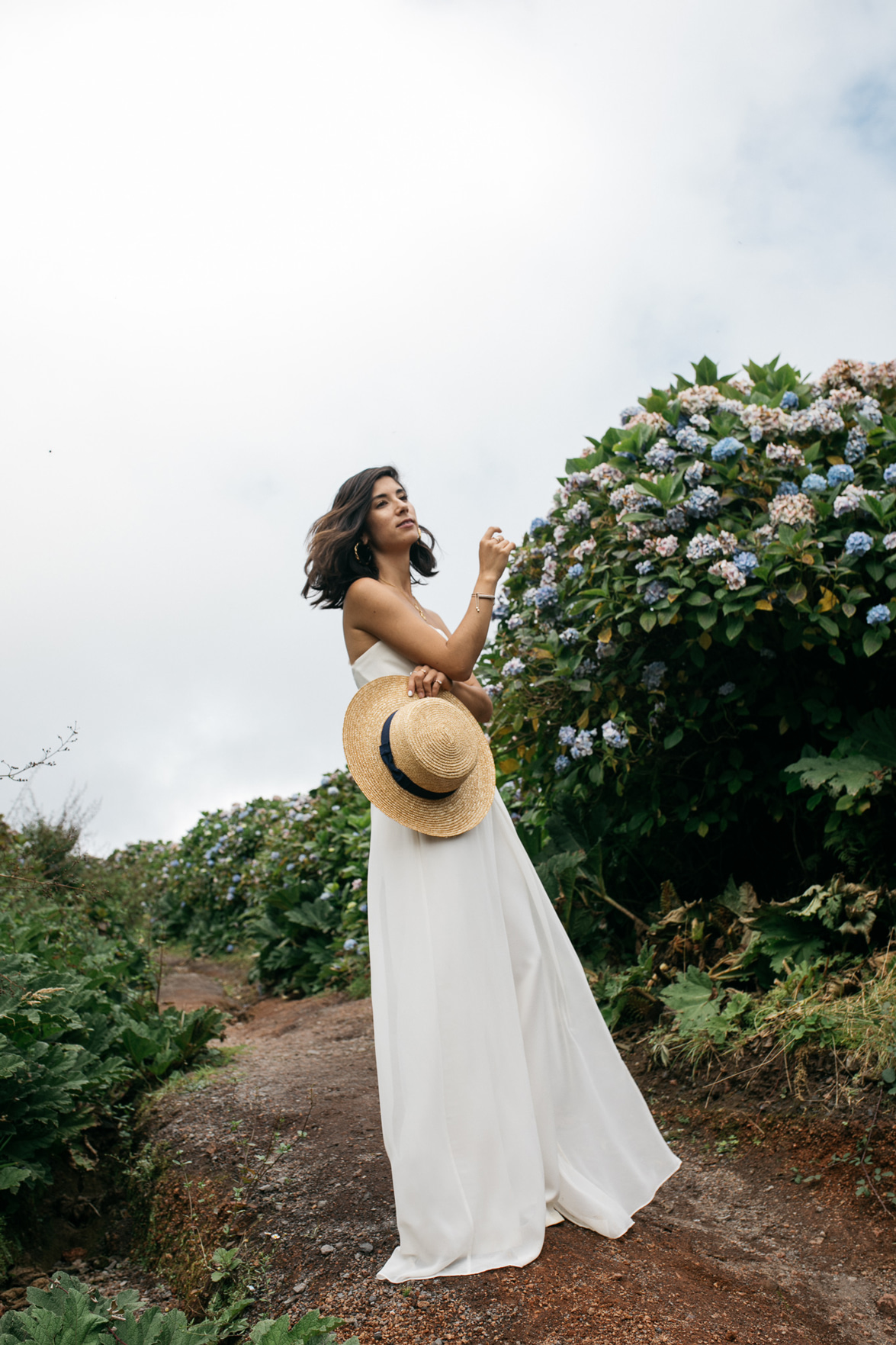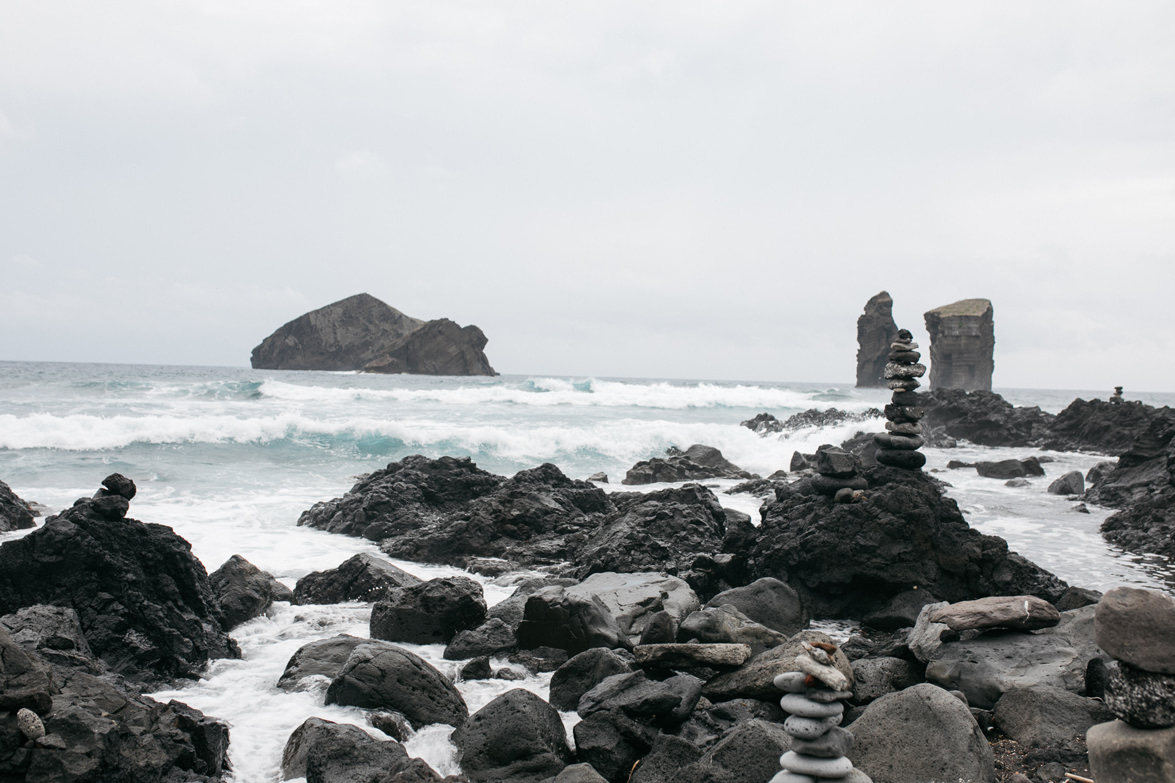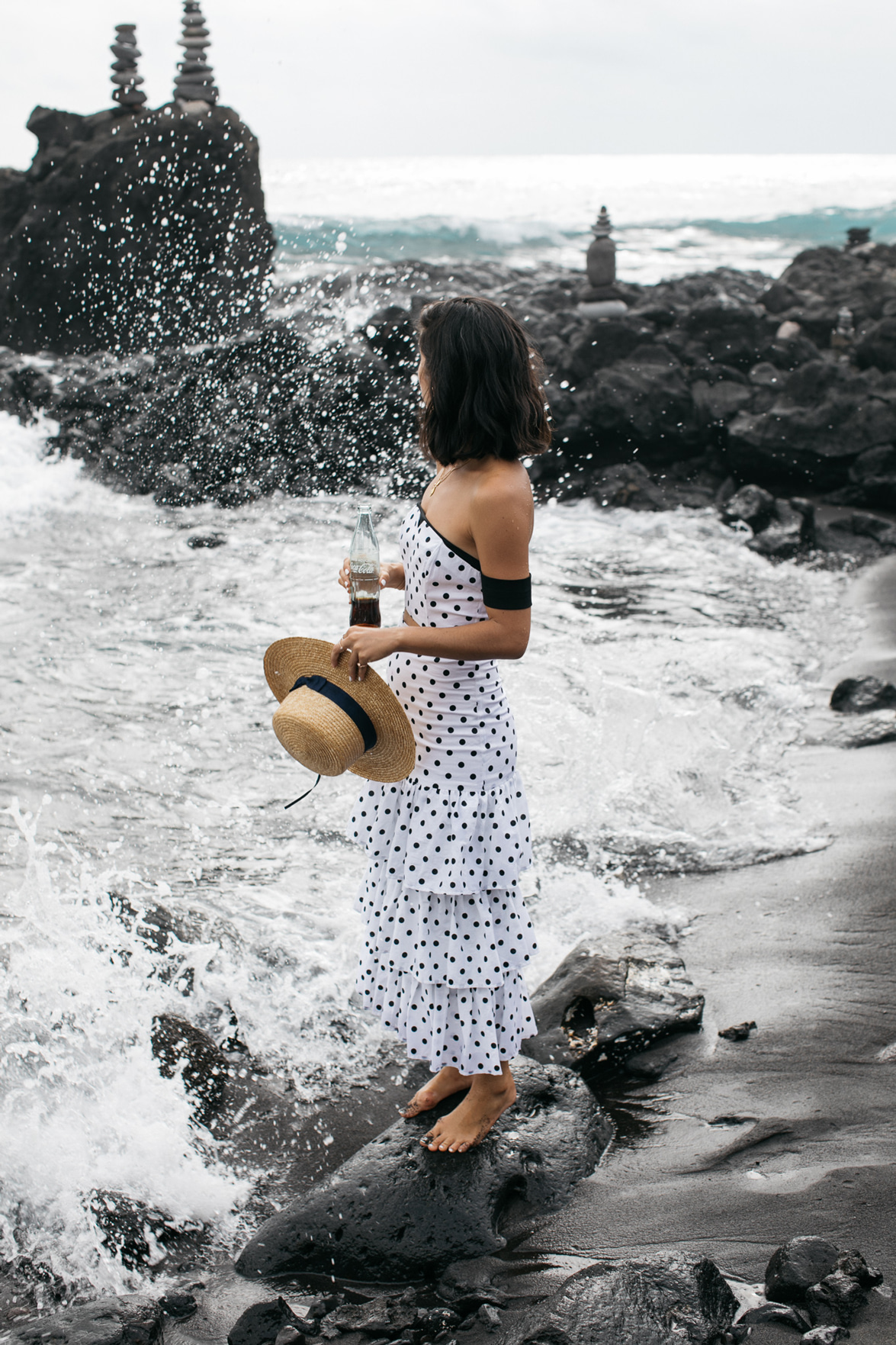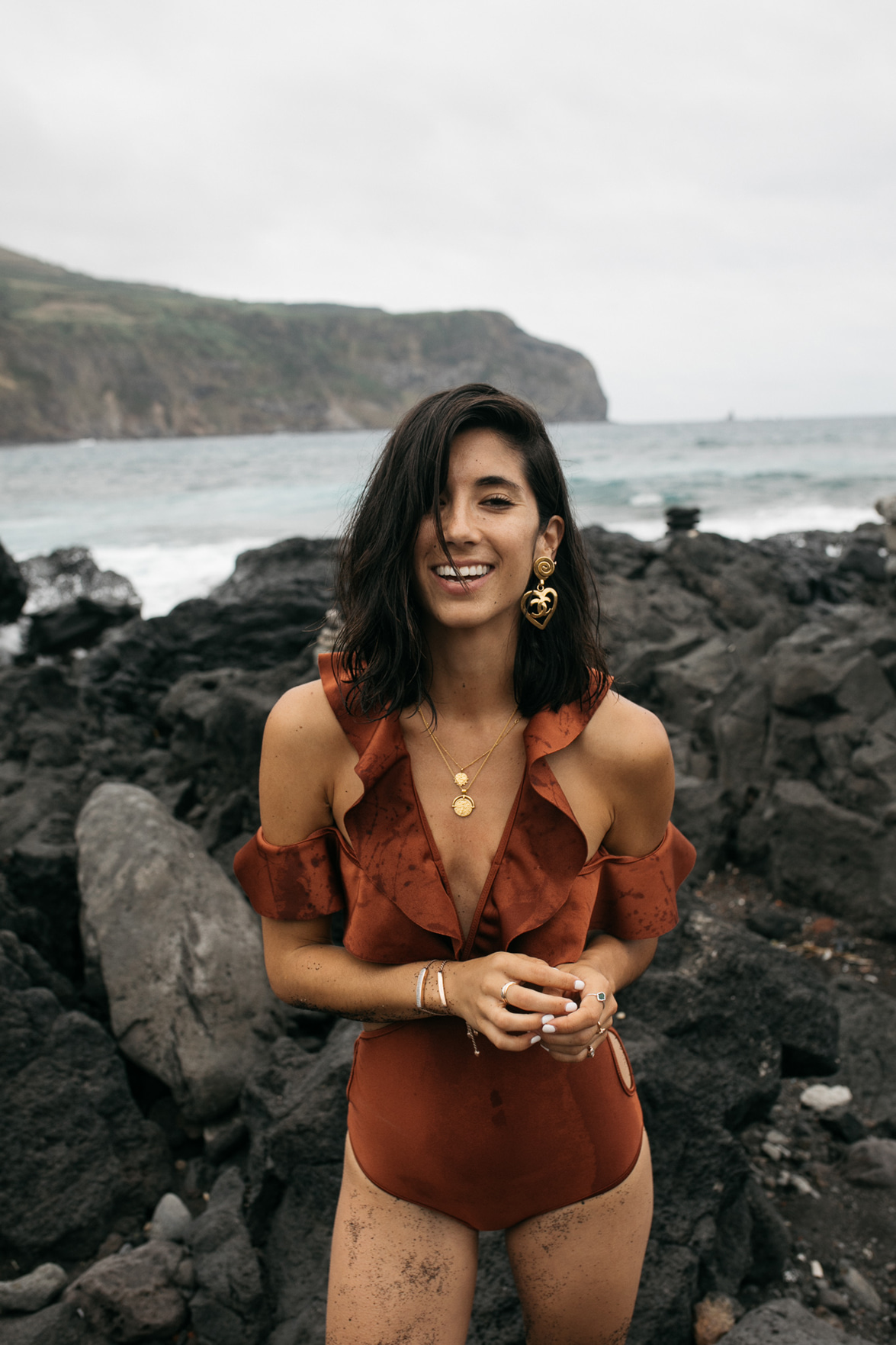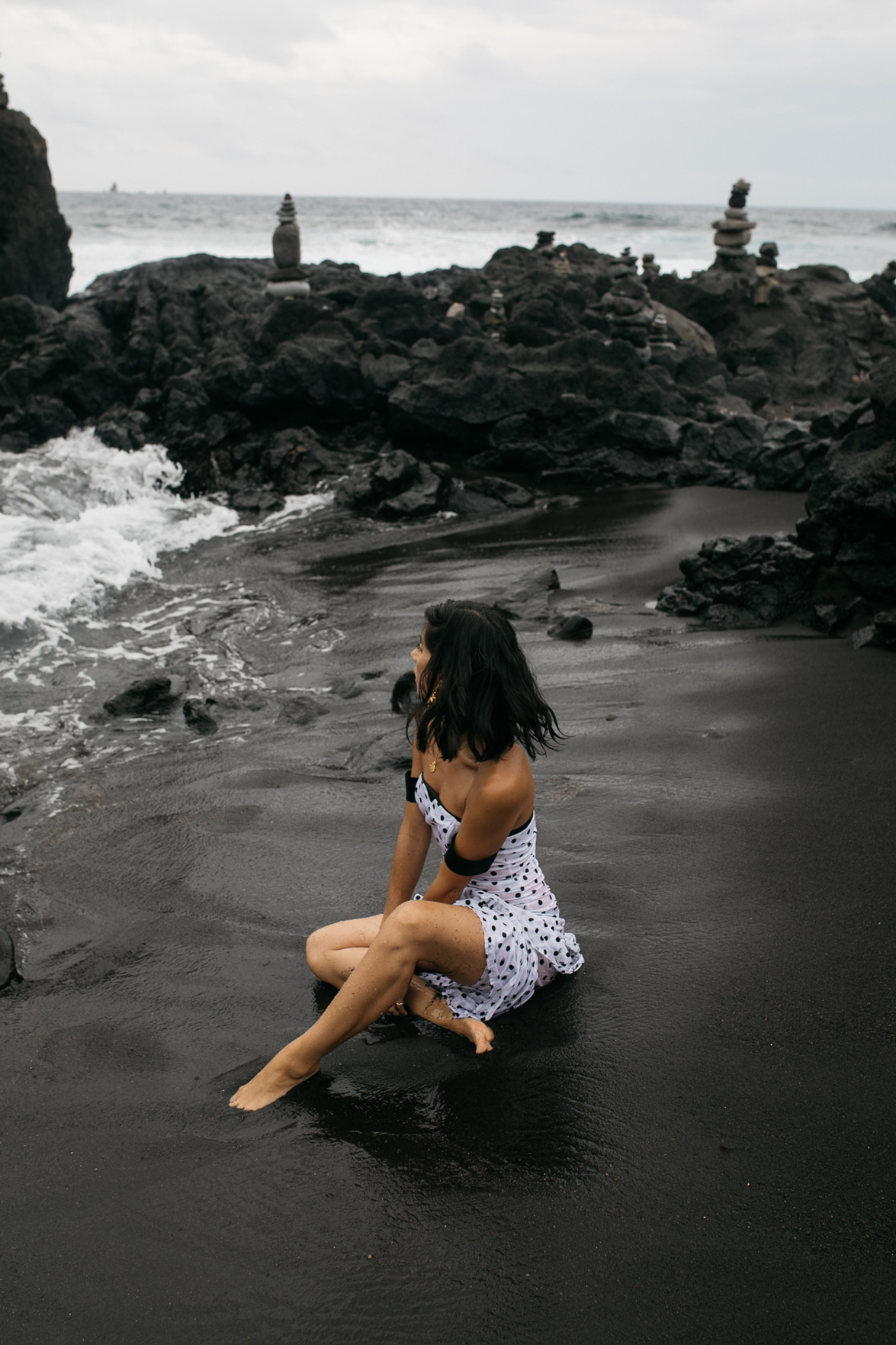 [prodl brand="Azulu" product="Siena dress" description="I got this dress earlier in the summer and kept waiting for the perfect moment to photograph it. Once I heard there were black sand beaches in our near future in the Azores, I knew I had to pack it. I don't normally rock a dress so form fitting, but of course, I loved the midi length and the polka dots had me at hello." link="http://shopstyle.it/l/S90P"]

[/prodl]
[prodr brand="Zimmermann" product="Tali flutter bathing suit" description="I first wore this bathing suit earlier in the summer when I sailed around the British Virgin Islands and it quickly became one of my suits of the summer. I have to say it's not the most practical suit for water sports (paddleboarding in it is a joke), but what it lacks in functionality, it makes up with that AMAZING copper color which garners compliments every time I wear it." link="http://shopstyle.it/l/S926"]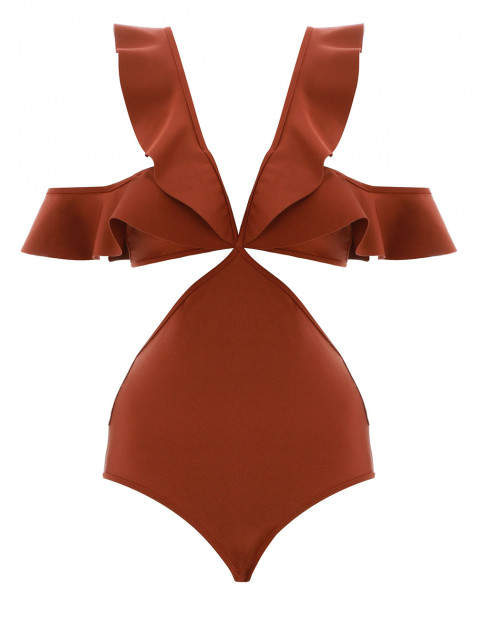 [/prodr]