5
minute read
A few weeks ago, I flew down to Miami for Art Basel.
Wait, let's back up a minute. To simply say "I flew down" to Miami would be a sorely misleading. Why? There was no long cab ride to JFK. There was no security line. There was no fighting over overhead bin space. There was no awkward middle seat with zero leg space.
And don't get me wrong. I'm not necessarily complaining about any of the above (OK, maybe I am with the middle seat part), but in all reality, the fact I can travel at all for work, is something I don't take for granted, long, traffic-riddled cab rides to JFK and all. But when a private jet flight comes through your email inbox, well, your ears perk up by about 10 miles. And your bags magically pack themselves.
So back to Miami for Art Basel and this "no ordinary" flight -- my friends over at Fohr put together several trips every year, in partnership with NetJets (as you might have guessed a private jet company) and Four Seasons, usually to some place warm. I've had a handful of my good friends go on their previous trips and it always looks as fabulous as it sounds. Private jet for a long warm weekend getaway -- always sounds nice when New York's wind chill factor is bringing you way down. This year, they invited some of my favorite ladies (hello Sai and Helena) and yours truly for an Art Basel weekend at the stunning Four Seasons Downtown Miami Hotel. While the trip was short (Miami trips always are, aren't they?), we did happen to take advantage of the warm weather, incredible ocean front views and relaxed at the painfully chic spa at the Four Seasons Surf Club (if you get the chance, definitely visit this new property -- it's a work of hotel art in the truest sense).
The piece de resistance of the trip though? The infamous Four Seasons Pop Down party did not disappoint. Mainly because it was on the most incredible mega yacht docked at the harbor. Multiple stories, Michelin-star worthy cuisine, a fully Hermes leather staircase -- the details to this yacht were just unreal.
Huge thanks to the NetJets, Four Seasons and Fohr teams for having me -- definitely one of my favorite trips in recent memory!
[prodl brand="Victoria Hayes" product="Valentine blazer" description="I will fully admit: when I was planning my outfit for these photos outside of the jet, I was inspired by the December Vogue cover with Emily Blunt flying away as Mary Poppins, wearing all red. I met Victoria Hayes earlier last month in Vancouver, so she was the first person I thought of when I was brainstorming a RED moment." link="https://victoriahayesnyc.com/collections/jackets/products/valentine-blazer-red"]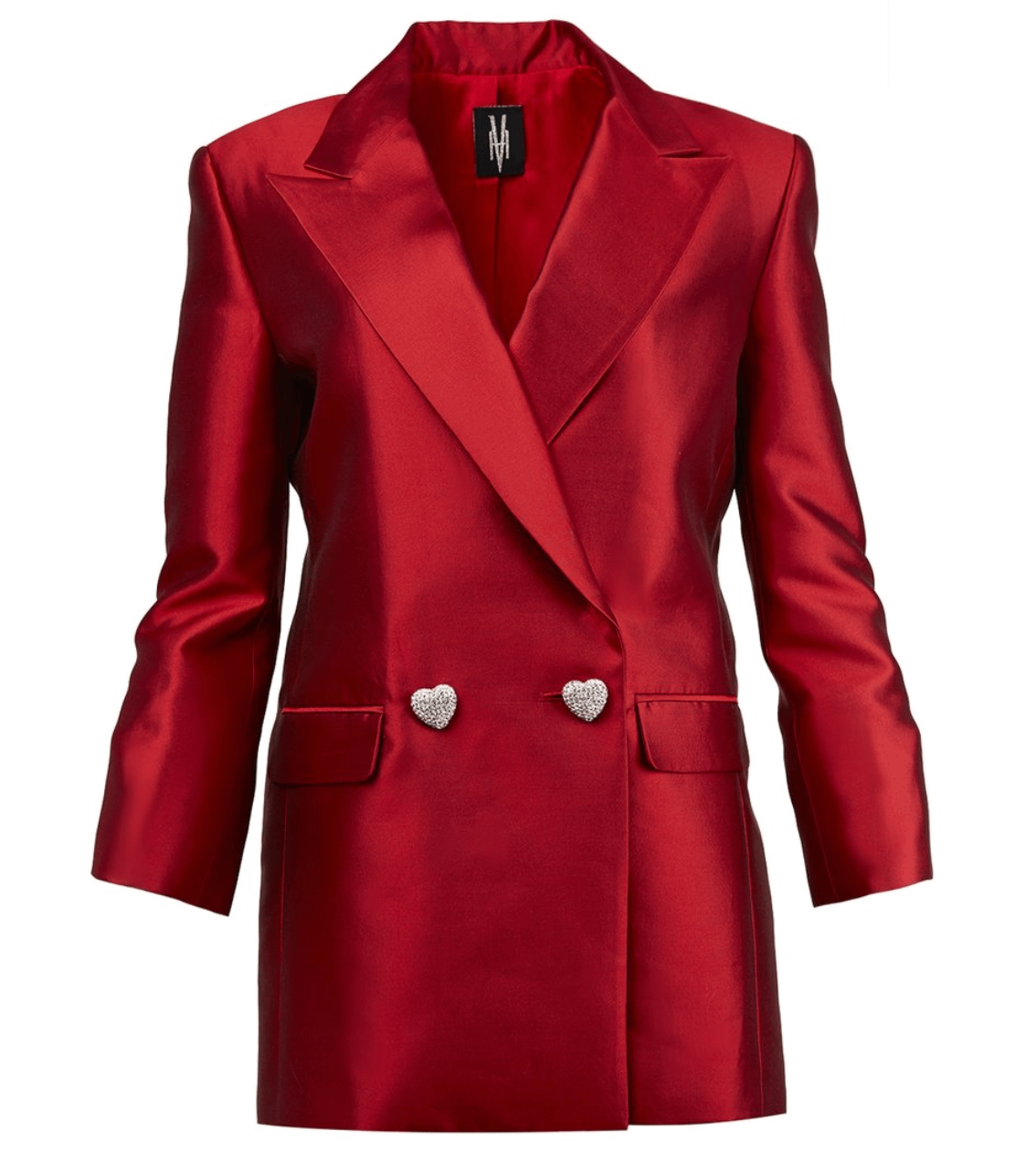 [/prodl]
[prodr brand="Victoria Hayes" product="Red Hawkins skirt" description="Still dreaming about this skirt -- the asymmetrical hem is just too good, especially on a longer skirt like this. " link="https://victoriahayesnyc.com/collections/skirts/products/hawkins-asymmetrical-skirt-red"]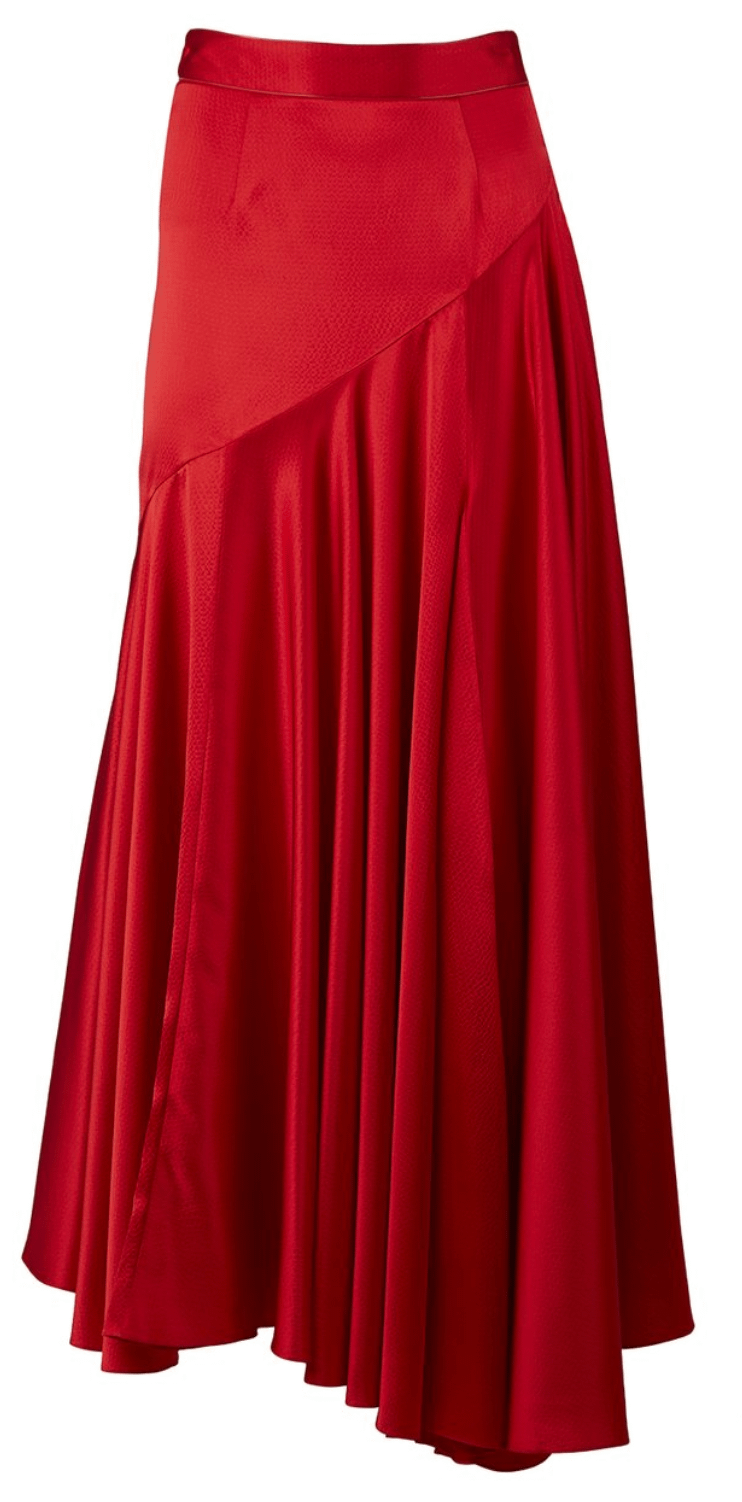 [/prodr]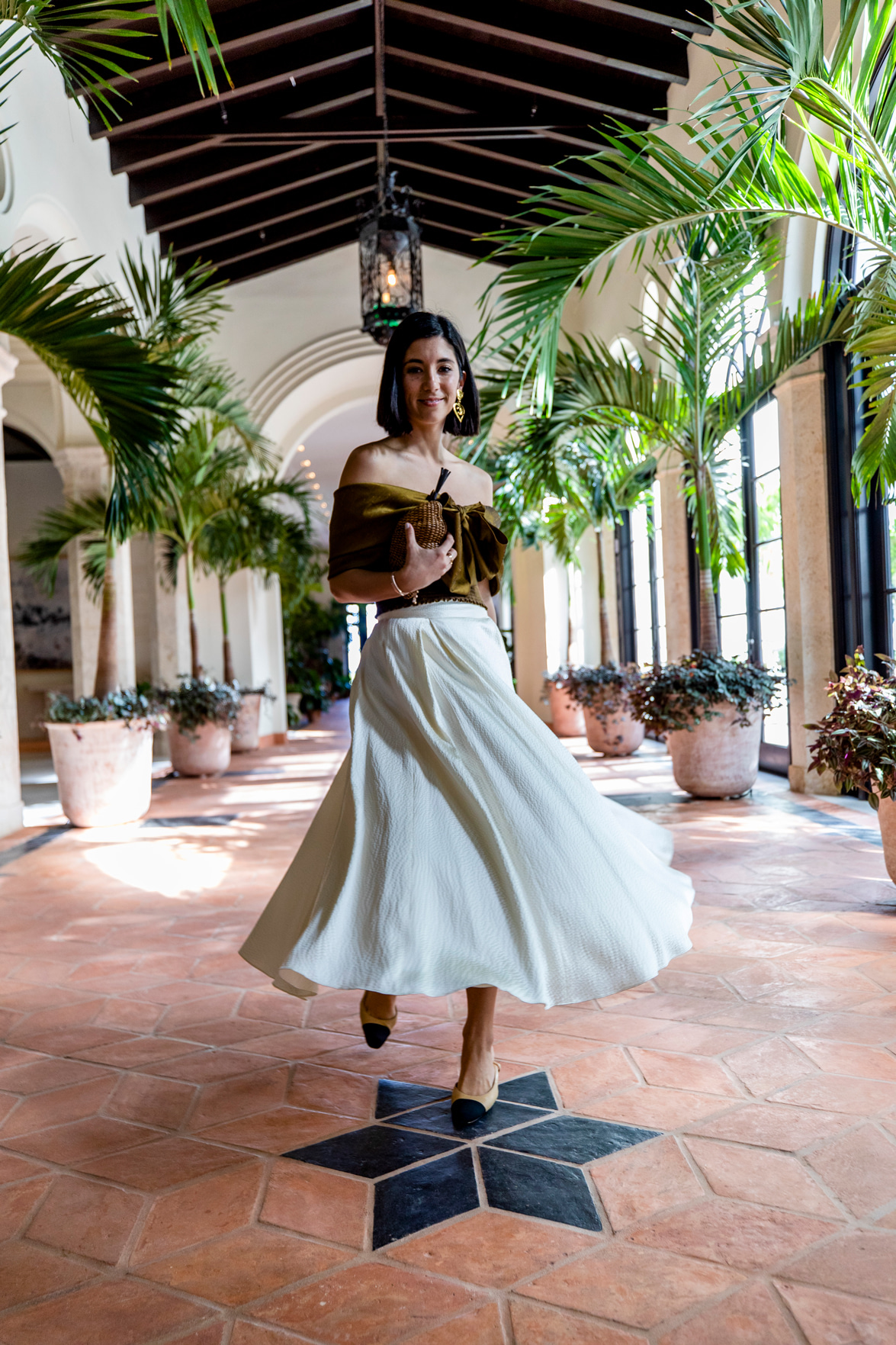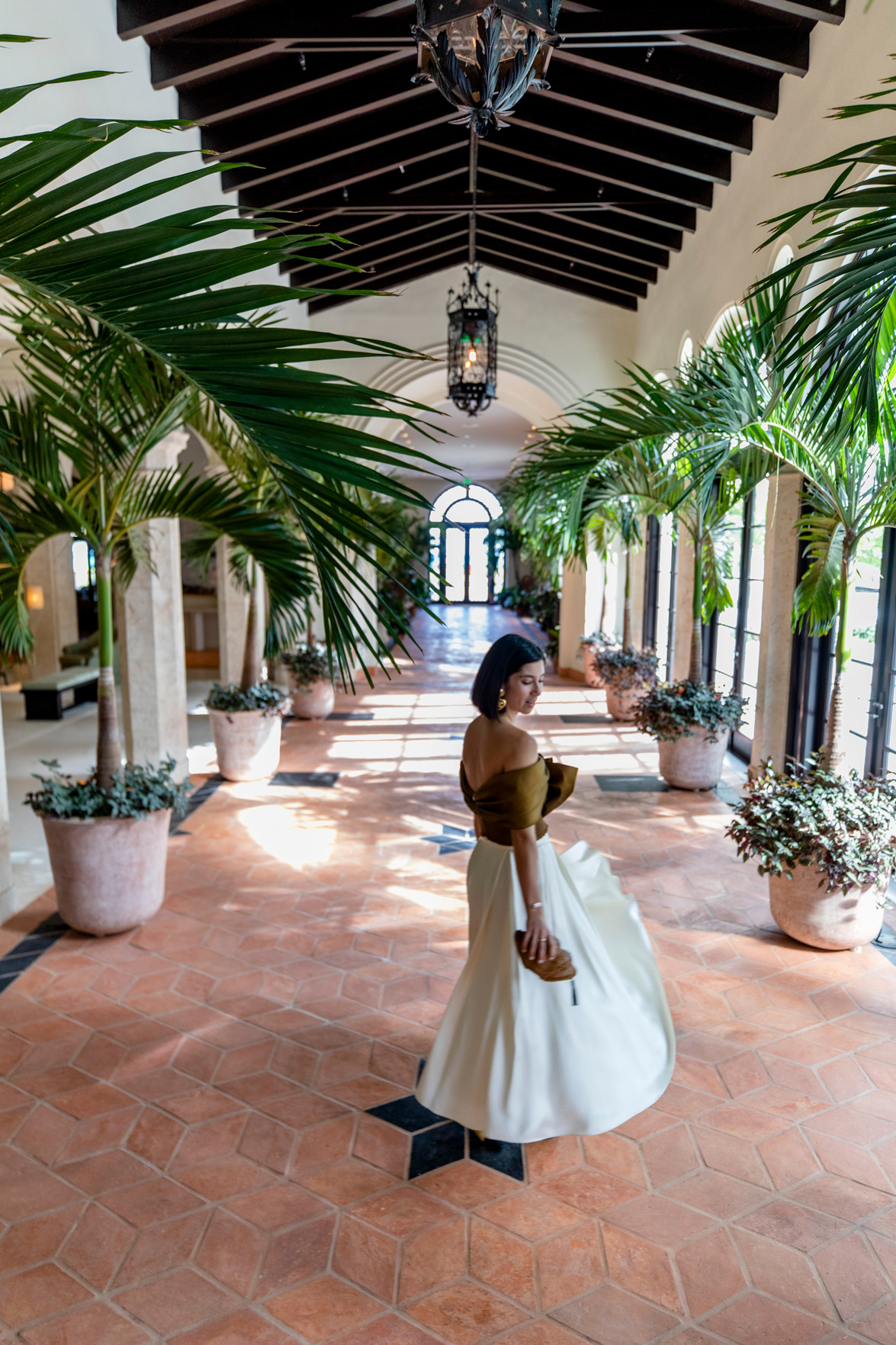 [prodl brand="Victoria Hayes" product="Carmela skirt" description="Another Victoria Hayes goodie for the win! This skirt got a lot of love during the trip -- just so easy to style and wear. And just so easy to twirl in." link="https://victoriahayesnyc.com/collections/skirts/products/carmela-skirt-ivory"]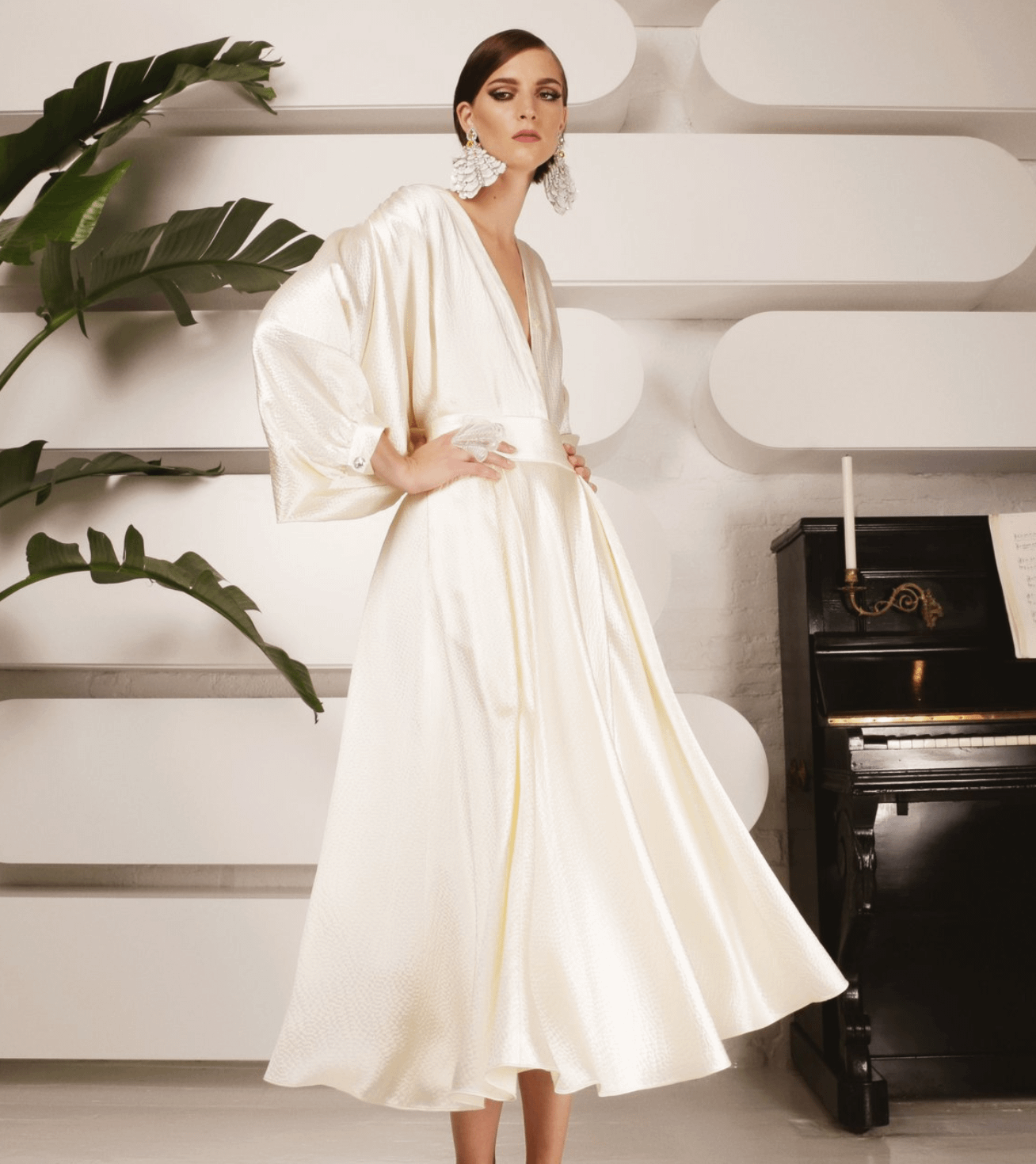 [/prodl]
[prodr brand="Petersyn" product="Olympia top" description="The perfect romantic off the shoulder crop top -- especially with the right high waisted skirt. I couldn't find the exact olive/bronze color I wore here, but this black version is still available." link="https://shopstyle.it/l/XrYE"]
[/prodr]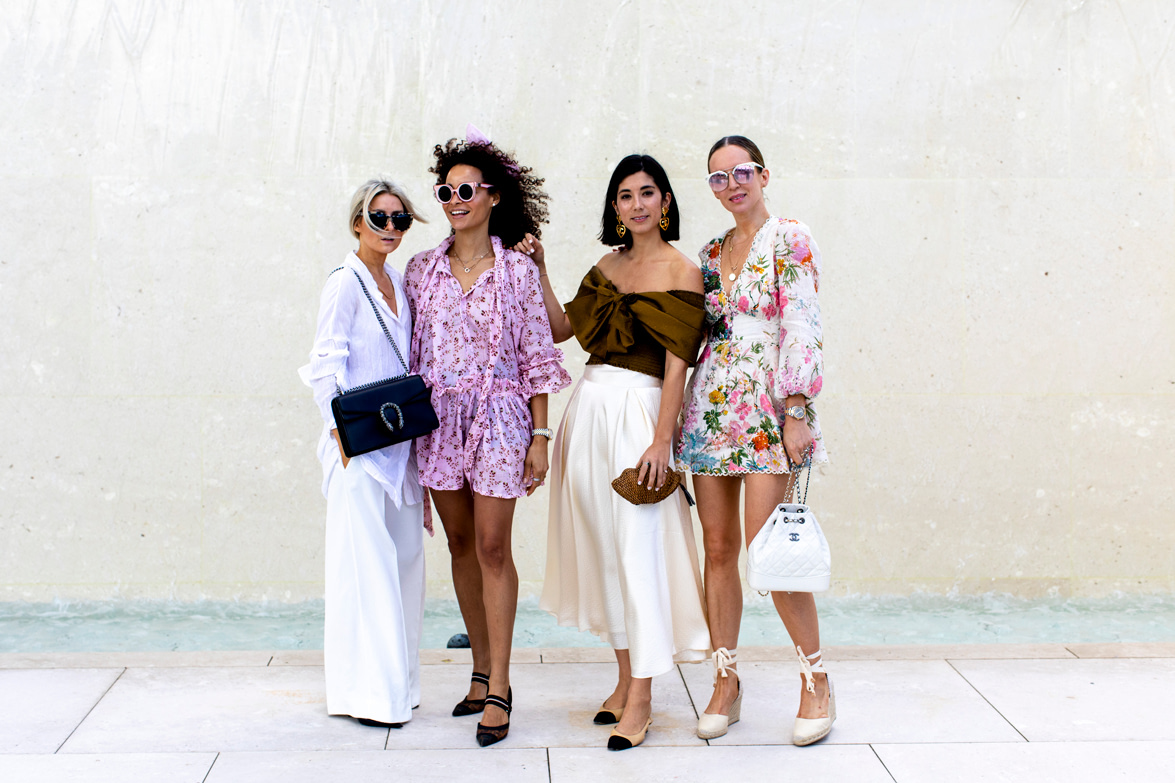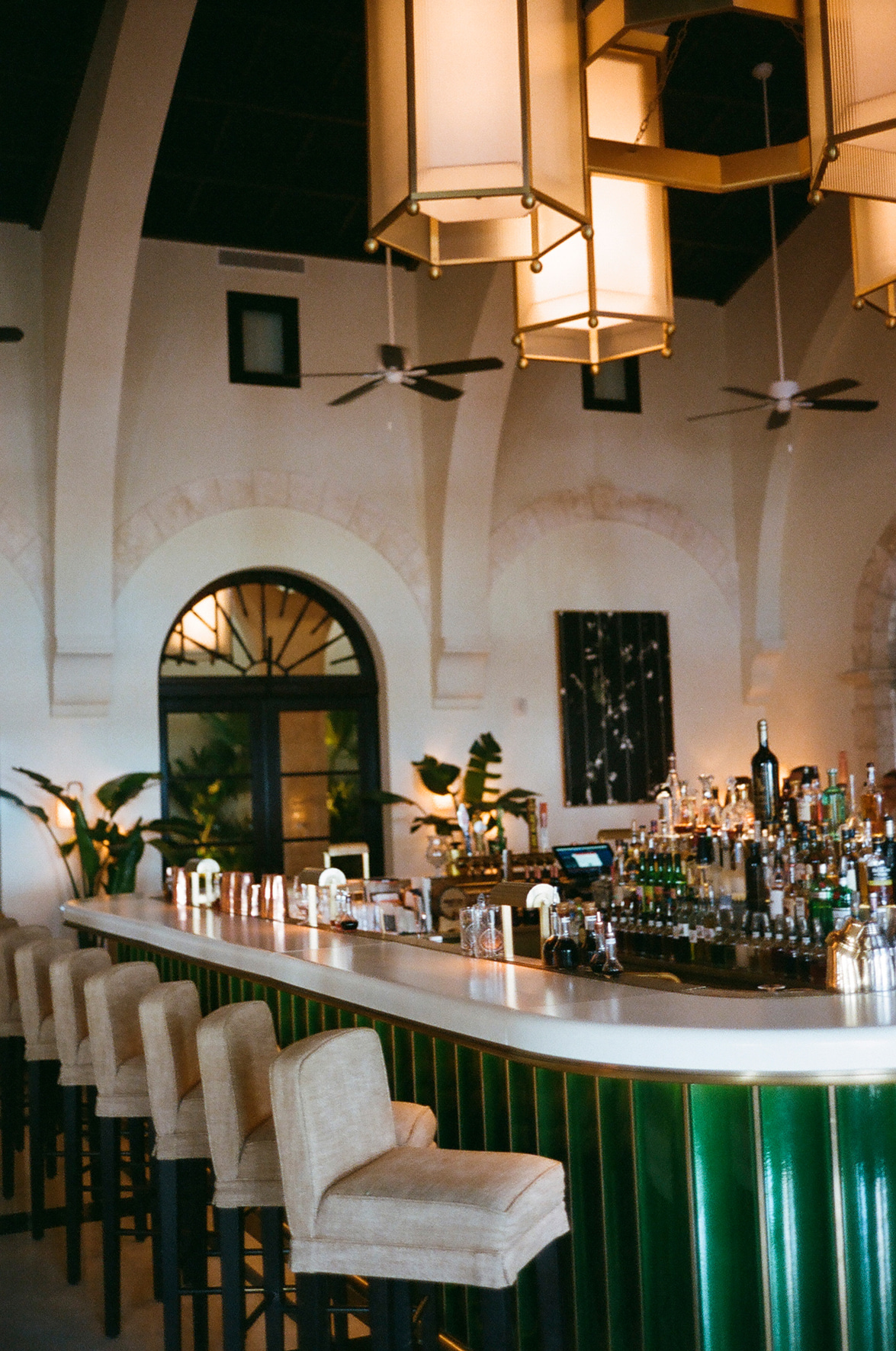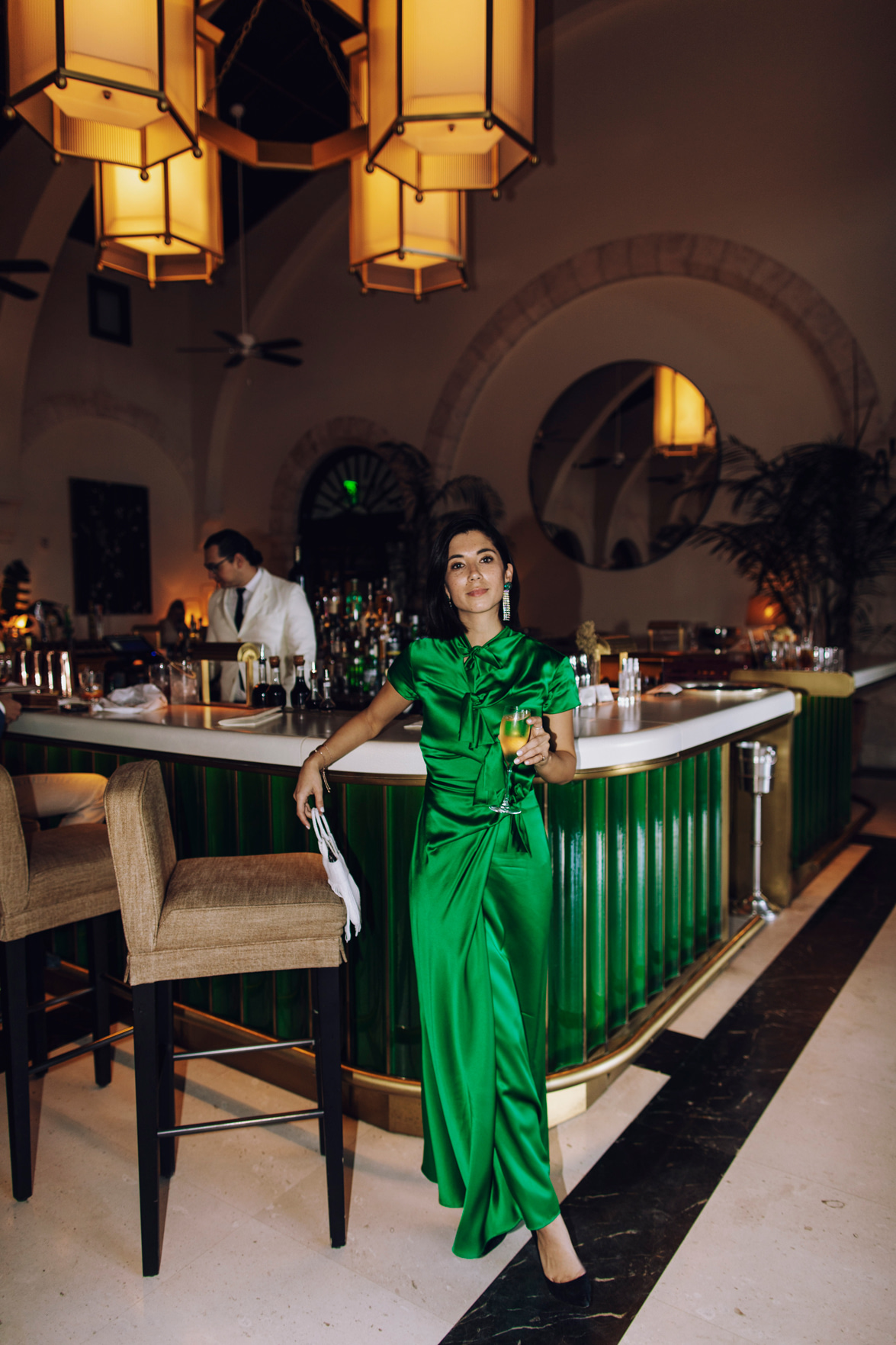 [prodl brand="Saloni" product="Back tie gown" description="Doesn't this dress just scream Bond Girl? And of course, the minute I brought it to the Four Seasons Surf Club Hotel not knowing their stunning bar was a matching green, I had to laugh a little. Just too perfect!" link="https://shopstyle.it/l/Xr1W"]
[/prodl]
[prodr brand="Saloni" product="Kelly bow satin silk dress" description="Unfortunately, I couldn't find the green version of this dress still available, but it does come in gold and red. My styling tip? I personally prefer the ties left loose as opposed to bows." link="https://shopstyle.it/l/XrZl"]

[/prodr]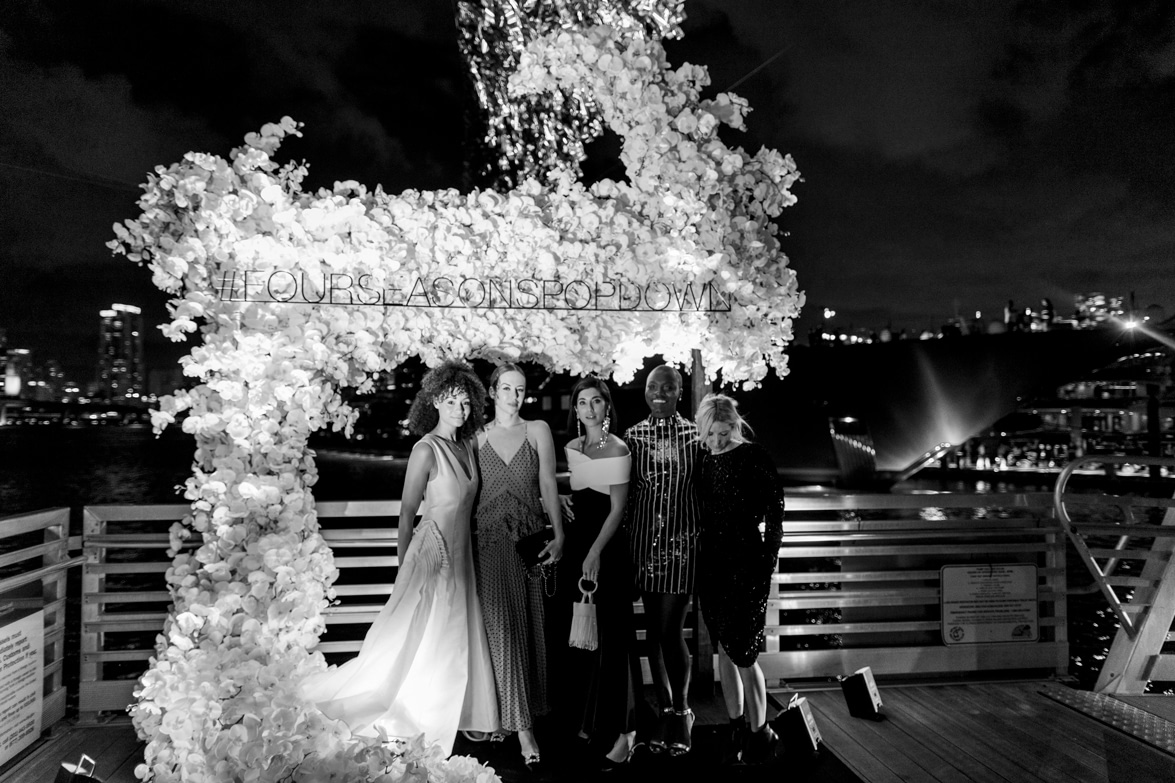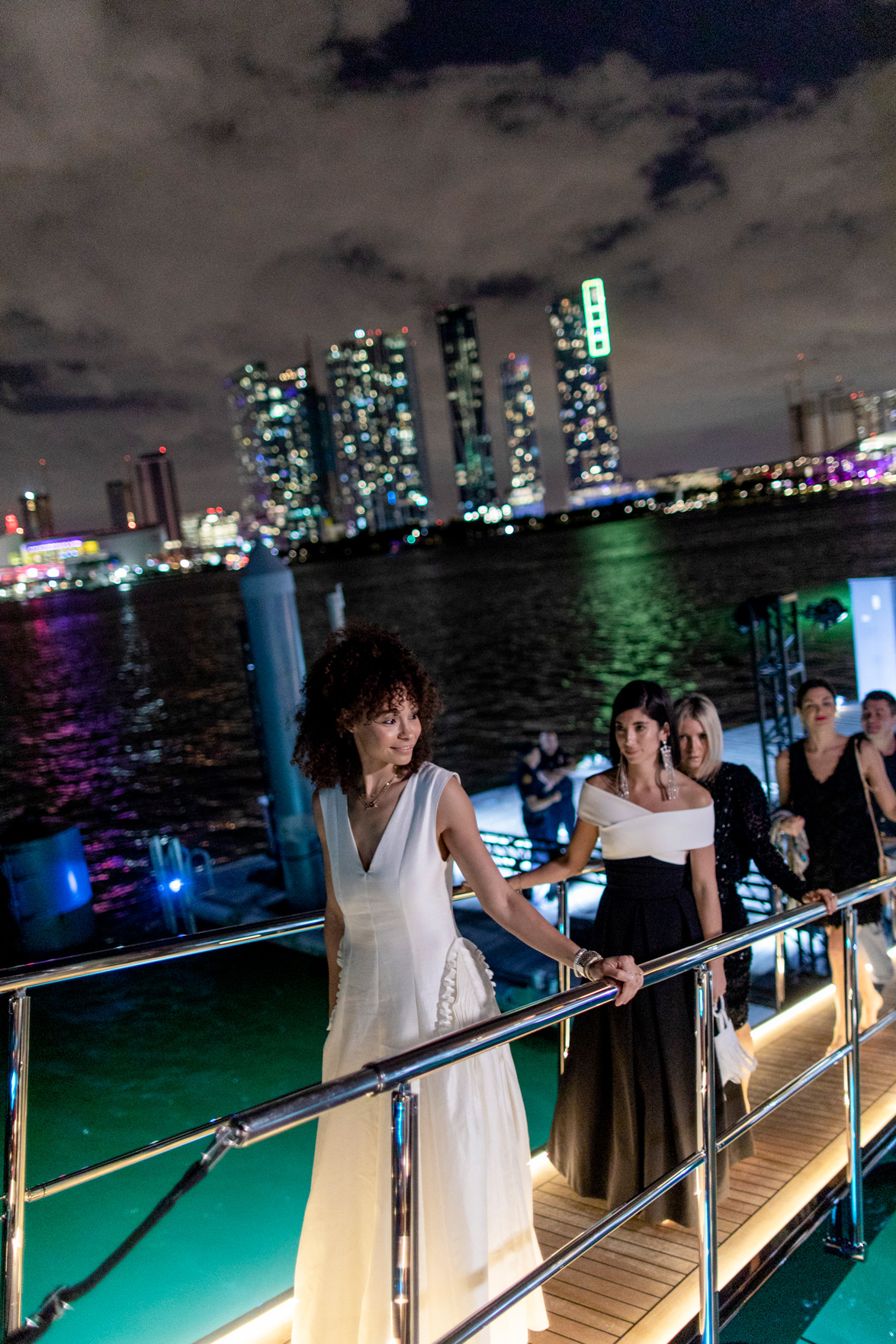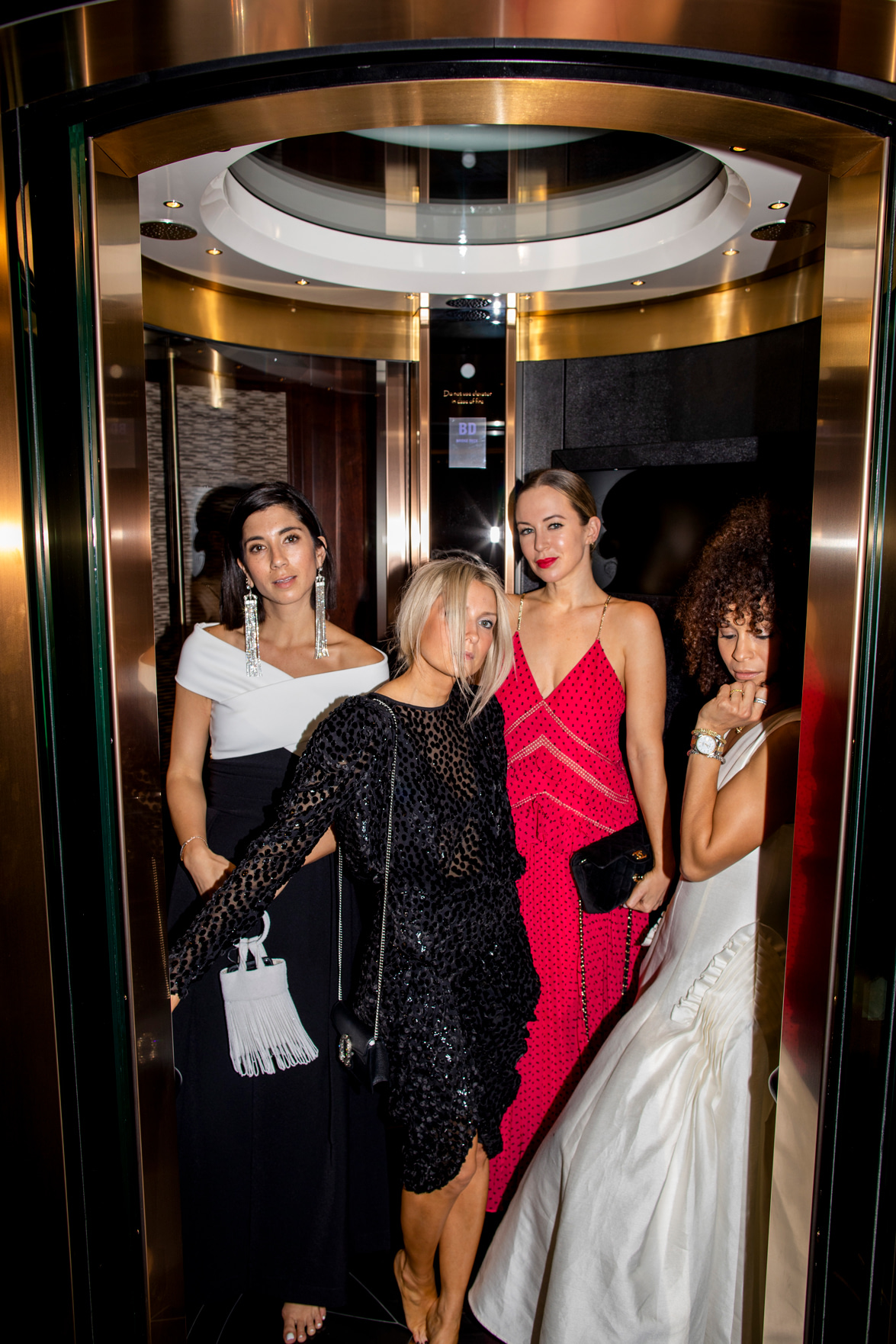 [prodl brand="Preen by Thornton Bregazzi" product="Off the shoulder midi dress" description="I had been eyeing this Preen dress for some time now so when Net-A-Porter asked Sai, Helena and I if we wanted to borrow a few pieces for the trip, I thought this dress would be perfect for the Four Seasons Pop Down party on a mega yacht no less. It was the perfect blend of yacht classy and dance floor ready." link="https://shopstyle.it/l/Xr3b"]
[/prodl]
[prodr brand="Sara Battaglia" product="Off the shoulder midi dress" description="Such a great dupe -- and it's on sale! Would also be lovely for New Year's Eve coming up!" link="https://shopstyle.it/l/Xr4M"]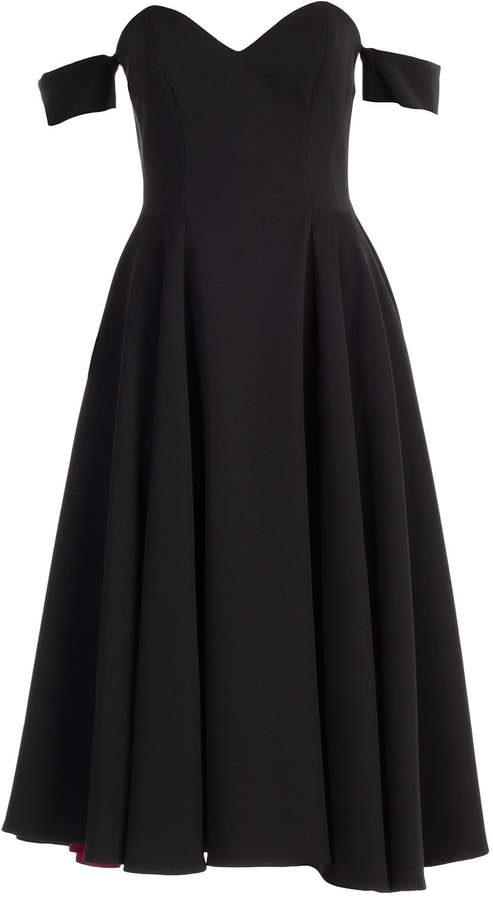 [/prodr]