4
minute read
OUTFIT DETAILS: Daphne Wilde dress (gifted) // Sarah Flint heels (gifted) // Vintage Chanel bag (similar style here) // Vintage Hermes scarf // J.Crew driving gloves (old, similar style here)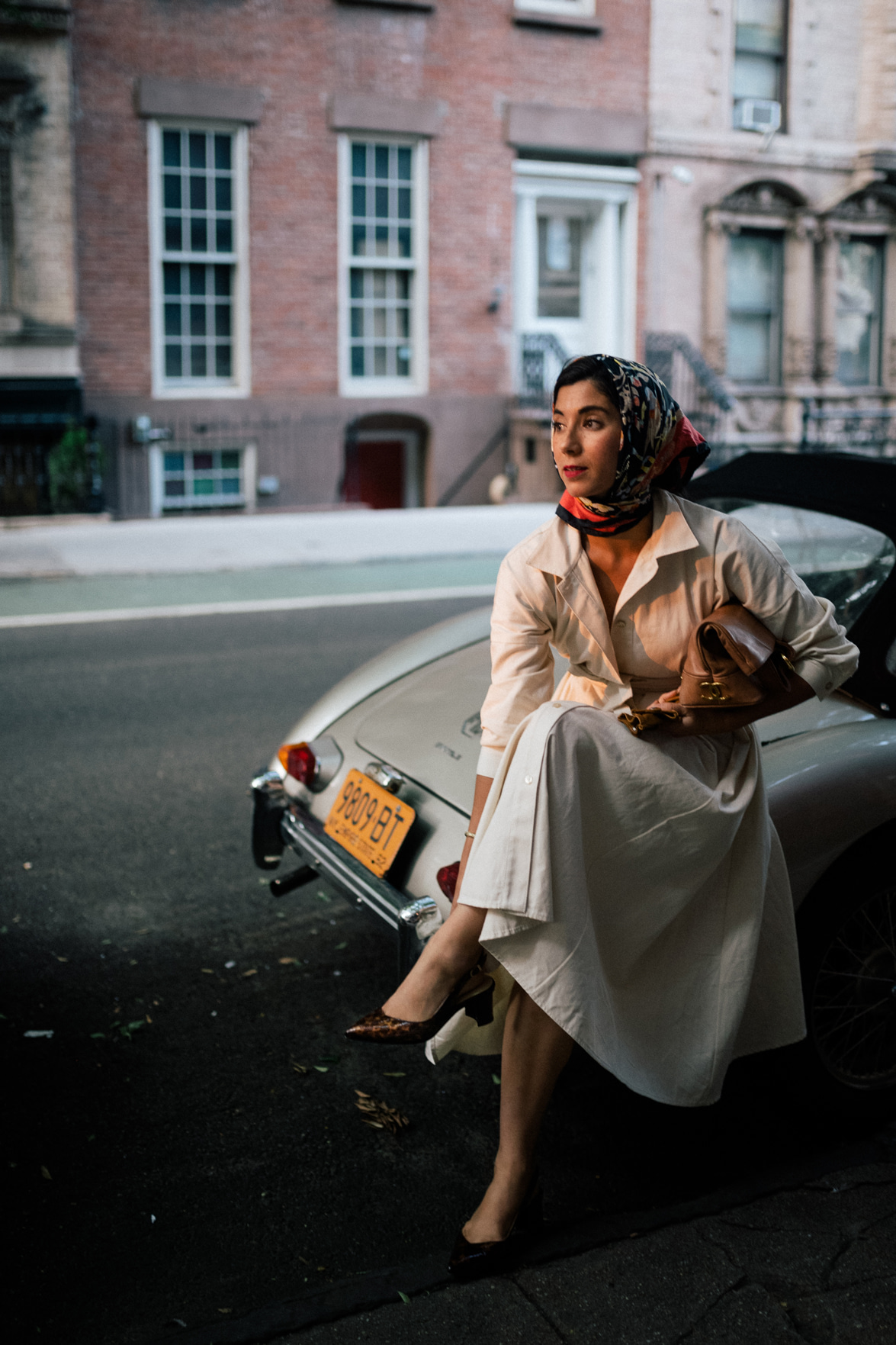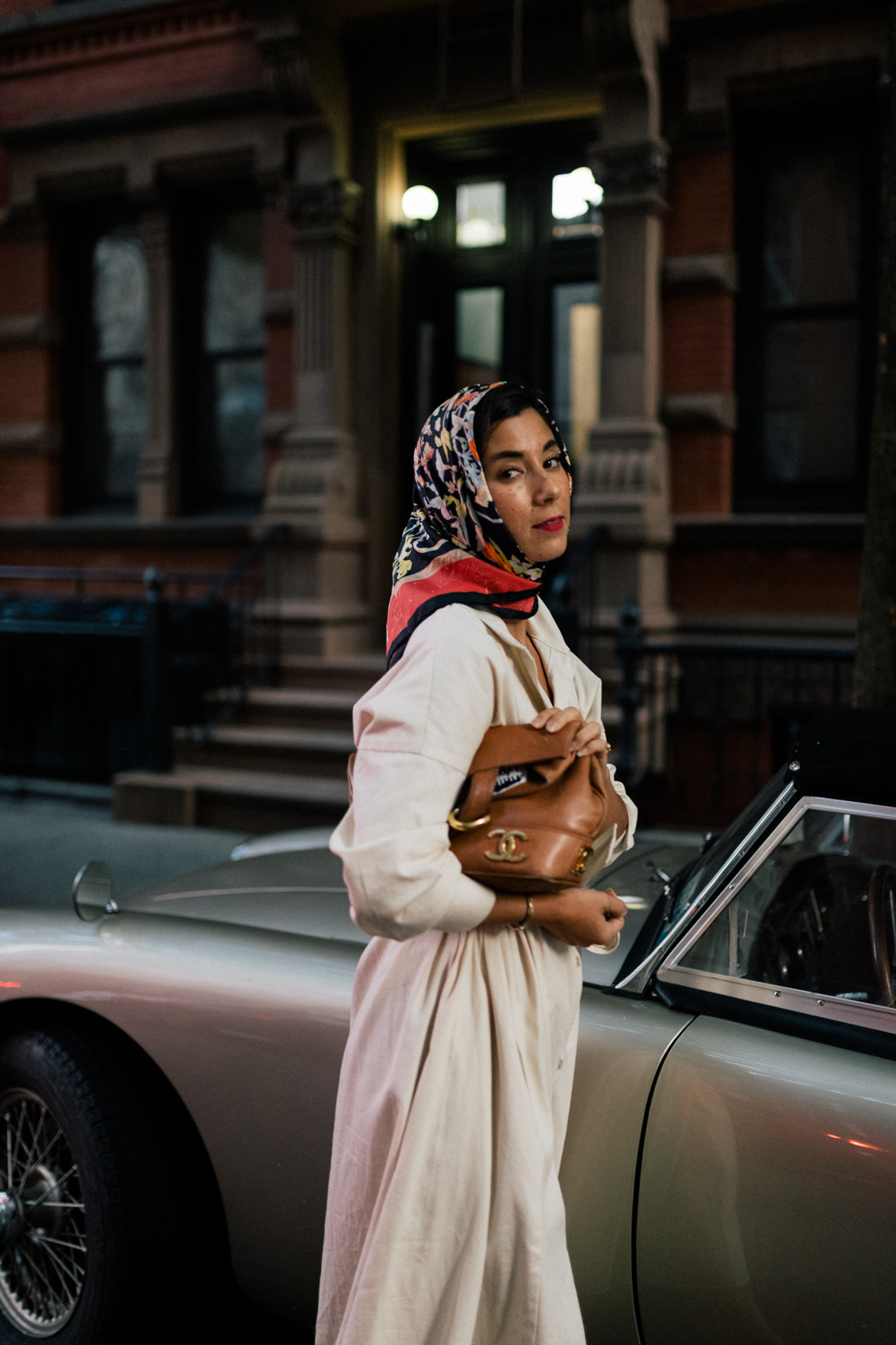 No matter how far my school days are behind me, fall always signifies the start of a new season, a fresh start.
An excuse for even bigger books to curl up with, bouquets of newly sharpened pencils (as Nora Ephron might put it) and, of course, a new bag to tote around the city with all your supplies. I vividly remember picking out my school bags each year, excited by the promise of what they represented — another year of learning, growing and burying my nose in a book.
Fortunately when I asked on Insta Stories the other day, many of you share my same visceral nostalgia when it comes to fall -- so much so, that you shared your own favorite memories and musings when it comes to what excites you about the start of this new season. I wanted to share a handful of my favorite submitted comments in hopes it gives you the same warm hug it gave me when I sat down to read them all. Think of it as your Autumnal ASMR reading list. So without further adieu...
The crispness in the air
Fuzzy sweaters on the first chilly day
Velvet, corduroy and tweed
Halloween movie marathons
A leather biker jacket
Apple cider and hot toddies
The first cool rain of the season falling in late October
Crisp, cold apples, pumpkins and squash
A sharp pair of black riding boots
Fried food and corn dogs (from a Texan who looks forward to her state fairs in the fall!)
Fall foliage, or as one reader put it "the trees dressing up in beautiful colors"
Wearing layers for the first time
Shades of maroon, burgundy, gold, burnt orange and amber, cognac and sage
All the school supplies
The angle the sun takes in the mornings and afternoons -- creates the perfect real life filter
The childlike heartache of waving goodbye to my mom from the school bus
Those Crayola crayons -- one reader shared this story with me: "I taught Kindergarten for 18 years. I still go to stores in August and smell the crayons. They must be Crayola. I'm not into branding except when it comes to crayons. Their pigments are vibrant. I always felt my students deserved the best crayons. It's such a simple thing. Spring for the Crayola. Actually, Walmart sells a box of 24 Crayola Crayons for $.50 a box in August. I'd gift them a box for school and a box for home. $1.00 a student. Why wouldn't you?"
The first fall breeze of the season
The smell of wood burning
New England leaves
The first time you step on a leaf and it crunches
Hearing the marching band practice at the local high school
Sweata weatha!
The lull which transcends the streets, giving way to a sort of calm
First long sleeve shirt run of the season
If you listen carefully, insects "sing" slower on fall evenings
Watching Hocus Pocus for the millionth time
Changing the bedding over -- switching from light linens and cooler fabrics for heavier, warmer ones
Friday night lights from high school football games
Arts and crafts and Renaissance fairs
Rainy afternoons in a library with a book you don't want to put down
Rewatching When Harry Met Sally, You've Got Mail, Mona Lisa Smile, Dead Poet's Society and Practical Magic
Summer dresses with cardigans and boots
The promise of holiday season around the corner
Much loved copies of Lord of the Rings, Harry Potter and Catcher in the Rye
Seeing your breath on a chilled morning
The book series Scary Stories to Tell in the Dark
Wellie rain boots
Felt hats
The way a neighborhood street looks at dusk just as the street lamps turn on -- leaves strewn across the ground glowing