2
minute read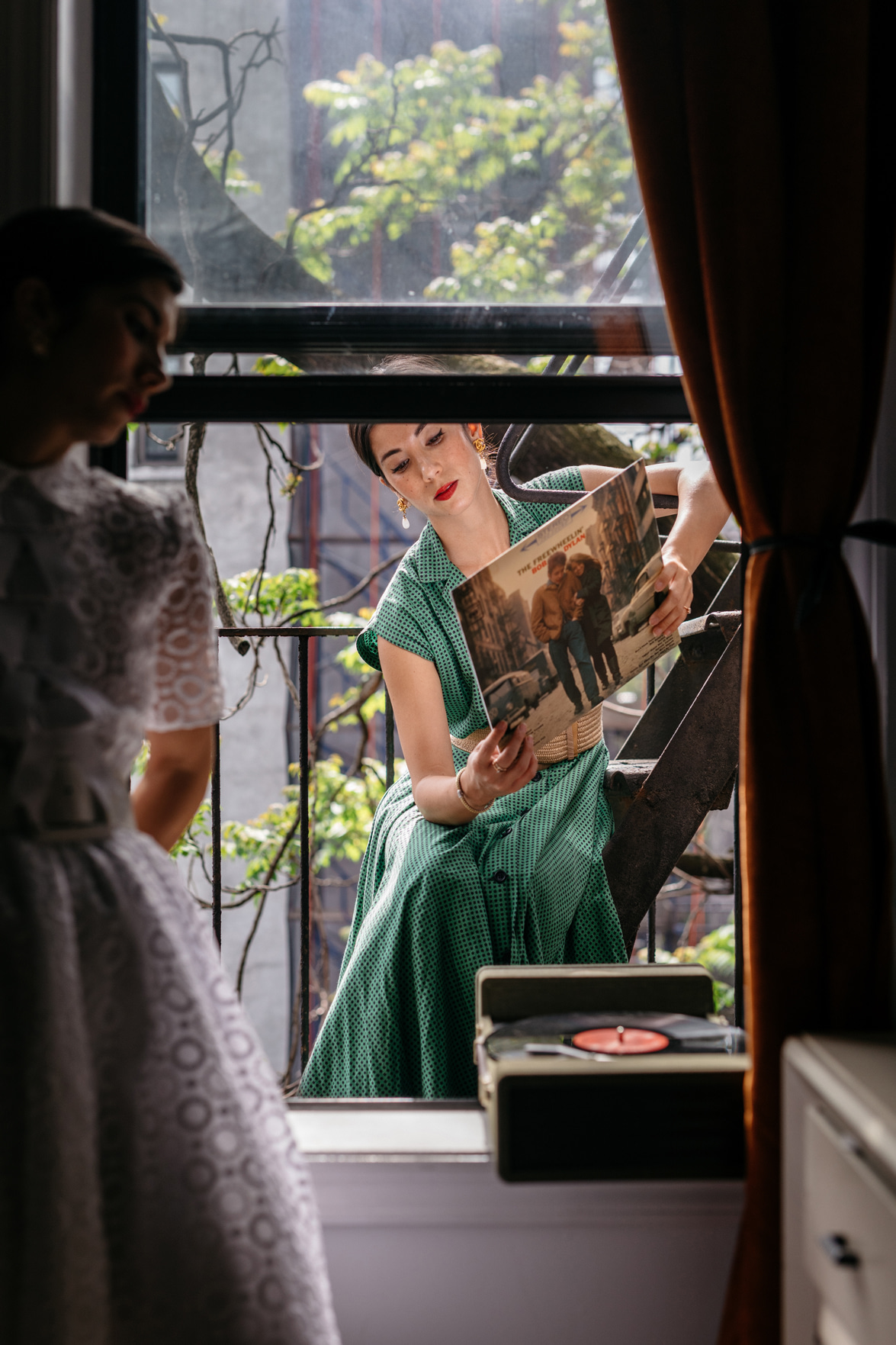 OUTFIT DETAILS: Atlantic-Pacific X Halogen white dress // Green vintage shirt dress (similar style here) // Atlantic-Pacific X Halogen belt (similar style here) // Vintage Chanel earrings
The other day, I was chatting with a reader about Nina Leen...
the first female photographer for LIFE magazine, particularly active in the 40s and 50s. Leen was well regarded for her quiet way of observing and capturing a scene, whether it was a highly stylized fashion campaign or a simple slice of every day American culture, like someone catching the bus. Her New York fire escape photos, in particular, have always stood out to me and especially since quarantine started, I've saved many of them to various moodboards, my favorites being this one and this one.
As I was going back through some of her work today, looking at photos of apartment buildings really no different from mine, it got me thinking about how much New York changes constantly, and yet, really stays the same. Yes, of course, buildings come and go and gut-renovations can turn a neighborhood block into a Trader Joes, but a lot of the curious, charming corners of New York? The alleyways, the basement jazz clubs, the piano dive-bar where the floor is slanted at a 30 degree angle? Miraculously for now, a good handful of them still stand. And my fire escape? While rickety and weathered, it still clings to our pre-war building (built in 1900!), having served as the backyard space for many New Yorkers before us (like some of the women in Leen's photos from the 50s perhaps!) and for many more New Yorkers after us. Personally, I take solace in that.
So today, as I was setting up this Leen recreation shot, I couldn't help but wonder what it must have been like as a young NYU student decades ago, listening to a new Bob Dylan record out on a fire escape not all too unlike my own. And what would that very same student say, if they knew a girl like me would be doing the same activity, almost 60 years later? Or maybe, just maybe, there's no need to wonder at all, as déjà vu will find a way to tie us together in its strange, inexplicable way? I don't know the answers either way, but I sure enjoyed pondering them today out on my fire escape as Dylan sang to me:
"Don't think twice, it's alright..." 
Photos by me