7
minute read
[row][half]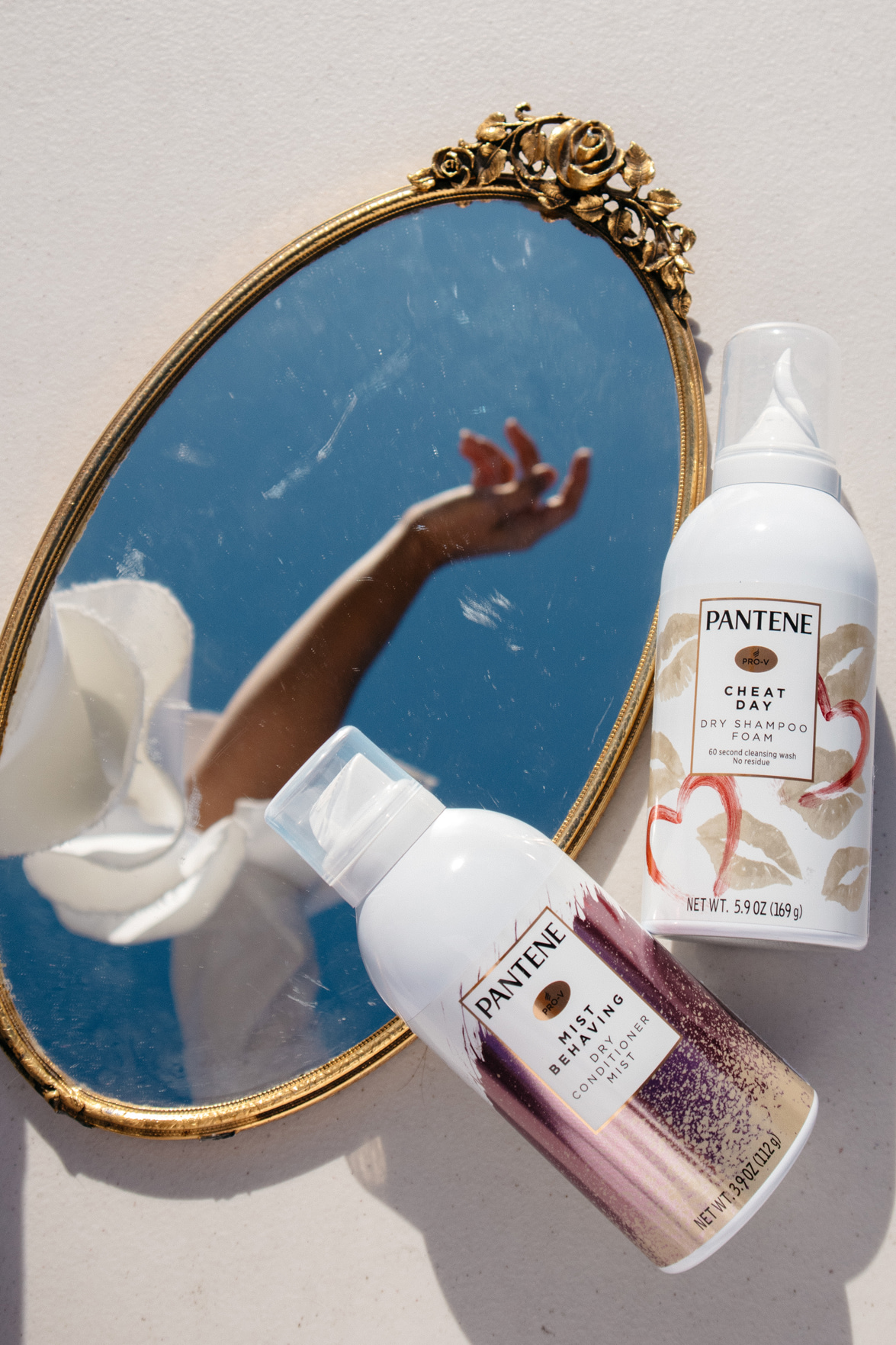 [/half][half]
Before I start this post, I just wanted to preface it with the following:
As I mentioned last week, I want to strike the right tone balance here on my blog, one that not only acknowledges our current collective situation but also can provide some sliver of normalcy, too (no matter how small), because goodness knows, I think we could all use a welcome escape right now. That means fashion, beauty, travel and lifestyle are still important pillars to me and hopefully they'll serve you in the moments you most need a reprieve from the onslaught of our news cycle. Today's post is indeed in partnership with Pantene for their new Waterless Collection, which I've been testing out since the start of our quarantine over three weeks ago. Since many of you are likely dabbling more heavily into self-care practices these days, I figured it would be a timely topic.
And just as a reminder, I'll be donating 10% of my take-home profit from this collaboration (and the rest of my collaborations going live in April and May), split between FeedingAmerica and a relevant COVID-19 organization. This time, I'll be donating to Wendy's Lookbook's Relief COVID-19 GoFundMe, which works to get necessary medical supplies to our healthcare workers on the frontlines.
Thank you for your continued support of my collaborations, especially at times like this. As always, all opinions and thoughts are my own. Now, on with the post...
If you have a semi-decent memory, you might recall I got bangs last year. Last February of 2019 to be exact.
Prior to that, the last time I had bangs was in college when I desperately aspired to be like Zoey Deschanel and while I remember loving it then, there was something about my recent foray that stopped me in my tracks. I just didn't feel like myself. And despite my best efforts, I didn't fall in love with my new bangs (no fault to my hair stylist of course -- as I adore him).
[/half][/row]
So what does any self-respecting girl do for the next several months while she grows out said bangs she now regrets? She wears a bun! For days on end. And while I think my hair was happy for the heat styling break, it's definitely been through the ringer nonetheless, namely with breakage from wearing my hair slicked back so often. With that in mind, today, I wanted to share a few things I've been doing to help with my hair damage, now that my bangs have more or less grown out into longer face-framing layers.
[row][half]
1. Wash less: This is probably a no brainer for most folks, as consistent washing of your hair dries it out thereby making it more prone to breakage over time, but yours truly has never really found a dry shampoo she liked. More often than not, I hate the white, powdery residue that's always left behind, especially if your hair is as dark as mine, and on top of that, my hair is THICK, so I always felt like I had to apply the whole bottle to feel like I was "clean" again. This is where the new Pantene Waterless Collection comes in, specifically their Pantene Cheat Day Dry Shampoo Foam and Pantene Mist Behaving Dry Conditioner Mist, which I've been testing out the past few weeks of quarantine.
First, the shampoo foam is magic! Similar in texture to styling foam or perhaps men's shaving cream, it's lightweight, absorbs into your hair beautifully and is made with Pro-vitamin B5 and orchid flower, which sounds positively lovely, doesn't it? Also, best part, it DOESN'T LEAVE BEHIND A WHITE RESIDUE! Thank the dry shampoo gods, we have a winner, here! Generally speaking, I need a little dry shampoo boost after 3 days of not washing my hair. I'll simply dispense a golf-ball sized dollop on my fingertips and massage into the roots of my hair mainly in my primary part and the surrounding part areas where I play with my hair most. Then, I'll let it sit for about 10-15 minutes until dry and I'll run a brush through to distribute any excess product. My hair smells and feels amazing afterward -- and, most importantly, it's clean! If I'll be doing a bit of heat styling afterward, I'll follow up with the dry conditioner mist. On average, this application of dry shampoo lasts me for a day and a half, without reapplications.
Ah, the dry conditioner mist though is the game changer. It's like a mixture between a leave-in conditioner and a styling spray. I love it for taming flyaways, frizz and giving a bit extra polish to a hairstyle, but most importantly, it makes everything feel lighter, softer and dare I say it, bouncier? A bit of context: my biggest complaint when it comes to dry shampoos and similar products is that while it leaves your hair usually feeling cleaner, it also leaves it feeling dryer, making it hard to run your hand through your hair (a big downside for someone who likes to run her hands through her hair a lot). But the conditioner truly leaves my hair feeling pliable and soft to the touch. Once I've brushed through the dry shampoo foam, I'll spray small amounts of the conditioner mist downward from mid length to the ends of my hair (never the roots!) and I'll go back in with an extra toothbrush to tame any stray flyaways/baby hairs.
Bonus points: both products are free from any drying alcohols, sulfates and parabens, all of which I check for now, ever since my bout with perioral dermatitis last year. 
[/half][half]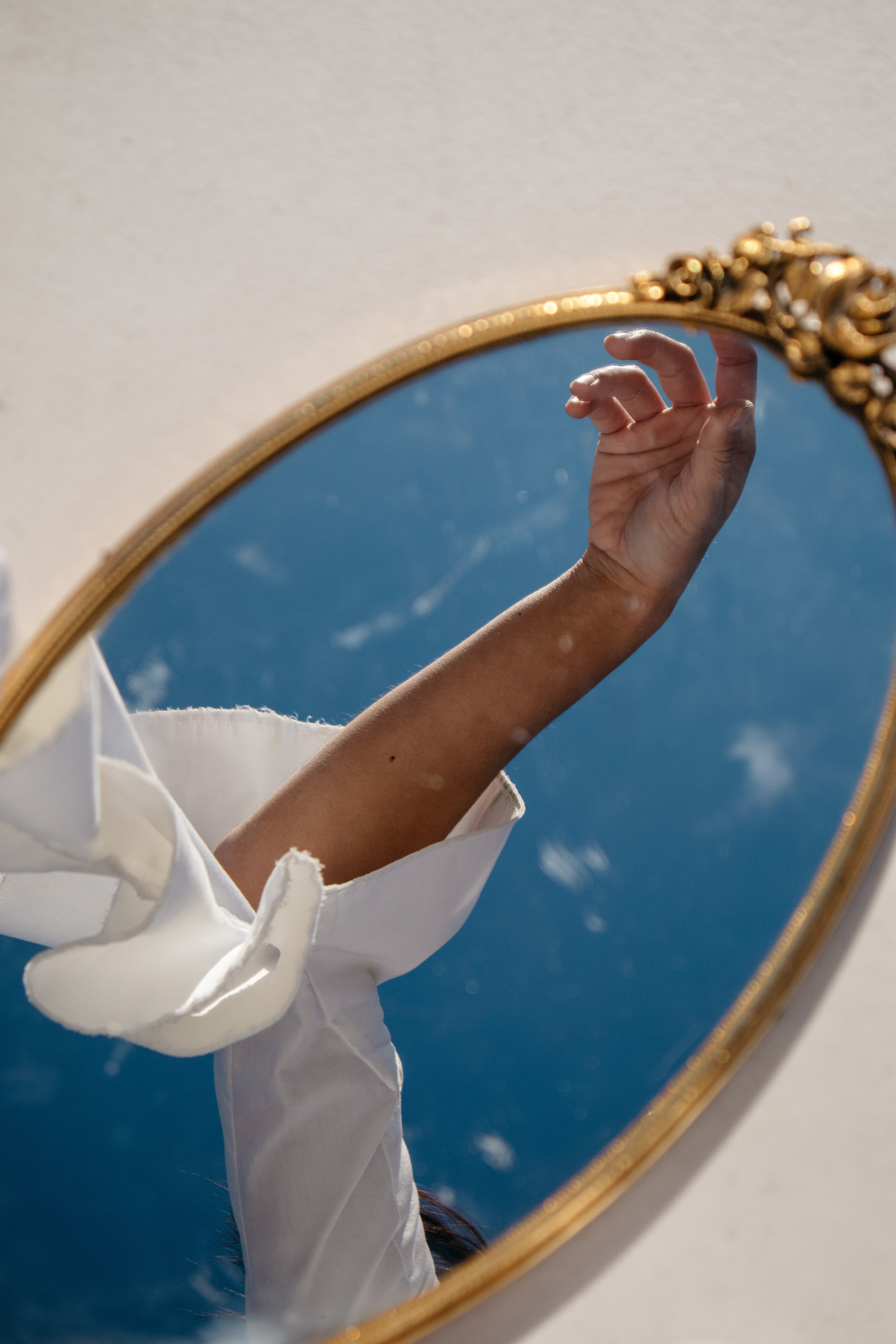 [/half][/row]
[row][half]
[/half][half]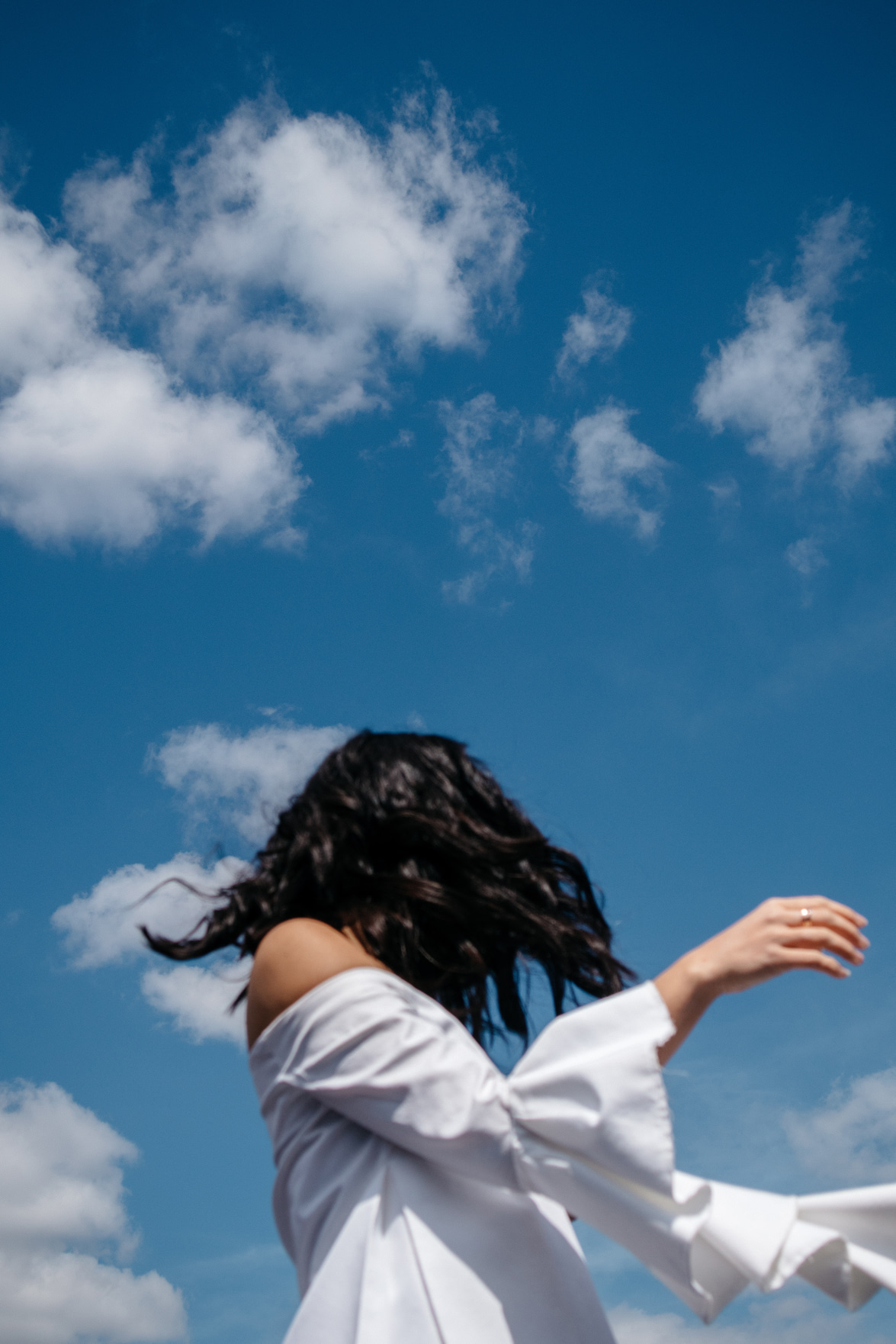 [/half][/row]
[row][half]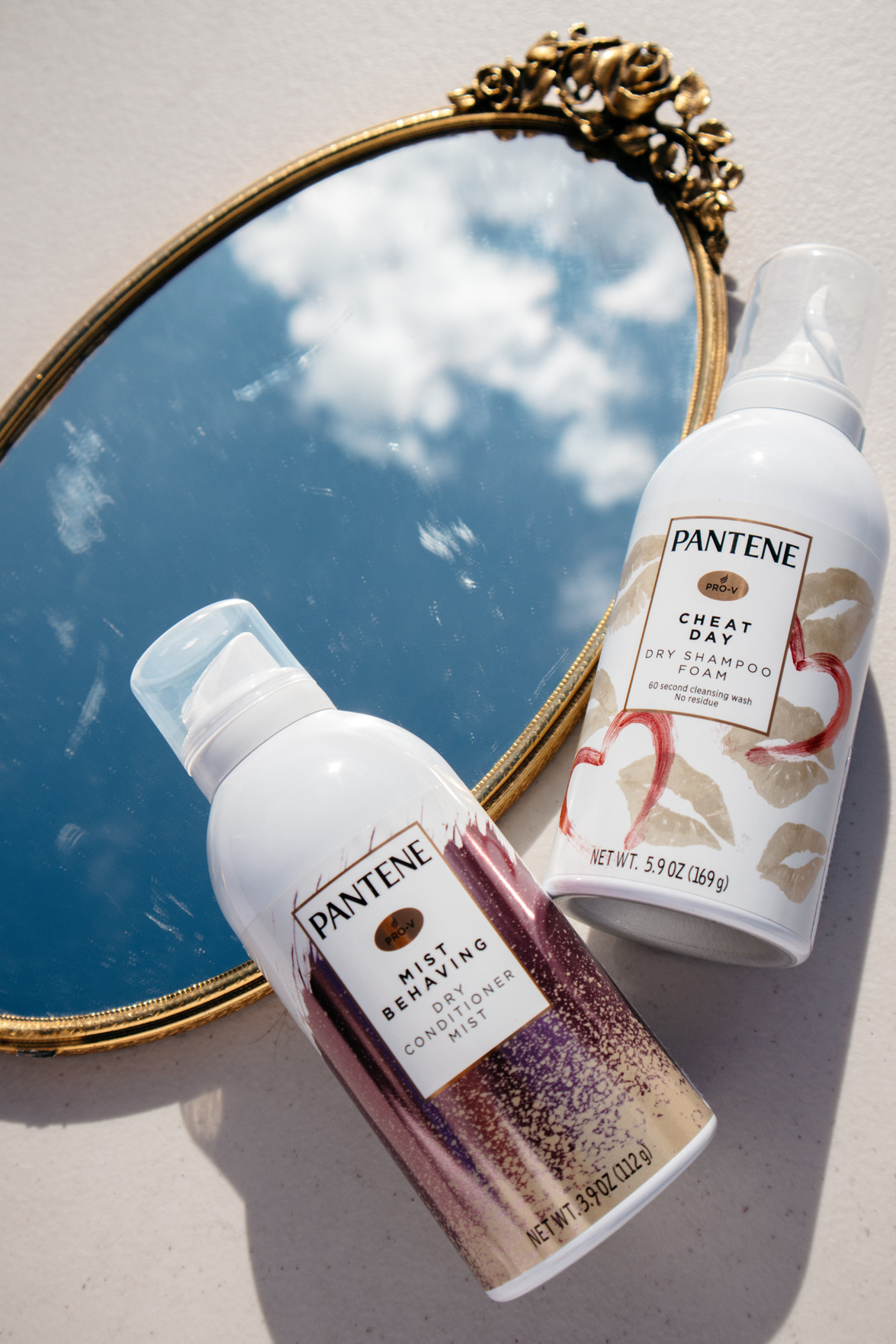 [/half][half]
2. Deep condition once a week: Lately, I've been setting aside dedicated bath time on Sundays -- a lovely ritual of a long bath soak, candles, a face mask, a relaxing Spotify playlist (like my friend Elizabeth's classical assortment here) and a deep conditioner treatment for my hair. If you don't have a deep conditioner treatment product, fret not! I found a few easy things you can add to your regular conditioner product to boost the effects of a 30 minute leave-in session. Next time, try considering one of the following: honey, extra virgin olive oil, shea butter, plain greek yogurt, avocados or mayo (I remember using mayo as a child with my mom!).
3. Scalp maintenance: This is something I just recently started doing and I'm kinda hooked! Ladies and gentlemen, I exfoliated my scalp and I liked it! And it's extremely easy to do at home. Simply add a few spoonfuls of sugar (just like Mary Poppins would do!) to your shampoo and massage your scalp with your fingertips. This will help get rid of dead skin cells that inevitably accumulate. I'd recommend this once a week, at most, maybe every other for starters.
4. Heatless styling: My dear friend Tara has been raving about her go-t0 "heatless waves" styling trick and after giving it a go a few times myself this quarantine, I can now say I see what the fuss is all about! As the name suggests, it's a way to achieve those effortless beachy waves without a single heat styling tool. Check out her Insta Story highlight tutorial here for more info, but the general idea is to sleep on your damp, just washed hair in a flat twist hairstyle. The result is beyond pretty!
5. Air dry as often as possible: As a quick follow up from my heatless styling tip, more often than not, I wash my hair pretty much every three or four days, in the evening and I'll towel dry it as much as possible before going to bed. I honestly can't stand hair dryers and unless I'm in a bind, I'll generally avoid them.
6. Wear hats while in the sun if you can: Similar to how you might shield your face from the sun with a big ol' floppy sun hat, your hair actually benefits from this for the same reasons. Simply put, sun exposure for your hair dries it out over time, so if you can, remember to bring your sun hat for both your skin and your hair's sake!
[/half][/row]
7. Skip hot showers, instead opt for lukewarm: I know, I know. There's nothing quite as lovely a hot shower, especially after a long winter day, but the hot water you're showering with may dry out your scalp skin and lead to flaky conditions, not to mention dry out your hair overall. If you can, try to opt for a lukewarm shower when washing your hair or, if you're craving a hot shower, wear a shower cap to protect your hair.
And that's it for my hair health tips! What have you guys been doing for your hair lately to pamper and care for it? Would love to hear in the comments below! 
Photos and styling by me