4
minute read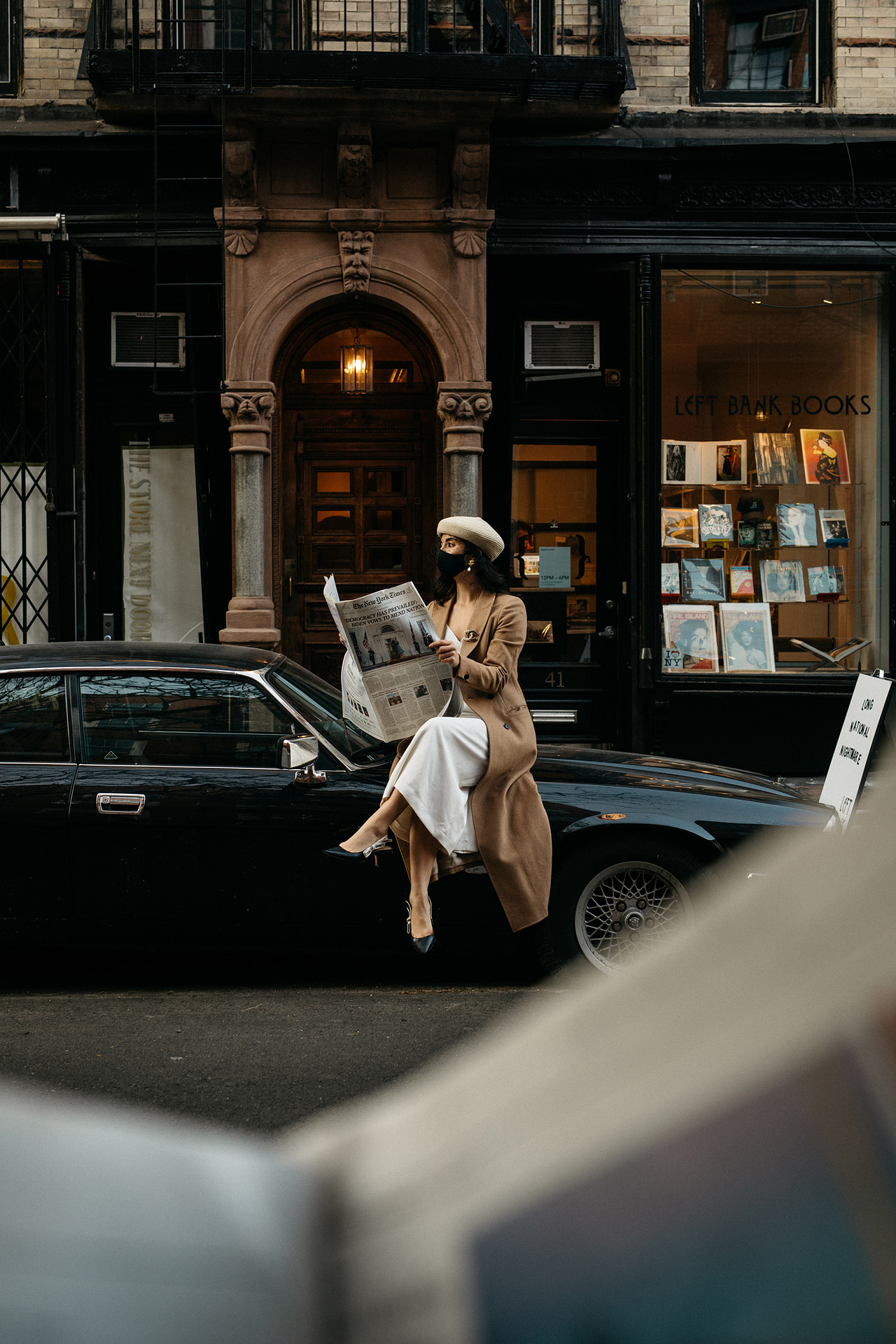 OUTFIT DETAILS: SuiStudio coat (gifted, similar style here) // White House Black Market dress (gifted, similar style here) // Dior heels // Brothers and Sisters beret // Angelli mask (gifted)
We've learned that quiet isn't always peace,
and the norms and notions of what "just" is isn't always justice.
And yet, the dawn is ours before we knew it.
Somehow we do it.
Somehow we've weathered and witnessed a nation that isn't broken,
but simply unfinished.
I don't think I'm alone when I say -- Amanda Gorman's poem "The Hill We Climb" from Inauguration Day moved me in a way I can't really pinpoint. I was certainly crying well before she approached the podium, largely from the gravitas of the day and VP Kamala Harris' oath, but once Gorman started, and especially after that first stanza above, I just lost it. I started bawling. Flat out ugly crying -- a mix of relieved, happy tears with a hint of somberness to them, too. I felt lighter and heavier all at once. Because it made me realize how much still lays ahead of us.
I also don't think I'm alone when I share her work, as several excerpts from her poem have been shared many times now all over social media (right up there with our beloved Bernie memes!). But it's the above lines that really punched me in the gut that I'm surprised haven't been making the rounds, namely because I think it's so indicative of this crossroads we're facing. The necessary realization for many of us, especially for those who are white and white passing, that just because one leader replaces another, doesn't mean the problems go away overnight. Those problems still remain. The fight still remains. Injustice still remains.
"We've learned that quiet isn't always peace, and the norms and notions of what 'just' is isn't always justice." 
The past day or so, I've been sitting with this notion of "quiet isn't always peace." Perhaps you have been, as well? In a way, it's helped me put into perspective what kind of role I want to play in the arenas that I have the most impact in. Where I can shine light. Where I can be a voice. Where I can disrupt the "quiet," in my own way. I'm not saying this requires an overhaul of content creation on my part, but I guess this is my commitment in front of you all to doubling down and remaining vigilant in a fight that requires all of us to do our part to root out a multitude of deeply systemic plagues. Racism. White Supremacy. Bigotry. Misogyny. Xenophobia. Anti-Semitism. Tyranny. This list isn't exhaustive and it certainly goes on.
The second part of this commitment -- I know I will stumble and I won't always have the right words, but I will try my hardest to find them or seek out someone else who does have them.
With that in mind, I've been actively readjusting my social feed the past few weeks, to focus on accounts who not only keep me informed, but shed a light either on issues or their own personal lived experiences that are timely in the scope of current events. I wanted to share some of my favorite accounts, in hopes it inspires you to think long and hard about who and what you're following and supporting. Do their actions match their words? Does their voice go silent when it should be loud? And how does that make you feel?
Just a quick housekeeping note about this list: it's a mix of independent journalists, educators, activists as well as lifestyle content creators. Those in the latter grouping here, in my personal opinion, do a fantastic job at balancing every day, lifestyle content (whether that's parenting, fashion, home decor, travel etc.) with social issues and subsequent calls to action for their audiences. This list isn't meant to replace your news sources -- more so, think of it as a supplement to your news. I admire everyone in this list for their perspective and commitment to striving toward not a perfect union but, to quote Gorman one more time, to "forge our union with purpose."
Activists and Educators:
Independent Journalists: (check out their Twitter accounts, too)
@k_jeanpierre (was recently hired to join the Biden administration press team so she's technically not an independent journalist, but this felt like the best bucket for her)
Content Creators
And of course -- I'd love to hear from you all! Who do you follow who you think has done a great job with their platform when it comes to social good? I'd love to add more conservative leaning folks to my mix for the sake of variety and hopefully breaking out of my current echo chamber. 
Photos by me