6
minute read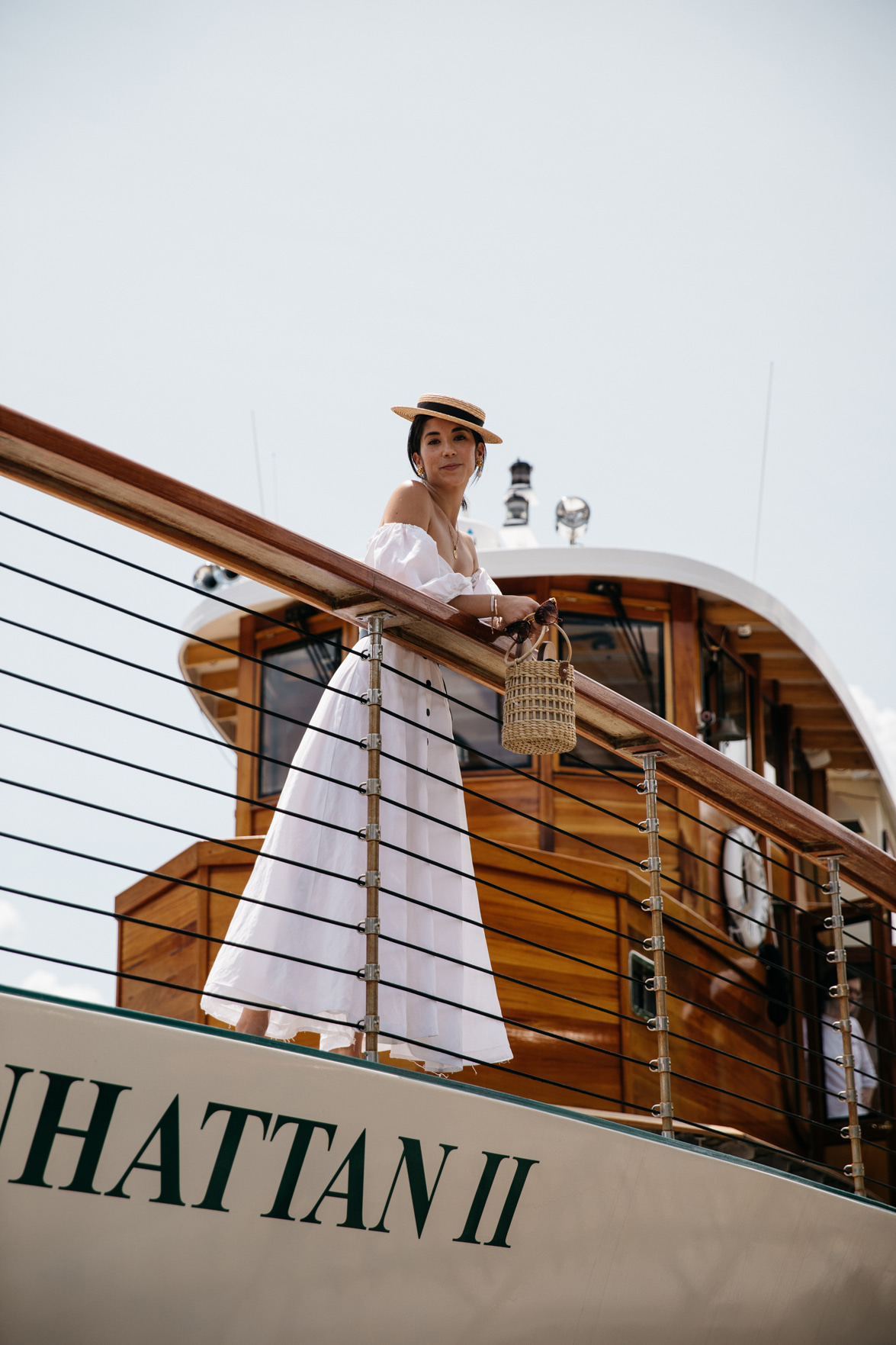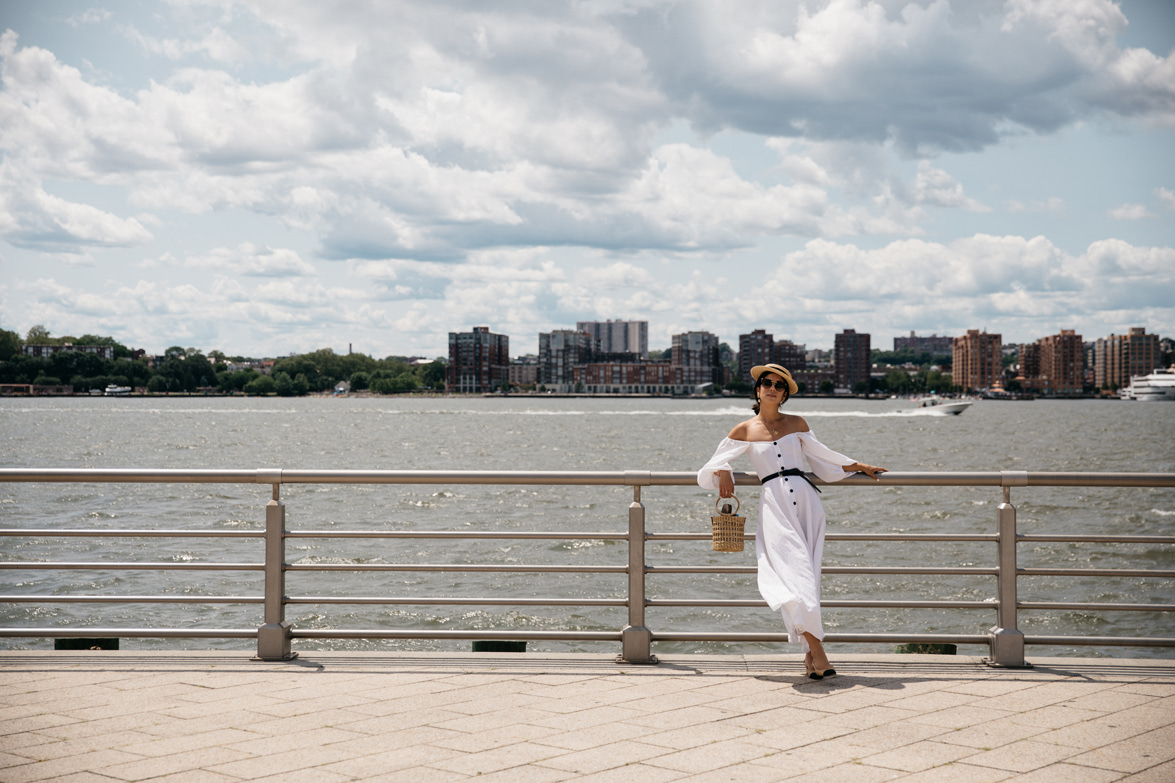 There's something about summer -- it's more a feeling than it is a season, isn't it?
A feeling of newfound freedom from school or perhaps responsibility, a feeling of delicious idleness during long sunny afternoons, a feeling of nostalgia for backyard barbecues and sunburns of yesteryear that you can still almost feel warming your skin  -- and it's always going by too quickly. I think it's the fleeting nature of it all that makes it the sweetest.
The other day, I was trying to recall a particular quote from Anne of Green Gables, remembering that it related specifically to the month of June and the promise of summer. After Googling the first quote you see here, I happened to stumble upon a handful of other great summertime quotes -- some I had read before and others completely new to me -- all of them bottling up some of the most magical aspects of summer: from its beckoning call of adventure to the way it sweetly breaks your heart once it's over.
I certainly smiled a lot when I read and collected these 23 quotes -- I hope they do the same for you.
1. "I wonder what it would be like to live in a world where it was always June."
― L.M. Montgomergy, Anne of Green Gables
2. "And so with the sunshine and the great bursts of leaves growing on the trees, just as things grow in fast movies, I had that familiar conviction that life was beginning over again with the summer."
— F. Scott Fitzgerald, The Great Gatsby
3. "In the long dusks of summer we walked the suburban streets through scents of maple and cut grass, waiting for something to happen."
― Steven Millhauser, Dangerous Laughter
4. "August rain: the best of the summer gone, and the new fall not yet born. The odd uneven time."
― Sylvia Plath, The Unabridged Journals of Sylvia Plath
5. "The first week of August hangs at the very top of summer, the top of the live-long year, like the highest seat of a Ferris wheel when it pauses in its turning. The weeks that come before are only a climb from balmy spring, and those that follow a drop to the chill of autumn, but the first week of August is motionless, and hot. It is curiously silent, too, with blank white dawns and glaring noons, and sunsets smeared with too much color."
― Natalie Babbitt, Tuck Everlasting
6. "In the summer, the days were long, stretching into each other. Out of school, everything was on pause and yet happening at the same time, this collection of weeks when anything was possible."
― Sarah Dessen, Along for the Ride
7. "The crickets felt it was their duty to warn everybody that summertime cannot last for ever. Even on the most beautiful days in the whole year – the days when summer is changing into autumn – the crickets spread the rumor of sadness and change."
― E.B. White, Charlotte's Web
8. "Again and again, the cicada's untiring cry pierced the sultry summer air like a needle at work on thick cotton cloth."
― Yukio Mishima, Runaway Horses: The Sea of Fertility, 2
9. "I have only to break into the tightness of a strawberry, and I see summer – its dust and lowering skies."
― Toni Morrison, The Bluest Eye
10. "Summer was on the way; Jem and I awaited it with impatience. Summer was our best season: it was sleeping on the back screened porch in cots, or trying to sleep in the tree house; summer was everything good to eat; it was a thousand colors in a parched landscape; but most of all, summer was Dill."
― Harper Lee, To Kill a Mockingbird
11. "Summer, after all, is a time when wonderful things can happen to quiet people. For those few months, you're not required to be who everyone thinks you are, and that cut-grass smell in the air and the chance to dive into the deep end of a pool give you a courage you don't have the rest of the year. You can be grateful and easy, with no eyes on you, and no past. Summer just opens the door and lets you out."
― Deb Caletti, Honey, Baby, Sweetheart
12. "It is easy to forget now, how effervescent and free we all felt that summer. Everything fades: the shimmer of gold over White Cove; the laughter in the night air; the lavender early morning light on the faces of skyscrapers, which had suddenly become so heroically tall. Every dawn seemed to promise fresh miracles, among other joys that are in short supply these days."
― Anna Godbersen, Bright Young Things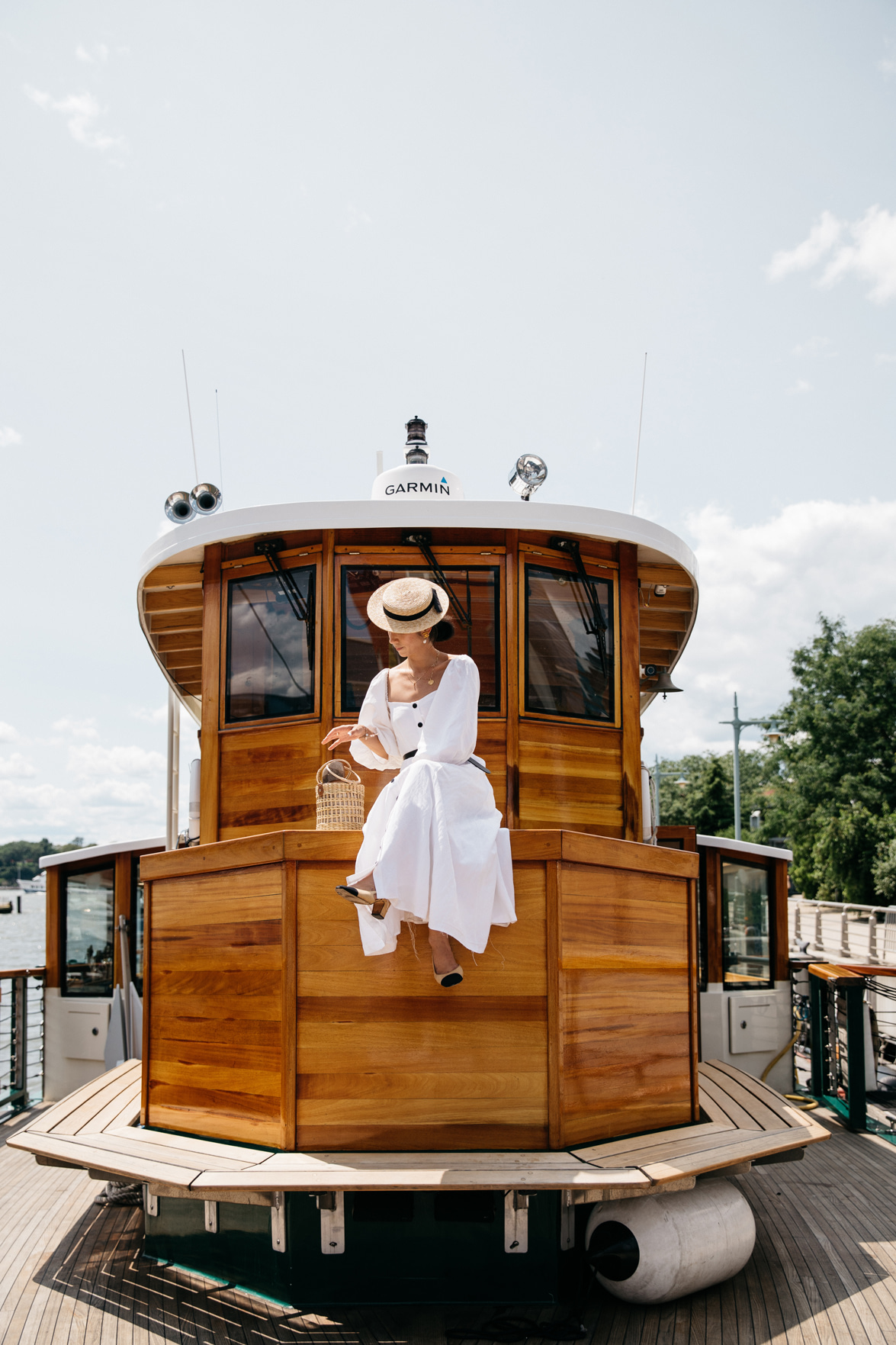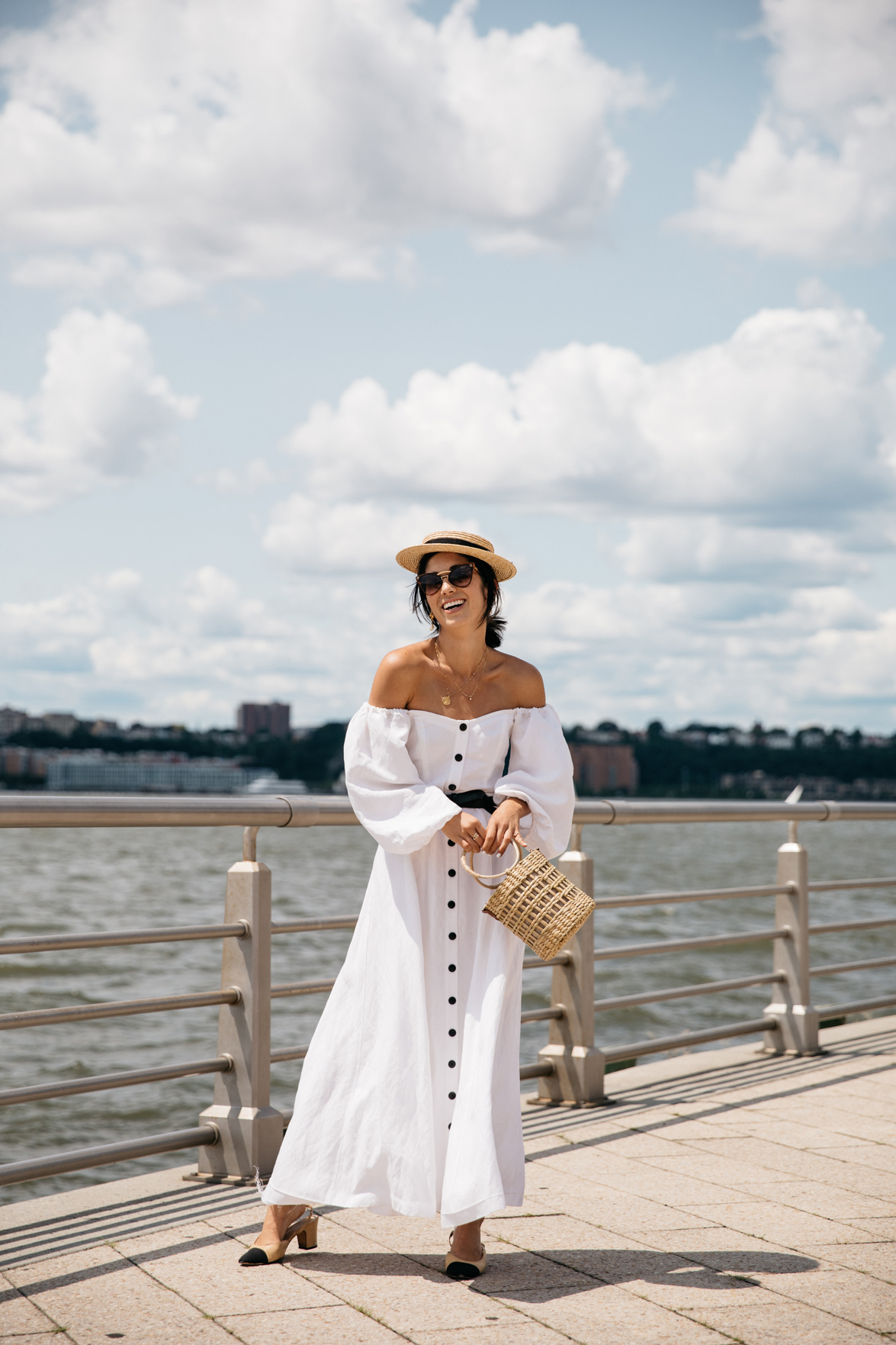 13. "All in all, it was a never to be forgotten summer — one of those summers which come seldom into any life, but leave a rich heritage of beautiful memories in their going — one of those summers which, in a fortunate combination of delightful weather, delightful friends and delightful doing, come as near to perfection as anything can come in this world."
— L.M. Montgomery, Anne's House of Dreams
14. "Summer afternoon — summer afternoon; to me those have always been the two most beautiful words in the English language."
— Henry James
15. "New York is strange in the summer. Life goes on as usual but it's not, it's like everyone is just pretending, as if everyone has been cast as the star in a movie about their life, so they're one step removed from it. And then in September it all gets normal again."
— Peter Cameron, Someday This Pain Will Be Useful to You
16. "Summertime is always the best of what might be."
— Charles Bowden
17. "In early June the world of leaf and blade and flowers explodes, and every sunset is different."
— John Steinbeck, The Winter of Our Discontent
18. "Deep summer is when laziness finds respectability."
— Sam Keen
19. "Summer has filled her veins with light and her heart is washed with noon."
— C. Day Lewis
20. "You are so much sunshine in every square inch."
— Walt Whitman
21. "Even so, there were times I saw freshness and beauty. I could smell the air, and I really loved rock 'n' roll. Tears were warm, and girls were beautiful, like dreams. I liked movie theaters, the darkness and intimacy, and I liked the deep, sad summer nights."
― Haruki Murakami, Dance Dance Dance
22. "Summer romances end for all kinds of reasons. But when all is said and done, they have one thing in common: They are shooting stars-a spectacular moment of light in the heavens, a fleeting glimpse of eternity. And in a flash, they're gone."
― Nicholas Sparks, The Notebook
23. "I do love the beginning of the summer hols,' said Julian. They always seem to stretch out ahead for ages and ages.'
'They go so nice and slowly at first,' said Anne, his little sister. 'Then they start to gallop."
― Enid Blyton, Five Go Off in a Caravan
Did I miss your favorite literary quote about summer? Let me know in the comments below!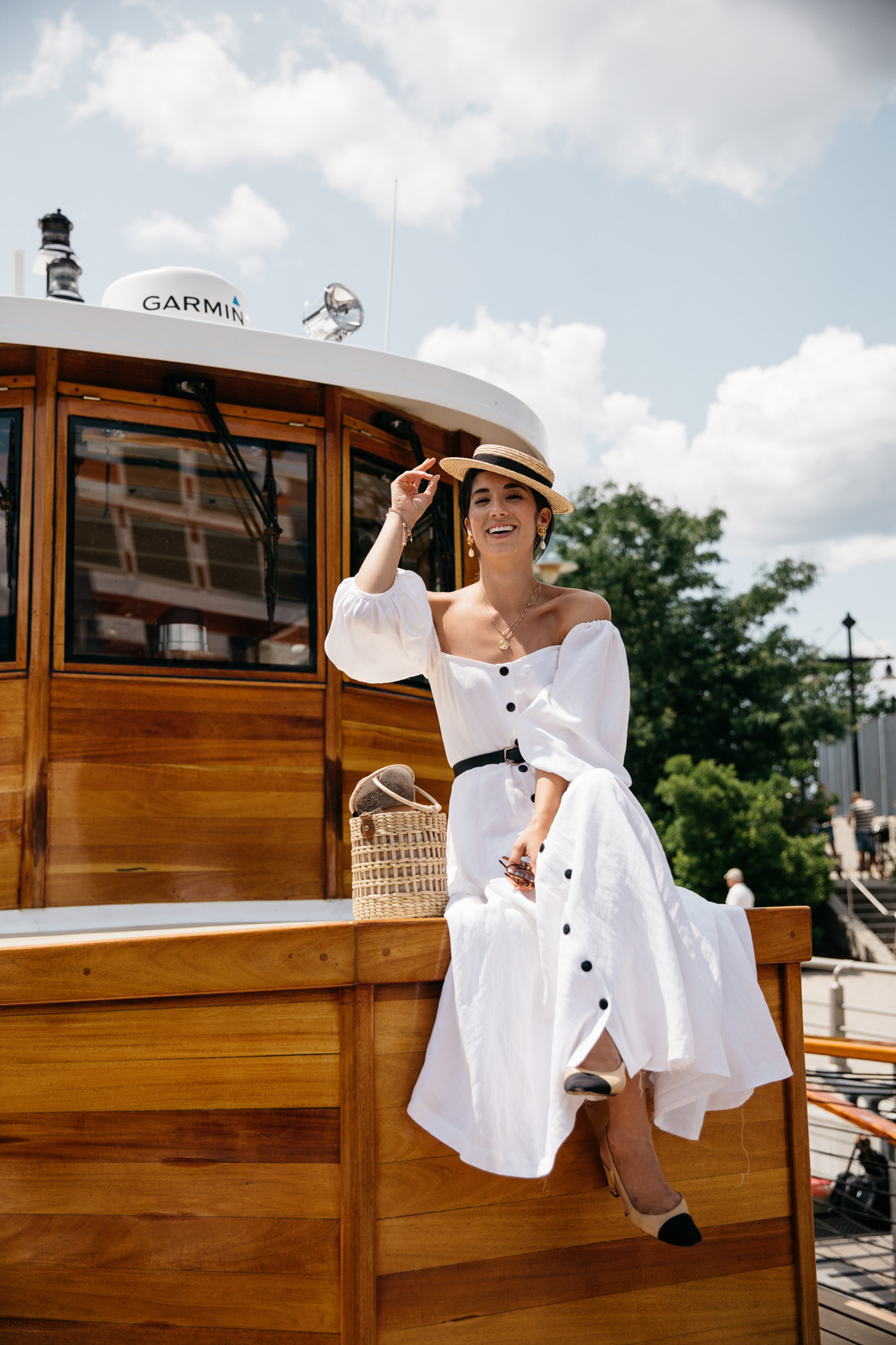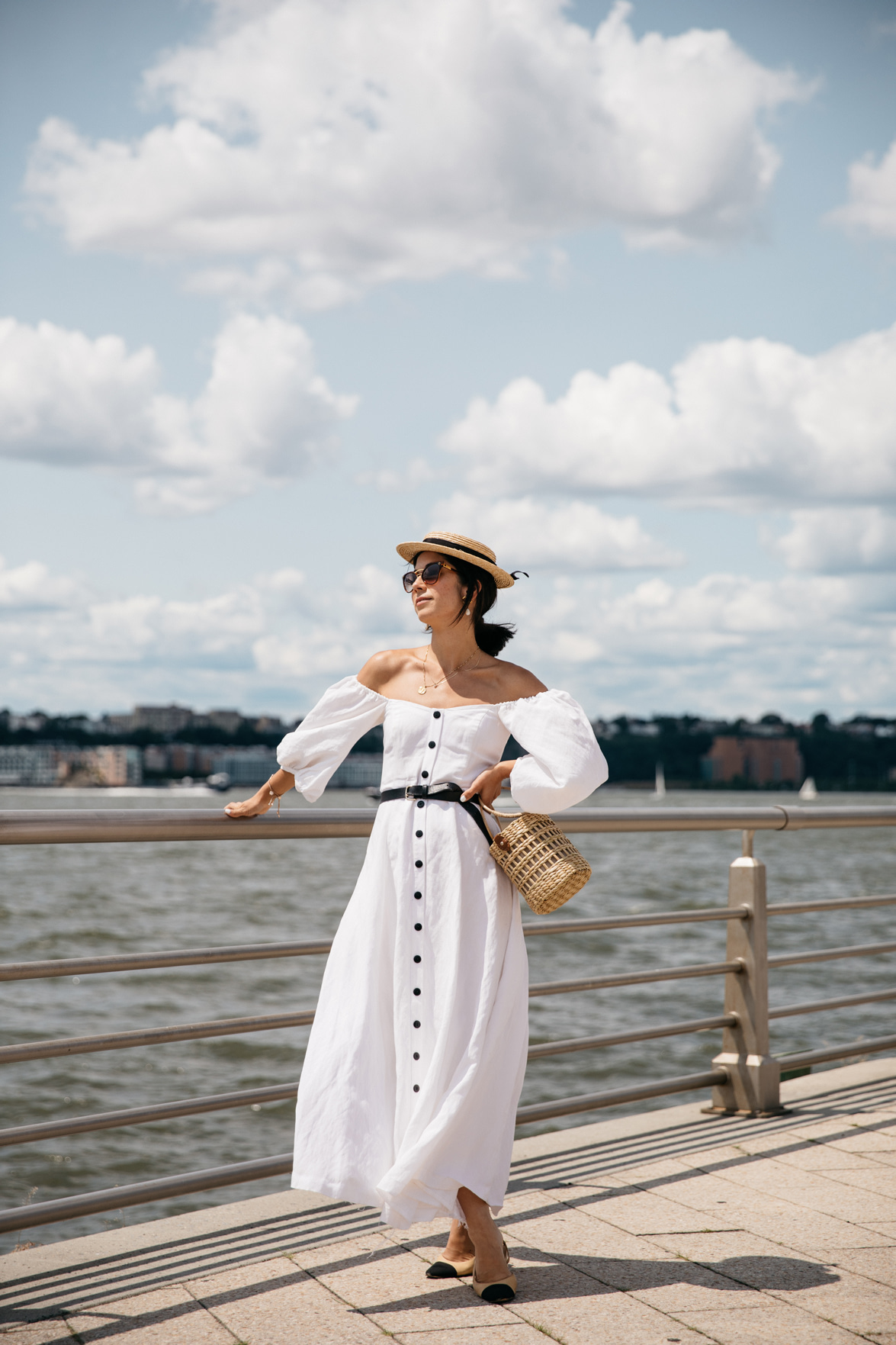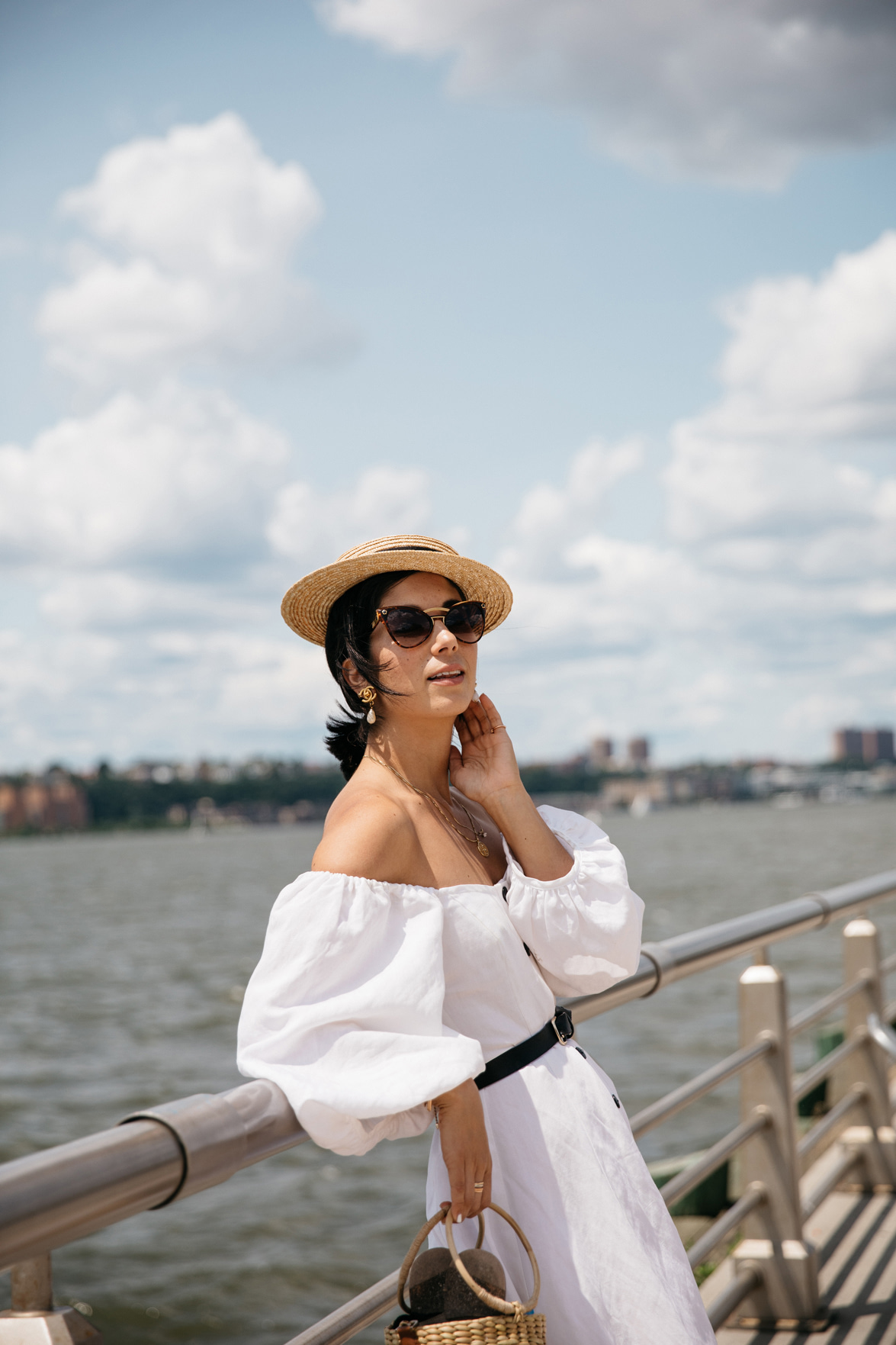 OUTFIT DETAILS: Mara Hoffman dress // Etsy hat // Chanel slingbacks // Poolside bag // YSL sunglasses (vintage, similar style here)