12
minute read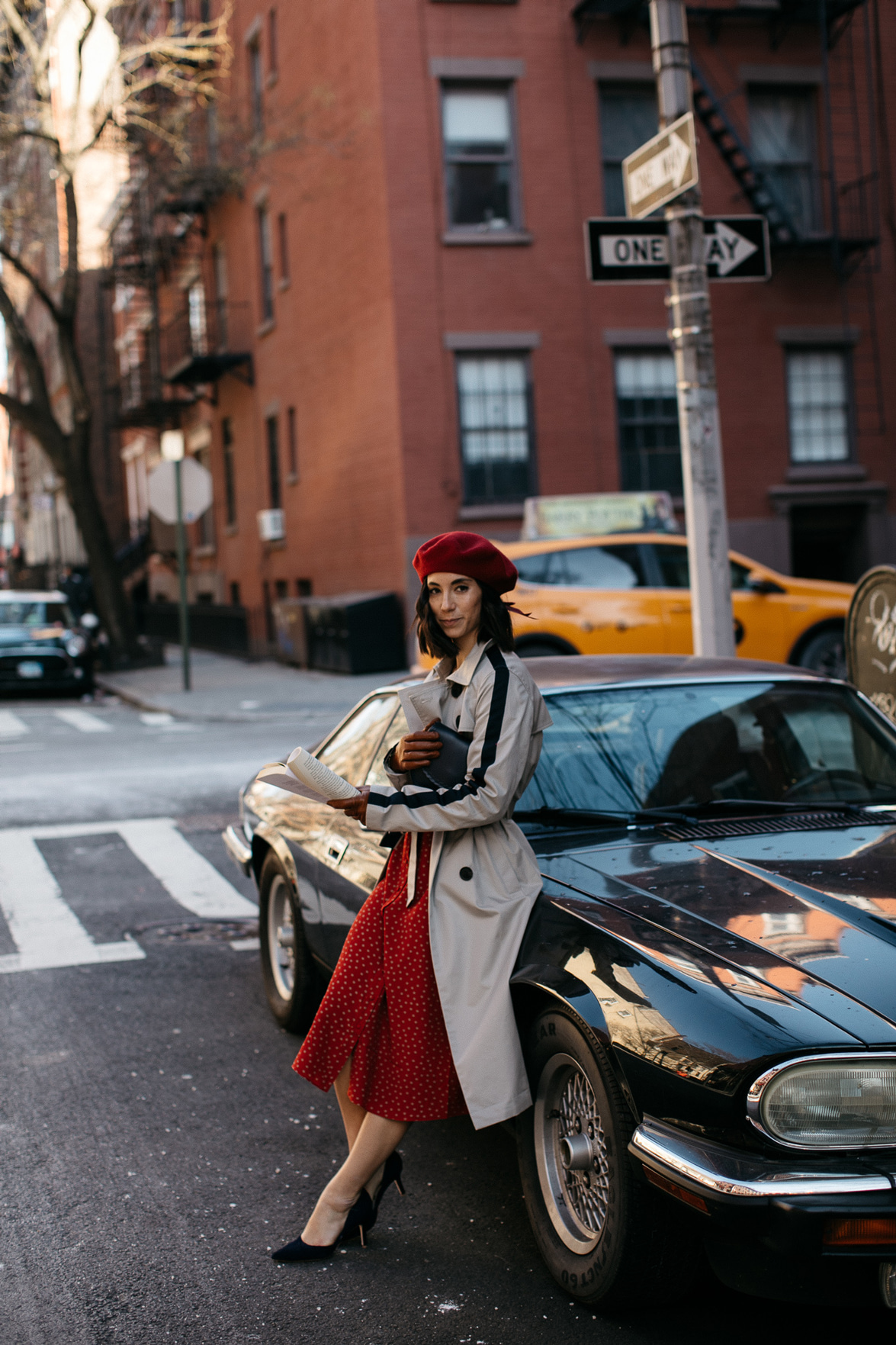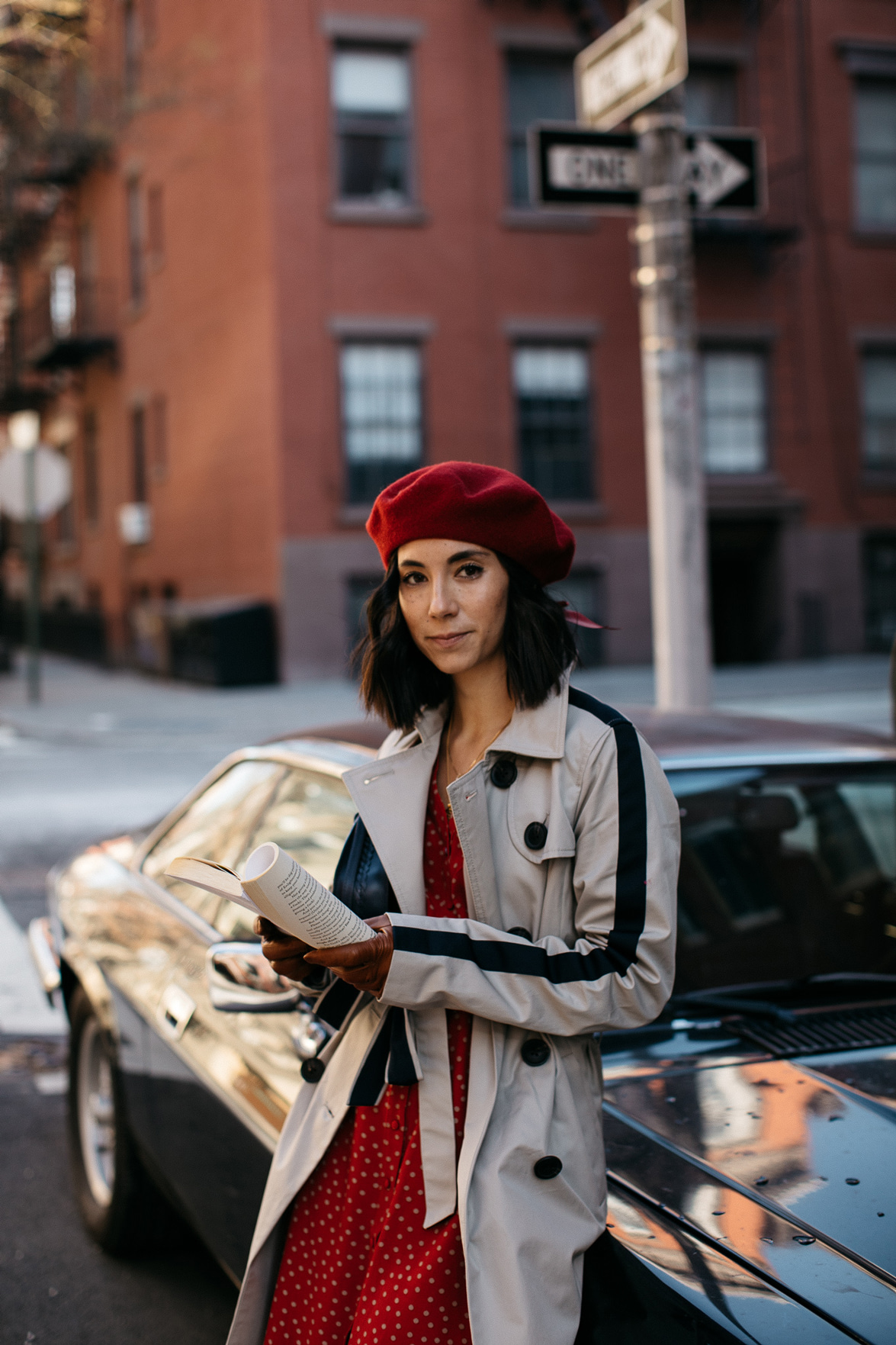 Well, the results are in, folks!
Our second annual reader survey has come and gone and I have to say, it's been amazing, yet again, reading through all your responses the past few days. Hundreds of you took time out of your day to fill this survey out (!!), with many of you opting to write in for the optional free-text answers, to really let me know what you've been loving, missing and, to put it lightly, disliking as of late around here on This Time Tomorrow, and in the blogging/influencer space in general.
I just want to pause before we dig in and say: I so appreciate the feedback. And I really do appreciate all of you.
So let's dig in, shall we? I hope you have a cup of coffee handy, because it's a long one today!
About you!
Unlike last year, where I opened up a condensed version of the survey on Insta Stories, I decided this time around I would keep it to just the survey format. While the numbers below only represent a subset of my readership, I think they're a great baseline.
At a glance numbers: a large majority of you (76.3%) are NOT influencers/content creators, either part-time or full-time, which is consistent with last year's results.
When it comes to your personal style, about half of you (49.6%) consider yourselves to be high and low mixers, with a close second going to the "Girl Next Door" J.Crew and Madewell camp. Again, pretty consistent with last year.
Your number one reason for following someone online boils down to shopping and style inspiration, with a close second going to the need to feel connected to other like minded women and men. I whole heartedly agree with this sentiment as this is how I also decide to follow someone online.
These numbers didn't change much from last year: 41.5% of you read blogs daily, with another 46.7% reading a few times a week. For those of you who do like to read blogs, your top favorites included: Damsel in Dior, Atlantic Pacific, Gal Meets Glam, The Stripe and Brooklyn Blonde (a bunch of my favorites too!) -- and it's also interesting to see the common style aesthetic and content thread throughout these. Definitely taking notes here.
When it comes to Instagram, 64% of you spend more of your time looking at your feed, instead of Insta Stories. I found this to be surprising!
For those who do watch Insta Stories, 61% of you prefer BTS of a typical day -- heading to shoots, meetings and events. And a lot of you wrote in asking for more Elvis Swagger. Done and done. 🙂
On the flip side, the most requested thing you wish you could stop on Insta Stories is unboxings. And I tend to agree. Followed by talking to camera for longer segments with either no text on screen for extra context if you have sound off (I usually have my sound off to be honest) or with nothing to really say and/or complaining about something. All fair, if you ask me.
Feedback for This Time Tomorrow
When it comes to the types of content you want to see more of here on TTT, it broke down as follows for the top four: daily outfits, personal essays (about relationships, lessons, career advice, etc. and even better if these first two can be married together somehow), travel guides and interviews with inspiring women. I think the first three comprise a lot of what I already love producing here on TTT and I hope to only continue more of it in 2019. It's the last area here that gets me the most excited. To be honest, I get sick of my face here and on Instagram day after day. And I think some of you might be feeling the same way -- one reader wrote in saying that while they liked seeing me in their feed, they had been loving some of my recent content featuring other stylish/interesting women. While I'd love to reinstate the Woman Crush Wednesday feature, I'd like to find a more consistent, less scheduled series way of featuring these ladies. The format is being worked out still, but you can definitely expect to see all kinds of inspiring women here on TTT and I can't wait to kick things off.
On a related note, 75% of you stated that inclusivity and representation are important topics to you and it's something you wish more influencers would focus on, either in their post content or photo content. We are all on the same page, folks! And I have some amazing ladies (and men!) in the pipeline for you all to meet!
When it comes to the types of content you dislike or think I should discontinue here on TTT, it broke down as follows for the top four: too much editorial-style photos and/or designer clothing (I'll share my game plan for this below), fitness (unless there's a timely personal story to share), shopping sale roundups/gift guides (agreed!) and the business of blogging (because as our numbers showed, a majority of you aren't content creators yourselves). By and large though, I think the most touched on subject was the type of outfits I've been sharing here, which feature more designer and higher price point items. One reader pointed out (quite aptly, might I add), that this was last year's overwhelming feedback and for the first part of 2018, I followed through with sharing more every day casual outfits, even snapping a lot of them predominantly on an iPhone. She (or he!) later pointed out I had switched somewhere half way through the year and they're right. I'm not denying it. I'll share my full thoughts on why I did this in the "What's Next" section, but I just wanted to acknowledge that I hear you all! And I think I have a game plan that works for everyone!
On a related note, 89% of you were on board with more editorial style content (like my cinema-inspired series -- Funny Face is first!), with half of that group asking that it be mixed with more every day outfits. Definitely makes sense!
About 80% of you are interested in physical meet ups, which is something I'd like to start more of this year. We're currently putting together an influencer closet sale in partnership with Dress for Success that I hope to get off the ground here in New York come March, so stay tuned!
Thoughts on the influencer space in general:
I loved some of the open ended responses to the question: "What's ONE thing influencers should KEEP doing?" so I'll share my favorite submissions here:

"Making their content a mix of aspirational and relatable. I'm not one that has a large budget for couture but I love seeing it styled with Zara or H&M. I also love the greater inclusivity I am seeing. It makes fashion/lifestyle reading feel like a community rather than just reading a magazine."
"Pretty is nice. Thoughtful and engaged in the world is even better."
"These types of things - reader outreach, rethinking your platform from time to time, etc."
"Connecting with their readers, writing personal essays, giving useful information."
"Inclusivity and representation. But my suggestion is to include age as well as body type and age. I am a mid-40's professional launching a blog to represent my age group (but can appeal to a wide variety of ages because I do think I am pretty fashionable 😳🙄). It's an under-represented market and we have means and plenty of style. Thank you!"

And alternatively, here are some of the standout responses to the question: "What's ONE thing influencers should STOP doing?"

"They should stop running away to Instagram." (I agree!)
"Everyone posts at the exact same time for a sponsored post which makes it seem very unauthentic. example- beauty counter, olay, etc."
"Not into consumerism that feels wasteful. How can we live inspiring, beautiful lives without producing or encouraging waste?"
"Pretending like the outside world doesn't exist - while fashion is an escape, we can't avoid acknowledging the systems and structures affecting our politics and privilege. You've been amazing at incorporating issues into the periphery, showing that you see the complexity in the world. I've unfollowed people who avoid taking any stand whatsoever."
"I think they should disclose more. When it's gifted, sponsored, or paid for, they should admit it. Also, how does it all happen? I think it would be nice to know how it all goes down. It doesn't (all the stuff) just happen. How does it happen? When it seems so extravagant and luxurious, readers wonder HOW it could all be. Does that make sense?"
"Repetitive/trendy posing & shots."
And when it came to finishing the open-ended sentence of "When I decide to follow a blogger, it's important to me that they..." a lot of the answers centered around: honesty, transparency and originality, with this particular answer summarizing it best:

"Seem smart and multi-faceted, like a woman I would love to have a chance to be friends with."
Letters to the Editor (Me!):
I did this last year and I loved how it helped embody some of the areas that I really needed to focus on and the areas I really needed to let go. Here are some of the standout responses to "What's ONE thing I should KEEP doing?" (Aside from sharing Elvis.)

"Creating narratives you're passionate about -- it really shows in your writing. When you love something, it's clear to your audience and it adds a layer of interest to your posts that you just can't manufacture."

"Your personal essays. And I find I enjoy the editorial shoots even more when paired with an essay. Also love the daily schedules you post on Stories."

"Love your style. Love your thoughtful essays. Love how you continue to redefine what "influencer" means. If anything, I'd love to hear more directly from you about what you think and feel. What's most important to you? How do you make those things priorities in your life and work?"

And on the flip side, here are some of the standout responses to "What's ONE thing I should STOP doing?"

"What feels like only editorial content. After last years survey people said loud and clear that they wanted to see the "real" side of you and you did a great job of show more daily outfits and "normal" outfits that felt attainable--not just from a price point perspective but from an anyone can put together a similar outfit from things in their closet perspective. Then somewhere along the way it started feeling like your instagram was just editorial images in the feed or a photoshoot in stories or a party. I get not wanting to share too much of your personal life, but it stopped feeling relatable and real. Can you really be wearing party dresses and hanging out with only pretty people ALL the time? And where is Elvis? We don't see him enough! It feels like he's being neglected in favor of parties."

"There's such a saturation of lookalike content that I'd really encourage you to lean away from the typical "street style" shots in front of familiar backdrops - Casa Magazine, Grove St, the works - and more into the "art direction" side of things. Your art direction (ambitious shoot concepts) and collaborative partners (Grant Legan!) have really enabled you shine in a crowded space."

 "Could you stop posting a majority of high end brands? Ie i can't afford a CH dress. I would like to see more of a mix because I do love seeing your shoots with designer gowns."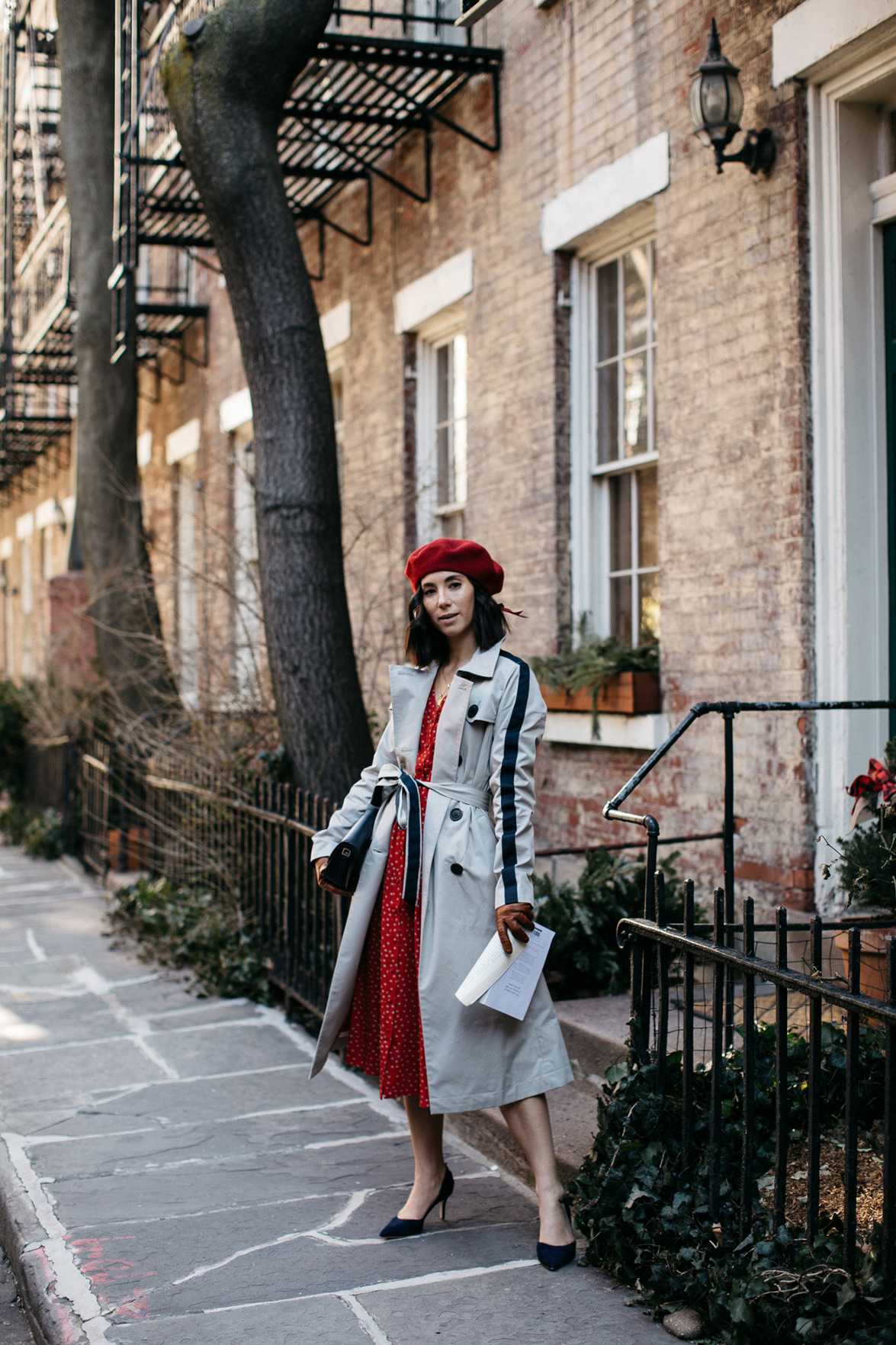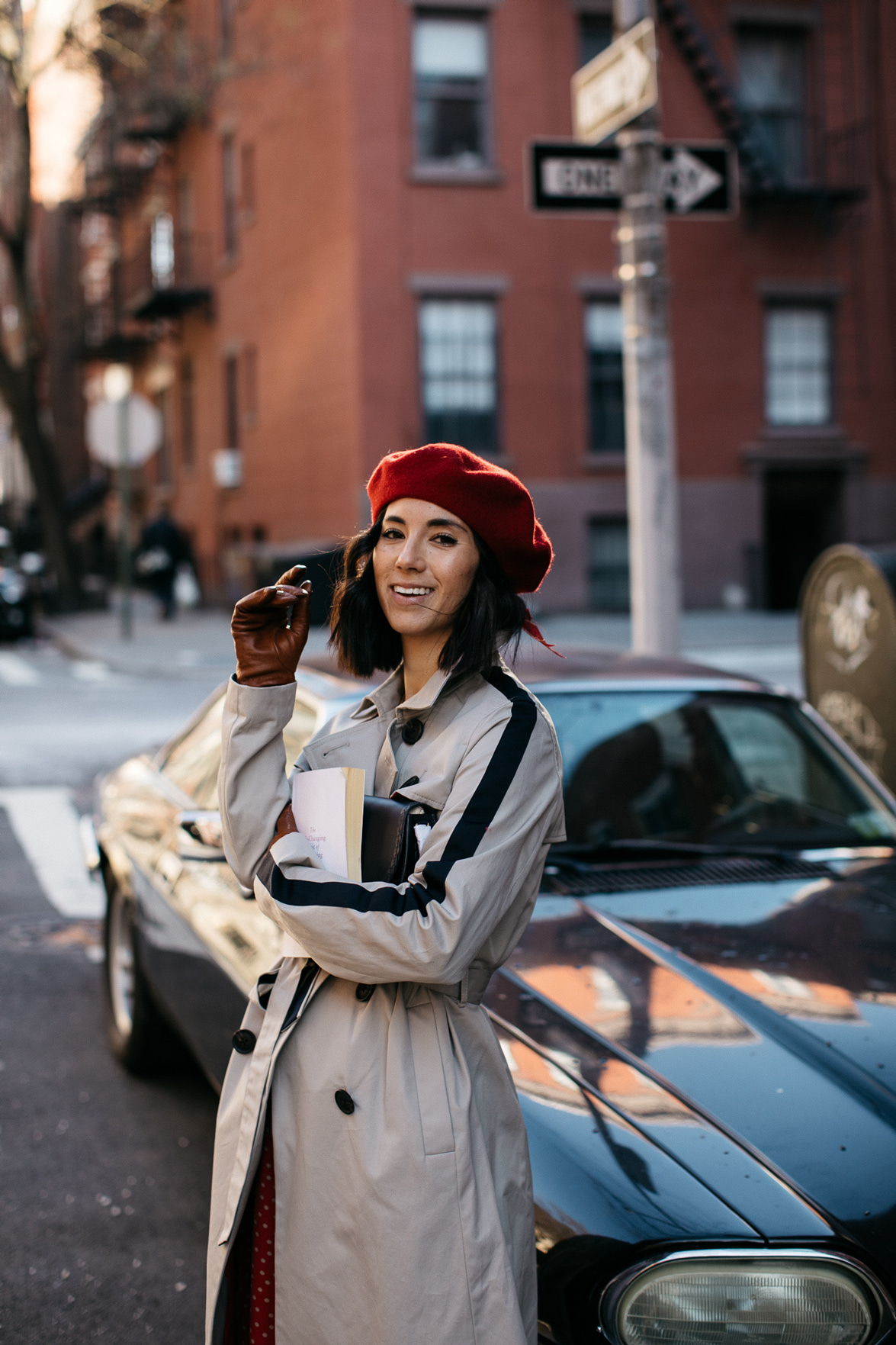 So what's next?
Loud and clear, here are my main takeaways from this year's survey. But feel free to weigh in below in the comments if you think something seems amiss! I want this to be a living, breathing plan that is as much yours as it is mine!
A better mix of editorial content and every day outfits: 

As I called out above, with one reader's comment, 2018 was a mixed bag. I started off the year focusing heavily on every day content, shooting most of it with an iPhone, and steering clear of anything too "aspirational" in style as far as photography goes. Half way through the year though, I was feeling a bit listless and uninspired by the content I was creating, craving something that allowed me to flex my creative director muscles. Was I still wearing every day outfits? Of course -- I just felt a compelling drive to put together more conceptual shoots, which I think ended up unfairly dominating the second half of this year.
That said, I think there's still an appetite amongst you all for these types of aspirational shoots (or at the very least, shoots that don't fall into the cookie cutter mold of a SoHo street all the time), and I think the best way to move forward here is to blend both as best I can. I aim to always be transparent here on TTT, and I'll always disclose when something is borrowed or gifted from a brand/designer. But I can recognize that this just isn't a feasible option for most folks outside of this industry, which a lot of you are outside this industry. My goal moving forward will be to style more conceptual shoots with pieces that are actionable for you guys -- whether that means mixing more high and low (a big part of my roots), sourcing vintage pieces or renting items from services like Rent the Runway and Armarium. Will I still feature designer pieces that I either buy myself or borrow? Yes, but I think the key here is to better balance the ratio and encourage you all to shop your own closets for similar colors, textures and patterns, I'm not in the business of "buy this exact piece I'm wearing here!" I'd much rather get a DM or an email from you guys sharing how you took inspiration from a particular outfit of mine and made it your own!
This also got me thinking, especially since I'll be redesigning my site really soon, that I need a "Daily Outfits" section. I love the idea of being able to snap a really quick #OOTD photo and sharing in a carousel that you all can easily swipe through for every day outfit inspiration. Since this redesign won't be happening overnight, I'd like to start perhaps with a Friday round up post that showcases all my outfits from the week, from the business casual to the uber relaxed and everything in between. How does that sound?
Features with other women: 

I think this is a big demand across the board from all influencers, really. The only way an industry becomes more inclusive and representative is if we demand it and I for one am craving new faces, new voices and new perspectives. You can expect more of that in 2019 from me.

More personal essays with distinct value adds: 

Honestly, the fact a lot of you still tune in regularly for my writing makes me blush an unusual shade of pink -- it's beyond flattering and humbling. Thank you. Like last year, I want to share more personal struggles and anecdotes, with the intention of creating a more wholistic space here -- yes, Instagram and even Instagram Stories have become a curated highlight reel, sharing the best and the prettiest of our lives. But you and I both know, that's just not realistic, nor is it fair to paint that picture all the time. I want to do a better job at sharing both sides of the story, mainly here on the blog, because I think it's better suited for a long format essay. There's plenty we can learn from each other and I want to open up that conversation to touch upon not only style and fashion, but culture, career, world events and issues that we face together as women.

More transparency: 

A lot can be said about how this industry has seemingly changed over the course of a few years, but one thing is for certain: while a lot of you understand the monetization aspect of this space (that being with affiliate links and sponsored campaigns), you all demand a better approach to how these partnerships are taken on and incorporated, in addition to the ratio they comprise of an influencer's editorial calendar. These are all understandable demands and especially in the wake of a lot of content blurring the lines of what is FTC allowed and what isn't, I've been thinking about it all a lot lately and how I want to consistently make sure my sponsored content always hits the same editorial standards I set for my every day content.
One reader went as far to mention they would prefer if influencers would disclose when something is gifted and borrowed, much like they would with an advertisement. After reading up on what's been going on in the UK with influencer partnerships and FTC regulations, I'm curious to hear what you all think on the subject? I always try to diligently disclose when a piece of clothing has been gifted or borrowed here on the blog, but I don't always mention that in the copy on Instagram for the sake of brevity. Currently, in the UK, all influencers are being asked to mark something as an #ad if they've received a gift, a trip, or services, which all constitute as "payment." Personally, I don't mind disclosing when something has been gifted on all channels (I think it would be a great practice for us all to adopt, in fact!), but marking it as an ad, feels heavy handed and harder to distinguish from the projects and brands that actually do pay me for my content.
And on that note (and almost 3,000 words later), I'm going to wrap up this year's survey results and end with this: THANK YOU for all the time you put into writing out your responses and I'm excited to put a lot of this into action this year!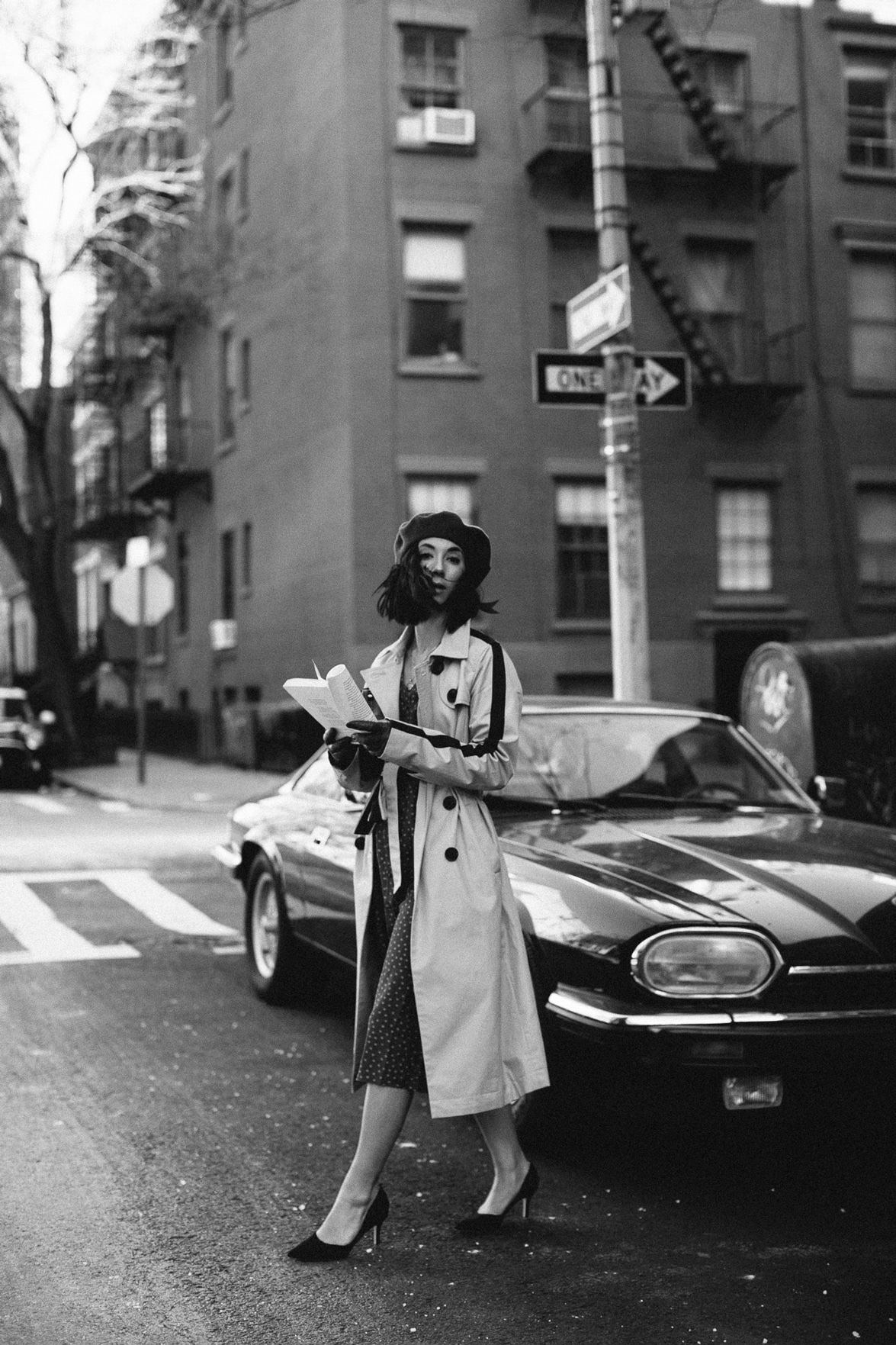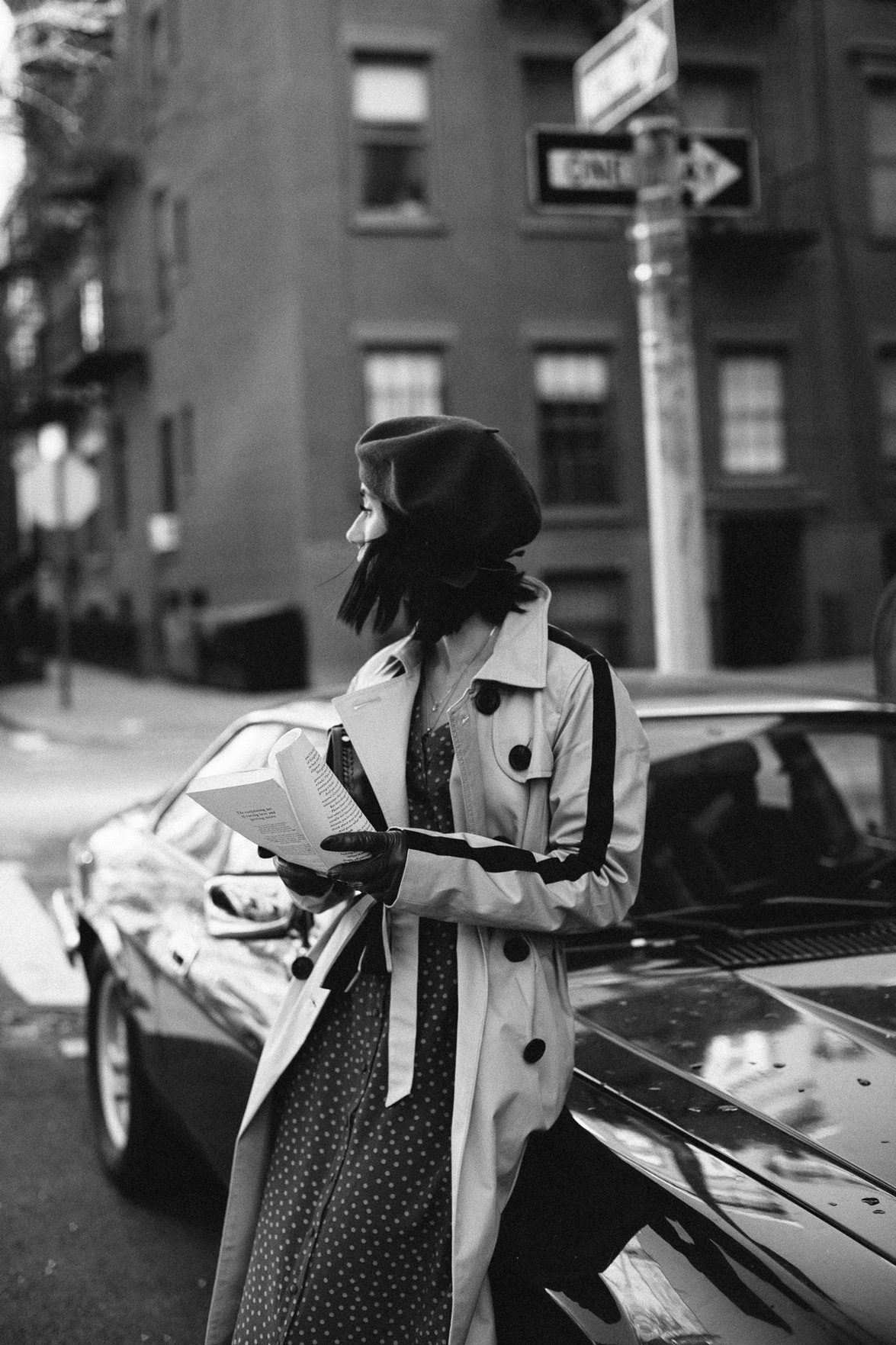 OUTFIT DETAILS: Entire outfit is from a new UK brand my friend Karen introduced me to: Boden and I'm currently working on a project with them! Each piece you see here has been gifted. Boden trench // Boden dress // Boden heels // Boden bag // J.Crew gloves (old, similar style here) //  Brothers & Sisters beret (gifted)