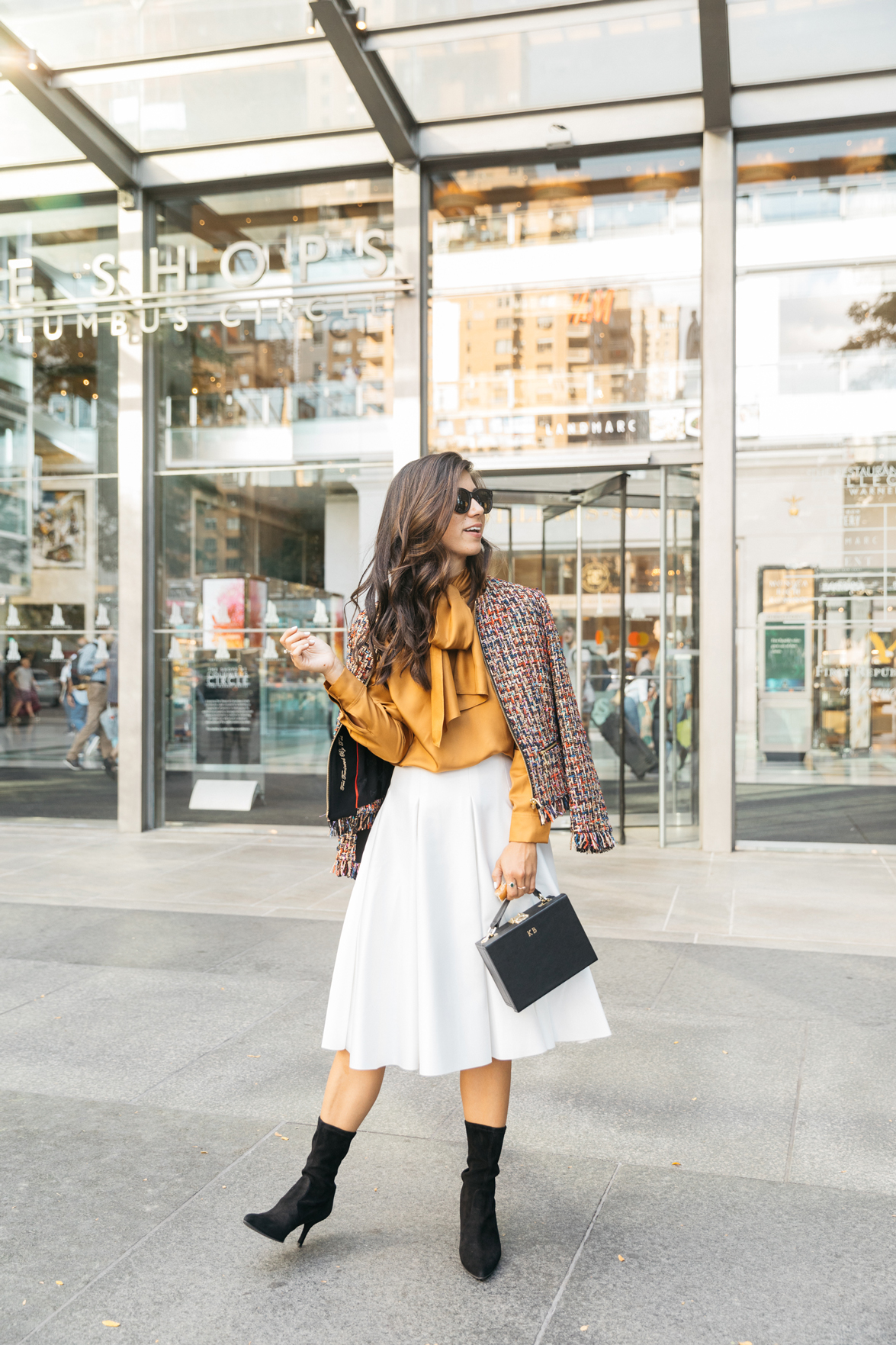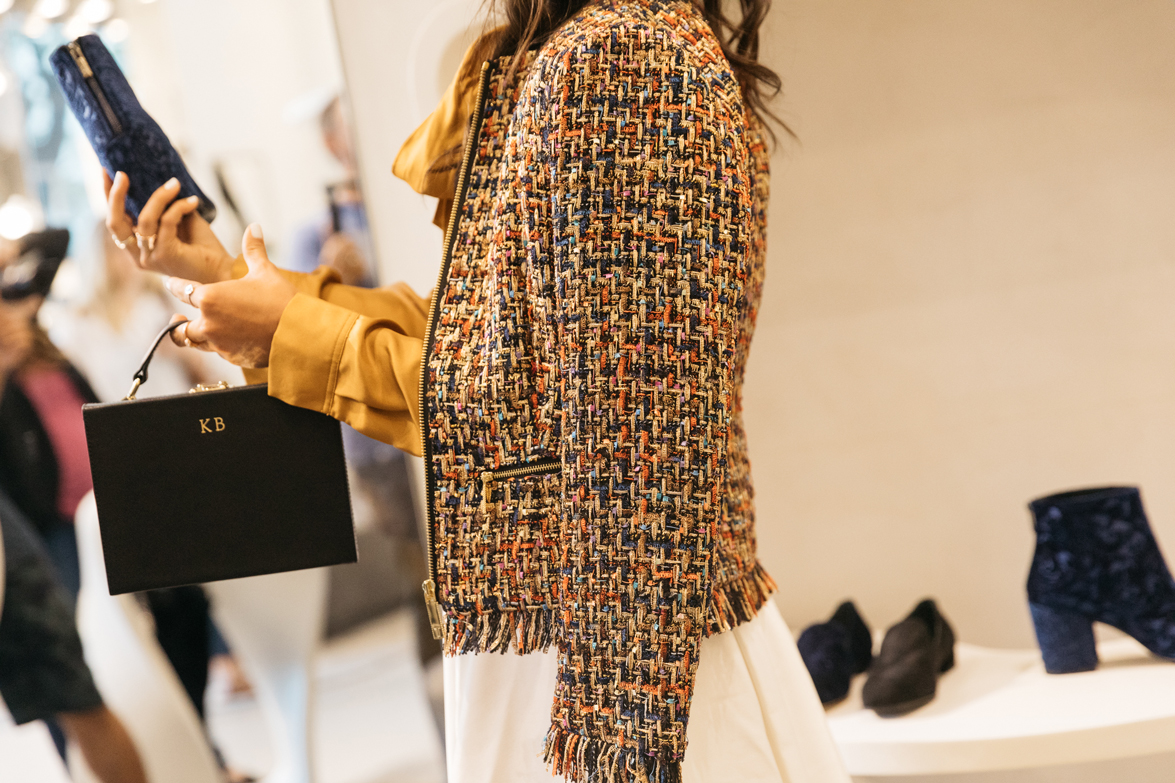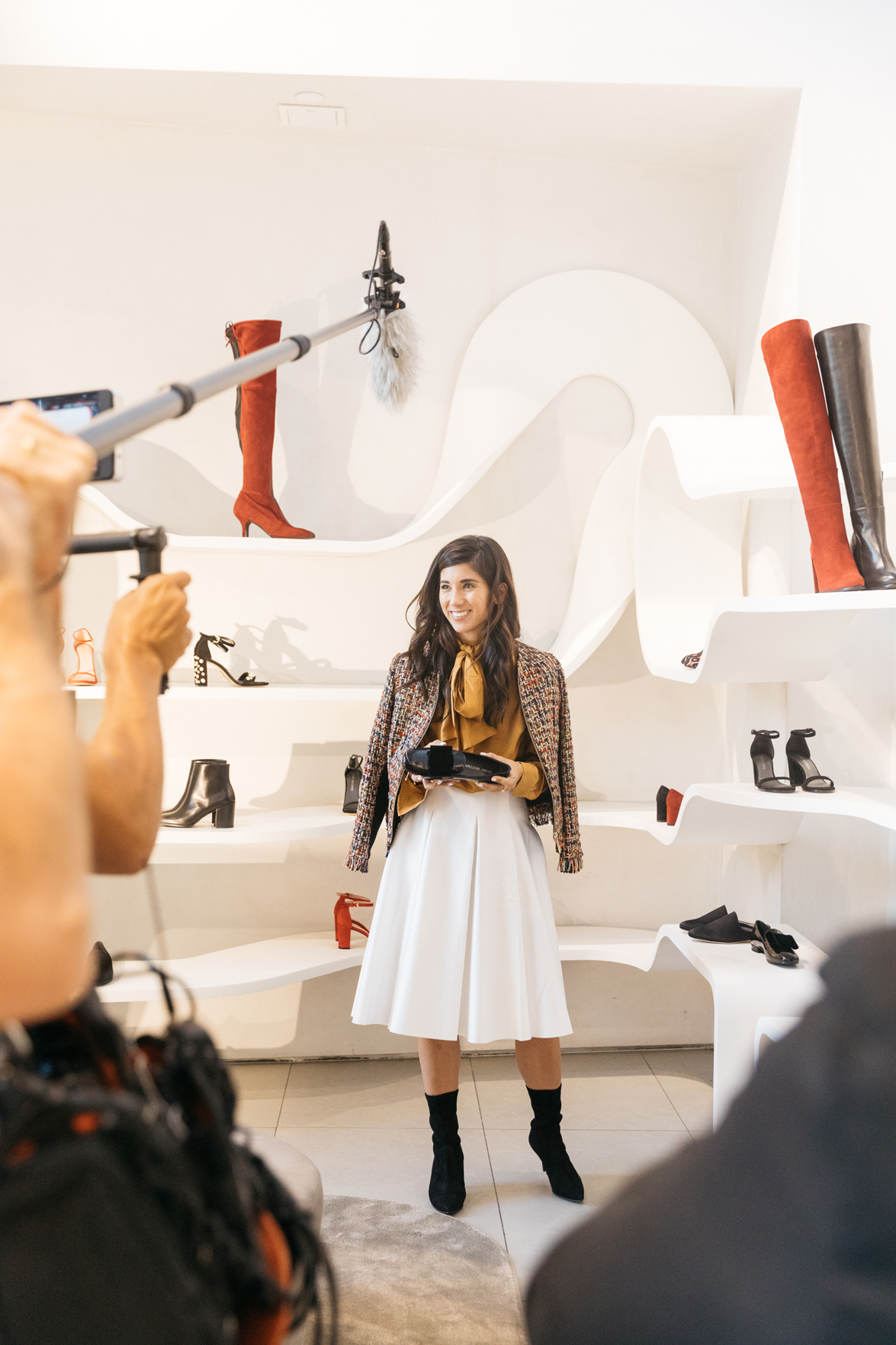 When I first moved to New York (gosh, over two years ago now!), I went up to Columbus Circle pretty often. I had a good friend living in one of the nearby apartment buildings over on 57th and I used to find any and every excuse to hop up to her amazing rooftop for happy hour drinks (once you saw her view of Central Park, the subway ride uptown was always worth it). And while that good friend of mine has since moved back to Istanbul (Sera, I miss you!), I still find plenty of excuses to jump on the 1 train from the West Village to Columbus Circle.
Why? Well for starters, for anyone who's gone on a whirlwind tour of New York before, you'll likely undoubtedly recall the world's most dizzying roundabout (hence the Circle), which doesn't make a whole lot of sense in a city of grid-like streets, but that's New York for you — it doesn't have to make sense. And if you happen to also recall, it's at one of the most popular entrances right into Central Park, and on many perfect fall days when the weather is deliciously crisp, I'll head uptown to make the trek down 59th Street toward 5th Avenue, with no agenda in mind, other than to walk. On your right, there's a bustling city roaring past you. On your left, there's this oasis of sprawling lawns and trees, on the brink of turning so many glorious fall colors. It seemingly doesn't make sense that the two worlds would sit, side by side like that, but again, that's New York for you. It doesn't have to make sense. And I love that. Columbus Circle has always been one of my favorite areas of the city, because it's a true testimony to all New York has to offer, in a very condensed pocket.
Of course, one of my other favorite reasons I love Columbus Circle so much is, (surprise, surprise)….the shopping. As someone who grew up going to many shopping centers, The Shops at Columbus Circle has long been a favorite haunt of mine, namely for a similar aforementioned reason: it's a perfectly curated set of stores, all under one roof, where I can pick up a little bit of everything that I need, from clothing, to makeup, to home decor and even spend the evening out (some of my favorite date nights have included the likes of a jazz club — Dizzy's Club Coca-Cola being in our lineup). So when the folks over at The Shops asked me to partner with them for this fall and coming holiday season, I jumped at the chance! Given that there are so many great stores like Coach, Stuart Weitzman and Diptyque (to name a few), I wanted to share with you guys how easy it is to stock up for the season, in seemingly one shopping trip!
For our first collaboration together, their team asked me to dish on all my favorite fall trends (from the color RED to my personal favorite, VELVET) and how to go about finding them at The Shops. Head over to their video here to see what I had to say! And while you're at it, you can see some of my favorite moments from our shoot in this lovely video that Bobby Hicks of This Fellow shot for me right below. I've sounded off on my favorite fall trends below, so make sure to keep scrolling for them!
Hope you guys enjoy! And huge thanks to The Shops at Columbus Circle for having me! I can't wait for our next shoot together!
FALL TRENDS:
Statement boots: If you tuned in for part of New York Fashion Week, you likely saw a lot of boot action happening. Everything from sock boots (which I'm sporting a Stuart Weitzman pair in the video!) to white patent leather boots for a more mod, Edie Sedgwick look, boots in unconventional styles are making their rounds these days and I love all the styling possibilities they come with. Paired with high waisted, straight leg jeans, they're the perfect off duty look. Paired with one of my other favorite fall trends (PLAID), they're office-cool. Bonus points for a low, kitten heel and a pointed toe.
PLAID everything: Speaking of plaid, suiting is coming back in a huge way and Ted Baker never disappoints in a sharp suit. I recommend sizing up, and looking for cuts that hit past the hips for that perfect, "I stole this from my boyfriend" kind of look. In fact, my go-to uniform these days is a plaid, oversized blazer, a band tee and distressed jeans with heels. It's the cool, bookish girl look. My favorite!
RED: We talk about gem tones a lot in the video and my favorite is a really good ruby color, because, RED is making a powerful statement for fall. Everything from a great red overcoat to statement red dresses (like an incredible mustang print, red pleated dress we spotted at Coach), RED is quickly becoming the new black. Yes, I said it.
Velvet: Oh, how luxe is velvet?! I love that velvet has that amazing power to feel both sophisticated (think a velvet smoking jacket) and sultry at the same time (a velvet evening dress screams Jessica Rabbit, doesn't it?). So when I started spying pops of velvet in accessories this season, I was beyond excited. Velvet can feel intimidating at times, but a great gateway piece is a velvet bow on a cute, pointed toe flat (we spotted a bunch at Stuart Weitzman while shopping around.)
Victorian flair: It's true. I love a good, high, lace-detailed collar. It's Victorian flair at it's finest! There are so many great Victorian-era inspired pieces cropping up these days and both Coach and Ted Baker hit all the right notes I look for when hunting down vintage-inspired pieces that don't feel dated: modern draping, a subtle statement sleeve and wonderful, modern details (think buttons and prints). And, a great high-neck collar blouse or dress screams for some statement earrings, another huge thing for fall.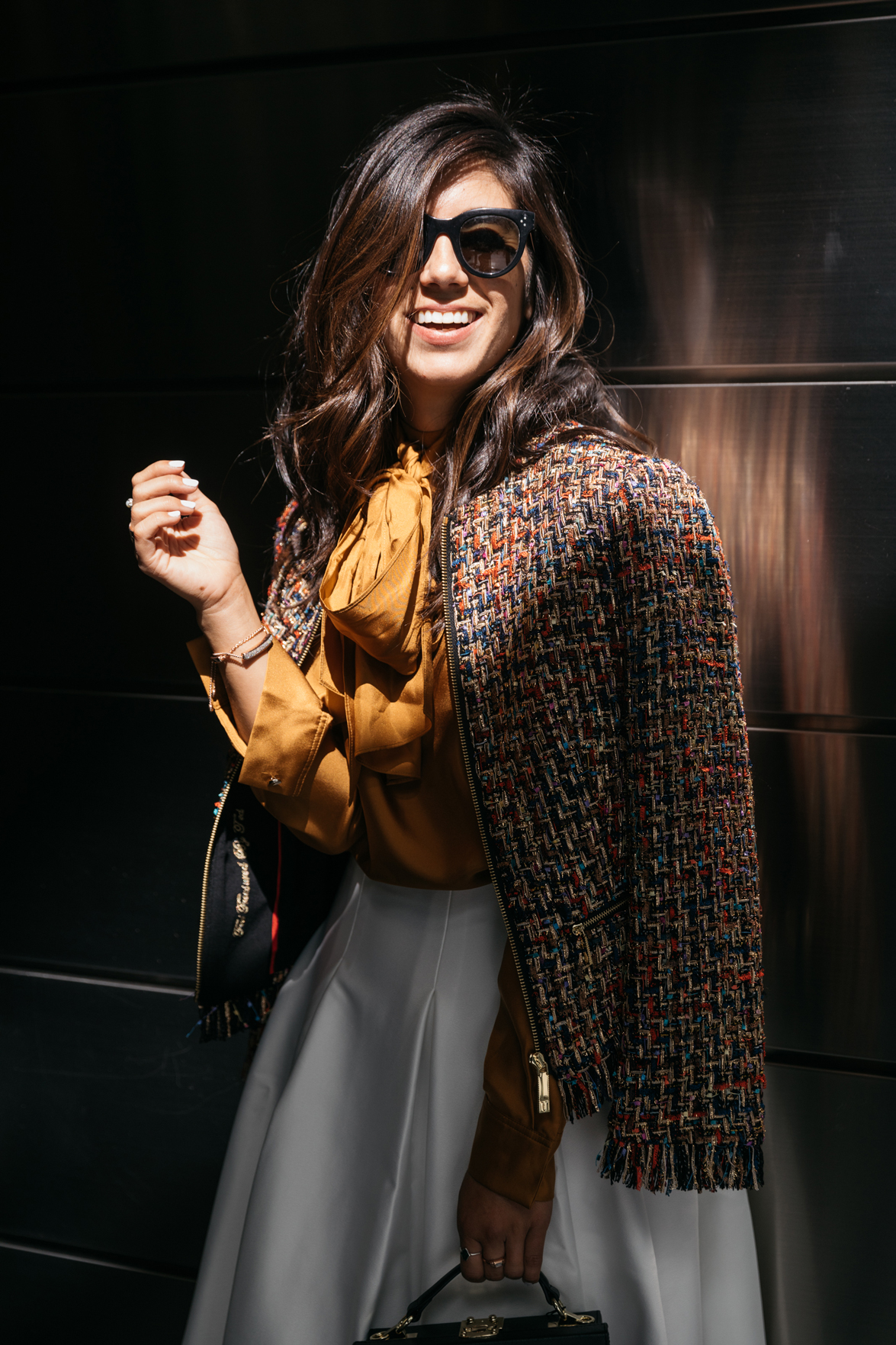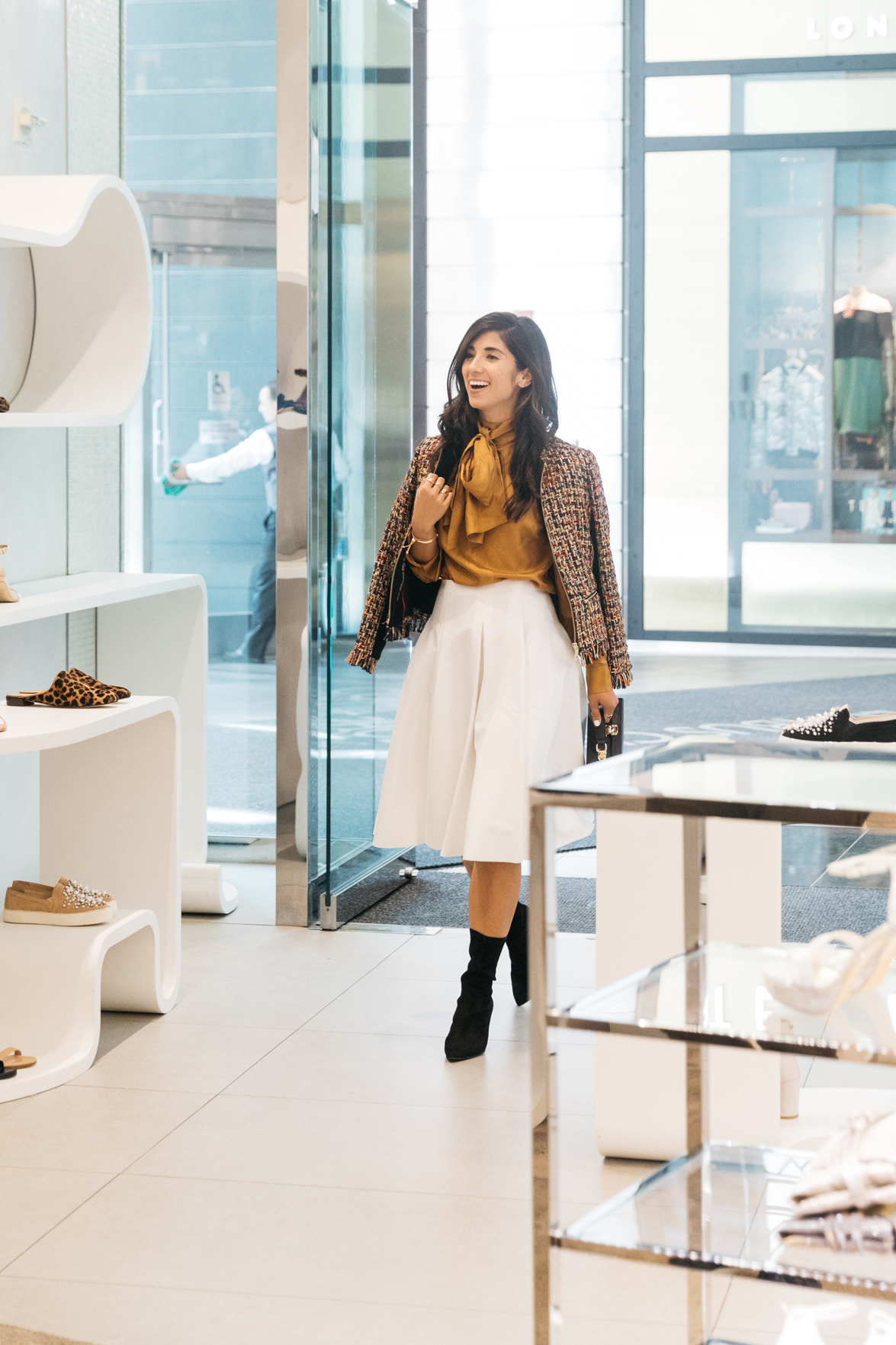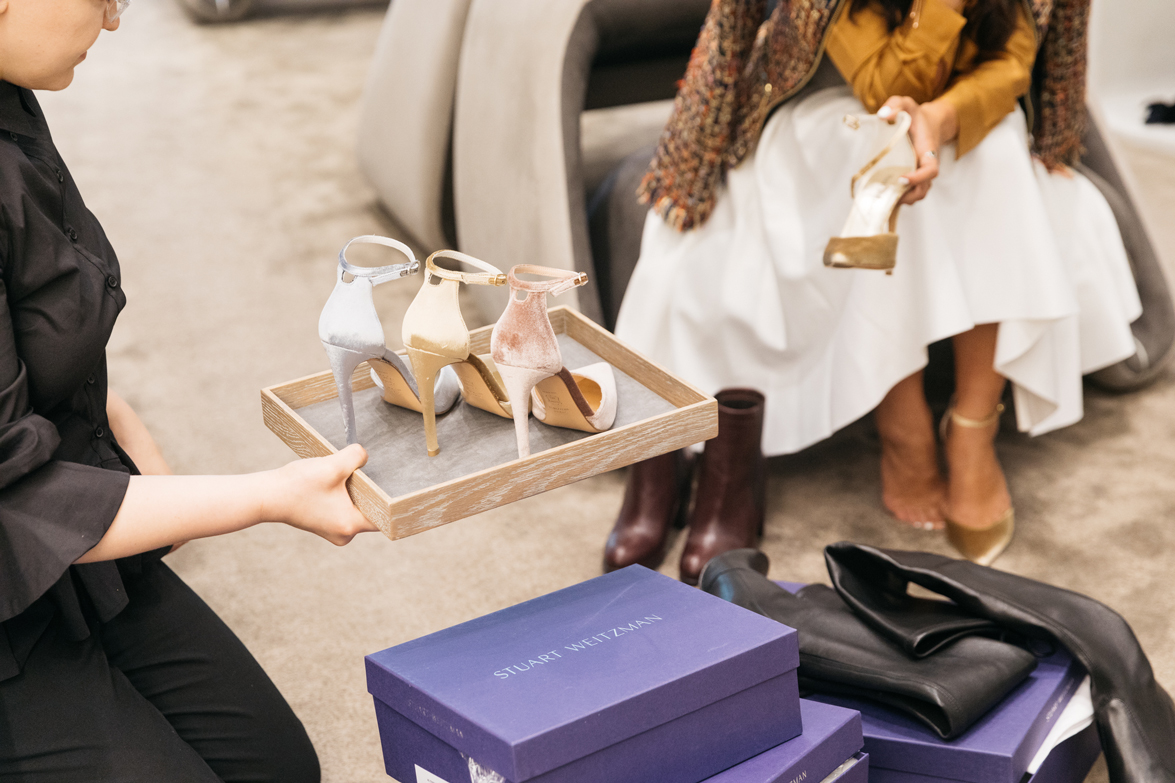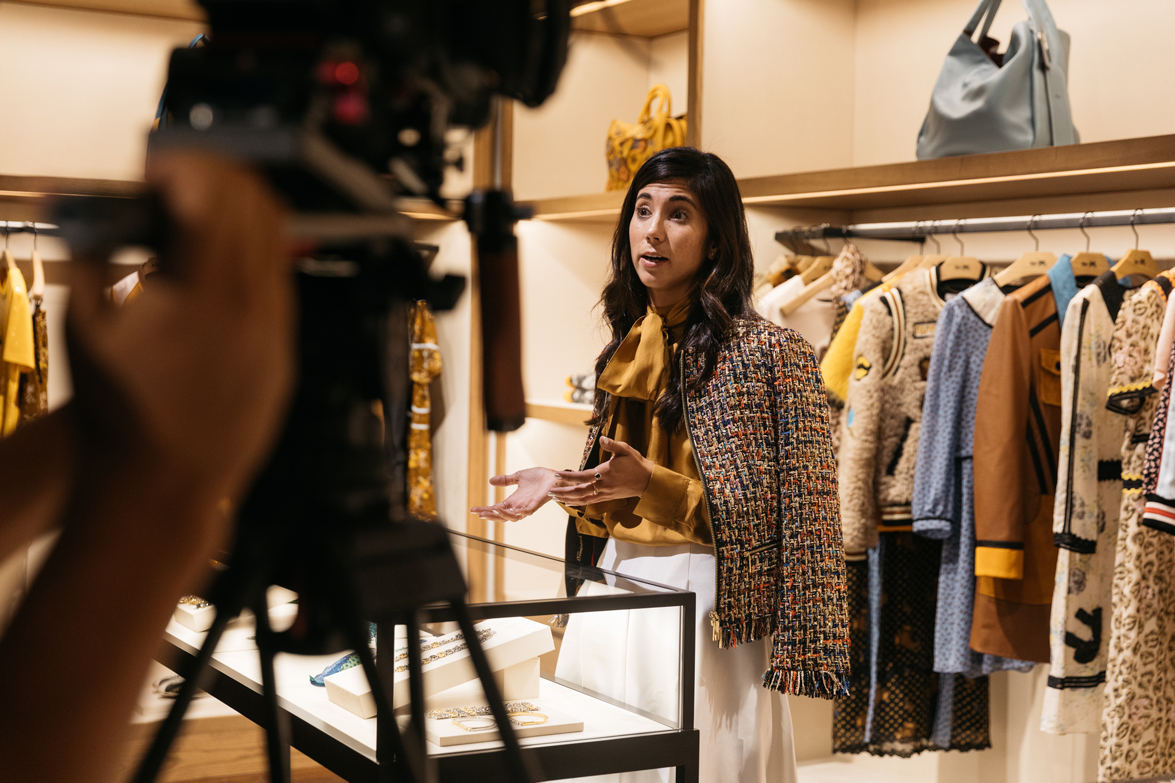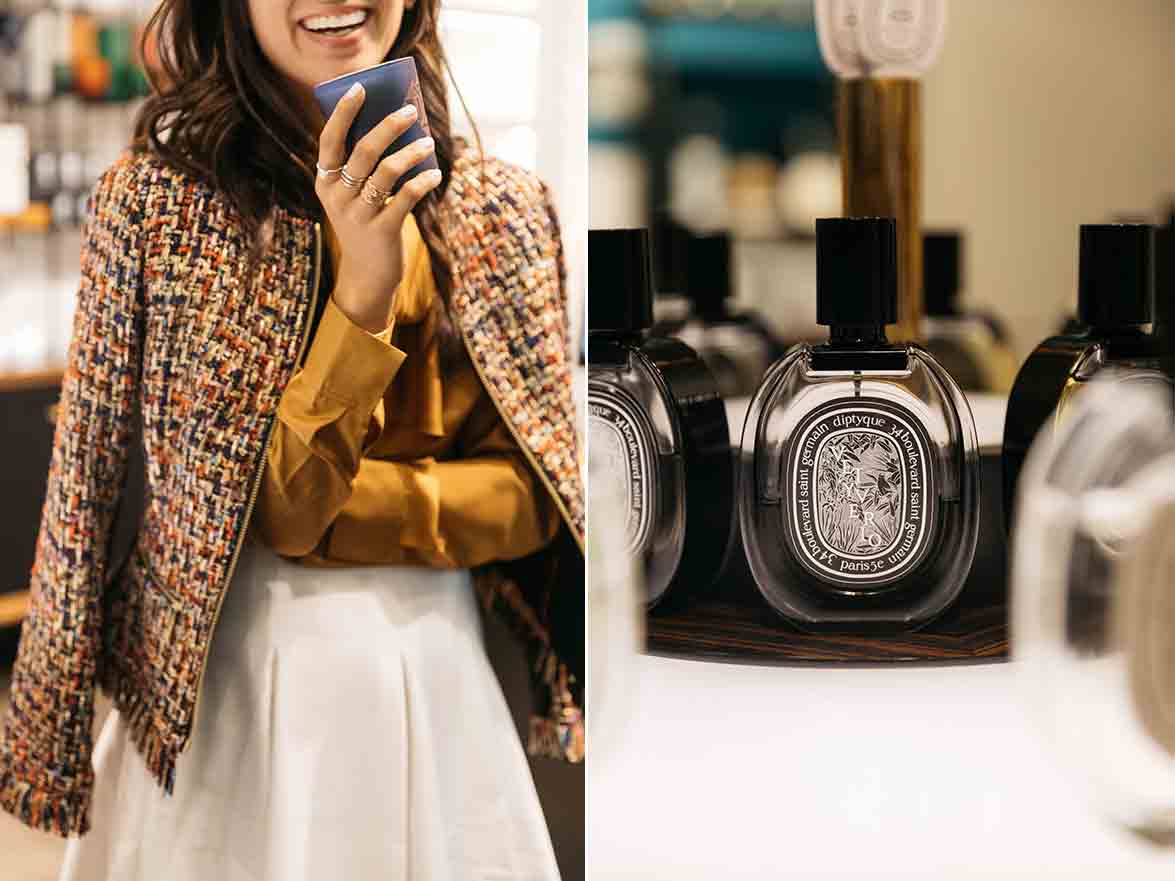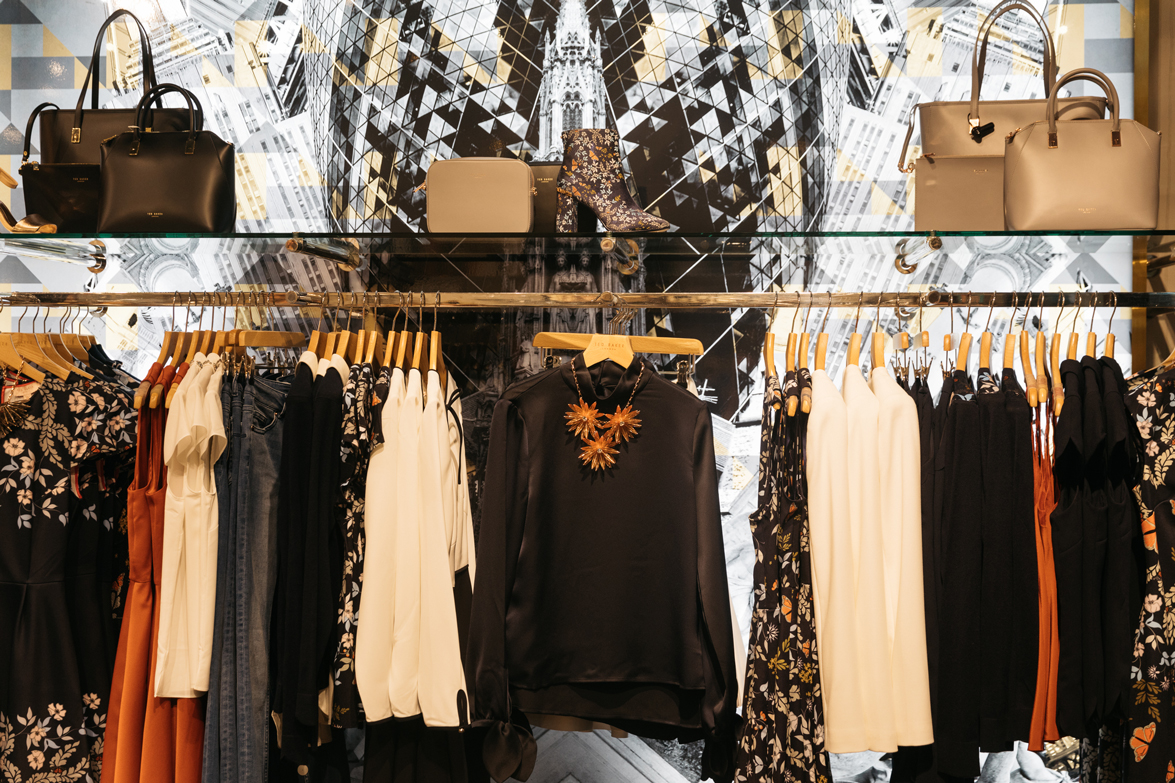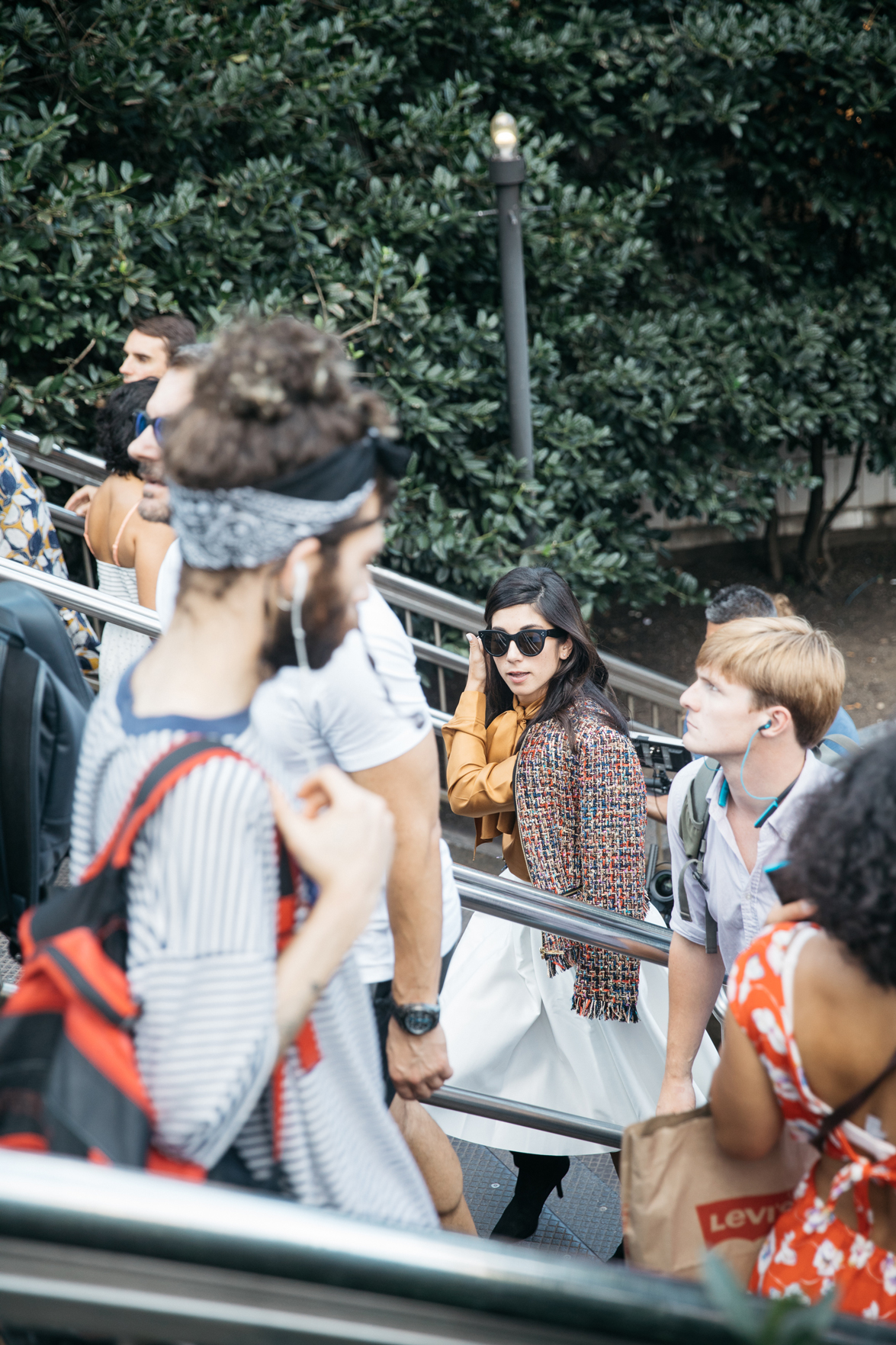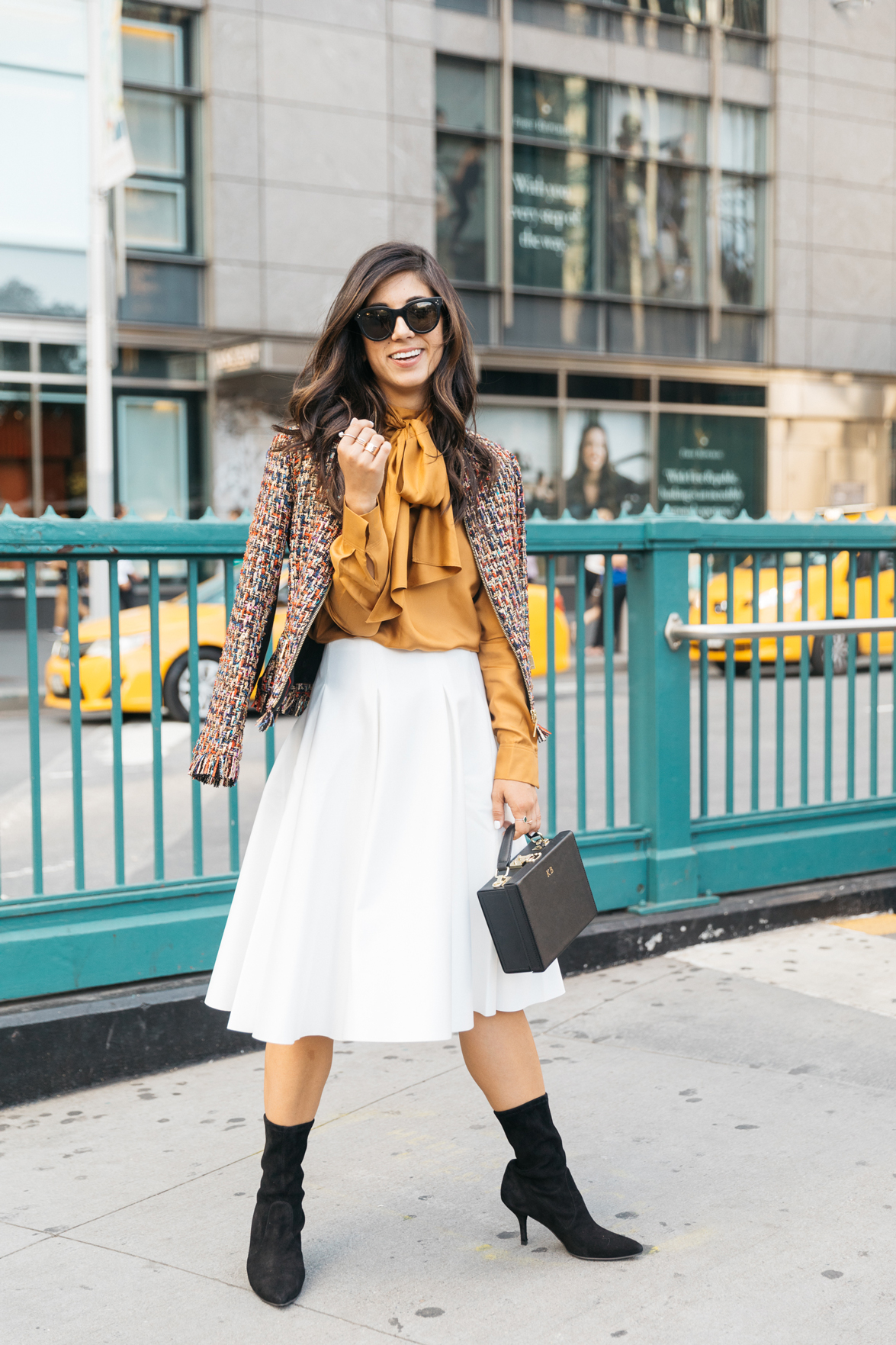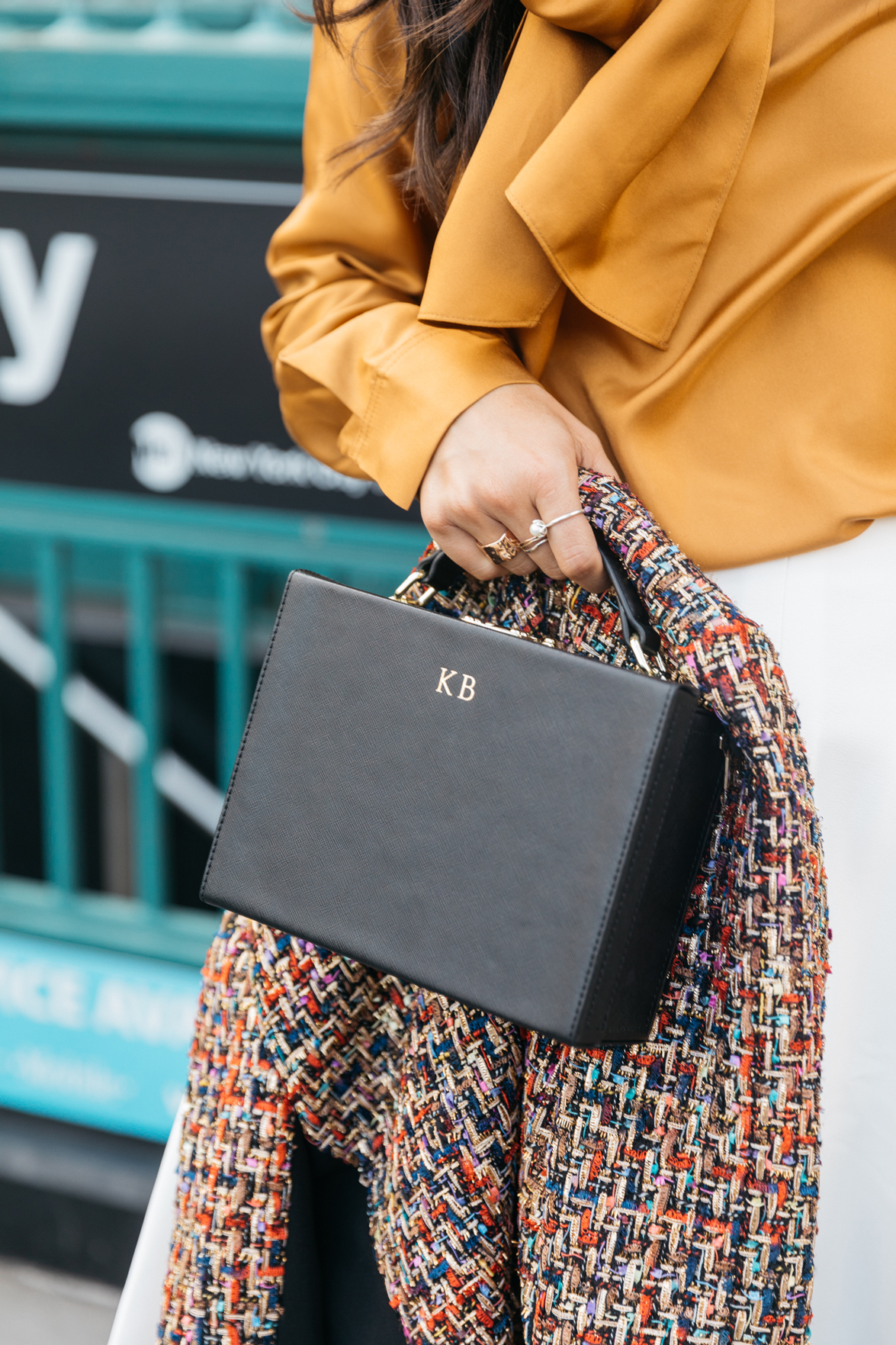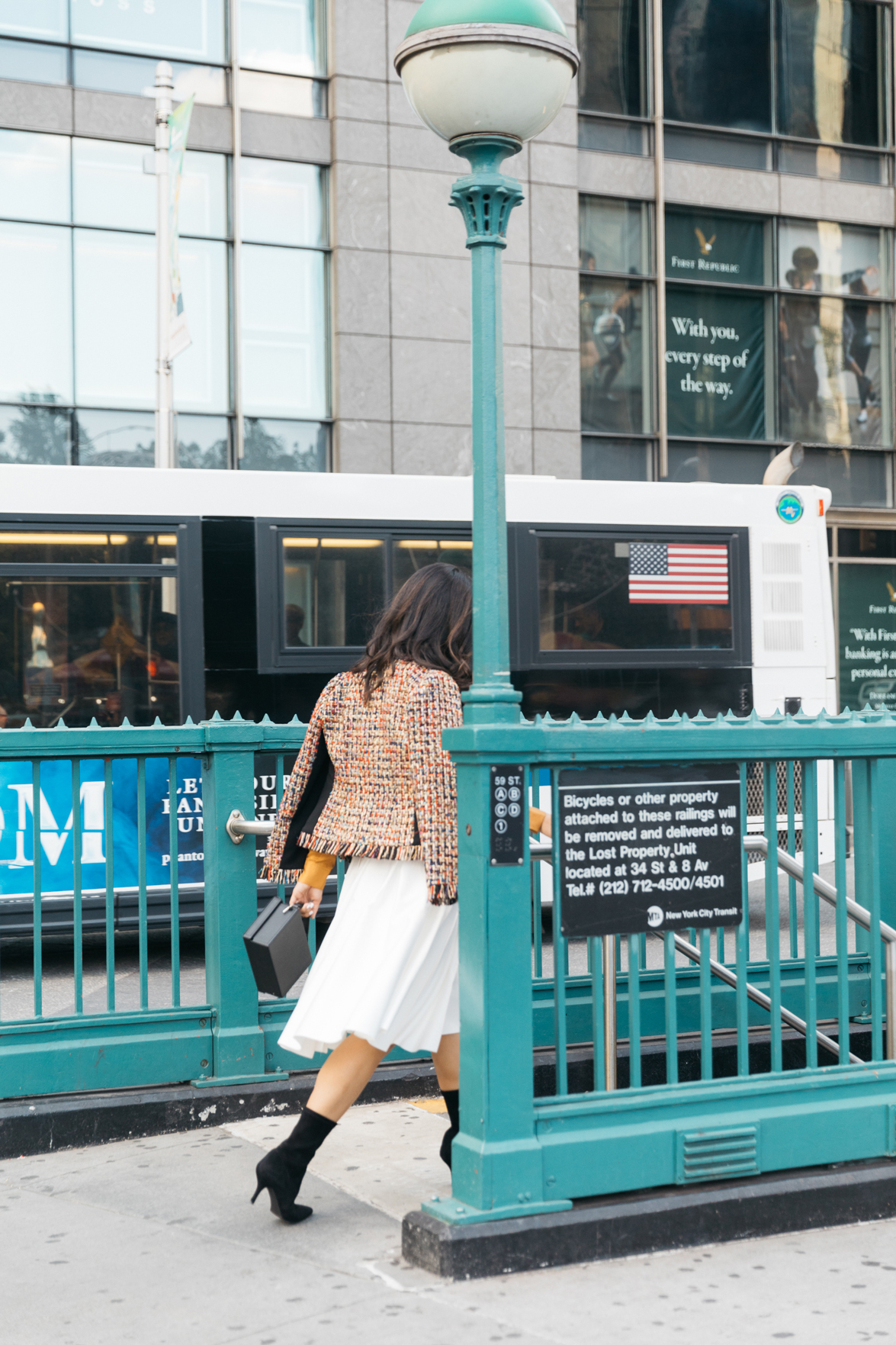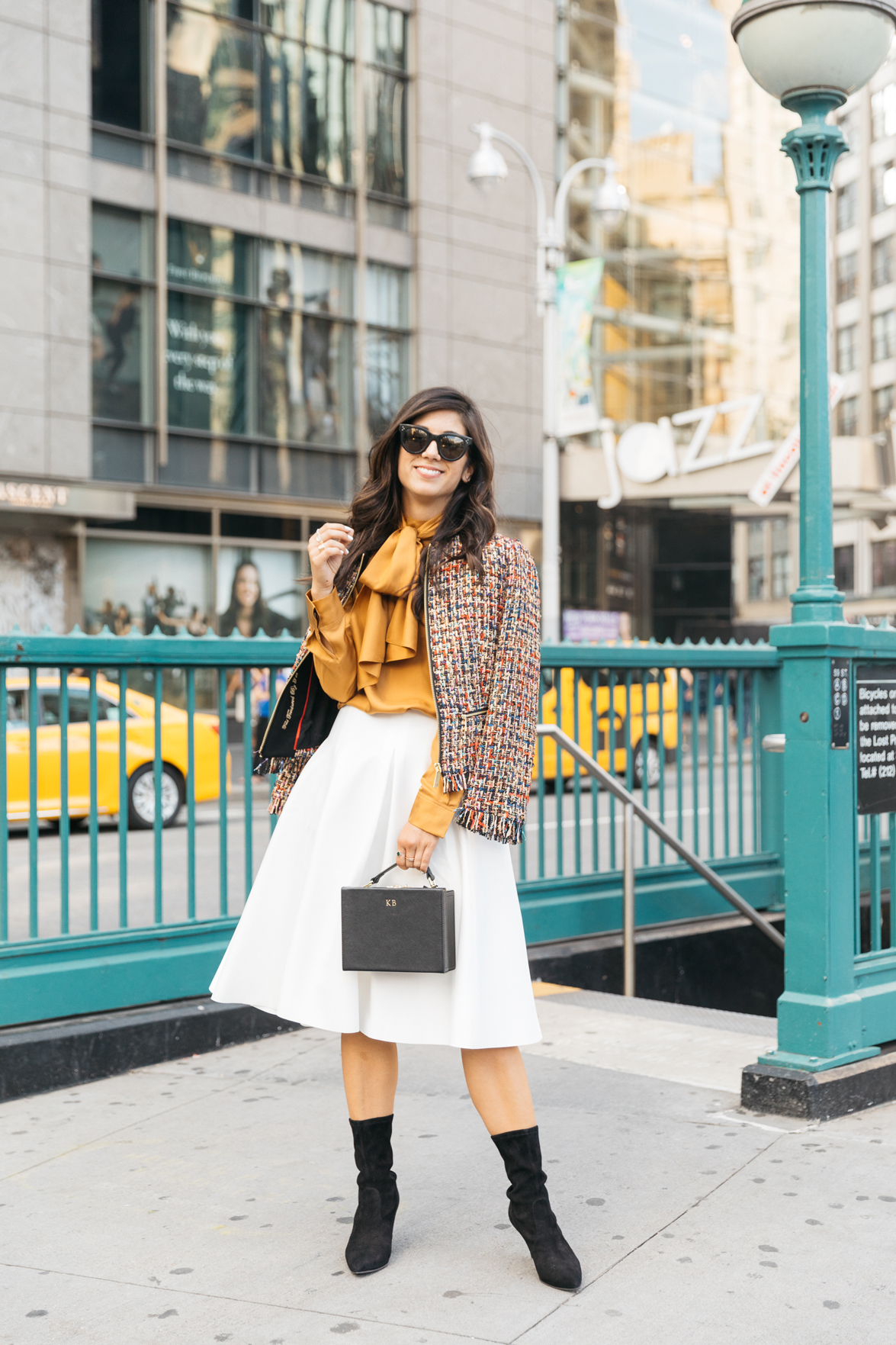 This post was in collaboration with The Shops at Columbus Circle. As always, all opinions and styling are my own. Thank you for supporting all This Time Tomorrow collaborations!
Photos by Ashley Batz and video by Bobby Hicks