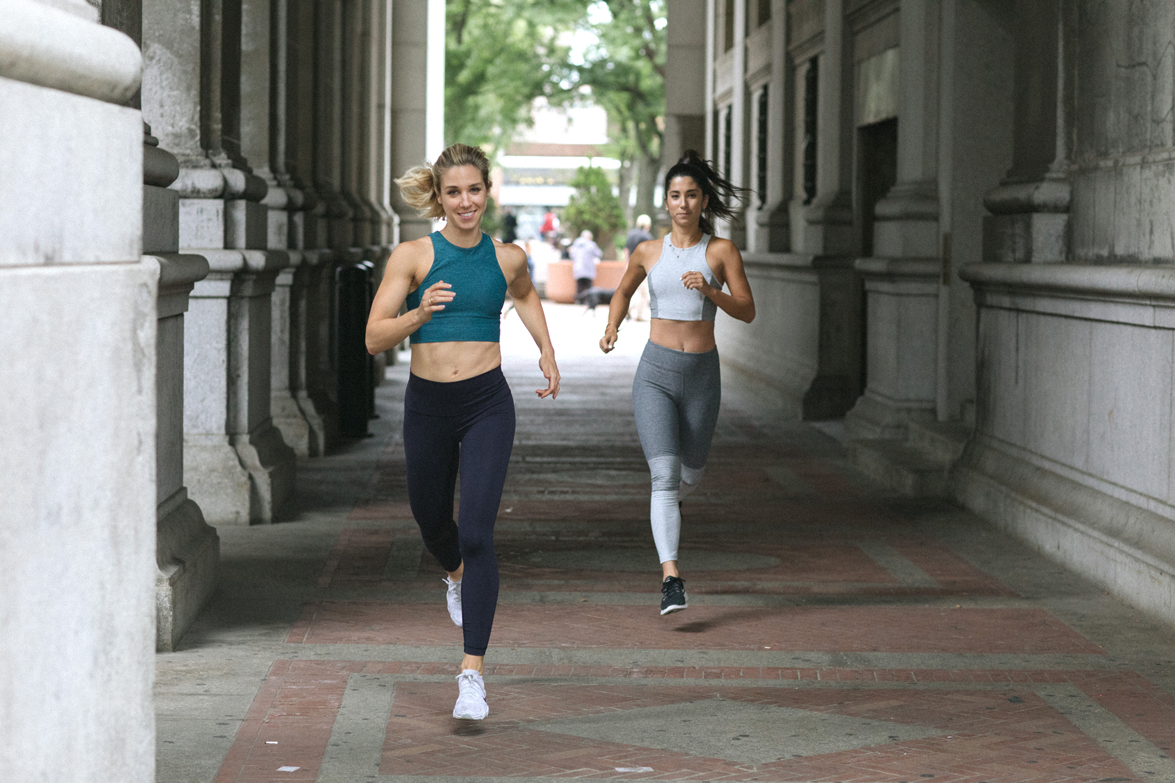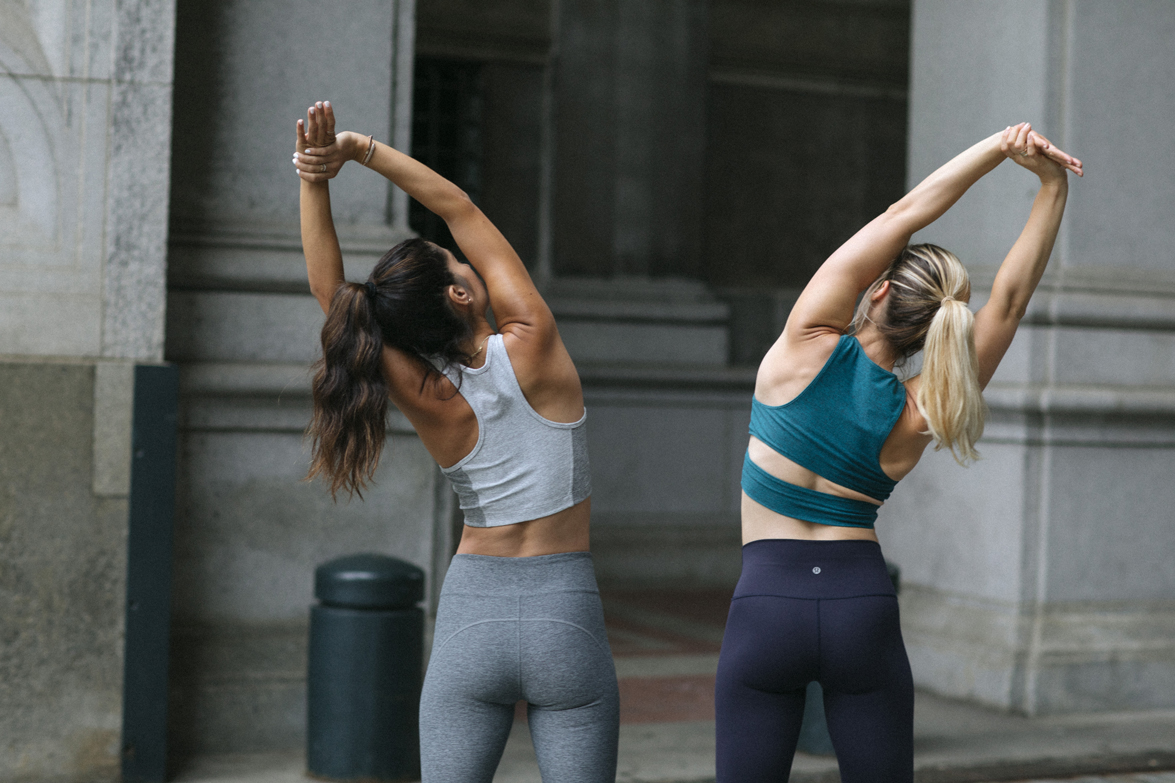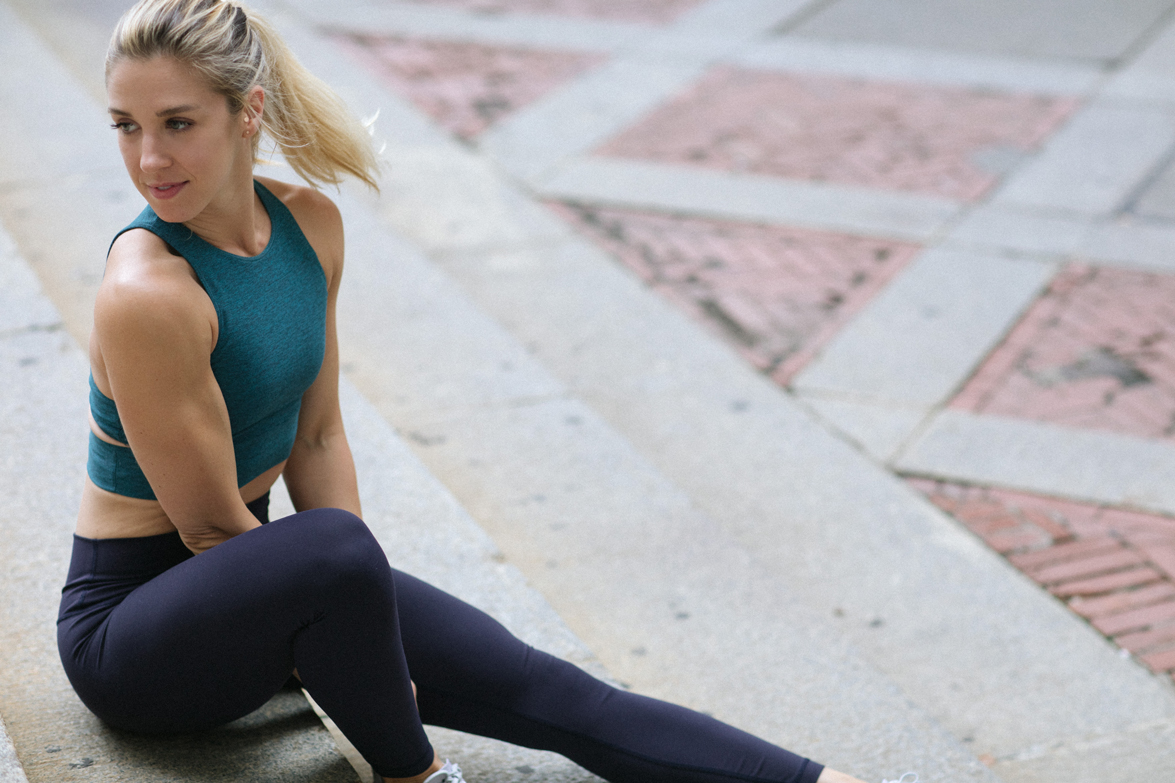 As you may or may not know, I'm running the New York Marathon in November. Granted, it's not my first marathon (it'll be my third actually —remember Paris here?), but given some recent injuries in past years (not getting any younger I suppose), this will be the first time I'm enlisting the help of a seasoned professional to help me train.
Cue the adorable blonde you see here. Lacee Lazoff.
If you happen to follow me on Instagram, you may have spied my running snaps and, as of this summer, my tortuous work out snaps from Fhitting Room, a high intensity boutique studio here in the city. As a self proclaimed tomboy and work out enthusiast myself, it's surprisingly hard for me to find studios here in the city that I actually want to return back to. Most are great, don't get me wrong, but I find myself either anxious or bored or just downright overwhelmed by how niche each class sounds. Barry's Bootcamp meets disco party with fog machines? Say what?!
So when I first started going to Fhitting Room last summer with my good friend Heather, I was pleasantly refreshed. A downright sweat inducing, muscle-working high intensity class? With great music? And instructors who have the ability to yell in an encouraging way (as opposed to the scary, drill sergeant kind of way)? Sign me up! And I've been going ever since.
Now this is where the aforementioned adorable blonde comes in. Lacee. I've recently started making a habit of signing up for her 8am Thursday class at the Flatiron studio and have always admired 1.) how bright eyed she seems at 8am! and 2.) how she can whip out a few pull ups without flinching. Seriously. This girl is tiny but mighty — essentially representing all my fitness goals in one! Of course, once I found out she had run the New York Marathon before, I knew she'd be the perfect coach for me and a great source of ideas and tips for this new series I'm kicking off today: Marathon Monday (yes, I'm aware it's Tuesday now, but let's pretend the long weekend didn't throw off my posting schedule).
That said, I wanted to introduce Lacee to all of you, so you could get a feel for her approach to fitness, how she stays motivated and her tips for getting arms like hers. (Insert flexing arm emoji here.)
Over the coming weeks, she'll be weighing in on my training schedule with a day by day running and workout plan, tips for working out while traveling (my weakness!) and nutrition guides, tailored for runners. Have other topic ideas for Lacee to answer? Let me know in the comments below! And without further adieu, I'll let Lacee take it from here!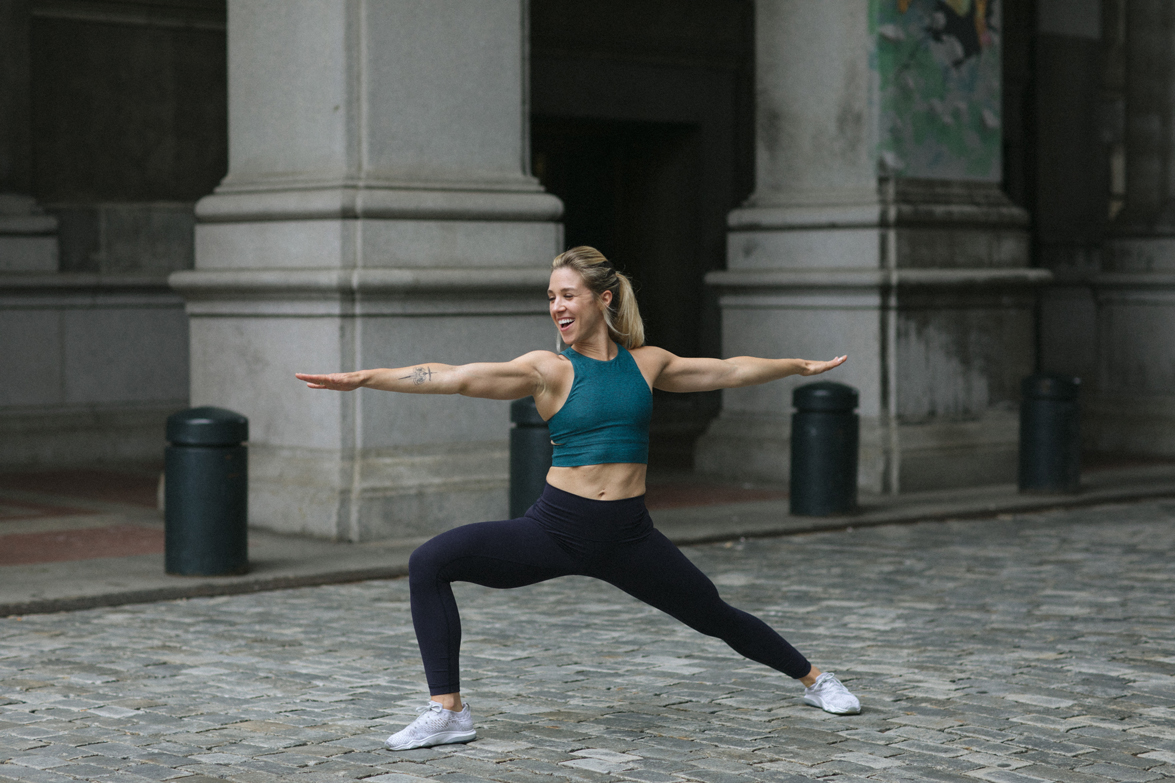 OUTFIT DETAILS ON LACEE: Outdoor Voices slashback crop top // Lululemon leggings // Nike running shoes // OUTFIT DETAILS ON KRYSTAL: Outdoor Voices Athena crop top // Outdoor Voices leggings // Nike Lunar Tempo running shoes // Avec Les Filles denim jacket (sold out, but love this style from them)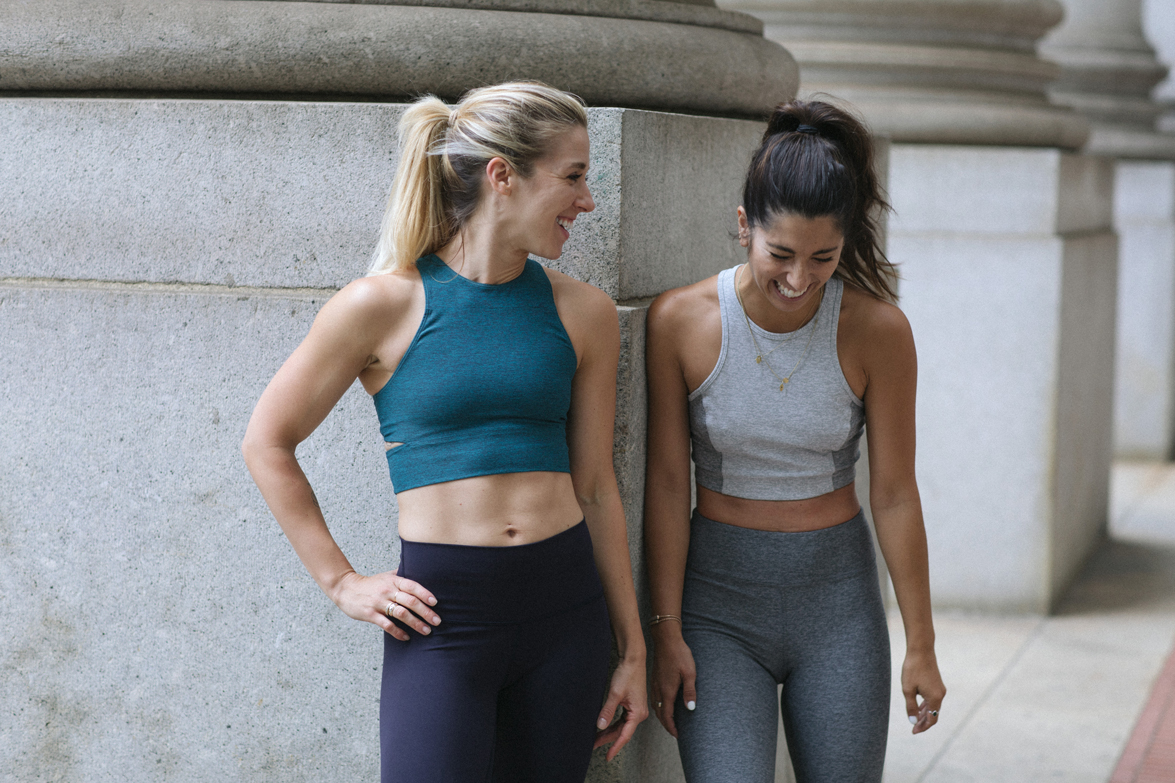 First things first, where are you from and when did you move to NYC?
I was born and raised in Portland, Oregon and moved to NYC seven years ago (May 2010).
Ah! A fellow Left Coaster! So where do you live here in the city? 
East Village! I started in the West Village and moved east six years ago (and am still in the same apartment).
How long have you been at Fhitting Room?
Since December 2016, but I've been in the fitness industry in NYC since I moved here and used to take classes at Fhitting Room when it first opened 4+ years ago.
What's your relationship with fitness like? How did it start? How has it evolved over the years?
I've always been athletic and grew up doing a ton of outdoor sports. A good amount of my youth was spent figure skating and running. I found yoga in college and starting practicing weekly along with weight training sessions at the gym; I've been a gym rat since my late teens! I don't feel like myself if I'm not moving and that has taken many forms over the years. In my early 20's I was really into yoga, running and crossfit; that translated to group fitness/spin and about every boutique class you could name when I moved to NYC. I spent the first 10 years of my career working in operations for a fitness apparel company and made a career switch to personal training; it has been the most natural and scary leap, but one that has truly taken me full circle in my love of fitness.
My connection to yoga and weight training has stayed consistent and that came together when I found kettlebells and functional movement. I literally fell in love and have never felt stronger than I have through working consistently with kettlebells (it has been about three years). Now I'm in a phase of bells and bodyweight training; I've become obsessed with strict pull-ups and see a future helping people (especially women) to achieve their first pull-up and beyond. In my early/mid thirties, I'm stronger than I've ever been and want to maintain that and thrive as I age.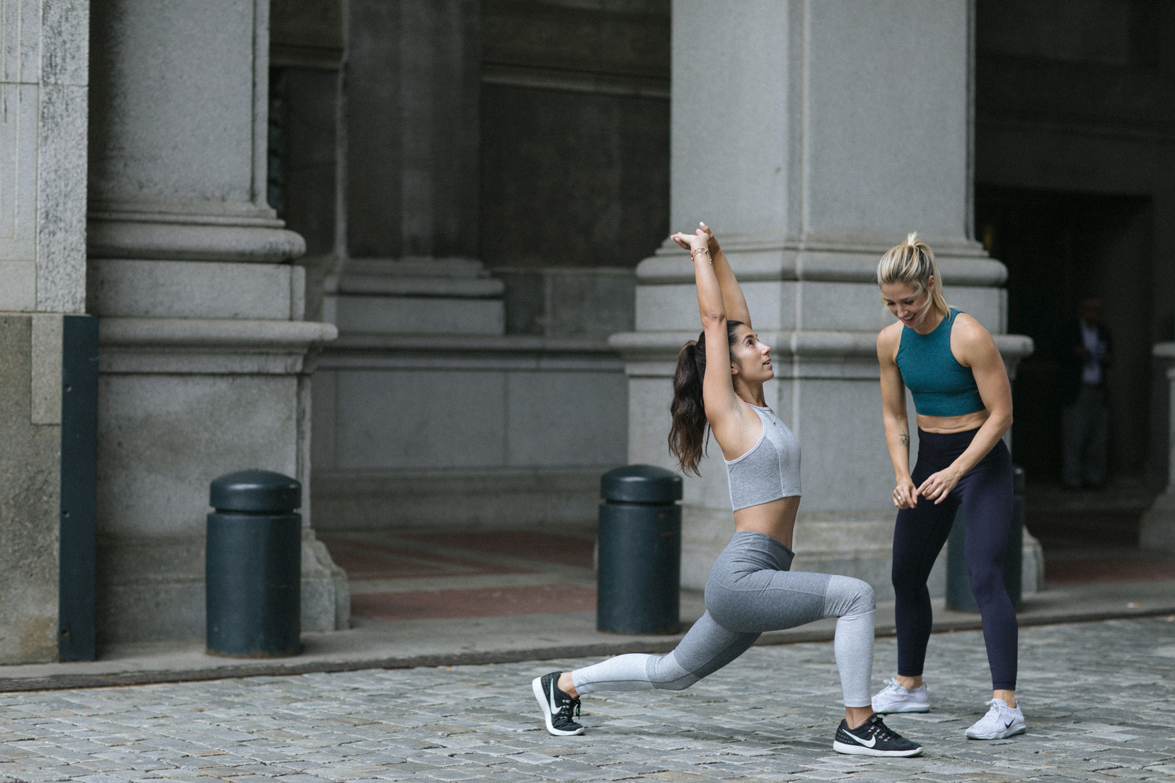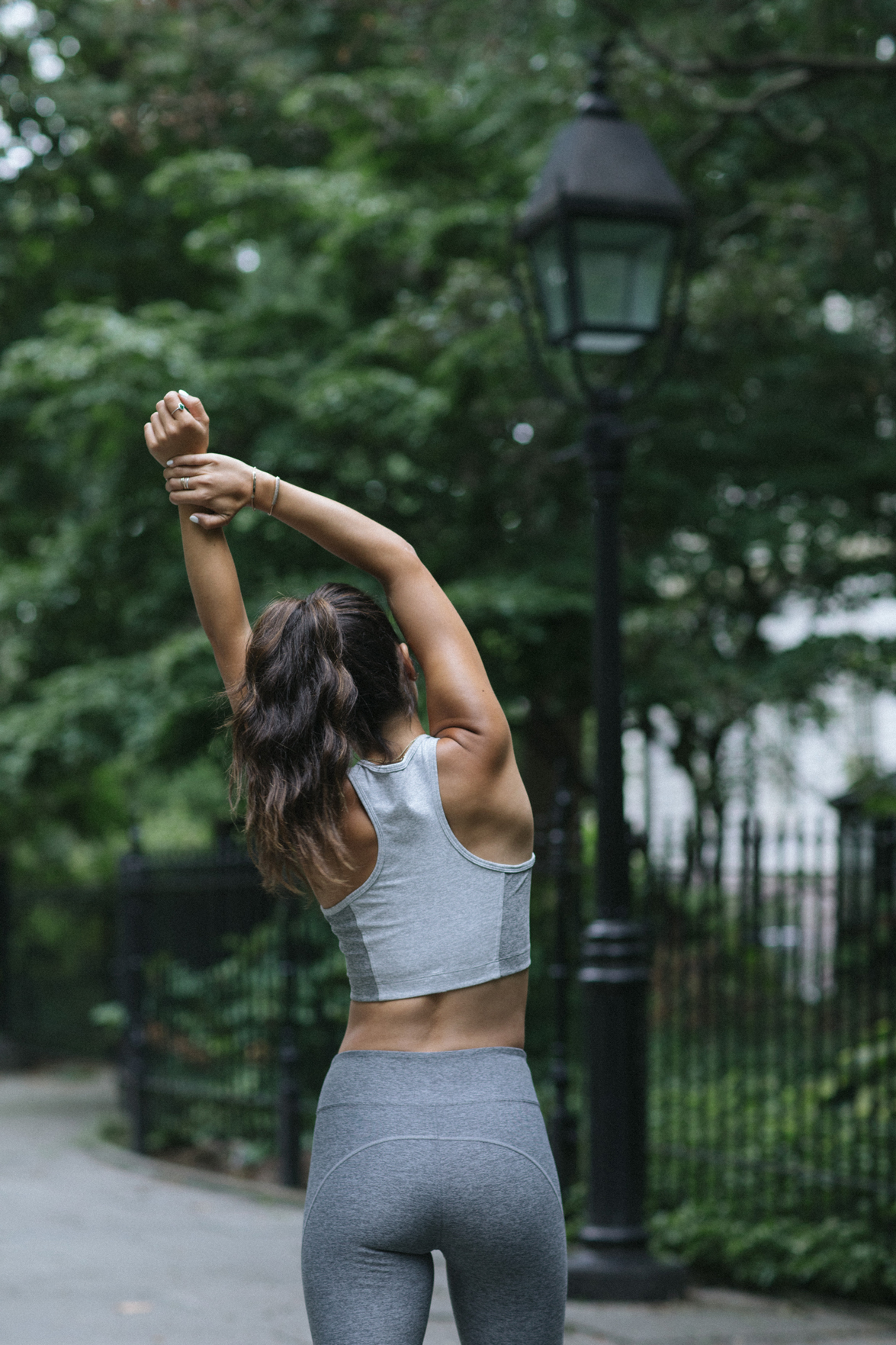 What do love about personal training/instructing?
I love people and helping others use their bodies to their full potential; it's something so many of us take for granted. Personal training is often a unique bond, as I'm getting to know clients on a one-on-one level that feels close to family sometimes. It's very rewarding to watch an individual achieve goals, make progress and really see how it affects their life closely.
Group instructing for me is all about creating an experience and motivating a team. There is something about creating energy, teaching and bringing people together that is so much fun. At Fhitting Room, I get the best of both worlds because of the client interaction and being on a team of skilled trainers. It feels so great to be on a team again!
What's a common misconception about strength training that you'd like to banish now?
That sexy equals skinny and strong equals bulky. There are so many spaces in between and every person is different. Also that being fit is all about eating perfectly and working out every day with no grey area. It's possible to drink wine, not be in the gym constantly and still look and feel great.
How does NYC impact your fitness routine?
NYC can be a blessing and a curse! I like to eat, drink, stay out late and be involved socially in the city, but these things for sure impact my fitness routine. I find that eating very well 85% of the time, prioritizing sleep and scheduling my personal workouts like they are business appointments allows me to enjoy city life. I also love group fitness for the social aspect; it has allowed me to find friends that are likeminded. I also walk everywhere and plan on hustling a little more in the gym during the times I'm more social (ahem, summer).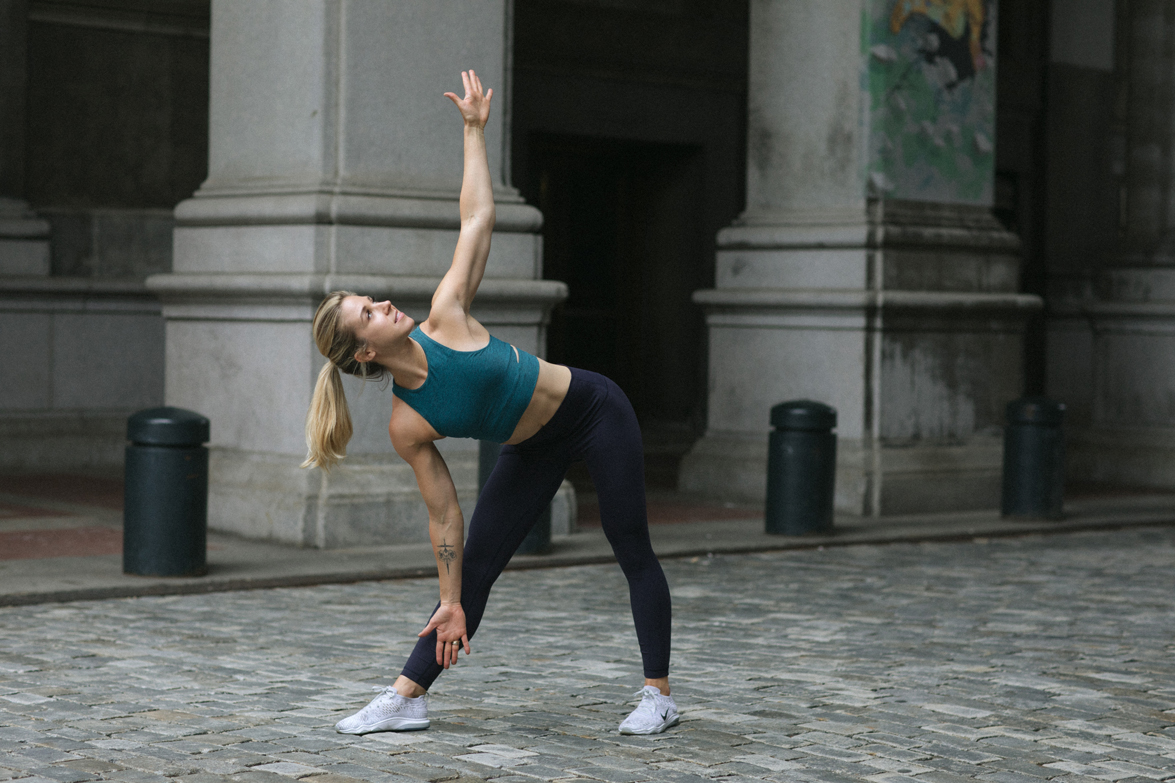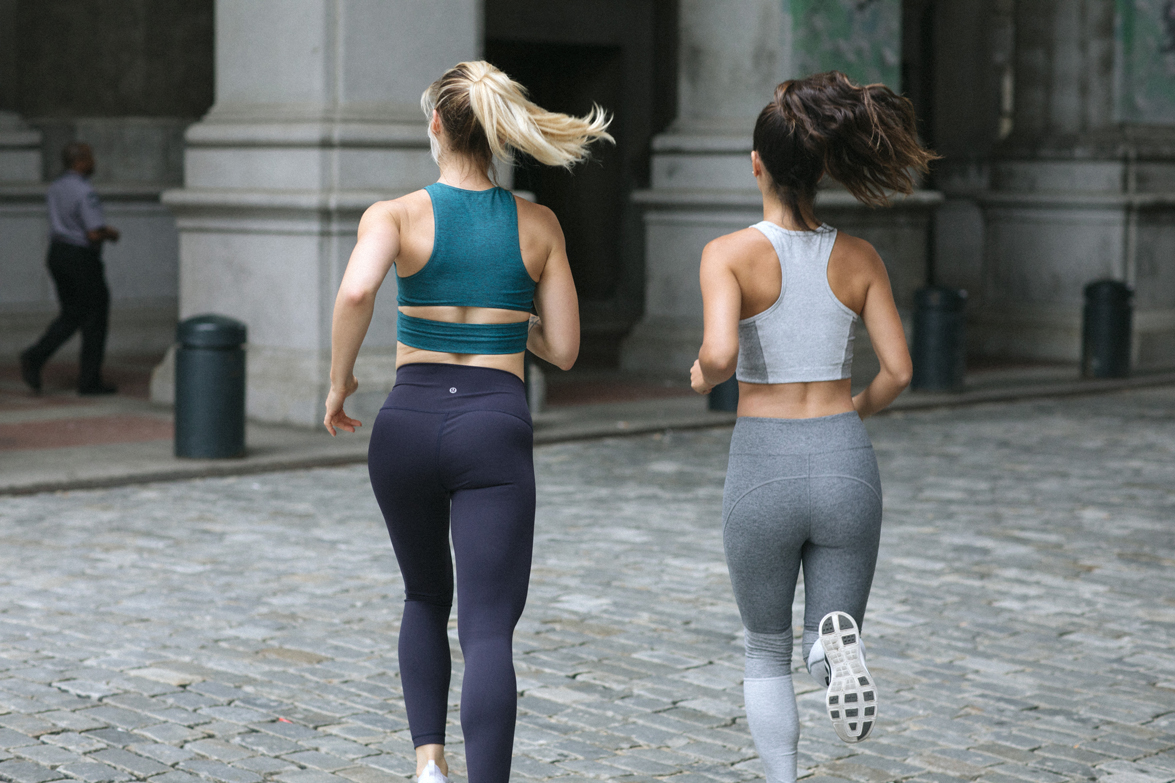 What's your workout philosophy?
Workout to thrive at life; everything else will fall into place (including those body goals). I believe strength of body, strength of character and a positive outlook will give every person the ability to get after their goals and live BIG.
Motivator of choice? (What pushes you to go that extra mile during a workout?)
I'm a tighten my ponytail and throw on some dirty rap kind of girl. Also being around people that push me. It's easier to do that last burpee when you know your workout partner won't let you quit. Also, that extra glass of wine!
Yeah, girl, we're with you for that extra glass of wine! Advice for someone looking to create a workout routine they can stick to?
Plan ahead and schedule your workouts with the importance of a business meeting. Stay consistent for 6 months; yeah I said it. After that, it will feel as easy as breathing to keep going. Also, if you hate running, don't run. Start with something you really enjoy to ignite the spark, then build upon it. Group classes are a great option because they enforce commitment. Not to sound like a trainer, but… Consistency and habits create results.
No matter how intense the workout seems at Fhitting Room, you're ALWAYS smiling! What's your SECRET?!
I really believe in loving every moment of life, even the hard shit. Because it's real and usually accomplishing goals or getting through the tough moments feel the most satisfying. I tell myself all the time: don't make this hard, because nothing has to be hard. It's all about mindset, so embrace the suck with a smile.
OK, but seriously, how do I get your arms? HELP ME!
Lots of push ups, pull up and kettlebells! Let's set a goal for you to achieve a pull up and everything else will fall into place. I actually think that as much as you travel, kettlebells and bodyweight is the way to go because you can really do them anywhere. Also: A TRX strap is a great investment; easy to travel with and you can hand it in any hotel door frame.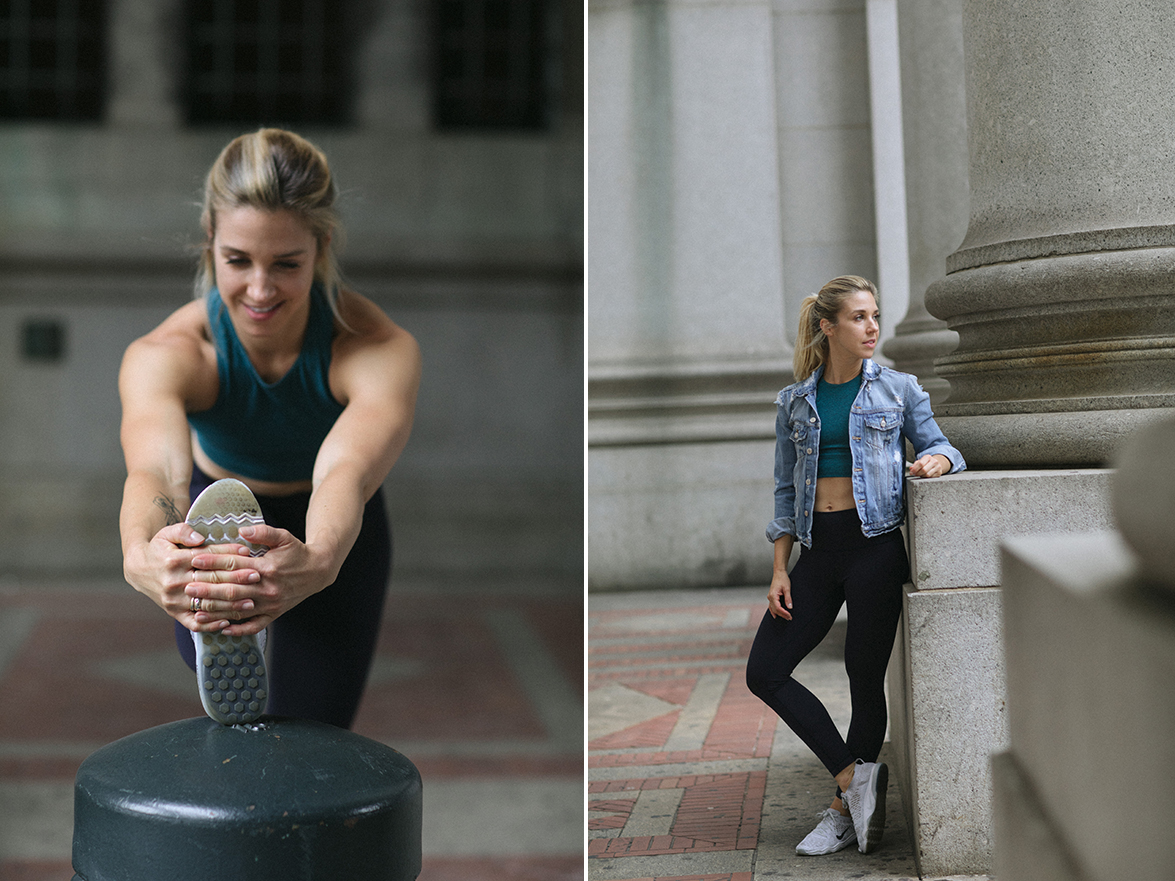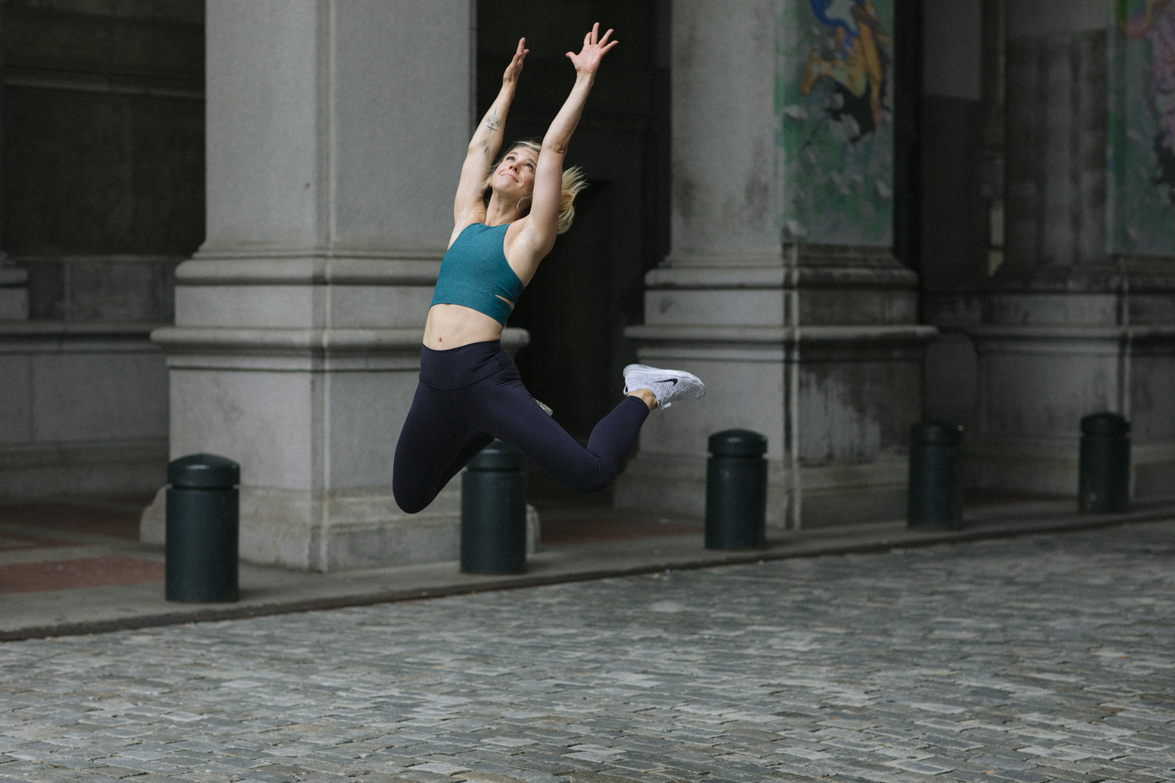 Eep! So I have pull-ups in my near future? Finish these sentences…
I feel strongest when… I lead with my heart and don't quit.
My favorite kind of workout is… Kettlebell complexes and bodyweight movements.
My torture workout of choice is…  for sure HIIT classes (that assault bike never gets easier).
My pump up jam at the moment… Anything with a Kendrick Lamar cameo; he can do no wrong.
Pick your poison: BURPEES or PULL-UPS? I actually love both, but… Pull-ups have changed my life and I will never stop!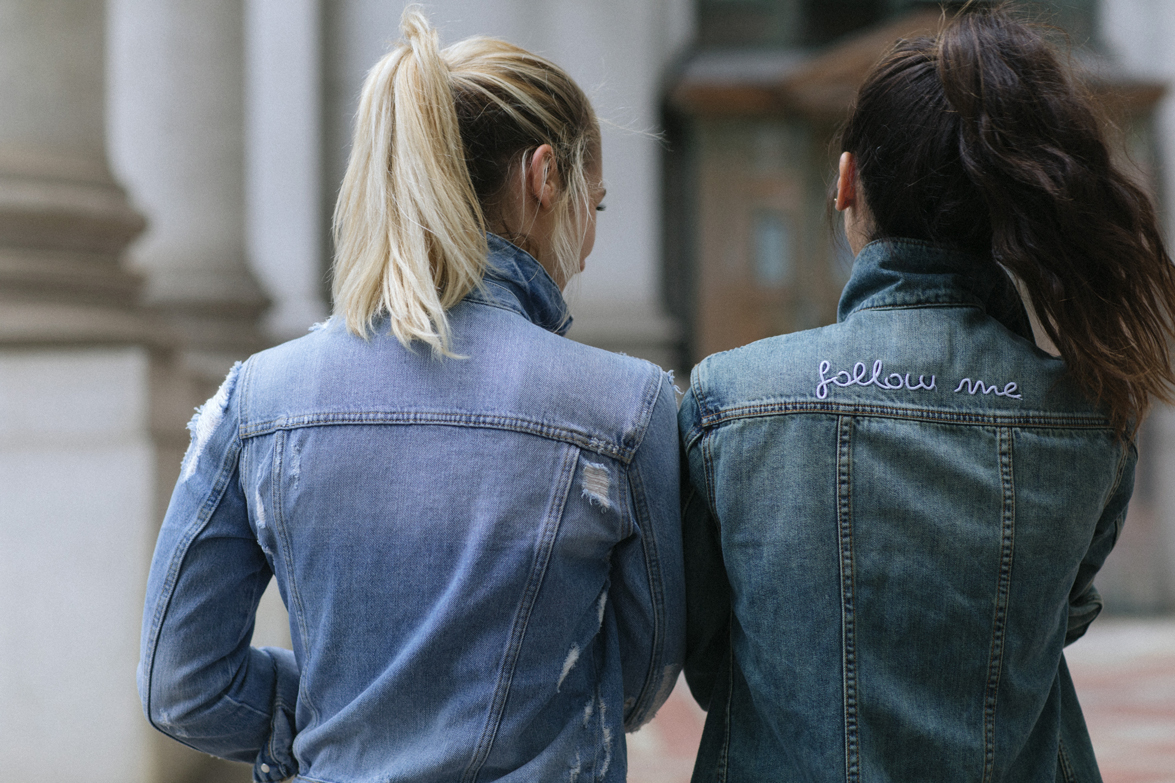 In the past, I've underestimated how much I needed to cross train (hence the pesky ankle injury I had last year!) — what are the specific areas I need to pay special attention to up until race day?
The common areas for runners to watch: glute strength (your butt) and core strength. Deadlifts, hinge movements and posterior chain work (back of body) are all very important. Fhittiing Room classes are great for this. Here are a few things:
Foam rolling: calfs (especially if you're wearing heels), quads, a little bit hamstrings, and piriformis (upper hip area).

Glute bridges and deadlifts are awesome for building glute/hamstring strength and also connecting your mind to using these muscles. Oftentimes (especially women), people are quad-dominant and don't actually actively use the glutes!

Hips: tight hips can lead to lower back pain for runners. Kettlebell swings are so good for lengthening hip flexors while building strength.

Core: planks, hollow holds, push ups, pull ups. Ab wheel exercises could be great for you especailly while traveling. I can show you all of this in person!

Walking: normally I tell New Yorkers to walk as much as possible. For you, try to keep walking miles on the lower side when you start getting in to longer runs. You'll already be logging in miles and your legs will need rest.
As a runner yourself (and a marathoner, to boot!), what's your advice for staying motivated during training?
Enroll other people in what you are up to; it's much easier to stay motivated when you're open about your goals because then you'll have so much support. People want to see you succeed, so get friends, family and even your social crew involved in your journey! Also: little rewards help me. Like a new pair of shoes or workout pants help me to stay fresh and in the game. Sometimes it's the little things…
And there you have it! Hope you guys enjoyed the first of this series. And, as mentioned earlier, please send me any fitness related topics you'd like Lacee to tackle!