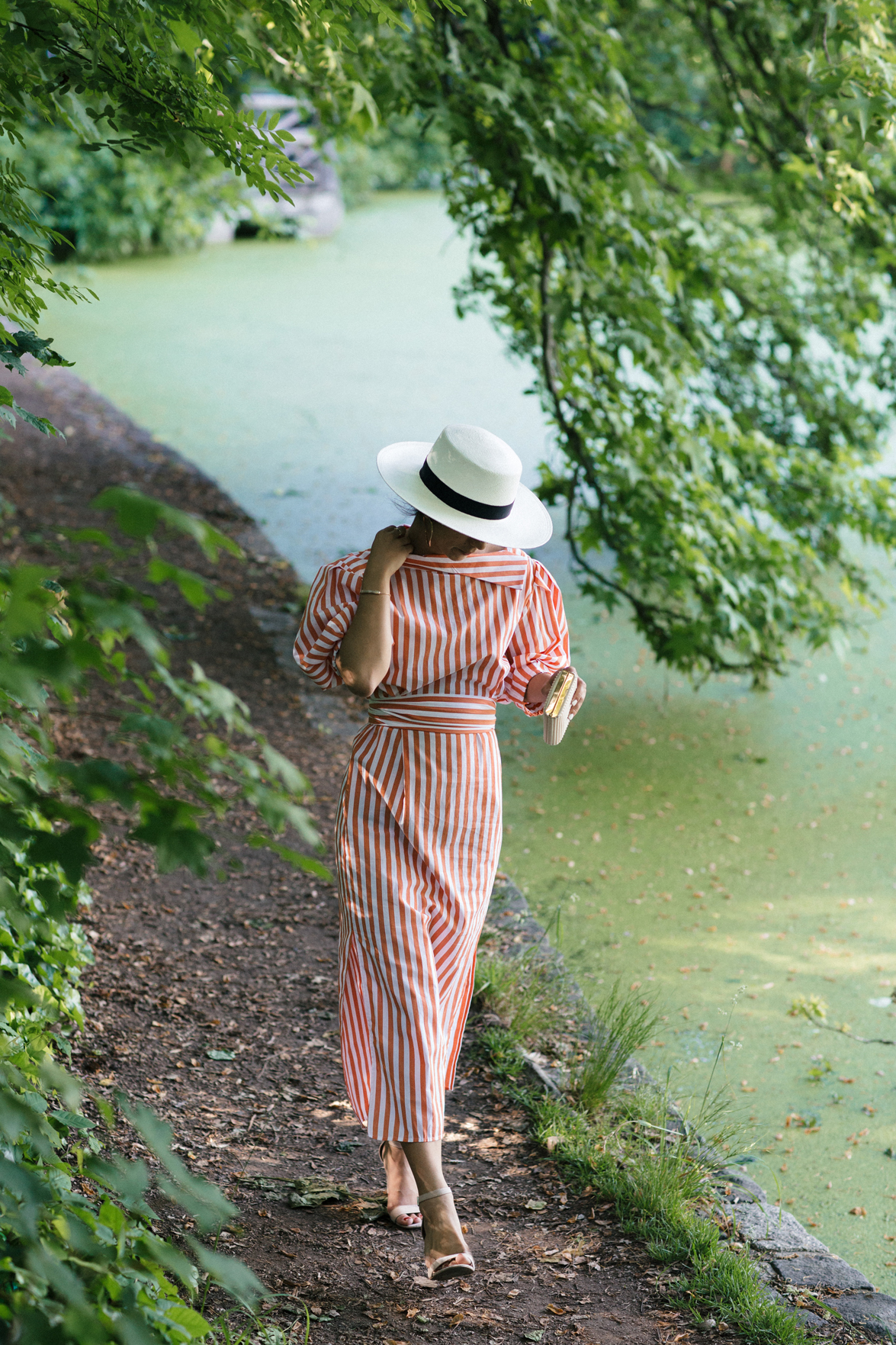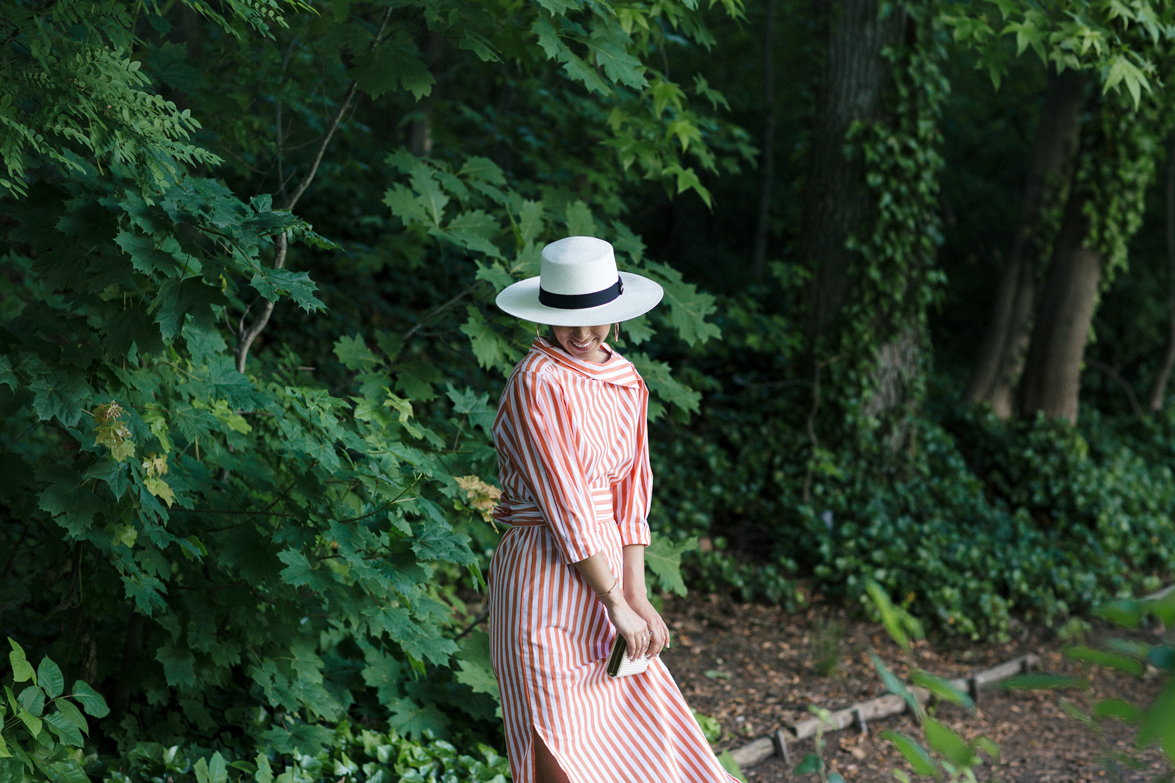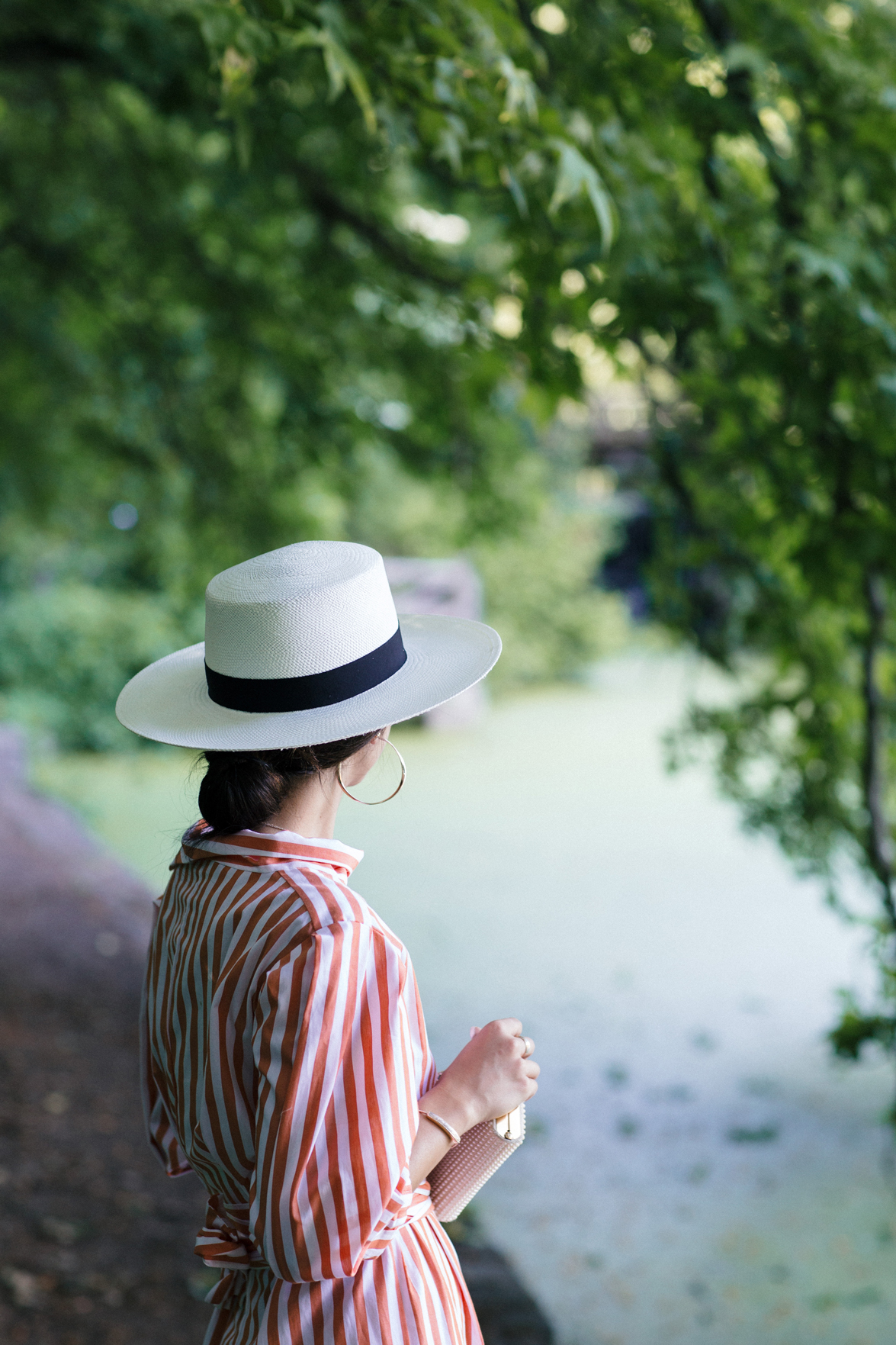 Like most of you guys, when summer rolls around, my travel schedule can get pretty hectic. To the point where my suitcases don't get fully unpacked or even put away, until I'm already reaching for them again, throwing a load of laundry in really quickly and packing back up. Naturally, I love the opportunity to travel as much as the next girl, but there's something I'm really looking forward to this weekend and that's downtime. Sweet, sweet downtime! No traveling. No plans. No planes to catch. No trains to run after. NOTHING. And. I. Personally. Cannot. Wait.
So in no particular order, here are a few things I have marked high on my anti-to-do, to-do list.
Finally binge watch a few shows I've been delinquent on, namely Twin Peaks, The Keepers and Gypsy (a new favorite with Naomi Watts!). Oh, and watch Mommy Dead and Dearest, a documentary about munchausen syndrome by proxy that I've been hearing A LOT about.
Catch up on my New Yorkers (I have an embarrassing pile from the past few weeks that I need to start reading).
Take Elvis up to Central Park on Saturday before 9am (when all dogs are allowed off leash throughout the whole park!).
Organize my closet and finally get those pesky piles to donate, sell and alter off my hands!
Edit and write a slew of travel posts, including ones for Scotland, Australia and Barbados!
Wear this polka dot dress somewhere — perhaps to Air's Champagne Parlor?
Snag tickets to see Midsummer Night's Dream in Central Park.
Speaking of the park, Lydia and I recently shot in the Conservatory Garden, which has me craving more excuses to roam around the park for other new-to-me spots.
I happen to have a gift certificate for Aire Ancient Bath House burning a hole in my pocket. I think it may be time for a massage, folks!
Check out the Bastille Day festivities over at the Hell's Kitchen restaurant, 404 — the French Heart Jazz Band will be playing!
I know it's only Wednesday, but tell me, what's on your anti-to-do, to-do list?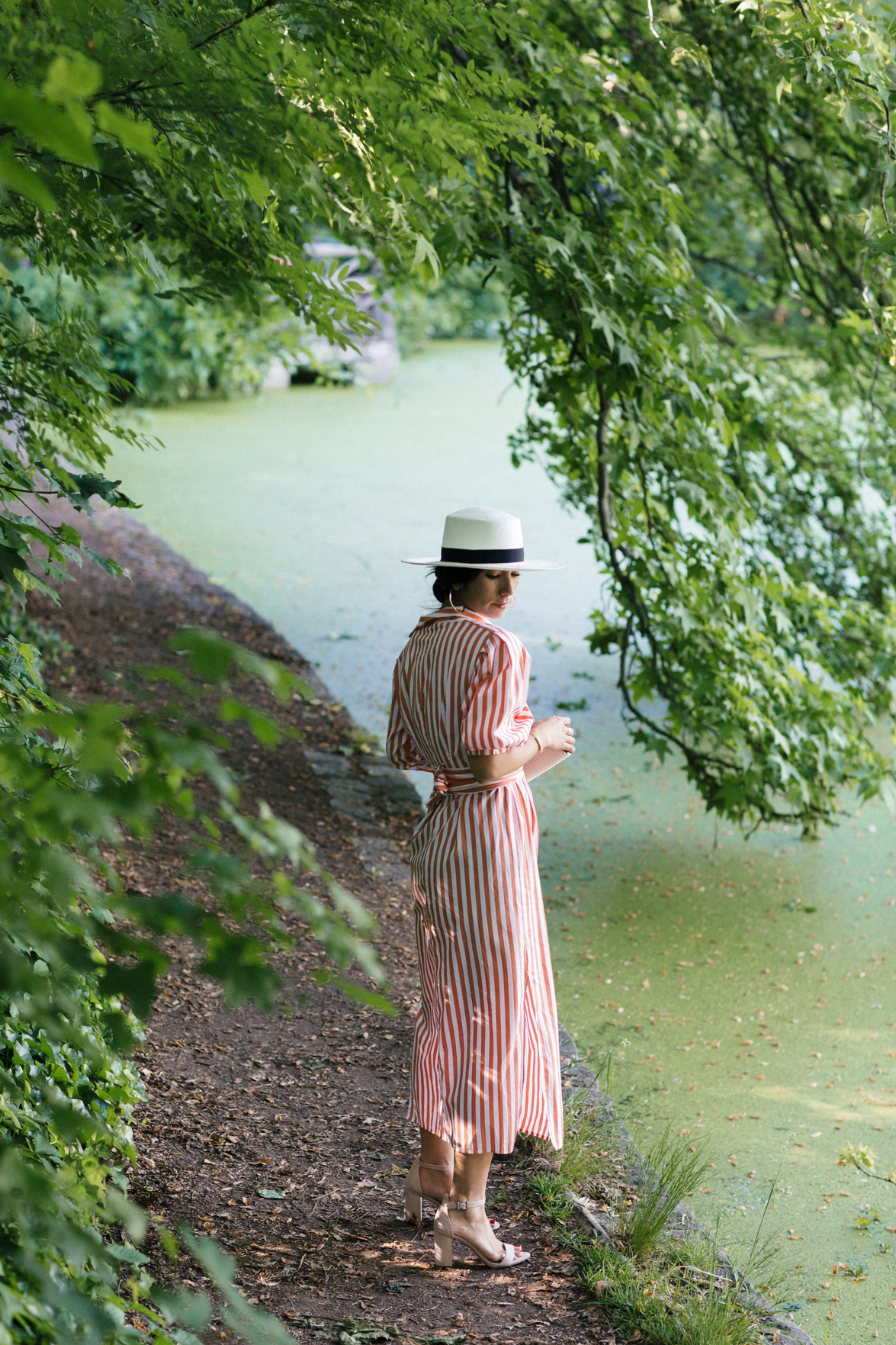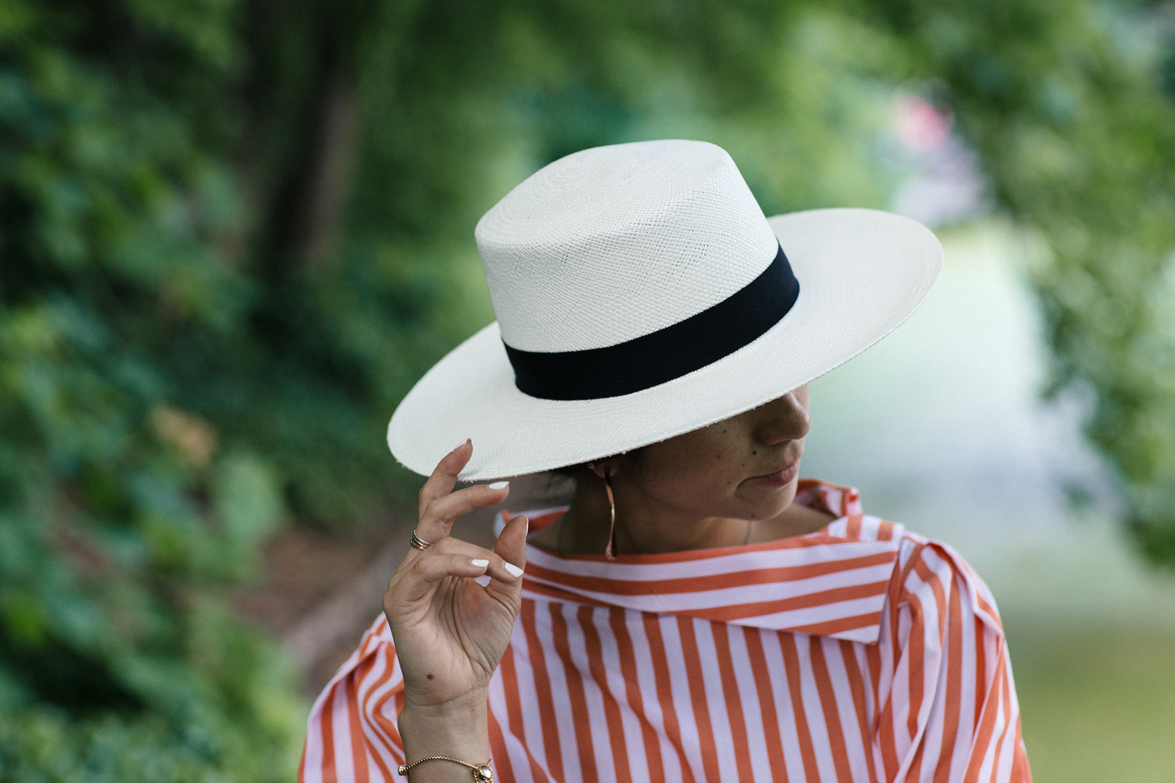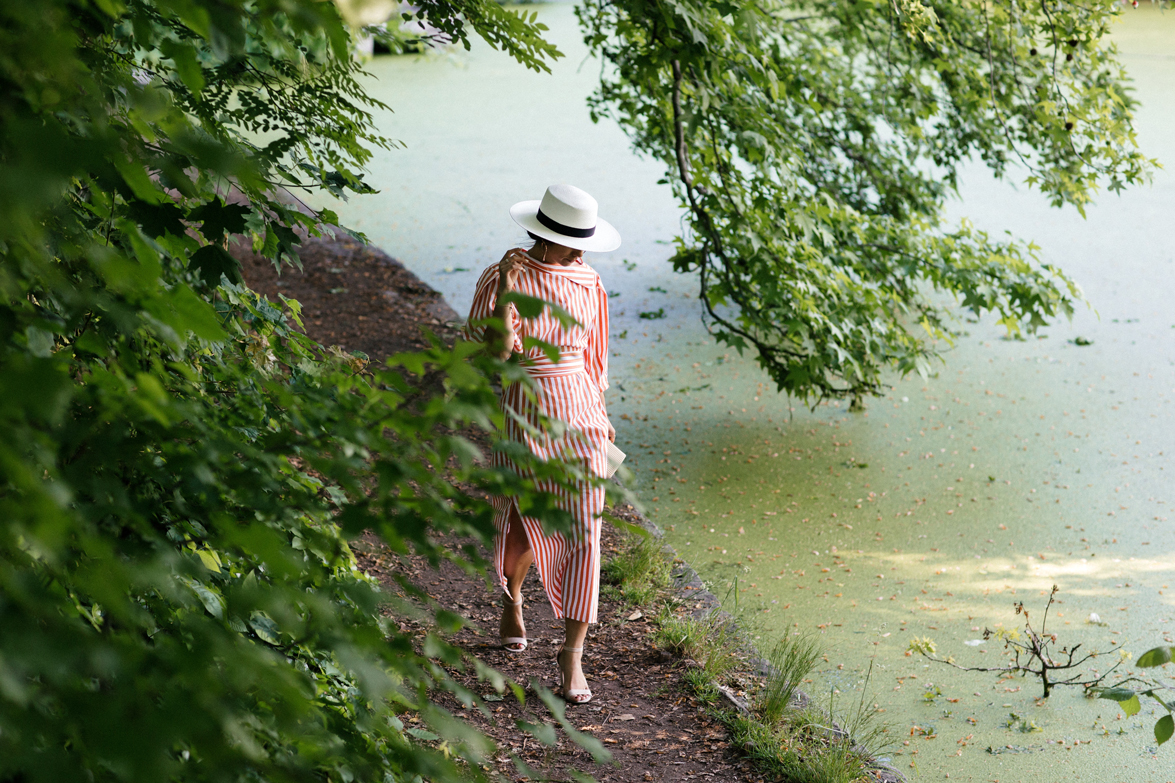 OUTFIT DETAILS: Zara striped dress (similar style here) // Steve Maddens heels // Anine Bing hat (similar style here) // Show Road hoops // Vintage clutch (similar style here)