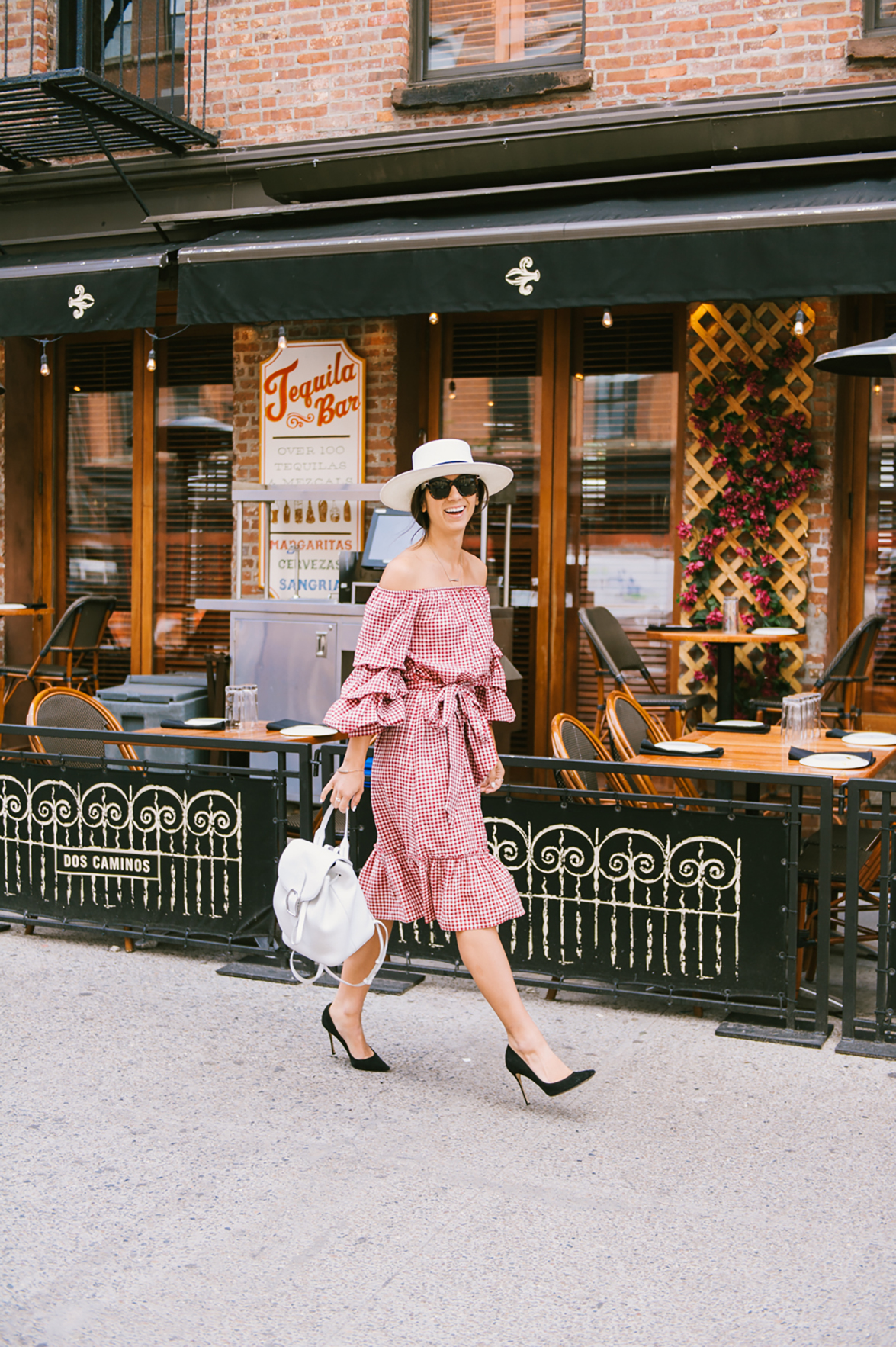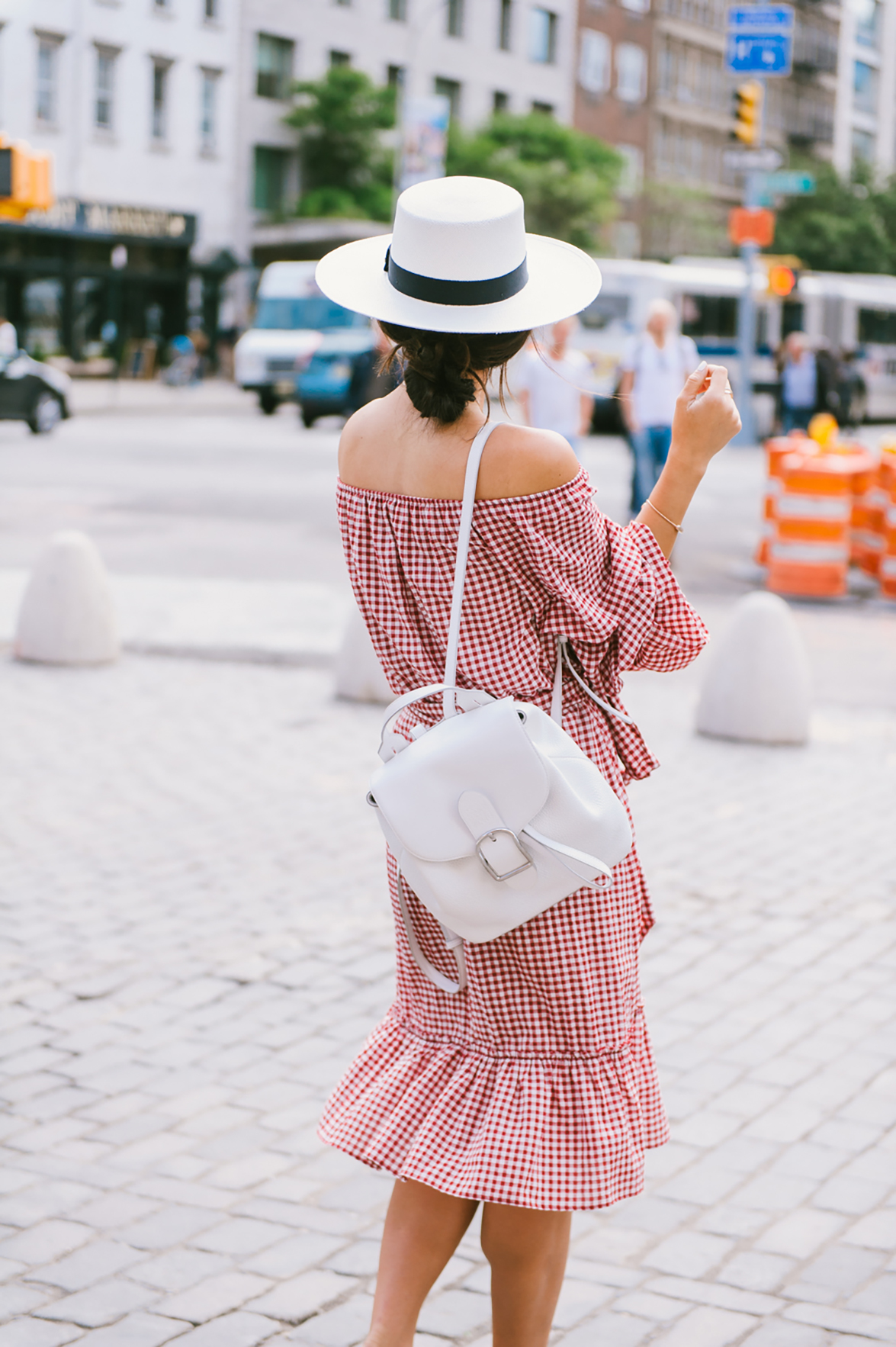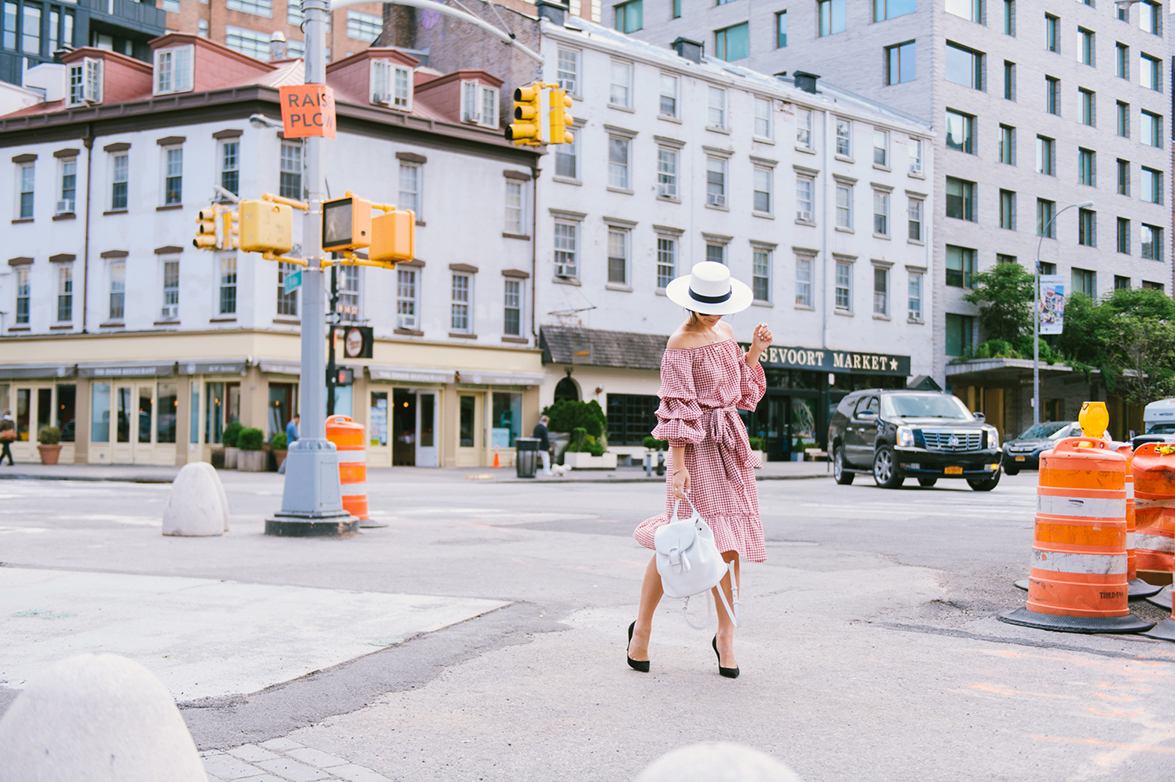 When it comes to Zara, I have a love/hate relationship. And like any good, dramatic boyfriend, sometimes we're ON. And sometimes, we're OFF. If you recall a few years back, while I was still living in San Francisco, I spent a lot of time and hard earned money at Zara. So much so, that almost every other paycheck, if it wasn't going toward rent, was finding itself lost among the many, well merchandised-floors of the Z-word. It was an intoxicating whirlwind — one that was leaving me with an initial high of the hunt and the find, but ultimately, looking at my closet, constantly feeling like I had nothing to wear. Eventually, it just wasn't healthy. We had to call it quits. My high-street fashion boyfriend had crossed the line — and I had to block his number.
Since then, I've wandered into Zaras on random occasions, usually when a friend wants to swing by for something. I respectfully glance through the store, ignoring the itch to shop and the well-made Celine knock off shoes on the shelves around me before leaving unscathed and sans shopping bags. It's not typically easy, but then again, quitting something never is.
And then, last week happened.
I was respectfully minding my own business, leaving a morning work out class, scanning through my inbox, when I saw it. "5 things you need from Zara now" from Who What Wear. Now, usually I can resist these email temptations and can see them for the marketing click baits that they are. But this one was different. Why? Because the teaser image had a very specific striped midi dress that I had seen at that weekend's polo match, the very same one that left me wondering if it was by Rosie Assoulin or Johanna Ortiz or insert up and coming designer name here. And yet, here the universe was, telling me it was $70 and I could snag it right there in Flatiron, if I wanted to.
What happened next, I'm afraid to say, I'm not particularly proud of — but as anyone with a Mr. Z in their lives knows, sometimes you just can't help but wonder what else they have in store. A little peek couldn't hurt? Just for old time's sake? Surely, I could go back to resisting tomorrow — pride and principle could take a backseat today.
Before I knew it, I found myself entering through those oversized, air conditioned doors, with Justin Beiber's "Despacito" pumping through the overhead speakers, and WE WERE ON. Like muscle memory kicking in, I started grabbing the pieces that caught my eye, this time though, instead of Mr. Z calling the shots, tempting me in every direction, I had purpose and intent to my shopping trip. I found that striped midi dress that I saw at the polo match first — and I diligently went through the rest of that email top 5 list, taking note of similar items along the way. I edited my pile of things to try on down to a very curated set of items, ones that I had seen in other trend round ups and I'm happy to report, just as I suspected when I exited those oversized doors an hour later, we're still going strong.
This all goes to show two things: namely, people can change. Both Mr. Z and I are a bit older and wiser now — we're not as foolish as we once used to be together and we both just know what we want. And sometimes, a top 5 marketing list can go a long way, which is exactly why I've rounded up my top five things that should be catching your eye at Zara now. Just be sure to block his number again after you're done.
Enough about that guy though, let's get to this list!
1. First and foremost, we have this red gingham dress you see here. I grabbed this right after the striped midi dress and I just love the exaggerated flounce of it all — very Johanna Ortiz, at a very un-Johanna Ortiz price tag.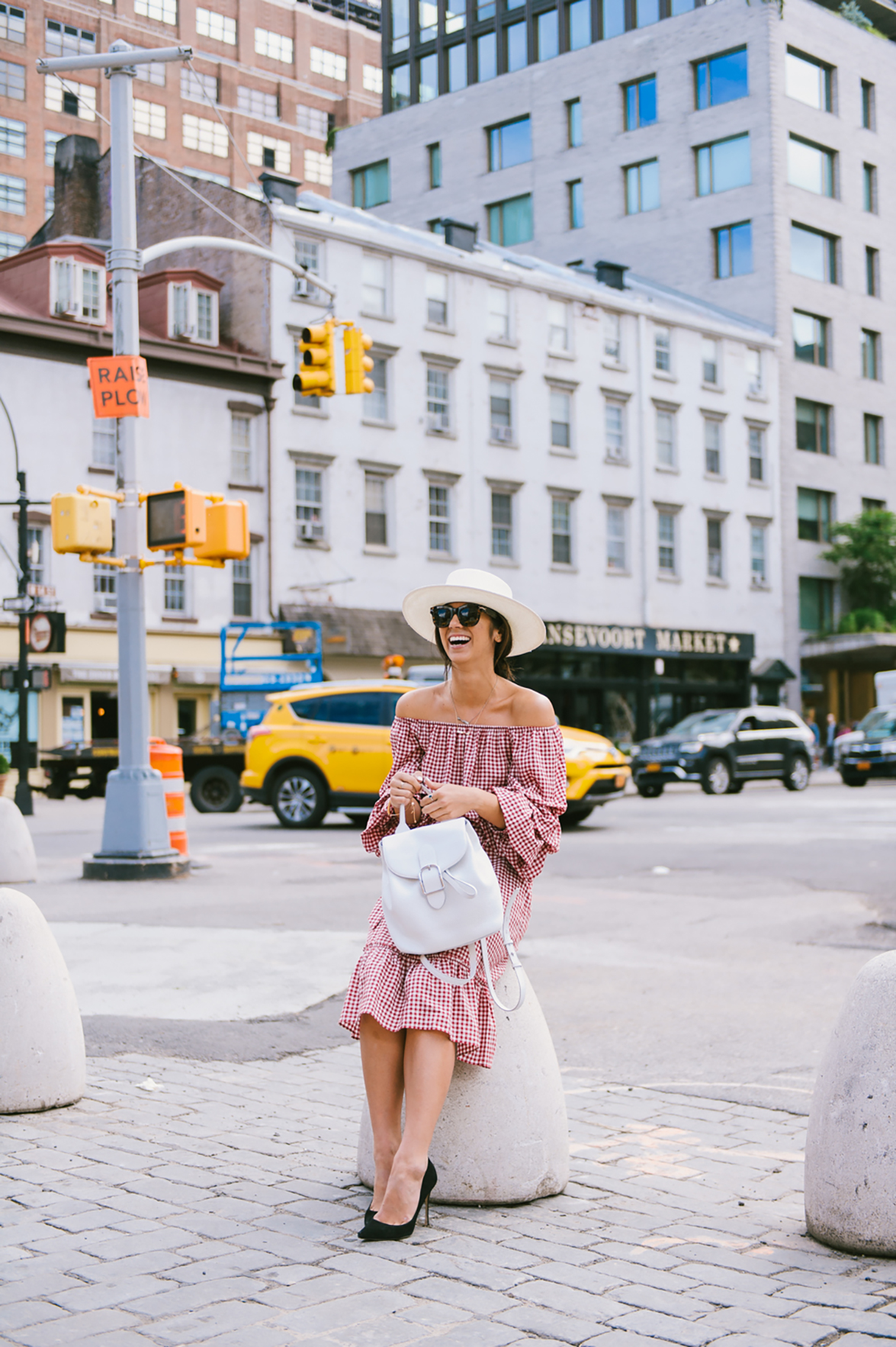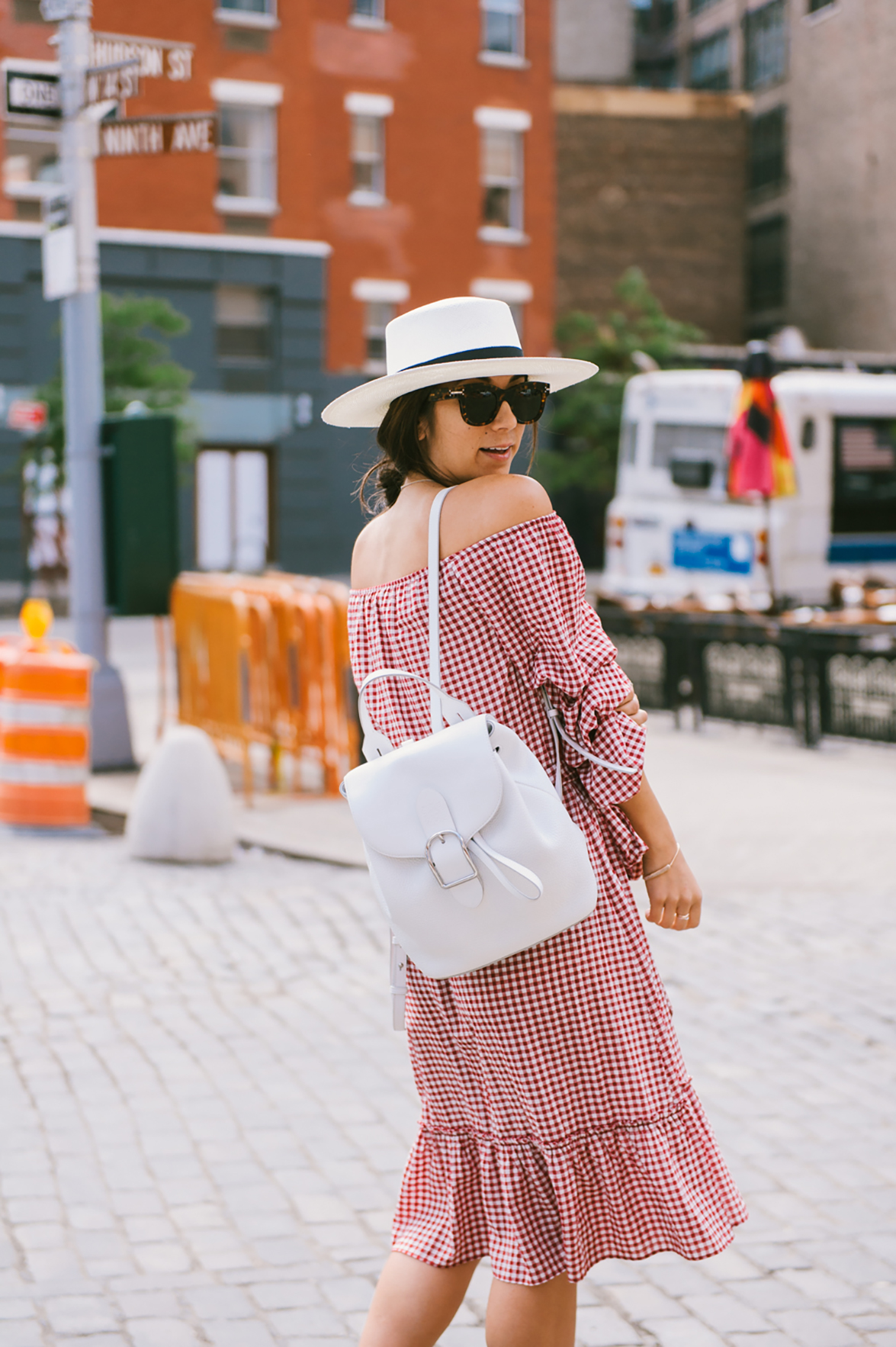 2. Of course, we'd be amiss here if I left this striped midi dress out — the dress that got us here in the first place! I have to say, this is one of my favorite purchases to date this summer and it's garnered quite the bit of compliments from subway riders and fellow coffee line bystanders alike. In three words, GET IT NOW.
3. A few weeks ago, I was contemplating these Marques Almeida cropped, flared jeans for a panel I was speaking on, but something about the price held me back. I wasn't sure how often I would actually wear them and $500 seemed a steep, one-time price to pay. So when I saw
these dramatically flared jeans at Zara pop out
, it was kismet at first sight. Best part? They're $70!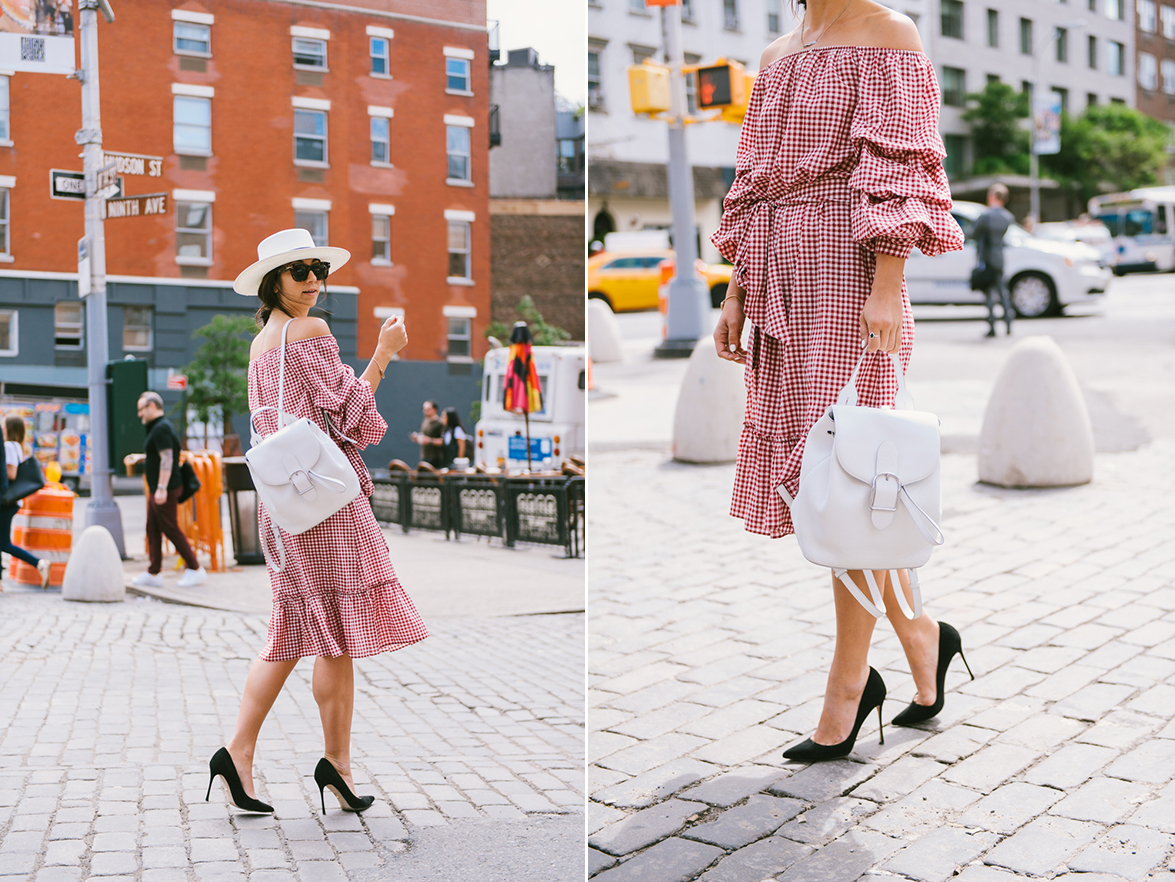 OUTFIT DETAILS: Zara gingham dress (similar style here — only $90!)// Anine Bing hat (similar style here) // Sergio Rossi heels // Anne Klein backpack // Celine sunglasses // Show Road necklaces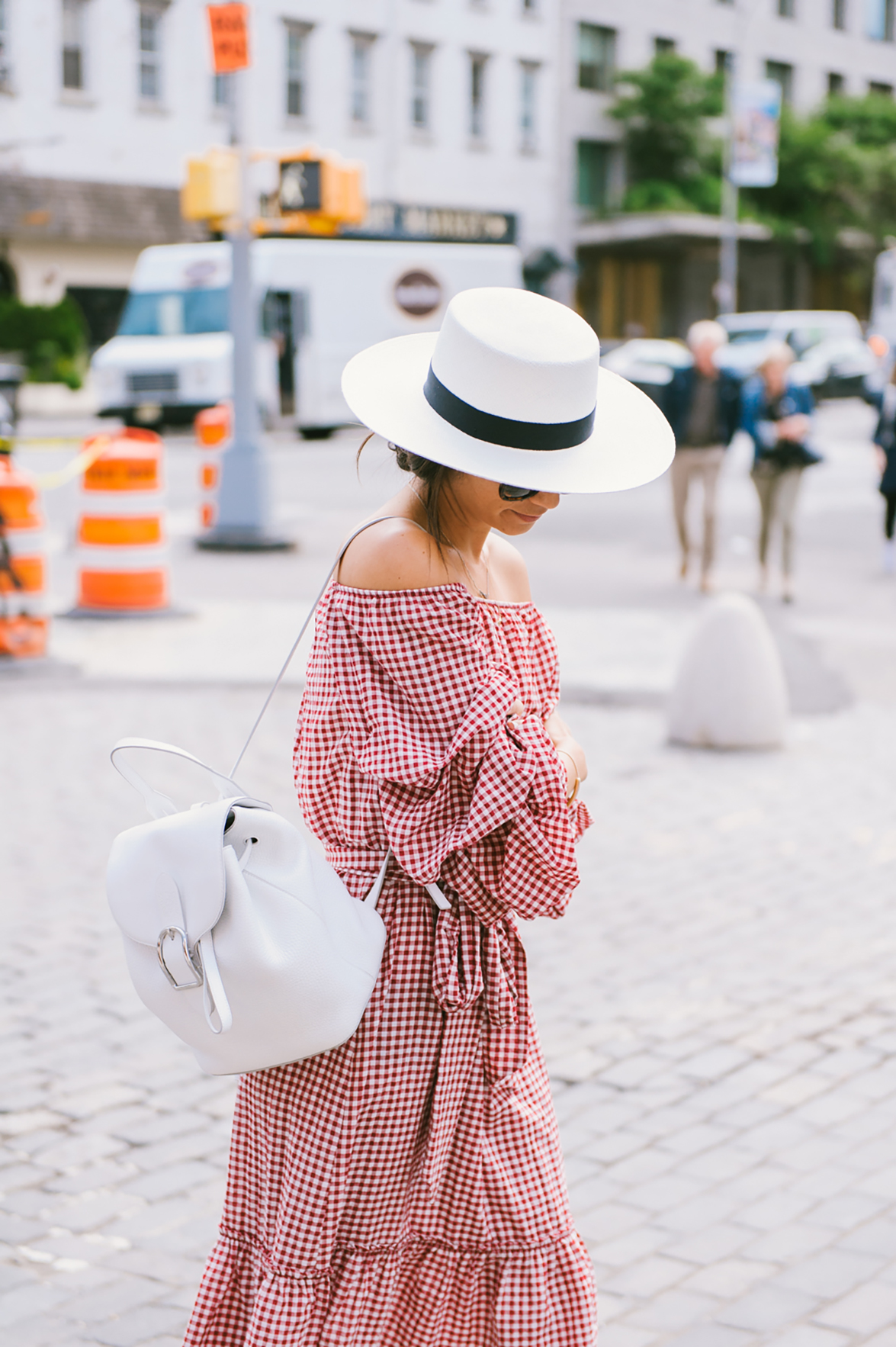 4. These days, we're clearly all channeling our inner Pollyanna, and loading up on lots of gingham for summer. This dress I have on here is clearly a go-to for me, but lately, I've been getting a lot of wear out of this cropped, flared sleeve number from Zara. Tip: Don't be afraid of the ruffles with this guy. I say, pair it with more ruffles!
5. And lastly, these pups have been on my feet basically since I left Zara that fateful morning. Everyone has been crazy about slides and flats these days and when they come in the most perfect shade of marigold satin like these beauts, well, I can't say I blame them!