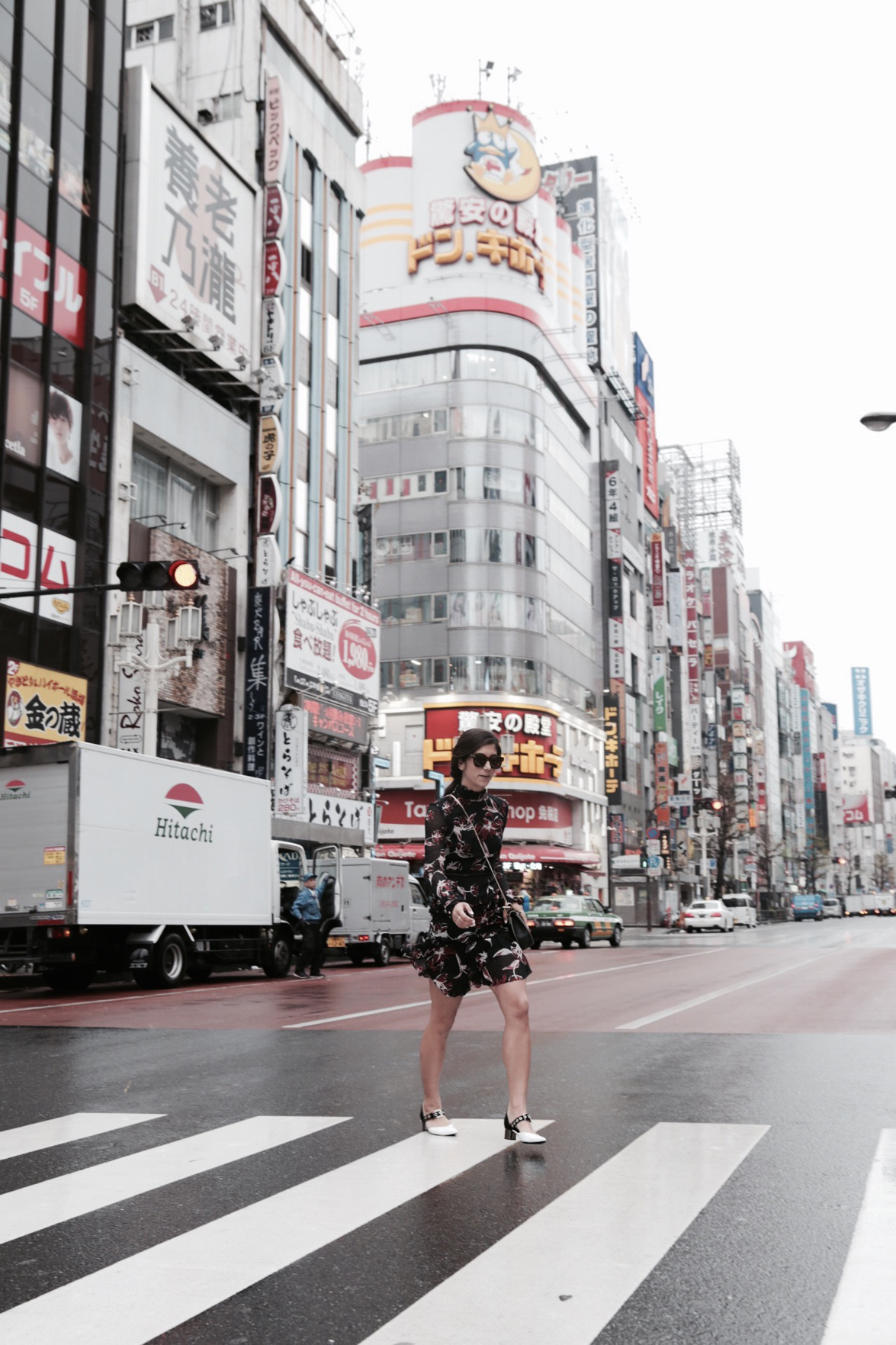 I'm currently knee-deep in photo editing from Japan, which has got me 1.) wishing I was back there already! and 2.) thinking about what to pack for my next trip to Scotland next week! For Japan in particular though, I remember thinking that I had brought just the right amount of packing essentials, perfect for mixing and matching each day. And if I'm being honest, nothing makes me quite as happy when I'm traveling like a completely functional wardrobe in tow. Considering I pulled this packing miracle off in about 30 minutes before I had to catch my Uber to the airport, I'm not gonna lie, I'm pretty proud of myself!
So, in the spirit of sharing, I figured I would let you guys in on what my 5 mixing and matching essentials ended up being for this trip and how they single handedly saved my traveling wardrobe.
First up? This floral Nicholas number, which just happens to be on sale now, was perfect with flats and a leather jacket most days. The weather was hit or miss in Tokyo, but this dress had just the right amount of breeziness to it, coupled with the long sleeves, that made it a nice between seasons hybrid. Plus, it doesn't really wrinkle!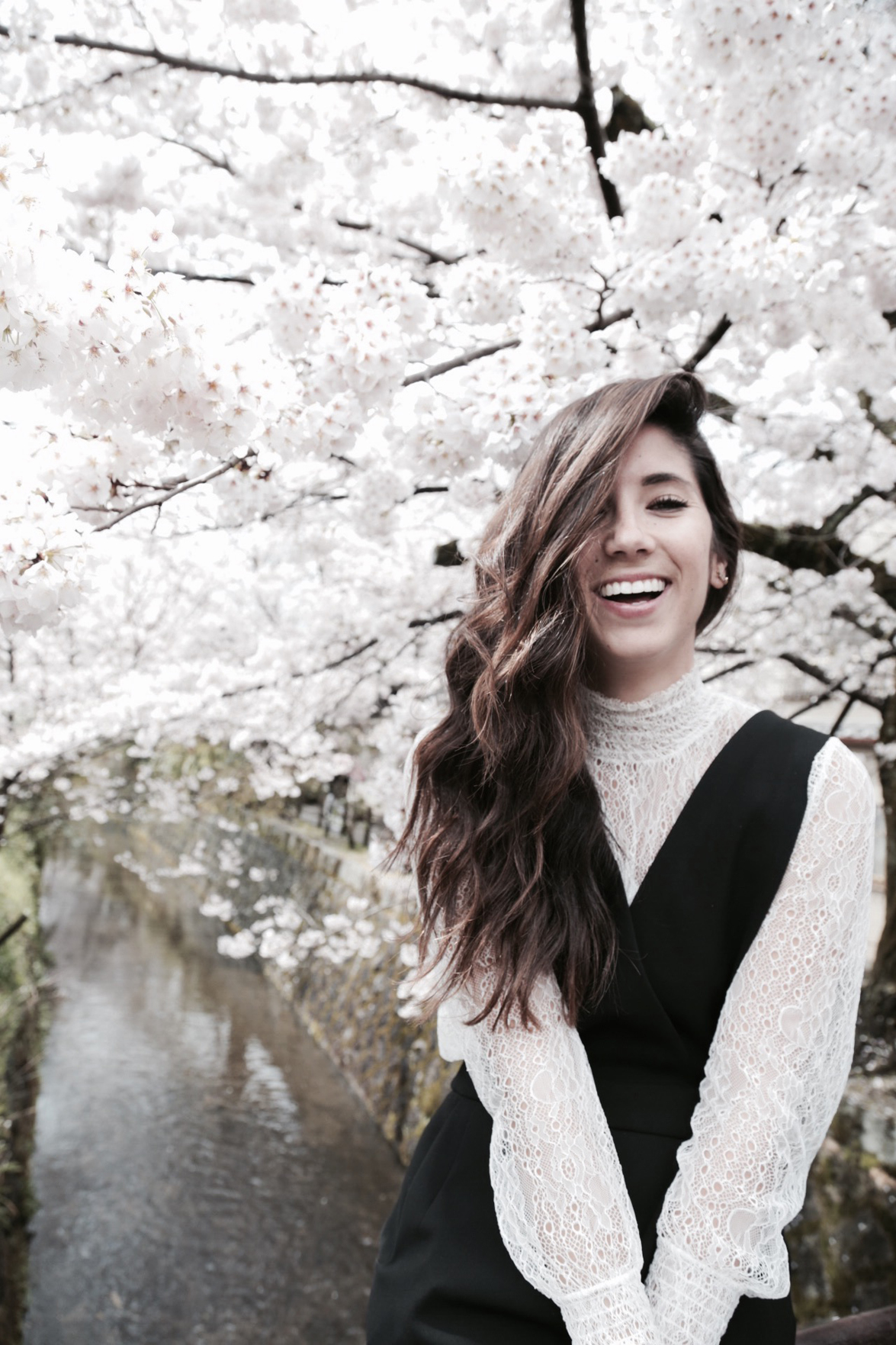 This white lace, Victorian-inspired top from & Other Stories (only $85!) was probably one of my favorite layering pieces for the trip. Perfect under this jumper dress you see here and with several of my jackets paired with jeans, it added a lovely romantic touch to all my outfits. Fitting for cherry blossom sightings, no? I recently styled it with black overalls (not during the trip) and will be sharing those photos soon!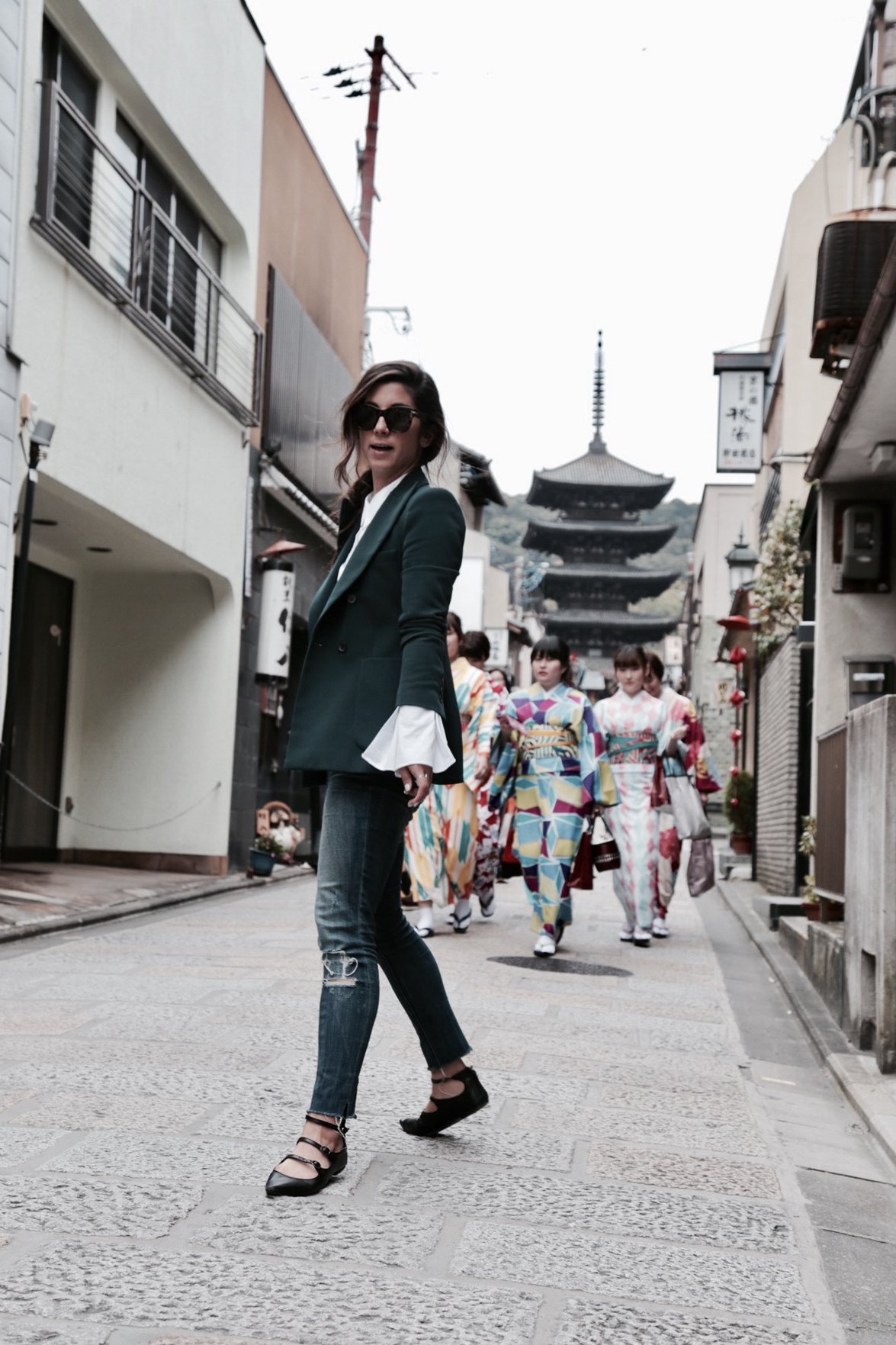 Another fun top! Also great for layering. This Vince Camuto button front blouse (only $89!) is a lot of fun when styled on it's own with just jeans, but it really pops when it's layered under a leather jacket or a blazer like I have it here, with the sleeves pulled out ever just so. Truth: I couldn't help but feel like I should strike the Hamilton hand up in the air pose while wearing it — and in my book, that's a win!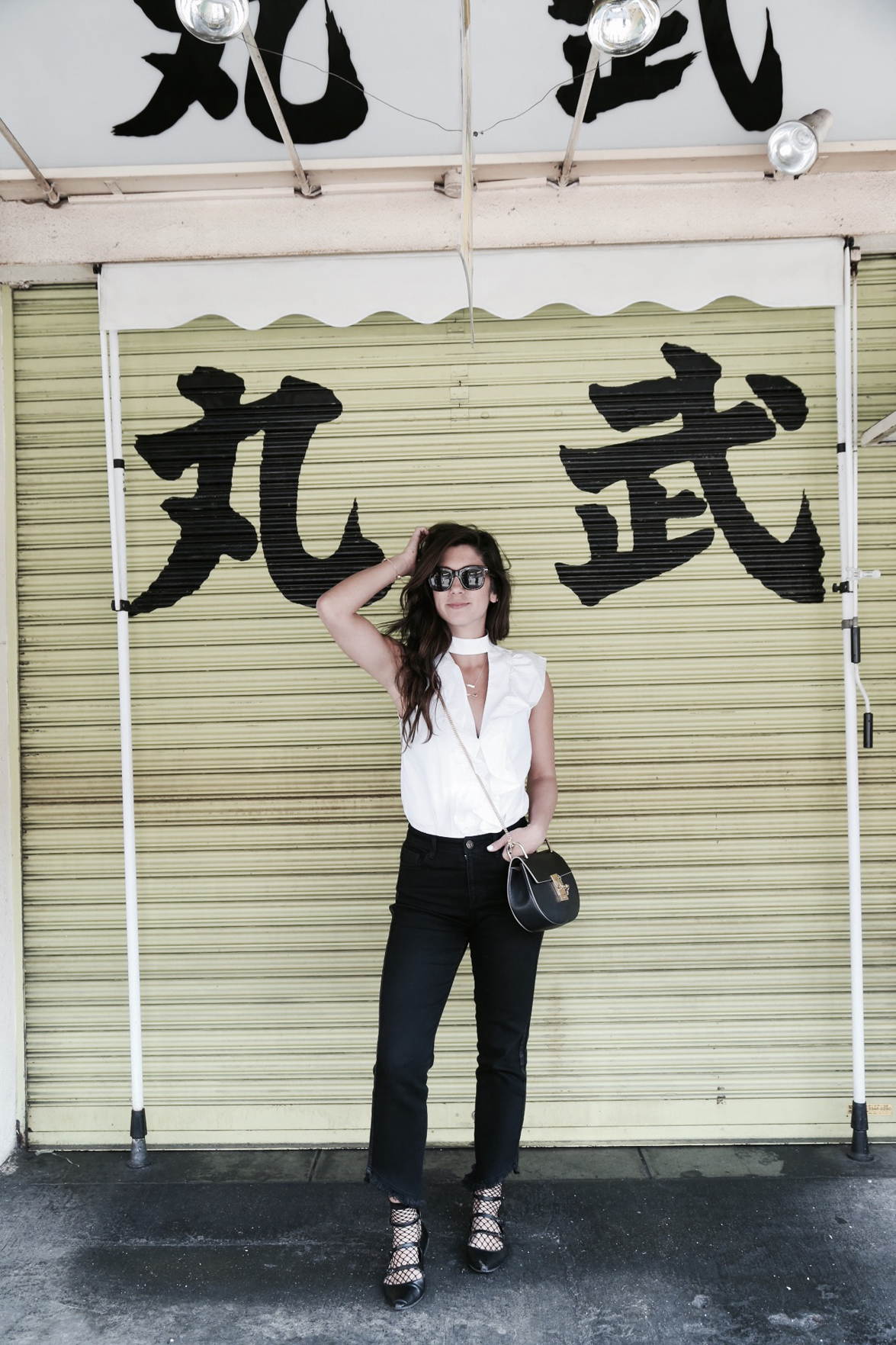 I've never met a pair of cropped jeans I didn't like (confessions of a shorter gal!), and this pair from Kohls' k/lab collection is giving me all the feels these days. They're high waisted (perfect to pair with body suits), they're slightly frayed at the hem and are slightly asymmetrical, making your leg look a bit longer and leaner (woot!). Added bonus? We snagged these adorable fishnet socks that have bows at the back of them in Harajuku that look like they were made for this pair of jeans.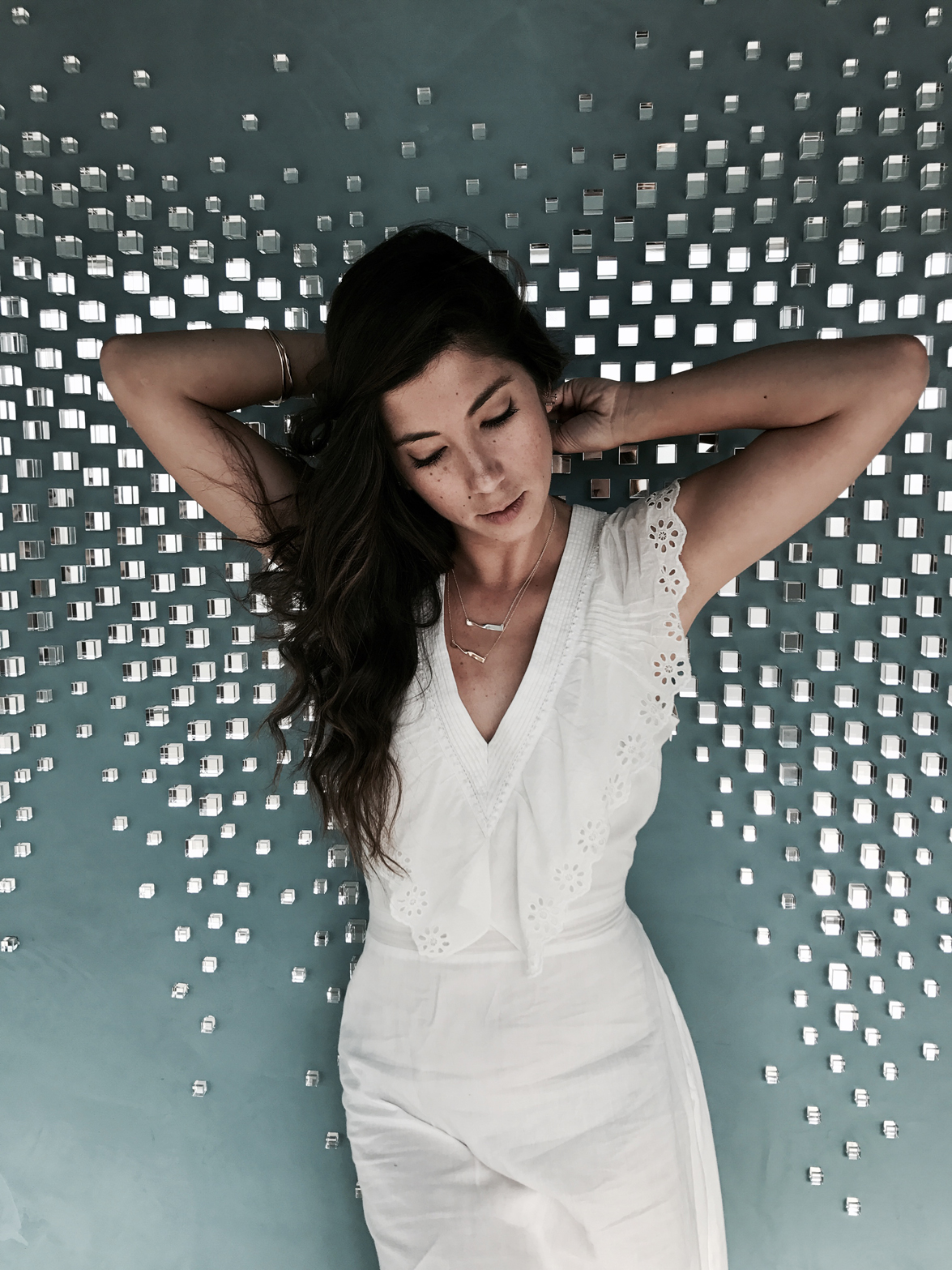 Finally! This white St. Roche number. You may recall I picked up this dress just in time for my trip to Italy last summer, (it's sadly no longer available). And it's proven to be quite the vacation number MVP since then. I wore this in Naoshima, which was probably where we experienced our warmest weather, and only had to throw on a light denim jacket at times. I've worn this dress for countless other vacations though — it works just as nicely with leather jackets as it does over bathing suits.