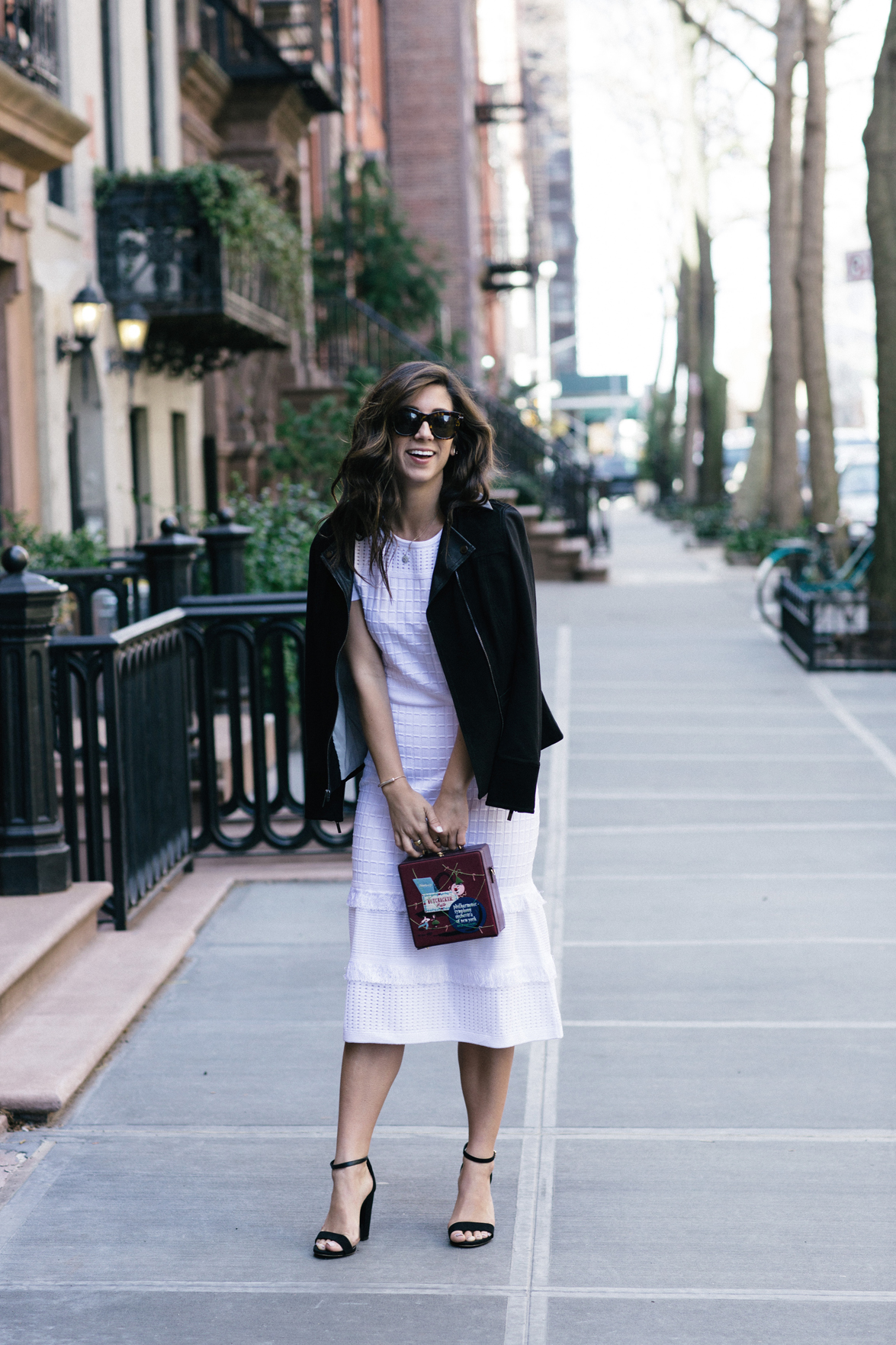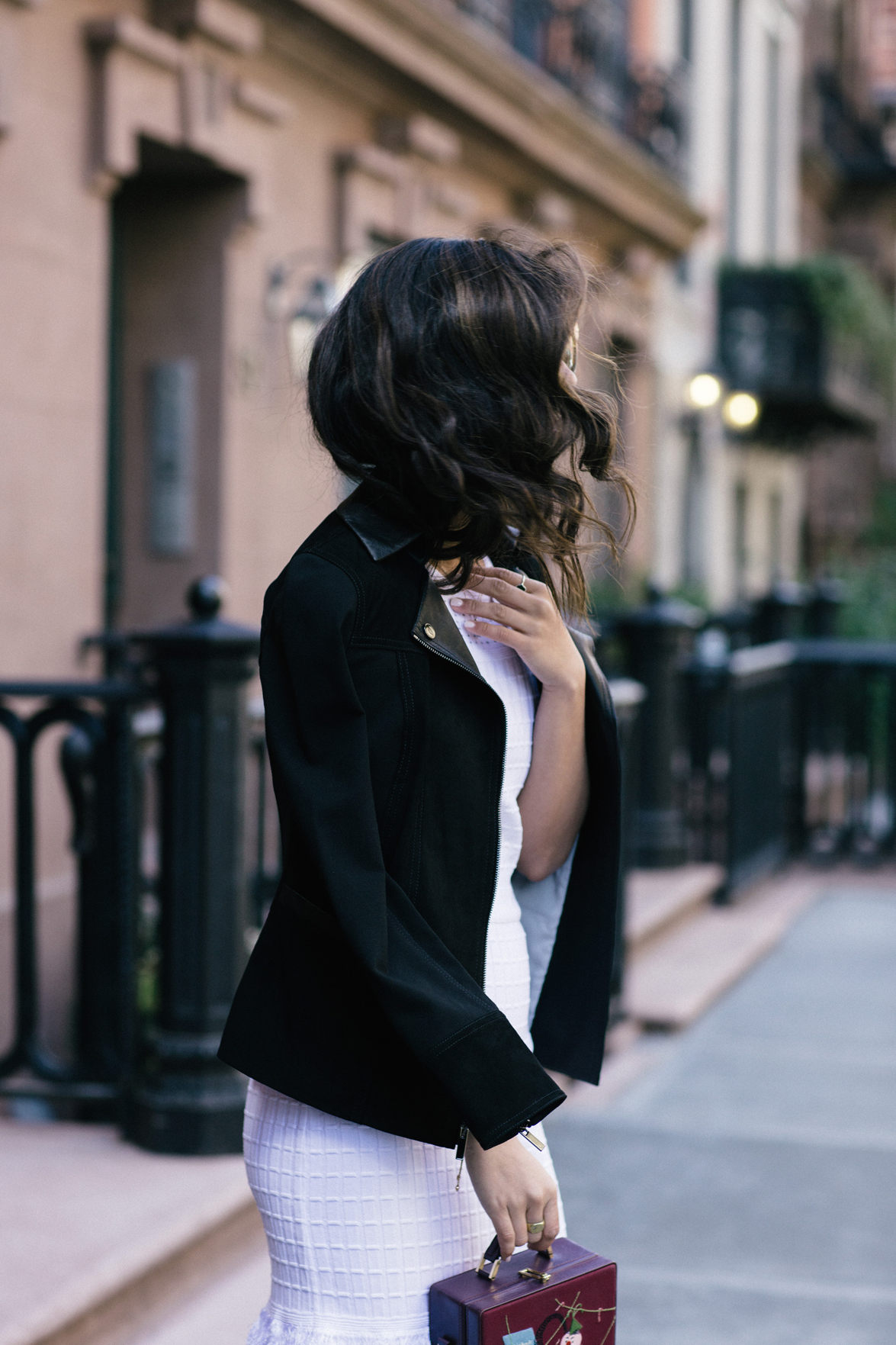 This month marks my second year anniversary of moving to New York and I still remember that feeling of walking around the West Village that first spring after moving in. The cherry blossoms were in full force, restaurants had started opening their outdoor patio seating and New Yorkers just seemed to smile a bit more freely and easily at each other on the street. I must have walked around with a silly grin on my face for that first full week, unable to believe that I was finally living in the city of my dreams — everything about it just seemed so picturesque in those early spring moments.
Oddly enough, I've been told, the second year in New York is meant to be your hardest. And I guess, in some ways, I can understand that. Your first year, you spend a lot of time grinning that aforementioned goofy grin, because, hey, you're finally living in New York-freaking City. The first year feels like a high. The second year, that high is supposed to wear off. You now tire or get frustrated with the things you once found so endearing about your beloved city. You spend less time looking up in awe at the buildings and skyscrapers around you and more time looking down at your phone for a Seamless order. Your charming, character-oozing apartment building now looks a bit less pristine and more like it's renovations circa 1972 need an update. And, there's that little price you pay for rent each month, where you pretend the amount you're writing on the check is for pretend Monopoly money, not real money.
So how was my second year? Well, not like the above. And that's not to say it was all rosy either — because it certainly wasn't. But I suppose the lows didn't quite knock New  York off that pedestal I keep it on. If anything, it perched it even higher. And made my highs seem that much, well, higher. And now, with the second year almost behind me, I have to say, I can't help but feel giddy when I walk around the West Village, here on the brink of spring again. Especially in a "made for the season" white dress, like this one by St. John. You all know I have a soft spot for St. John (especially after this shoot at Grand Central in their ball gown skirt), so it's no wonder their spring collection is full of favorites like this dress, that have me dreaming up new shoots around the city. The slight flared, mermaid fit with the fringe detail and midi-length, body hugging shape — all make me want to walk to my favorite outdoor patio cafe with a good book and wait for the cherry blossoms to start blooming. Of course, I wouldn't leave my apartment without a light layer, like this little moto jacket, also from St. John.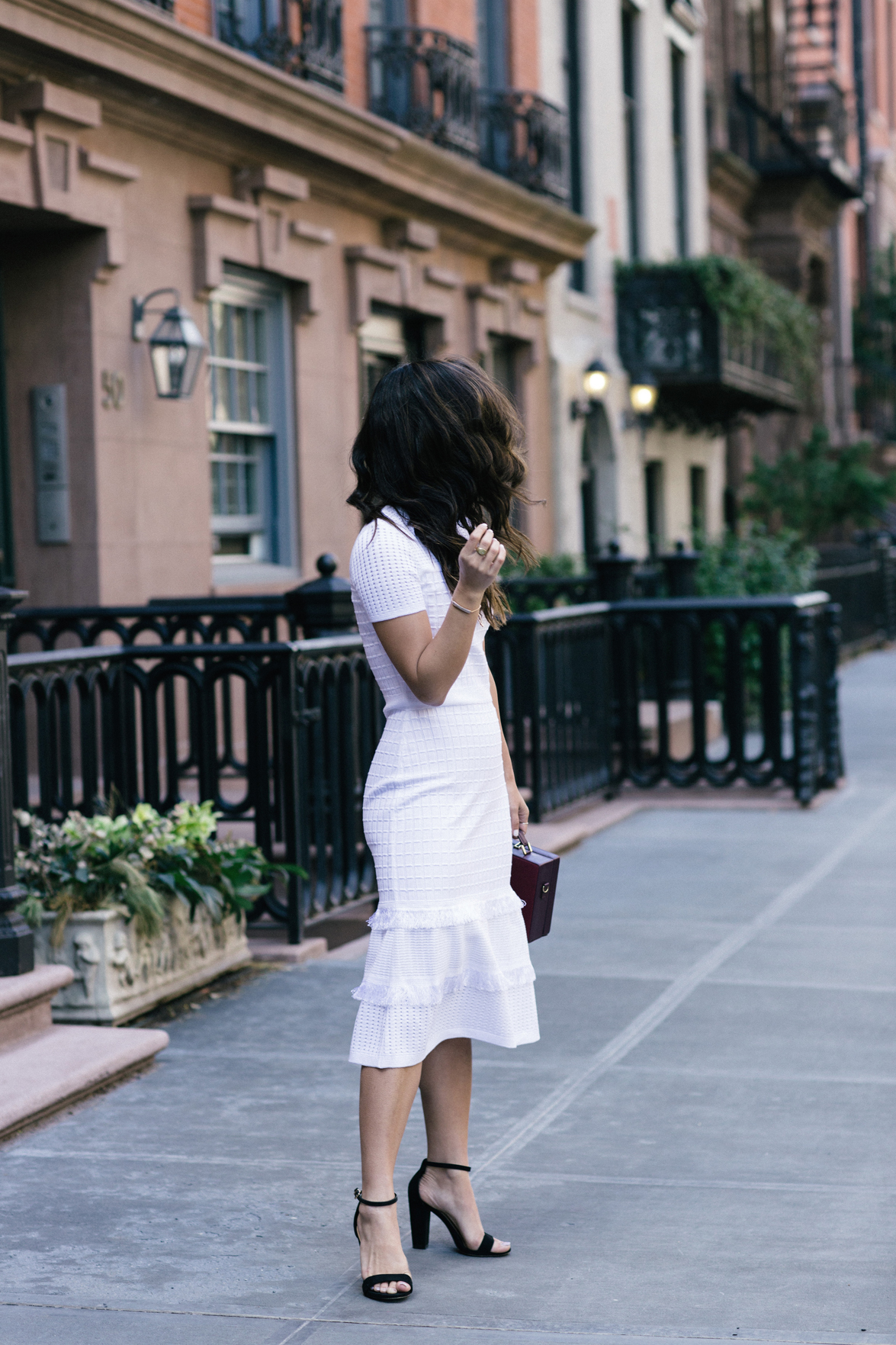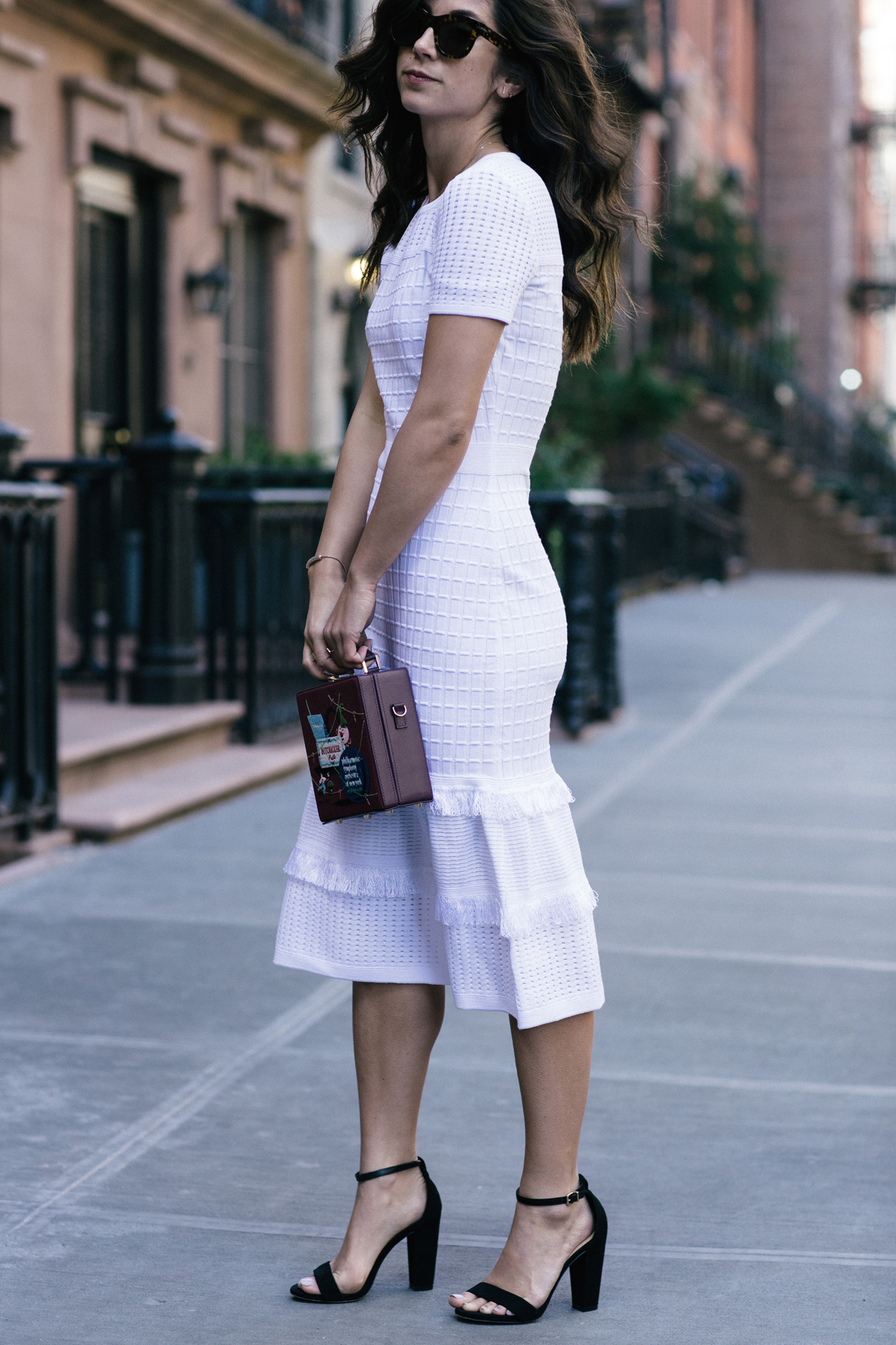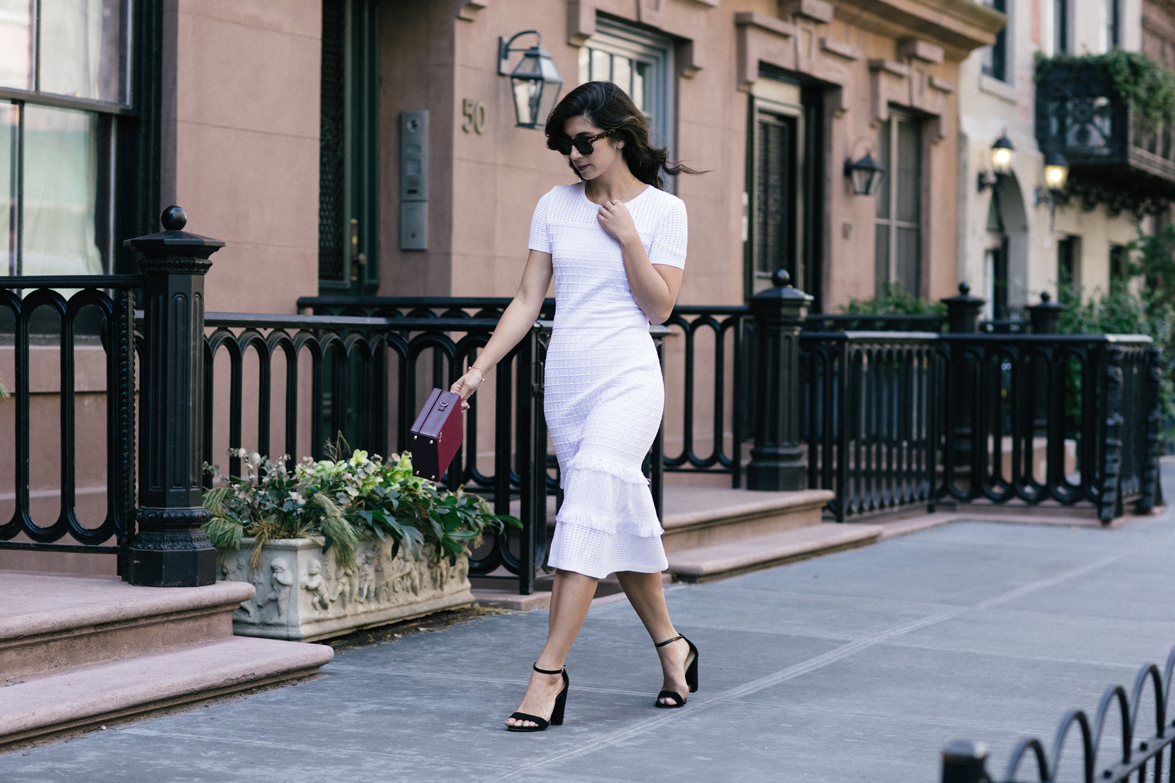 OUTFIT DETAILS: St. John dress // St. John jacket // Express heels // Olympia Le-Tan clutch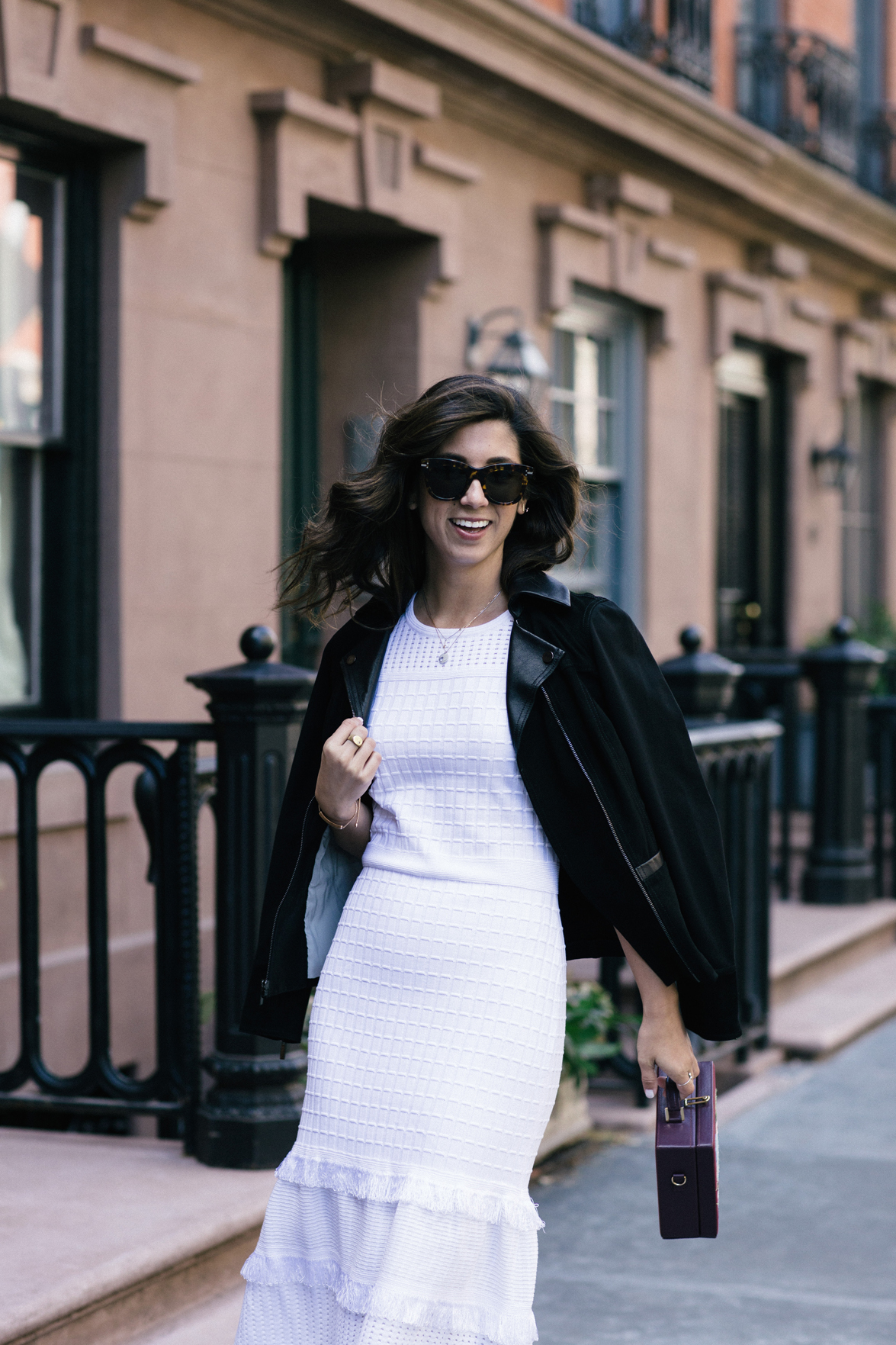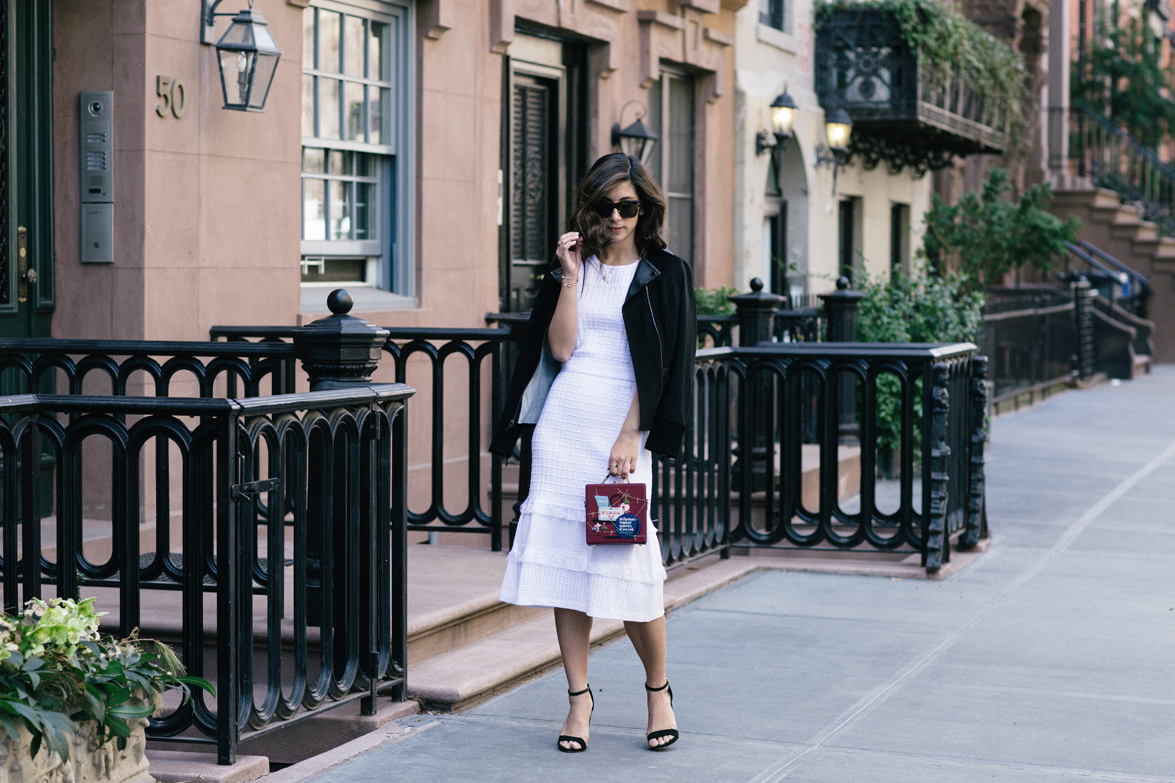 This  post was in collaboration with St. John. As always, all opinions and styling are my own. Thank you for supporting all This Time Tomorrow collaborations!