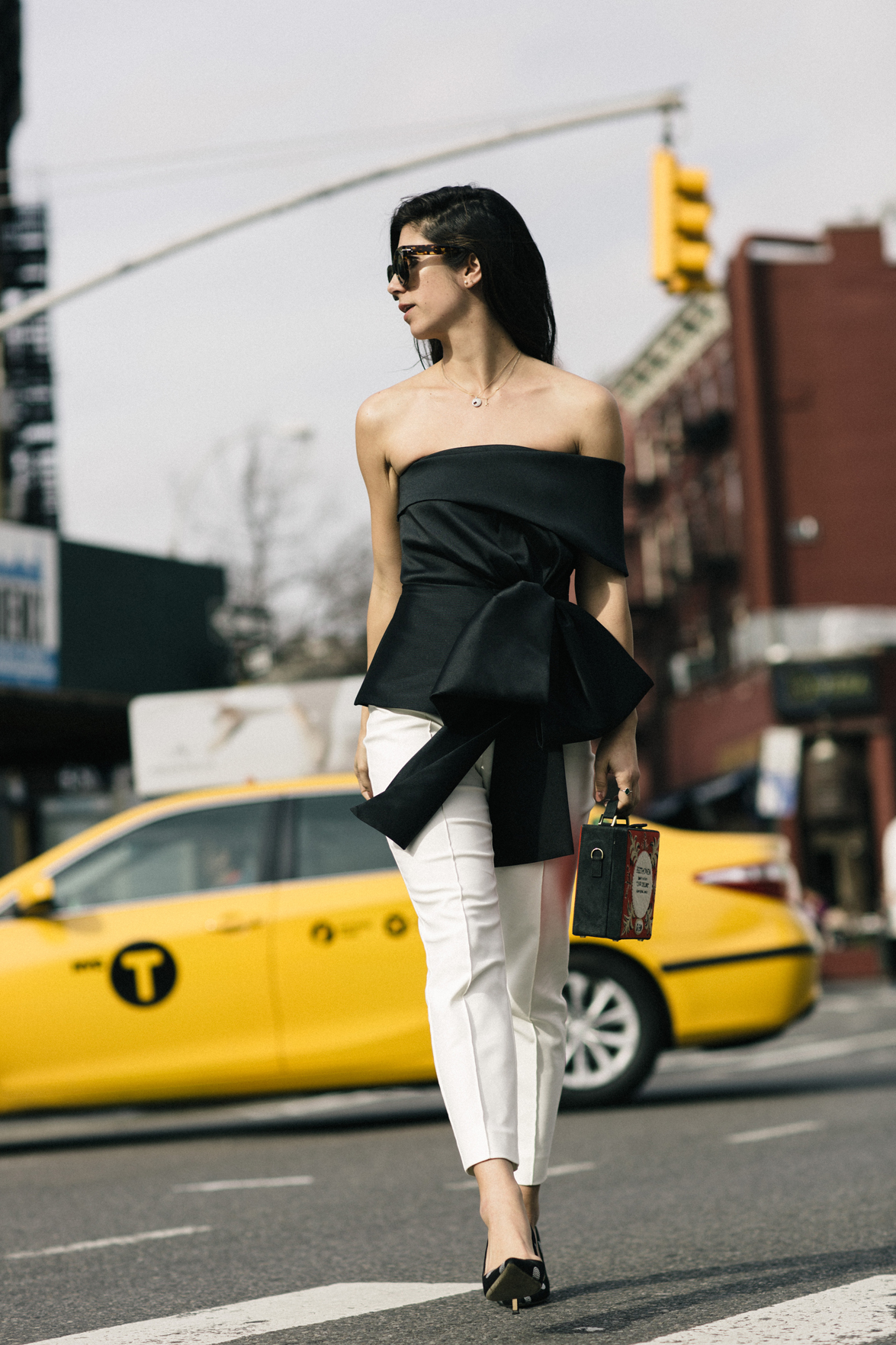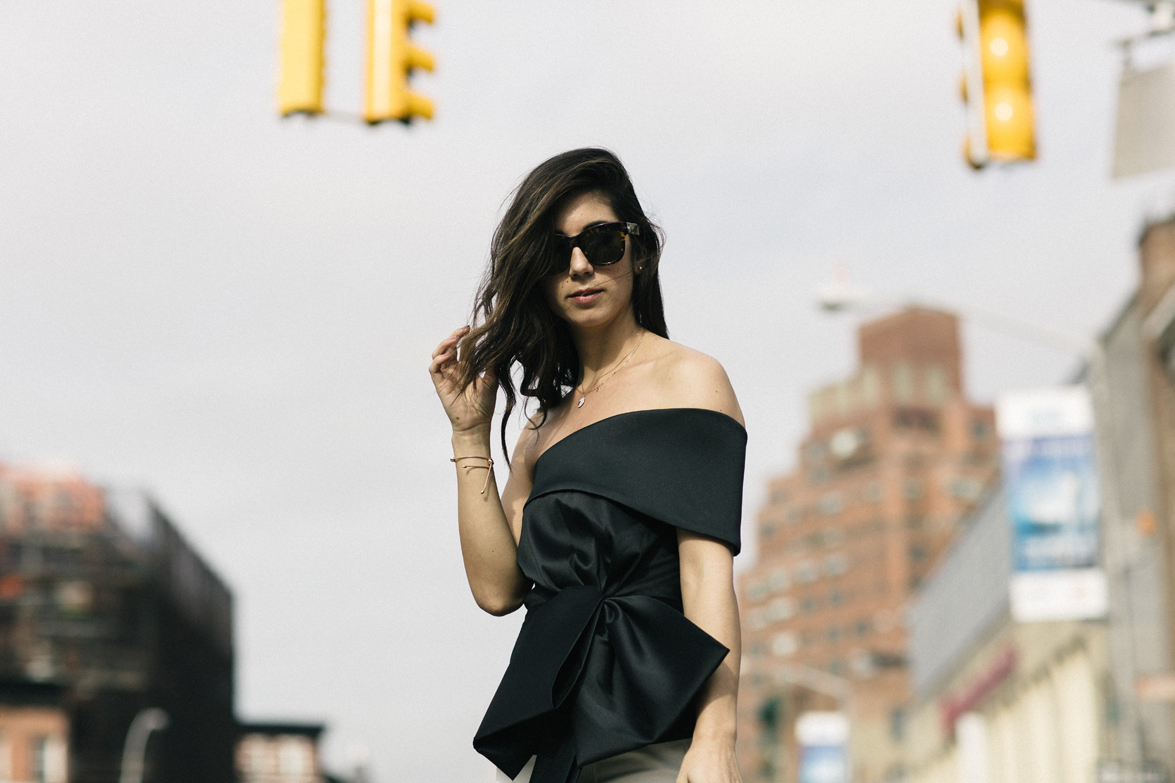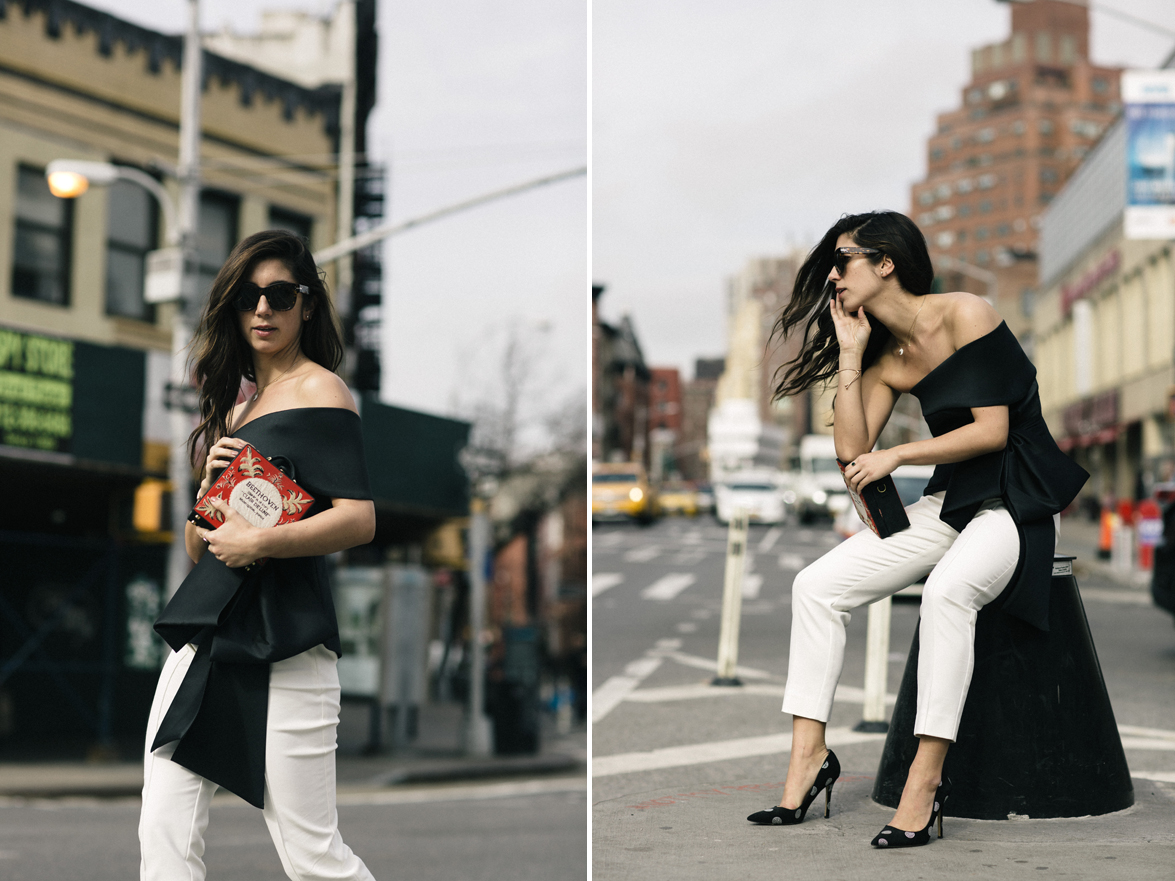 Lately, I've been answering the question: "What does a typical day look like for you?" and to be honest, it's hard for me to answer sometimes, because most of my days are pretty atypical. Especially when I compare it to my 5 years of working in a very corporate environment where my schedule was rigid, my days now are fluid and more free form (which, of course, comes with it's own set of problems, too). That said, it's taken a bit of trial and error to see what works best for me now that I've moved to working solely for myself. Spoiler alert: I actually need a regimented schedule in some regards! Here's how it (roughly) looks most days:
6am: Wake up and check my email and social channels for anything pressing that might have popped up over night. Wake Elvis up (he's not a morning person like I am!) and head out for a quick walk around the village.
6:30am: Grab coffee and catch up on the news for the day on CNN, The Skimm and The New York Times Morning Briefing email.
7am: Head out for a quick 3 mile run along the Hudson River. Gotta clock those miles for the NYC Marathon in November!
7:45 to 9am: I love having the news on throughout the day if I'm working from home or sometimes I'll indulge in Trevor Noah (swoon!). At this time, I'll start prepping my social promotions for that day's blog post, while tackling my inbox and getting my to-do list in order. I'll then continue drafting out any upcoming posts (sponsored or not) that I have on my editorial calendar for the week.
9 to 11:30am: I try to schedule most of my in-person meetings and/or phone calls around this time. I find that it really gets me in the right head space for the day. This can be anything from creative briefings about upcoming shoots or preliminary pitch calls with brands I really want to work with.
12 to 2pm: Head out to meet Christine of My Style Pill for a little lunch work session. Since she and I both used to work in more corporate environments, we've been missing the collaborative aspects of a larger work place, especially when it comes to bouncing ideas off coworkers. I value her opinion immensely.
2:30 to 4:30pm: Prep and head out for a shoot with Lydia. We have a reoccurring shoot every Tuesday where I'll queue up three outfits that need to be shot, for both editorial and sponsored content. We've recently moved to a reoccurring shoot cadence and it's made a huge difference in streamlining my workload and hitting deadlines.
5 to 6pm: Head over to my management's office over in SoHo for a quick quarterly strategy check in. Depending on my schedule for the evening, I'll grab a second cup of coffee (or a dirty chai) around this time!
6:30 to 8:30pm: Hop back home (take Elvis out for a quick walk!) and change for any evening events that I may have lined up with different brands. This can range anywhere from cocktail parties to actual sit down press preview dinners. Fun fact: my record for event hopping in one evening….drumroll please….7! Moral of that story? Bring a comfortable pair of flats with you at all times and make sure you have your unlimited Metro card on you.
9 to 11:30pm: Meet a friend or possibly a date for a drink in the village. My favorite cozy spots? The Other Room, Turks & Frogs, Cafe Cluny, Perry Street, Upholstery Store, Fedora and, of course, Spotted Pig.  🙂
11:30pm to 12:30am: Finally head home, take Elvis out for an evening walk and jump into my PJs. I'll throw on whatever show I'm binging on at the moment (just finished the OJ series with Cuba and now moving on to The Killing), and start prepping my blog post for the following morning.
12:30 to 1am: Read before finally falling asleep. At the moment, I'm reading Hit Makers by Derek Thompson. It's about the science of popularity in an age of distraction. And I'm really digging it so far!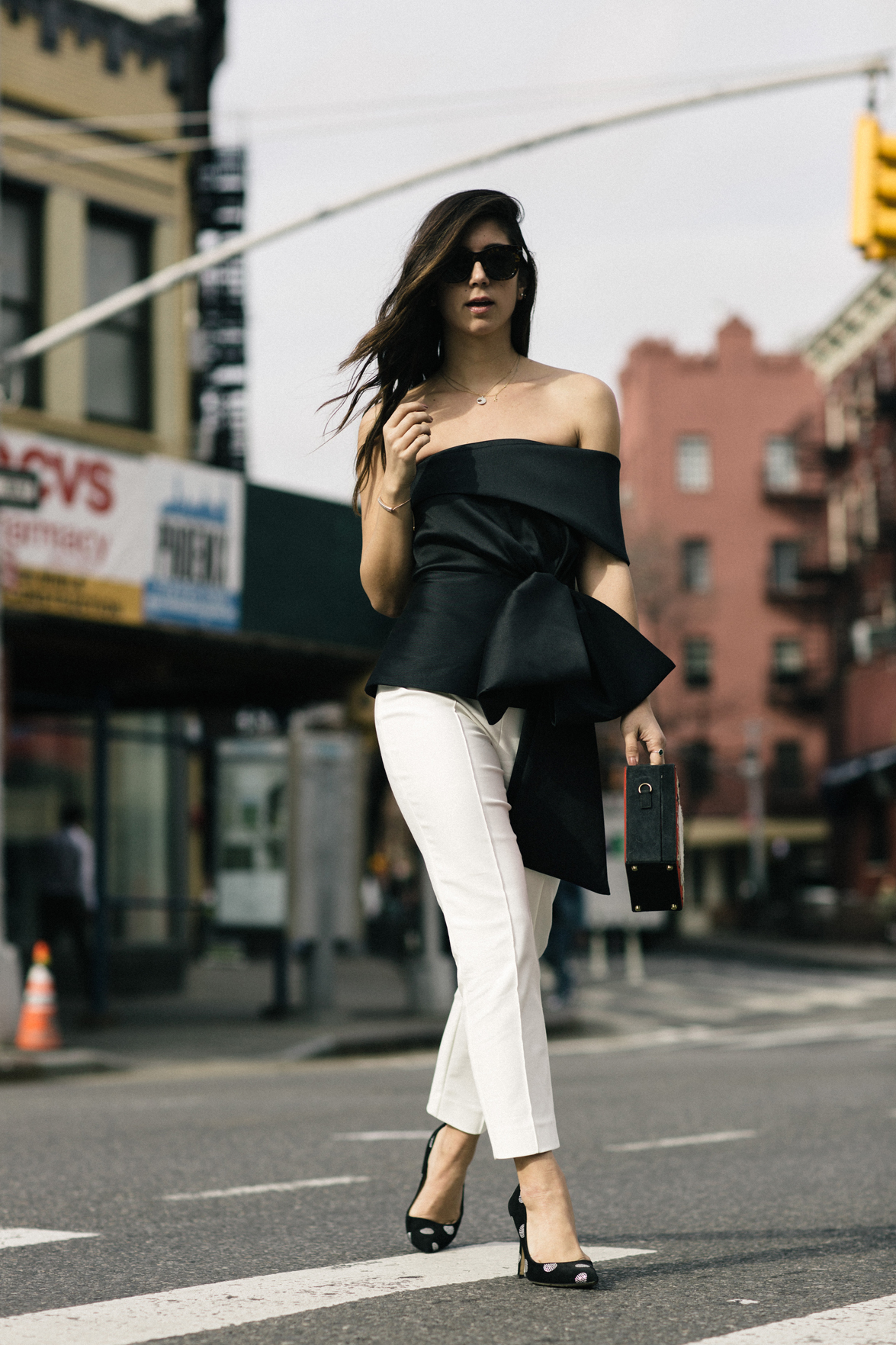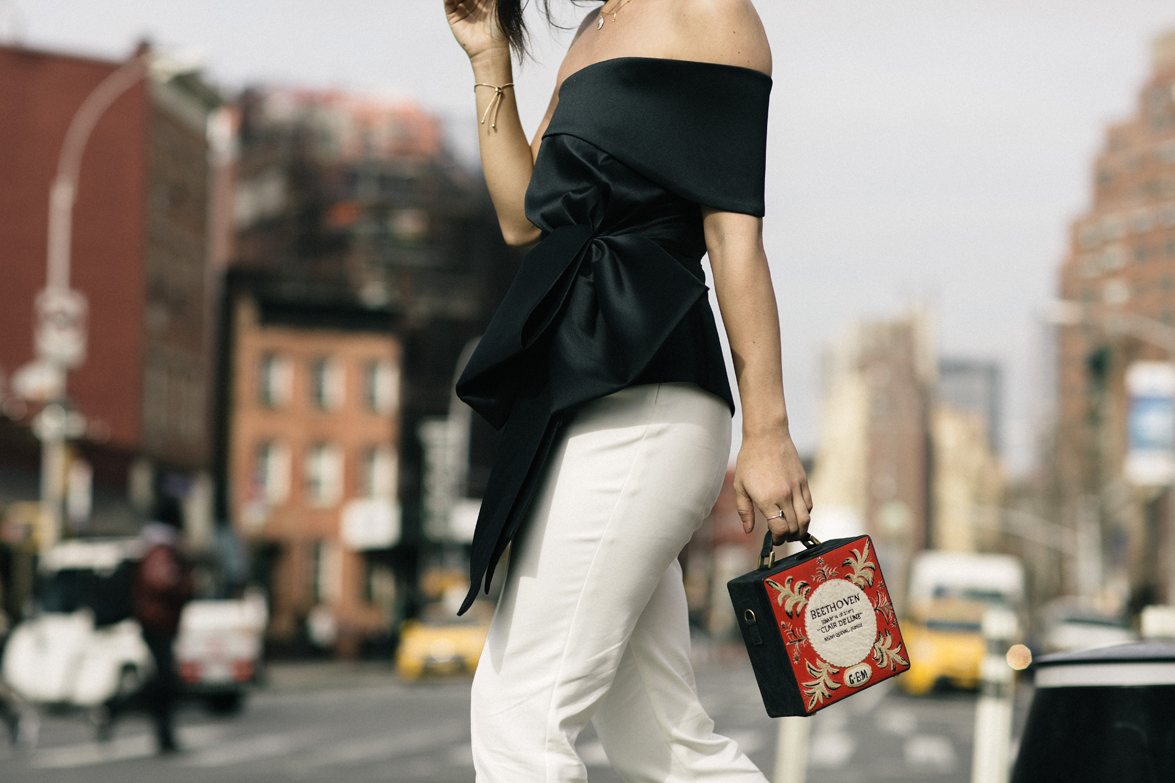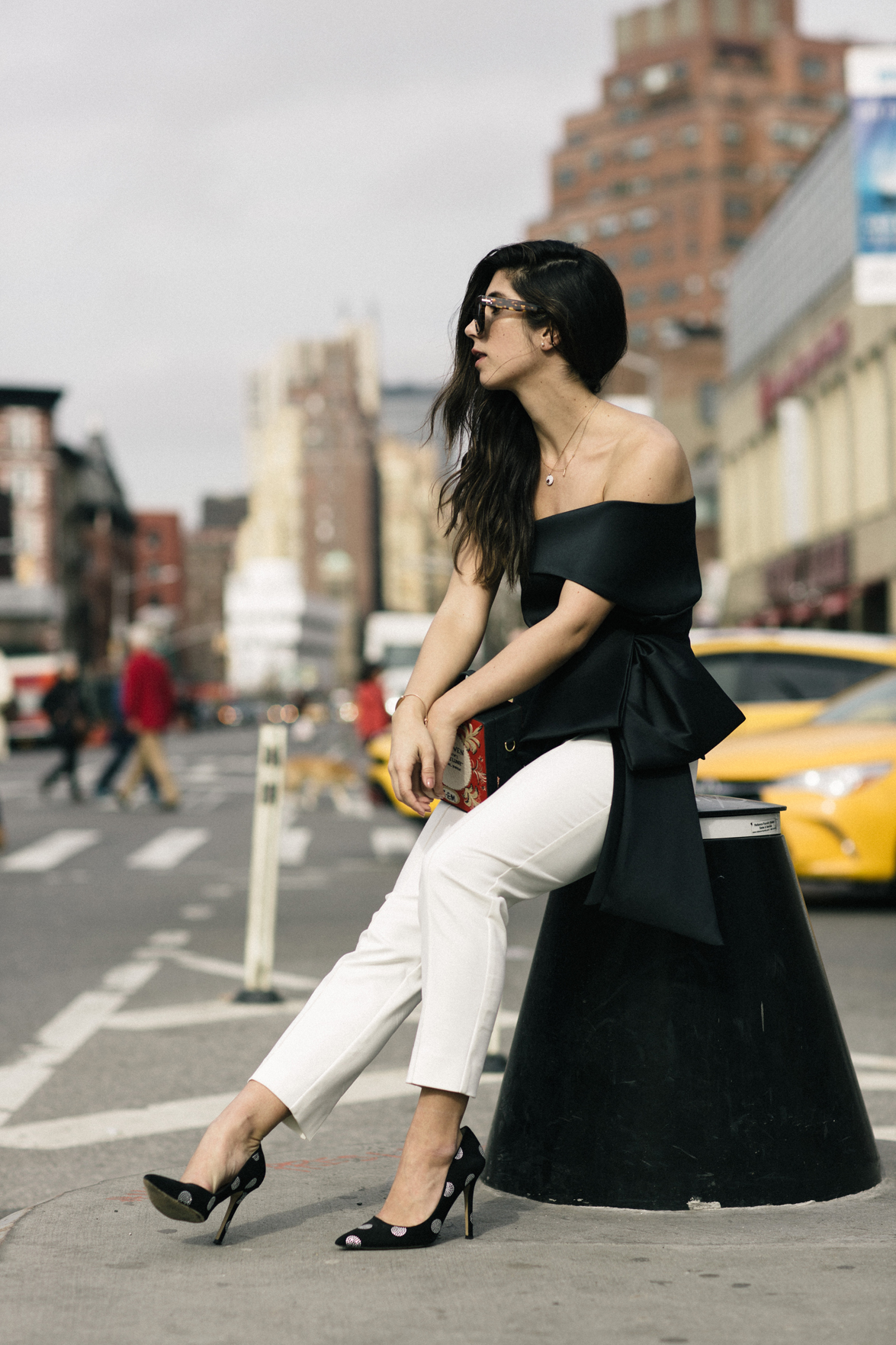 OUTFIT DETAILS: Sachin & Babi top // St. John pants // Kate Spade heels // Olympia Le-Tan clutch // Celine sunglasses