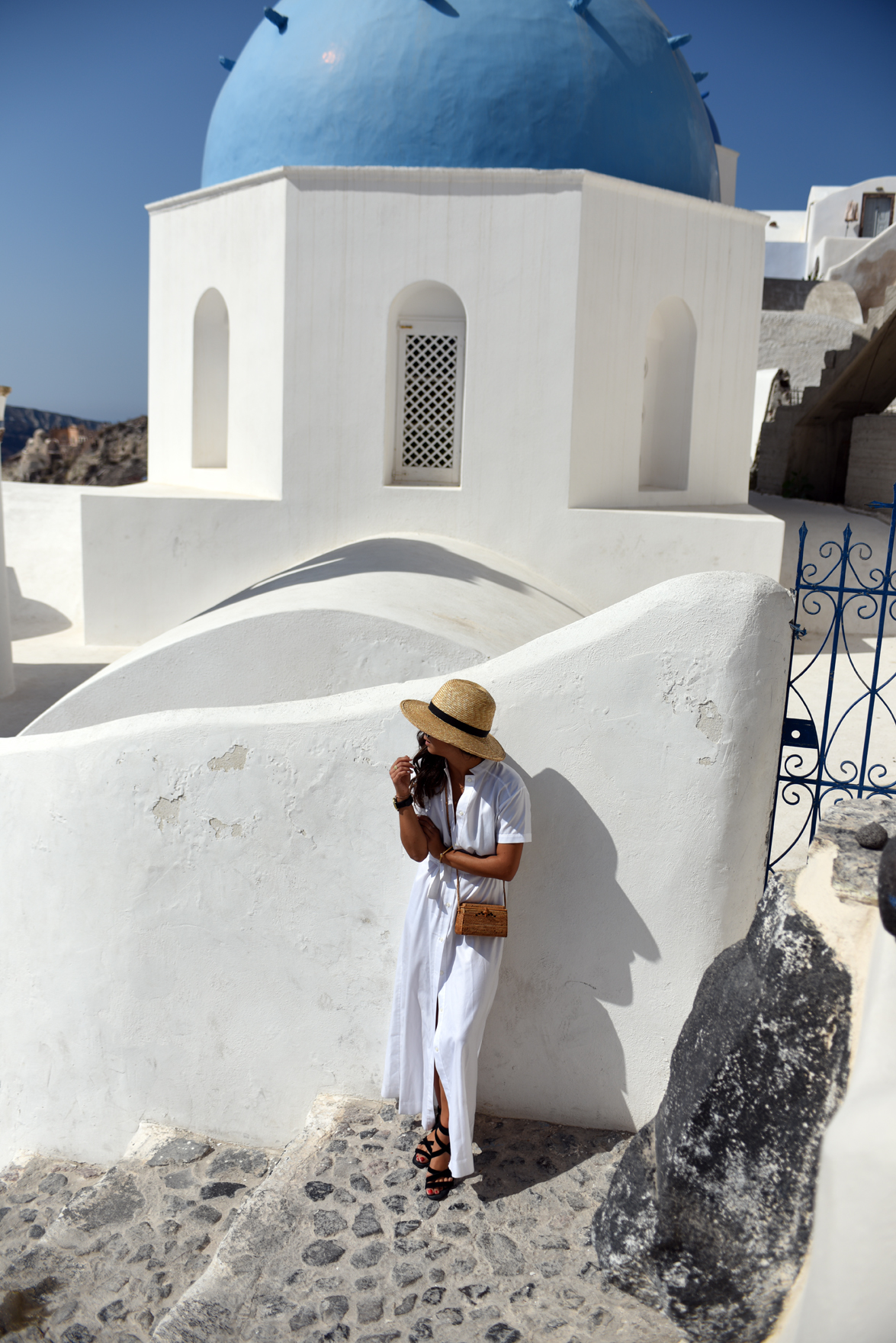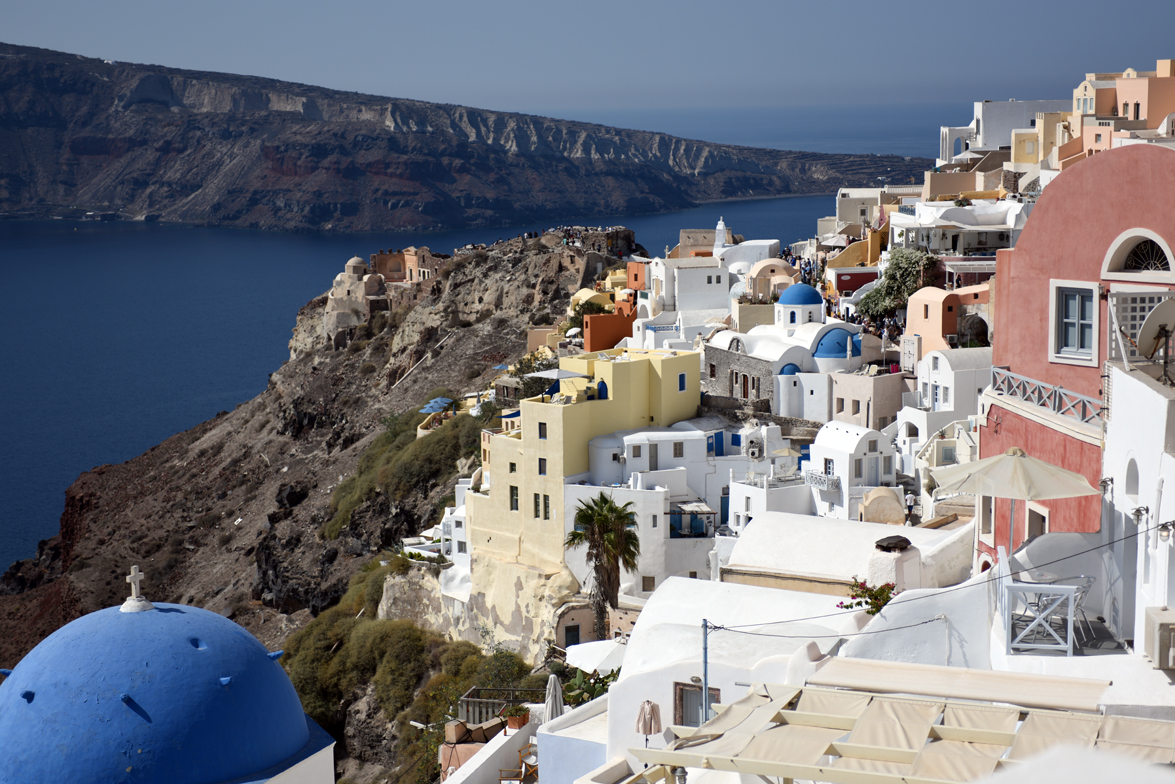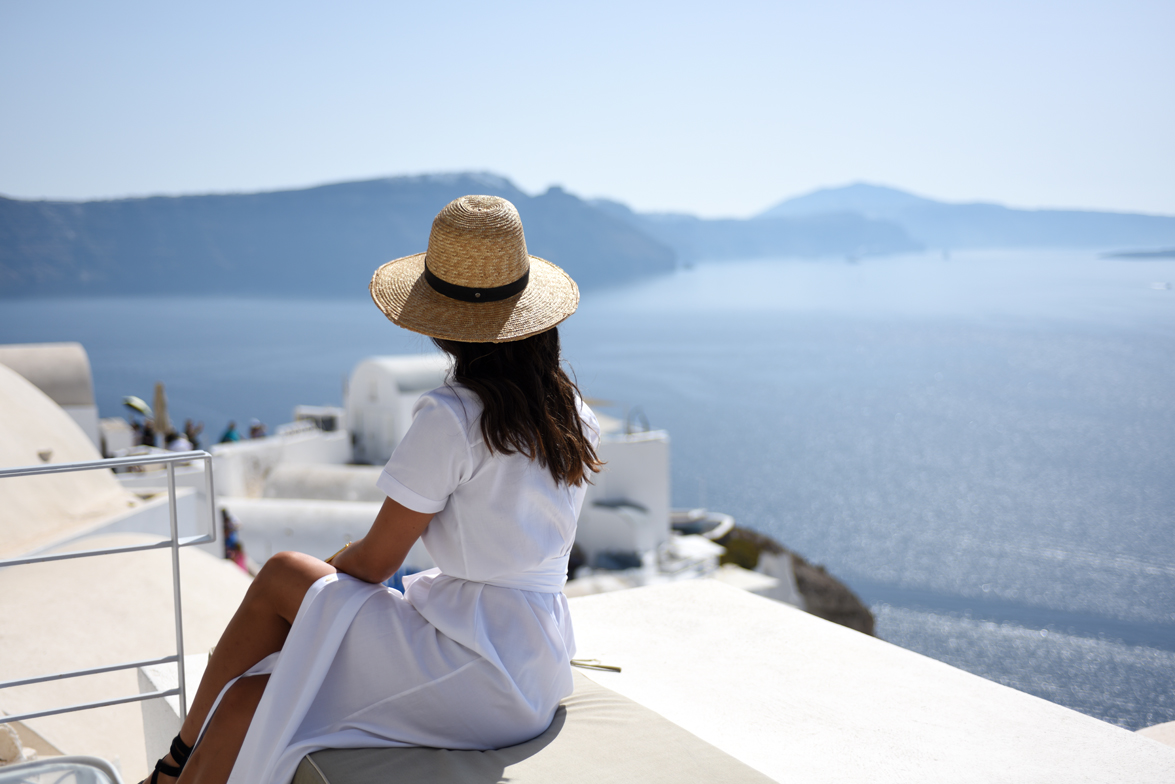 We sailed into Santorni pretty early in the morning. I remember the sunrise breaking through our curtains aboard the Jewel of the Seas around 5:30am, and upon peaking my head out, I saw the beginnings of the island flanking our side of the ship. Small fishing boats tethered neatly to shore nearby bobbed from the wake of our massive ship, as we woke them from their slumber. The rocky terrain rose steeper and steeper next to us, before I was suddenly reminded of my last time to the island as a (relatively) young college student. But instead of April rain showers greeting us, this time around we had nothing but blinding sun, clear Greece blue skies and this tickling feeling of enchantment that only Greece can promise — like at any blink of the eye, you could miss something amazing and wonderful and worthy of a myth.
For our excursion of the day, we had our sights set on Oia — the quintessential epitome of Santorini, riddled with it's white washed buildings, vibrantly blue rooftops and it's dizzying alleyways that kiss the sky and the sea simultaneously. To get there though, was nothing short of a Homer-like Odyssey journey. We docked at Thera, a town situated on a steep 360 meter mountain ridge, which naturally meant, we had a few choices when it came to making our way up the incline. You could a.) rent one of the donkeys for a winding trail ride b.) hire a driver (which is what I did my first visit years ago — but I regretted the motion sickness later) or c.) take the almost vertical climbing gondola ride up the mountain. We opted for C, where I'm not ashamed to admit, I had to close my eyes at a few moments.
Next, we trekked to the nearest bus stop that would take us to the western part of the island where Oia is nestled. Seems relatively simple, but when every street sign is in Greek, you really start to understand the saying "It's all Greek to me." We stopped for directions multiple times, only to get turned around further and further. For such a small town on a small island, we were losing every last scrap of our sense of direction. At a few points, we contemplated paying a local to drive us around for the day, until we eventually saw a bus zoom past us (and yep, we sprinted after it).
The bus ride over is one I won't forget anytime soon. Imagine a full-size tour bus winding it's way along a narrow seaside cliff road, the driver taking some of the turns a bit too fast, where you're confused where to look first — the expansive sea out ahead or the dizzying drop immediately next to you. And with each tight turn, there's five more like it up ahead so you surrender to this feeling of suspension — a joy ride that's simply part of your journey, no need to hold on — you just need to give in to it.
Once we arrived in Oia with a unceremonious lurch of a stop, we couldn't wait to hop off and roam. The sun was reaching this almost perfect golden light hour and we were ready to stretch our legs and see where each alleyway would take us. We started walking (more like running really), and where we had to make a turn decision, we looked at each other and nodded in one way or the other, taking each turn more giddy than the last. It was a race, but we didn't know what we were racing for or racing to — just this need to see and feel it all. We peeked over ledges, through windows, past walkways and strolled down the many, many coiling staircases that trickle down the mountain like a wild labyrinth. And when we ultimately reached the largest church in the town, we stopped dead in our tracks. And sat. And listened to our own breathing. And I couldn't help but wonder, "Could this be a dream?"
And if it is, how can I stay forever?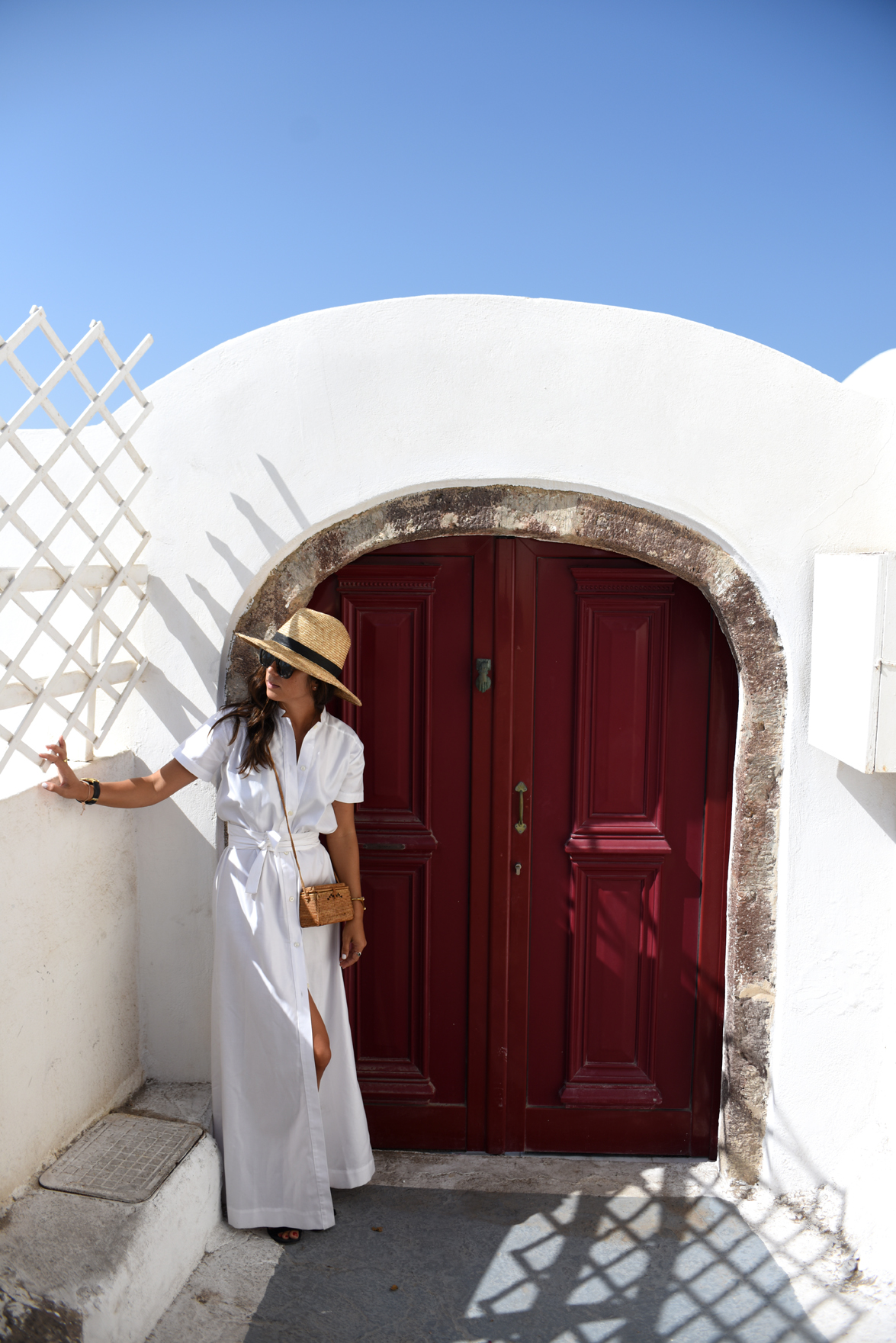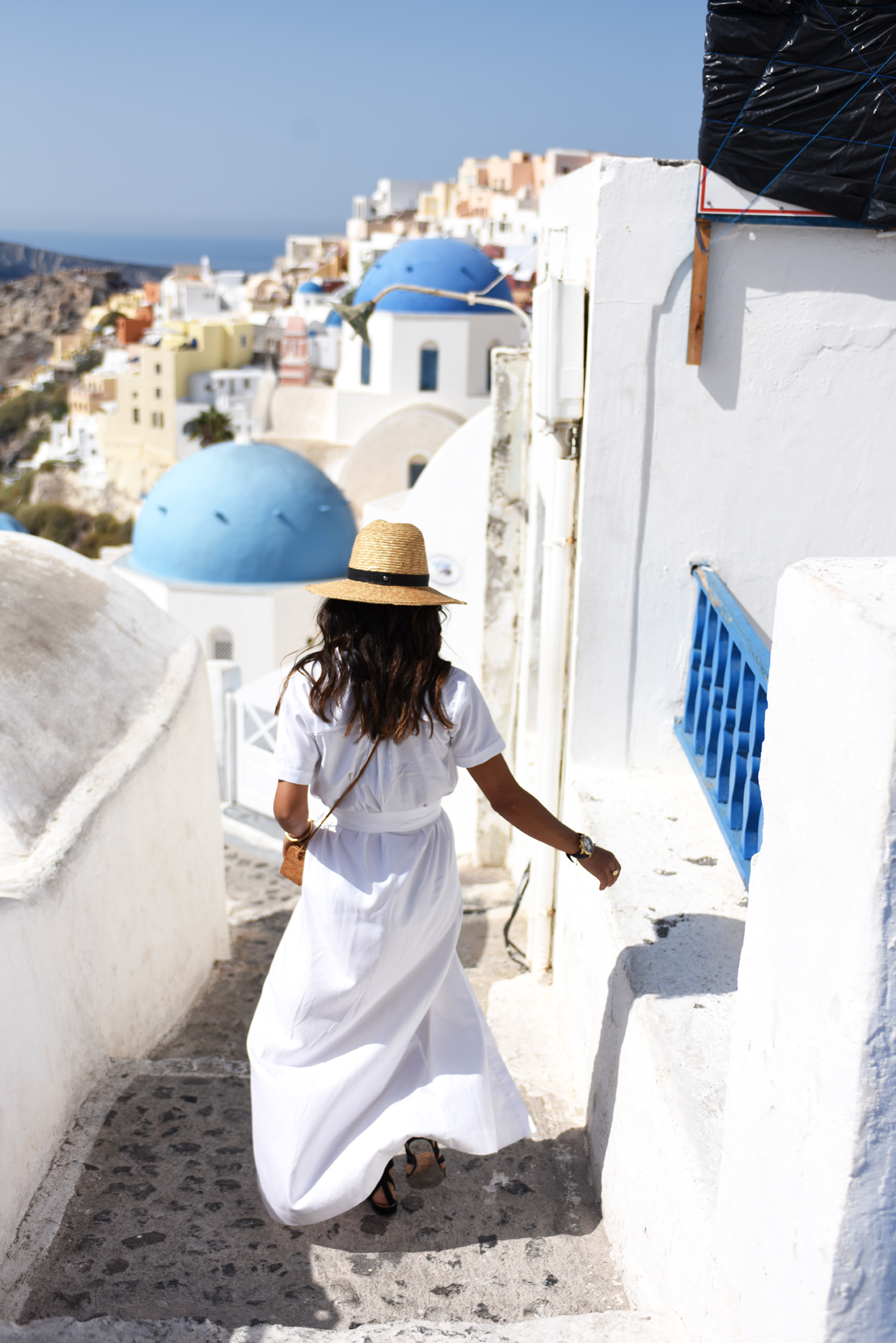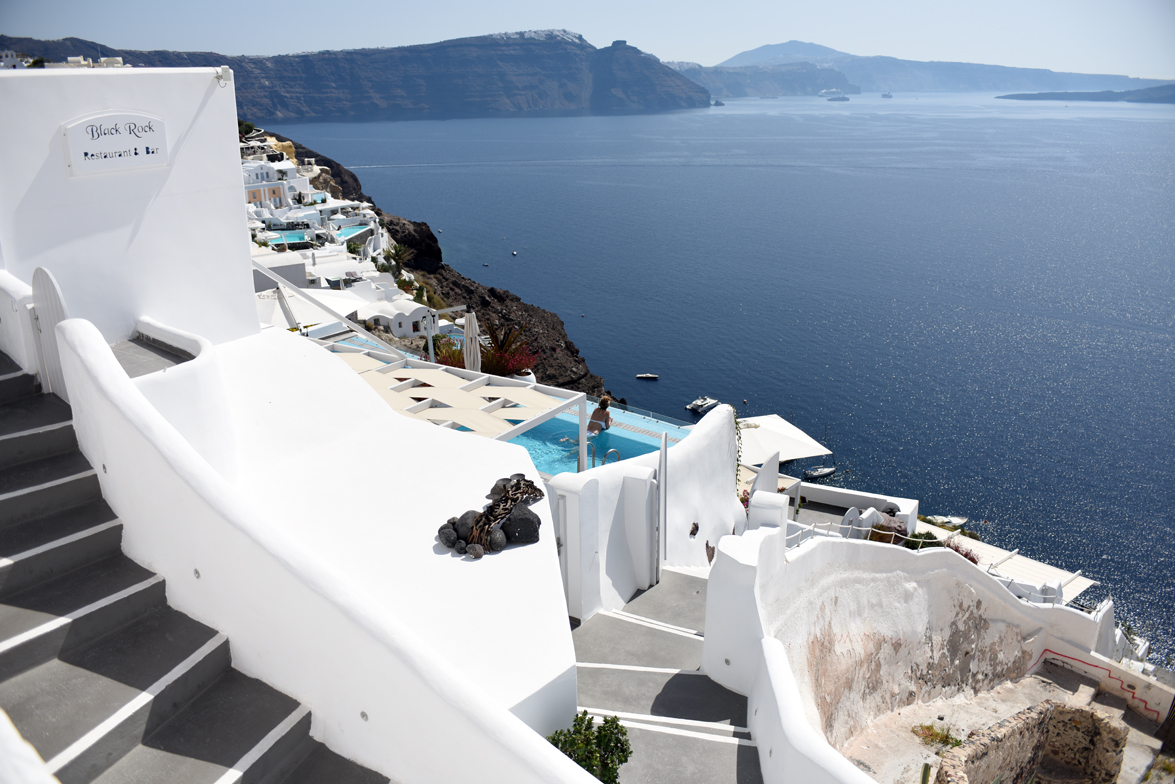 OUTFIT DETAILS: Micaela Meyer dress // Janessa Leone hat // M. Gemi sandals // Gifted bag // Celine sunglasses